CTVA
The Classic TV Archive - US Comedy Series
I Married Joan (1952-55) Hot Off The Wire: The Jim Backus Show (1960-61)
I Married Joan (1952-55)
a.k.a. The Joan Davis Show
Episode Guide compiled by The Classic TV Archive
with contributions by:
Jim Brent, Tom Alger, Wayne Miller , John King, Rina Fox, Revel Partington
references:
TV Guide / Library of Congress (telnet://locis.loc.gov)
Internet Movie Database (https://us.imdb.com)
UCLA Film and Television Archive
I Married Joan (season 1) (NBC) (1952-53)
I Married Joan (season 2) (NBC) (1953-54)
I Married Joan (season 3) (NBC) (1954-55)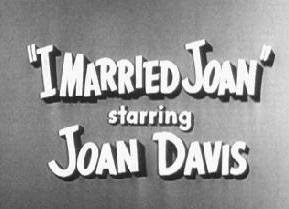 Volcano productions / Joan Davis Enterprises
for
NBC (Wednesdays 8:00pm Eastern)
Produced by P. J. Wolfson
US comedy series 1952-1955 98 episodes x 30 min bw
US 15Oct52-6Apr55
In the UK 83 episodes were aired on BBC 25Sep55-22Jan58 - Sunday afternoons.
starring
Joan Davis as Joan Stevens (1952-55)
(movie and radio comedienne billed as America's Queen of Comedy)

Jim Backus as Judge Bradley Stevens (1952-55)
(voice of Mr. Magoo and the popular character Thurston Howell III from
the "Gilligan's Island" tv series)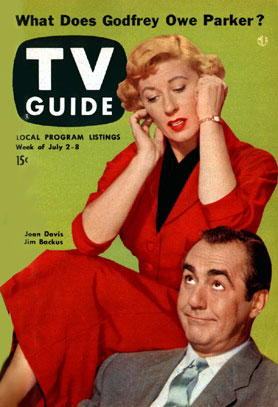 with
Hope Emerson as Minerva Parker (1952-53)(season 1)
Beverly Wills (Joan's real-life daughter) as Beverly Grossman (1953-55)

Season 1 Regular Supporting Cast:
--------------------------------
Elivia Allman as Aunt Vera (1952-53)

Season 2 Regular Supporting Cast:-
---------------------------------
Neighbors - Charlie & Mabel:- (1953-54) (season 2)(to be verified)
Hall Smith as Charlie
Geraldine Carr* as Mabel (*killed in a car accident circa 1954).

Season 3 Regular Supporting Cast:-
---------------------------------
Neighbors - Kerwin & Janet Tobin :- (1954-55) (early season 3)
Dan Tobin as Kerwin Tobin/ Sheila Bromley as Janet Tobin
-----------------------------------
Neighbors - Wally & Sally (1954-55)(late season 3)
Wally Brown as Wally/ Sally Kelly as Sally
------------------------------------

Adele Jergens as Helen, Joan's friend (1954-55)(season 3)
Sandra Gould as Mildred Webster

Premise:
The series centred around Joan, a scatterbrained housewife, and her husband, Bradley Stevens, who was a staid and settled
domestic court judge. Beverly Wills, Joan Davis' real-life daughter, also co-starred on the show playing the part of her
sister. The show was cut from the same mold as the "I Love Lucy" series, with Joan Davis' comedy antics derived from the
physical school of humor. Ms. Davis produced the show under her own production company for NBC and the series ran for
three years between 1952 and 1955.

~~~~~~~~
"I Married Joan" theme song
Composed by Richard Mack
Sung by The Roger Wagner Chorale
I married Joan
What a girl, what a whirl, what a life.
Oh I married Joan
What a mind, love is blind what a wife.
Giddy and gay, all day she keeps my heart laughin' Never know where her
brain has flown.
Each to his own
Can't deny that's why I married Joan.
~~~~~~~~~~~

############## I Married Joan ################
############## (unsold pilot) ################
##############################################

LET'S JOIN JOANIE (1950).
Unsold pilot aired January 12, 1951.
This was a pilot for Joan Davis' first attempt at television, two years before her "I Married Joan" series. Joan plays
herself, an employee of a hat shop owned by Joseph Kearns, and who constantly tries to find the man of her dreams.

Events in the life of Joan Davis, a salesgirl for a store called "Hats by Anatole". Joan joins a health farm to impress
her heartthrob, Jim Benson, who "likes his women husky". This show predates I Married Joan by a year, and Joan Davis is
the only performer listed in the credits, though TV fans will recognize Joe Kearns as Anatole.
############## I Married Joan ################
############# Unknown Airdates ###############
##############################################

1.xx [--] I Married Joan: BLONDE BANDIT
original network airdate - not known

1.xx [--] I Married Joan: DINNER GUESTS
original network airdate - not known

(unknown title)
Judge Stevens learns that it pays to take your wife into your confidence.

############## I Married Joan ################
##############################################
##############################################
Have you any comments, corrections, episode titles, air dates, production numbers, directors, writers, story/synopsis, guest stars, cast lists, etc?
Have you any old videos, or tv guides? Dust them off and let us know if you have any information on this series or any other tv series from the
Golden Age of TV, which is missing from any episode guides on the web. Perhaps a certain episode of a particular series coincided with a key
moment in your life, or in world events - and or has left a vivid memory of when it was shown. Let us know. Would you like to see any other
tv series guides on this site? If so please e-mail The Classic TV Archive - see Feedback below.
This guide may be distributed and copied freely, in its entirety, for personal use. All original author and copyright information must
remain intact. Any sales or other uses of this document are expressly forbidden, without the specific consent of the author(s).
Copyright © The Classic TV Archive. All rights reserved.

Return to The Classic TV Archive Home Page
Feedback - Comedy Forum