CTVA
The Classic TV Archive - US Adventure series
Dennis Weaver series:
Gunsmoke (1955-64) - Kentucky Jones (1964-65) - Gentle Ben (1967-69)
McCloud (1970-77) - Stone (1979-80) - Buck James (1987-88)
Gentle Ben (1967-69)
Episode Guide compiled by The Classic TV Archive
with contributions by: Tom Alger, Rina Fox
references:
Library of Congress (telnet://locis.loc.gov)
Internet Movie Database (https://www.us.imdb.com)
UCLA Film and Televison Archive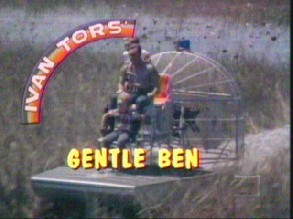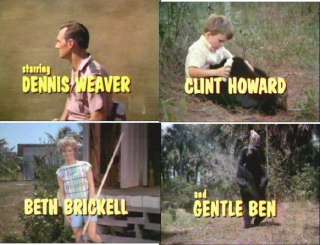 Ivan Tors Films, Inc.
for
CBS (Sundays 7:30 pm EST)
Executive Producer Ivan Tors / Andy White
Produced by George Sherman
Filmed in Florida at Palm Beach Gardens
Ivan Tors Studios, Miami
and Fairchild Tropical Garden, Miami

US Family Adventure series 1967-69 56 episodes x 30 min color
starring
Dennis Weaver as Tom Wedloe
Clint Howard as Mark Wedloe
Beth Brickell as Ellen Wedloe
Featuring:
Rance Howard as Henry Boomhauer
Angelo Rutherford as Willie
and
Bruno, the Bear as "Ben"
*
Charles Martin as Sheriff Wes Harper (recurring)
Robertson White as Hank Minagar (recurring)
Premise:
The adventures of a boy and his huge pet bear "Ben".

################ "Gentle Giant" ##############
######### 1967 theatrical pilot movie ########
##############################################
Runtime: 95 min
Ivan Tors Films Inc. in association with Paramount Pictures
Executive Producer Ivan Tors
Produced by Stanley Colbert
Screenplay by Edward J. Lakso & Andy White
Based on the Novel "Gentle Giant" by Walt Morey
Directed by James Neilson
Cast (in credits order)
Dennis Weaver .... Tom Wedloe
Vera Miles .... Ellen Wedloe
Ralph Meeker .... Fog Hanson
Clint Howard .... Mark Wedloe
Huntz Hall .... Dink Smith
Charles Martin (II) .... Mike McDonaugh
Rance Howard .... Tater Coughlin
Frank Schuller .... Charlie Mason
Robertson White .... Swenson
Ric O'Feldman .... Mate
James Riddle (II) .... Skipper
Jerry Newby .... 1st Townsman
Frank Logan (I) .... 2nd Townsman
Alfred Metz .... Fisherman
Levirne DeBord .... Fisherman
*
Original Music by Samuel Matlovsky
Cinematography by Howard Winner
Film Editing by Peter Colbert
Art Direction by Bruce Bushman
Set Decoration by Don K. Ivey
Costume Design by Peggy Kunkle
Hair Stylist: Irene Aparicio
Makeup Artist: Guy Del Russo
Special Effects by Jack Johnson (V)
Supervising Editor: Warren Adams

################ Gentle Ben ##################
############# season 1 1967-68 ###############
##############################################
CBS Sundays 7:30 pm
First episode aired 10Sep67

1.01 [--] Gentle Ben: HURRICANE COMING [verified -RF]
Ivan Tors prod. no. 2014 (copyright date 3Sep67)
10Sep67 CBS (CBS re-run 31Mar68)
Written by Robert Walden, From a Novel by Walt Morey
Directed by Ricou Browning
Special Guest Star:
Mala Powers .......... Jane Morley
Featuring:
Rance Howard ........ Henry Boomhauer (recurring)
Rusty Weaver ......... Rob Morley
Frank Schuller ....... Kenneth Morley
When a hurricane strikes, Mark and two tourists must rely on Ben's
sense of direction to lead them to safety.

1.02 [--] Gentle Ben: GREEN EYED BEAR [verified -RF]
Ivan Tors prod. no. 2010 (copyright date 10Sep67)
17Sep67 CBS, Sunday 7:30pm (CBS re-run aired 7Apr68)
Produced by George Sherman
Written by Roswell Rogers, From a Novel by Walt Morey
Directed by John Florea
Guest Star:
Ronny Howard ......... Jody Cutler
With:
Bert Williams ........ Monk Cutler
Synopsis 1:
Game warden Tom Wedloe, his son Mark and the grizzly bear Ben clash with a
cranky swamp hunter and his son over custody of an orphaned bear cub. [TA]
Synopsis 2:
A backwoods father and son shot a bear leaving the cub an orphan, when
Tom and Mark apprehend the cub and Ben becomes the surrogate parent. [RF]

1.03 [--] Gentle Ben: FISH AND CHIPS [verified -RF]
Ivan Tors prod. no. 2003 (copyright date 17Sep67)
Produced & Directed by George Sherman
Written by Gilbert A. Ralston, From a Novel by Walt Morey
Special Guest Star:
Simon Oakland ....... Packy Benner
Featuring:
Rance Howard ........ Henry Boomhauer (recurring)
Bud Irwin ........... Lou Benner
Charles Martin ...... Sheriff Harper (recurring)
Synopsis 1:
Young Mark suffers through a dilemma after he discovers two fishermen
breaking the law. The men threaten to kill Gentle Ben if Mark reports them. [TA]
Synopsis 2:
When a couple of poachers threaten the fish population, Ben cracks the
case with his big appetite for Fish and Chips. [TA]

1.04 [--] Gentle Ben: GATOR MAN [verified -RF]
Ivan Tors prod. no. 2009 (copyright date 24Sep67)
01Oct67 CBS Sun (CBS re-run aired 21Apr68)
Produced by George Sherman
Written by Earl Hamner, Jr., From a Novel by Walt Morey
Directed by John Florea
Special Guest Star:
Albert Salmi ......... Mike Maddox
Guest Star:
Robin Mattson ........ Jenny Maddox
With:
Marty Silber ......... Willie
Synopsis:
The Wedloes befriend a lonely girl, unaware that her father is the
alligator poacher that Tom has been hunting. [TA]

1.05 Gentle Ben: VOICE FROM THE WILDERNESS [verified -RF]
Ivan Tors prod. no. 2001 (copyright date 01Oct67)
08Oct67 CBS Sun (CBS re-run 30Jun68)
Produced by George Sherman
Written by Maria K. Little, From a Novel by Walt Morey
Directed by Ricou Browning
Guest Star:
Burt Reynolds ........ Co-Pilot
the pilot had a few lines but was uncredited
Synopsis:
Mark and Ben help an injured pilot who is trapped in his wrecked plane
with the cargo - a wild tiger about to get free. [TA]

1.06 [--] Gentle Ben: INVASION OF WILLIE SAM GOPHER [verified -RF]
Ivan Tors prod. no. 2008 (copyright date 08Oct67)
15Oct67 CBS Sun
Produced by George Sherman
Written by Roswell Rogers, From a Novel by Walt Morey
Directed by William Russell
Guest Stars:
Jay Silverheels ...... Willie Sam Gopher
Pepito Galindo ....... Jimmie Boy
With:
Bernice Olivo ........ Mrs. Gopher
Eleanor La Forge ..... Miss Salisbury
Randy Kuhl ........... Tommie
Courtney Brown ....... Boatman
Synopsis:
Tom plays peacemaker when an old Seminole storms into his home. The hot-tempered Indian
demands the return of his son, whom Mark has taken to school. [TA]

1.07 [--] Gentle Ben: RESTLESS BEAR [verified -RF]
Ivan Tors prod. no. 2007 (copyright date 15Oct67)
22Oct67 CBS Sun
Produced by George Sherman
Written by Earl Hamner, Jr., From a Novel by Walt Morey
Directed by R.G. Springsteen
Featuring:
Rance Howard ........ Henry Boomhauer (recurring)
Eric Applewhite ..... Dr. Crane
Kathy Nagle ......... Carrie Spencer
Synopsis 1:
Mark wrestles with a decision that may mean losing his pet bear. The boy must decide whether
or not to let Ben loose in the wilds to find a mate. [TA]
same episode?
Synopsis 2 (from videotape synopsis):
When Ben catches Spring fever and goes in search of a wife, Mark gets gravely ill from missing
his restless bear. [TA]

1.08 [--] Gentle Ben: BATTLE OF WEDLOW WOODS [verified -RF]
Ivan Tors prod. no. 2012 (copyright date 22Oct67)
29Oct67 CBS Sun
Produced by George Sherman
Written by Gilbert A. Ralston, From a Novel by Walt Morey
Directed by John Florea
Guest Star:
Howard Da Silva ..... Phillip Garrett
Featuring:
Rance Howard ........ Henry Boomhauer (recurring)
Kay Reid ............ Mabel Garrett
Synopsis:
Mark and rancher Boomhauer join forces to prevent a home builder from
burning off 40 acres of forest land. [TA]

1.09 [--] Gentle Ben: WARDEN FOR MAN AND BEAST [verified -RF]
Ivan Tors prod. no. 2011 (copyright date 30Oct67)
05Nov67 CBS Sun, 7:30pm
Produced by George Sherman
Written by Roswell Rogers, From a Novel by Walt Morey
Directed by John Florea
Guest Star:
Sidney Blackmer .... Professor Hugo
Synopsis:
Professor Hugo entertains the children with his bear Victor who performs wonderful tricks, his final
performance as the old man and bear retire. He gives Victor to Tom to release in the wild. [RF]

1.10 [--] Gentle Ben: A WASTE OF HONEY (not verified)
Ivan Tors prod. no. 2006 (copyright date 05Nov67)
12Nov67 CBS Sun, 7:30pm
Guest cast:
Pat Hingle (as Dude)
Mark Harris (as Zeke)
Synopsis #1:
Tom sets a trap for two moonshiners, who are stealing honey from a beekeeper and blaming Ben. [TA]
Synopsis #2 (TV Guide ad):
There's more excitement than they bargained for when little Mark and his
700-pound friend run into a couple of dangerous desperados and a pretty sticky situation. [TA]

1.11 [--] Gentle Ben: JENNIFER [verified -RF]
Ivan Tors prod. no. 2005 (copyright date 12Nov67)
19Nov67 CBS Sun
Produced by George Sherman
Teleplay by Gilbert A. Ralston and Tam Spiva / Story by Gilbert A. Ralston
From a Novel by Walt Morey
Directed by R.G. Springsteen
Special Guest Star:
William Windom ...... James Harkness
Featuring:
Rance Howard ........ Henry Boomhauer (recurring)
Renee Rich .......... Jennifer Harkness
Marge Hesse ......... Callie Harkness
Charles Martin ...... Wes Harper (recurring)
The search for a little girl lost in the Everglades becomes a desperate
race against death. A cougar has been reported in the area. [TA]
1.12 [--] Gentle Ben: WARDEN IN THE BEAR PIT [verified -RF]
Ivan Tors prod. no. 2013 (copyright date 19Nov67)
26Nov67 CBS Sun
Produced by George Sherman
Written by Robert Walden, From a Novel by Walt Morey
Directed by R.G. Springsteen
Special Guest Star:
Murvyn Vye .......... Fred
Guest Star:
Pat Henning ......... Willy
Featuring:
Rance Howard ........ Henry Boomhauer (recurring)
Charles Martin ...... Wes Harper (recurring)
Mark Harris ......... Fisherman
Robertson White ..... Hank Minegar
Synopsis 1:
Ben figures prominently in the money-making scheme of two swamp tramps, who plan to pit the bear
in a fight with an Airedale. [TA]
Synopsis 2 (TV Guide ad):
A couple of ruthless bearbaiters take one look at big Ben and decide to promote a bear-dog fight.
But the fight doesn't exactly go according to plan. [TA]

1.13 [--] Gentle Ben: A MEDAL FOR BEN [verified -RF]
Ivan Tors prod. no. 2017 (copyright date 26Nov67)
03Dec67 CBS Sun
Produced by George Sherman
Teleplay by Tam Spiva / Story by George Sherman & Tam Spiva, From a Novel by Walt Morey
Directed by R.G. Springsteen
Featuring:
Rance Howard ........ Henry Boomhauer (recurring)
Jose Miguel ......... Seminole Spokesman
Synopsis:
Gentle Ben must somehow help young Mark save his mother, who lies pinned in a wrecked jeep. After Ellen is
pinned under the Jeep, Ben helps to lift the jeep, thus winning a medal.

[--] 10Dec67 - pre-empted for a rerun of "A Charlie Brown Christmas"

1.14 [--] Gentle Ben: THE RANSOM [verified -RF]
Ivan Tors prod. no. 2023 (copyright date 12Dec67)
17Dec67 CBS Sun
Produced by George Sherman
Written by D. D. Beauchamp, From a Novel by Walt Morey
Directed by R.G. Springsteen
Guest Star:
Simon Oakland ........ Packy Benner
Co-Starring:
Harry Bellaver ....... Cluny Barret
With:
Robertson White ...... Proprietor
Synopsis:
Two hapless thieves kidnap Ben hoping to extort a fat reward. Unfortunately, their ransom note goes unanswered,
and the pair get nothing but trouble from the enormous, playful - and ravenous - bear. [TA]

1.15 [--] Gentle Ben: WAYWARD BEAR Pt. 1 [end credits verified -RF]
Ivan Tors prod. no. 2015 (copyright date 17Dec67)
24Dec67 CBS Sun (CBS re-run 26May68)
Written by ?
Directed by ?
With: (end credits)
Guy Rennie .......... Jasper Day
Rey Baumel .......... Eddy Lawrence
Sam Segal ........... Driver
Gene Lorenzo ........ Helper
Synopsis:
First of a two-part story about Gentle Ben's adventures in the city.
Part 1: The bear is separated from the Wedloes while on a shopping trip. [TA]

1.16 [--] Gentle Ben: WAYWARD BEAR Pt. 2 [verified -RF]
Ivan Tors prod. no. 2016 (copyright date 24Dec67)
31Dec67 CBS Sun (CBS re-run 02Jun68)
Produced by George Sherman
Teleplay by Earl Hamner, Jr. and Tam Spiva / Story by Earl Hamner, Jr., From a Novel by Walt Morey
Directed by Ricou Browning
Special Guest Star:
Stuart Erwin ........ Harry Tatum
Guest Star:
Templeton Fox ....... Martha Tatum
Synopsis:
Conclusion: The worried Wedloes search for their lost bear, unaware that Ben is being cared for by a
couple of has-been circus trainers who plan to use him for a comeback performance. [TA]

1.17 [--] Gentle Ben: THE OPPORTUNIST [verified -RF]
Ivan Tors prod. no. 2021 (copyright date 31Dec67)
07Jan68 CBS Sun
Produced by George Sherman
Written by Rance Howard, From a Novel by Walt Morey
Directed by R.G. Springsteen
Guest Star:
Strother Martin ..... Reed Olmstock
Featuring:
Rance Howard ........ Henry Boomhauer (recurring)
Frank Schuller ...... Chet Tunnison
Charles Martin ...... Sheriff Wes Harper (recurring)
Synopsis:
Tom tangles with a couple of crafty swamp hunters who are collecting animals for sale outside the reserve. [RF]

1.18 [--] Gentle Ben: THE BATTLE OF BIRTHDAY BAY [verified -RF]
Ivan Tors prod. no. 2018 (copyright date 07Jan68)
14Jan68 CBS Sun
Produced by George Sherman
Written by Roswell Rogers, From a Novel by Walt Morey
Directed by R.G. Springsteen
no guest cast:
Synopsis:
A family of cougars crashes the Wedloes' birthday party for Ellen, ransacking their lakeside cabin, eating the
goodies, and stranding the family. [TA]

1.19 [--] Gentle Ben: TROPHY BEAR [verified -RF]
Ivan Tors prod. no. 2004 (copyright date 14Jan68)
21Jan68 CBS Sun
Produced by George Sherman
Associate Producer Tam Spiva
Written by Gilbert A. Ralston
From a Novel by Walt Morey
Guest Star:
Tom Poston ........... Joe Cardigan
Featuring:
Rance Howard ......... Henry Boomhauer (recurring)
Frank Logan .......... John Coberly
Robertson White ...... Hank Minagar (recurring)
Synopsis:
Swamp hunter Joe Cardigan kidnaps Ben as quarry for a Miami sportsman,
who has guaranteed Cardigan $1000 to find a trophy bear. [RF]

1.20 [--] Gentle Ben: MAMA JOLIE [verified -RF]
Ivan Tors prod. (copyright date 21Jan68)
28Jan68 CBS Sun (CBS re-run 04Aug68)
Produced by George Sherman
Written by Tam Spiva, From a Novel by Walt Morey
Directed by Gerd Oswald
Guest Star:
Juanita Moore ......... Mama Jolie
Featuring:
Rance Howard .......... Henry Boomhauer (recurring)
Bob Broadway .......... Geoffrey
Synopsis:
In the dead of night, mark and Ven venture into the woods to visit the mysterious Mama Jolie, a Jamaican
voodoo doctor who Mark hopes can cure his ailing bear. [TA]

1.21 [--] Gentle Ben: BATTER UP [verified -RF]
04Feb68 CBS Sun (copyright date 28Jan68)
Executive Producer Andy White/ Produced by George Sherman / Associate Producer Tam Spiva
Teleplay by Frank Telford / Story by Dennis Weaver & Rance Howard / From a Novel by Walt Morey
Directed by George Cahan
Guest Star:
Bob Gibson ......... himself
Featuring:
Rance Howard ......... Henry Boomhauer (recurring)
David Butler ......... Bear's Catcher
Barry Giyner ......... Swamprat's Butler
Randy Kuhl ........... Swamprat's Captain
Synopsis:
Pitching ace Bob Gibson (of the world champion St. Louis Cardinals) appears in this episode, a lesson in
sportsmanship. Gibson takes time out from his fishing vacation to coach young hurler Mark, whose successful
- but shady - pitching tactics have his father mighty worried. [TA]

1.22 [--] Gentle Ben: GROWING PAINS [verified -RF]
11Feb68 CBS Sun (copyright date 04Feb68)
Produced by George Sherman
Written by John Elliotte, From a Novel by Walt Morey
Directed by George Cahan
Featuring:
Rance Howard ......... Henry Boomhauer (recurring)
Vance Irick .......... Steve Clark
Marquis Sipes ........ Milton Hayner
Synopsis:
Gentle Ben suffers pangs of rejection when Mark turns his attentions to
a new friend. The distraught bear refuses to eat - then runs away from home. [TA]

1.23 [--] Gentle Ben: FIRE IN THE GLADES [verified -RF]
Ivan Tors prod. no. 2022 (copyright date 11Feb68)
18Feb68 CBS Sun (CBS re-run 18Aug68)
Produced by George Sherman
Written by Tam Spiva/ From a Novel by Walt Morey
Directed by Gerd Oswald
Featuring:
Rance Howard ......... Henry Boomhauer (recurring)
Robertson White ...... Hank Minegar (recurring)
Charles Sheldon ...... Tim Braddock
Synopsis:
Anxious to help an injured deer, Mark and Ben hike deep into the
wilderness- and directly into a raging fire. [TA]

1.24 [--] Gentle Ben: TAKE A GIANT STEP [verified -RF]
Ivan Tors prod. no. 2020 (copyright date 18Feb68)
25Feb68 CBS
Produced by George Sherman
Teleplay by Rance Howard/ Story by Robert Walden, From a Novel by Walt Morey
Directed by Gerd Oswald
Guest Star:
Fritz Weaver ......... Oce Franklin
Featuring:
Rance Howard ......... Henry Boomhauer (recurring)
Richard Duemmling .... Jamie Franklin
Synopsis 1:
During a raging storm, the Wedloes and rancher Boomhauer search for the runaway son of a fisherman. [TA]
Synopsis 2:
A shrimp fishermanıs preoccupation with his work prompts his lonely son to run off into the treacherous Everglades. [TA]

1.25 [--] Gentle Ben: SURVIVAL IN THE SWAMP [verified -RF]
Ivan Tors prod. (copyright date 25Feb68)
3Mar68 CBS Sun (CBS repeat 25Aug68)
Produced by George Sherman
Teleplay by Frank Telford/ Story by Gilbert A. Ralston , From a Story by Walt Morey
Directed by Gerd Oswald
Guest Star:
Bruce Gordon ......... Frank Gordon
Featuring:
Rance Howard ......... Henry Boomhauer (recurring)
Andy Jarrell ......... Al Gordon
Art Roberts .......... Deputy
Synopsis:
A suspenseful chase through the swamp has Tom pitting his knowledge of
the wilderness against the rifles of two desperate fugitives. [TA]

1.26 [--] Gentle Ben: WHO'S AFRAID? [verified -RF]
Ivan Tors prod. (copyright date 03Mar68)
10Mar68 CBS Sun (CBS re-run 11Aug68)
Produced by George Sherman
Written by Ann Marcus, From a Story by Walt Morey
Directed by Ricou Browning
Guest Star:
Claire Wilcox ........ Virginia
Featuring:
Rance Howard ......... Henry Boomhauer (recurring)
Doreen Bernhardt ..... First Girl
Darla Bernhardt ...... Second Girl
Synopsis 1:
Mark spends the day with his cousin Virginia, an awkward girl who feelscompelled to make a rash show of courage. [TA]
Synopsis 2:
Mark is upset when he finds out he is stuck with his cousin Virginia 'Ginny' for the weekend. They go fishing
together and find a mine which they think is a treasure. [RF]

1.27 [--] Gentle Ben: GREENER PASTURES [verified -RF]
Ivan Tors prod. (copyright date 10Mar68)
17Mar68 CBS Sun
Produced by George Sherman
Written by John Elliotte, From a Story by Walt Morey
Directed by Gerd Oswald
Featuring:
Rance Howard ......... Henry Boomhauer (recurring)
Mel Pape ............. Mr. Harrison
Charles Martin ....... Sheriff Wes Harper (recurring)
Lanita Kent .......... Miss Mrshall
Joey Austell ......... Boy in Schoolyard
Harry M. Littman ..... Second Motorist
Jack T. Prince ....... First Motorist
Reed Ruggles ......... First Smuggler
Synopsis:
Tom rethinks his life when he is injured while in pursuit of smugglers.
Mark wants to stay where they are and eventually wins his father over. [RF]

1.28 Gentle Ben: OL' JOE'S GOTTA GO [verified -RF]
Ivan Tors prod. (copyright date 17Mar68)
24Mar68 CBS Sun
Produced by George Sherman
Written by Roswell Rogers, From a Story by Walt Morey
Directed by Gerd Oswald
Guest Star:
Slim Pickens ......... Lloyd Larkin
Featuring:
Rance Howard ......... Henry Boomhauer (recurring)
Ric O'Feldman ........ Carl
Dennis Dawkins ....... Brownie
Robertson White ...... Farmer #1
Synopsis:
A farmer accuses a popular old alligator of stealing his pigs and chickens. [TA/RF]
---------------------------------------------
Network Summer Reruns on CBS 31 Mar68-22Sep68
---------------------------------------------
[--] 31Mar68 rerun of #1 "Hurricane Coming" (first aired 10Sep67)
[--] 07Apr68 rerun of #2 "Green Eyed Bear" (first aired 17Sep67)
[--] 14Apr68 - unknown
[--] 21Apr68 rerun of #4 "Gator Man" (first aired 01Oct67)
[--] 28Apr68 - unknown
[--] 05May68 - unknown
[--] 12May68 - unknown
[--] 19May68 - unknown
[--] 26May68 rerun of #15 "Wayward Bear pt. 1" (first aired 24Dec67)
[--] 02Jun68 rerun of #16 "Wayward Bear pt. 2" (first aired 31Dec67)
[--] 09Jun68 - unknown
[--] 16Jun68 - unknown
[--] 23Jun68 - unknown
[--] 30Jun68 - rerun of #5 "Voice From The Wilderness" (from 8Oct67)
[--] 07Jul68 - unknown
[--] 14Jul68 - unknown
[--] 21Jul68 - unknown
[--] 28Jul68 - unknown
[--] 04Aug68 - re-run of #20 "Mama Jolie" (from 28Jan68)
[--] 11Aug68 - re-run of #26 "Who's Afraid?" (from 10Mar68)
[--] 18Aug68 - re-run 0f #23 (injured deer, raging fire)
25Aug68 - re-run of #25 "Survival in the Swamp" (from 3Mar68)
01Sep68 - re-run of #18 "The Battle of Birthday Bay!"
08Sep68 - unknown
15Sep68 - unknown
22Sep68 - final re-run

################ Gentle Ben ##################
############# season 2 1968-69 ###############
##############################################
CBS Sundays 7:30 pm

2.01 [29] Gentle Ben: TWO FOR THE SEA Pt. 1 [verified -RF]
Ivan Tors prod. (copyright date: 22Sep68)
29Sep68 CBS Sun
Produced by George Sherman
Written by Andy White, From a Story by Walt Morey
Directed by Ricou Browning
Featuring:
Ric O'Feldman ........ Frank
Mark Shoff ........... Boy
Mindy Jo Abramson .... Girl
Dianne B. Loomis ..... Mother
Synopsis:
Marco Polo, the dolphin shows up at the Wedloes' befriending Ben and Mark.When the Miami Seaquarium notifies them
that Marco Polo is theirs and has escaped, both Ben and Mark are sad. Marco swims out of the channel to mate with
Ben following him. [RF]

2.02 [30] Gentle Ben: TWO FOR THE SEA Pt. 2 [verified -RF]
Ivan Tors prod. (copyright date 29Sep68)
06Oct68 CBS Sun
Produced by George Sherman
Written by Andy White, From a Story by Walt Morey
Directed by Ricou Browning
Featuring:
Rance Howard ......... Henry Boomhauer (recurring)
Ric O'Feldman ........ Frank
Lawrence Grant ....... Boy
Roberta Lowenthal .... Girl
2.03 [31] Gentle Ben: THE WALL THAT MARK AND TOM BUILT [verified -RF]
Ivan Tors prod. (copyright date 06Oct68)
13Oct68 CBS Sun
Produced by George Sherman
Written by Roswell Rogers, From a Story by Walt Morey
Directed by Gerd Ozwald
Guest Star:
Jerry Lester ......... Mr. Carter
Synopsis:
Mark gets into trouble when he starts his Dad's jeep to warm it up for him and Ben puts it into gear causing an
accident. Mark decides to leave home and becomes a fishing guide in order to feel useful. When the canoe overturns and
Mr. Carter and Mark are endangered with alligators and Ben is fighting off a cougar it's good ole Dad to the rescue. [RF]

2.04 [32] Gentle Ben: BEN, THE CHAMP
20Oct68 CBS (copyright date: 17Oct68)

2.05 [33] Gentle Ben: FLAP JACK FOR BREAKFAST
27Oct68 CBS (to be verified ) (Copyright date: 20Oct68)
Guest Cast:
Pat Henning (as Red)
Tony Gulliver (as Homer)
Mark's pet racoon Charley is captured by a swamper and his sons, who
are conducting an illegal hunt on the reserve. [TA]

[--] 03Nov68 - no details

2.06 [34] Gentle Ben: A GIFT OF LOVE
10Nov68 CBS (copyright date 3Nov68)
Guest cast:
Robertson White (as Hank Minegar)
Michael de Beausset (as Morton)
Synopsis:
Mark takes on the responsibility and heartaches of training a dog he
must give up. The boy has promised the mutt to an old man in need of a
trusty companion. [TA]

2.07 [35] Gentle Ben: CODE NAME -- DISASTER
17Nov68 CBS (copyright date 10Nov68)

2.08 [36] Gentle Ben: THE INTRUDERS
24Nov68 CBS (copyright date 17Nov68)
Guest cast:
Rance Howard (as Henry Boomhauer)
Angelo Rutherford (as Willie)
Synopsis:
Mark decides to turn his dream of becoming an explorer into fact as he
and Ben wander into an uncharted swamp region - unaware that a ferocious
brown bear is in the area. [TA]

2.09 [37] Gentle Ben: STARR OF GREEN BAY
01Dec68 CBS (copyright date 24Nov68)
Synopsis:
Bart Starr, quarterback for the Green Bay Packers football team,
teaches Mark Wedloe the value of teamwork. [TA]

[--] 08Dec68 - pre-empted for a re-run of "A Charlie Brown Christmas"

2.10 [38] Gentle Ben: WARDEN'S POND
15Dec68 CBS (copyright date 8Dec68)

2.11 [39] Gentle Ben: KNIGHTS OF THE ROAD
22Dec68 CBS (copyright date 15Dec68)
Guest cast:
Albert Salmi (as Hobo Jim)

2.12 [40] Gentle Ben: THE HAUNTED CASTLE
29Dec68 CBS (copyright date 22Dec68)

2.13 [41] Gentle Ben: THE WARDEN'S APPRENTICE
05Jan69 CBS (copyright date 29Dec68)

2.14 [42] Gentle Ben: KEEPER OF THE GLADES Pt. 1
12Jan69 CBS (copyright date 5Jan69)

2.15 [43] Gentle Ben: KEEPER OF THE GLADES Pt. 2
19Jan69 CBS (copyright date 12Jan69)

2.16 [44] Gentle Ben: THE GREAT MAIL BOAT ROBBERY
26Jan69 CBS (copyright date 19Jan69)

2.17 [45] Gentle Ben: SHOW BIZ
02Feb69 CBS Sun (copyright date 26Jan69)
Starring: Dennis Weaver
With: Clint Howard, Beth Brickell, Rance Howard, Angelo Rutherford
Guest Cast:
Pat Henning (as Rollo Wills)
Eleanor La Forge (as Miss Salisbury)
Richard Duemmling (as Jerry)
Young Mark faces untold frustrations as he tries to train lazy Ben.
The boy wants to turn him into a performing bear, but Ben just won't cooperate. [TA]

2.18 [46] Gentle Ben: FLAMING FLATS
09Feb69 CBS (copyright date 2Feb69)

2.19 [47] Gentle Ben: LIFELINE
16Feb69 CBS (copyright date 9Feb69)

2.20 [48] Gentle Ben: MY SON THE BANKER
23Feb69 CBS (copyright date 16Feb69)

2.21 [49] Gentle Ben: THE LAST RED WOLF
Ivan Tors prod. (copyright date 23Feb69)
02Mar69 CBS (Re-run 03Aug69)
Guest star:
Chris Robinson ......... Hal
Synopsis:
Tom's efforts to track a rare red wolf are hampered by a reporter
who sees the nearly extinct animal as sensational story material. [RF]

2.22 [50] Gentle Ben: THE COMPETITOR
09Mar69 CBS Sun (copyright date 2Mar69)
Starring: Dennis Weaver
With: Clint Howard, Rusty Weaver (as Elroy), Beth Brickell, Rance Howard
Synopsis:
The importance of winning weighs heavily on Mark when he competes
for the leadership of a hiking club. Mark's toughest opponent: the
boy who just defeated him in a class election [TA]

2.23 [51] Gentle Ben: MARK OF THE ARROW
Ivan Tors prod. (copyright date 9Mar69)
16Mar69 CBS (re-run 17Aug69)
Guest cast:
Lou Antonio .......... Kee-Cho
Synopsis:
While investigating sabotage at a dam project, Tom and Mark confront
a defiant, gun-toting Seminole who intends to protect his primitive
existence at all costs. [RF]

2.24 [52] Gentle Ben: BOOM'S LAND BOOMERANG
23Mar69 CBS (copyright date 16Mar69)

2.25 [53] Gentle Ben: ELEPHANT ON THE LAM
30Mar69 CBS (copyright date 23Mar69)
Guest cast:
Angelo Rutherford (as Willie)
Bill Kerwin (as Parks)
Chris Banks (as Bill)
Synopsis:
Mark and his pal Willie share a secret pet - an elephant that escaped
from a circus. But their fun is not without worry as they consider the pros
and cons of returning the animal. [TA]

2.26 [54] Gentle Ben: THE PREY
06Apr69 CBS (copyright date 30Mar69)

[--] 13Apr69 - pre-empted for a rerun of "Charlie Brown's All-Stars"

2.27 [55] Gentle Ben: THE BULLY
20Apr69 CBS (copyright date 13Apr69)

2.28 [56] Gentle Ben: BUSMAN'S HOLIDAY (final episode)
27Apr69 CBS (copyright date 20Apr69)
Guest cast:
Chester Morris (as Ronald Elsmore)
Jack Morley (as Spencer)
Fearing that Ben will be put in a zoo, Mark shuffles him off to a hideout
where they share the fugitive life with another runaway - a bus driver turned hermit. [TA]

################# Gentle Ben #################
################# the end #################
##############################################

Have you any comments, corrections, episode titles, air dates, production numbers, directors, writers, story/synopsis, guest stars, cast lists, etc?
Have you any old videos, or tv guides? Dust them off and let us know if you have any information on this series or any other tv series from the
Golden Age of TV, which is missing from any episode guides on the web. Perhaps a certain episode of a particular series coincided with a key
moment in your life, or in world events - and or has left a vivid memory of when it was shown. Let us know. Would you like to see any other
tv series guides on this site? If so please e-mail The Classic TV Archive - see Feedback below.
This guide may be distributed and copied freely, in its entirety, for personal use. All original author and copyright information must
remain intact. Any sales or other uses of this document are expressly forbidden, without the specific consent of the author(s).
Copyright İ The Classic TV Archive. All rights reserved.
Return to The Classic TV Archive Home Page
Feedback -
Adventure Forum