CTVA
The Classic TV Archive - TV Western series
<Previous "Alias Smith and Jones" Next>
The Roger Davis Episodes (Starring Ben Murphy and Roger Davis)
last 5 episodes of Season 2 & Season 3 (ABC)(Jan1972-Jan1973)
Episode Guide compiled by The Classic TV Archive
with contributions by: Rina Fox
references:
Library of Congress (telnet://locis.loc.gov)
Internet Movie Database (https://imdb.com)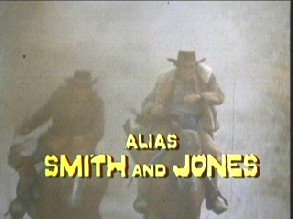 Universal - Public Arts Production / Universal Studios / MCA-TV Exclusive Distributors
for
ABC (Thursdays 7:30 PM) (season 1) / ABC (Thursdays 8.00 PM) (season 2) /ABC (Saturdays 8:00 PM) (season 3)
Creator / Producer : Glen A Larson
Executive Producer (pilot) :
Executive Producer : Roy Huggins (series) / Frank Price (pilot)
Created and Produced by Glen A. Larson
Associate Executive Producer Jo Swerling Jr. (season 1,2 verified)
Produced Jo Swerling Jr. (season 3)

US Western series 1971-73 90 min Pilot + 49 eps x 60 min (aired from: 21Jan71-13Jan73)
Starring:
Ben Murphy Jedediah "Kid" Curry alias Thaddeus Jones
Roger Davis (eps.33-49) .as Hannibal Heyes alias Joshua Smith
..
Recurring Guest Stars:
James Drury,
Mike Road as Sheriff Lom Trevors (Mar. 4, 1971)
John Russell as Sheriff Lom Trevors (Nov. 25, 1972)
J.D. Cannon
as Harry Briscoe, detective with the Bannerman Detective Agency
Burl Ives as Big Mac McCreedy /Cesar Romero as Armendiraz
Rudy Vallee as Winford Fletcher
Sally Field as Clementine Hale / Michele Lee as Georgette Sinclair
The Devil's Hole Gang:-
Earl Holliman as Wheat / Dennis Fimple as Kyle Murtry /Read Morgan as Lobo

Narrator: Roger Davis (1971-72)

##########################################
Opening Sequence Narration by Roger Davis / Ralph Story (from ep.33)
###########################################

"Hannibal Hayes and Kid Curry, the two most successful outlaws in the
history of the west, and in the all the trains and banks they robbed
they never shot anyone. This made our two-latter day Robin Hoods very
popular with everyone but the railroads and the banks.
"There's one thing we got to get Heyes"
"What's that?"
"Outa this business!"
"The governor can't come flat out and give you amnesty now.
First you got to prove you deserve it" (SHERIFF)
"So all we gotta do is stay out of trouble till the governor
figures we deserve amnesty (PD)
"But in the meantime we'll still be wanted?"(BM)
"Er, that's true. Till then only you me and the governor 'll know
about it - it'll be our secret" (SHERIFF)
"That's a good deal?" (PD)
"I sure wish the governor 'd let a few more people in on our secret!"
From episode 33 "latter-day Robin Hoods" became "Kansas Cousins"
"Alias Smith and Jones"
Music Score: Peter Rugolo Theme: Billy Goldenberg
Alias Smith and Jones (Pete Duel episodes) (Season 1 + first 18 episodes of Season 2) (ABC) (Jan1971-Jan1972)
Alias Smith and Jones (Roger Davis episodes) (last 5 episodes of Season 2 + Season 3) (ABC) (Jan1972-Jan1973)

############ Alias Smith and Jones ###########
############## season 2 1971-72 ##############
##############################################
ABC Thursdays 8.00 PM Eastern (16Sep71-02Mar72)
Associate Producer Nicholas E. Baehr (end credits) (early season 2)
Associate Producer Steve Heilpern (end credits)(late sreason 2)

################# ENTER ROGER DAVIS (replaced Pete Duel mid-season) #################

2.19 [33] Alias Smith & Jones: THE BIGGEST GAME IN THE WEST [RD entry]
This is the first Roger Davis episode. Pete Duel started filming the episode on December 27 but was found dead of a gunshot
wound on December 31. Filming was eventually completed on January 7. Footage of Pete Duel is included in certain scenes.
3Feb72
Associate Producer Steve Heilpern (end credits)
Assistant to Producer Arthur E. McLaird (end credits)
Written by John Thomas James
Directed by Alexander Singer
Director of Photography William Cronjager
Starring: Ben Murphy & Roger Davis
Guest Star :
Jim Backus as J.P. Sterling
Special Guest Stars:
Chill Wills as Bixby
Rod Cameron as Sheriff Grimly
Co-Starring: (end credits)
Donald Woods ........... Halberstam
Ford Rainey ............ Collins
Bill McKinney .......... Lobo Riggs (Devil's Hole Gang ??)
Dennis Fimple .......... Kyle Murtry (Devil's Hole Gang)
With:
Jackie Russell ......... Sally
Jon Lormer ............. Parsons
X Brands ............... Poker Player
Steven Gravers ......... Mattson
Synopsis 1:
Hannibal Heyes uses a bag of counterfeit money that literally fell into his lap as a stake to get into a high rollers poker game.
Synopsis 2:
Heyes convinces Curry that they can use $200,000 in counterfeit money to get admitted to a poker game. [RF]

2.20 [34] Alias Smith & Jones: WHICH WAY TO THE OK CORRAL? [RD]
10Feb72
Associate Producer Steve Heilpern (end credits)
Assistant to Producer Arthur E. McLaird (end credits)
Teleplay by Glen A Larson
Story by John Thomas James
Directed by Jack Arnold
Director of Photography William Cronjager
Starring: Ben Murphy & Roger Davis
Guest Stars :
Neville Brand as Sam Bacon
John Russell
Special Guest Stars:
Cameron Mitchell as Marshall Wyatt Earp
Burl Ives as Big Mac McCreedy.
and:
Michele Lee as Georgette Sinclair
Co-Starring: (end credits)
William Mims .......... Will McKintyre
Jackie Coogan ......... Harvey Clifford
Bill Fletcher ......... Doc Holiday
with:
Virginia Gregg ........ Emma McIntyre
Bill Guinn ............ Despatcher
Walt Davis ............ Deputy Jake
Tom Waters ............ Sheriff
Synopsis 1:
Heyes and Curry come across sheriff Wyatt Earp in Tombstone while trying to clear Big Mac McCreedy of a murder charge.
Synopsis 2:
Curry and Heyes sneak into Tombstone looking for a witness who could clear
Mac McCreedy of a murder charge while trying to escape the notice of sheriff Wyatt Earp.
Synopsis 3:
The famous Marshal Earp is beginning to get suspicious of our still-wanted
heroes, who are in town to clear a friend of a bum murder rap. [RF]
Synopsis 4:
McCreedy hires Heyes and Curry to find a drifter who can clear McCreedy of murder charges. [RF]

2.21 [35] Alias Smith & Jones: DON'T GET MAD, GET EVEN [RD]
17Feb72
Associate Producer Steve Heilpern (end credits)
Assistant to Producer Arthur E. McLaird (end credits)
Written by John Thomas James
Directed by Bruce Bilson
Director of Photography William Cronjager
Starring: Ben Murphy & Roger Davis
Guest Star:
Michele Lee as Georgette Sinclair
Special Guest Stars:
Robert Middleton as Wheelwright
John Banner as Otto
Walter Brennan as Silky O'Sullivan
Co-Starring: (end credits)
Gregg Palmer ......... Fermin
Karen Smith .......... Fanny Turpin
Dave Morick .......... Hotel Clark
Eugene Shields ....... Holdup Leader
Monty Laird .......... Fargo
Synopsis 1:
After Heyes is cheated in a poker game he arranges for the saloon owner to purchase a false pearl necklace to get his
money back. His plan backfires however when the saloon owner steals the genuine necklace that Heyes used as bait.
Synopsis 2:
Heyes gets cheated in a poker game and arranges for the saloon owner to purchase a phony pearl necklace to get his money
back. Things go awry, however, when the wily saloon owner arranges to steal the genuine necklace Heyes used as bait.
Synopsis 3:
Heyes, cheated of his poker stake, enlists Georgette's help and a borrowed necklace to get revenge. [RF]

2.22 [36] Alias Smith & Jones: WHAT'S IN IT FOR MIA ? [RD]
24Feb72
Associate Producer Steve Heilpern (end credits)
Assistant to Producer Arthur E. McLaird (end credits)
Teleplay by William D. Gordon & John Thomas James / Story by John Thomas James
Directed by John Dumas
Director of Photography William Cronjager
Starring: Ben Murphy & Roger Davis
Guest Stars:
Ida Lupino as Mia Bronson
Sallie Shockley as Charlotte Austin
Special Guest Star:
Buddy Ebsen as George Austin
Co-Starring: (end credits)
John Kellog ............. Dealer
with:
George Robotham ......... Max
Allen Dodd .............. Karl
Bud Walls ............... Cliff
Synopsis 1:
An unemployed printer and his daughter kindly help Heyes and Curry recover from a beating. In return the two boys help
George Austin get his revenge on the saloon owner who put him out of work by working a counterfeit money scam on her.
Synopsis 2:
Smith and Jones join up with an out-of-work printer to get revenge on a greedy saloon owner by convincing her they've
perfected a new way of counterfeiting money.
Synopsis 3:
Heyes and Curry enlist a former newspaperman to help fight a town boss who had the outlaws beaten and evicted. [RF]

2.23 [37] Alias Smith & Jones: BAD NIGHT IN BIG BUTTE [RD]
2Mar72 (rebroadcast 06Jul72)
Associate Producer Steve Heilpern (end credits)
Assistant to Producer Arthur E. McLaird (end credits)
Written by Glen A Larson
Directed by Richard L. Bare
Director of Photography William Cronjager
Starring: Ben Murphy & Roger Davis
Guest Star:
Arthur O'Connell as Sheriff
Special Guest Stars:
Jack Elam as Boot Colby
Pat Buttram as Deputy
Sam Jaffe as Mr. Silky
and:
Michele Lee as Georgette Sinclair
Co-Starring: (end credits)
Mills Watson ......... Deputy Sheriff Sam Perkins
Dave Willock ......... Clerk (Big Butte)
Frank Fergusin ....... Undertaker (Mr. Billings)
with:
Robert Nichols ....... 1st. Man
Walt Davis ........... Minister
Laura Rose ........... Moxie
Paul Schott .......... Clerk
Danny Sands .......... Driver
Synopsis 1:
Heyes and Curry run into "George" once again trying to locate a
hidden diamond.
Synopsis 2:
The boys run into George again, this time trying to locate a
hidden diamond.
Synopsis 3:
Larcenous Georgette tricks Curry and Heyes into helping her steal a $200,000 diamond. [RF]

############ Alias Smith and Jones ###########
############## season 3 1972-73 ##############
################ (final season) ##############
ABC Saturdays 8:00 PM (16Sep72-13Jan73)
Produced Jo Swerling Jr. (season 3)

3.01 [38] Alias Smith & Jones: THE LONG CHASE [RD]
16Sep72 ABC Sat
Teleplay by John Thomas James
Directed by Alexander Singer
Starring: Ben Murphy & Roger Davis
Guest Stars :
James Drury as Sheriff Tankersley
Frank Sinatra Jr as Deputy Wermser
J.D. Cannon as Harry Briscoe
Synopsis 1:
The guys cover a lot of ground trying to escape from a relentless sheriff on their trail.
Synopsis 2:
To help Heyes and Curry escape from a posse, Briscoe says he is taking them into custody. [RF]

3.02 [39] Alias Smith & Jones: HIGH LONESOME COUNTRY [RD]
23Sep72
Executive Story Consultant Nicholas E. Baehr (end credits)
Associate Producer Steve Heilpern (end credits)
Teleplay by Dick Nelson/ Story by John Thomas James
Directed by Alexander Singer
Director of Photography Gene Polito
Starring: Ben Murphy & Roger Davis
Guest Stars:
Buddy Ebsen (as Phil Archer)
Rod Cameron (as Luke Billings)
Co-Starring: (end credits)
Marie Windsor ....... Helen Archer
with:
Walt Davis .......... Clyde
Monty Laird ......... Bill
Synopsis 1:
An elderly couple hire a bounty hunter to capture Heyes and Curry.
Synopsis 2:
A greedy rancher seeking a bounty hires Heyes and Curry to supposedly trap animals. [RF]

3.03 [40] Alias Smith & Jones: THE McCREEDY FEUD [RD]
30Sep72
Teleplay by Jaunita Bartlett/ Story by John Thomas James
Directed by Alexander Singer
Starring: Ben Murphy & Roger Davis
Guest Stars:
Katy Jurado (as Carlotta)
Cesar Romero (as Armendiraz)
Sepecial Guest Star:
Burl Ives (as Pat "Big Mac" McCreedy)
Co-Starring: (end credits)
Dennis Fimple .......... Kyle Murtry
Rudy Diaz .............. Man
Lou Peralta ............ Guard
Claudio Miranda ........ Priest
Synopsis 1:
In an effort to finally end the feud between Big Mac McCready and Armendiraz, Heyes and Curry decide to play matchmaker
for Big Mac and ArmendirazŐs sister Carlotta.
Synopsis 2:
Smith and Jones try to end the feud between their friend Mac McCreedy and Mexican land baron Armendariaz by playing
matchmaker for Mac and Armendariaz's sister Carlotta.
(Note: End scene's of McCreedy's house filmed at the The Virgian Shiloh Ranch Big House)
Synopsis 3:
McCreedy hires Heyes and Curry to end his feud with Mexican rancher Armendariz. [RF]

3.04 [41] Alias Smith & Jones: THE CLEMENTINE INCIDENT [RD]
07Oct72
Teleplay by: Gloryette Clark / Story by John Thomas James
Directed by: Jack Arnold
Starring: Ben Murphy & Roger Davis
Guest Stars :
Sally Field as Clementine Hale
Alejandro Ray as Ramon Cordoba
Mills Watson as Chester
Ramon Bieri as Ted Thompson
Cody Bearpaw as the Indian
Synopsis 1:
Clementine Hale upsets Heyes and Curry's plans for a peaceful retirement in
Mexico when she blackmails them into helping her out with one of her schemes.
Synopsis 2:
Heyes and Curry's plans to retire peacefully in Mexico are interrupted by
Clementine, who blackmails them into helping her out in one of her schemes.
Synopsis 3:
Clementine must post as Curry's wife when the outlaws decide to retire in Mexico. [RF]

3.05 [42] Alias Smith & Jones: BUSHWACK! [RD]
21Oct72
Teleplay by John Thomas James & David Moesinger / Story by John Thomas James
Directed by Jack Arnold
Director of Photography Gene Polito
Starring: Ben Murphy & Roger Davis
Guest Stars:
Glenn Corbett (as Marty Alcott)
Christine Belford (as Ellie Alcott)
Special Guest Star:
Frank Converse (as Chris Truitt)
*
Co-Starring: (end credits)
Michael Conrad ....... Mike McCloskey
Ford Rainey .......... Teshmacker
Charles H. Gray ...... Sheriff Wiggins
with:
Todd Martin .......... Pete
Mark Holly ........... Jake Horn
Sonny Shields ........ Phil Westerly
Buddy Foster ......... Aplonzo Taylor
Synopsis 1:
A man sets up Heyes and Curry as witnesses to his murder of two bushwhackers.
Synopsis 2:
Heyes and Curry are set up as witnesses for a man who kills two bushwhackers for his own reasons.
Synopsis 3:
Heyes and Curry wind up in a range war when they help a rancher who saved them from an ambush. [RF]

3.06 [43] Alias Smith & Jones: WHAT HAPPENED AT THE XST? [RD]
28Oct72
Written by John Thomas James
Directed by Jack Arnold
Starring: Ben Murphy & Roger Davis
Guest Stars:
Keenan Wynn (as Artie Gorman)
William Smith (as Deputy Orville Larkin)
Special Guest Star:
Ed Nelson (as Sheriff Frank Canton)
*
End Credits (incomplete)
Geoffrey Lewis as Deputy Burk Stover
Eve McVeagh
Synopsis 1:
Heyes and Curry visit old friend Art Gorman in Buffalo, Wyoming, where another old aquaintance is now sheriff.
They promise to keep out of trouble until Gorman asks for their help in digging up money from an old robbery.
Synopsis 2:
The guys come to Buffalo, Wyoming to meet an old friend, Art Gorman, in a town where another old acquaintance is
now sheriff. After promising the sheriff to stay out of trouble in his town, Gorman asks their help in
digging up the money from an old robbery.
Synopsis 3:
Curry and Heyes head to a Wyoming hamlet to help a friend find buried loot coveted by several locals. [RF]

3.07 [44] Alias Smith & Jones: THE TEN DAYS THAT SHOOK KID CURRY [RD]
4Nov72
Teleplay by Gloryette Clark/ Story by John Thomas James
Directed by Edward M Abrams
Starring: Ben Murphy & Roger Davis
Guest Stars :
Shirley Knight (as Amy Martin)
Edd Byrnes (as Willard Riley)
*
Co-Starring: (end credits)
Bill Fletcher ....... Doc Holliday
Frederic Downs ...... Judge
with:
Ted Gehring ......... Jorgensen
Steven Gravers ...... Bartender
Randall Garver ...... Young Man
Barbara Bosson ...... Mrs. Schwedes
Bill Quinn .......... Hotel Clerk
Synopsis 1:
Kid Curry is bailed out of jail by an attractive schoolteacher, who has her own reasons for freeing him.
Synopsis 2:
Kid Curry falls on hard times and has to be bailed out of jail by a pretty
schoolteacher, who has an ulterior motive for freeing him.
Synopsis 3:
Heyes romances a schoolteacher to find kidnapped Curry, held prisoner in a mine shaft. [RF]

3.08 [45] Alias Smith & Jones: THE DAY THE AMNESTY CAME THROUGH [RD]
25 Nov 72
Produced Jo Swerling Jr. / Associate Producer Steve Heilpern
Teleplay by Dick Nelson & John Thomas James / Story by John Thomas James
Directed by Jeff Corey
Director of Photography, Gene Polito
Starring: Ben Murphy & Roger Davis
Guest Stars :
Brett Halsey (as Ed Starr)
Lane Bradbury (as Ellen Anderson)
Warren Vanders
Special Guest Star:
John Russell (as Sheriff Lom Trevors)
*
Co-Starring: (end credits)
Robert Donner .......... Charlie Taylor
Charles Dierkop ........ Clayton Crewes
And:
Jeff Corey ............. Governor George W. Baxter
With:
Robert Nichols ......... Magruder
Sonny Shields .......... Black Henry Smith
Frank Stell ............ Guard
Jerald McRaney ......... Telepgrapher
Synopsis 1 :
Heyes and Curry attempt to rescue a fair lady from her outlaw lover.
ones try to rescue a fair maiden from her outlaw lover.
Synopsis 2:
A change in governors could win Heyes and Curry their amnesty if they
first save a rich man's daughter from her outlaw beau. [RF]

3.09 [46] Alias Smith & Jones: THE STRANGE FATE OF CONRAD MEYER ZULICK [RD]
02Dec72
Produced Jo Swerling Jr. / Associate Producer, Steve Heilpern
Teleplay by Nicholas E. Baehr/ Story by John Thomas James
Directed by Richard Bennett
Director of Photography, Gene Polito
Music Score, John Andrew Tartaglia
Starring: Ben Murphy & Roger Davis
Guest Stars :
David Canary as Doc Donovan
Sorrell Brooke as Zulick
Slim Pickens as Sheriff
*
Co-Starring: (end credits)
John Kellogg ............. Meade
Dennis Rucker ............ The Deputy
With:
Michael Mikler ........... Fallon
Bert Santos .............. Lopez
Ninette Bravo ............ Girl Dancer
Laurie Perrone ........... Salvation Army Girl
Synopsis 1:
An illegal sortie into Mexico threatens to endager Heyes and Curry's amnesty.
Synopsis 2:
The guys endanger their amnesty with a slightly illegal foray into Mexico.
Synopsis 3:
Curry and Heyes aren't certain which side of the law they're on by
agreeing to rescue a man from striking Mexican miners. [RF]

3.10 [47] Alias Smith & Jones: McGUFFIN [RD]
09Dec72
Produced Jo Swerling Jr. / Associate Producer Steve Heilpern
Teleplay by Nicholas E Baehr / Story by John Thomas James
Directed by Alexander Singer
Director of Photography Gene Polito
Starring: Ben Murphy & Roger Davis
Guest Stars :
Darleen Carr as Kate
L.Q. Jones as Peterson
*
Co-Starring: (end credits)
Clarke Gordon ......... McGuffin
Jackie Coogan ......... Passenger Agent
Mort Milles ........... 1st Man
Walter Brooke ......... Chief Agent
With:
Jack Manning .......... Dr. O'Connell
Allen Joseph .......... Ticket Agent
Alice Nunn ............ Hotel Clerk
Chuck Hicks ........... Carson
X Brands .............. Roberts
Synopsis 1:
Smith and Jones offer of help to a wounded man called McGuffin takes a strange twist when he asks them to deliver
a package of counterfeit $20 plates for him.
Synopsis 2:
Confusion reigns after Smith and Jones stop to help a wounded man who calls himself McGuffin and asks them to deliver
a package of perfect counterfeit $20 plates for him.
Synopsis 3:
Heyes and Curry become involved with a wounded man claiming to be a U.S. Treasury agent. [RF]

3.11 [48] Alias Smith & Jones: WITNESS TO A LYNCHING [RD]
16Dec72
Produced Jo Swerling Jr. / Associate Producer Steve Heilpern
Teleplay : Nicholas E Baehr / Story : John Thomas James
Director : Richard Bennett
Director of Photography: Gene Polito
Starring: Ben Murphy & Roger Davis
Guest Stars :
John McGiver (as Doc Snively)
Special Guest Stars:
Brenda Scott (as Cybele Snively)
John Russell (as Sheriff Lom Trevors)
*
Co-Starring: (end credits)
G.D. Spradlin .......... Simpson
Kenneth Tobey .......... Sheriff Kimball
Ann Doran .............. Mrs. Simpson
With;
Barry Cahill ........... Marshal Guthrie
Dick Whittington ....... Telegrapher
Paul Schott ............ Conductor
Synopsis 1:
Smith and Jones find themselves guarding a key witness to a murdering rancher who has escaped conviction because
of the disappearance of previous witnesses against him.
Synopsis 2:
Smith and Jones are `persuaded' to guard a key witness against a murdering rancher who has gone free from previous
charges because the witnesses against him have disappeared.

3.12 [49] Alias Smith & Jones: ONLY THREE TO A BED (final episode) [RD]
13Jan73
Produced Jo Swerling Jr. / Associate Producer Steve Heilpern
Teleplay by Richard Morris / Story by John Thomas James
Directed by Jeffrey Hayden
Director of Photography: Gene Polito
Starring: Ben Murphy & Roger Davis
Guest Stars:
Jo Ann Pflug (as Beegee)
Dana Elcar (as Sam Haney)
Laurette Spang (as Emma Sterling)
John Kerr (as George Sterling)
Special Guest Star:
Dean Jagger (as Mark Tisdale)
*
Co-Starring: (end credits)
Paul Fix .............. Bronc
Pepper Martin ......... Head Gunman
With:
Janet Johnson ......... Belle
Gary Van Orman ........ Stage Driver
Michael Rupert ........ Boy
Synopsis 1:
Deciding they need a vacation Heyes and Curry end up helping a man round up wild horses from a herd that runs on
land claimed by a cantankerous old man.
Synopsis 2:
The guys take a `vacation' and help a man round up wild horses from a herd that runs on the land claimed by a proud,
stubborn old man.

================================

Cancelled in mid season, the final episode sees Heyes and Curry still awaiting their amnesty.

############ Alias Smith and Jones ###########
################# the end ##################
##############################################

Have you any comments, corrections, episode titles, air dates, production numbers, directors, writers, story/synopsis, guest stars, cast lists, etc?
Have you any old videos, or tv guides? Dust them off and let us know if you have any information on this series or any other tv series from the
Golden Age of TV, which is missing from any episode guides on the web. Perhaps a certain episode of a particular series coincided with a key
moment in your life, or in world events - and or has left a vivid memory of when it was shown. Let us know. Would you like to see any other
tv series guides on this site? If so please e-mail The Classic TV Archive - see Feedback below.
This guide may be distributed and copied freely, in its entirety, for personal use. All original author and copyright information must
remain intact. Any sales or other uses of this document are expressly forbidden, without the specific consent of the author(s).
Copyright © The Classic TV Archive. All rights reserved.


Return to The Classic TV Archive Western Page
Return to The Classic TV Archive Home Page