CTVA
The Classic TV Archive - TV Western series
Ben Murphy Series:-
"Alias Smith & Jones"(1971-73) - Griff (1973-74) - "Gemini Man"(1976) - "Lottery$"(1983-84)
Alias Smith and Jones (1971-73)
Episode Guide compiled by The Classic TV Archive
with contributions by: Rina Fox
references:
TV Guide / Library of Congress (telnet://locis.loc.gov)
Internet Movie Database (https://imdb.com)
Alias Smith and Jones (Pete Duel episodes) (Season 1 + first 18 episodes of Season 2) (ABC) (Jan1971-Jan1972)
Alias Smith and Jones (Roger Davis episodes) (last 5 episodes of Season 2 + Season 3) (ABC) (Jan1972-Jan1973)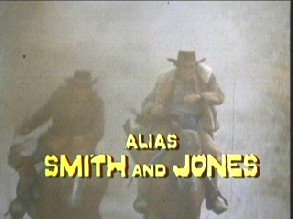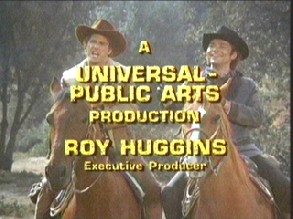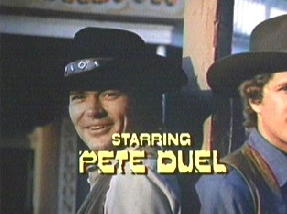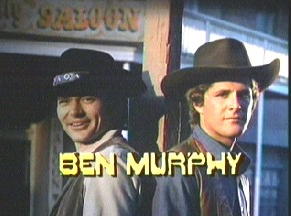 Universal - Public Arts Production
Universal Studios / MCA-TV Exclusive Distributors
for
ABC (Thursdays 7:30 PM) (season 1)
ABC (Thursdays 8.00 PM) (season 2)
ABC (Saturdays 8:00 PM) (season 3)
Creator / Producer : Glen A Larson
Executive Producer (pilot) :
Executive Producer : Roy Huggins (series) / Frank Price (pilot)
Created and Produced by Glen A. Larson
Associate Executive Producer Jo Swerling Jr. (season 1,2 verified)
Produced Jo Swerling Jr. (season 3)

US Western series 1971-73 90 min Pilot + 49 eps x 60 min
aired from: 21Jan71-13Jan73
Starring:
Pete Duel (eps 1-32)/ Roger Davis (eps.33-49)
as Hannibal Heyes alias Joshua Smith
Ben Murphy
Jedediah "Kid" Curry alias Thaddeus Jones ...
Recurring Guest Stars:
James Drury,
Mike Road as Sheriff Lom Trevors (Mar. 4, 1971)
John Russell as Sheriff Lom Trevors (Nov. 25, 1972)
J.D. Cannon
as Harry Briscoe, detective with the Bannerman Detective Agency
Burl Ives as Big Mac McCreedy
Cesar Romero as Armendiraz
Rudy Vallee as Winford Fletcher
Sally Field as Clementine Hale
Michele Lee as Georgette Sinclair
The Devil's Hole Gang:-
Earl Holliman as Wheat
Dennis Fimple as Kyle Murtry
Read Morgan as Lobo

Narrator: Roger Davis (1971-72)

Bckground
Western series set in Kansas during the 1890's. Outlaws and leaders of the Devil's Hole Gang, Hannibal Heyes and Jedediah
'Kid'Curry decide to go 'straight' after finding the new safes 'crackproof'. Seeking an amnesty from the Governor in return
for abandoning their life of crime, Heyes and Curry are granted provisional amnesty. They must prove to the Governor that
they are true to their word by staying out of trouble for twelve months after which time they will granted a full pardon.
However, the terms must remain a secret between themselves, the Governor and Sheriff Lom Trevors. Heyes and Curry leave
the Devil's Hole Gang and adopt the personas of Joshua Smith and Thaddeus Jones in an attempt to stay away from trouble.
But trouble won't leave them alone.

##########################################
Opening Sequence Narration by Roger Davis / Ralph Story (from ep.33)
###########################################

"Hannibal Hayes and Kid Curry, the two most successful outlaws in the
history of the west, and in the all the trains and banks they robbed
they never shot anyone. This made our two-latter day Robin Hoods very
popular with everyone but the railroads and the banks.
"There's one thing we got to get Heyes"
"What's that?"
"Outa this business!"
"The governor can't come flat out and give you amnesty now.
First you got to prove you deserve it" (SHERIFF)
"So all we gotta do is stay out of trouble till the governor
figures we deserve amnesty (PD)
"But in the meantime we'll still be wanted?"(BM)
"Er, that's true. Till then only you me and the governor 'll know
about it - it'll be our secret" (SHERIFF)
"That's a good deal?" (PD)
"I sure wish the governor 'd let a few more people in on our secret!"
From episode 33 "latter-day Robin Hoods" became "Kansas Cousins"
"Alias Smith and Jones"
Music Score: Peter Rugolo / Theme: Billy Goldenberg

############ Alias Smith and Jones ###########
############# season 1 early 1971 ############
##############################################
ABC Thursdays 7:30 pm Eastern (21Jan71-22Apr71)
Alias Smith and Jones (Pete Duel episodes) (Season 1 + first 18 episodes of Season 2) (ABC) (Jan1971-Jan1972)

############ Alias Smith and Jones ###########
############## season 2 1971-72 ##############
##############################################
ABC Thursdays 8.00 pm Eastern (16Sep71-02Mar72)

############ Alias Smith and Jones ###########
############## season 3 1972-73 ##############
################ (final season) ##############
ABC Saturdays 8:00 pm Eastern (16Sep72-13Jan73)

Alias Smith and Jones (Roger Davis episodes) (last 5 episodes of Season 2 + Season 3) (ABC) (Jan1972-Jan1973)
############ Alias Smith and Jones ###########
############ TV Movie Compilations ###########
##############################################

THE WRONG TRAIN AT BRIMSTONE and THE REFORMATION OF HARRY BRISCOE
were combined and titled THE GUN AND THE NUN.

THE LONG CHASE, HIGH LONESOME COUNTRY and THE CLEMENTINE INCIDENT
were combined and titled THE LONG CHASE.

############ Alias Smith and Jones ###########
################# the end ##################
##############################################

Have you any comments, corrections, episode titles, air dates, production numbers, directors, writers, story/synopsis, guest stars, cast lists, etc?
Have you any old videos, or tv guides? Dust them off and let us know if you have any information on this series or any other tv series from the
Golden Age of TV, which is missing from any episode guides on the web. Perhaps a certain episode of a particular series coincided with a key
moment in your life, or in world events - and or has left a vivid memory of when it was shown. Let us know. Would you like to see any other
tv series guides on this site? If so please e-mail The Classic TV Archive - see Feedback below.
This guide may be distributed and copied freely, in its entirety, for personal use. All original author and copyright information must
remain intact. Any sales or other uses of this document are expressly forbidden, without the specific consent of the author(s).
Copyright © The Classic TV Archive. All rights reserved.

Return to The Classic TV Archive Western Page
Return to The Classic TV Archive Home Page