US Music Variety - US Talk Shows/ Discussion Series
-
US Documentary Series

The Tonight Show (NBC)
<Previous
"Tonight starring Jack Paar"
Next>
Season 3 (NBC)(1959-50)
Episode Guide compiled by The Classic TV Archive
with contributions by: Rina Fox, Tom Alger
[Uploaded Nov-2019]
references:
TV Guide / Library of Congress (telnet://locis.loc.gov)
Internet Movie Database (https://us.imdb.com)
UCLA Film and Television Archive / Writers Guild of America (wga)
NYT and Brooklyn Daily Eagle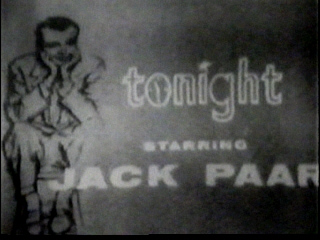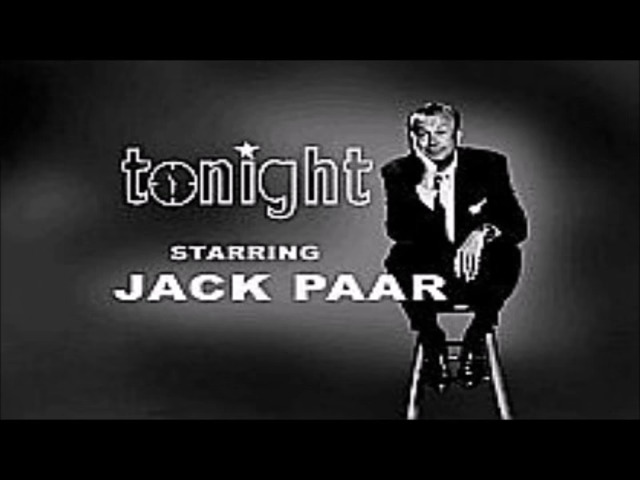 NBC Television Network Presentation
Producer Paul Orr
Director Kirk Alexander
Writers Jack Douglas, Paul W. Keyes, Walter Kempley, Earl Doud.
Hosted by
Jack Paar
Announcer Franklin Pangborn (1957)
Announcer Hy Averback (1958)
Announcer Hugh Downs (1958-1962)
Musical director, Jose Melis Orchestra (1957-1962)
Recurring
Dody Goodman
Mondays to Fridays late night (11:30pm / midnight)
July 29, 1957 to September 28, 1962.
Black-and-white (1957-1960) / Color (1960-1962)
Jack of himself. "I'm complicated, sentimental, lovable, honest, loyal, decent, generous, likable, and lonely.
My personality is not split, itís shredded."
Jack Paar left his show in March 1962 and guest hosts continued until
Johnny Carson who was on a daily afternoon quiz show "Who Do You Trust?"
was under contract until September. He would take over the show October 1, 1962 under the title
"The Tonight Show starring Johnny Carson".
During the months between Paar and Carson the show was broadcast under the title,
"The Tonight Show".
https://www.youtube.com/watch?v=LGU0QAG_9VI

############ Tonight starring Jack Paar ############
############## season 3 1959-1960 ##############
##############################################
NBC Mondays to Fridays late night

3.01 [540] Tonight Starring Jack Paar
07Sep1959
Joey Bishop is the guest host
Guests
actor Red Buttons
comedienne Pat Carroll
pro golfer Jimmy Demaret
and singer Sandy Stewart.

3.02 [541] Tonight Starring Jack Paar
08Sep1959 [rerun 13Nov59]
Host Jack Paar
Guests
actor Peter Lawford
singer Anita Bryant
British actress Hermione Gingold
humorist Alexander King
comedians Cliff Arquette
and Harry Mimmo.

3.03 [542] Tonight Starring Jack Paar
09Sep1959
Host Jack Paar
Guests
TV personality Arlene Francis
actor Theodore Bikel
comedienne Phyllis Diller
and singer Florence Henderson.
Highlights:
Florence Henderson sings "It's Good to Be Alive" and "But Not For Me".
*Note: Theodore Bikel was signed to play opposite Mary Martin in the new Rodgers and Hammerstein musical
"Sound of Music" as a result of his appearance on The Tonight Starring Jack Paar.

3.04 [543] Tonight Starring Jack Paar
10Sep1959
Host Jack Paar
Guests
columnist Leonard Lyons
British actor - producer Gerald Peters
comedienne Peggy Cass
and singer Jack Haskell.

[--] Tonight Starring Jack Paar
11Sep1959 [rerun 28Jul59]
"Best of Paar"
with Peggy Cass, comic Harry Mimmo, Len Dresslar, Cliff Arquette and Eleanor Harris.

3.05 [544] Tonight Starring Jack Paar
14Sep1959 [rerun 27Nov59]
Host Jack Paar
Guests
playwright-producer-director Moss Hart makes his first appearance
actress Betty White
comedian Cliff Arquette
photographer Lee Boltin
singer Betty Johnson
and author Sidney Offit.
*Note: News item:
The Tonight Starring Jack Paar returns to a five-a-week scheduled for two weeks, starting Sept. 28, while Paar vacations in Europe.
Arlene Francis and Hugh Downs, subbing for Paar, will do "live" shows on Thursdays and 'Fridays.
At present the show is taped four nights a week and the Friday program is a repeat.

3.06 [545] Tonight Starring Jack Paar
15Sep1959
Host Jack Paar
Guests
comedian Groucho Marx
Jonnie Lee MacFadden (widow of the publisher Bernard MacFadden.)
Cliff Arquette as Charlie Weaver
and the comedy singing team of Palmer and Nelson.

3.07 [546] Tonight Starring Jack Paar
16Sep1959
Host Jack Paar
Guests
writer George Kirgo
Eugene Gilbert
humorist-author Alexander King
comedian Paul Lynde
and singer Betty Johnson.

3.08 [547] Tonight Starring Jack Paar
17Sep1959
Host Jack Paar
Guests
comedienne Peggy Cass
humorist Charles Dornan
comedian Pat Harrington Jr. as Guido Panzini
singer Frank Verna
and marriage matchmaker Irving Altman.

[--] Tonight Starring Jack Paar
18Sep1959 [rerun from 23Jul59]
"Best of Paar"
Author Robert Crichton with Ferdinard Demara, the subject of Crichton's book "The Impersonator".
Demara has had an amazing career as an impostor. Other Guests singer Earl Grant,
comedienne Virginia de Luce, artist-author Alexander King and the Ritts.

3.09 [548] Tonight Starring Jack Paar
21Sep1959
Host Jack Paar
Guests
comedians Shelley Berman
and Cliff Arquette
comedienne Peggy Cass
singer Louise O'Brien
and Ed Reimer subs for Hugh Downs.

3.10 [549] Tonight Starring Jack Paar
22Sep1959 [rerun 06Nov59]
Host Jack Paar
Guests
actress Betty White
actor-ad libber Hans Conried
Jazz singer Carmel Quinn
singer Evelyn Brooks
comedian Cliff Arquette
and Ed Reimer subs for Hugh Downs.
Highlights:
Carmel Quinn sings "Jig".

3.11 [550] Tonight Starring Jack Paar
23Sep1959
Host Jack Paar
Guests
comedian Jonathan Winters
actress Eva Gabor
critic-poet-editor Louis Untermeyer
singer Ruth Olay
Dr. Spencer Thornton
and Ed Reimer subs for Hugh Downs.

3.12 [551] Tonight Starring Jack Paar
24Sep1959 [rerun 09Nov59]
Host Jack Paar
Guests
actress Debbie Reynolds makes her first appearance on the show
singer-writer Kay Thompson
author Alexander King
songstress Pat Kirby
Jack spends five minutes looking at some old films made by the irrepressible wit, Robert Benchley.
and Ed Reimer subs for Hugh Downs.

[--] Tonight Starring Jack Paar
25Sep1959 [rerun from 18Aug59]
"Best of Paar"
with Wally Cox, Cliff Arquette, Rose Marie and Len Dressler.

3.13 [552] Tonight Starring Jack Paar
28Sep1959
Arlene Francis takes over for the first week of Jack's two week vacation as hostess.
Guests
actress Simone Signoret
composer Billy Rose
director Raoul Levy
and singer Lee Wiley.

3.14 [553] Tonight Starring Jack Paar
29Sep1959
Arlene Francis is the substitute host
Guests
actress Lauren Bacall
actor Sydney Chaplin
producer-playwright George Axelrod
and Broadway agent-producer Leland Hayward.

3.15 [554] Tonight Starring Jack Paar
30Sep1959
Arlene Francis is the substitute host
Guests
comedian Jonathan Winters
comedienne Carol Burnett
publisher Bennett Cerf
and spokesperson Betty Furness.

3.16 [555] Tonight Starring Jack Paar
01Oct1959
Arlene Francis is the substitute host
Guests
actor Sir John Gielgud
composer songwriter Harold Rome
singer-comedienne Edie Adams
actor-singer Leslie Scott
and Arlene interviews author-travele Harvey Olson.

3.17 [556] Tonight Starring Jack Paar
02Oct1959
Arlene Francis is the substitute host
Guests
actress Claudette Colbert
singer Pat Suzuki
playwright Moss Hart
and his wife actress Kitty Carlisle.

3.18 [557] Tonight Starring Jack Paar
05Oct1959
Hugh Downs takes over for Jack's second week of vacation and turns up with two staples on the show,
Guests
Cliff Arquette
and Peggy Cass.
The three of them fuss with blackout skits
comic Dick Drake, a newcomer, does an act
and a firearms executive, Fred Roff, has a chat with Hugh.

3.19 [558] Tonight Starring Jack Paar
06Oct1959
Hugh Downs hosts
Guests
comedy duo Mike Nichols and Elaine May
critic-editor Christopher Lazare
comedian Professor Irwin Corey
and singer Judy Lynn.

3.20 [559] Tonight Starring Jack Paar
07Oct1959
Hugh Downs hosts
Guests
actor David Wayne
comedians Jonathan Winters
and Cliff Arquette
comedienne Peggy Cass
and singer Florence Henderson.

3.21 [560] Tonight Starring Jack Paar
08Oct1959 [Mansfield News]
Hugh Downs hosts
Guests
singer-actress Fran Allison
comedienne Phyllis Diller
writer George Kirgo
and vocalist Betty Johnson.

3.22 [561] Tonight Starring Jack Paar
09Oct1959
Hugh Downs hosts
Guests
singer Carmel Quinn
TV personality Arlene Francis
French singer Genevieve
and comedian Harry Mimmo.

3.23 [562] Tonight Starring Jack Paar
12Oct1959
Host Jack Paar
Guests
pianist Victor Borge
singer Diahann Carroll
comedian Cliff Arquette
and French singer Genevieve was carried onstage by Jack Paar because she broke her leg three weeks ago
while appearing on stage in Toronto.
Highlights:
Diahann Carroll sings "All or Nothing at All" and "Misty".

*Jack returns after a two week vacation.

3.24 [563] Tonight Starring Jack Paar
13Oct1959
Host Jack Paar
Guests
comedienne Kaye Ballard
producer Leonard Sillman
burlesque performer Gypsy Rose Lee
singer Jack Haskell
and Governor Nelson Rockefeller of New York.
Highlights:
Jack Haskell sings songs from the new show "Boys Against Girls".

3.25 [564] Tonight Starring Jack Paar
14Oct1959
Host Jack Paar
Guests
actress Zsa Zsa Gabor
comedienne Dody Goodman
singer Pat Kirby
and Representative James Roosevelt of California.

3.26 [565] Tonight Starring Jack Paar
15Oct1959
Host Jack Paar
Guests
Duke of Bedford
hostess Fran Allison of Kukla, Fran and Ollie
writer George Kirgo
and singer Betty Johnson.
Highlights:
Betty Johnson sings "Take Me Along" and "I'll Be Seeing You".

[--] Tonight Starring Jack Paar
16Oct1959 [rerun from 10Aug59]
"Best of Paar"
with Arlene Francis, Carmel Quinn, Harry Mimmo, Genevieve.

3.27 [566] Tonight Starring Jack Paar
19Oct1959
Host Jack Paar
Guests
Soprano Rise Stevens
Britain's Michael Flanders
and Donald Swann
ad-libber Dave Gardner
singer-actress Florence Henderson
comedian Cliff Arquette
French chanteuse Genevieve
and comic Ray Hastings.
Highlights:
Michael and Donald duet on "At the Drop of the Hat".

3.28 [567] Tonight Starring Jack Paar
20Oct1959
Host Jack Paar
Guests
singer-actor Nelson Eddy
singer-actress Gale Sherwood
comedian Cliff Arquette
comedienne Kaye Ballard
and Dr. Tom Dooley (of Laos).

3.29 [568] Tonight Starring Jack Paar
21Oct1959 [rerun 18Mar60]
Host Jack Paar
Guests
Ed Sullivan's first appearance on Jack's show
comedian Cliff Arquette as Charlie Weaver
singer-actress Florence Henderson
and columnist Elsa Maxwell.

3.30 [569] Tonight Starring Jack Paar
22Oct1959 [rerun 20Nov59]
Host Jack Paar
Guests
actress-comedienne Vivian Vance her debut on Jack's show.
singer Earl Wrightson
French singer Genevieve
and the Berlitz teachers.
Highlights:
Earl sings "They Call the Wind Maria".

[--] Tonight Starring Jack Paar
23Oct1959 [rerun from 11Aug59]
"Best of Paar"
with Anne Bancroft, Alexander King, Don Adams, Patti Lewis.

3.31 [570] Tonight Starring Jack Paar
26Oct1959
Arlene Francis is the guest hostess
Guests
actress Bette Davis
and her husband actor Gary Merrill
and actress Joanne Woodward

3.32 [571] Tonight Starring Jack Paar
27Oct1959
Host Jack Paar
Guests
playwright Meredith Willson and his wife Rene
comedian Cliff Arquette
French singer Genevieve
and singer Jack Haskell.
Highlights:
Jack Haskell sings "Life is for Living" and "Small World".
Jack joins announcer Hugh Downs for another round of "announcers" fluffs.

3.33 [572] Tonight Starring Jack Paar
28Oct1959
Host Jack Paar
Guests
comedian Joey Bishop
author-humorist Alexander King
and singer Carmel Quinn.

3.34 [573] Tonight Starring Jack Paar
29Oct1959 [rerun 08Apr60]
Host Jack Paar
Guests
comedienne Vivian Vance
actress Eva Gabor
TV personality Art Linkletter
comedian Paul Lynde
humorist Charles Dornan
and singer-actress Florence Henderson.

[--] Tonight Starring Jack Paar
30Oct1959 [rerun from 31Aug59]
"Best of Paar"
with Alexander King, Shelley Berman and Blossom Dearie.

3.35 [574] Tonight Starring Jack Paar
02Nov1959
Host Jack Paar
Guests
baritone Earl Wrightson
Broadway producer Leonard Sillman
entertainer Hildegarde
critic Christopher Lazare
and French singer Genevieve.

3.36 [575] Tonight Starring Jack Paar
03Nov1959
Host Jack Paar
Guests
British comedienne Hermione Gingold
comedian Cliff Arquette
Frank DeVol
and singer Betty Cox.
Highlights:
Betty Cox sings "Love Is Here to Stay" and "Sunday".

3.37 [576] Tonight Starring Jack Paar
04Nov1959
Host Jack Paar
Guests
comedian Cliff Arquette
comedienne Peggy Cass
newcomer Elizabeth Allen sings
and language teacher Dr. Erick John.

3.38 [577] Tonight Starring Jack Paar
05Nov1959
Host Jack Paar
Guests
comedienne Pat Carroll
singer Blossom Dearie
and author Alexander King.
Highlights:
Blossom Dearie sings "Bang Went the Drum" and "Lucky to Be Me".

[--] Tonight Starring Jack Paar
06Nov1959 [rerun from 22Sep59]
"Best of Paar"
with Betty White, Hans Conried, Carmel Quinn and Evelyn Brooks.

[--] Tonight Starring Jack Paar
09Nov1959
"Best of Paar"
with Ogden Nash, Ross Parker, Betty White, Dorothy Loudon and Jack Haskell

*Note: News item:
Jack Paar and several of his Tequent guests will be in Nassau, The Bahamas,
this week for three telecasts . . . Tuesday, Wednesday and Thursday . . . from the British Colonial Hotel and other points.
Traveling to The Bahamas with Paar are announcer Hugh Down, Jose Melis, Hermione Gingold,
Peggy Cass, comedienne Phyllis Diller, Jonathan Winters and Cliff Arquette (as Charley Weaver).
Tonight and Friday night "The Tonight Starring Jack Paar" will
present "The Best of Paar" . . . tonight's show, Debbie Reynolds, Kay Thompson, Alex King and singer Pat Kirby.

3.39 [578] Tonight Starring Jack Paar
10Nov1959 [rerun 18Dec59]
From the British Colonial Hotel in Nassau The Bahamas
Host Jack Paar
Guests
singer-actor Burl Ives
British actress Hermione Gingold,
comedian Jonathan Winters,
comedienne Phyllis Diller
and Peanuts Taylor shows how to use the Bongo drums.

3.40 [579] Tonight Starring Jack Paar
11Nov1959 [rerun 25Dec59]
From the British Colonial Hotel in Nassau The Bahamas
Host Jack Paar
Guests
British comedienne Hermione Gingold
comedienne Phyllis Diller
and TV personality Peggy Cass.

3.41 [580] Tonight Starring Jack Paar
12Nov1959
From the British Colonial Hotel in Nassau The Bahamas
Host Jack Paar
Guests
comedians Cliff Arquette
and Jonathan Winters.

[--] Tonight Starring Jack Paar
13Nov1959 [rerun from 08Sep59]
"Best of Paar"
with guests
Hermione Gingold, Harry Mimmo, Alexander King, Anita Bryant.

3.42 [581] Tonight Starring Jack Paar
16Nov1959
Arlene Francis takes over while Jack travels home from Nassau.
Guests
Israeli actress Haya Harareet, who graces the screen in the movie, "Ben Hur"
comedian Jonathan Winters
humorist Abe Burrows
and singer Helena Scott.
Highlights:
Helena Scott sings "Oh Devil Moon" and "I Love You Porgy".
Arlene introduces a fashion show of hats for cocktail time.

3.43 [582] Tonight Starring Jack Paar
17Nov1959
Back from Nassau
Host Jack Paar
Guests
newcomer Anita Loos
journalist Jim Bishop
comedian Cliff Arquette
actor Hans Conried
and The Four Mariners.
Highlights:
The Four Marines sing "Down by the River Side" and "Swing Low Sweet Chariot".

3.44 [583] Tonight Starring Jack Paar
18Nov1959
Host Jack Paar
Guests
comedian Cliff Arquette
TV personality Peggy Cass
singer Judy Lynn
and radio personality Chet Lauck.

3.45 [584] Tonight Starring Jack Paar
19Nov1959
Host Jack Paar
Guests
poet Ogden Nash
actress Betty White
British singer Ross Parker
comedienne Dorothy Loudon
and singer Jack Haskell.

[--] Tonight Starring Jack Paar
20Nov1959 [rerun from 22Oct59]
"Best of Paar"
with Vivian Vance, Earl Wrightson, Genevieve and the Berlitz teachers.
*News Item: Peggy Cass and Cliff Arquette accompany Jack Paar when Paar's NBC-TV
show originates from Hollywood during the first two weeks of December.

3.46 [585] Tonight Starring Jack Paar
23Nov1959
Host Jack Paar
Guests
comedienne Dody Goodman
French singer Genevieve
and vocalist Betty Johnson.
Highlights:
Betty Johnson sings "Love is a Game of Poker" and "I Thought of You".
Jack and Hugh do a skit about a camera conscious politican during a TV interview and then Jack
carries on a real interview with Jule DeBois, newspaperman and Latin-American correspondent.

3.47 [586] Tonight Starring Jack Paar
24Nov1959
Host Jack Paar
comedians Cliff Arquette
and Shelley Berman
and singer Mimi Benzall.

3.48 [587] Tonight Starring Jack Paar
25Nov1959
Host Jack Paar
Guests
author Alexander King
actress Betty White
singer-actress Florence Henderson
and photographer Philippe Halsman.
Highlights:
Florence Henderson sings "I'm Flying" and "Never Never Land".

3.49 [588] Tonight Starring Jack Paar
26Nov1959
Hugh Downs hosts as Jack takes the night off.
Guests
actress Eva Gabor
comedian-actor Orson Bean
comedian Ray Hastings
and guitarist Anita Sheer.

[--] Tonight Starring Jack Paar
27Nov1959 [rerun from 14Sep59]
"Best of Paar"
with Moss Hart, Betty White, Cliff Arquette, Lee Boltin, Betty Johnson

3.50 [589] Tonight Starring Jack Paar
30Nov1959 [rerun 25Mar60]
From Hollywood
Host Jack Paar
Guests
entertainer Jerry Lewis
comedians Joey Bishop
and Cliff Arquette
singer Leona Anderson
and comedienne Dody Goodman.

3.51 [590] Tonight Starring Jack Paar
01Dec1959
From Hollywood
Host Jack Paar
Guests
actor Mickey Rooney
singer-actress Jeanette Macdonald
comedian Cliff Arquette
singer Pat Healy
and comedienne Dody Goodman.

3.52 [591] Tonight Starring Jack Paar
02Dec1959
From Hollywood
Host Jack Paar
Guests
comedian Red Skelton
comedy writer Carl Reiner
singers Ruth Olay
and John Gary.
Highlights:
John Gary sings "The Party Is Over" and "You Are So Beautiful".
Jose Melis and the Orchestra play "Summertime in Venice".

3.53 [592] Tonight Starring Jack Paar
03Dec1959 [rerun 22Jan60]
From Hollywood
Host Jack Paar
Guests
comedian Jack Benny
actor George Raft
actress Evelyn Rudie
actor Sterling Hayden talks about his recent Tahiti trip
singer Eileen Christie
comedienne Dody Goodman
and psychic Criswell predicts the 1960's.
Highlights:
Eileen Christie sings "I Enjoy Being a Girl".
George Raft obliges with a Charleston.

3.54 [593] Tonight Starring Jack Paar
04Dec1959
From Hollywood
Host Jack Paar
Guests
comedian Groucho Marx
actor Vincent Price
actress Elsa Lanchester
actor Hans Conried
comedienne Barbara Heller
singer Anita Bryant
and artist Victor Thall.

3.55 [594] Tonight Starring Jack Paar
07Dec1959
From Hollywood
Host Jack Paar
Guests
actress-comedienne Vivian Vance
TV personality Peggy Cass
comedian Cliff Arquette
and singer Jill Corey.

3.56 [595] Tonight Starring Jack Paar
08Dec1959
From Hollywood
Host Jack Paar
Guests
Meredith "Music Man" Willson and his wife Renee
Opera singer Lauritz Melchior
and comedian Cliff Arquette.

3.57 [596] Tonight Starring Jack Paar
09Dec1959
From Hollywood
Host Jack Paar
Guests
actor Danny Thomas
comedian Cliff Arquette
and singer-comedian-actor Dennis Day who sings "Non Dimenticar".

3.58 [597] Tonight Starring Jack Paar
10Dec1959
From Hollywood
Host Jack Paar
Guests
comedian Joey Bishop
and singer Barbara Barr.

3.59 [598] Tonight Starring Jack Paar
11Dec1959
From Hollywood
Host Jack Paar
Guests
Broadway producer Leonard Sillman,
comedienne Kaye Ballard,
singer Jack Haskell
and comedienne Dody Goodman.

3.60 [599] Tonight Starring Jack Paar
14Dec1959
Arlene Francis is the guest hostess.
Guests

3.61 [600] Tonight Starring Jack Paar
15Dec1959
Host Jack Paar
Guests
comedian Cliff Arquette
and French singer Genevieve.

3.62 [601] Tonight Starring Jack Paar
16Dec1959 [rerun 08Jan60]
Host Jack Paar
Guests
dramatist George S. Kaufman
writer George Kirgo
comedienne Kaye Ballard
and Dr. Spencer Thornton.

3.63 [602] Tonight Starring Jack Paar
17Dec1959 [rerun 15Jan60]
Host Jack Paar
Guests
comedienne Peggy Cass
author Alexander King
singer Elizabeth Allen
and French singer Genevieve.

[--] Tonight Starring Jack Paar
18Dec1959 [rerun from 10Nov59]
"Best of Paar"
with Hermione Gingold, Jonathan Winters, Phyllis Diller, bongo drummer Peanuts Taylor.

3.64 [603] Tonight Starring Jack Paar
21Dec1959
Host Jack Paar
Guests
British singer Ross Parker
comedian Don Adams
and singer Earl Wrightson.

3.65 [604] Tonight Starring Jack Paar
22Dec1959
Host Jack Paar
Guests
comedians Shelley Berman
and Cliff Arquette
and singer Betty Johnson.

3.66 [605] Tonight Starring Jack Paar
23Dec1959
Host Jack Paar
Guests
actress Tallulah Bankhead
comedian Joey Bishop
comedy writer Carl Reiner
columnist Hy Gardner
and singer Judy Lynn.

3.67 [606] Tonight Starring Jack Paar
24Dec1959
Host Jack Paar
Guests
Soprano Rise Stevens who sings "Ave Maria"
Jack's daughter Randy Paar
and children of the cast members help celebrate the Holiday.

[--] Tonight Starring Jack Paar
25Dec1959 [rerun from 11Nov59]
"Best of Paar"
with Peggy Cass, Hermione Gingold, Jonathan Winters from Nassau.

3.68 [607] Tonight Starring Jack Paar
28Dec1959
Arlene Francis is the guest hostess for the vacationing Jack Paar.
Guests
author Lawrence Langer
comedienne Phyllis Diller
comic Johnny Myhers
and singer Jack Haskell.

3.69 [608] Tonight Starring Jack Paar
29Dec1959
Arlene Francis is the guest hostess
Guests
comic actor Wally Cox
choreographer Agnes De Mille
and singer Jack Haskell.

3.70 [609] Tonight Starring Jack Paar
30Dec1959
Arlene Francis is the guest hostess
Guests
writer Gore Vidal
and Jane Grahey.

3.71 [610] Tonight Starring Jack Paar
31Dec1959
New Year's Eve Party
Arlene Francis is the guest hostess
Guests
actress Lauren Bacall
actor Sydney Chaplin
and singer Eileen Rodgers.

[--] Tonight Starring Jack Paar
01Jan1960 [rerun from 13Nov58]
"Best of Paar"
with George Burns, Carl Reiner.

3.72 [611] Tonight Starring Jack Paar
04Jan1960
Joey Bishop takes over hosting duties for Jack
Guests
comedienne Pat Carroll
and singer Louise O'Brien.

3.73 [612] Tonight Starring Jack Paar
05Jan1960
Joey Bishop is the guest host
Guests
singer Barbara Barr.

3.74 [613] Tonight Starring Jack Paar
06Jan1960
Joey Bishop is the guest host
Guests
singer Judy Scott.

3.75 [614] Tonight Starring Jack Paar
07Jan1960
Joey Bishop is the guest host
Guests
entertainer Sammy Davis Jr.
and comedian Cliff Arquette.

[--] Tonight Starring Jack Paar
08Jan1960 [repeat from 16Dec59]
"Best of Paar".
with George S. Kaufman, Kaye Ballard, Dr. Spencer Thornton.

3.76 [615] Tonight Starring Jack Paar
11Jan1960
Host Jack Paar
Guests
actor Hans Conried
playwright Marc Connelly
French singer Genevieve
and the Berlitz people.

3.77 [616] Tonight Starring Jack Paar
12Jan1960
Host Jack Paar
Guests
composer Dimitri Tiomkin
author Walter Kiernan
comedian Cliff Arquette
singer Jack Haskell
and British comedienne Hermione Gingold.
Highlights:
Jack Haskell sings "Talk to Me" and "Gone With the Wind".

3.78 [617] Tonight Starring Jack Paar
13Jan1960
Host Jack Paar
Guests
TV personality Virginia Graham
singer-actress Florence Henderson
and author Alexander King.
Highlights:
Florence Henderson sings "I Gotta Crow" and "The Sound of Music".

3.79 [618] Tonight Starring Jack Paar
14Jan1960
Host Jack Paar
Guests
actress Anne Bancroft
British entertainers Michael Flanders
and Donald Swann
and singer Ellen Hanley.

[--] Tonight Starring Jack Paar
15Jan1960 [repeat from 17Dec59]
"Best of Paar"
with Alexander King, Peggy Cass, Elizabeth Allen.

3.80 [619] Tonight Starring Jack Paar
18Jan1960 [rerun 05Feb60]
Host Jack Paar
Guests
fast talking Walter Kiernan
comedienne Dody Goodman
The Berlitz group
and French singer Genevieve
Highlights:
Genevieve sings "Pigalle".

3.81 [620] Tonight Starring Jack Paar
19Jan1960
Host Jack Paar
Guests
comic actor Wally Cox
writer George Kirgo
and singer Judy Lynn.
Highlights:
Judy sings "I've Gotta Have You" and "I Got Lost in His Arms".

3.82 [621] Tonight Starring Jack Paar
20Jan1960
Host Jack Paar
Guests
comedienne Dorothy Loudon
comedy writer Jack Douglas
and author Alexander King.

3.83 [622] Tonight Starring Jack Paar
21Jan1960
Host Jack Paar
Guests
actor Eddie Albert
singer-comedian Dennis Day
British comedienne Hermione Gingold
and vocalist Betty Johnson.

[--] Tonight Starring Jack Paar
22Jan1960 [repeat from 02Dec59]
"Best of Paar"
with Red Skelton.

3.84 [623] Tonight Starring Jack Paar
25Jan1960
Host Jack Paar
Guests
comedy act Martha Davis and Spouse
humorist Roger Price
actress Betty White
and producer Leonard Sillman.

3.85 [624] Tonight Starring Jack Paar
26Jan1960
Hugh Downs is the substitute host while Jack takes the night off for his special "The Wonderful World of Jack Paar".
Guests
actress Jane Dulo
singer-dancer-actress Benay Venuta
comedian-actor Fred Clark
and singer Jack Haskell.

*Note: "The Wonderful World of Jack Paar" special starred
Jonathan Winters, Pat Suzuki, Betty Bruce, Harry Mimmo, Alice Pearce, Jose Melis and The Strong Brothers.

3.86 [625] Tonight Starring Jack Paar
27Jan1960
Host Jack Paar
Guests
Bil and Cora Baird and their puppets
comedians Cliff Arquette
and Jack Waldron
and French singer Genevieve.
*News item Register-Republic Illinois
Comic Jack Waldron says that he and Joe E. Lewis invented one-line jokes during the Mob days in Chicago,
they had to tell short jokes and talk fast during the Chicago mob days.
He contends that the line, "My wife and I had a beefstew romance", is one of the oldest jokes, to wit:
"She beefed when I got stewed."

3.87 [626] Tonight Starring Jack Paar
28Jan1960
Host Jack Paar
Guests
comedian-actor Orson Bean
singer Mary Mayo
socialite Minnie Guggenheim
and old-time movie hand Dr. Henry Barsha.
Highlights:
Mary Mayo sings "Misty" and "Cockeyed Optimist".

[--] Tonight Starring Jack Paar
29Jan1960 [rerun from 03Dec59]
"Best of Paar"
From Hollywood, Jack Benny, Dody Goodman, Sterling Hayden, Evelyn Rudie, Eileen Christie

3.88 [627] Tonight Starring Jack Paar
01Feb1960
Host Jack Paar
Guests
raconteur George Jessel
humorist Charles Dornan
Deedee and Bill (aka Dorothy Arighi & Bill Mader)
and French singer Genevieve.

3.89 [628] Tonight Starring Jack Paar
02Feb1960
Host Jack Paar
Guests
TV personality-journalist-author Walter Kiernan
comedian Cliff Norton
columnist Elsa Maxwell
and ornithologist Dr. Carik Eklund.

3.90 [629] Tonight Starring Jack Paar
03Feb1960
Host Jack Paar
Guests
journalist Jim Bishop
TV personality Virginia Graham
publicist Jim Moran
singer Duke Hazlett
and Cornelius Vanderbilt Jr.

3.91 [630] Tonight Starring Jack Paar
04Feb1960 [rerun 04Apr60]
Host Jack Paar
Guests
TV personality Arlene Francis
author Alexander King
radio hosts Ed and Pegeen Fitzgerald
TV personality Joyce Davidson
Clifford Prout president for the Society for Indecency to Naked Animals
and vocalist Betty Johnson.

[--] Tonight Starring Jack Paar
05Feb1960 [rerun from 18Jan1960]
"Best of Paar"
with Dimitri Tiomkin, Cliff Arquette, Hermione Gingold, Walter Kiernan, Jack Haskell

3.92 [631] Tonight Starring Jack Paar
08Feb1960
Hugh Downs is the substitute host
Guests
author-playwright Gore Vidal
actress Bess Myerson
vocalist Marilyn Lovell
and language expert Dr. Pierre Samek.
Highlights:
Marilyn Lovell sings "Birth of the Blues" and "My Ship".

3.93 [632] Tonight Starring Jack Paar
09Feb1960 [rerun 04Mar1960)
Jack Paar is back
Guests
comedians Jonathan Winters
and Cliff Arquette
comedienne Phyllis Diller
and vocalist Betty Johnson.

3.94 [633] Tonight Starring Jack Paar
10Feb1960 [rerun 15Apr1960)
Host Jack Paar
Guests
actress Eva Gabor
TV personality Arlene Francis
fashion designer Oleg Cassini
actor James Mitchell
comedy writer Jack Douglas
and The Strong Brothers.
Censors: A joke involving a "W.C." (water closet, a polite term for a flush toilet) being confused for a "wayside chapel."
JOKE: The W.C. joke that caused the controversy involved an English lady visiting Switzerland.
She asked about the location of the "W.C." The Swiss misunderstood her as talking about the Wayside Chapel, and left her
a note that said (in part) "the W.C. is situated nine miles from the room that you will occupy...
It is capable of holding about 229 people and it is only open on Sunday and Thursday... It may interest you to know that
my daughter was married in the W.C. and it was there that she met her husband... I shall be delighted to reserve the best
seat for you, if you wish, where you will be seen by everyone."

3.95 [634] Tonight Starring Jack Paar
11Feb1960
Host Jack Paar
Guests
comedian-actors Orson Bean
and Shelley Berman
and French singer Genevieve.

*Notes: According to the New York Times, Paar's walkout was broadcast at 11:41 E.S.T.
The guests that night were Orson Bean, Genevieve and Shelley Berman.
When Orson Bean appeared, he launched into a two-minute rant against NBC, calling the network a heartless corporation.
His remarks drew loud, sustained applause from the studio audience.
Interestingly, Paar announced he was quitting "The Tonight Show," even though by this time the program was called "The Tonight Starring Jack Paar."
Unhappy with the NBC censor concerning a joke from the previous night's show, Jack announces, "There must be a better way to earn a living than this,"
and quits live, on the air. A stunned Hugh Downs is left to carry on hosting the show.
https://www.youtube.com/watch?v=V3dVEzLIQYQ

[--] Tonight Starring Jack Paar
12Feb1960 [repeat]
"Best of Paar"

3.96 [635] Tonight Starring Jack Paar
15Feb1960
Hugh Downs hosts
Guests
actor Peter Lorre
actress Helena Carroll
vocalist Lester James
comedienne Dody Goodman
and Alexander King.
*News item: Raconteur-author and wit Alexander King has taken a walk from NBC and will not appear as scheduled
out of respect and sympathy for Jack Paar.

3.97 [636] Tonight Starring Jack Paar
16Feb1960
Hugh Downs hosts
Guests
producer Sol Hurok
and singer-actress Florence Henderson.

3.98 [637] Tonight Starring Jack Paar
17Feb1960
Hugh Downs hosts
Guests
humorist Sam Levenson
actor Hugh Griffith
and vocalist Eileen Christie.

3.99 [638] Tonight Starring Jack Paar
18Feb1960
Hugh Downs hosts
Guests
actor Vincent Price
writer George Kirgo
and vocal duo Karen Anders and Peggy Hadley.

[--] Tonight Starring Jack Paar
19Feb1960 [repeat from 21Jan60]
"Best of Paar"
with Arthur Treacher, Hermione Gingold, Eddie Albert, Dennis Day and Betty Johnson.

3.100 [639] Tonight Starring Jack Paar
22Feb1960
Hugh Downs hosts
Guests
actress June Lockhart
and singer Judy Lynn.

3.101 [640] Tonight Starring Jack Paar
23Feb1960
Hugh Downs hosts
Guests
illustrator Norman Rockwell
comedian Cliff Norton
and singer Jack Haskell.

3.102 [641] Tonight Starring Jack Paar
24Feb1960
Hugh Downs hosts
Guests
actor Arthur Treacher
and singer Eileen Christie.

3.103 [642] Tonight Starring Jack Paar
25Feb1960
Hugh Downs hosts
Guests
raconteur George Jessel
Dave Garroway
singers Carmel Quinn
and Earl Wrightson.

[--] Tonight Starring Jack Paar
26Feb1960 (rerun from 25Nov59)
"Best of Paar"
with Alexander King, Florence Henderson, Betty White, Philippe Halsman, Abigail (Dear Abby) Van Buren.

3.104 [643] Tonight Starring Jack Paar
29Feb1960
Arlene Francis is the guest host
Bill Wendell is the guest announcer
Guests
writer Gore Vidal
comedian Joe E. Brown
actor-host Frank Lovejoy
actresses Marie Wilson
and Elisa Lotti
and vocalist Paula Stewart.

3.105 [644] Tonight Starring Jack Paar
01Mar1960
Arlene Francis is the guest host
Bill Wendell is the announcer
Guests
singer Johnny Desmond
and a millinery fashion show.

3.106 [645] Tonight Starring Jack Paar
02Mar1960
Arlene Francis is the guest host
Bill Wendell is the guest announcer
Guests
actor-dancer James Mitchell
and actress Florence Reed.

3.107 [646] Tonight Starring Jack Paar
03Mar1960
Arlene Francis is the guest host
Bill Wendell is the guest announcer
Guests
actor Francis Lederer
Metropolitan Opera baritone George London
and author Marcia Davenport.
Highlights:
George London performs "The September Song" and "Where Is the Life That Late I Led".

[--] Tonight Starring Jack Paar
04Mar1960 [repeat 09Feb60]
"Best of Paar"
with Jonathan Winters, Cliff Arquette, Phyllis Diller.

3.108 [647] Tonight Starring Jack Paar
07Mar1960
Jack Paar returns to the show.
Guests
actor Hans Conried
comedian Cliff Arquette
singer-actress Florence Henderson
and French singer Genevieve.

3.109 [648] Tonight Starring Jack Paar
08Mar1960
Host Jack Paar
Guests
politician Robert F. Kennedy
British actress-comedienne Hermione Gingold
and vocalist Betty Johnson.
*Note: Bobby Kennedy's comments, along with those he made on his previous appearances,
will prompt a lawsuit from Teamsters president Jimmy Hoffa.

3.110 [649] Tonight Starring Jack Paar
09Mar1960
Host Jack Paar
Guests
author Alexander King
actresses Betty White
and Eva Gabor
and singer Jack Haskell.

3.111 [650] Tonight Starring Jack Paar
10Mar1960 [rerun 14Apr60]
Host Jack Paar
Guests
comedians Jonathan Winters
and Orson Bean
TV personality Virginia Graham
and vocalist Betty Johnson.

[--] Tonight Starring Jack Paar
11Mar1960 [repeat 20Jan60]
"Best of Paar"
with Alexander King, Jack Douglas, Florence Henderson.

3.112 [651] Tonight Starring Jack Paar
14Mar1960 [rerun 22Apr60]
Host Jack Paar
Guests
actress Zsa Zsa Gabor
actor Arthur Treacher
comedienne Dody Goodman
and singer Lester James.
Highlights:
Lester James sings "Just in Time" and "Do I Love You", with the Jose Melis Band

3.113 [652] Tonight Starring Jack Paar
15Mar1960
Host Jack Paar
Guests
historian Bruce Catton
comedian Cliff Arquette
French singer Genevieve
and the Berlitz language professors.
Highlights:
Genevieve sings "Dominoe".

3.114 [653] Tonight Starring Jack Paar
16Mar1960
Host Jack Paar
Guests
author Alexander King
comedy writer Jack Douglas
and singer Louise O'Brien.

3.115 [654] Tonight Starring Jack Paar
17Mar1960 [rerun 29Apr60]
Host Jack Paar
Guests
comedienne Peggy Cass
actress Jan Sterling
singer Anita Darien
actor Hans Conried
and author Eleanor Harris.

[--] Tonight Starring Jack Paar
18Mar1960 [repeat from 21Oct59]
"Best of Paar"
with Ed Sullivan, Elsa Maxwell and Cliff Arquette.

3.116 [655] Tonight Starring Jack Paar
21Mar1960
Arlene Francis is the hostess,
Guests
actors Farley Granger
and Walter Slezak
comedy duo Phil Ford and Mimi Hines
and singer Earl Wrightson.

3.117 [656] Tonight Starring Jack Paar
22Mar1960
Arlene Francis is the hostess,
Guests
writer Al Morgan
comedian Jonathan Winters
singer Julie Wilson
and singer Susan Johnson makes her first appearance

3.118 [657] Tonight Starring Jack Paar
23Mar1960
Arlene Francis is the hostess.
Guests
producer-director Joe Mankiewicz
actress Elaine Shepard
and singer Jack Haskell.

3.119 [658] Tonight Starring Jack Paar
24Mar1960
Arlene Francis is the hostess
Guests
singer-actress Tammy Grimes
playwright-lyricist Adolph Green
Silver Screen actress Nancy Carroll
singer Johnny Desmond
and silent screen enthusiast Joe Franklyn comes on with clips from the silent movie days.

[--] Tonight Starring Jack Paar
25Mar1960 [repeat from 30Nov59]
"Best of Paar"
From Hollywood with
Jerry Lewis, Dody Goodman, Joey Bishop, Criswell and Leona "The Crow" Anderson.

3.120 [659] Tonight Starring Jack Paar
28Mar1960
First of week's shows taped in London, also films of London.
Host Jack Paar
Guests
singer-actress Julie Andrews
actors Hans Conried
and Wilfrid Hyde White
and entertainer Dickie Valentine.

3.121 [660] Tonight Starring Jack Paar
29Mar1960 [rerun 06May60]
From London,
Host Jack Paar
Guests
British actor-comedian Peter Sellers
British stage and screen actress Peggy Mount
comic Spike Milligan
French singer Genevieve
Lord Boothby
and the Berlitz Professors.

3.122 [661] Tonight Starring Jack Paar
30Mar1960 [rerun 20May60]
From London,
Host Jack Paar
Guests
comedian Cliff Arquette
journalist-satirist Malcolm Muggeridge
singer-actor Anthony Newley
entertainer Dickie Henderson
Scottish actress Adrienne Corri
and the English husband and wife singing team Johnson and Carr.

3.123 [662] Tonight Starring Jack Paar
31Mar1960 [rerun 13May60]
From London,
Host Jack Paar
Guests
the Duke of Bedford and Lady Barnett
comic Spike Milligan
actor A.E. Matthews
Stephen Potter
and singer Yana.

3.124 [663] Tonight Starring Jack Paar
01Apr1960 [rerun 27May60]
Jack's last show from London
Guests
British actress Glynis Johns
actor Trevor Howard
TV emcee of the British "What's My Line" Gilbert Harding
Sidney Potter author of "Gamesmanship"
comedian Cliff Arquette
and French singer Genevieve.

[--] Tonight Starring Jack Paar
04Apr1960 [repeat 04Feb60]
"Best of Paar"
with Alexander King, Ed and Pegeen Fitzgerald., Joyce Davidson, Betty Johnson and Clifford Prout.

3.125 [664] Tonight Starring Jack Paar
05Apr1960
Host Jack Paar
Guests
comedian Joey Bishop
playwright Moss Hart
and singer-actress Florence Henderson.

3.126 [665] Tonight Starring Jack Paar
06Apr1960
Host Jack Paar
Guests
comedian Jonathan Winters
French singer Genevieve
and the Berlitz language school instructors.

3.127 [666] Tonight Starring Jack Paar
07Apr1960 [rerun 03Jun60]
Host Jack Paar
Guests
comedienne Peggy Cass
folksinger-actor Theodore Bikel
author Alexander King
and singer Jack Haskell.

[--] Tonight Starring Jack Paar
08Apr1960 [repeat from 29Oct59]
"Best of Paar"
with Florence Henderson, Eva Gabor, Charles Dornan, Paul Lynde, Vivian Vance and Art Linkletter.

3.128 [667] Tonight Starring Jack Paar
11Apr1960
Host Jack Paar
Guests
comedian Cliff Arquette
radio and television personality Walter Kiernan
and comedienne Dody Goodman.

3.129 [668] Tonight Starring Jack Paar
12Apr1960
Host Jack Paar
Guests
comedy duo Phil Ford and Mimi Hines
TV personality Virginia Graham
and writer George Kirgo.

3.130 [669] Tonight Starring Jack Paar
13Apr1960
Host Jack Paar
Guests
comedian Joey Bishop
comic actor Wally Cox
actress Florence Reed
French singer Genevieve
and vocalist Betty Johnson.

3.131 [670] Tonight Starring Jack Paar
14Apr1960
Host Jack Paar
Guests
humorist H. Allen Smith
comedienne Peggy Cass
and vocalist Lester James.

[--] Tonight Starring Jack Paar
15Apr1960 [repeat from 10Mar60]
"Best of Paar"
with Orson Bean, Jonathan Winters, Virginia Graham

3.132 [671] Tonight Starring Jack Paar
18Apr1960
Hugh Downs subs for Jack,
Guests
actress Shelley Winters
voice actor Allen Swift
and vocalist Betty Johnson.

3.133 [672] Tonight Starring Jack Paar
19Apr1960
Hugh Downs subs for Jack
Guests
actress Eva Gabor
publicist Jim Moran
and singer Jack Haskell.

3.134 [673] Tonight Starring Jack Paar
20Apr1960
Host Jack Paar
Guests
British actor Peter Sellers
comedian Joey Bishop
French singer Genevieve
singers Karen Anders
and Peggy Hadley
and magician Chan Canasta

3.135 [674] Tonight Starring Jack Paar
21Apr1960 [rerun 10Jun60]
Host Jack Paar
Guests
singer Earl Wrightson
British comedienne Hermione Gingold
humorist author Alexander King
comedienne Peggy Cass
and author Sue Seay.

[--] Tonight Starring Jack Paar
22Apr1960 [repeat from 14Mar60]
"Best of Paar"
with Lester James, Dody Goodman, Zsa Zsa Gabor, Arthur Treacher.

3.136 [675] Tonight Starring Jack Paar
25Apr1960
Host Jack Paar
Guests
actor Arthur Treacher
actress Betty White
comedian Bob Newhart
humorist Charles Dornan
vocalist Betty Johnson
and a Spring fashion show.

3.137 [676] Tonight Starring Jack Paar
26Apr1960
Arlene Francis is the guest hostess,
Guests
Guests
comedians Jonathan Winters
Cliff Arquette
and Shelley Berman
author Alexander King
comedy duo Mike Nichols
and Elaine May
Jazz singer Keely Smith
and ballet dancer James Starbuck.
Plus videotape appearances of Zsa Zsa Gabor, Billy Graham, Hermione Gingold and Oscar Levant.

3.138 [677] Tonight Starring Jack Paar
27Apr1960
Host Jack Paar
Guests
actor Robert Montgomery
comedian Cliff Arquette
songstress Louise O'Brien
French singer Genevieve
and journalist Rufus Jarman.

3.139 [678] Tonight Starring Jack Paar
28Apr1960 [rerun 17Jun60]
Host Jack Paar
Guests
actor Hugh O'Brian
actress Eva Gabor
actors Eddie Albert
and Kurt Kasznar
comedienne Hermione Gingold
and singer Leslie Uggams.

[--] Tonight Starring Jack Paar
29Apr1960 [repeat from 17Mar60]
"Best of Paar"
with Hans Conried, Peggy Cass, Jan Sterling

3.140 [679] Tonight Starring Jack Paar
02May1960 [rerun 24Jun60]
Host Jack Paar
Guests
ventriloquist Shari Lewis
comedy writer Jack Douglas
actress Marta Curro
French singer Genevieve
and singer Betty Johnson.

3.141 [680] Tonight Starring Jack Paar
03May1960 [rerun 01Jul60]
Host Jack Paar
Guests
model-actress Suzy Parker
singer Eileen Christie
sportscaster Joe Garagiola
and comedian Cliff Arquette.

3.142 [681] Tonight Starring Jack Paar
04May1960
Host Jack Paar
Guests
comedienne Kaye Ballard
actress Marie Wilson
singer Tony Bavaar
and author Alexander King.

[--] Tonight Starring Jack Paar
06May1960 [repeat from 29Mar60]
"Best of Paar"
with Genevieve, Lord Boothby, Peter Sellers, Peggy Mount, and Berlitz professors.

3.143 [682] Tonight Starring Jack Paar
09May1960
Hugh Downs substitute host
Guests
Broadway stage actor Harry Snow
and Ted O'Rourke.

3.144 [683] Tonight Starring Jack Paar
10May1960
Host Jack Paar
Guests
raconteur George Jessel
entertainer Hildegarde
and comedian Cliff Arquette.

3.145 [684] Tonight Starring Jack Paar
11May1960 [rerun 15Jul60]
Host Jack Paar
Guests
raconteur George Jessel
TV-radio journalist Walter Kiernan
British actor Gerald Peters
TV personality Arlene Francis
socialite Minnie Guggenheimer
and singer Jack Haskell.

3.146 [685] Tonight Starring Jack Paar
12May1960
Host Jack Paar
Guests
comedienne Peggy Cass
actors Lee Tracy
Phil Leeds
and Charles Davis
and journalist Rufus Jarman.

[--] Tonight Starring Jack Paar
13May1960 [repeat from 31Mar60]
"Best of Paar"
with Yana, Steven Potter, Spike Milligan, Lady Barnett and A.E. Mathews.

3.147 [686] Tonight Starring Jack Paar
16May1960 (rerun 08Jul60)
Host Jack Paar
Guests
actors James Cagney
and Jerry Orbach
ventriloquist Shari Lewis
journalist-author Jim Bishop
and French singer Genevieve.
James Cagney plugs his new movie "The Gallant Hours," discusses conservation with Jim Bishop
and demonstrates his dancing prowess with co-host Hugh Downs.
Other guests chiming in are Genevieve and Shari Lewis.

3.148 [687] Tonight Starring Jack Paar
17May1960
Host Jack Paar
Guests
comedienne Dody Goodman
comic actor Wally Cox
singer Earl Wrightson
comic Larry Daniels
and author Alexander King.

*Note: News Item: Trenton Evening Times: Teamsters Union President James R. Hoffa will hit TV's Jack Paar
with a $2,500,000 libel suite in the Federal courts. His attorney, William Bufalino, will name
Robert Kennedy (the Senator's brother), NBC and all the Paar sponsors as co-defendents.

3.149 [688] Tonight Starring Jack Paar
18May1960
Host Jack Paar
Guests
screenwriter George Kirgo
British comedienne Hermione Gingold
and vocalist Betty Johnson.

3.150 [689] Tonight Starring Jack Paar
19May1960
Host Jack Paar
Guests
screenwriter George Kirgo
actress Claudia McNeil
actor Cecil Kellaway
comedienne Peggy Cass
comedians Orson Bean
and Cliff Arquette
and singer Marion Marlowe.

[--] Tonight Starring Jack Paar
20May1960 [repeat from 30Mar60]
"Best of Paar"
with Malcolm Muggeridge, Cliff Arquette, Dickie Henderson, Adrienne Corri, Johnson and Carr.

3.151 [690] Tonight Starring Jack Paar
23May1960
Walter Kiernan is the guest host
Guests
actor Arthur Treacher
actress Ziva Rodann
Broadway actress Virginia De Luce
actor Jimmy Joyce
and singer Judy Lynn.

3.152 [691] Tonight Starring Jack Paar
24May1960
Arlene Francis is the guest host
Guests
singer-actress Ella Logan
and comedian Jonathan Winters

3.153 [692] Tonight Starring Jack Paar
25May1960
Arlene Francis is the guest host
Guests
baseball great Jackie Robinson
singer Frank D'Rone
and actor Robert Helpmann.

3.154 [693] Tonight Starring Jack Paar
26May1960
Arlene Francis is the guest host
Guests
actor Anthony Perkins
actress Vivien Leigh
Broadway musical star Marti Stevens
British vaudevillian Bobby Howes
and Mr. Alonzo Fields, butler at the White House.

[--] Tonight Starring Jack Paar
27May1960 [repeat from 01Apr60]
"Best of Paar"
with Glynis Johns, Gilbert Harding, Trevor Howard, Cliff Arquette, Genevieve.

3.155 [694] Tonight Starring Jack Paar
30May1960
Joey Bishop is the guest host
Guests
singer Eddie Fisher
and songstress Jaye P. Morgan.

3.156 [695] Tonight Starring Jack Paar
31May1960
Joey Bishop is the guest host
Guests
actress Linda Darnell
singers Jane Kean
and Johnny Desmond
and comedian Pat Harrington Jr.

3.157 [696] Tonight Starring Jack Paar
01Jun1960
Joey Bishop is the guest host
Guests
comedienne Pat Carroll
singers Karen Anders
and Peggy Hadley
and screenwriter George Kirgo.

3.158 [697] Tonight Starring Jack Paar
02Jun1960
Joey Bishop is the guest host
Guests
actress Shelley Winters
comedian Pat Harrington Jr.
actress Faye Emerson
singer Joanie Sommers
and comic Rummy Bishop (no relation to Joey).

[--] Tonight Starring Jack Paar
03Jun1960 [repeat from 07Apr60]
"Best of Paar"
with Peggy Cass, Jack Haskell, Theodore Bikel, Alexander King.

3.159 [698] Tonight Starring Jack Paar
06Jun1960 [rerun 26Jul60]
Host Jack Paar
Guests
British comedienne Hermione Gingold
singer-actress Fran Allison
dancer Nick Darvas
singer Jack Haskell
and comedian Cliff Arquette.

3.160 [699] Tonight Starring Jack Paar
07Jun1960
Host Jack Paar
Guests
Irish storyteller Malachy McCourt
humorist-author Alexander King
and Hollywood film photographer Ken Murray.

3.161 [700] Tonight Starring Jack Paar
08Jun1960
Host Jack Paar
Guests
actor Hans Conried
baritone Earl Wrightson
comedienne Dody Goodman
and TV personality Virginia Graham.

3.162 [701] Tonight Starring Jack Paar
09Jun1960
Host Jack Paar
Guests
actor Dick Van Dyke
actress Zsa Zsa Gabor
and comedienne Peggy Cass.

[--] Tonight Starring Jack Paar
10Jun1960 [repeat of 21Apr60]
"Best of Paar"
with Alexander King, Earl Wrightson, Hermione Gingold, Peggy Cass, Sue Seay.

3.163 [702] Tonight Starring Jack Paar
13Jun1960 [rerun 05Aug60]
Host Jack Paar
Guests
raconteur George Jessel
British comedienne Hermione Gingold
British director Carol Reed
British actor Arthur Treacher
and vocalist Betty Johnson.

3.164 [703] Tonight Starring Jack Paar
14Jun1960 [rerun 29Jul60]
Host Jack Paar
Guests
comedian Jonathan Winters
comedienne Dody Goodman
singer Jack Haskell
and humorist Charles Dornan.

3.165 [704] Tonight Starring Jack Paar
15Jun1960 [rerun 27Jul60]
Host Jack Paar
Guests
comedienne Pat Carroll
author Alexander King
comic actor Johnny Myhers
Irish storyteller Malachy McCourt
and newcomer singer Janet Pavek.

3.166 [705] Tonight Starring Jack Paar
16Jun1960
Host Jack Paar
Guests
Senator John F. Kennedy
The Democratic Presidential candidate fields questions from the host and from the studio audience.
and comedienne Peggy Cass and pianist Jose Melis.

[--] Tonight Starring Jack Paar
17Jun1960 [repeat from 28Apr60]
"Best of Paar"
with Hugh O'Brian, Eddie Albert, Kurt Kasznar, Eva Gabor, Hermione Gingold, Leslie Uggams.

3.167 [706] Tonight Starring Jack Paar
20Jun1960
Walter Kiernan is guest host
Guests
comedienne Betty White
actress Sylvia Sidney
and actor Albert Dekker.

3.168 [707] Tonight Starring Jack Paar
21Jun1960
Host Jack Paar
Guests
journalist-author Walter Kiernan
comic actor Jerry Lewis
ventriloquist Shari Lewis
and comedian Cliff Arquette.

3.169 [708] Tonight Starring Jack Paar
22Jun1960
Host Jack Paar
Guests
magazine writer Eleanor Harris
publicist Jim Moran
singer Larry Douglas
and French singer Genevieve.
Highlights:
Larry Douglas and Genevieve sing several numbers from "Silk Stockings".

3.170 [709] Tonight Starring Jack Paar
23Jun1960
Host Jack Paar
Guests
actor Vincent Price
actress Renee Taylor
and comedienne Kaye Ballard.

[--] Tonight Starring Jack Paar
24Jun1960 [repeat of 02May60]
"Best of Paar"
with Jack Douglas, Genevieve, Shari Lewis, Marta Curro and Betty Johnson.

3.171 [710] Tonight Starring Jack Paar
27Jun1960
Host Jack Paar
Guests
newsman Merriman Smith
comedian Cliff Arquette
actress Lucy Landau
and several Miss Universe contestants.

3.172 [711] Tonight Starring Jack Paar
28Jun1960 [rerun 12Aug60]
Host Jack Paar
Guests
comedienne Peggy Cass
socialite Minnie Guggenheimer
humorist-author Alexander King
and Bil and Cora Baird and their puppets.

3.173 [712] Tonight Starring Jack Paar
29Jun1960
Host Jack Paar
Guests
actress Ann Sheridan
humorist-author Harry Golden
ad-libber writer George Kirgo
and singer Blossom Dearie.

3.174 [713] Tonight Starring Jack Paar
30Jun1960
Host Jack Paar
Guests
comedian Buddy Hackett
news correspondent H.V. Kaltenborn
and Irish storyteller Malachy McCourt.

[--] Tonight Starring Jack Paar
01Jul1960 [repeat of 03May60]
"Best of Paar"
with Eileen Christie, Joe Gargiola, Suzy Parker and Cliff Arquette.

3.175 [714] Tonight Starring Jack Paar
04Jul1960
Jerry Lewis is guest host, guest is
raconteur George Jessel

3.176 [715] Tonight Starring Jack Paar
05Jul1960
Host Jack Paar
Guests
comedian Joey Bishop
comedienne Pat Carroll
singer Dick Roman
and Tom McCahill, a man with cars and boats on his mind.

3.177 [716] Tonight Starring Jack Paar
06Jul1960 [rerun 19Aug60]
Host Jack Paar
Guests
actress Lola Fisher
actor Tony Randall
comedienne Renee Taylor
comedian Jonathan Winters
and Dr. Barbara Moore.

3.178 [717] Tonight Starring Jack Paar
07Jul1960
Host Jack Paar
Guests
actor James Cagney
ventriloquist Shari Lewis
folksinger-actor Theodore Bikel
and humorist-author Alexander King.

[---] Tonight Starring Jack Paar
08Jul1960 [rerun from 16May60]
"Best of Paar"
with James Cagney, Shari Lewis, Jim Bishop, James Cagney plugs his new movie "The Gallant Hours,"
discusses conservation with Jim Bishop and demonstrates his dancing prowess with co-host Hugh Downs.
Other guests chiming in are Genevieve and Shari Lewis. This show was a repeat.

3.179 [718] Tonight Starring Jack Paar
11Jul1960
Host Jack Paar
Guests
actor Joey Bishop
comedian Henny Youngman
comic actor Ray Hastings
and vocalist Betty Johnson.

3.180 [719] Tonight Starring Jack Paar
12Jul1960 [rerun 28Jul60]
Joey Bishop is the guest host
Guests
actor Tony Randall
dancer-actor George Murphy
TV personality Virginia Graham
comedienne Renee Taylor
and Chet Sommers.

3.181 [720] Tonight Starring Jack Paar
13Jul1960
Host Jack Paar
Guests
British comedienne Hermione Gingold
comedian Cliff Arquette
singer-actress Fran Allison
and singer Jack Haskell.

3.182 [721] Tonight Starring Jack Paar
14Jul1960
Host Jack Paar
Guests
comedian Buddy Hackett
composer-pianist Burt Bacharach
French singer Genevieve
and vocalist Betty Johnson.

[---] Tonight Starring Jack Paar
15Jul1960 [rerun from 11May60]
"Best of Paar"
with Walter Kiernan, Gerald Peters, Arlene Francis, Minnie Guggenheimer and Jack Haskell.

3.183 [722] Tonight Starring Jack Paar
18Jul1960
Hugh Downs is substitute host
Guests
film producer Joe Levine
singer Lillian Briggs
comic actor Johnny Myhers
vocalist India Adams
and magazine writer Beryl Pfizer.

3.184 [723] Tonight Starring Jack Paar
19Jul1960 [rerun 26Aug60]
Host Jack Paar
Guests
humorist-author Alexander King
news correspondent H.V. Kaltenborn
comedian Joey Bishop
comedienne Renee Taylor
and vocalist Betty Johnson.

3.185 [724] Tonight Starring Jack Paar
20Jul1960
Host Jack Paar
Guests
comedian-actor Hal March
singer-actress Florence Henderson
newsman Merriman Smith
and radio-television journalist Walter Kiernan.

3.186 [725] Tonight Starring Jack Paar
21Jul1960 [rerun 02Sep60]
Host Jack Paar
Guests
actress Zsa Zsa Gabor
folksinger-actor Theodore Bikel
wrestler-ballet dancer Ricki Starr
comedy writer Jack Douglas
and singer Anita Bryant.

[---] Tonight Starring Jack Paar
22Jul1960 [repeat]
"Best of Paar"
with Vivian Vance, Blossom Dearie, Ken Murray

3.187 [726] Tonight Starring Jack Paar
25Jul1960
Arlene Francis is the hostess
Guests
socialite Minnie Guggenheim
comedian Buddy Hackett
singer Dick Roman
and Father Dismas Clark.

[--] Tonight Starring Jack Paar
26Jul1960 [rerun from 06Jun60]
Host Jack Paar Hermione Gingold, Cliff Arquette, Fran Allison, Nick Darvas, Jack Haskell

[--] Tonight Starring Jack Paar
27Jul1960 [rerun from 15Jun60]
Host Jack Paar Pat Carroll, Alexander King, Janet Pavek, Johnny Myhers.

[--] Tonight Starring Jack Paar
28Jul1960 [rerun from 12Jul60]
Joey Bishop is the guest host, Guests
Virginia Graham, Tony Randall, George Murphy, Chet Sommers, Renee Taylor.

[--] Tonight Starring Jack Paar
29Jul1960 [rerun from 14Jun60]
"Best of Paar"
with Jonathan Winters, Charles Dornan, Dody Goodman, Jack Haskell.

3.188 [727] Tonight Starring Jack Paar
01Aug1960
Host Jack Paar
Guests
news correspondent H.V. Kaltenborn
radio hosts Ed & Pegeen Fitzgerald
singer Louise O'Brien
and comedienne Renee Taylor.

3.189 [728] Tonight Starring Jack Paar
02Aug1960
Host Jack Paar
Guests
newsman Merriman Smith
singer Kay Armen
actress Marta Curro
and comedian Cliff Arquette.

3.190 [729] Tonight Starring Jack Paar
03Aug1960
Host Jack Paar
Guests
comedienne Phyllis Diller
comedian Jonathan Winters
singer Blossom Dearie
and columnist Eleanor Harris.

3.191 [730] Tonight Starring Jack Paar
04Aug1960 [rerun 16Sep60]
Host Jack Paar
actors Peter Ustinov
and Albert Dekker
comedienne Pat Carroll
and singer-actress Marilyn Lovell.

[--] Tonight Starring Jack Paar
05Aug1960 [rerun from 13Jun60]
"Best of Paar"
with Betty Johnson, Carol Reed, George Jessel, Hermione Gingold, Arthur Treacher

3.192 [731] Tonight Starring Jack Paar
08Aug1960
Hugh Downs subs for Jack
Guests
actress Sylvia Miles
and vocalist Betty Johnson.

3.193 [732] Tonight Starring Jack Paar
09Aug1960
Host Jack Paar
Guests
actress Dorothy Lamour
comedian Cliff Arquette
humorist-author Alexander King
comedienne Alice Pearce
and Hugh Downs sings!

3.194 [733] Tonight Starring Jack Paar
10Aug1960 [rerun 30Sep60]
Host Jack Paar
Guests
actress Shirley MacLaine
and her husband Steve Parker
actor Arthur Treacher
singer Louise O'Brien
singer-actor-playwright Eddie Lawrence
and comedienne Dody Goodman.

3.195 [734] Tonight Starring Jack Paar
11Aug1960
Host Jack Paar
Guests
actress Anne Bancroft
Robert Price
TV host Bert Parks
and British comedienne Hermione Gingold

[--] Tonight Starring Jack Paar
12Aug1960 [rerun from 28Jun60]
"Best of Paar"
with Bil & Cora Baird and the Puppets
Peggy Cass, Minnie Guggenheimer, Alexander King

3.196 [735] Tonight Starring Jack Paar
15Aug1960
Host Jack Paar
Guests
actor Hal March
singer Eileen Christie
French singer Genevieve
and Berlitz Professors hold multi-lingual joke session.
and guest announcer Ed Reimers for the vacationing Hugh Downs.

3.197 [736] Tonight Starring Jack Paar
16Aug1960
Host Jack Paar
Guests
journalist Pauline Frederick
comedian Paul Gilbert
singer-actress Pat Kirby
and guest announcer Ed Reimers for the vacationing Hugh Downs.

*Note: Comedian Paul Gilbert is the father of actress Melissa Gilbert.

3.198 [737] Tonight Starring Jack Paar
17Aug1960
Host Jack Paar
Guests
dancer-actor George Murphy
TV personality Virginia Graham
vocalist Betty Johnson
and guest announcer Ed Reimers for the vacationing Hugh Downs.

News Item: San Antonio Express August 17, 1960.
Jack Paar will take three week vacation starting August 29, 1960 travel throughout Spain and visit several
countries in North Africa. Paar will be accompanied on his travels by his wife Miriam and their daughter Randy.
He will make some films of his trip for inclusion in "The Tonight Starring Jack Paar" when he returns.
Replacing Paar the first week will be announcer Hugh Downs, who will take over the host duties Aug. 29 to Sept. 1. Art James will serve as announcer.
Jonathan Winters will be host of the program during the second week, Sept. 5 to 8, and Joey Bishop will take over the assignment the third week, Sept. 12 to 15.
On Fridays during the three weeks the program will present its usual "Best of Paar" feature of taped highlights from previous shows.
Paar will return to the Monday through Friday program Monday, Sept. 19.

3.199 [738] Tonight Starring Jack Paar
18Aug1960 [rerun 14Oct60]
Host Jack Paar
Guests
oldtime movie comic Roy Atwell
comedienne Kaye Ballard
writer George Kirgo
British comedienne Hermione Gingold
songstress Patricia Neway
and guest announcer Ed Reimers for the vacationing Hugh Downs.
Highlights:
Patricia Neway of Broadway's "Sound of Music" sings "Climb Every Mountain".

[--] Tonight Starring Jack Paar
19Aug1960 [rerun from 06Jul60]
"Best of Paar"
with Lola Fisher, Tony Randall, Renee Taylor, Jonathan Winters and Dr. Barbara Moore.

3.200 [739] Tonight Starring Jack Paar
22Aug1960 [rerun 21Oct60]
Host Jack Paar
Guests
Soprano Graciela Rivera
comedian Buddy Hackett
actor Edward Everett Horton
comedienne Phyllis Diller
and naturalist Roger Conklin.

3.201 [740] Tonight Starring Jack Paar
23Aug1960
Host Jack Paar
Guests
comedian Jonathan Winters
author Jim Bishop
Patricia Neway
and comedienne Dody Goodman.

3.202 [741] Tonight Starring Jack Paar
24Aug1960 [rerun 02Dec60]
Host Jack Paar
Guests
actress Bette Davis
Joe Phillips
comedian Joey Bishop
singer Blossom Dearie
and comedienne Renee Taylor.

3.203 [742] Tonight Starring Jack Paar
25Aug1960
Host Jack Paar
Guests
Richard M. Nixon
Pat Nixon
Vice President (and Republican Presidential nominee) Richard Nixon and Jack Paar appear via a remote broadcast from Washington.
Nixon takes questions from Paar and the New York studio audience, with Hugh Downs running the show from there.
Presidential candidate and current Vice President Richard M. Nixon and his wife Pat are Jack Paar's special guests.
Jose Melis and his orchestra play "Sweet Georgia Brown." Hugh Downs co-hosts.

[--] Tonight Starring Jack Paar
26Aug1960 [rerun from 19Jul60]
"Best of Paar"
with H.V. Kaltenborn, Alexander King, Joey Bishop, Betty Johnson.

3.204 [743] Tonight Starring Jack Paar
29Aug1960
Hugh Downs is the guest host
Guests
comedian Buddy Hackett
actor Brock Peters sings
comedienne-actress Betty White
and singer Lillian Briggs
and guest announcer is Art James.

3.205 [744] Tonight Starring Jack Paar
30Aug1960
Hugh Downs is the guest host
Guests
actress Dina Merrill
actor Sal Mineo
singer June Valli
and guest announcer is Art James.

3.206 [745] Tonight Starring Jack Paar
31Aug1960
Hugh Downs is the guest host
Guests
actor Hans Conried
singer-actress Marilyn Lovell
publicist Jim Moran
playwright-director Marc Connelly
and guest announcer is Art James.

3.207 [746] Tonight Starring Jack Paar
01Sep1960
Hugh Downs is the guest host
Guests
TV host Mike Wallace
comedy duo Ford and Hines
vocalist Marietta
comedian-actor Dick Gautier
and guest announcer is Art James.

[--] Tonight Starring Jack Paar
02Sep1960 [rerun from 21Jul60]
"Best of Paar"
with Theodore Bikel, wrestler-ballet dancer Ricki Starr, Zsa Zsa Gabor and Jack Douglas.

3.208 [747] Tonight Starring Jack Paar
05Sep1960
Jonathan Winters is the guest host
(who guest hosts from September 5th to the 8th.)
Guests
comedian Jack E. Leonard
comedienne Phyllis Diller
comic actor Johnny Myhers
and singer Judy Lynn.

3.209 [748] Tonight Starring Jack Paar
06Sep1960
Jonathan Winters is the guest host
Guests
singer-actress Barbara McNair
boxer Jack Dempsey
actor Arthur Treacher
and vaudeville performer Jack Pearl.

3.210 [749] Tonight Starring Jack Paar
07Sep1960
Jonathan Winters is the guest host
Guests
comedy team Bob and Ray
fitness expert and author Johnnie Lee McFadden
and musician-singer-songwriter Randy Sparks.

3.211 [750] Tonight Starring Jack Paar
08Sep1960
Jonathan Winters is the guest host
Guests
comic actor Johnny Myhers
actress Pat Bright
comedian Jack Pearl
and vocalist Karen Chandler.

[---] Tonight Starring Jack Paar
09Sep1960 [repeat of 03Aug60]
"Best of Paar"
with Phyllis Diller, Jonathan Winters, Blossom Dearie, Eleanor Harris.

3.212 [751] Tonight Starring Jack Paar
12Sep1960
Joey Bishop is the guest host
Guests
singer Tony Bennett
comediennes Pat Carroll
and Renee Taylor
comic Rummy Bishop (no relation to Joey)
and comedy team Fisher and Marx.

3.213 [752] Tonight Starring Jack Paar
13Sep1960
Joey Bishop is the guest host
Guests
poet-author Carl Sandburg
TV personality Arlene Francis
and singer Adam Wade.

3.214 [753] Tonight Starring Jack Paar
14Sep1960
Joey Bishop is the guest host
Guests
singer Kay Armen.

3.215 [754] Tonight Starring Jack Paar
15Sep1960
Joey Bishop is the guest host
Guests
actress Bette Davis
actor Pat O'Brien
and TV personality Virginia Graham.

[--] Tonight Starring Jack Paar
16Sep1960 [repeat of 04Aug60]
"Best of Paar"
with Peter Ustinov, Pat Carroll, Albert Dekker.

########### Tonight starring Jack Paar ############
############### end of season 3 ###############
##############################################
Have you any comments, corrections, episode titles, air dates, production numbers, directors, writers, story/synopsis, guest stars, cast lists, etc?
Have you any old videos, or tv guides? Dust them off and let us know if you have any information on this series or any other tv series from the
Golden Age of TV, which is missing from any episode guides on the web. Perhaps a certain episode of a particular series coincided with a key
moment in your life, or in world events - and or has left a vivid memory of when it was shown. Let us know. Would you like to see any other
tv series guides on this site? If so please e-mail The Classic TV Archive - see Feedback below.
This guide may be distributed and copied freely, in its entirety, for personal use. All original author and copyright information must
remain intact. Any sales or other uses of this document are expressly forbidden, without the specific consent of the author(s).
Copyright © The Classic TV Archive. All rights reserved.

Return to The Classic TV Archive Home Page
CTVA Feedback - Talk Show Forum