CTVA
The Classic TV Archive - US Music Variety
TV's Top Tunes (CBS) (1951-55) - The Ray Anthony Show (ABC) (1956-57)
The Ray Anthony Show (Synd) (1963)
The Ray Anthony Show (1956-57)
Sponsors - Plymouth Automobile - Chrysler Corporation
Episode Guide compiled by The Classic TV Archive
with contributions by: Rina Fox
references:
TV Guide / Library of Congress (telnet://locis.loc.gov)
Internet Movie Database (https://us.imdb.com)
UCLA Film and Television Archive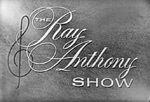 ABC (Live from Hollywood?) Fridays 10pm
Sponsored by Plymouth
Executive Producer, Fred Benson
Producer, Bob Ross Smith

US Music Variety Series 1956-57 30 episodes x 30min (12Oct56 to 3May57)

Starring::
Ray Anthony and His Orchestra
Host: Frank Leahy / Announcer: Jack McCoy
Regulars:
Don Durant
Med Flory
Gene Merlino
Leroy Anthony
The Four Freshmen
The Savoys
The Belvederes (aka The Belvaderes)
The Brookends (to be verified)
The King Sisters (regular guests)

Ray Anthony's then wife, actress Mamie Van Doren, also appeared occasionally

Music variety show with bandleader Ray Anthony. He formed his band in the 1940's and made records throughout the 1950's.
His first television program was a summer replacement for "The Perry Como Show" called TV's Top Tunes in the Summer
of 1954.
In 1956 he hosted his own syndicated series. In 1969 he returned to television with a series featuring singer Vicki Carr.

############ The Ray Anthony Show ############
############### season 1956-57 ###############
##############################################
ABC Fridays 10:00-10:30pm (30min) (12Oct56 to 3May57)

[01] The Ray Anthony Show (Premiere Show)
12Oct1956 ABC Fri
Guest
Notre Dame Football coach Frank Leahy
*NOTE: Frank Leahy appears as a guest on the premiere episode and becomes the shows host.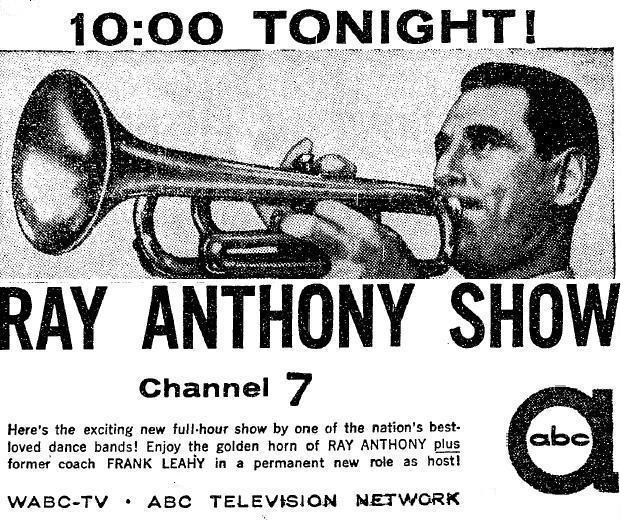 [02] The Ray Anthony Show
19Oct1956 ABC Fri
Host Frank Leahy
with
The Four Freshmen

[03] The Ray Anthony Show
26Oct1956 ABC Fri
Host Frank Leahy
with
The Four Freshmen

[04] The Ray Anthony Show
02Nov1956 ABC Fri
Host Frank Leahy

[05] The Ray Anthony Show
09Nov1956 ABC Fri
Host Frank Leahy

[06] The Ray Anthony Show
16Nov1956 ABC Fri
Host Frank Leahy
Musical tribute to the late Victor Young.

[07] The Ray Anthony Show
23Nov1956 ABC Fri
Host Frank Leahy
Highlights:
Ray performs "The High and the Mighty".
The Band performs "The Bunny Hop".
Don sings "Friendly Persuasion".

[08] The Ray Anthony Show
30Nov1956 ABC Fri
Host Frank Leahy

[09] The Ray Anthony Show
07Dec1956 ABC Fri
Host Frank Leahy

[10] The Ray Anthony Show
14Dec1956 ABC Fri
Host Frank Leahy

[11] The Ray Anthony Show
21Dec1956 ABC Fri
Host Frank Leahy

[12] The Ray Anthony Show
28Dec1956 ABC Fri
Host Frank Leahy

[13] The Ray Anthony Show
04Jan1957 ABC Fri
Host Frank Leahy

[14] The Ray Anthony Show
11Jan1957 ABC Fri
Show no. 14
Host Frank Leahy
with
Guests
Margaret Whiting
and The King Sisters.

[15] The Ray Anthony Show
18Jan1957 ABC Fri
Host Frank Leahy

[16] The Ray Anthony Show
25Jan1957 ABC Fri
Host Frank Leahy

[17] The Ray Anthony Show
01Feb1957 ABC Fri
Host Frank Leahy
Guests
Dennis Day
The Lancers Trio

[18] The Ray Anthony Show
08Feb1957 ABC Fri
Host Frank Leahy
Guests
Mamie Van Doren (Ray Anthony's wife)
Johnny Mercer

[19] The Ray Anthony Show
15Feb1957 ABC Fri
Host Frank Leahy
Guests
Margaret Whiting
Johnny Mercer

[20] The Ray Anthony Show
22Feb1957 ABC Fri
Host Frank Leahy
Guests
Peggy King
Matt Dennis

[21] The Ray Anthony Show
01Mar1957 ABC Fri
Host Frank Leahy
Guests
Don Cornell
The King Sisters

[22] The Ray Anthony Show
08Mar1957 ABC Fri
Host Frank Leahy
Guests
Vic Damone
Joy Lane

[23] The Ray Anthony Show
15Mar1957 ABC Fri
Host Frank Leahy

[24] The Ray Anthony Show
22Mar1957
Host Frank Leahy
Guests
Molly Bee
Connie Haines
Gene Merlino
Don Cornell
Med Flory
and The King Sisters

[25] The Ray Anthony Show
29Mar1957 ABC Fri
Host Frank Leahy

[26] The Ray Anthony Show
05Apr1957 ABC Fri
Host Frank Leahy

[27] The Ray Anthony Show
12Apr1957 ABC Fri
Show no. 27
Director Rudy Behlmer
Guests
The King Sisters
The Four Savoys
Med Florey
Inesita
Summary:
Live from Hollywood. Much of the program has an "Around the World in 80 Days" theme.

[28] The Ray Anthony Show
19Apr1957 ABC Fri
Host Frank Leahy

[29] The Ray Anthony Show
26Apr1957 ABC Fri
Host Frank Leahy

[30] The Ray Anthony Show (Final show of the series)
03May1957 ABC Fri

############ The Ray Anthony Show ############
################## the end #################
##############################################

Have you any comments, corrections, episode titles, air dates, production numbers, directors, writers, story/synopsis, guest stars, cast lists, etc?
Have you any old videos, or tv guides? Dust them off and let us know if you have any information on this series or any other tv series from the
Golden Age of TV, which is missing from any episode guides on the web. Perhaps a certain episode of a particular series coincided with a key
moment in your life, or in world events - and or has left a vivid memory of when it was shown. Let us know. Would you like to see any other
tv series guides on this site? If so please e-mail The Classic TV Archive - see Feedback below.
This guide may be distributed and copied freely, in its entirety, for personal use. All original author and copyright information must
remain intact. Any sales or other uses of this document are expressly forbidden, without the specific consent of the author(s).
Copyright © The Classic TV Archive. All rights reserved.

Return to The Classic TV Archive Home Page
Feedback - MusicVariety Forum