CTVA
The Classic TV Archive - US Comedy Series
"Private Secretary" (1953-57) "The Ann Sothern Show" (1958-61)
"My Mother the Car" (1965-66)
Private Secretary (1953-57)
aka Susie (syndicated title)
Episode Guide compiled by The Classic TV Archive
with contributions by:
Jim Brent (all episodes), Rina Fox
references:
Library of Congress (telnet://locis.loc.gov)
Internet Movie Database (https://www.us.imdb.com)
Private Secretary (season 1) (CBS) (Early 1953)
Private Secretary (season 2) (CBS) (1953-1954)
Private Secretary (season 3) (CBS) (1954-1955)
Private Secretary (season 4) (CBS) (1955-1956)
Private Secretary (season 5) (CBS) (1956-1957)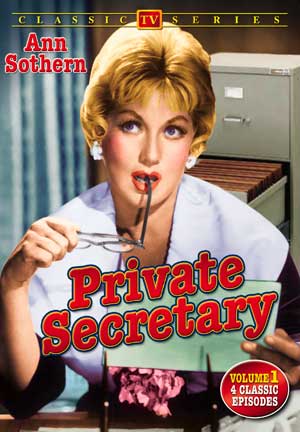 Incorporated Television Company Ltd. (ITC)
Chertok Television, Inc.
Metromedia Producers Corporation
for
CBS (Sundays 7:30 pm Eastern)
Executive Producer Jack Chertok

US Comedy series 1953-57 (5 seasons) 104 episodes x 30 min
Premiere Air Date 1Feb53
starring
Ann Sothern as Susie McNamara
Don Porter as Peter Sands
with
Ann Tyrrell as Vi Praskins
Jesse White as Cagey Calhoun
Joan Banks as Sylvia

Premise:
The secretary in a talent agency has more power than the boss.
Ann Sothern worked with Don Porter again in "The Ann Sothern Show" (1958-61) 93 episodes Desilu-Anso production also for CBS.
In 1965 she was the voice of Jerry Van Dyke's dead mother in"My Mother the Car" (1965-66) 30 episodes United Artists for NBC.
Summer Replacement - Your Play Time (CBS - Summer 1953 & Summer 1954) Anthology Series
############# Private Secretary ##############
##############################################
##############################################

Have you any comments, corrections, episode titles, air dates, production numbers, directors, writers, story/synopsis, guest stars, cast lists, etc?
Have you any old videos, or tv guides? Dust them off and let us know if you have any information on this series or any other tv series from the
Golden Age of TV, which is missing from any episode guides on the web. Perhaps a certain episode of a particular series coincided with a key
moment in your life, or in world events - and or has left a vivid memory of when it was shown. Let us know. Would you like to see any other
tv series guides on this site? If so please e-mail The Classic TV Archive - see Feedback below.
This guide may be distributed and copied freely, in its entirety, for personal use. All original author and copyright information must
remain intact. Any sales or other uses of this document are expressly forbidden, without the specific consent of the author(s).
Copyright © The Classic TV Archive. All rights reserved.

Return to The Classic TV Archive Home Page
Feedback - Comedy Forum