CTVA
The Classic TV Archive - US Comedy Series
The Phil Silvers Show: Sergeant Bilko (1955-59) - The New Phil Silvers Show (1963-64)
The New Phil Silvers Show (1963-64)
Episode Guide compiled by The Classic TV Archive
with contributions by: Tom Alger, Rina Fox
references:
Library of Congress (telnet://locis.loc.gov)
Internet Movie Database (https://us.imdb.com)
UCLA Film and Television Archive
-------------------------
THE NEW PHIL SILVERS SHOW
-------------------------
Gladasya Productions, Inc.
for
CBS
Produced by Rod Amateau
US Comedy series 1963-64 30 episodes x 30 min (bw or color?)
Starring
Phil Silvers as Harry Grafton
with:
Herbie Faye as Waluska
Jim Shane as Lester
Stafford Repp as Brink
Pat Renella as Roxy (NOT in pilot)
(Bert Convy as Roxy in Pilot Episode)
Douglass Dumbrille as Mr. Osborne
Steve Mitchell as Fred Starkey
Bob Williams as Bob
Buddy Lester as Nick
Norm Grabowski as Grabowski
Elaine Gardner as Louise

Added to regular cast ep #18:
Elena Verdugo as Audrey (Harry's sister) (1964)
Sandy Descher as Susan (Harry's niece) (1964)
Ronnie Dapo as Andy (Harry's nephew)(1964)

Premise:
"The New Phil Silvers Show" was a sitcom just like the original "Phil
Silvers Show," except instead of being army sergeant Bilko he was now
factory worker Harry Grafton. (GRAFTon = BILKo). As before, he was
a get-rich-quick schemer. Unlike the original, successful show, this
one lasted but a season.

Background:
"The New Phil Silvers Show" was produced by Gladasya Productions, Inc.
("Gladasya" was Phil Silvers shorthand for "Glad to see ya.") Gladasya's
next TV venture would prove more successful: - "Gilligan's Island."

######## The New Phil Silvers Show ###########
############### season 1963-64 ###############
##############################################
CBS Saturdays 8:30-9:00 pm ET. through part of November 1963
and from 9:30-10:00 pm ET thereafter.
1.01 [--] The New Phil Silvers Show: MAN, IT'S LIKE PROGRESS
28Sep63 CBS Sat
Produced & Directed by Rod Amateau
Guest cast:
Joan Shawlee ........ Dr. Hornsby
Synopsis:
Grafton's department is thrown into a frenzy by a new electronic
computer. [TA]
TV Guide:
[DEBUT] Phil has donned mufti for his new job as factory foreman Harry
Frafton - but he's still the master of them all.

1.02 [--] The New Phil Silvers Show: THE GREAT FORK-LIFT CONTEST
Gladasya prod. no. 8
05Oct63 CBS Sat
Produced & Directed by Rod Amateau
Harry can't get anyone to bet against Lester in a fork-lift contest, so
he decides to stack the odds. [TA]

1.03 [--] The New Phil Silvers Show: BIRTHDAY BOY
12Oct63 CBS Sat
Phil Silvers in "The New Phil Silvers Show" (7min excerpt)
Produced & Directed by Rod Amateau
Guest Cast:
Ron Sumner .......... Roxy
Marilyn Mason ....... Alicia
Henry Scott ......... Scarpitta
Bobs Watson ......... Ollie
Synopsis:
Harry's birthday is coming up, so he gets busy and starts arranging
a "surprise" party for himself. [TA]

1.04 [--] The New Phil Silvers Show: THE TORTOISE AND THE HARRY
19Oct63 CBS Sat
Directed and produced by Rod Amateau
Guest cast:
Evelyn Patrick (Phil Silvers' wife) (as Della)
Synopsis:
Harry revives in-plant betting - with a turtle race. [TA]

1.05 [--] The New Phil Silvers Show: HARRY TODAY, GONE TOMORROW
Gladasya prod. no. 1 (pilot episode)
26Oct63 CBS Sat
Produced and Directed by Rod Amateau
Guest cast:
Max Showalter ........ Frank
Hal Taggart .......... Osborne
Bert Convy* ........... Roxy
Henry Scott .......... Scarpitta
Synopsis:
Brink tries to palm Harry off on another firm. [RF]
*Note:
Bert Convy played Roxy in the pilot episode, Pat Renella played Roxy in the series.

1.06 [--] The New Phil Silvers Show: THE LITTLE OLD GLUEMAKER, ME!
Gladasya prod. no. 9
02Nov63 CBS Sat
Directed by David Davis
Guest Cast:
Ludwig Stossel (as Otto Shafmeister)
Celia Lovsky ........ Frieda
Eric Morris ......... Stanley
Synopsis:
Harry thinks he can make a fortune by marketing a special type of glue
invented by that little old gluemaker, plant janitor Otto Shafmeister. [TA]

1.07 [--] The New Phil Silvers Show: TRIPLE INDEMNITY
Gladasya prod. no. 5
09Nov63 CBS Sat
Directed and produced by Rod Amateau
Synopsis:
Harry's trying to sell his new insurance plan: it protects his
co-workers in case they lose their paychecks. [TA]

1.08 [--] The New Phil Silvers Show: A FUNNY THING HAPPENED TO ME ON THE WAY TO THE COFFEEBREAK
16Nov63 CBS Sat
Directed and produced by Rod Amateau
Synopsis:
Brink offers Osborne a suggestion on ow to economize: eliminate an
entire department. [TA]

[--] 23Nov63 - pre-empted for news coverage of JFK's assassination

1.09 [--] The New Phil Silvers Show: HARRY WHO?
Gladasya prod. no. 15
30Nov63 CBS Sat
Directed and produced by Rod Amateau
Guest cast:
Buddy Lester ........... Nick
Synopsis:
Nick has done a good job filling in for the vacationing Harry - in
fact, a little too good to suit Harry. [TA]

1.10 [--] The New Phil Silvers Show: LAS VEGAS WAS MY MOTHER'S MAIDEN NAME
07Dec63 CBS Sat
Guest cast:
Milton Frome .......... Cannon
Vickie Lockwood ....... Laverne
Jimmy Murphy .......... bellboy
Florence Halop ........ Silvers fan
Synopsis:
In a Las Vegas hotel, Harry gets the red carpet treatment when he's
mistaken for comedian Phil Silvers. [TA]

1.11 [--] The New Phil Silvers Show: THE SON OF PYGMALION
14Dec63 CBS Sat
Directed and produced by Rod Amateau
Guest Cast:
Hope Holiday .......... Mildred Flitterman
Eleanor Audley ........ Mrs. Osborne
Richard Lupino ........ Christopher Hawthorne
Synopsis:
Mildred Flitterman, beautiful but brainless, asks Harry to transform
her into "a lady."

1.12 [--] The New Phil Silvers Show: HAVE I GOT A BOY FOR YOU
Gladasya prod. no. 17
21Dec63 CBS Sat
Directed and produced by Rod Amateau
Guest cast:
Helene Winston ........ Irene
Buddy Lester .......... Nick
Lennie Bremen ......... Lennie
Synopsis:
Waluska has a crush on one of the girls in the factory, but the feeling
isn't mutual.

1.13 [--] The New Phil Silvers Show: WHO DO VOODOO? HARRY DO!
Gladasya prod. no. 12
28Dec63 CBS Sat
Directed and produced by Rod Amateau
Guest cast:
Bette Treadville ....... Mama Lingella
Barbara Shelley ........ Pamela
Burt Mustin ............ Magruder
Synopsis:
Snubbed by a society girl in Trinidad, Harry learns that a little black
magic will make him irresistible. [TA]

1.14 [--] The New Phil Silvers Show: STOP THE FACTORY, I WANNA GET OFF
(correct title?)
Gladasya prod. no. 11
04Jan64 CBS Sat
Directed by Guy Scarpitta
Guest cast:
Leo de Lyon ........... Jurgenson
Carole Cook ........... Gertrude
Joseph Hamilton ....... Minister
Steven Condit ......... Marlon
Gene O'Donnell ........ Shrieber
John Indrisano ........ Ralph
Synopsis:
One of Harry's men reportedly plans to bomb his ex-fiancee's wedding. [TA]

1.15 [--] The New Phil Silvers Show: BEAUTY AND THE LEAST
Gladasya prod. no. 10
11Jan64 CBS Sat
Produced & Directed by Rod Amateau
Guest cast:
Steve Mitchell ....... Fred Starkey
Dodo Denney .......... Agnes
Joan Staley .......... Darlene
Synopsis:
Harry decides to turn a plain Jane into a beauty-contest winner. [RF]

1.16 [--] The New Phil Silvers Show: 75 1/2 TROMBONES
Gladasya prod. no. 2
18Jan64 CBS Sat
Phil Silvers in "The New Phil Silvers Show - 75 & 1/2 Trombones
Guest cast:
Steve Mitchell ...... Fred Starkey
Frank London ........ Lucky Hagerman
Synopsis:
Fred Starkey wins Harry's latest pool, but when he finds that his prize
- a genuine Army tank - is still on Okinawa, he decides to expose Harry's
nefarious operations. [TA]

1.17 [--] The New Phil Silvers Show: MY SON, THE GOVERNOR
25Jan64 CBS Sat
Directed by Thomas Montgomery
Synopsis:
Harry is making TV snack tables on the side, and some of them get mixed
up with an Army shipment. [TA]
(originally scheduled to air 23Nov63)

1.18 [--] The New Phil Silvers Show: LEAVE IT TO HARRY
01Feb64 CBS Sat
Directed by Al Lewis
Guest cast:
Elvia Allman ........ Mrs. Freebus
Frank Nelson ........ Mr. Randolph
Florida Friebus ..... Mrs. Bradshaw
Synopsis:
A home life for Harry and three regulars are added to the cast: Elena
Verdugo as Harry's sister Audrey, and Sandy Descher and Ronnie Dapo as
her children, Susan and Andy. "Leave It to Harry" finds Harry in charge
of the kids while Audrey vacations. [TA]

1.19 [--] The New Phil Silvers Show: SMILE, HARRY, YOU'RE ON CANDID CAMERA
8Feb64 CBS Sat
Directed by Al Lewis
Guest cast:
Allen Funt ........... "Candid Camera" host, as himself
Rosemary Day ......... Marie
Richard Clair ........ Pete
Joseph Hamilton ...... barber
Joseph Boland ........ store manager
Yvonne Peattie ....... shopper
Synopsis:
Harry spots Allen Funt in a supermarket, and looks around hopefully for
a hidden camera. [TA]

1.20 [--] The New Phil Silvers Show: PAY THE TWO DOLLARS
(a.k.a. "Pay the $2")
15Feb64 CBS Sat
Directed by Al Lewis
Guest cast:
Alan Hale ........... Detective Charlie Heath
Maggie Magennis ..... the parking meter maid
Synopsis:
Harry refuses to "Pay the $2" and tries to get a parking ticket
"fixed." [TA]

1.21 [--] The New Phil Silvers Show: HARRY, THE GOOD NEIGHBOR
Gladasya prod. no. 25
22Feb64 CBS Sat
Directed by David Davis
Guest cast:
Charles Dodds ...... Ralph Sutter
Anne Whitfield ..... Lois Sutter
Synopsis:
"Harry, Good Neighbor" attempts to patch up a quarrel between
newlyweds. [TA]

1.22 [--] The New Phil Silvers Show: CYRANO DeGRAFTON
Gladasya prod. no. 14
29Feb64 CBS Sat
Lyn Edgington ...... Betty Wagner
Synopsis:
Lester asks Harry to help him win the love of nurse Betty Wagner -
unaware that Harry is also infatuated with the girl.

1.23 [--] The New Phil Silvers Show: TAKE HER, SHE'S TALL
Gladasya prod. no. 26
7Mar64 CBS Sat
Directed and produced by Rod Amateau
Sandy Descher ....... Susan
Synopsis:
Harry tries to get his girl-shy nephew to go out on a date.

1.24 [--] The New Phil Silvers Show: WILL THE REAL HARRY GRAFTON PLEASE STAND UP?
Gladasya prod. no. 13
14Mar64 CBS Sat
Directed and produced by Rod Amateau
Written by Ben Starr
Guest cast:
Joyce Jameson ......... Elaine Hampton
Grazia Narciso ........ Mama
Synopsis 1:
A national magazine is about to pick a "Foreman of the Year," and Harry
is determined to win the title. [TA]
Synopsis 2:
Harry stages several incidents to impress journalist Elaine Hampton in the
hope that he will be elected "Foreman of the Year" and have his picture on
the cover of the magazine.
(Uk: 08Jun65 ITV ATV Midlands, Tue 11pm)

1.25 [--] The New Phil Silvers Show: AUNTIE UP
Gladasya prod. no. 27
21Mar64 CBS Sat
Alice Pearce .......... Aunt Minnie
Synopsis:
That sweet little old lady Harry hired as a housekeeper has turned the
Grafton home into a gambling den. [TA]

1.26 [--] The New Phil Silvers Show: GRAFTON'S THE NAME, FOOTBALL'S MY GAME
28Mar64 CBS Sat
directed by Thomas Montgomery
Guest cast:
Patrick McVey .......... Coach Kerrigan
Synopsis:
Harry considers himself a football expert, so he decides to pass a few
secrets to the local team's coach. [TA]

1.27 [--] The New Phil Silvers Show: KEEP COOL
04Apr64 CBS Sat
Guest cast:
Richard Jaeckel ........ Danny
Roland LaStarza ........ Taxi
Sam Flint .............. Charlie
Henry Corden ........... Gomez
Synopsis:
Harry and his men accidentally lock themselves in a deep-freeze testing
room. [TA]

1.28 [--] The New Phil Silvers Show: VANITY, THE(thy) NAME IS HARRY
Gladasya prod. no. 30
11Apr64 CBS Sat
Directed and written by David Davis
Guest cast:
Elaine Gardner ......... Louise
Mary Patton ............ Myra
Synopsis:
Harry wants to defy Father Time: First he starts "thinking young," then
adds little trimmings - like a toupee. [TA]

1.29 [--] The New Phil Silvers Show: HOW TO SUCCEED IN BUSINESS WITHOUT CRYING
18Apr64 CBS Sat
Directed and produced by Rod Amateau
Guest cast:
Paul Hampton .......... Charley Gilhooley
Blossom Rock .......... Mother Gilhooley
Synopsis:
Janitor Charley Gilhooley's mother pays an unwelcome visit to the
factory - Charley has led her to believe he's the plant manager. [TA]

1.30 [--] The New Phil Silvers Show: MOONLIGHT AND DOZES
25Apr64 CBS Sat
Directed by Thomas Montgomery
Guest cast:
Burt Mustin ........... MaGruder
Bernie Kopell ......... Stanislavski
Eric Morris ........... Stanley
Synopsis:
Harry will go to any lengths to help night watchman MaGruder hold onto
his job. MaGruder is seldom awake - and Harry's rented out the factory
warehouse to a method acting class. [TA]
=======================
Spring & Summer Re-runs
=======================
[--] 02May64 - re-run of "The Tortoise and the Harry" (from 19Oct63)
[--] 09May64 - unknown
[--] 16May64 - re-run of "A Funny Thing Happened to Me..." (from 16Nov63)
[--] 23May64 - re-run of "Las Vegas Was My Mother's Maiden Name" (from 07Dec63)
[--] 30May64 - re-run of "Smile, Harry, You're on 'Candid Camera'" (from 08Feb64)
[--] 06Jun64 - re-run of "Pay the $2" (from 15Feb64)
[--] 13Jun64 - re-run of "Harry, the Good Neighbor" (from 22Feb64)
[--] 20Jun64 - unknown
[--] 27Jun64 - final re-run: "My Son, the Governor" (from 25Jan64)

######## The New Phil Silvers Show ###########
################# Feedback ##################
##############################################
F-MAN (firemedic@verizon.net) September 2009
I have a Black steel Dome Lunch Box, missing the actual Thermos that I found in my Basement. It has white block letters on the top that says:
"THE NEW PHIL SILVERS SHOW". It was made by Thermos in Connecticut. I was curious if anyone has seen one of these.
I feel it was a promotional item for the show. It is in pretty great shape. Thanks for your time, Steve Badolato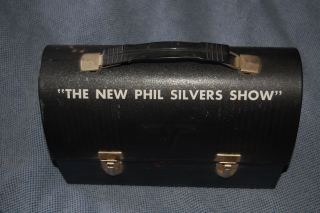 ######## The New Phil Silvers Show ###########
################# the end ##################
##############################################

Have you any comments, corrections, episode titles, air dates, production numbers, directors, writers, story/synopsis, guest stars, cast lists, etc?
Have you any old videos, or tv guides? Dust them off and let us know if you have any information on this series or any other tv series from the
Golden Age of TV, which is missing from any episode guides on the web. Perhaps a certain episode of a particular series coincided with a key
moment in your life, or in world events - and or has left a vivid memory of when it was shown. Let us know. Would you like to see any other
tv series guides on this site? If so please e-mail The Classic TV Archive - see Feedback below.
This guide may be distributed and copied freely, in its entirety, for personal use. All original author and copyright information must
remain intact. Any sales or other uses of this document are expressly forbidden, without the specific consent of the author(s).
Copyright © The Classic TV Archive. All rights reserved.

Return to The Classic TV Archive Home Page
Feedback - Comedy Forum