CTVA
The Classic TV Archive - US Comedy Series
Life of Riley -Jackie Gleason (1949-50) Life of Riley -William Bendix (1953-58)
The Honeymooners - Jackie Gleason (1952-57)
The Life of Riley - William Bendix (1953-58)
Episode Guide compiled by The Classic TV Archive
with contributions by:
John King, New York , Tom Alger, Rina Fox
references:
Library of Congress (telnet://locis.loc.gov)
Internet Movie Database (https://www.us.imdb.com)
The Life of Riley (season 1) (NBC) (Early 1953) (26 episodes)
The Life of Riley (season 2) (NBC) (1953-1954) (39 episodes)
The Life of Riley (season 3) (NBC) (1954-1955) (41 episodes)
The Life of Riley (season 4) (NBC) (1955-1956) (39 episodes)
The Life of Riley (season 5) (NBC) (1956-1957) (39 episodes)
The Life of Riley (season 6) (NBC) (1957-1958) (35 episodes)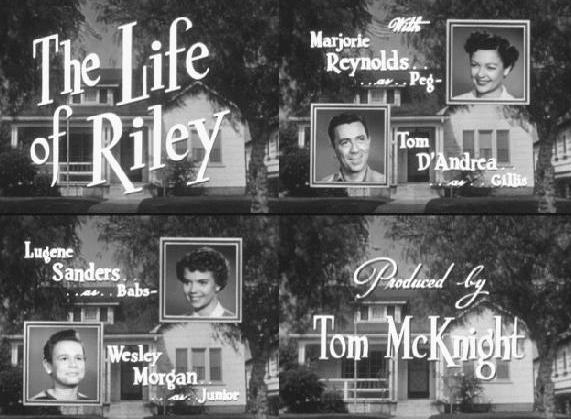 Produced by Tom McKnight (and Irving Brecher ?)
for
NBC
seasons 1-4 1953-56 Fridays 8:30pm EST
seasons 5-6 1956-58 Fridays 8:00pm EST

US Situation Comedy series 1953-58 219 episodes x 30 min bw
starring
William Bendix as Chester A. Riley (1953-1958)
Marjorie Reynolds as Peg Riley (1953-1958)
Tom D'Andrea as Jim Gillis (1953-1955, 1956-58)
Lugene Sanders as Babs Riley/Marshall (1953-1958)
Wesley Morgan as Junior (1953-1958)
*
Gloria Blondell as Honeybee Gillis (1953-1955, 1956-58)
Gregory Marshall as Egbert Gillis (1953-1955)
Douglas Dumbrille as Cunningham (1953-1958)
Bob Sweeney as Dangle (1953-1958)
Emory Parnell as Riley's boss (1953-1958)
Sterling Holloway as Waldo Binney (1953-1958)
Henry Kulky as Otto Schmidlap (1953-1958)
George O'Hanlon as Calvin Dudley (1955-1956)
Florence Sundstrom as Belle Dudley (1955-1956)
Martin Milner as Don Marshall (1957-1958)

Premise: Riley worked in an aircraft plant in California, but viewers usually
saw him at home, cheerfully disrupting life with his malapropisms and
ill timed intervention into minor problems. His stock answer to every
turn of fate became a catch phrase:
'What a revoltin' development this is!"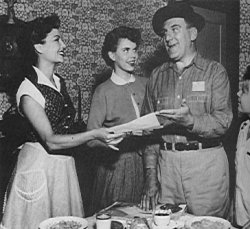 Note: LP numbers in this episode guide are the Library of Congress Copyright Registration Numbers.

############## The Life of Riley #############
##############################################
##############################################

Have you any comments, corrections, episode titles, air dates, production numbers, directors, writers, story/synopsis, guest stars, cast lists, etc?
Have you any old videos, or tv guides? Dust them off and let us know if you have any information on this series or any other tv series from the
Golden Age of TV, which is missing from any episode guides on the web. Perhaps a certain episode of a particular series coincided with a key
moment in your life, or in world events - and or has left a vivid memory of when it was shown. Let us know. Would you like to see any other
tv series guides on this site? If so please e-mail The Classic TV Archive - see Feedback below.
This guide may be distributed and copied freely, in its entirety, for personal use. All original author and copyright information must
remain intact. Any sales or other uses of this document are expressly forbidden, without the specific consent of the author(s).
Copyright © The Classic TV Archive. All rights reserved.

Return to The Classic TV Archive Home Page
Feedback - Comedy Forum