CTVA
The Classic TV Archive - US Comedy Series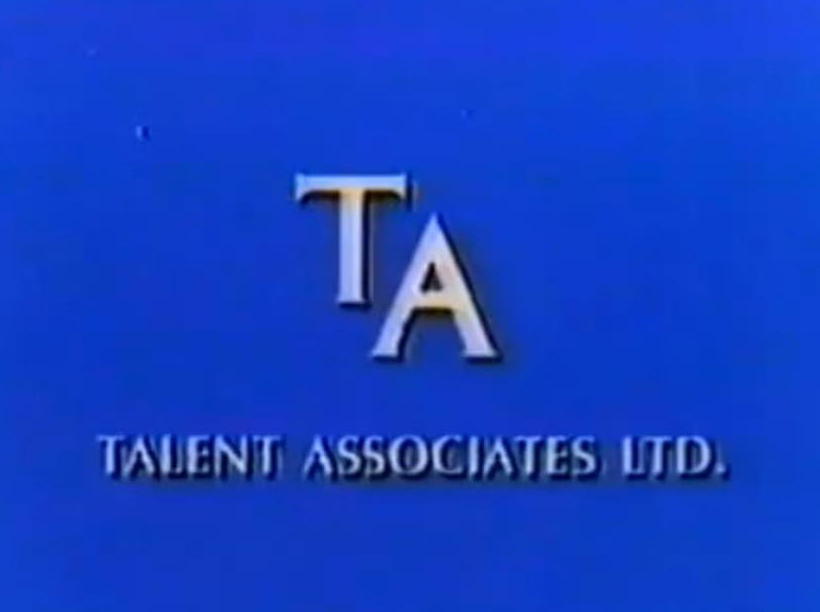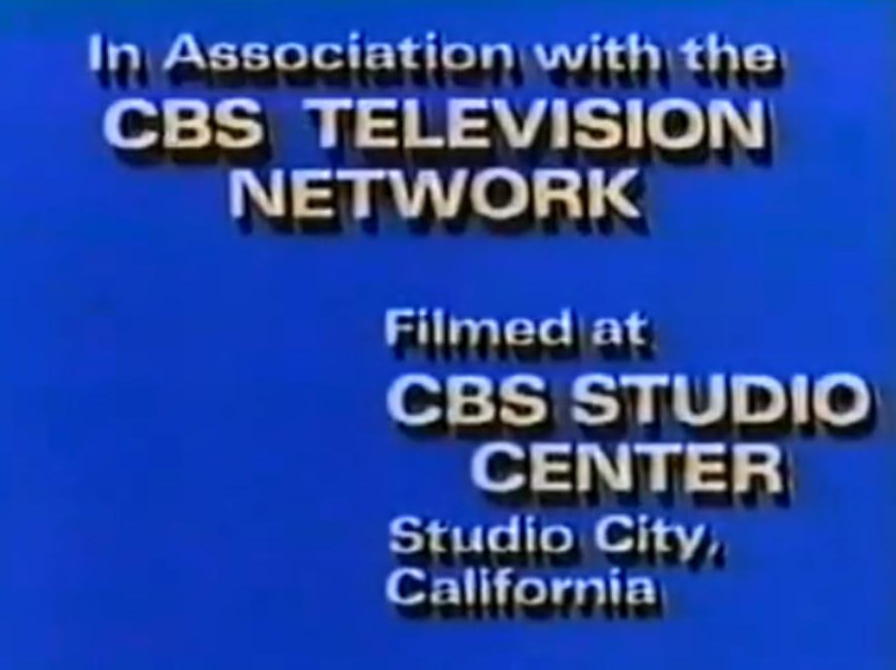 He & She (1967-68)
Sponsors General Foods
Episode Guide compiled by The Classic TV Archive
with contributions by:
Tom Alger, Rina Fox, Robert Leszczak
references:
TV Guide / Library of Congress (telnet://locis.loc.gov)
Internet Movie Database (https://us.imdb.com)
UCLA Film and Television Archive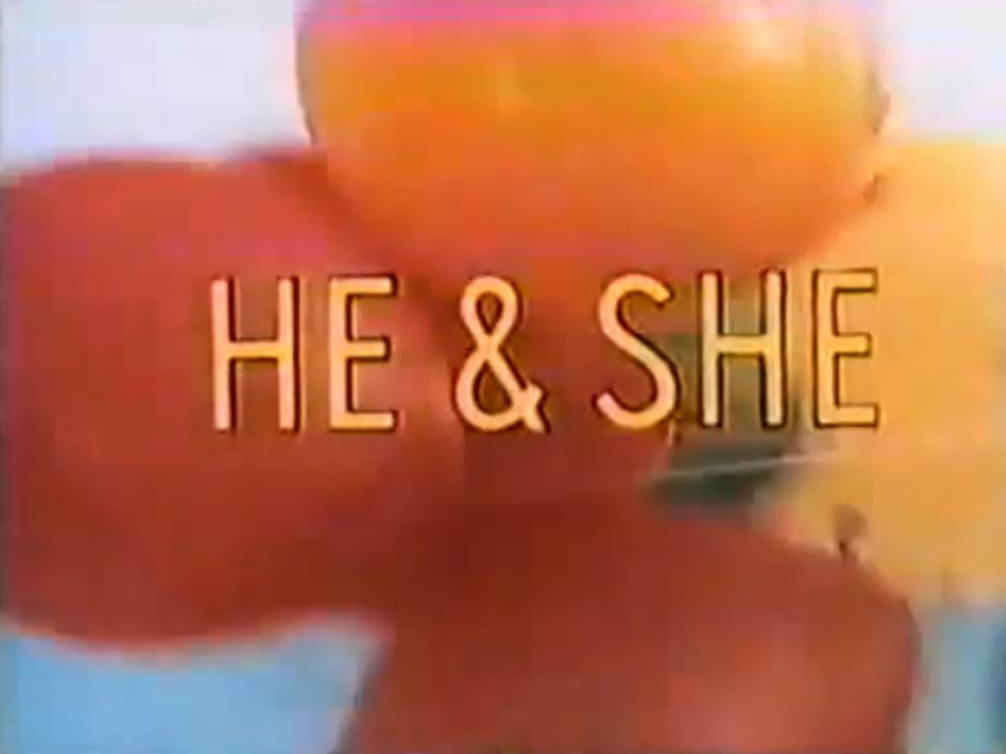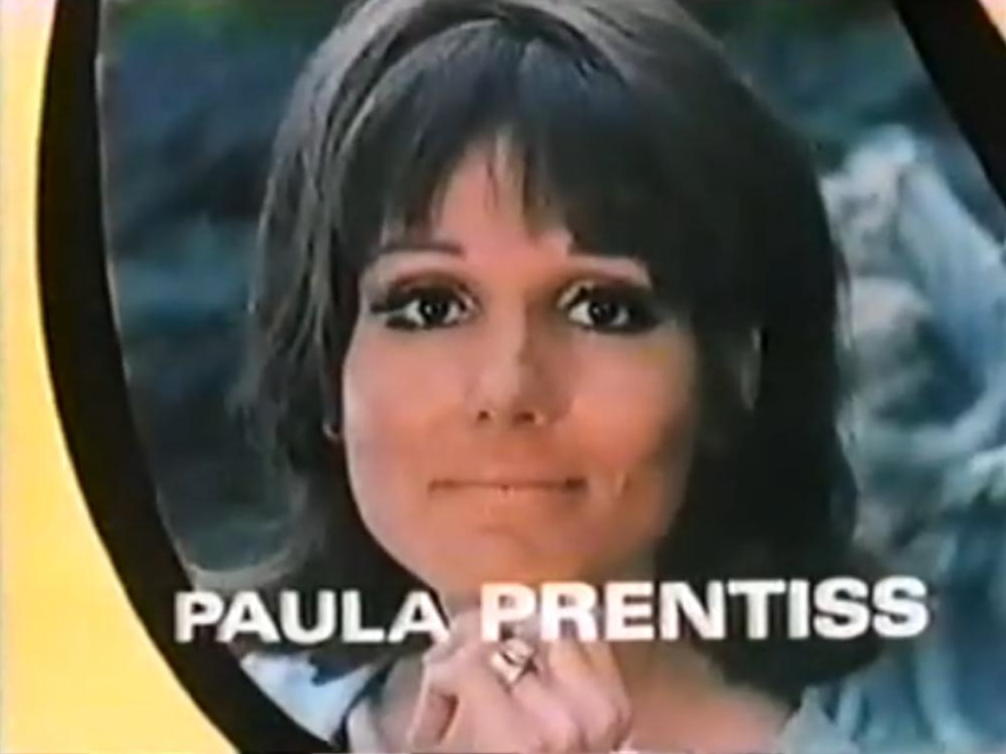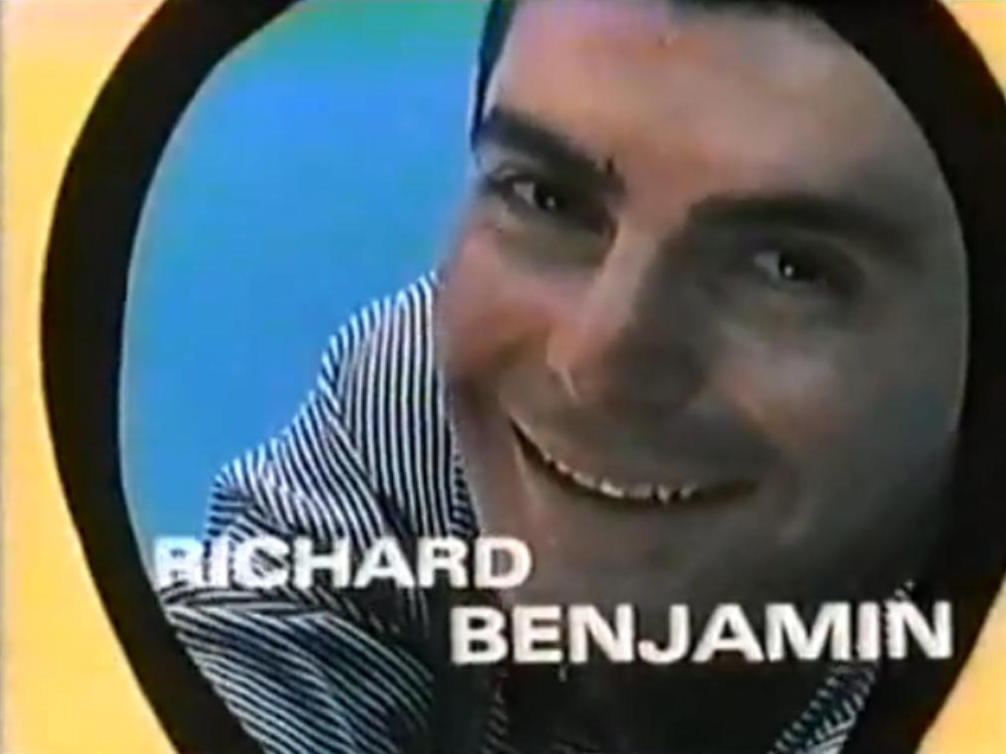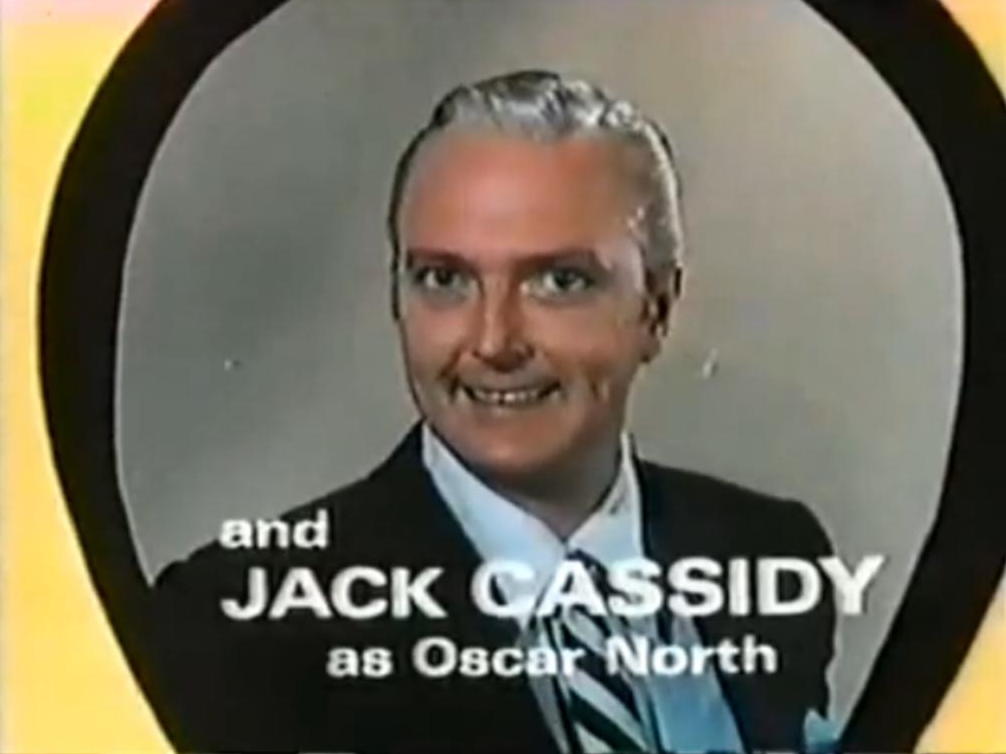 Talent Associates production
for
CBS (Wednesdays 9:30pm EST)
Created by & Executive Producer Leonard Stern
Produced by Arne Sultan, Arnie Rosen
Associate Producer: David Davis
US Comedy series 1967-68 26 episodes x 30 min Color
(6Sep67-18Sep68)
starring
Richard Benjamin as Dick Hollister
Paula Prentiss as Paula Hollister
co-starring
Jack Cassidy as Oscar North
Kenneth Mars as Harry Zarakardos (fireman)
Hamilton Camp as Andrew Hummel (or Humble) (maintenance man)
Harold Gould as Norman Nugent
Alan Oppenheimer as Murray Mouse

Premise:
Events in the hectic lives of the Hollisters. Richard, a cartoonist
and creator of the comic strip turned TV series "Jetman " and his
beautiful wife, Paula, a scatterbrained traveller's-company aide.

"He & She" theme song composed by Jerry Fielding
director of photography: William T. Cline, A.S.C.
################## He & She ##################
################ season 1967-68 ##############
##############################################
CBS Wednesdays 9:30 pm Eastern

1.1 [--] He & She: THE OLD MAN AND THE SHE (pilot) [verified -RL]
Talent Associates prod. no. 7210 (copyright date 31Aug67)
6Sep67 CBS Wed
Produced by Daniel Melnick (pilot only)
Written by Leonard Stern and Arne Sultan
Directed by Leonard Stern
director of photography: Bob De Grasse (pilot only)
Starring: Richard Benjamin, Paula Prentiss
Guest Cast -
Hamilton Camp ........ Andrew (recurring)
Charles Lane ......... Mr.Simpson
Michael Fox .......... Matthew Cornell
Wolfe Barzell ........ Orestes Ponopolis (recurring)
Gerry Lock ........... Gertrude
And:
Kenneth Mars ......... Harry (recurring)
Synopsis:
Paula dragoons Dick into helping an elderly Greek gentleman (Wolfe Barzell) fight deportation. [TA]

1.2 [--] He & She: THE SECOND TIME AROUND [verified -RL]
Talent Associates prod. no. 0553 (copyright date 6Sep67)
13Sep67 CBS Wed
Written by Jim Parker and Arnold Margolin
Directed by Leonard Stern
Starring: Richard Benjamin, Paula Prentiss
Guest cast:
Alan Oppenheimer ..... accountant Murray Mouse
Harold Gould ......... Norm Nugent
Eldon Quick .......... Arnold
Robert Gibbons ....... the minister
Synopsis:
Mix-ups and mishaps plague the Hollisters as they plan a second wedding
with all the fuss and formality they skipped the first time. [TA]

1.3 [--] He & She: HOW TO FAIL IN BUSINESS [verified -RL]
Talent Associates prod. no. 0551 (copyright date ODAT: 13Sep67)
possibly aired 20Sep67 CBS Wed
Written by Martin A. Ragaway
Directed by Leonard Stern
Guest cast
Herb Ellis ........... Mr. Angostaura
Dodo Denney .......... Mrs. Angostaura
Allison Price ........ Janice
Synopsis:
A heavy rain brings the upstairs neighbors to the Hollister's apartment for
the night because of a bad leaking problem. The Hollisters find out from these
neighbors that the building is for sale, and the Hollisters decide to buy it
- only to find out how many repairs are needed. [RL]

[04] He & She: THE PHANTOM OF 84th STREET (verified on film)
Talent Associates prod. no. 0555 (copyright date ODAT: 20Sep67)
possibly aired 27Sep67 CBS Wed
Produced by Arne Sultan
Written by Arnold Margolin & Jim Parker
Directed by Jay Sandrich
director of photography: William T. Cline, A.S.C.
Starring: Richard Benjamin, Paula Prentiss
Guest Star:
Jack Kruschen ...... Captain Pappas
With:
Kenneth Mars ....... Harry (recurring)
Hamilton Camp ...... Andrew (recurring)
Wolfe Barzell ...... Orestes Ponopolis (recurring)

1.5 [--] He & She: ONE OF OUR FIREMEN IS MISSING [verified -RL]
Talent Associates prod. no. 0554 (copyright date ODAT: 27Sep67)
possibly aired 04Oct67 CBS Wed
Produced by Arne Sultan
written by Irma and Austin Kalish
Directed by Jay Sandrich
Starring: Richard Benjamin, Paula Prentiss
With: (end credits)
Kenneth Mars ......... Harry (recurring)
Hamilton Camp ........ Andrew (recurring)
Johnny Haymer ........ Edward J. Flannagan
Gail Fisher .......... Helen
Ken Lynch ............ Inspector MacGregor
Synopsis:
Harry (Kenneth Mars) is fired when he is missing while he's supposed to be on fireman's duty. Turns out he was
helping Dick Hollister at the time (Dick has a cast on his foot). Dick feels so guilty about the firing that
he hires him, but that decision, and Harry himself proceeds to drives Dick crazy. [RL]
[06] He & She: BEFORE YOU BURY ME CAN I SAY SOMETHING?
Talent Associates prod. no. 0558 (copyright date ODAT: 4Oct67)
possibly aired 11Oct67 CBS Wed

1.7 [--] He & She: DICK'S VANDYKE [verified -RL]
Talent Associates prod. no. 0559 (copyright date ODAT: 11Oct67)
possibly aired 18Oct67 CBS Wed
written by Allan Burns and Chris Hayward
Directed by Jay Sandrich
Guest cast
Alan Oppenheimer ....... accountant Murray Mouse
Synopsis:
Paula goes away to visit her folks (her mom...yes, her mom is having a baby).
This leaves Dick alone for a while. He decides to get a cabin in the woods to
finish his painting. While there, he grows a beard - thus the episode's title,
"Dick's Vandyke." [RL]

[08] He & She: THE BACKGROUND MAN
Talent Associates prod. no. 0556 / No. 671025 (copyright date ODAT: 18Oct67)
possibly aired 25Oct67 CBS Wed

[09] He & She: VOTE YES ON NO
Talent Associates prod. no. 0557 (copyright date ODAT: 25Oct67)
possibly aired 01Nov67 CBS Wed

[10] HE & SHE vs. HIM
Talent Associates prod. no. 0552 / No. 671108 (copyright date ODAT: 1Nov67)
possibly aired 08Nov67 CBS Wed

[11] He & She: THE COMING OUT PARTY
Talent Associates prod. nos. 0562/671115 (copyright date 8Nov67)
15Nov67 CBS Wed (rebroadcast 07Aug1970)
written by Allan Burns and Chris Hayward
Starring: Richard Benjamin, Paula Prentiss
Guest Cast:
John Astin .......... Dr. Melvin Krillman
Mariette Hartley .... Dorothy
Synopsis:
A bundle of unrelated events (Paula's hiccups, a matchmaking party and Dick's sore
throat) sets up an unsettling situation: Dick's tonsils will have to come out.
To make matters worse, Dick's a nervous wreck on the eve of the operation. [RF]
*Note: This episode won Emmys for the writers Allan Burns and Chris Hayward. [RF]

1.12 [--] He & She: DEEP IN THE HEART OF TAXES [verified -RL]
Talent Associates prod. no. 0563 / No. 671122 (copyright date ODAT: 15Nov67)
possibly aired - 22Nov67 - CBS Wed
Written by Joe Bonaduce
Directed by Jay Sandrich
Guest Cast:
Larry D. Mann ...... Mr. McManus
Louis Quinn ........ Gus
Iris Rainer ........ Geraldine
Synopsis:
Dick is due to be audited by the IRS - and to compound his financial woes,
Paula hasn't told him that she's recently hit it really big playing the horses.

1.13 [--] He & She: DON'T CALL US [verified -RL]
Talent Associates prod. no. 0564 (copyright date ODAT: 22Nov67)
possibly aired - 29Nov67
written by Allan Burns and Chris Hayward
Directed by Jay Sandrich
director of photography: William T. Cline, A.S.C.
With:
Hamilton Camp ..... Andrew (recurring)
John Francis ...... Henry
Synopsis:
To escape a persistent wrong number, the Hollisters change to an unlisted phone
number. This decision backfires when they fail to receive an invitation to a
very important party. [RL]

[--] 06Dec67 CBS Wed - pre-empted for "Dear Friends," a "CBS Playhouse" drama.

1.14 [--] He & She: NORTH GOES WEST [verified -RL]
Talent Associates prod. no. 0565 (copyright date ODAT: 6Dec67)
possibly aired 13Dec67 CBS Wed (rerun 05Jun68)
sponsored by General Foods
written by Chris Hayward and Allan Burns
Directed by Jay Sandrich
Guest cast:
Henry Beckman ...... Nichols
Synopsis:
Oscar insists the HOllisters accompany him and the "Jetman" TV Crew
to California. Left no choice, Paula and Dick sadly pack up, bid tearful
farewells, and prepare for a move out West. [RF]

[15] He & She: EASY WAY OUT
Talent Associates prod. no. 0560 / No. 671220 (copyright date ODAT: 13Dec67)
possibly aired - 20Dec67 CBS Wed

[16] He & She: POSTER BOY
Talent Associates prod. no. 0561 (copyright date 20Dec67)
27Dec1967 CBS Wed
Synopsis:
First, a rash of robberies. Second, a wanted poster picturing a
criminal type who bears an amazing resemblance to Andrew. Presto!
The Hollisters are ready to believe that the fumbling handyman
is a master criminal. [RF]

[17] He & She: 45 MIDGETS FROM BROADWAY
Talent Associates prod. no. 0566/ no. 680103 (copyright date: 27Dec67)
03Jan68 CBS Wed
written by Jim Parker
Starring: Richard Benjamin, Paula Prentiss
With: Jack Cassidy (Oscar)
Guest Cast:
Stuart Margolin ........ Arnold Penner
Stacy Keach ............ Jack Moss
Glenell and Jonell Calendar ........ Chorus Girls
Synopsis:
Oscar takes center stage as the "Jetman" show is made into a musical comedy.
Cassidy whose Broadway credits include "Superman" and "Wait Until Dark",
sings two songs written in collaboration with Arnold Margolin and Jim Parker.[RF]

[18] He & She: A ROCK BY ANY OTHER NAME
Talent Associates prod. no. 0567 (copyright date 03Jan68)
10Jan68 CBS Wed
Synopsis:
The Hollisters exchange birthday gifts: She gets a fur
coat and he gets a rock (with special sentimental
value). Then Dick loses his gift, and recruits Andrew
and Harry in a frantic search for the prized pebble. [TA]

[--] 17Jan68 - pre-empted for President Johnson's State of the Union address.

[19] He & She: GOODMAN SPARE THAT TREE
Talent Associates (copyright date ODAT: 17Jan68)
24Jan68 CBS Wed. (postponed from 17Jan68)
Starring: Richard Benjamin, Paula Prentiss
Guest cast:
Dick Curtis ............ Billy Joe
Herbert Voland ......... Goodman
Ned Wertimer ........... Norcross
Synopsis:
Paula breaks the law to help her cousin smuggle a rare
Italian olive tree past customs. Then the real
struggle begins - to keep the tree alive. [TA]

[20] He & She: THE WHITE COLLAR WORKER
Talent Associates (copyright date ODAT: 24Jan68)
possibly aired 31Jan68

[21] He & She: ALONG CAME KIM
Talent Associates (copyright date ODAT: 31Jan68)
possibly aired 07Feb68

[22] He & She: WHAT DO YOU GET FOR THE MAN WHO HAS NOTHING?
Talent Associates (copyright date ODAT: 7Feb68)
possibly aired 14Feb68

[23] He & She: DOG'S BEST FRIEND
Talent Associates (copyright date ODAT: 14Feb68)
21Feb68 CBS Wed
Starring: Richard Benjamin, Paula Prentiss
Guest Cast:
Larry Storch ........ Burt
Bonnie Scott ........ Myra
The Hollisters watch helplessly as friends Burt and Myra go on a bickering
binge that ends in separation. The crisis leads to repercussions for the
Hollisters, who are left in charge of Burt and Myra's howling dog. [RF]

[24] He & She:
IT'S NOT WHETHER YOU WIN OR LOSE, IT'S HOW YOU WATCH THE GAME
Talent Associates (copyright date ODAT: 21Feb68)
possibly aired 28Feb68

[25] He & She: KNOCK, KNOCK, WHO'S THERE FERNANDO, FERNANDO WHO?
Talent Associates (copyright date ODAT: 28Feb68)
possibly aired 06Mar68

[26] He & She: WHAT'S IN THE KITTY (final episode)
Talent Associates copyright date ODAT: 06Mar68;
possibly aired 13Mar68

---------------------------------------------
Network Reruns - Summer 1968 - ABC Wednesdays
---------------------------------------------
[--] 05Jun68 ABC Wed - rerun of #1.14 "North Goes West"
----------------------------------------
Network Reruns - Summer 1970 - Fridays
----------------------------------------
[--] 26Jun70 - rerun of the pilot episode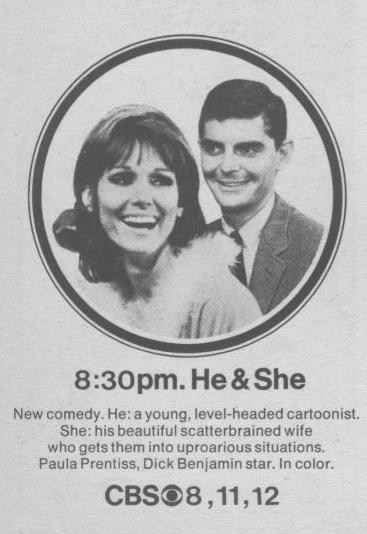 ################## He & She ##################
################## the end ##################
##############################################

Have you any comments, corrections, episode titles, air dates, production numbers, directors, writers, story/synopsis, guest stars, cast lists, etc?
Have you any old videos, or tv guides? Dust them off and let us know if you have any information on this series or any other tv series from the
Golden Age of TV, which is missing from any episode guides on the web. Perhaps a certain episode of a particular series coincided with a key
moment in your life, or in world events - and or has left a vivid memory of when it was shown. Let us know. Would you like to see any other
tv series guides on this site? If so please e-mail The Classic TV Archive - see Feedback below.
This guide may be distributed and copied freely, in its entirety, for personal use. All original author and copyright information must
remain intact. Any sales or other uses of this document are expressly forbidden, without the specific consent of the author(s).
Copyright © The Classic TV Archive. All rights reserved.

Return to The Classic TV Archive Home Page
Feedback - Comedy Forum