CTVA
The Classic TV Archive - US Comedy Series
Wendy & Me (1964-65) starring George Burns & Connie Stevens
<Previous "The George Burns Show" Next>
Starring George Burns
(NBC) (1958-59) (Filmed)
Sponsors Colgate-Palmolive
Episode Guide compiled by The Classic TV Archive
with contributions by: Tom Alger [TA] Jim Brent [JB] Robert Leszczak [RL]
references:
TV Guide / Library of Congress (telnet://locis.loc.gov)
Internet Movie Database (https://us.imdb.com)
UCLA Film and Television Archive

---------------------
THE GEORGE BURNS SHOW
---------------------
BandA Productions (Burns and Amateau)
filmed by McCadden Productions
for NBC (Tuesdays 9PM ET (1958-59)
Produced by Rod Amateau.
written by Norman Paul, Keith Fowler, Harvey Helm and Williams Burns
Directed by Rod Amateau (all Sitcom format episodes)
Directed by Bob Henry (all Variety format episodes)

US Situation Comedy / Variety series 1958-59 25 episodes x 30 min (approx 18 filmed + 7 live)

Starring: George Burns as himself
Regular Supporting Cast:
Bea Benaderet as Blanche Morton, his secretary
Larry Keating as Harry Morton, his accountant
Ronnie Burns as himself
Jack Albertson as Tony London
Judi Meredith as herself
Lisa Davis as herself
Harry Von Zell as the announcer

Premise:
After Gracie Allen retired from showbusiness, George Burns continued the sitcom,
this time on NBC. He continued to play himself, although he now cast himself as a
television producer. Most of the old gang from "The Burns and Allen Show" remained.
Approx. 18 episodes were Filmed Sitcom Format and approx. 7 episodes were "Live" Variety Format
########### The George Burns Show ############
############# season 1958-59 ###############
################# (New Title) ################
NBC Tuesdays 9:00 pm Eastern
(21Oct58 - 14Apr59)

[01] The George Burns Show: GEORGE AND THE PRIVATE EYE (filmed)(sitcom format) [verified -RL]
21Oct1958 NBC Tue
Writers: Harvey Helm, Keith Fowler, Norman Paul, Willy Burns
Director: Rod Amateau
Guest stars:
Jack Benny
Robert Cummings
Synopsis 1:
George decides not to produce a new detective series when he receives advice from an unexpected source. [TA]
Synopsis 2:
For his new identity Burns will assume the role of a theatrical producer ready to produce anything from a small
club date to a Hollywood extravaganza. When George Burns receives advice from an unexpected source, he decides not
to produce a new detective series called "The Blonde Who Died Twice."
Highlights: [RL]
With Gracie retired (she never appears, but is spoken of), George realizes he wants to stay in show biz... but what
can he do without Gracie? George becomes a producer, and Blanche Morton is his secretary.
All of the regulars (Von Zell, Larry Keaating, Ronnie Burns and Bea Benaderet appear).
Ronnie Burns sings his new Verve label "45 Kinda Cute" and Double Date"
with background singers Joby Baker, Nicky Blair, Gil Garfield and Pat Murtagh.
Jack Albertson portrays Tony London, who brings George a trained seal to be his new partner (replacing Gracie). [RL]

[02] The George Burns Show: JACK BENNY COMES OVER (filmed)(sitcom format)
28Oct1958 NBC Tue
Guest star:
Jack Benny
Synopsis 1:
Jack Benny goes over to Burns' office when he learns that Burns is teaching a song-and-dance act to a young girl.
Synopsis 2:
Jack Benny pays his long-time friend George a visit. Jack is upset when he finds George teaching a dance routine to a
cute young girl. He believes that George is rehearsing a new act for himself. [JB]
Newspaper review:
Carping critics notwithstanding, this is a laugh packed half hour. George does a hilarious monolog about his musical
career, interspersing it with some singing, which is pretty funny, too. Jack Benny drops in and participates in some
comedy scenes with George and son, Ronnie.

[--] 04Nov58 pre-empted for election coverage.

[03] The George Burns Show: THE FRENCH REVUE (filmed)(sitcom format)
11Nov1958 NBC Tue
Synopsis 1:
George wants Blanche Morton to quit her job as his secretary, but he doesn't want to fire her. He sends three stunning
girls to Harry Morton's office, hoping to make Blanche jealous enough to quit. [JB]
Synopsis 2:
George sends three beautiful girls to Harry Morton's office hoping to arouse Blanche's jealousy so she'll quit her job
as secretary.
Synopsis 3:
When your wife's best friend is your secretary, beware of hiring three cuties from the Folies Bergere - even in
self-defense! Watch George try it! (newspaper ad)

[04] The George Burns Show: A WALK ON FOR GEORGE (filmed)(sitcom format) [verified -RL]
18Nov1958 NBC Tue
Sponsored by Colgate-Palmolive - singer Tommy Sands performs a song in one of the commercials. [RL]
Guest cast:
William Goetz....Himself
Barbara Stuart....Lily
Norma Alden....Cop
Peggy Knudsen....Secretary
Synopsis 1:
George tries to impress a movie producer with his business acumen, and as a result is offered a bit part in a film.
Synopsis 2:
Ronnie, who has a featured role in a movie, learns that his father has been given a bit part in the same film.
Upset, he tries to remedy the situation. [JB]
Synopsis 3:
William Goetz is the guest star. He wants Ronnie Burns to star in his new picture about a normal teenager. He also wants
George to do a "walk on." George agrees, as long as he gets no mention in the credits. While in Goetz's office, Ronnie
overhears a conversation saying that George will get no credit for his walk-on, and Ronnie walks out, not knowing that
his father insisted on that arrangement. Of course, all is straightened out in the end. As a subplot, Harry VonZell tries
to impress Lilly the waitress (Barbara Stuart) by trying to get her an audition with Mr. Goetz (saying he and Mr. Goetz
are very close friends). Of course, he doesn't know Goetz, even when Goetz is sitting next to him in the restaurant where
Lilly waits tables. She finds out and becomes very angry. [RL]

[05] The George Burns Show: THE 18-YEAR-OLD NOVELIST (filmed)(sitcom format)
25Nov1958 NBC Tue
Guest star:
Marianne Gaba

[06] The George Burns Show: TONY MARTIN VISITS (filmed)(sitcom format)
02Dec1958 NBC Tue
Sponsored by Colgate-Palmolive Company
Guest star:
Tony Martin as himself
with:
Jack Albertson ...... Tony London
Lisa Davis .......... Miss Jenkins
Lillian Bronson ..... Miss Willoughby
Charles Bagby ....... Sid
Synopsis:
Tony Martin confides to George he may be unable to fill a singing engagement and George tries to figure out how to
replace him.
Synopsis 2:
Tony Martin confides to George that there's a possibility he may have to cancel his singing engagement at a hotel.
George decides that his is his opportunity to book himself into the hotel as Tony's replacement. [JB]
Newspaper review:
Funniest scene has George Burns teaching Tony Martin showmanship - Tony singing and George demonstrating the proper
dramatic gestures. On the whole, another entertaining show.
Newspaper ad:
George Sings (or is it the seal?)
Tony Martin sings (of course) when he appears on the George Burns Show presented by Colgate-Palmolive.
In spite of a trained seal's medical report Tony Martin manages to sing 3 songs on this fast, funny show.

[07] The George Burns Show: GEORGE'S EVICTION (filmed)(sitcom format)
09Dec1958 (originally scheduled for 25Nov1958)
Guest cast:
Douglass Dumbrille....Mr. Knox
Barbara Stuart....Lily
Lewis Martin....Mr. Benson
Charles Carman....Knife-Thrower
Jerry Summers....Tumbler
Charles Bagby....Sid
Synopsis 1:
George is threatened with eviction.
Synopsis 2:
When George's office is overrun by vaudeville acts, his landlord is pretty upset. He doesn't appreciate knife-throwers,
tumblers and especially, live rabbits, and threatens to evict George. [JB]

[08] The George Burns Show: EDDIE FISHER GUESTS (1st live show)(variety format)
16Dec1958 NBC Tue
Guest stars:
Eddie Fisher
The Dunhills
Synopsis:
Eddie Fisher joins George who interrupts his filmed series to present 30 minutes of live comedy and variety featuring
the dancing Dunhills. [JB]
Newspaper ad:
Live Tonight! Don't miss the new live George Burns Show! A fresh, exciting combination of variety and situation comedy!
Dancing...Singing...Surprises!

[09] The George Burns Show: LA VIE EN ROSE aka A WIFE FOR CHRISTMAS (filmed)(sitcom format) [verified -RL]
23Dec1958 NBC Tue
Sponsored by Colgate-Palmolive
singer Jimmie Rodgers performs "Oh Oh I'm Falling In Love Again" in one of the commercials. [RL]
Guest cast:
Chantal Noel......Collette
Synopsis 1:
George's employees try to butter him up around the holidays so they'll get nice bonuses, but he sees through their scheme.
Meanwhile, one of the nightclub performers, Collette (played by Chantal Noel) must return to France because her visa is
about to expire. George tries to fix her up with Harry VonZell so they can marry and she can stay in the states. However,
SHE falls for Ronnie Burns, whose girlfriend is away in Oregon (and he's lonesome), and he starts to fall for HER, too.
Well, neither Ronnie nor Harry marry Collette, and she returns to France, but will return as soon as she can. George fills
in for her at the nightclub while she's gone (and pretends he's French, too). [RL]
Synopsis 2:
George attempts to fill the bill himself in a floor show at a night club because Colette, a singer he booked for
the job, must leave the country temporarily. He masquerades as a French singer named "Georges." [JB]

[10] The George Burns Show: DALE ROBERTSON GUESTS (2nd live show)(variety format)
30Dec1958 NBC Tue
Sponsored by Colgate-Palmolive Company
Guest stars:
Dale Robertson
The Lennon Sisters
Newspaper ad:
Don't Miss The Second Live George Burns Show.
Dale Robertson "Wells Fargo" Star Shoots 'em up!
The Lennon Sisters featured on "Lawrence Welk Show" Sing 'em up!
Ronnie Burns as the "heavy" Acts it up!

[11] The George Burns Show: GEORGE SIGNS CAROL CHANNING (possibly live)(variety format) [verified -RL]
06Jan1959 NBC Tue
sponsored by Colgate-Palmolive. [RL]
Produced by Rod Amateau, directed by Bob Henry. [RL]
Guest star:
Carol Channing
Synopsis 1:
Carol Channing is George's guest. George takes advantage of Carol's absent-mindedness to maneuver her into signing a
contract with him for a night-club appearance. [JB]
Highlights:
All of the regulars are still there: Larry Keating, Bea Benaderet, Ronnie Burns and Von Zell.
Carol Channing guest stars and sings "With My Baby By and By."
Long comedy sketch called "Hollywood TV Court" with all of the regulars,
Keating plays the judge, Von Zell is the Hollywood reporter.
Even Carol Channing gets in on the fun. [RL]

[12] The George Burns Show: ANNA MARIA ALBERGHETTI GUESTS (live show)(variety format)
13Jan1959 NBC Tue
Guest star:
Anna Maria Alberghetti
Synopsis:
George Burns escorts Anna Maria Alberghetti to a typical Hollywood premiere.
Synopsis 2:
George will join Anna Maria in song and a difficult bit of dancing. During the show he will escort Anna Maria to a
typical Hollywood premiere - lights, glamour, excitement and on-camera interviews, highlighted by a chat with the great
queen of silent films, Sybil Wentworth (portrayed by Bea Bernaderet).

[13] The George Burns Show: GEORGE ON JUKE BOX JURY (possibly live)
20Jan1959 NBC Tue
Guest stars:
Peter Potter ........ Himself
Bob Cummings Jr ..... Himself (Bob Cummings son)
Kathy Heflin ........ Herself (Van Heflin's daughter)
Dena Kaye....Herself (Danny Kaye's daughter)
Gary Lewis....Himself (Jerry Lewis' son)
Synopsis 1:
George learns that his newly released record album "George Burns Sings" is to be rated by a special "jury" on
Peter Potter's Los Angeles disc jockey show. Potter makes a guest appearance, along with four young "jurors." [JB/TA]
Synopsis 2:
Peter Potter, and the children of various celebrities, are guests.

[14] The George Burns Show: ROSEMARY CLOONEY GUESTS (live show)(variety format)
27Jan1959 NBC Tue
Guest star:
Rosemary Clooney
Synopsis:
When songstress Rosemary Clooney visits George as a guest star, he finds a problem involving ballads and babies during
the live telecast.

[15] The George Burns Show: CAROL CHANNING GUESTS (live show)(variety format)
03Feb1959 NBC Tue
Guest star:
Carol Channing
Highlights:
Carol Channing will pun with George.

[16] The George Burns Show: XAVIER CUGAT AND ABBE LANE GUEST (live show)(variety format)
10Feb1959 NBC Tue
Guest stars:
Xavier Cugat
Abbe Lane

[17] The George Burns Show: HOWARD DUFF GUESTS (live show)(variety format)
17Feb1959 NBC Tue
Guest star:
Howard Duff

[18] The George Burns Show: RONNIE TAKES AN APARTMENT (filmed)(sitcom format)
24Feb1959 NBC Tue
Guest stars:
Jill Corey
The Steiner Brothers (dance team)
Mellow Men (quartet)
Guest cast:
Raymond Greenleaf...Edmund Prentice
Synopsis:
Jill Corey is a guest for tonight's session of comedy and music. Ronnie moves into his own apartment, leaving George alone.
But George doesn't stay lonely for long. [JB]

[19] The George Burns Show: JIMMIE RODGERS MOVES IN WITH RONNIE (filmed)(sitcom format)
03Mar1959 NBC Tue
Guest stars:
Jimmie Rodgers
The Gardner Sisters (vocal trio)
Synopsis:
In the show's situation-comedy segment, Rodgers and Ronnie Burns share an apartment, an interest in music-with-a-beat,
and feminine company. The apartment is overrun with pretty girls when George steps in with a master move to "save" Ronnie
from his steady girl friend, Judi Meredith. The variety portion of the show features the Gardener Sisters making their
TV debut with a vocal assist from host George.
Synopsis:
Ronnie and Jimmie are sharing an apartment. Ronnie's girl Judi learns that the apartment is overrun with pretty girls.
She asks George to help her do something about this. [TA]

[20] The George Burns Show: THE LANDLORD'S DAUGHTER (filmed)(sitcom format)
10Mar1959 NBC Tue
Guest cast:
Douglass Dumbrille .... Mr. Knox
Mary Moore* ............ Linda Knox
(Note: "Mary Moore," mentioned above, might be "Mary Tyler Moore")
Lise Davis ............ secretary
Synopsis 1:
George's integrity as a producer is tested when he is asked to discourage the aspirations of a talented performer.
Synopsis 2:
Mr. Knox, George's landlord, approaches him with a tempting offer. If George will discourage Knox's talented daughter
from going into show business, Mr. Knox will give him a five-year lease. [JB/TA]

[21] The George Burns Show: THE ORCHID ROOM aka THE CONTRACT TO SING (filmed)(sitcom format)
17Mar1959 NBC Tue
Guest cast:
Howard Wendell ..... Mr. Daughter
Synopsis 1:
George takes over Ronnie's night club engagement when he fears that an appearance in a basement restaurant could ruin
his son's career. [TA]
Synopsis 2:
George is very anxious to book Ronnie and Judi into a café. He hears about a place called the Orchid Room and decides
that it is the perfect spot for the two aspiring entertainers. [JB]

[22] The George Burns Show: GEORGE'S TRIAL (filmed)(sitcom format)
24Mar1959 NBC Tue
Synopsis:
Business is bad at the night club where George is working. When the owner of the club cancels his contract, George
takes the matter to court. [JB]

[23] The George Burns Show: BREAKING UP THE TEAM (filmed)(sitcom format)
31Mar1959 NBC Tue
Guest cast:
Hayden Rorke ....... Producer
Dick Humphries ..... Dancer
Synopsis 1:
Judi and Ronnie audition for the producer of a Broadway review, but he turns them down. Ronnie volunteers to break up
the team so that Judi can get ahead on her own. [JB]
Synopsis 2:
George uses devious methods to keep Ronnie and Judi Meredith from breaking up their act. [TA]

[24] The George Burns Show: THE MONSTER TREND (filmed)(sitcom format)
07Apr1959 NBC Tue
Monsters take over an office building when George decides to produce a horror film. [TA]
Synopsis 2:
George decides to produce a horror movie and begins auditioning actors in monster makeup in his office. But the other
tenants in the building are unaware of George's plans, and they begin to fear that the building has been taken over
by real monsters. [JB]

[25] The George Burns Show: GEORGE INVESTS IN A RECORD COMPANY (filmed)(sitcom format) (final episode)
14Apr1959 NBC Tue
Synopsis 1:
George invests in a record company and then persuades it to record an album of his songs. [TA]
Synopsis 2:
George invests money in a recording company, hoping that the company will make an album of his songs. [JB]

########### The George Burns Show ############
################# the end ##################
##############################################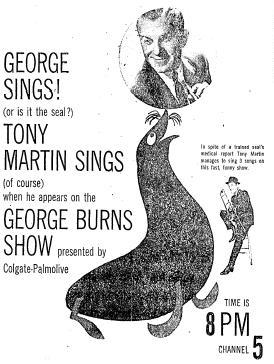 Have you any comments, corrections, episode titles, air dates, production numbers, directors, writers, story/synopsis, guest stars, cast lists, etc?
Have you any old videos, or tv guides? Dust them off and let us know if you have any information on this series or any other tv series from the
Golden Age of TV, which is missing from any episode guides on the web. Perhaps a certain episode of a particular series coincided with a key
moment in your life, or in world events - and or has left a vivid memory of when it was shown. Let us know. Would you like to see any other
tv series guides on this site? If so please e-mail The Classic TV Archive - see Feedback below.
This guide may be distributed and copied freely, in its entirety, for personal use. All original author and copyright information must
remain intact. Any sales or other uses of this document are expressly forbidden, without the specific consent of the author(s).
Copyright © The Classic TV Archive. All rights reserved.

Return to The Classic TV Archive Home Page
Feedback - Comedy Forum