Way Out (1961)
Episode Guide compiled by The Classic TV Archive
with contributions by: Rina Fox
references:
Library of Congress (telnet://locis.loc.gov)
Internet Movie Database (https://us.imdb.com)
UCLA Film and Television Archive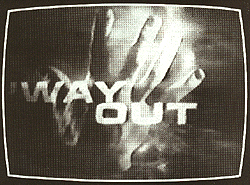 Executive producer David Susskind
March 31, 1961 to July 14, 1961 CBS Fri 9:30 - 10:00
######## Way Out ########
####### 1961 season ######
1.01 [--] Way Out: WILLIAM AND MARY
producer Jacqueline Babbin
Henry Jones as William Pearl
Mildred Dunnock as Mary Pearl
Fritz Weaver as Dr. Landy
Barnard Hughes as Dr. Foster
Synopsis:
The post-mortem brain of an Mr. Pearl is kept alive in a tank with an eye-stem + ear-drum
attached, his growing agitation expressed only with wordless electronic static on an
ocilloscope as his wife blasts twist records and exhales cigarette smoke into his tank. [RF]
1.02 [--] Way Out: THE DOWN CAR
written by Phil Reisman Jr.
starring
George Turner as John Ventry
Synopsis:
After two Navy buddies go into business together one makes a huge mistake by gambling
the companies profits away. The matter is handled by his partner who is haunted by
his so-called partners suicide. [RF]
1.03 [--] Way Out: THE SISTERS
written by Irving Gaynor Neiman
Carmen Mathews as Harriet
Synopsis:
Two sisters, one possessive the other impulsive, bring about their own demise. [RF]
1.04 [--] Way Out: BUTTON, BUTTON
written by Elliott Bakers
starring
Richard Morse as Captain Stone
Synopsis:
Captain Stone has nightmares about a nuclear holocaust that should he ever push the
Button will bring about the catastrophy he fears most. [RF]
1.05 I[--] Way Out: HEARD YOU CALLING ME
directed by Daniel Petrie
Constance Ford as Freda Mansfield
Anthony Dawson as George Frobisher
Angela Thornton as Rose Thorn
Neil Fitzgerald as Doctor
George Turner as Mr. Burnly
Jean Cameron as Phone Operator
Synopsis:
Freda has ghostly visions of a woman trying to tell her something about her fiancee. [RF]
1.06 [--] Way Out: THE CROAKER
written by Phil Reisman Jr.
Rex Everhart as Fred Tench
Madeleine Sherwood as Cora Tench
Richard Thomas as Jeremy Keeler
Paul Richards as Sergeant McGoogan
Synopsis:
Mr. Rana slips swamp water into his neighbor's cocktails changing them into frogs. [RF]
1.07 [--] Way Out: FALSE FACE
Alfred Ryder as Michael Drake
Gerry Jedd as Rita Singer
Synopsis:
An over-ambitious method actor sneaks around skid row to steal ideas on playing
a ravaged wino- actually becoming the skuzziest bum for real - and even
the dirtiest dregs avoid him. [RF]
1.08 [--] Way Out: DISSOLVE TO BLACK
written by Irving Gaynor Neiman
directed by Bill Corrigan
Kathleen Widdoes as Bonnie Draco
Moultrie Patten as George
Michael Conrad as Paul #2
Richard Morse as Harry #1
James Patterson as Harry #2
Dan Morgan as Murderer #1
Leonardo Cimino as Murderer #2
Bonnie's first acting job is a creepy one, she works at a television studio at night
and during rehearsal witnesses a real killing. [RF]
1.09 [--] Way Out: DEATH WISH
written by Irving Gaynor Neiman
Charlotte Rae as Hazel Atterbury
Don Keefer as George Atterbury
Heywood Hale Broun as Mr. Petard
Hazel Atterbury lives and breathes TV. She watches and talks
about it all the time. When she asks her husband George
what his favorite show was, he tells her it's the one on which
a man murdered his wife because she talked too much. [RF]
1.10 [--] Way Out: THE OVERNIGHT CASE
written by Nicholas Pryor
Martin Balsam as Bill Clayton
Kevin McCarthy as Dr. Paul Sandham
Norma awakens from a bad dream and doesn't recognize her surroundings. She doesn't
even recognize her husband, Bill. Only the presence of an overnight case seems to
strike a familiar and disturbing note. [RF]
1.11 [--] Way Out: HUSH, HUSH
written by Robert Van Scoyk
Woodrow Parfrey as William Rogers
Philip Coolidge as Professor Ernest Lydecker
Rosemary Murphy as Bernice Lydecker
Mary Cushman as Margaret Ainsley
Barry Newman as Police Officer
John F. Hamilton as Janitor
Professor Ernest Lydecker makes a major discovery.
He puts a laboratory mouse into a state of perfect tranquility
and it's all done with sound waves. [RF]
1.12 [--] Way Out: SIDE SHOW
directed by Seymour Robbie
Host Roald Dahl
starring
Murray Hamilton ..... Harold Potter
Doris Roberts ....... Edna Potter
Martin Huston ....... Ronnie
Carolyn Groves ...... Betty
Myron McCormick ..... Barker
Margaret Phillips ... Cassandra
Synopsis 1:
Harold Potter is nagged by his wife and seeks out a sideshow at a carnival
where he is mesmerized by Cassandra and her act. [RF]
Synopsis 2:
Harold Potter goes to the local carnival, in the side show he sees Cassandra,
the headless feature attraction - who asks him to come back tomorrow night. [RF]

1.13 [--] Way Out: SOFT FOCUS
written by Phillip Reisman Jr.
Barry Morse as Peter Pell
Mitchell Ryan as Bill Fontaine
Joan Hotchkis as Louise Pell
Anne Meacham as Dolly Granger
Dortha Duckworth as Mrs. Bickell
Synopsis:
A photographer disfigures people's faces by painting a weird fluid on their photos
- until the bottle splashes on his portrait - erasing half his face. [RF]
Walter Slezak as Harvey Cartwright
Milton Selzer as Harvey Cartwright
Sudie Bond as Mrs. Jellifer
Tom Shirley as Huddleston
Ruth White as Stephanie Cartwright
Frederick Rolf as Jellifer
Synopsis:
Harvey Cartwright is a timid little man with a shrew of a wife; he is an encyclopedia salesman.
Since he can't see well with his new eyeglasses, he accidentally goes to the
wrong address: the Jellifers had not asked about a free trial offer of encyclopedias.
Their line is taxidermy, they keep stuffed animals-- like Mahatma, a stuffed viper.

He finds out that his new eyeglasses have magical powers: by putting them on,
he is reunited with the Jellifers at their place. The Jellifers tell him their stuffed animals can
come back to life and kill people; Harvey offers them money to have Mahatma the viper
kill his nagging wife Stephanie at 3:00 a.m. [RF]

######## Way Out ########
######### the end ########
########################
Have you any comments, corrections, episode titles, air dates, production numbers, directors, writers, story/synopsis, guest stars, cast lists, etc?
Have you any old videos, or tv guides? Dust them off and let us know if you have any information on this series or any other tv series from the
Golden Age of TV, which is missing from any episode guides on the web. Perhaps a certain episode of a particular series coincided with a key
moment in your life, or in world events - and or has left a vivid memory of when it was shown. Let us know. Would you like to see any other
tv series guides on this site? If so please e-mail The Classic TV Archive - see Feedback below.
This guide may be distributed and copied freely, in its entirety, for personal use. All original author and copyright information must
remain intact. Any sales or other uses of this document are expressly forbidden, without the specific consent of the author(s).
Copyright © The Classic TV Archive. All rights reserved.

Return to The Classic TV Archive Home Page
Feedback - Anthology Forum