Ford Theatre (1948-51) (live)
a.k.a "Ford All-Star Theater" (1952-57) (filmed )
Sponsors The Ford Motor Company
Episode Guide compiled by The Classic TV Archive
Rina Fox, James Beer, Sal Crisanti, Cindy Rumbold
Library of Congress (telnet://locis.loc.gov)
Internet Movie Database (https://www.us.imdb.com)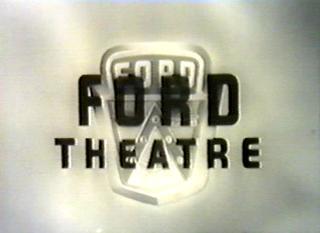 * live episodes (1948-51)(hour) CBS Production (live from New York)
CBS (Sundays 7:30pm)(season 1)(1948-49)(hour)(live)
CBS (Fridays 9:00pm)(seasons 2-3)(1949-51)(hour)(live)
* filmed episodes (1952-57)(half-hour) a.k.a "Ford All Star Theater"
a division of Columbia Pictures
NBC (Thursdays 9:30pm)(seasons 4-7) (1953-56)(half-hour)
ABC (Wednesdays 9:30pm)(season 8) (1956-57)(half-hour)

US Dramatic anthology series
1948-51 52 episodes x 60 min bw (live) (CBS)
1952-57 195 episodes x 30 min bw (filmed) (Screen Gems, Inc.)

Background:
Sponsored by the Ford Motor Company, it began as a monthly series
of live hour-long dramatic plays on CBS on 17Oct1948 It became a regular
series a year later, airing on alternate Friday nights with other dramatic
shows. The live CBS edition used New York-based actors and actresses,
primarily those working on Broadway.

After a season's absence, Ford Theatre returned to the air on NBC as a
filmed series of half-hour plays. This version remained on NBC for 4 years
then moved to ABC for a final season. With the shift to film, production
moved to Hollywood and starred motion-picture performers. The scope
ranged from light comedy to heavy drama as well as original stories.
Ronald Reagan & his wife Nancy Davis made their first professional appearance
together in the series, on 05Feb1953 in a teleplay called "First Born."
Episodes through 09Mar1951 produced by Garth Montgomery. #1- #44
Episodes from 06Apr1951 produced by Werner Michel. #46-#52
All of the "live" episodes, with the exception of #33,
were directed by Franklin J. Shaffner.
Aired in Syndication 1958 as Theater of Stars weekdays at 1:00pm ET.
################ Ford Theatre ################
##############################################
##############################################
Have you any comments, corrections, episode titles, air dates, production numbers, directors, writers, story/synopsis, guest stars, cast lists, etc?
Have you any old videos, or tv guides? Dust them off and let us know if you have any information on this series or any other tv series from the
Golden Age of TV, which is missing from any episode guides on the web. Perhaps a certain episode of a particular series coincided with a key
moment in your life, or in world events - and or has left a vivid memory of when it was shown. Let us know. Would you like to see any other
tv series guides on this site? If so please e-mail The Classic TV Archive - see Feedback below.
This guide may be distributed and copied freely, in its entirety, for personal use. All original author and copyright information must
remain intact. Any sales or other uses of this document are expressly forbidden, without the specific consent of the author(s).
Copyright © The Classic TV Archive. All rights reserved.

Return to The Classic TV Archive Home Page
Feedback - Anthology Forum