CTVA
The Classic TV Archive - US Adventure series
Sky King (1951-59) Whirlybirds (1957-60) Ripcord (1961-63)



Whirlybirds (1957-60)
Episode Guide compiled by The Classic TV Archive
with contributions by:
Tom Alger, John King, Sal Crisanti, Ray, Rick Fine, Vince Marzo
J. Fred MacDonald <macfilms.com>
references:
TV Guide / Library of Congress (telnet://locis.loc.gov)
Internet Movie Database (https://imdb.com)
UCLA Film and Television Archive / Writers Guild of America (wga)
Whirlybirds (season 1) (Syndicated) (1957)
Whirlybirds (season 2) (Syndicated) (1958)
Whirlybirds (season 3) (Syndicated) (1959-60)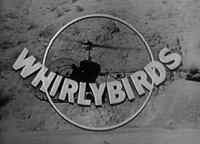 Desilu Productions, Inc.
CBS Film Sales, Inc
for
First-Run Syndication
(season 1) (to be verified)
Executive Producer Mort Briskin / Produced by N. Gayle Gitterman
(seasons 2-3) (to be verified)
Executive Producer N. Gayle Gitterman/ Produced by John H. Auer
Created by Jo and Art Napolean

US Adventure series 1957-60 111 episodes x 30 min. bw
starring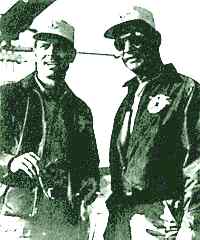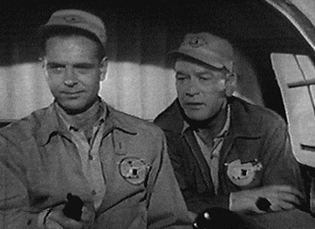 Kenneth Tobey as Chuck Martin (right)
Craig Hill as Pete ("P.T.") Moore (left)
with
Sandra Spence as Janet Culver (1957)
Nancy Hale as Helen Carter (1958-1960)
Premise:
The show centered around Chuck Martin (Kenneth Tobey) and
Pete (P.T.) Moore (Craig Hill), owners of 'Whirlybirds, Inc', who flew
their helicopter (N975B) between Longwood Field and anywhere where they
could be of help to someone in trouble.

Often the boys would be called in to help the police locate an escaped
prisoner, or save some stranded fool out in the middle of nowhere.
This would inevitably lead to one of the guys dangling at the end of a
rope at some point in the episode. When they didn't just jump right out
of the helicopter.

"Whirlybirds" was filmed in the Van Nuys area of California.
"Bell Helicopter Corp." supplied the helicopters for all but the first
4 episodes through an operator in Van Nuys
called "National Helicopters and Engineering" (Richard Hart Sr.)

The "Bell 47J Ranger" helicopter was first introduced in the episode,
" Seven were trapped". It was pretty much used in conjunction with the
"Bell 47G" for the rest of the run. It's registration# was N2838B.
Hart had to purchase a new J model from Bell for the series.

Bob Gilbreath was the real pilot for the entire run. The airport shots were
filmed at the old San Fernando airport (now defunct), and Whitman Field.
"The two airports used in the filming of Whirlybirds were the Santa Susana Airport
and the San Fernando Airport. Santa Susana Airport, which is no longer in existence,
was in close proximity to the Iverson Ranch and was the airport for filming the first season.
The San Fernando Airport, which is also closed, was used for the rest of Whirlybird's
production run." (Vince Marzo, Glendale, CA, Inspector, Los Angeles Fire Department)
The interior shots along with the cockpit interior shots of Ken Tobey and Craig
Hill flying were filmed at Desilu Studios.

The idea for the series came
from the "I Love Lucy" episode "Bon Voyage" (16Jan56, CBS/Desilu). Jo and
Art Napoleon conceived the idea to write in a script based on two helicopter
pilots operating a charter business who got into all kinds of adventures.

The pilot episode for the series was the "Big U" (Uranium Hunt) filmed in
1956 at the Iverson Ranch, a dude ranch used to film westerns. The first
4 episodes were filmed there, and were sold to CBS films Inc. for syndication

Kenneth Tobey was chosen for his background in aviation, and Craig Hill was the pretty face.

Their secretary Janet Culver (Sandra Spence) left before the
end of the first series and was replaced by Helen Carter (Nancy Hale)

https://www.nationalhelicopter.com
See - Ripcord (Ivan Tors ZIV-UA)(1961-63) starring Ken Curtis & Larry Pennell
################ Whirlybirds #################
##############################################
##############################################
Have you any comments, corrections, episode titles, air dates, production numbers, directors, writers, story/synopsis, guest stars, cast lists, etc?
Have you any old videos, or tv guides? Dust them off and let us know if you have any information on this series or any other tv series from the
Golden Age of TV, which is missing from any episode guides on the web. Perhaps a certain episode of a particular series coincided with a key
moment in your life, or in world events - and or has left a vivid memory of when it was shown. Let us know. Would you like to see any other
tv series guides on this site? If so please e-mail The Classic TV Archive - see Feedback below.
This guide may be distributed and copied freely, in its entirety, for personal use. All original author and copyright information must
remain intact. Any sales or other uses of this document are expressly forbidden, without the specific consent of the author(s).
Copyright © The Classic TV Archive. All rights reserved.

Return to The Classic TV Archive Home Page
Feedback -
Adventure Forum