CTVA
The Classic TV Archive - Canadian Series
The Classic TV Archive - US Music Variety
Rollin' On The River (1971-72) (season 1)
Rollin' (1972-73) (New Title season 2)
Episode Guide compiled by The Classic TV Archive
with contributions by: Rina Fox [Updated April 2014]
references:
TV Guide / Library of Congress (telnet://locis.loc.gov)
Internet Movie Database (http://us.imdb.com)
UCLA Film and Television Archive
Writers Guild of America (wga)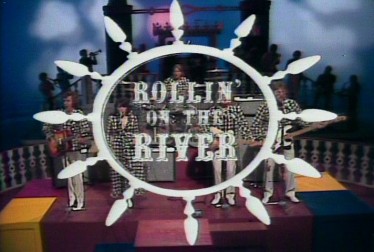 Winters-Rosen Production
Filmed at CTV in Canada.
Produced by David Winters

Canadian Music Variety Series 1971-73 54 episodes x 60 min (11Sep71-1Sep73)
*Note: The series was an hour long in Canada.
In the U.S. it was only half-an-hour,
Canadian talents were excised from the show for prime time viewing.
[Lubbock Avalanche Journal, April 1, 1972]
Hosted by
Kenny Rogers & The First Edition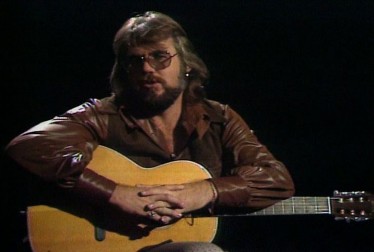 Regulars
Billy Van
Peggy Mahon
Mickey Jones (First Edition Drummer)
Terry Williams (First Edition Co-founder)

Set aboard the Mississippi Riverboat "River Queen"

In the Fall of 1972 the title was shortened to "Rollin'"
"The Rollin' on the River" Television Library Includes Comedy/Music Footage of:
Tina Turner, Merle Haggard, Bo Diddley, April Wine, Bill Withers, The Raiders, Cheech & Chong, The Stampeders,
Bruce Cockburn, The Grass Roots, The Five Man Electrical Band, Lighthouse, Climax, Billy Preston, Jim Croce,
Kris Kristofferson, Jose Feliciano, Mac Davis, Ronnie Hawkins, John Kay, Chilliwack, Looking Glass, The James Gang,
The Poppy Family, Ian & Sylvia, Pat Paulsen, Helen Reddy, Andy Kim, John Stewart and many others. [RF]

http://www.retrovideo.com/footage_library/rollin-on-the-river/
Note:
Mary Arnold was one of the singers for The First Edition and it was
Kenny Rogers who introduced her to Roger Miller on that show.
Mary and Roger did get married until his early death at age 50.
########### Rollin' On The River #############
################ pilot 1971 ##################
##############################################

[--] Rollin' On The River (Pilot)
4May1971
A variety hour hosted by Kenny Rogers and The First Edition
Guests
Al Hirt, Pat Paulsen and Diane Brooks with thirteen songs and a number of comedy sketches.
Highlights:
Dianne Brooks sings "Twenty-five Or Six To Four".
Dianne and Kenny Rogers duet on "Something."
Al Hirt and Kenny Rogers and The First Edition give renditions of "Proud Mary" and "Down By The Riverside."
Hirt offers "Tin Roof Blues" and "Jazz Me Blues."
Other highlights of the trip include Rogers and The First Edition doing "Heed the Call", "Ruby Talk", and "Camptown Races".
Hirt and Rogers do "Night Life".
Paulsen and Hirt do a thing called "Hirts-Rent-A-Horn" and Paulsen issues one of his jawbreaking monologues.
The hour closes with the entire cast giving their all for a rousing rendition of "Mississippi".


############# Rollin' On the River ###########
############### Season 1 1971-72 #############
##############################################
Aired Saturdays in Canada on CTV
Aired Tuesdays in the US on NBC.
(different times according to Provinces & States)

[01] Rollin' On the River
11Sep1971 [Premiere] Sat 6:30pm [Ottawa Journal]
14Sep1971 Tues 8pm KFAR-TV Channel 2, Fairbanks Daily News.
Hosted by Kenny Rogers & The First Edition
Guests
The Carpenters
Al Hirt
Mark Lindsay
New Doodletown Pipers
Patchett & Tarses.

[02] Rollin' On the River
18Sep1971
Hosted by Kenny Rogers & The First Edition
Guests
Tommy Smothers
Ian and Sylvia.

[03] Rollin' On the River
25Sep1971
Hosted by Kenny Rogers & The First Edition
Guests
The Poppy Family
Alex Harvey.

[04] Rollin' On the River
02Oct1971
Hosted by Kenny Rogers & The First Edition
Guests
Merle Haggard
Dianne Brooks.
Highlights:
Songs include, "Okie from Muskogee," "Lonesome Fugitive," "Fire and Rain" and "I Had a Ball."

[05] Rollin' On the River
09Oct1971 Sat 7pm [Lethbridge Herald]
Hosted by Kenny Rogers & The First Edition
Guests
Freddy Weller
Mark Lindsay
Beverley Glenn Copeland
The Raiders.

[06] Rollin' On the River
16Oct1971
Hosted by Kenny Rogers & The First Edition
Guests
Kris Kristofferson
Terri Jacks of The Poppy Family.
Highlights:
Kris Kristofferson sings "Lovin' Her Was Easier."
Other songs include "Me and Bobby McGee" and "Can't Buy Me Love."

[07] Rollin' On the River
23Oct1971 [rerun 03Aug72]
Hosted by Kenny Rogers & The First Edition
Guests
Jason Robards
Sid Caesar
Dianne Brooks.
Highlights:
Jason Robards joins in a silent movie spoof.
Jason Robards also read Mark Twain's "The War Prayer" and shows clips from his movie "Fools".
Songs include, "Tell It All Brother" and "Old Mojave Highway."

[08] Rollin' On the River
30Oct1971
Hosted by Kenny Rogers & The First Edition
Guests
Roger Miller
Tobi Lark
David Willen.

[09] Rollin' On the River
06Nov1971
25Nov1971 [US airing]
Hosted by Kenny Rogers & The First Edition
Guests
B.B. King
Rosemary Radcliffe
Don Cullen
Edward and Harding.
Highlights:
B.B. King, who sings "The Thrill Is Gone" and "Ask Me No Questions."
The First Edition performs "If Wishes Were Horses," "New York Mining Disaster 1941" and "How Can You Mend a Broken Heart?
http://rvm.pm/tv-today-b-b-king-rollin-river-1971/

[10] Rollin' On the River
13Nov1971
Hosted by Kenny Rogers & The First Edition
Guests
Gladys Knight and the Pips
Bruce Coburn
Trudy Desmond.
Highlights:
Gladys Knight and the Pips perform "I Don't Want to Do Wrong" and "Feelin' Alright".
Trudy Desmond sings "I Feel the Earth Move".
Other songs include, "Down on the Corner" and a Beach Boys medley.

[11] Rollin' On the River
20Nov1971 [Winnipeg Free Press]
Hosted by Kenny Rogers & The First Edition
Guests
Julie Amato
Tony Joe White
Billy Van.
Highlights:
Tony sings "Lustful Earl".
Julie sings "Miss Otis Regrets".
Kenny & Tony sing "Polk Salad Annie", "Rainy Night In Georgia" and "They Caught the Devil" with the First Edition.
The First Edition does "Love the One You're With".

[12] Rollin' On the River
27Nov1971
Hosted by Kenny Rogers & The First Edition
Guests
George Kirby
Dee Higgins
Tobi Lark.
Highlights:
George Kirby impersonates Alfred Hitchcock, W.C. Fields, Flip Wilson and Pearl Bailey.
Songs include, "Heed the Call," "Keep the Customer Satisfied," "Jody and the Kid" and "Rainy Days and Mondays."

[13] Rollin' On the River
04Dec1971 [Winnipeg Free Press]
Hosted by Kenny Rogers & The First Edition
Guests
Mac Davis
Ginny Grant
The Poppy Family.
Highlights:
Mac sings "In the Eyes of My People" and "Friend, Lover, Woman, Wife".
The First Edition joins Mac in a medley of his best known recordings.
Mac Davis, who sings "Something's Burning," the song he wrote for Kenny Rogers and the First Edition.
The Poppy Family performs "In the Ghetto".

[14] Rollin' On the River
11Dec1971
Hosted by Kenny Rogers & The First Edition
Guests
Karen Black
Ian & Sylvia Tyson
Highlights:
Karen Black sings "My Father".
Kenny Rogers and the First Edition do a Neil Diamond medley including "You Got to Me", "I Am, I Say", "Brother Love's Traveling Salvation Show".

[15] Rollin' On the River
18Dec1971
Hosted by Kenny Rogers & The First Edition
Guests ?
Highlights:
Kenny Rogers and the First Edition do a Gordon Lightfoot medley "If You Could Read My Mind", "Did She Mention My Name?" and "Early Morning Rain".

[16] Rollin' On the River
25Dec1971
Hosted by Kenny Rogers & The First Edition
Guests
B.J. Thomas
Mary Lou Collins
Dave Bradstreet.
Highlights:
B.J. Thomas joins Kenny Rogers for "I Just Can't Help Believin' " and sings "Long Ago Tomorrow".
The First Edition does "The Night They Drove Old Dixie Down" and "Will the Circle Be Unbroken?."

[17] Rollin' On the River
01Jan1972
Hosted by Kenny Rogers & The First Edition
Guests
Andy Kim
Barbara McNair
Billy Van (comic).
Highlights:
Barbara McNair sings "This Is My Life" and "If I Had You Here".
Andy Kim sings "Something's Comin' On".

[18] Rollin' On the River
08Jan1972
Hosted by Kenny Rogers & The First Edition
Guests
John Stewart
Highlights:
John Stewart sings "Just An Old-fashioned Love Song".
Kenny solos on "Stranger in My Place".
The First Edition perform "Camptown Races".

[19] Rollin' On the River
15Jan1972
Hosted by Kenny Rogers & The First Edition
Guests
Bob Crane
Catherine McKinnon
Mary Arnold
Gene McLellan.
Highlights:
Bob Crane joins the First Edition for music done in 1930s style.
Catherine McKinnon sings "Just a Little Loving".
Mary Arnold sings "One Tin Soldier".
Kenny Rogers and the First Edition perform "Abraham, Martin and John".

[20] Rollin' On the River
22Jan1972
Hosted by Kenny Rogers & The First Edition
Guests
Lighthouse
Highlights:
Lighthouse performs "Take It Slow".
Kenny Rogers & The First Edition performs "Ruby, Don't Take Your Love to Town" and "Just Dropped In to See What Condition My Condition Was In."
https://www.youtube.com/watch?v=AULOC--qUOI

[21] Rollin' On the River
29Jan1972
Hosted by Kenny Rogers & The First Edition
Guests
Murray McLaughlin
Julie Amato
Dr. Music.
Highlights:
Kenny Rogers and the First Edition do a Gordon Lightfoot medley of "If You Could Read My Mind", "Early Morning Rain" and "Did She Mention My Name?"

[22] Rollin' On the River
05Feb1972
Hosted by Kenny Rogers & The First Edition
Guests
Shirley Eikhard
Michael Vincent
Delaney & Bonnie (rock duo)
Highlights:
Delaney & Bonnie sing "Well, Well", "Going Down the Road" and "Delta Lady".
The First Edition do "Admiral Halsey" and "Never My Love".

[23] Rollin' On the River
12Feb1972
Hosted by Kenny Rogers & The First Edition
Guests
The Five Man Electrical Band
Tommy Roe
Nelson Briles
Dee Higgins.
Highlights:
Songs include "Pearl," "People Got to Be Free," "Oh What a Feeling" and "Rockin' Robin."

[24] Rollin' On the River
19Feb1972
Hosted by Kenny Rogers & The First Edition
Guests
Debbie Lori Kaye
Michael Hasek (psychologist)
The Grass Roots.
Highlights:
The Grass Roots performs "Sooner or Later".
https://www.youtube.com/watch?v=EpnmVDUzZB0

[25] Rollin' On the River
26Feb1972
Hosted by Kenny Rogers & The First Edition
Guests
Tony Orlando & Dawn
Green and Stagg (pop duo of Anthony Green and Barry Stagg, hit song "To Love Means to Be Free" 1969)
Cullen and Wordsworth (David Cullen electric bass guitar)
Highlights:
Tony Orlando & Dawn perform "Candida" and "Knock Three Times".

[26] Rollin' On the River
04Mar1972
Hosted by Kenny Rogers & The First Edition
Guests
Ike and Tina Turner
Dr. Music
David Wiffen
Highlights:
Ike and Tina Turner perform "I'm Gonna Take You Higher."
Kenny Rogers and the First Edition do "Comin' thru the Rye," "Something's Burning" and "When I'm on My Journey".
https://www.youtube.com/watch?v=yx0hY2NJNVA&list=PLFE64AD4C782845FE

[27] Rollin' On the River
11Mar1972
Hosted by Kenny Rogers & The First Edition
Guests
Jose Feliciano
Doug Crosley
Dianne Heatherington
Merry Go Round.
Highlights:
Jose & Kenny duet on "You Know That I Love You".
Songs include "Wide World," "California Dreaming" and "Mrs. Robinson."
https://www.youtube.com/watch?v=NQ3d6WHgZHE

[28] Rollin' On the River
18Mar1972
Hosted by Kenny Rogers & The First Edition
Guests
Rick Nelson
Ray Griff
Beverly Glenn Copeland.
Highlights:
Rick Nelson sings "Gypsy Pilot".
Kenny & Rick sing "Honky Tonk Woman".
Mary Arnold sings "Crazy Love".
The First Edition does "Lady Madonna".
All join in for a medley of old rock hits.

################### Rollin'###################
############### Season 2 1972-73 #############
##############################################
In the Fall of 1972 the title was shortened to "Rollin'"

2.01 [29] Rollin'
11Sep1972
Hosted by Kenny Rogers & The First Edition
Guests
Bill Withers
The Stampeders
Highlights:
Bill Withers performs "Lean On Me".
https://www.youtube.com/watch?v=iw6HeeuvTWo

2.02 [30] Rollin'
18Sep1972
Hosted by Kenny Rogers & The First Edition
Guests
The Raiders
April Wine.

2.03 [31] Rollin'
25Sep1972
Hosted by Kenny Rogers & The First Edition
Guests
The Everly Brothers

2.04 [32] Rollin'
02Oct1972
Hosted by Kenny Rogers & The First Edition
Guests
Badfinger
A Foot In Cold Water.
Highlights:
Badfinger performs "Baby Blue" and "Day After Day".
Foot in Cold Water performs "(Make Me Do Anything) Anything You Want".
*Note: Recorded August 8, 1972 in Toronto, Ontario Canada.
https://www.youtube.com/watch?v=gPfZE6DPW0E

2.05 [33] Rollin'
09Oct1972
Hosted by Kenny Rogers & The First Edition
Guests
Helen Reddy
Larry Cansler Orchestra
Highlights:
Helen Reddy sings "I Am Woman"
Songs include, "All You Need Is Love" and "Smackwater Jack."

2.06 [34] Rollin'
16Oct1972
Hosted by Kenny Rogers & The First Edition
Guests
John Kay Band
Highlights:
John Kay performs "Movin' On".
Note: JKB performing on the "Rollin' On The River" show back in '72. At the time, Steppenwolf was broken up although three/fifths of that band were in Kay's solo group (George Biondo [bass] and Kent Henry [guitar] were both in the last incarnation of Steppenwolf before the Feb '72 breakup).
https://www.youtube.com/watch?v=4rOr2tN95kM

2.07 [35] Rollin'
23Oct1972
Hosted by Kenny Rogers & The First Edition
Guests
B.J. Thomas
The Five Man Electrical Band.
Highlights:
Songs include, "Mr. Tambourine Man," "Satisfaction" (First Edition), "Rock 'n' Roll Lullaby," "Look over the Hill," "When Something Is Wrong with My Baby" (Thomas), "Five-Year Guarantee," "Without You" (Five Man Electrical Band).

2.08 [36] Rollin'
06Nov1972
Hosted by Kenny Rogers & The First Edition
Guests
Ike and Tina Turner Revue
Crowbar.

2.09 [37] Rollin'
13Nov1972
Hosted by Kenny Rogers & The First Edition
Guests
Tommy Roe
Crowbar.

2.10 [38] Rollin'
20Nov1972
Hosted by Kenny Rogers & The First Edition
Guests
Looking Glass
Pagliard

2.11 [39] Rollin'
27Nov1972
Hosted by Kenny Rogers & The First Edition
Guests
Edgar Winter
Everyday People.

2.12 [40] Rollin'
04Dec1972
Hosted by Kenny Rogers & The First Edition
Guests
Delaney & Bonnie
Ocean
Highlights:
Ocean sing "Wild Country".

2.13 [41] Rollin'
11Dec1972
Hosted by Kenny Rogers & The First Edition
Guests
Al Green
Larry Cansler Orchestra
Highlights:
Al Green sings "You Ought to Be With Me" and "Let's Stay Together".

2.14 [42] Rollin'
18Dec1972
Hosted by Kenny Rogers & The First Edition
Guests
Bo Diddley
Ronnie Hawkins
Highlights:
Songs include, "Hey Bo Diddley", "Sweet Little Sixteen" and "Teenager In Love."

2.15 [43] Rollin'
25Dec1972
Hosted by Kenny Rogers & The First Edition
Guests
Billy Preston
A Foot in Cold Water
Highlights:
Billy Preston sings "Will It Go Round in Circles".

2.16 [44] Rollin'
01Jan1973
Kenny Rogers and the First Edition are seen in concert.
Music: "Love the One You're With," "Close to You" and "In the Ghetto."

2.17 [45] Rollin'
08Jan1973
Hosted by Kenny Rogers & The First Edition
Guests
Dan Hicks and his Hot Licks
April Wine.
Highlights:
April Wine performs "You Could Have Been A Lady" and "Bad Side Of The Moon".

2.18 [46] Rollin'
15Jan1973
Hosted by Kenny Rogers & The First Edition
Guests
The Jimmy Castor Bunch
The Stampeders.

2.19 [47] Rollin'
22Jan1973
Hosted by Kenny Rogers & The First Edition
Guests
Looking Glass
Chilliwack.
Highlights:
Songs: "Lonesome Mary" and "Lady, Play Your Symphony."

2.20 [48] Rollin'
29Jan1973
Hosted by Kenny Rogers & The First Edition
Guests
Ronnie Hawkins
Jim Croce
Highlights:
Jim Croce performs "You Don't Mess Around with Jim" and "Operator".
https://www.youtube.com/watch?v=Lb1Yh1Skgh4

2.21 [49] Rollin'
05Feb1973
Hosted by Kenny Rogers & The First Edition
Guests
Dominic Traiano
The James Gang.

2.22 [50] Rollin'
12Feb1973
Hosted by Kenny Rogers & The First Edition
Guests
Lighthouse
Highlights:
Lighthouse performs "I Just Wanna Be Your Friend" and "I'd Be So Happy."

2.23 [51] Rollin'
19Feb1973
Hosted by Kenny Rogers & The First Edition
Guests
Larry Cansler and his Orchestra

2.24 [52] Rollin'
26Feb1973
Hosted by Kenny Rogers & The First Edition
Guests
Malo
The Five Man Electric Band.

2.25 [53] Rollin'
05Mar1973
Hosted by Kenny Rogers & The First Edition
Guests
Cheech and Chong
Ocean.
Highlights:
Songs: "You've Got a Friend," "Put Your Hand in the Hand," "School Teacher" and "Bye Bye Love."

2.26 [54] Rollin'
12Mar1973
Hosted by Kenny Rogers & The First Edition
Guests
Climax
Everyday People.

########### Rollin' On The River #############
################## the end #################
##############################################
Have you any comments, corrections, episode titles, air dates, production numbers, directors, writers, story/synopsis, guest stars, cast lists, etc?
Have you any old videos, or tv guides? Dust them off and let us know if you have any information on this series or any other tv series from the
Golden Age of TV, which is missing from any episode guides on the web. Perhaps a certain episode of a particular series coincided with a key
moment in your life, or in world events - and or has left a vivid memory of when it was shown. Let us know. Would you like to see any other
tv series guides on this site? If so please e-mail The Classic TV Archive - see Feedback below.
This guide may be distributed and copied freely, in its entirety, for personal use. All original author and copyright information must
remain intact. Any sales or other uses of this document are expressly forbidden, without the specific consent of the author(s).
Copyright © The Classic TV Archive. All rights reserved.

Return to The Classic TV Archive Home Page
Feedback