CTVA
The Classic TV Archive - Canadian Series
The Adventures of Rin Tin Tin (US)(1954-59) - Lassie (US)(1954-73)
The Littlest Hobo (Canada)(1963-65) - The Littlest Hobo (Canada)(1979-85)
Littlest Hobo (1963) - Original Opening Theme "Stop Over - Road Without End" - The Littlest Hobo (Closing)
The Littlest Hobo (1963-65)
Episode Guide compiled by he Classic TV Archive
with contributions by:
Tom Alger, Tom Dischley, Rina Fox
Mark DeCoursey (who guested in episode "Hold Back The Stork)
Mark Welsh ("Death at 5pm"/"Little White Liar")
Chris Keating ("Anniversary Guest")
Michael Ferguson, Jack Morrow
references:
Library of Congress (telnet://locis.loc.gov)
Internet Movie Database (https://us.imdb.com)
-----------------
THE LITTLEST HOBO
-----------------
Produced by Nefertiti Productions
(verified on "Death at 5pm", "Little White Liar")
for
Storer Programs Incorporated
Produced at Hollyburn Film Studios (H.F.S.), West Vancouver, Canada
Executive Producer: Terry Lee (verified on "Death at 5pm", "Little White Liar")
Producer: A.C.R. Stone (verified on "Death at 5pm", "Little White Liar")
Co-Producer: Llewelyn M. Parry (verified on "Death at 5pm", "Little White Liar")
Production Manager: Harry R. Sherman (verified on "Death at 5pm", "Little White Liar")
Story Executive: Milton Merlin (verified on "Death at 5pm", "Little White Liar")
Story Consultant: Barbara Merlin (verified on "Death at 5pm", "Little White Liar")
*
McGowan-Canamac production, Produced by Dorrell McGowan (to be verified)
Filmed in the Vancouver area of British Columbia, Canada

Canadian Family Adventure series 1963-65 approx 65 episodes x 30 min bw
starring
London
The Alsatian dog (German Shepherd dog)
as Hobo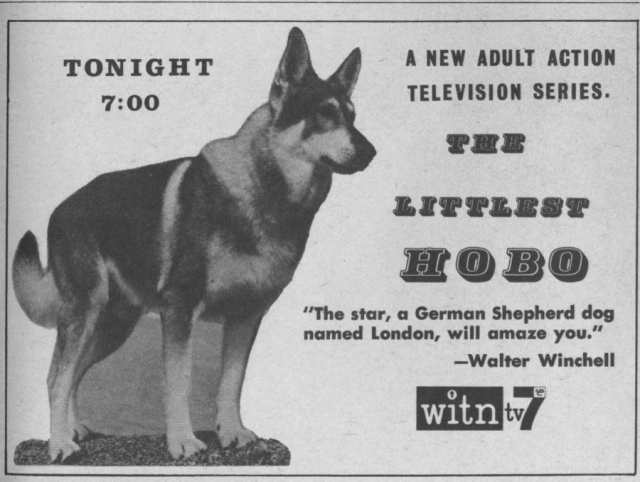 Premise:
The adventures of a stray German Shepherd (Alsatian) dog named Hobo.
Recurring Cast includes:
David Connely, Philip Mitchell, Brian Reid

Guest Stars include:
Pat Harrington Jr., Henry Gibson, Edgar Bergen, Rosemary DeCamp,
Jim Davis, Keith Andes, Bill Williams, Noah Beery, Ben Cooper,
and Ron Hayes.

Owner and Trainer of London: Charles P. Eisenmann

Director of Photography: Jack Mills
(verified on "Death at 5pm", "Little White Liar")

The series was revived in 1979-85
"The Littlest Hobo" theme tunes
1963-65 "Stop Over - on the Road Without End"
1979-85 "Maybe Tomorrow"
x.x [--] The Littlest Hobo: (unknown episode) (verified on closing credits) The Littlest Hobo (Closing Credits)
A Canamac Production for Storer Programs Incorporated
and T.A.P.C (Television Artists & Producers Corp.)
Produces & Directed by Stuart McGowan & Dorrell McGowan
Teleplay by Elliott Simms
Story by Stuart McGowan & Dorrell McGowan
Director of Photography: Brydon Baker
Guest Cast:
Tom Hill
Rosanne Hopkins
Sam Payne
David Birley
##############################################
############# The Littlest Hobo ##############
############# season 1 1963-64 ##############
##############################################
Mainly listed in the order aired on CTV network, Canada

1.01 [--] The Littlest Hobo: BLUE WATER SAILOR
24Sep1963 CTV network, Canada
27Sep1963 CJAY-7, Winnipeg, Manitoba Fri 6:30pm
Drama starring Hobo, a vagabond German shepherd dog who roams Canada seeking adventure.
Synopsis 1:
A student runs a boat with only Hobo as his crew. [Winnipeg Free Press]
Synopsis 2:
A young man rebels against tedious school work and sets off
on a boat with only a dog as crew.
(US Syndication: 4Nov63 WJAC-6, Johnstown PA Mon 6:15pm Huntingdon News)

1.02 [--] The Littlest Hobo: DIE HARD
01Oct1963 CTV network, Canada
04Oct1963 CJAY-7, Winnipeg, Manitoba Fri 6:30pm
Guest Cast:
Keenan Wynn ......... Colton
Mario Alcade ........ Wallasheen
Synopsis 1:
Keenan Wynn portrays an irascible prospector who is injured and without water
in a hot desert after mistrusting, berating, and alienating his guide, a Native
American boy, and thus upon this grim scenario does come an altruistic canine
wanderer that chooses to lead the prospector through the arid wasteland and to
restore his amicable relationship with the youthful American Indian.
Synopsis 2:
An elderly prospector is injured and left to die alone in the desert.
He turned away his only friend when he feared he might have to give up
part of his gold mine.
Synopsis 3:
Keenan Wynn guest stars as an old prospector who finds himself alone and injured
on the desert. He is found by Hobo who helps him.
(Canadian syndication: 6Mar67 CKCK, ch.2, Regina, Saskatchewan, Monday 12:00 noon)

1.03 [--] The Littlest Hobo: ONE LAST ROSE
05Oct1963 (US Syndication) WGAL-8, Lancaster PA Sat 7pm (Huntingdon News)
08Oct1963 CTV network, Canada
11Oct1963 CJAY-7, Winnipeg, Manitoba Fri 6:30pm
Guest stars
Harry Townes ........ Bank Teller
Bert Lilly
Herman Eccles
Synopsis 1:
The story of a meek, middle-aged bank teller (played by Harry Townes) masquerading
as a Don Juan to deflect attention from his scheme to plunder his own workplace by
tunneling into the bank vault, only to be thwarted by London, who, while sympathetic
to the bank teller's wish to better his finances, defends the integrity of the maxim
that crime never pays.
Synopsis 2:
A meek middle-aged bank teller masquerades as a Don Juan. [TA]
Synopsis 3:
Hobo matches wits with a bank teller in order to prevent a bank robbery.
(US Syndication: 14Oct63 WJAC-6, Johnstown PA Thur 7pm Huntingdon News)
(US Syndication: 11Jun64 on WIMA-35, Lima, Ohio, Thurs. 7pm) [TA]

1.04 [--] The Littlest Hobo: COME NEXT FALL SESSION
19Oct1963 (US Syndication) WGAL-8, Lancaster PA Sat 7pm Huntingdon News)
15Oct1963 CTV network, Canada
18Oct1963 CJAY-7, Winnipeg, Manitoba Fri 6:30pm
Guest Cast:
Richard Rust ........ Kevin
Ina Victor .......... Yvette
Sean McClory ........ Sean O'Hara
Bill Buckingham ..... Dahl
Neil McCleod ........ Paul
Ernie Pren tice ...... Ted Adams
David Hughes ........ Eddie
Synopsis 1:
Med student Kevin Corby came to the North Woods hoping to strike it
rich so he can finish his education.
Synopsis 2:
A young medical student settles in the north country hoping to strike
it rich in mining so he can complete his education. The boy has to make
a difficult decision - to operate on an injured man who will die
if he doesn't. [TA]
Synopsis 3:
Hobo leads a medical student to a man who has been injured in the north. The
young student must decide whether to operate or not to save the man's life.
(US Syndication: 28Oct63 WJAC-6, Johnstown PA Mon 6:15pm Huntingdon News)
(US Syndication: 10Apr65 WMAQ-5, Chicago, Saturday 5:00pm)[TA]
(Canadian syndication: 04Jan69 Ch. 11, ChCh-tV, Toronto Sat 6pm) [MF]

1.05 [--] The Littlest Hobo: CRY WOLF
12Oct1963 (US Syndication) WGAL-8, Lancaster PA Sat 7pm (Huntingdon News)
22Oct1963 CTV network, Canada
25Oct1963 CJAY-7, Winnipeg, Manitoba Fri 6:30pm
Guest Star
Nita Talbot
Synopsis 1:
A night club singer (Nita Talbot) with aspirations for fame and such desperation
to attain publicity for herself that she lies to police that she was the near-victim
in a mysterious serial strangler's latest attack, an allegation that her new, four-
legged friend and the police easily disprove but which leaves the singer vulnerable
to a bona fide attack by the strangler when the police are disinclined to believe her
legitimate plea for assistance and loyal London must hasten to her rescue to prevent
a tragedy.
Synopsis 2:
A night club singer tries to gain publicity by claiming that she was the
near-victim of a strangler.
[TA]
Synopsis 3:
A publicity-seeking young singer claims she was the near victim of a strangler -
only to become involved with the real thing.
Synopsis 4:
A stranger terrorizes the city and a pretty nightclub entertainer. [TA]
(US syndication: 21Oct63 WJAC-6, Johnstown PA Mon 6:15pm Huntingdon News)
(US syndication: 01Dec64 WFMJ-21, Youngstown, Ohio, Tues 7pm)
(US Syndication: 06Mar65 WMAQ-5, Chicago, Saturday 5:00pm)

1.06 [--] The Littlest Hobo: NINETY DOLLARS FOR MARY (aka $90 for Mary)
26Oct1963 (US Syndication) WGAL-8, Lancaster PA Sat 7pm (Huntingdon News)
29Oct1963 CTV network, Canada
01Nov1963 CJAY-7, Winnipeg, Manitoba Fri 6:30pm
Guest Cast:
Bill Williams ....... Dan Dawson
Ray Downey .......... M ike Riley
Pat Gage ............ Mary Riley
Synopsis 1:
Ex-prize fighter Dan Dawson surprises a young man attempting to
hold up an ice-cream parlor. [MF]
Synopsis 2:
London helps an ex-boxer and a troubled couple.
Synopsis 3:
Hobo befriends an ex-pugilist and with faithful and constant companionship induces
him to reconsider a contemplated crime.
(US syndication: 18Nov1963 WJAC-6, Johnstown PA Mon 6:15pm Huntingdon News)
(US syndication: 6Mar65 on WLWT-5, Cincinnati, Ohio, Sat 8pm)
(US syndication: 14Nov65 WMAQ-5, Chicago, Sunday 11:00am)
(Canadian syndication: 26Nov66 Toronto TV Guide / 24May69 Tv Guide Sat)

1.07 [--] The Littlest Hobo: HONOR RANCH (aka "On A Ranch")
28Sep1963 (US Syndication) WGAL-8, Lancaster PA Sat 7pm (Huntingdon News)
05Nov1963 CTV network, Canada
08Nov1963 CJAY-7, Winnipeg, Manitoba Fri 6:30pm
Guest cast:
Doug Lambert .......... Andy
Ellen Corby ........... Ada
Gwen Franks ........... Toni
Barney O'Sullivan ..... Sheriff
Synopsis 1:
London saves the life of a desperate young man who has escaped from a prison ranch. [TA]
Synopsis 2:
An uncompromising old woman and a dog with a mind of his own help an escaped convict
accept total honesty for the first time in his life.
Synopsis 3:
Dog and widow teach young escapee a new sense of values.
(US Syndication: 11Nov1963 WJAC-6, Johnstown PA Mon 6:15pm Huntingdon News)

1.08 [--] The Littlest Hobo: CHICO [MF/RF]
02Nov1963 (US syndication) WGAL-8, Lancaster PA Sat 7pm (Huntingdon News)
12Nov1963 CTV network, Canada
15Nov1963 CJAY-7, Winnipeg, Manitoba Fri 6:30pm
Guest cast:
Manuel Padilla ........ Chico
Rafael Lopez .......... Felipe
J. Emerson ........... Dr. Carter
Synopsis 1:
A Cuban refugee boy tries to protect his cross-eyed brother from the
taunts of other children. [RF]
Synopsis 2:
Hobo befriends two Cuban boys who are looking for an eye specialist to treat the younger
lad's eyes.
(US syndication: 10Jun64 WSBT-22, South Bend, Indiana, Wed. 7:00pm) [TA]
(Canadian syndication: 15Aug66 CHCH-TV Hamilton, Ontario Canada 8:00pm ET Mon) [RF]

1.09 [--] The Littlest Hobo: STAKEOUT
19Nov1963 CTV network, Canada
22Nov1963 CJAY-7, Winnipeg, Manitoba Fri 6:30pm
Guest Cast:
Edward Binns .......... Lieutenant Kimball
Chuck Bateman ......... Sergeant Sloan
Peter Kelch ........... Durand
June Watt ............. April
Martin Iverson ........ Hastings
Synopsis 1:
Trying to avert a holdup, two detectives are staked out near a secondhand
store. [TA]
Synopsis 2:
London confronts two detectives staked out in a van in an alley near the
rear door of an old man's second hand store. Rumors that the old man is
a miser who keeps a lot of cash in a tin box causes several holdups. [TA]
(US syndication: 23Jan65 WJBK-2, Detroit, Michigan, Saturday 6:30pm)
(US syndication: 13Feb65 on WMAQ-5, Chicago, Saturday 5:00pm)
(US syndication: 12Jun65 KXTV-10, Sacramento, CA, Saturday 7:00pm)

1.10 [--] The Littlest Hobo: FURLONG
26Nov1963 CTV network, Canada
29Nov1963 Winnipeg, Manitoba Friday 6:30pm
Written by Robert Leach
Guest Cast:
Gregg Palmer ........ Tom Dawson
Nancy Lee ........... Amy Dawson
Synopsis:
Hobo befriends a racing colt and is kidnapped by gamblers.
Synopsis 2:
London becomes such a pal of a race horse that he's kidnaped just before a big race to
keep the colt from winning.
Synopsis 3:
London becomes a buddy of Caesar, a race horse, who likes to have a mascot. [TA]
(US Syndication: 17Sep1964 WJAC-6, Johnstown PA Thurs 7pm Huntingdon News)
(US syndication: 28Apr66, WTIC-3, Hartford, Conn., Thurs. 7:00pm)
Note: Gregg Palmer appeared in another episode. He played Vern in "Black Sheep, Black Sheep" [TA]

1.11 [--] The Littlest Hobo: BUSH PILOT
09Nov1963 (US Syndication) WGAL-8, Lancaster PA Sat 7pm (Huntingdon News)
02Dec1963 (US Syndication ) WJAC-6, Johnstown PA Mon 6:15pm (Huntingdon News)
03Dec1963 CTV network, Canada
06Dec1963 CJAY-7, Winnipeg, Manitoba Fri 6:30pm
Guest cast:
Mickey Finn ........... Lebec
Eric Cunningham ....... Wheeler
Paul Rothery .......... Tommy
Synopsis 1:
An adventurous Alaskan bush pilot takes London on a routine flight
to drop off a doctor. [TA]
Synopsis 2:
Hobo joins up with an Alaskan bush pilot and they save the life of a child bitten
by a rabid animal.
Synopsis 3:
An Alaskan bush pilot tries to save the life of a child who has been
bitten by a rabid dog. [TA]
(US syndication: 22Oct64 WJAC-6, Johnstown PA Thurs 7pm (Huntingdon News)
(US syndication: 24Oct65, WMAQ-5, Chicago, Sunday 11:00am)
(US syndication: 23Jun66, WCSH-6, Portland, Maine, Thurs. 6:00pm)

1.12 [--] The Littlest Hobo: CHINESE PUZZLE
10Dec1963 CTV network, Canada
13Dec1963 CJAY-7, Winnipeg, Manitoba Fri 6:30pm
Guest cast:
Keye Luke .......... Wu Chang
Donna Wong ......... Betty Chang
Gary Lee ........... Danny Wing
Brun Besto ......... Allison
Marc Howard ........ Willard
Tony di Milo ....... Driver
Synopsis 1:
When London wanders into a Chinese restaurant, its owner, Wu Chang,
considers him an omen of good fortune. [TA]
Synopsis 2:
London visits a Chinese restaurant, and is accepted as a good luck charm. [TA]
Synopsis 3:
The owner of a Chinese restaurant and his daughter befriend Hobo who brings good fortune to them.
(US syndication: 11Dec63, WNAC-7, Boston, Mass., Wednesday 7:00pm)
(US syndication: 10Oct65 WMAQ-5, Chicago, Sunday 11:00am)

[--] 17Dec1963 CTV Canada broadcast & 20Dec1963 (Winnipeg) - No details

1.13 [--] The Littlest Hobo: TROUBLE IN PAIRS
16Nov63 (US Syndication) WGAL-8, Lancaster PA Sat 7pm (Huntingdon News)
11Dec63 (US Syndication) Portland, Maine
Guest cast:
Herb Vigran
Synopsis 1:
Hobo Ben Smith tries to buy a pair of percheron horses for the Edgemar
Girls Home. [TA]
Synopsis 2:
London and a friend try to help the Edgemar Girls Home win two Percheron
horses at an auction sale. [TA]
(US syndication: 11Dec63, WCSH-6, Portland, Maine, Wednesday 7:00pm)
(US Syndication: 13Mar65 WMAQ-5, Chicago, Saturday 5:00pm)
--------------Same episode?
[--] The Littlest Hobo
08Feb1966 (Repeat?) CTV Canada Tuesday
Synopsis:
The efforts of Hobo and a vagabond friend are rewarded when a team of horses which
they save from being sold are used to rescue a busload of schoolchildren.

[--] 24Dec1963 CTV Canada broadcast & 27Dec1963 (Winnipeg) - No details

1.14 [--] The Littlest Hobo: SILENT WITNESS
23Nov63 (US syndication) WGAL-8, Lancaster PA Sat 7pm (Huntingdon News)
18Dec63 (US syndication) Boston, Mass.
31Dec1963 CTV network, Canada
03Jan1964 CJAY-7, Winnipeg, Manitoba Fri 6:30pm
Guest cast:
Scott Peters ............. Sam Powers
Synopsis 1:
London is the only witness to a hit-and-run accident in which an
elderly woman is killed. [RF]
Synopsis 2:
London, the friendly German shepherd dog, is the only witness to hit-and-run accident.
(US syndication: 18Dec63 WNAC-7, Boston, Mass., Wed. 7:00pm) [TA]
(US syndication: 10Sep64 ABC/NBC affiliate Dayton Ohio, Thurs 7:00pm) [RF]
(US syndication: 15Oct64 WJAC-6, Johnstown PA Thurs 7pm Huntingdon News)

1.15 [--] The Littlest Hobo: BLACK SATAN
07Jan1964 CTV network, Canada
10Jan1964 CJAY-7, Winnipeg, Manitoba Fri 6:30pm
Guest cast:
Ron Hayes ............ Jud McGregor
Kevin Corcoran ....... Mike McGregor
Synopsis 1:
When an emergency forces a rodeo rider to remount a bronc which has crippled him,
London comes to his aid.
Synopsis 2:
A rodeo rider loses his nerve after being thrown by avicious bronc.
Synopsis 3:
The spirit of an ex-champion rodeo rider is broken by
a vicious bronc. [TA]
(US syndication: 8Jan64, WNAC-7, Boston, Mass., Wed. 7:00pm) [TA]
(US syndication: 01Oct64 WJAC-6, Johnstown PA Thurs 7pm Huntingdon News)
(US syndication: 21Nov65, WMAQ-5, Chicago, Sunday 11:00am)
(US syndication: 24May66, WITN-7, Washington, NC)

1.16 [--] The Littlest Hobo: HIGH PURSUIT
14Jan1964 CTV network, Canada
17Jan1964 CJAY-7, Winnipeg, Manitoba Fri 6:30pm
Guest Cast:
Donna Walsh
Diana Darrin
Bruce McLeod
Neil McLeod
Synopsis 1:
London tries to help Maggie and Jane, two parachute teachers whose
only pupils are a pair of bank robbers. [TA]
Synopsis 2:
Hobo, as a student in a struggling parachute school, jumps to save a life
and assists in identifying bank robbers.
(US syndication: 22Jan64 WNAC-7, Boston, Mass., Wed. 7:00pm)
(US syndication: 26Sep64 WGAL-8, Lancaster PA Sat 7pm Huntingdon News)

1.17 [--] The Littlest Hobo: HONORED GUEST
21Jan1964 CTV network, Canada
24Jan1964 CJAY-7, Winnipeg, Manitoba Fri 6:30pm
Guest Cast:
Charles Eiseman ...... Karl
Synopsis 1:
London's effort to stop another German shepherd from acting on its
owner's command to attack, during a parade, a man of high political
power.
Synopsis 2:
London learns that another German shepherd is being trained to attack a
political dignitary.
Synopsis 3:
London befriends another dog and prevents an assassination which was planned to
take place large parade.
(US syndication: 05Sep64 on WGAL-8, Lancaster, PA Saturday 7:00pm)
(US syndication: 8Oct64 WJAC-6, Johnstown PA Thurs 7pm Huntingdon News)
(US syndication: 27Mar65 WMAQ-5, Chicago, Saturday 5:00pm)

[--] 28Jan1964 CTV Canada broadcast & 31Jan1964 (Winnipeg) - no details

1.18 [--] The Littlest Hobo: ROAD BLOCK (or "Roadblock")
07Feb1964 (US syndication) Huntington, PA newspaper
Guest cast:
Robert Lowery ......... Jim Rodgers
David Story ........... Fletcher
Jon Granik ............ Don Mumber
Harry Sanders ......... Lieutenant Allen
Synopsis:
A crippled child is taken as hostage by gunmen during an armored car robbery. [TA]
(US syndication: 11Sep1964 WGAL-8, Lancaster PA Sat 7pm Huntingdon News)
(US syndication: 24Feb1965 Wed. San Matteo (Los Angeles?))
(US syndication: 20Feb1965, Wednesday, 7pm, channel 2)
(US syndication: 29May1966, WITI-6, Milwaukee, Wis.)
(US syndication: 28Jun1966, WITN-7, Washington, NC)

1.19 [--] The Littlest Hobo: THE GREAT MANHUNT
04Feb1964 CTV network, Canada
07Feb1964 CJAY-7, Winnipeg, Manitoba Fri 6:30pm
Guest cast:
Henry Gibson .......... Ansel
Patrice Wymore ........ Libby
Monty McFarlane ....... Sheriff
Ernest Prentice ....... Fugitive
Synopsis 1:
A meek shopkeeper named Ansel tries to impress his girlfriend by joining a posse
in search of a notorious criminal. [RF]
Synopsis 2:
A posse, hunting a notorious criminal, is joined by a meek shopkeeper, trying
to impress his girl friend with his courage. London accompanies him.
(Canadian syndication: 08Aug66 CHCH-TV Hamilton, Ontario Canada 8:00pm ET Mon)[RF]

1.20 [--] The Littlest Hobo: THE DESPERATE GAME
11Feb1964 CTV network, Canada
14Feb1964 CJAY-7, Winnipeg, Manitoba Fri 6:30pm
Guest Cast:
Chick C handler ....... Andy Knight
Dean Haerns .......... Gene Foster
Des Fowler ........... Will Thorne
Synopsis 1:
A man makes plans to kill his business partner on a hunting trip.
Synopsis 2:
Partners take a hunting trip which nearly ends in tragedy. [TA]
Synopsis 3:
London discovers that a man intends to kill his partner while on a hunting trip.
(US syndication: 26Dec65 WMAQ-5, Chicago, Sunday 11:00am)

1.21 [--] The Littlest Hobo: (episode title unknown)
18Feb1964 CTV network, Canada
21Feb1964 CJAY-7, Winnipeg, Manitoba Fri 6:30pm
A wealthy woman incurs her family's wrath when she names London her sole heir.
(US Syndication: 15Sep1965, KTVU-2, Wed. 7pm)

1.22 [--] The Littlest Hobo: HOLD BACK THE STORK
25Feb1964 CTV network, Canada
28Feb1964 CJAY-7, Winnipeg, Manitoba Fri 6:30pm
written by Stephen Moore
Guest Cast:
Mae Munroe ............. Betty Orday OR Ordway
Douglas Hellier ........ Cass Orday OR Ordway
Mark DeCoursey ......... Billy
Alan Roughton .......... Tim Casey
Edward Farrell ......... First Policeman
Noel Barry ............. Second Policeman
Synopsis (UK)
Hobo protects a young mother-to-be on her way to join
her soldier husband.
(UK syndication: 21Jun64 ABC Midlands/North UK, Sun 5.05pm)
Synopsis (US):
Betty Ordway is about to have her baby, but she has no way to get to
the hospital. [TA]
Synopsis (Canada):
London takes on lion when the latter threatens an expectant mother alone
after an auto accident in the mountains.
(US syndication: 19Aug65 WJAC-6, Johnstown PA Thurs. 7pm Huntingdon News)
(US syndication: 19Aug66 Ch. 7, WNAC-TV, B oston, Fri. 7:00pm)

1.23 [--] The Littlest Hobo: CURSE OF SMOKEY RIDGE
03Mar1964 CTV network, Canada
06Mar1964 CJAY-7, Winnipeg, Manitoba Fri 6:30pm
CTV Canada repeat: 29June1965
Guest Cast:
Tommy Rettig .......... Nathan
Gwen Franks ........... Emily Tipton
Monty McFarlane ....... Sam Lockhart
Synopsis 1:
Young Tennessean Nathan Hooper wants to prove that his land isn't
haunted. [TA]
Synopsis 2:
A young artist meets London and they go together to his native Tennessee
village to claim his inheritance a plot of so-called haunted land.
Synopsis 3:
Land-grabbers attempt to steal property inherited by a young artist. [TA]
(US syndication: 23Oct65 WJAC-6, Johnstown PA Thurs. 7pm Huntingdon News)
(US syndication: 01Sep66 WTIC, channel 3, Hartford, CT, Thur 7pm)
(US syndicati on: 24Apr66 on WMAQ-5, Chicago, Sun 3:30pm)

1.24 [--] The Littlest Hobo: A FORTUNE IN MINK
28Feb1964 (US syndication) Huntington, PA newspaper
10Mar1964 CTV network, Canada
13Mar1964 CJAY-7, Winnipeg, Manitoba Fri 6:30pm
Written by Eric Whitehead & Russell Bender
Guest cast:
Fran Gregory ...... Tina
Charles Bateman ... Larry
Al Ruscio ......... Dino
Ted Stidder ....... Sam
Ernest Prentice ... Walter
Joseph Golland .... Sloane
Synopsis 1:
When he protects a young girl from a purse snatcher, London gets involved
in a fur-stealing scheme. [RF]
(UK syndication: 07Jun64 ITV Tyne-Tees, Sun 5:35pm)
(US syndication: 06Oct64 NBC WFMJ-TV Youngstown PA, Tue 7pm)
(US syndication: 09Sep65 WJAC-6, Johnstown PA Thurs. 7pm Huntingdon News)
Synopsis 2:
When a beautiful model finds herself in distress while trying to catch a fur thief,
London goes to her aid.
--29Feb1964 newspaper caption:
Fran Gregory guest stars in an episode, "A Fortune in Mink," on the Canadian produced series,
'The Littlest Hobo,' seen on the CTV television network. Miss Gregory assists London the
vagabond dog hero to catch a gang of thieves in the segment which will appear on Tuesday
March 10, 1964. The Littlest Hobo series is shot on location in British Columbia and is
produced in Vancouver.

1.25 [--] The Littlest Hobo: ROUGH PASSAGE
14Mar1964 (US syndication) Huntington, PA newspaper
17Mar1964 CTV network, Canada
20Mar1964 CJAY-7, Winnipeg, Manitoba Fri 6:30pm
Synopsis 1:
A restful voyage for a nervous young girl turns into a rough passage when she witnesses
a crime.
Synopsis 2:
The "driftin'" dog boards a small ship departing Hong Kong and strives
to protect a nervous, attractive, female passenger whose claim that
she witnessed the throwing overboard of someone's body is rejected by
her shipboard human fellows as a nightmare.

1.26 [--] The Littlest Hobo: COUGAR HUNTER
24Mar1964 CTV network, Canada
27Mar1964 CJAY-7, Winnipeg, Manitoba Fri 6:30pm
28Mar1964 (US syndication) WGAL-8, Lancaster PA Sat 7pm (Huntingdon News)
Guest cast:
Chief Dan George ...... Eagle
Kevin Burchett ........ Joseph
Walter Marsh .......... Inspector Perry
Otto Lowy ............. Brad Petersen
Synopsis 1:
London is befriended by a group of Indians. [TA]
Synopsis 2:
A group of Indians adopt London and are repaid for their kindness when he helps
prevent the kidnapping of one of the members.
Synopsis 3:
A trader kidnaps a deaf-mute Indian boy and the boy's cougar-hunting
dog. [TA]
(US syndication: 09Jan66 WMAQ-5, Chicago, Sun 11:00am)
(US syndication: 20Dec66, WABI-5. Bangor, Maine)
(US syndication: 11Feb68, KTHV-11, Little Rock, Ark.)

1.27 [--] The Littlest Hobo: DARK ENCOUNTER
19Mar1964 (US syndication) WJAC-6, Johnstown PA Thur 7pm Huntingdon News)
11Apr1964 (US syndication) WGAL-8, Lancaster PA Sat 7pm Huntingdon News)
(US syndication: 16Oct65 WGAL-8, Lancaster PA Sat 7pm Huntingdon News)
(no cast details/ no synopsis)
1.28 [--] The Littlest Hobo: EVERY GIRL SHOULD HAVE A DOLL (aka A DOLL TALKS)
31Mar1964 CTV network, Canada
03Apr1964 CJAY-7, Winnipeg, Manitoba Fri 6:30pm
25Apr1965 (US syndication) WGAL-8, Lancaster PA Sat 7pm (Huntingdon News)
Guest Cast:
Edgar Bergen ........ Hjalmer
David Hughes ........ Dr. Welch
Rosemary Round ...... Cathy
Barbara Cosgrove .... Mrs. Lewis
Gaylor Bryan ........ Dispatcher
Synopsis 1:
Ventriloquist Hjalmer Swensen saves London from the dog catcher. [MF]
Synopsis 2:
An unemployed ventriloquist helps London to escape the dog catcher and London in
turn helps get him permanent employment.
Synopsis 3:
Edgar Bergen with his famed trio of dummies and Hobo help cheer some children in a hospital.
(US Syndication: 29Dec64 NBC WFMJ-YV Youngstown, Ohio, Tue 7pm) [RF]
(Canadian syndication: 05Jan69 Ch. 11, ChCh-Tv, Toronto, Sun) [MF]
14Mar1964 newspaper article:
"Edgar And Charlie In "Littlest Hobo"
Edgar Bergen will appear in a forthcoming episode of the CTV network's The Littlest Hobo
series. He will play the role of an unemployed ventriloquist whom London the abond dog
hero of the series assists to find a job. Bergen brings his dummies Charlie, Mortimer,
and Effie into the episode which is titled "Every Girl Should Have a Doll." Showing
date has not yet been announced. The series, produced in Canada, appears on CJAY on Fridays.
28Mar1964 photo caption:
Edgar Bergen and Mortimer Snerd make the acquaintance of London, dog hero of "The Littlest
Hobo" series in an episode, "A Doll Talks," which will appear on the CTV network on Tuesday,
March 31, 1964. In the play Bergen appears as a ventriloquist whom London befriends and
who brings his dummies to entertain patients in a children's hospital. The series is filmed
in Vancouver B.C.

1.29 [--] The Littlest Hobo: BABY SITTER (aka BABYSITTING)
07Apr64 CTV network, Canada
10Apr1964 CJAY-7, Winnipeg, Manitoba Fri 6:30pm
Guest Cast:
Michael Matthews ..... Dan Clark
Diana Ricardo ........ Sara Clark
Pamelyn Ferdin ....... Cindy
Synopsis 1:
Dan and Sara Clark find that their baby daughter has disappeared. [TA]
Synopsis 2:
Dan and Sara Clark, returning from a trip, are unaware that their toddler
has climbed from the car and begun a friendship with London. [TA]
Synopsis 3:
A baby girl disappears from a car, and Hobo, finding her takes her to a hobo jungle.
(US syndication: 17Oct65 WMAQ-5, Chicago, Sunday 11:00am)
(US syndication: 31Mar66 WTIC, ch. 3, Hartford, CT, Thurs 7:00pm)

1.30 [--] The Littlest Hobo: DOUBLE CROSS [MF/RF]
14Apr64 CTV network, Canada
Guest cast:
Jim Davis .......... Danny Kilgarren
Synopsis 1:
Lumberjack Danny Kilgarren gets involved in a crooked logging contract. [RF]
Synopsis 2:
Danny Kilgarren is leader of striking lumberjacks who are about to burn
the town. Danny's wife and London reveal some interesting information
to the men. [TA]
(Canadian CTV broadcas t: 14Apr64 CFTO-TV Toronto, Ont. Tue 7pm ET)
(US syndication: 07Nov65 WMAQ-5, Chicago, Sunday 11:00am)
(US syndication: 30May1964 WGAL-8, Lancaster PA Sat 7pm Huntingdon News)
(US syndication: 01May1965 WGAL-8, Lancaster PA Sat 7pm Huntingdon News)
(US syndication: 20Nov65 WGAL-8, Lancaster PA Sat 7pm Huntingdon News)

1.31 [--] The Littlest Hobo: NO ESCAPE
02May1964 (US syndication) WGAL-8, Lancaster PA Sat 7pm (Huntingdon News)
Guest Cast:
Joyce Tayle ........... Felicia
Craig Shreeve ......... Steve Grace
Fred bass ............. Cappy
Synopsis 1:
London saves night-club singer Felicia Swift from an underworld gunman. [TA]
Synopsis 2:
London rescues a nightclub singer who finds herself involved in a web of
underworld intrigue. [TA]
Synopsis 3:
A stranger terrorizes the city and a pretty nightclub entertainer. [TA]
(US Syndication: 06Mar65 WMAQ-5, Chicago, Saturday 5:00pm)
(US syndication: 14Apr65 WTIC, ch. 3, Hartford, Conn., Wed 7pm)
(US syndication: 31Oct65 WMAQ-5, Chicago, Sunday 11:00am)
(US syndication: 13Nov65 WGAL-8, Lancaster PA Sat 7pm Huntingdon News)

1.32 [--] The Littlest Hobo: OLD MAGIC
16May1964 (US syndication) WGAL-8, Lancaster PA Sat 7pm (Huntingdon News)
(US syndication: 23Sep65 WJAC-6, Johnstown PA Thurs 7pm Huntingdon News)
(US syndication: 30Oct65 WGAL-8, Lancaster PA Sat 7pm Huntingdon News)
(no cast details/ no synopsis)
1.33 [--] The Littlest Hobo: SNIFF ME A ROBBER
(1963-64)
02Jul1964 (US syndication) WJAC-6, Johnstown PA Thur 7pm (Huntingdon News)
Guest Cast:
Chick Chandler ....... Bill Kirk
Robert Huck .......... Officer McHenry
Ken Belcher .......... Dan Adams
Vern Woolf ........... Hood
Sally Pritchar d ...... Nurse
Synopsis 1:
London is the only witness to a near-fatal shooting of a police officer. [TA]
Synopsis 2:
London is used as the bait to catch two thieves. [TA]
(US syndication: 02Jan66 on WMAQ-5, Chicago, Sunday 11:00am)
(Canadian syndication: 9Mar67, CKCK, ch. 2, Regina, Saskatchewan, Thur 12:00 noon)
(US syndication: 16Sep65 WJAC-6, Johnstown PA Thurs 7pm Huntingdon News)

[--] 17Apr1964 (CTV Canada) - no details
[--] 24Apr1964 (CTV Canada) - no details

28Aug1964 (Canada) - REPEAT - London is the sole witness of a hit-and-run accident in which an elderly lady is killed.

04Sep1964 (Canada) - REPEAT 1.15 "Black Satan"- The spirit of a rodeo champion is broken by
a vicious bronc but is restored by London.

##############################################
############# The Littlest Hobo ##############
############# season 2 1964-65 ##############
##############################################

[--] 03Oct1964 (Winnipeg) - no details

2.1 [--] The Littlest Hobo (episode title unknown - possibly "Man in a Fog")
10Oct1964 CJAY-7, Winnipeg, Manitoba Sat 6pm
Synopsis:
London and a truck driver rescue an injured man who is suffering from amnesia.

[--] The Littlest Hobo: MAN IN A FOG
Guest Cast:
Philip Terry ...... John Hart
Synopsis:
On a lonely road, salesman John Hart is robbed and beaten by two gunmen. [TA]
(US Syndication: 19Nov64 on WJAC-6 Johnstown, PA, Thurs. 7:00pm)

2.2 [--] The Littlest Hobo (episode title unknown - possibly "Lady in Fear")
17Oct1964 CJAY-7, Winnipeg, Manitoba Sat 6pm
Synopsis:
London assists a woman to regain her self-confidence and she in turn saves his life.
[--] The Littlest Hobo: LADY IN FEAR
26Nov1964 (US syndication) WJAC-6, Johnstown PA Thurs 7pm (Huntingdon News)
Guest star
David Garner ........ Cliff
Synopsis:
Cliff Sorenson gives London to his wife as a gift, but she's terrified of
the dog. [TA]
(US syndication: 28May66, WFRV-5, Green Bay, Wis., Sat 12:00 noon)
(US syndication: 07Oct65 WJAC-6, Johnstown PA Thurs. 7pm Huntingdon News)
2.3 [--] The Littlest Hobo: SCOUT'S HONOR
24Oct1964 CJAY-7, Winnipeg, Manitoba Sat 6pm
Guest cast:
Kevin Burchett ....... Shah
Keith Taylor ......... Boy Scout
Synopsis 1:
A Boy Scout finds a valuable ring belonging to the 12-year-old Shah of Kyberstani.[TA]
Synopsis 2:
Hobo leads back the 12-year-old Shah of Kyberstan who has run away to join a Boy Scout group. [TA]
Synopsis 3:
London promotes a friendship between an 12-year-old Eastern boy and a little Boy Scout.
(US syndication: 21Jan65 WJAC-6, Johnstown PA Thurs 7pm Huntingdon News)
(US syndication: 08Jan66, WGAL, ch. 8, Lancaster, PA)
(US Syndication: 25May1966 KTVU-2 San Francisco Wed. 7pm, San Mateo Times)

[--] 31Oct1964 (Winnipeg) - no details

2.4 [--] Littlest Hobo: LITTLE WHITE LIAR
(also verified on film -see end of guide)
07Nov1964 (US syndication) WGAL-8, Lancaster PA Sat 7pm (Huntingdon News)
Producer A.C.R. Stone
Directed by Dick Darley
Written by: Stephen Kandel
Guest Stars:
Dianne Ramsey ....... Kate Cameron
Darleen Drake ....... Joanna Foster (later known as Darleen Carr) (possibly her TV debut)
Margaretta Ramsey ... Beth
Synopsis:
Teenager Joanna Foster is having trouble making friends with her schoolmates. [RF]
Synopsis 2:
Joanna Foster, aged 13, begins telling lies to make friends among her new schoolmates.
As she gets in deeper and deeper, Hobo forces her to tell the truth to her mother and her friends.
(US Syndication: 10Dec64 WJAC-TV ch. 6 Jonestown PA, Thur 7pm)
(US syndication: 14Oct65 WJAC-6, Johnstown PA Thurs. 7pm Huntingdon News)
(US Syndication: 8Jul1966 ch. 8 city? Fri 7pm San Mateo Times)

2.5 [--] The Littlest Hobo: THE CHAPERONE
10Nov1964 CTV Canada Tuesday
Synopsis 1:
Hobo appoints himself as chaperon to a young couple who are eloping. [TA]
Synopsis 2 (06Nov1964 newspaper caption):
London, the vagabond hero of 'the Littlest Hobo' series, becomes more than a four-footed
friend to an eloping couple, in an episode "The Chaperone," to be aired on the CTV network,
Tuesday, Nov 10, 1964. He chaperones their romance with such persistence that the couple
eventually, with gratitude, reconsider their plan. Gail Gilmore and Ben Cooper star as
the e loping pair. [TA]
(US syndication: 21Oct65 WJAC-6, Johnstown PA Thurs. 7pm Huntingdon News)
(US Syndication: 13Jul1966 KTVU-2 San Francisco Wed. 7pm, San Mateo Times)

2.6 [--] The Littlest Hobo (episode title unknown) (possibly "Ten Feet Tall")
08 Dec1964 CTV Canada Tuesday
12Oct1965 (Repeat) CTV Canada Tuesday
Guests:
Steve Brodie
Nicky Griffith
Pat Barlow
Synopsis 1:
On a hunting trip a small boy proves that he has a great deal of courage when he
helps London save his father from an attacking cougar.
Synopsis 2:
Hobo holds a cougar at bay enabling a boy to rescue his father whom the animal is
threatening.
Synopsis 3:
London helps a musically inclined boy to prove himself to his father.
---Same episode?
[--] The Littlest Hobo: TEN FEET TALL [MF]
(US Syndication: 28Jan1965 WJAC-6, Johnstown PA Thurs. 7pm Huntingdon News)

2.7 [--] The Littlest Hobo: ANNIVERSARY GUEST
(also verified on film - CK - See end of guide)
15Dec1964 CTV Canada Tuesday
Stars:
Pat Harrington Jr ........ Brad
Joan Freeman ............. Joyce
Synopsis 1:
When a young married couple get into an argument on their wedding anniversary London
acts as a diplomatic go-between.
Synopsis 2:
Hobo helps a jaded and bickering married couple regain their spark on their
wedding anniversary. [CK]
(Information for this episode supplied by Chris Keating)
Synopsis 3:
London tries to settle a quarrel between a forgetful
husband and his insulted wife. [TA]
(US Syndication: 06Feb1965 WJAC-6, Johnstown PA Thurs 7pm Huntingdon News)
(Canadian repeat: 29Dec1969 on CBKMT-4, Moose Jaw, Saskatchewan & CBKRT-9, Regina)

2.8 [--] The Littlest Hobo: LITTLE BOY BLUES
24Dec1964 (US Syndication) WJAC-6, Johnstown PA Thurs 7pm (Huntingdon News)
Prod. #8 (script 27July1964 / Rev. 28Aug1964)
Story Idea by Joan Hind-Smith
Teleplay by Barbara and Milton Merlin
(Terry Wright, who appeared in this episode supplied the above info
- see Feedback section at the bottom of the guide)
Guest Cast:
Dennis Joel ......... Joey Costa
Terry Wright ....... as ?
Synopsis 1:
A New York Teenager feels out of place when he is sent
to live with his aunt and uncle in a small Kansas town. [TA]
Synopsis 2:
Joey Costa looks and acts like something right out of "West Side Story." Joey doesn't
do anything to help himself, until Hobo comes along and becomes his friend. [TA]
(US syndication: 30Jan1965 on WGAL-8, Lancaster, Penn., Saturday 7:00pm)
(US Syndication: 08Jun1966 KTVU-2 San Francisco Wed. 7pm, San Mateo Times)

2.9 [--] The Littlest Hobo: HIGH SOCIETY
26Dec1964 (US Syndication) WGAL-8, Lancaster PA Sat 7pm (Huntingdon News)
07Dec1965 (repeat?) CTV Canada Tuesday
Guest Cast:
Keith Andes ........ Anthony Gramble
Lauri Mitchell ..... Tony
Synopsis 1:
By uncovering their pretence of belonging to high society, Hobo brings two young people
to a realization that clothes don't make the man - nor the woman.
Synopsis 2:
High Society Hobo meets Anthony Gramble who is posing as a wealthy man in order to
impress his debutante girlfriend Connie. Hobo discovers that Connie is playing the
same game as Tony, and helps to expose each to the other.
(US Syndication: 11Feb1965 WJAC-6, Johnstown PA Thurs. 7pm Huntingdon News)
(US S yndication: 01Jun1966 KTVU-2 San Francisco Wed. 7pm, San Mateo Times)

2.10 [--] The Littlest Hobo: BLIND ALLEY
31Dec1964 (US Syndication) WJAC-6, Johnstown PA Thurs 7pm (Huntingdon News)
Guest Cast:
James Griffith ....... Harry Kramer
Synopsis 1:
London helps a blind newsdealer elude a pair of thieves who are
trying to kill him. [TD]
Synopsis 2:
Hobo defends a blind man against two thieves.[RF]
(US Syndication: 31Dec64 NBC WJAC-TV Johnstown, PA, Thur 7pm) [RF]
(US syndication: 08Sep65 WTIC Hartford, CT)

2.11 [--] The Littlest Hobo: THE GOOD PROVIDER
06Jan1965 (US Syndication) Hartford, Conn.
04Jan1966 (Repeat?) CTV Canada Tuesday
Guest cast:
Jeanne Baird ......... Edna Dixon
Don Kennedy .......... Tom Dixon
Synopsis 1:
London tries to help a needy family that doesn't know bank robbers are hiding out
under their house. [TA]
Synopsis 2:
Hobo becomes involved in a bank robbery. [TA]
(US syndication: 6Jan65, WTIC-3, Hartford, Conn., Wed. 7:00pm)
(US syndication: 7Dec65, WSYR-3, Syracuse, NY, Tues. 7:00pm)
(US Syndication: 29Jun1966 KTVU-2 San Francisco Wed 7pm, San Mateo Times)

2.12 [--] The Littlest Hobo: DEATH AT 5PM
(verified on film -MW -see end of guide)
14Jan1965 (US Syndication) WJAC-6, Johnstown PA Thurs 7pm (Huntingdon News)
16Jan1965 (US Syndication) WGAL-8, Lancaster PA Sat 7pm (Huntingdon News)
Guest Star:
Paul Richards
Cast:
James Johnston
Tom Hill
Robert Huck
Synopsis:
Hobo prevents a man, grief stricken over the death of his wife, from taking
revenge.
(US Syndication: 04May1966 KTVU-2 San Francisco Wed. 7pm, San Mateo Times)
--Note: Paul Richards also appeared in episode #2.24 "The Last Chance"

2.13 [--] The Littlest Hobo: (episode title unknown) (possibly "Grandma")
12Jan1964 CTV Canada Tuesday
Synopsis:
London saves an old lady from being shot in a bank robbery but she is really
the bank president with a cunning plan to deceive the board of directors.

[--] The Littlest Hobo: MY, WHAT BIG EYES YOU HAVE, GRANDMA [RF] -aka- GRANDMA
05Mar1966 (US Syndication) Saturday, Hunt, Penn
Guest Cast:
Cliff Norton ......... Fred Natley
Synopsis:
London gets involved in a plan to capture a gang of bank robbers. [RF]
(US syndication: 17Nov66 CBS WBEN-TV Binghamton, NY 7pm ET Thurs) [RF]

2.14 [--] The Littlest Hobo: A BITTER PILL FOR DOC
19Jan1965 CTV Canada Tuesday
Guest cast:
Paul Fix ............. Doc Grady
Charles Kavanagh ..... Dr. Vines
Synopsis 1:
An elderly doctor believes that his patients think he is too old to practise.
Synopsis 2:
Doc Grady believes that his patients consider him too
old to practice medicine. [TA]
(US syndication: 18Nov65, WTIC-3, Hartford, Conn., Thur. 7:00pm)

2.15 [--] The Littlest Hobo: A.W.O.L.
26Jan1965 CTV Canada Tuesday
CTV Canada Repeat: 21Dec1965
Synopsis 1:
London tries to persuade a soldier and a young girl that running away won't solve
their problems.
Synopsis 2:
London induces a young soldier who is AWOL and his girlfriend to reconsider their
plans to run away together.
Synopsis 3:
Hobo helps two young people who have decided to go A.W.O.L. [TA]
(US Syndication: 09Apr1966 WGAL-8, Lancaster PA Sat 7pm Huntingdon News)
(US Syndication: 20Jul1966 KTVU-2 San Francisco Wed. 7pm, San Mateo Times)

2.16 [--] The Littlest Hobo: THE WITNESS
06Feb1965 (US Syndication) KTVU-2, Wed. 7pm
17Aug1965 (source?)
Synopsis 1:
London is the only witness to the murder of an attorney.
Synopsis 2:
Hobo witnesses the murder of a prominent attorney but is unable to prevent it. He takes
various articles belonging to the murderer however and hands them over to the police who
then confront the murderer with them.
Synopsis:
After London witnesses the murder of a prominent attorney, he brings the suspect,
a law partner, to justice. [TA]
(US syndication: 06Nov65 WGAL-8, Lancaster PA Sat 7pm Huntingdon News)
(US syndication: 15May66 on WMAQ-5, Chicago, Sunday 3:30pm)
(US syndication: 23Jul66 on WMAQ-5, Chicago, Saturday 4:30pm)

2.17 [--] The Littlest Hobo: THE NEAR-SIGHTED MOUSE
09Feb1965 CTV Canada Tuesday
Synopsis 1:
London saves the day for young secretary when she loses her glasses without which
she is virtually blind.
Synopsis 2:
Hobo saves the day for a pretty, timid, but very efficient young secretary. [JM]
(Canadian CTV broadcast: 09Feb65 CFRN, Edmonton AL, Tuesday 7:00pm)
(US Syndication: 18Mar1965 WJAC-6, Johnstown PA Thurs. 7pm Huntingdon News)

2.18 [--] The Littlest Hobo: YOU CAN'T BUY A FRIEND
16Feb1965 CTV Canada Tuesday
Guest cast:
Noah Berry Jr. ....... Miles Winslow
Rosemary DeCamp ...... Angela Spencer
Synopsis 1 (U K):
Angela Spencer, wealthy and lonely widow, pays Miles Winslow
$500 for Hobo. When Winslow finds a job, he decides to return the
money; and Hobo, sensing that they have each found a new friend,
takes to the road.
(UK syndication: 05Jun65 ABC Midlands/North UK, Sat 5.15pm)
Synopsis 2:
London allows himself to be sold to a wealthy widow by a man who is
down on his luck. [TA]
(US syndication: 25Jan66, WITN-7, Washington, NC)
(US syndication: 13Mar65 WGAL-8, Lancaster PA Sat 7pm Huntingdon News)

2.19 [--] The Littlest Hobo: WHITE ELEPHANTS ART WORK (aka "White Elephants Are Pink")
23Feb1965 CTV Canada Tuesday
Guest Cast:
Garrison True ........ Robert Callum, Jr.
Margaret Bly ......... Margot Benton
Synopsis:
London helps a young girl who is searching for some valuable paintings
done by her late uncle.
(US Syndication: 20Mar65 WGAL-8, Lancaster PA Sat 7pm Huntingdon News)

2.20 [--] The Littlest Hobo: THE LEAD METAL
27Feb1965 (US Syndication) WGAL-8, Lancaster PA Sat 7pm (Huntingdon News)
05Oct1965 CTV Canada Tuesday (repeat date?)
Guest cast:
Noam Pitlik ...... as Rolf Jensen
Synopsis 1:
London is branded a public menace following his exposure to radioactivity.
Synopsis 2:
Hobo is pursued by townspeople who fear, because he has been exposed to radioactivity,
the dog is a danger to the community.
06May1965 (US Syndication) WJAC-6, Johnstown PA Thur 7pm (Huntingdon News)
(15Oct1965 WSPD-13, Toledo, Ohio, Friday 7:30pm)

2.21 [--] The Littlest Hobo: (episode title unknown)
02Mar1965 CTV Canada Tuesday
Synopsis:
London unmasks a bandit whom he has seen rob a motorist and then must convince the
sheriff that it is his deputy who is really the robber.

2.22 [--] The Littlest Hobo: THE LAST CHANCE [MF]
27Mar1965 (US Syndication) WGAL-8, Lancaster PA Sat 7pm (Huntingdon News)
Guest Cast:
Paul Richards ........ Bill Strain
Barbara Jay .......... Patricia Spring
Noah Beery, Jr. ...... Sheriff
Synopsis 1:
London helps round up a hold-up gang. [TA]
(US syndication: 11Jan66, WITN-7, Washington, NC)
Synopsis 2:
London helps an innocent man who is accused of commiting a robbery [TA]
(US syndication: 14Jan66 KTW-TV(NBC) ch.3, Phil, Fri 7:30pm)
--Note: Paul Richards also appeared in episode #2.14 "Death at 5PM"

2.23 [--] The Littlest Hobo: THE SEARCH (1 of 2)
16Mar1965 CTV Canada Tuesday
Synopsis:
London becomes involved with a gang responsible for a robbery but after finding
the loot he is able to clear one suspect who has been falsely accused.
(US Syndication: 17Apr1965 WGAL-8, Lancaster PA Sat 7pm Huntingdon News)

2.24 [--] The Littlest Hobo: HIS BROTHER'S KEEPER (2 of 2)
23Mar1965 CTV Canada Tuesday
Synopsis:
London discovers a cache of stolen money and helps round up the holdup gang.
(US Syndication: 22Apr1965 WJAC-6, Johnstown PA Thur 7pm Huntingdon News)
(US Syndication: 24Apr1965 WGAL-8, Lancaster PA Sat 7pm Huntingdon News)

2.25 [--] The Littlest Hobo: BLACK SHEEP, BLACK SHEEP
30Mar1965
Guest Cast:
Gregg Palmer ........ Vern
Kate Manx ........... Ida
Ken Martin .......... Vern & Ida's Young Son
Synopsis:
London helps to save a young couple's flock of sheep after their
sheep dog is injured. [MF]
Synopsis 2:
London takes over as sheepdog on a young couple's farm when their own collie is maimed.
(Canadian syndication: 01Mar69 Ch. 11, ChCh-Tv, Toronto) [MF]
(US syndication: 30Sep65 WJAC-6, Johnstown PA Thurs 7pm Huntingdon News)

2.26 [--] The Littlest Hobo: THREE'S A CROWD
08Apr1965 (US Syndication) WJAC-6, Johnstown PA Thur 7pm (Huntingdon News)

2.27 [--] The Littlest Hobo: (episode title unknown)
03Aug1965 Repeat? CTV Canada Tuesday
Synopsis 1:
A former professional hockey player now down and out is attempting a come-back Hobo
helps the man avoid the influence of a racketeer who wants him to throw a game.
Synopsis 2:
London and a fading hockey star battle with gamblers who attempt to fix a hockey game. [TA]
(US syndication: 30Jul66 on WMAQ-5, Chicago, Saturday 4:30pm)

2.28 [--] The Littlest Hobo: HIGH HAZARD
18Nov1964 (US Syndication) KTVU-2, Wed. 7pm
10Aug1965 (Repeat?) CTV Canada Tuesday
Guest Cast:
Joyce Taylor ........ Helen
Don McArthur ........ Franz
Synopsis 1:
Helen Schmidt resents her husband's love for skiing.
Synopsis 2:
Hobo is at a skiing lodge with a woman who thinks she is losing her husband to his
profession skiing but actual ly her greatest danger is his former sweetheart.
(US syndication: 02Sep65 WJAC-6, Johnstown PA Thurs 7pm Huntingdon News)

#2.29 - see #2.20 (info combined - same episode)

2.30 [--] The Littlest Hobo: (episode title unknown)
16Nov1965 CTV Canada Tuesday
Synopsis:
A young girl is kidnapped by two holdup men who robbed her boy friend's company.


##############################################
############# The Littlest Hobo ##############
###### Original CTV Airdates Unknown #########
##############################################

x.1 [--] The Littlest Hobo: (episode title unknown)
03Nov1965 (US Syndication) KTVU-2, Wed. 7pm
London tries to discourage a scientist from destroying a lab.

x.2 [--] The Littlest Hobo: SOLO SAFARI
(US syndication: 11Nov65 WJAC-6, Johnstown PA Thurs 7pm Huntingdon News)

x.3 [--] The Littlest Hobo: MY CLIENT, A DOG
16Sep65 (US Syndication) WTIC Hartford, CT
Guest Cast:
Noah Berry Jr
Fred Bass
Synopsis 1:
Hobo needs a lawyer to protect him from an irate poultry farmer. [TD]
Synopsis 2:
In an attempt to stop an intruder, Hobo is accused of stealing a prize hen
and condemned to be destroyed. [TA]
(US syndication: 18Nov65 WJAC-6, Johnstown PA Thurs 7pm Huntingdon News)
(US Syndication: 18May1966 KTVU-2 San Francisco Wed. 7pm, San Mateo Times)

x.4 [--] The Littlest Hobo: THE LOYAL OPPOSITION
(US syndication: 31Jul66 on WMAQ-5, Chicago, Sunday 2:00pm)

x.5 [--] The Littlest Hobo: NO WAY OUT
Guest Cast:
Bruce Mars ........... Ralph Quint
Bruce McInnes ........ Mike Ragan
Diane Ricardo ........ Doris Ragan
Christopher Dew ...... Police Sergeant
Steve Baird .......... Newsboy
Synopsis 1:
London stalks a murderer who has abducted a policeman's wife.
Synopsis 2:
Returning from a fishing trip, a murderer keeps Hobo and his friends at gun point. [TA]
(US Syndication: 06Jul1966 KTVU-2 San Francisco Wed 7pm, San Mateo Times)

##############################################
############# The Littlest Hobo ##############
######### Episodes Verified on Film ##########
##############################################

[--] The Littlest Hobo:#2.14: DEATH AT 5PM (verified on film -MW)
(screen credits supplied here by Mark Welsh)
The introduction contained five separate credit screens as follows:
THE LITTLEST HOBO
copyright Storer Programs,Inc.
*
Starring London in...
*
DEATH at 5 p.m.
*
Guest Star: Paul Richards
*
Directed by Dick Darley
*
The ending credits contained thirteen separate credit screens as follows:
Cast:
James Johnston
Tom Hill
Robert Huck
*
Written by: Barbara and Milton Merlin
*
Executive Producer: Terry Lee
*
Producer: A.C.R. Stone
*
Co-Producer: Llewelyn M. Parry
Production Manager: Harry R. Sherman
*
Story Executive: Milton Merlin
Story Consultant: Barbara Merlin
*
Director of Photography: Jack Mills
Camera Operator: Peter Lambert
Assistant Directors: Harry R. Sherman, Paul Fritz-Nemeth
Sound Mixer: Lambert Day
Chief Sound Engineer: Dr. H.M. Tremaine
*
Script Supervisor: John C. Dutton
Wardrobe: Harry Kong
Make-up: Bill Morgan
Head Electrician: Art Steadman,
(followed by 4 letters indicating professional status,too small to read)
Head Grip: Fred Ransom
Property Master: Peter Young
*
Supervising Editor: James Leicester
Editor: Christopher Dew
Sound Effects: William Armstrong
Music Editor: Clinton A. Solomon
*
Owner and Trainer of London: Charles P. Eisenmann
*
Produced by Nefertiti Productions
*
For Storer Programs Incorporated
*
HFS
Produced at Hollyburn Film Studios
West Vancouver
(Blurb about persons living and dead,too small to read)
*
Fade to ending logo illustration of London:
The Littlest Hobo
Storer Programs,Incorporated
(Information for this episode supplied by Mark Welsh)
======================================================

[--] The Littlest Hobo: #2.4 LITTLE WHITE LIAR (verified on film -MW)
(screen credits supplied here by Mark Welsh)
The introduction contained five separate credit screens as follows:
THE LITTLEST HOBO
copyright Storer Programs,Inc.
*
Starring London in...
*
LITTLE WHITE LIAR
*
Guest Stars:
Dianne Ramsey
Darleen Drake (later known as Darleen Carr)
Margaretta Ramsey
*
Directed by: Dick Darley
*
The ending contained thirteen separate credit screens as follows:
*
Cast:
Lillian Carlson
Barbara Jay
Mary Jane Donaldson
*
Written by: Stephen Kandel
*
Executive Producer: Terry Lee
*
Producer: A.C.R. Stone
*
Co-Producer: Llewelyn M. Parry
Production Manager: Harry R. Sherman
*
Story Executive: Milton Merlin
Story Consultant: Barbara Merlin
*
Director of Photography: Jack Mills
Camera Operator: Peter Lambert
Assistant Directors: Harry R. Sherman, Paul Fritz-Nemeth
Sound Mixer: Lambert Day
Chief Sound Engineer: Dr. H.M. Tremaine
*
Script Supervisor: John C. Dutton
Wardrobe: Harry Kong
Make-up: Bill Morgan
Head Electrician: Art Steadman,
(followed by 4 letters indicating professional status, too small to read)
Head Grip: Fred Ransom
Property Master: F.W. Round
*
Supervising Editor: James Leicester
Editor: Christopher Dew
Sound Effects: William Armstrong
Music Editor: Clinton A. Solomon
*
Owner and Trainer of London: Charles P. Eisenmann
*
Produced by Nefertiti Productions
*
For Storer Programs Incorporated
*
HFS
Produced at Hollyburn Film Studios
West Vancouver
(Blurb about persons living and dead,too small for me to read)

Fade to ending logo illustration of London:
The Littlest Hobo
Storer Programs,Incorporated
(Information for this episode supplied by Mark Welsh)
==========================================================

[--] The Littlest Hobo: #2.9 ANNIVERSARY GUEST (verified on film -CK)
*
Executive Producer: Terry Lee
Producer: A.C.R Stone / Co-producer: Llewelyn M. Parry
Writer: Rod Larsen
Director: Dick Darley
*
Stars:
Pat Harrington Jr (as Brad)
Joan Freeman (as Joyce)
*
Production manager: Harry R. Sherman
Story executive: Milton Merlin
Story consultant: Barbara Merlin
*
Director Of Photography: Jack Mills
Camera Operator: Peter Lambert
Assistant Directors: Harry R. Sherman, Paul Fritz-Nemeth
Sound mixer: Lambert Day
Chief Sound Engineer: Dr. H.M Tremaine
Script supervisor: John C. Dutton
Wardrobe: Harry Kong
Make-up: Bill Morgan
Head electrician: Art Steadman
Head grip: Fred Ransom
Property Master: Peter Young
Supervising editor: James Leicester
Editor: Chritopher Dew
Music editor: Clinton A. Solomon
Synopsis:
Hobo helps a jaded and bickering married couple regain their spark on their
wedding anniversary. [CK]
(Information for this episode supplied by Chris Keating)
Synopsis 2:
London tries to settle a quarrel between a forgetful
husband and his insulted wife. [TA]
(Canadian repeat: 29Dec69 on CBKMT-4, Moose Jaw, Saskatchewan & CBKRT-9, Regina)


############ The Littlest Hobo #############
################### feedback #################
##############################################
From : Terry Wright <terry_wright@hotmail.com>
Sent : Wednesday, July 21, 2004 7:07 PM
Subject : Littlest Hobo - missing episodes
A short note on a couple episodes you are missing from the first series.
I used to live in West Vancouver and appeared as a bit player in two
episodes.
I stumbled across a couple scripts used in the filming ...
July 27, 1964
'LITTLE BOY BLUES'
story Idea by Joan Hind-Smith
Teleplay by Barbara and Milton Merlin
'PROD #8'
There are modifications made to the script indicated by blue sheets
'Rev.28 Aug/64'
The second script is a mimeograph copy with
'THE OLD MAGIC' By N.B. Stone, Jr.
I can't remember what they were about and haven't read the scripts
yet. Yours,
Terry Wright

############ The Littlest Hobo #############
################# theme tune #################
##############################################

Email from ......
Kevin Marchant <nightlife@optusnet.com.au> Jan 2003

Was "Maybe Tommorow" always the theme to the Littlest Hobo, I seem to
recall a different tune from my younger years, I can only remember a
small piece of this tune but maybe it will ring a bell with you, it went
"And I know I hungered to be free,
Roaming is the only life for me,
Im traveling along the way
Im traveling along the way without end".

Maybe you know this song?,
I was so sure it was from the Littlest Hobo.
Regards
Kevin Marchant <nightlife@optusnet.com.au> Jan 2003

############ The Littlest Hobo #############
############ VCI Entertainment ##############
##############################################

VCI Entertainment has released 12 episodes of "The Littlest Hobo" on DVD
THE LITTLEST HOBO TV SERIES - COLLECTION 1 (1963)
Running Time 300 minutes /Format B&W
Languages English/ Aspect Ratio 1.33:1
MPAA Rating - Unrated/ DVD Encoding 2 DVD-9s
DVD Audio Dolby Digital Mono/ Region NTSC/All Region

Filmed in Canada, THE LITTLEST HOBO TV series was originally broadcast in 1963
in black and white, aired for three seasons and then made a noteworthy comeback
to even heavier syndication in 1979, this time in color. The show was so popular
that it ran until 1985. THE LITTLEST HOBO was one of the few shows on TV to
feature something other than a human regular as the star. That unique star - a
profoundly intelligent stray German shepherd named Hobo (real name - London)
wanders around helping people resolve their crises, and leaving them forever
changed in the process. Boundless warmth, humor and suspense combine to make
this 12 episode TV collection involving a captivating canine's adventures, a
remarkably touching and memorable experience for the entire family.

DVD FEATURES
The first three episodes in the series are available in color for the very first time!
As a bonus, the theme song from the series, "Road Without End" by Ronald Stein
and sung by Randy Sparks, is available as a separate selection.
VCI's web site is located at: https://www.vcientertainment.com

############ The Littlest Hobo #############
################# the end ##################
##############################################

Have you any comments, corrections, episode titles, air dates, production numbers, directors, writers, story/synopsis, guest stars, cast lists, etc?
Have you any old videos, or tv guides? Dust them off and let us know if you have any information on this series or any other tv series from the
Golden Age of TV, which is missing from any episode guides on the web. Perhaps a certain episode of a particular series coincided with a key
moment in your life, or in world events - and or has left a vivid memory of when it was shown. Let us know. Would you like to see any other
tv series guides on this site? If so please e-mail The Classic TV Archive - see Feedback below.
This guide may be distributed and copied freely, in its entirety, for personal use. All original author and copyright information must
remain intact. Any sales or other uses of this document are expressly forbidden, without the specific consent of the author(s).
Copyright © The Classic TV Archive. All rights reserved.

"The Littlest Hobo" theme tunes 1963-65 1979-85
Return to The Classic TV Archive Home Page
Feedback