CTVA - The Classic TV Archive
US Music Variety - US Talk Shows/ Discussion Series

- US Documentary Series
The Les Crane Show (ABC)(1964-65) - ABC's Nightlife (ABC)(1965)
The Les Crane Show (1964-65)
Episode Guide compiled by The Classic TV Archive
with contributions by:Rina Fox [Uploaded Nov-2019]
references:
TV Guide / Library of Congress (telnet://locis.loc.gov)
Internet Movie Database (https://us.imdb.com)
UCLA Film and Television Archive / Writers Guild of America (wga)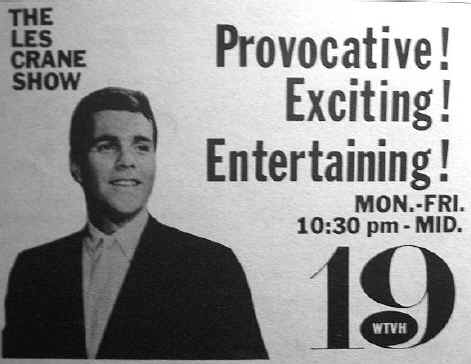 ABC
Producer Richard Levine
(left the show at the end of November 1964 to go to Paris to produce the motion picture starring Richard Burton.)
Producer Daryl Duke (replaces Richard Levine)

US Late Night Talk Show 1964-65 5 pilots +79 shows x 90min (09-Nov-1964 to 25-Feb-1965)
followed by "ABC Night Life" (01- Mar-1965 to 12-Nov-1965)

Host: Les Crane

Regulars: Nipsey Russell, Jimmy Cannon, William B. Williams

Music: Don Trenner, Cy Coleman, Elliot Lawrence

Premise:
Discussion Show on Topical Issues
"The Les Crane Show" was described as a combination of Jack Paar at his height, Mike Wallace
on the old "Nightbeat" show and David Susskind at his most opinionated.
The Rolling Stones making their American television debut.

############# The Les Crane Show ###############
########### Pilot Week August 1964 ##############
##############################################
ABC Mon-Fri 11:30 to 1pm (03-Aug-1964 to 07-Aug-1964)

[New York Times July 17, 1964]
"The Les Crane Show" begins a new format from his usual Talk-and-telephone program which was carried on WABC-TV.
The new format and a new time begins for one week, beginning August 3, 1964. The show will be televised over stations
owned by the American Broadcasting Company here (NY) and in San Francisco, Chicago and Los Angeles.
For the 11:20pm to 1am timeslot.
Among his guests for the five experimental shows will be Harry Belafonte, Shelley Berman and Vic Damone.

[00] The Les Crane Show
03Aug1964 90mins
Producer - director Barry Shear
Guests
Harry Belafonte
Mel Brooks
Ricardo Montalban
Celeste Holm
Irving Shulman author of "Harlow"
Adela Rogers St. John
Kaye Mulvey
and Dr. Harold Smith.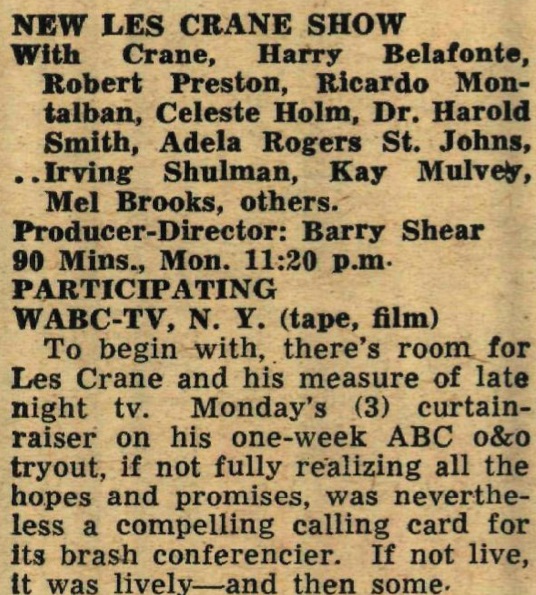 [00] The Les Crane Show
04Aug1964
Guests
William Buckley Jr.
Jackie Robinson
Shelley Winters
and May Craig.

[00] The Les Crane Show
05Aug1964
Guests
Pamela Mason
Artie Shaw

[00] The Les Crane Show
06Aug1964
Guests
Richard Burton
Hugh Hefner
Rev. James Pike

[00] The Les Crane Show
07Aug1964
Guests
Richard Burton
Mort Sahl
Alfred Drake

############' The Les Crane Show ###############
############## season 1964-65 ##############
##############################################
ABC Mon-Fri 11:30 to 1pm (09-Nov-1964 to 25-Feb-1965)

[01] The Les Crane Show. [Premiere]
09Nov1964
Guests
Groucho Marx
Rep. John V. Lindsay (R-N.Y.) and editor William Buckley discuss the future of the GOP,
while Betsy Palmer views "wandering husbands,"
and columnist Max Lerner joins Les in probing the morality of the Hiroshima bombing and uses of nuclear power.

Premiere. Here is ABC's answer to Johnny Carson and Regis Philbin.
Through the season Les will present celebrities doing their bit and non-celebrities putting in their two cents.
The unique setting for this new five night-a-week show is almost "television - in - the - round' with Les and his
guests facing the live audience on four sides. And this new television personality will not necessarily be confined to the studio.
Live are videotaped remotes are planned featuring top stars. Crane will also have scenes from Broadway and off-Broadway
shows but most of all he will, have interviews, and the more controversial the better. When discussions get heated up,
Les points his shotgun microphone at the audience and the fun really begins.

[02] The Les Crane Show.
10Nov1964
Guests
Cassius Clay
Dick Gregory, John Ali,
poet-playwright Leroi Jones and Floyd Patterson discuss the racial situation as seen by the Negro in this country;
dietician Carleton Fredericks will discuss America's eating habits.
Noted producer Hal Roach Sr. will assist Les in conducting a telephone interview with actor Stan Laurel.

[NYT]
Jimmy Breslin, Floyd Patterson, LeRoi Jones, Jack Carter, Groucho Marx.

[03] The Les Crane Show.
11Nov1964 [NYT]
Guests
Tonight Les interviews Kim Novak on location
in England for the film "The Amorous Adventures of Moll Flanders" and chats with
wrestlers Antonio Rocca and Ivan the Terrible.
Another guest is Mrs. Sherri Finkbine, who was a victim of thalidomide.

[04] The Les Crane Show.
12Nov1964
Guests
Tonight Les takes his audience to a celebrity-
studded opening night party "for the cast of "Luv", a new
Broadway play starring Eli Wallach,
Anne Jackson and Alan Arkin.
Back in the studio astrologist
Carroll Richter exchanges views on horoscopes with columnist
Cleveland Amory—a disbeliever—
and actress Jan Sterling.

[05] The Les Crane Show.
13Nov1964 [NYT]
Guests
Claire Bloom
Sydney Chaplin
Jackie Coogan
and a discussion of Charlie Chaplin's book.

[Tucson Daily Citizen]
Les will be joined by Texas multi - millionaire
H. L. Hunt, William P. Lear, H. V. Kaltenborn
and Ethel Merman.
Millionaires Hunt and Lear discuss the subject of money and Mr. Kaltenborn talks about the long procession
of presidents and world leaders he has known and observed.

[06] The Les Crane Show.
16Nov1964 [NYT]
Guests
actor George Maharis
pop artist Roy Lichtenstein
gallery owner Ivan Karp
and self-styled expert on everything Marta Curro.

[07] The Les Crane Show.
17Nov1964 [NYT]
Guests
"Love Around the World" will be discussed by a quartet of international feminine stars
Irish singer Carmel Quinn
Japanese film star Miko Taka
Italian beauty Cristina Paolozzi
England's Hermione Gingold.

[08] The Les Crane Show.
18Nov1964 [Robesonian]
Guests
Otto Preminger joins Les for a talk about his career in the movies
and stripper Blaze Starr has some things to say about burlesque.

[09] The Les Crane Show.
19Nov1964
Guests
novelist Norman Mailer locked horns with editor William Buckley on the subject of "Republicans"
in their first meeting on network television.
Polly Coffey are scheduled to appear.
Marta Curro will give the poor working girl's viewpoint.

[10] The Les Crane Show.
20Nov1964
Guests
Les shows scenes of bullfighting rarely seen in this country.
Bullfighter Luis Dominguin is on hand to explain and defend,
if necessary, the controversial tradition of the bullfight.
"Lovelorn" columns will be discussed by
columnist Ann Landers
and psychoanalyst-author Theodor Reik.

[11] The Les Crane Show.
23Nov1964
Guests
Richard Burton
jockey Bill Hartack
and Randolph Wicker Jr.
*Note: Win Opie husband of Miyoshi Umeki takes over as director.

[12] The Les Crane Show.
24Nov1964 [Robesonian]
Guests
Rip Torn in a discussion on the "Changing South"
Jimmy Breslin

[13] The Les Crane Show.
25Nov1964 [Kokomo Tribune]
Guests
Richard Burton again, but this time he's talking about his own career and his reaction to some of its
spectacular features, in a tape made last summer during the New York run of, "Hamlet."
and Eddy Arnold

[14] The Les Crane Show.
26Nov1964
Guests
Barry Morse
and Betty Furness.

[15] The Les Crane Show.
27Nov1964
Guests
The Rev. Ed Peters, Dr. John Rock and
Marya Mannes join Les Crane wrangle or two for a discussion on birth control.
and Gypsy Rose Lee talks about life in general.

[16] The Les Crane Show.
30Nov1964
Guests
Nathaniel Weyl who's written a book to prove his claim that Negroes are anthropologically inferior
and famed anthropologist Dr. Ashley Montagu who's just as certain he's wrong.

[17] The Les Crane Show.
01Dec1964 [Phoenix Arizona Republic]
Guests
Les meets a brace of witches with
Sybil Leek
Mrs. Eleanor Ray Bone
who still practice the ancient rites of witchcraft.
The Ecumenical Council's recent ruling on "Jewish Guilt" also comes under examination by
Rabbi Alan Miller, Rabbi Israel Klavar and Father Donald Campion.

[18] The Les Crane Show.
02Dec1964 [Phoenix Arizona Republic]
"The World of the Debutante" takes the spotlight when Les gathers facts and opinins on the subject from
Guests
Cleveland Amory
Lester Lanin
America's most famous debutante Brenda Frazier
and publicist Mimi Strong.

[19] The Les Crane Show.
03Dec1964 [Cedar Rapids]
Guests include "The old gang" of Broadway Open House of time gone by
Jerry Lester
Dagmar and Morey Amsterdam
and the former Lord Mayor of Dublin, Robert Briscoe.

[20] The Les Crane Show.
04Dec1964 [Tucson]
A feature of the evening is a discussion on the FBI with
Guests
Civil Rights by Attorney William Kuntsler of the American Civil
Liberties Union, and Robert Morris, former Counsel for the
Senate Internal Security Subcommittee

[21] The Les Crane Show.
07Dec1964 [Tucson] [Nassua NY Newsday]
Guests
talespinner Alexander King
comedian Dick Gregory
singer Aretha Franklin
comedienne Minnie Pearl
and hillbilly singers Flatt & Scruggs.

[22] The Les Crane Show.
08Dec1964 [Tucson]
Guests
Les chats with
singer-songwriter Oscar Brown Jr.,
novelist Rona Jaffee
comedienne Renee Taylor
and Dan Greenberg, author of "How to be a Jewish Mother."

[23] The Les Crane Show.
09Dec1964 [Cedar Rapids][NYT]
Guests
Marlon Brando teacher Stella Adler

[24] The Les Crane Show.
10Dec1964 [NYT][Charleston Gazette]
Guests
Anthony Quinn
Stan Kenton
Ramsey Lewis Trio
*News item: Sandusky Register Dec 10, 1964
Newspaper columnist Victor Riesel offered a shocking statistic when he visited Les Crane on ABC-TV's "Les Crane Show."
Describing underworld activities in America, Mr. Riesel told Crane "the mobs are presently doing business worth 3-1/2 billion a year."

[25] The Les Crane Show.
11Dec1964 [NYT] [Phoenix Arizona Republic]
Guests
Darren McGavin
Nina Foch
Tom Poston
Senator Kenneth Keating of NY
and Mario Savio University of California student leader.

[26] The Les Crane Show.
14Dec1964 [Robesonian NC]
Guests
Carlos Montoya
actor Sammy Jackson of "No Time For Sergeants"
and a discussion on "Our China Policy"
by William Rusher of National Review and Felix Greene author of books on China.

[27] The Les Crane Show.
15Dec1964 [Charleston Gazette]
Guests
folksinger Judy Collins
novelist Ayn Rand

[28] The Les Crane Show.
16Dec1964 [Tucson]
Guests
Attorneys William Kunstsler and Jacob
Fuchsberg debate the merits of
the jury system. Also featured is
jazz singer Carmen McRae.

[29] The Les Crane Show.
17Dec1964 [Tucson]
Guests
Three great names of professional football,
Y. A. Tittle of the New York Giants
Pete Retzlaff of the Philadelphia Eagles
and former Giant Kyle Rote, visit with Les.
Leon Bibb sings and talks with
Les about his singing tours in Europe.

[30] The Les Crane Show.
18Dec1964 [Tucson Daily Citizen]
Guests
Debate will continue on "The Need for Legislation
to Protect Animals Used in Research"
with Cleveland Amory
and Dr. Morris Fishbein.
Hermione Gingold,
Julius La Rosa
and Renee Taylor take a whimsical look at the institution of "motherhood."

[31] The Les Crane Show.
21Dec1964 [Press-Telegram]
Guests
Hugh Hefner
comedy duo Stiller and Meara
singer Tomi Fujiyama
and a panel discussion of film censorship.

[32] The Les Crane Show.
22Dec1964 [Charleston Gazette WV]
Guests
TV writer Rod Serling
singer Bobby Short
actor Rick Jason of "Combat"
and a panel discussion on "The Future of the American Theatre".

[33] The Les Crane Show.
23Dec1964 [Bridgeport CT]
Guests
Satchel Paige
Jimmy Piersall
and Jimmy Brosnan participate in a panel discussion on baseball, and
Country-western singer Lefty Frizzel comes on for a song.

[--] The Les Crane Show.
24Dec1964
pre-empted Christmas Eve service programming.

[34] The Les Crane Show.
25Dec1964 [Press-Telegram]
Guests
Christmas show welcomes
Julie Harris
Marty Ingels
Susan Strasberg
Orson Bean
Marta Curro
Robert Reisner
Julius La Rosa
and the Staples Singers.

[35] The Les Crane Show.
28Dec1964 [Charleston Gazette]
Guests
Features tonight include
Les Crane's interview with Malcolm X;
a panel discussion on New York's serious problem with its pigeons;
and an even more serious discussion on "Violence in Literature" by experts at the game;
Mickey Spillane, mystery writer Hal Masur and Edward D. Radin, author of true stories about crime.

[36] The Les Crane Show.
29Dec1964 [Charleston Gazette]
Guests
Jazz flutist Herbie Mann
comedian Jackie Vernon
singer-actress Connie Stevens

[37] The Les Crane Show.
30Dec1964 [Tucson Daily Citizen]
Guests
poet Allen Ginsberg
blues singer Joe Williams
former New York prosecuting attorney John D. Calandra who discusses the advisability of
legalizing the sale of marijuana.

[38] The Les Crane Show.
31Dec1964 [Tucson][Charleston Gazette]
Guests
Les will bring
in the New Year at the Roosevelt
Grill where Guy Lombardo
and his band the Royal Canadians are appearing
Les Crane brings his own family of friends (Orson Bean, Marty Ingels, Marta Curro and Tom Poston)
and their dates or spouses, for a bout of year-end chatter.

[39] The Les Crane Show.
01Jan1965 [NYT]
Guests
singer Gene Pitney
attorneys Harriet Pilpel
and Alan Schwartz discuss the need for privacy

[40] The Les Crane Show.
04Jan1965 [Tucson Daily Citizen]
Guests
Steve Allen sounds off about an article written by William Buckley Jr.,
and then joins actors Robert Shaw and Howard da Silva to discuss non-conformity.
Also featured will be a debate on "Socialized Medicine" between English social critic Bernard Levin
and Dr. Edward Annis, former president of the American Medical Association.

[41] The Les Crane Show.
05Jan1965 [Tucson Daily Citizen]
Guests
humorist-actor Sam Levene
folksinger Buffy Sainte Marie
Herbert Philbrick author of "I Led Three Lives"
and Ladislas Farago a peacetime spy for the U.S.

[42] The Les Crane Show.
06Jan1965 [Tucson Daily Citizen]
Guests
artist Salvador Dali
singer Margaret Whiting
entertainer Billy Eckstine

[43] The Les Crane Show.
07Jan1965 [Tucson Daily Citizen][Phoenix Arizona Republic][NYT]
Guests
Annual "Cue Magazine" awards for outstanding performances in entertainment world,
with Sammy Davis Jr.
receiving the highest award presented to him by last year's winner Barbra Streisand.
Others include Diahann Carroll, Steve Lawrence and Judy Garland.
Britain's Sybil Burton, Georgia Brown, Monique Van Vooren and Eartha Kitt will be in the ABC studio
and will sing and talk with Les.

[44] The Les Crane Show.
08Jan1965 [Tucson Daily Citizen]
Guests
Surfing band The Cornells
made up of sons of Loretta Young,
Dennis O'Keefe, Art Linkletter
and Charles Correll.
Dr. Allan Fromme discusses his book, "The Ability to Love."

[45] The Les Crane Show.
11Jan1965 [Tucson Daily Citizen]
Guests
Nick Adams
Sam Levene
singing duo Mickey and Sylvia

[46] The Les Crane Show.
12Jan1965 [Tucson Daily Citizen]
Guests
Ada 'Bricktop' Smith returns to spin more tales of the days when her Paris Salon was frequented by
F. Scoft Fitzgerald, Ernest Hemingway and royalty of Europe.
Karen Morrow of " I Had a Ball" will sing.
Comic Jackie Vernon makes a return visit.

[47] The Les Crane Show.
13Jan1965 [Tucson Daily Citizen]
Guests
The Shirelles
Julius LaRosa
and film star Mala Powers

[48] The Les Crane Show.
14Jan1965 [Tucson Daily Citizen]
Guests
Jimmy Dean
Sheldon Leonard
Country Western singer Ferlin Husky
Marta Curro
comedy team Rowan and Martin

[49] The Les Crane Show.
15Jan1965 [Tucson Daily Citizen]
Guests
Hearst newspapers Marianne Means
Marta Curro
Tom Poston
singer Judy Collins
and a unique feature on "Tarzan and Jane" with Enid Markey and Buster Crabbe and the newest Jane, Molly Scott.

[50] The Les Crane Show.
18Jan1965 [Tucson Daily Citizen]
Guests
humorist Sam Levene
comedian Marty Ingels
singer Johnny Nash
tale spinner Alexander King

[51] The Les Crane Show.
19Jan1965 [Tucson Daily Citizen]
Guests
Orson Bean
comedian Mark London
Pianist-songwriter Cy Coleman and his trio chat with Les about his hit songs, "Witchcraft" and "The Best Is Yet to Come."

[52] The Les Crane Show.
20Jan1965 [Chicago Tribune] [Tucson Daily Citizen]
Guests
Monique Van Vooren
Johnny Rivers
Barry Morse
Cassius Clay
and Jackie Vernon

[53] The Les Crane Show.
21Jan1965 [Tucson Daily Citizen][Oneonta Star]
Guests
Jim Arender
will narrate a film on sky-diving.
Other guests are
Muhammad Ali as Cassius Clay
Jerry Orbach
and Les's "gypsy lady" Marta Curro.

[54] The Les Crane Show.
22Jan1965 [Tucson Daily Citizen]
Guests
Kathleen Nolan
Bernard Levin
Dr. Charles Sheldon
and the jumping frogs of Calaveras County.

[55] The Les Crane Show.
25Jan1965 [Tucson Daily Citizen]
Guests
Marta "Gypsy lady" Curro
and her husband,
Jerry Orbach, continue their report
on the Presidential inauguration.'
Les also chats with model
Deloris Hawkins.

[56] The Les Crane Show.
26Jan1965 [Arizona Republic]
Guests
singer Jimmy Johnson
comedian Louis Nye
baseball player Jimmy Piersall

[57] The Les Crane Show.
27Jan1965 [Tucson Daily Citizen]
Guests
actor Jack Palance
comedienne Shani Wallis
former child stars Baby Sandy, Jane Withers and Bobby Breen.

[58] The Les Crane Show.
28Jan1965 [Oneadt NY]
Guests
Hermione Gingold
Peggy Cass
The Cy Coleman Trio
singer Vic Dana
ghost hunter Hans Holzer
English witch Sybil Leek

[59] The Les Crane Show.
29Jan1965 [Tucson Daily Citizen]
Guests
novelist Fannie Hurst
singer Nina Simone
and Howard Morris

[60] The Les Crane Show.
01Feb1965 [Lumberton Robesonian]
Guests
Imogene Coca
and her husband King Donovan
African Jazz drummer Olatunji
comedian Orson Bean
and violinist Joseph Weissman.

[61] The Les Crane Show.
02Feb1965
Guests
Dionne Warwick
Keir Dullea
John Davidson
and Julia Migenes.

[62] The Les Crane Show.
03Feb1965
Guests
singer Vic Dana
gag writers Saul Turteltaub
and Pat McCormick

[63] The Les Crane Show.
04Feb1965
Guests
Cliff Robertson
Orson Bean
Nipsey Russell
and magicians Al Delace, Felix Greenfield and the Amazing Randi.

[64] The Les Crane Show.
05Feb1965
Guests
Drew Pearson
also featuring radio Soap Opera heroines
Helen Trent
Stella Dallas
and Our Gal Sunday.

[65] The Les Crane Show.
08Feb1965 [Robesonian]
Guests
Diahann Carroll
Soupy Sales
Alexander King
and Sam Levene.

[66] The Les Crane Show.
09Feb1965 [Robesonian]
Guests
Country singer Johnny Cash
fashion designer Rudi Gernreich (the man responsible for the topless bathing suit)
new fashions modeled by Peggy Moffitt and Ellen Harth.
Jesse Fuller who wrote "San Francisco Bay Blue" will play and sing.

[67] The Les Crane Show.
10Feb1965 [Tucson Daily Citizen]
Guests
Tony Randall
Jerry Orbach who starred as the puppeteer in the hit Broadway musical "Carnival" appears with his puppets
Nipsey Russell
and Tina Robin sings.

[68] The Les Crane Show.
11Feb1965 [Arizona Republic][Robesonian]
Guests
Jimmy Dean
folksinger Hugh Masakela
and TV personality Genevieve.

[69] The Les Crane Show.
12Feb1965 [Tucson Daily Citizen][Phoenix Arizona Republic]
Guests
Frank Gorshin
clown Emmett Kelly
Flatt & Scruggs
and the Foggy Mountain Boys.

[70] The Les Crane Show.
15Feb1965 [Press-Telegram]
Guests
Victor Borge
Alexander King
singer Jackie Paris.
Also Gloria Swanson,
Joan Bennett and
Nina Foch in discussion of the "cult of youth"

[71] The Les Crane Show.
16Feb1965 [Press-Telegram]
Guests
Billy Daniels
Tina Robin
fashion designers
Jo Copeland
and Mr. Blackwell.

[72] The Les Crane Show.
17Feb1965 [Press-Telegram][Robesonian]
Guests
actor Sal Mineo
folksinger Bob Dylan
and Caterina Valente.

[73] The Les Crane Show.
18Feb1965 [Press-Telegram][Tucson]
Guests
Gina Lollobrigida
Frankie Laine
and Steve Allen.

[74] The Les Crane Show.
19Feb1965 [Press-Telegram][Tucson]
Guests
TV-Radio Mirror Awards
David Janssen
Richard Crenna
Jim Nabors
Garry Marshall
Lorne Greene
and Allen Ludden.

[75] The Les Crane Show.
22Feb1965 [Lumberton Robesonian][Pittsfield Berkshire Eagle]
Guests
Dorothy Provine
Larry Blyden
Karen Morrow
and Orson Bean.

[76] The Les Crane Show.
23Feb1965 [Press-Telegram]
Guests
Hugh O'Brian
and Judy Collins

[77] The Les Crane Show.
24Feb1965 [Press-Telegram]
Guests
Jerry Orbach
Marty Ingels
Edd Byrnes
Tony Randall
The Staples Singers
Jack Armstrong
and radio actors who played The Shadow and The Green Hornet.

*Note: ABC-TV has fired Les Crane as host of its new late-night show because the network brass feels he has not
cut deeply enough into the ratings of his long-established competitor NBC TV's Johnny Carson.
Crane will wind up his role as host this Friday but ABC-TV will continue the late-night entry he inaugurated just three and a half months ago.
Starting Monday its title will be changed from "The Les Crane Show" to "ABC's Nightlife"
and will feature alternating hosts who will preside until perhaps one of them is chosen as a permanent replacement.

[78] The Les Crane Show.
25Feb1965 [Phoenix Arizona Republic]
Opening night for film "Lord Jim".
Joan Crawford and John Daly conduct interviews in the lobby,
At the ABC studio
Guests
Joan Crawford
Morgana King
Julius LaRosa
and Alexander King.

[79] The Les Crane Show. [Final show of the series]
26Feb1965
Guests
Harry Belafonte
Miriam Makeba
Hugh O'Brian
Jerry Orbach
and Marta Curro.

*Note: Following Les Crane's departure the show sports a new title
"ABC's Nightlife" and a series of guest hosts.



############' The Les Crane Show ###############
################### the end ##################
##############################################

Have you any comments, corrections, episode titles, air dates, production numbers, directors, writers, story/synopsis, guest stars, cast lists, etc?
Have you any old videos, or tv guides? Dust them off and let us know if you have any information on this series or any other tv series from the
Golden Age of TV, which is missing from any episode guides on the web. Perhaps a certain episode of a particular series coincided with a key
moment in your life, or in world events - and or has left a vivid memory of when it was shown. Let us know. Would you like to see any other
tv series guides on this site? If so please e-mail The Classic TV Archive - see Feedback below.
This guide may be distributed and copied freely, in its entirety, for personal use. All original author and copyright information must
remain intact. Any sales or other uses of this document are expressly forbidden, without the specific consent of the author(s).
Copyright © The Classic TV Archive. All rights reserved.

Return to The Classic TV Archive Home Page
Feedback - Talk Show Forum