CTVA
The Classic TV Archive - TV Western series
<Previous the virginian: men from shiloh Next>
1 2 3 4 5 6 7 8 9
9.20 [245]
"tate: ramrod"
NBC Broadcast - 24 February 1971

Produced by John Choy (no exec?)
Written by Arthur Browne, Jr.
Directed by Marc Daniels

Starring:
Stewart Granger as Col. Alan MacKenzie (NOT in this episode)
Doug McClure as Trampas (NOT in this episode)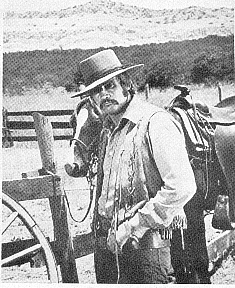 lee majors as Roy Tate (appears)
and
James Drury as The Virginian (appears)

Guest Stars:
michael burns
craig stevens
alan hale
jo ann harris
Special Guest Stars:
sally ann howes
peter mark richman
rex allen
#
Co starring:
Ross Elliott as Sheriff Abbott
#
John Lupton as Floyd Ramon
#
George Paulsin as Mal Donner
#
With:
James Stuart Duffy .... Tim
Marshall Reed ..... Doctor
Mickey Caruso ..... Dawson
Everett Creach ..... Sully
Bernie Goldberg ..... Bartender
#
Theme: Ennio Morricone
#
Director of Photography Gerald Perry Finnerman A.S.C
#
Art Director John T. McCormack
Film Editor Howard Epstein
Unit Manager Ralph Ferrin
Sound Lyle Crain
Assistant Director Lou Watt
Technicolor
#
Editorial Supervision Richard Belding
Costume Supervision Vincent Dee
Main Title Design Jack Cole
Titles and Optical Effects Universal Title

Series Regular Characters in this Episode:
Roy Tate,Virginain,
Notes:
The late Rex Allen, who played the singing Hotel Clerk here, starred as the
"Arizona Cowboy" in a number of films made by Republic during the 1950s.
The lyrics to the song, "Putting On The Style", which Rex Allen performs during
the introductory credits can be found at
https://home.att.net/~minstrelmike/songs/putting_on_style.html

This episode is another to make use of part of Shuken and Hayes music for 5.01
"Legacy of Hate"


Brief Synopsis
When Tate reluctantly agrees to look after a neighbouring ranch during a bitter
feud, little does he know he will also have to take on two moody teenagers, the
rancher's future wife and a bounty hunter. [BG]

Detailed Synopsis

Tate and the Virginian are enjoying an evening off, attending a social at the
Grand Teton Hotel. A local rancher, Joe Benson, is chatting with the Virginian
about the difficulties of being a widower bringing up his teenage children, Will
and Amanda. The two spend most of their time bickering and sniping. "Big
brothers and little sisters" says Benson with a resigned sigh. Meanwhile Tate
has been whisked away to dance with Amanda, who quite plainly has a crush on him.

The arrival of Benson's neighbour Sam Donner and his son Mal interrupts the
dancing. The Donners have discovered that Benson plans to erect barbed wire
fences on his land and a fight almost breaks out between the two men when Donner
warns Benson not to put up the "devil wire". The Virginian and Tate separate
them and Sam leaves. However Mal gets a friend to trick Will into coming out to
the alley at the side of the hotel, where Mal attacks him with a club.

Later, as the doctor patches up his broken rib, Will is interviewed by Sheriff
Abbott, but insists he doesn't know the identity of his attacker. Benson had
been planning to go to Denver to buy stock, but says he will postpone the trip.
The Virginian is concerned about what has taken place and, to the delight of
Amanda, suggests that Tate step in and look after the ranch while Benson is
away. Placed on the spot, Tate, who had other plans for his days off, reluctantly agrees.

Next morning Tate arrives early to begin putting up most of the wire, and as
Benson leaves for Denver he gives Amanda a cryptic promise that when he returns
he will have a "big surprise" for her and Will. "Something you've both been
missing for quite a while".

However the "big surprise" arrives the same evening, three weeks early, in the
form of Martha Clayton, from Salt Lake City, who announces that she is to wed
Benson on his return! Over supper, she explains how she met Benson when he
visited Salt Lake City on business. He was "looking for breed stock" Amanda
tells her embarrassed companions. Then the couple corresponded and eventually
Benson wrote and proposed. This is the first Will and Amanda have heard about
it and they seem suspicious of Martha.
The following day Mal watches from a distance as Tate puts up more wire. Martha
has accompanied the Shiloh hand so she can view the ranch and while he works she
gets out the food for a picnic. Amanda arrives with even more food, so she can
have the twin pleasures of being with Tate and score points of Martha. She had
originally prepared the picnic so she could join, but Martha sent her back
inside to get Will's breakfast.

Tate's discomfort at being fussed over by the two women is short-lived as the
Donners arrive to take down the wire by force. Amanda pitches into the brawl
which follows, and only ends when Martha fires Mal's dropped pistol into the air.

At the Benson ranch Tate clashes with Will, who wants to resolve the problem
with guns. He sternly warns Will that in Texas "barbed wire dug a lot of
graves". He also upbraids Will for the unwelcoming reception he has given to
Martha and warns him that a man will always put his wife first.

Will and Amanda's sullenness and suspicion toward Martha come to a head after
an incident in the corral at night. A coyote alarms the horses and both Tate
and Martha go out to them. Just as the horses seem to settle the coyote cries
again startling Martha into holding on to Tate. There is a momentary
recognition of the mutual attraction between them, but they know it can lead
nowhere so, with no words being spoken, they let it go. Next morning Amanda,
who has seen all this from her window, accuses them of "kissin' and huggin' and
everything". Martha's situation at the ranch has become intolerable, so she
decides to stay at the hotel until Benson returns.

As Tate takes her to the hotel he is recognised by a gunslinger and bounty
hunter named Wade, who unsuccessfully tries to needle him about Grand Island,
the town where Tate is wanted for killing a man in self-defence (See "The
Mysterious Mr. Tate"). When Donner visits the saloon and tells a friend about
the trouble he is having with Tate and the wire fencing Wade approaches him and
says he might just have the answer to Donner's problem.

That night Amanda sneaks out to the barn wearing a red dress that she has made
specially to catch Tate's eye. By beating a post with a shovel she disturbs the
horses and wakes Tate. Claiming that she couldn't sleep and heard the noise of
the horses she begins flirting with him. She then sulks because he "doesn't
treat her like a woman". To which Tate responds that if she were a woman, not
just a child, she wouldn't have caused Martha such embarrassment the previous
day.

Next morning Wade confronts Tate as he is loading up the wagon, warning hm not
to put up any more wire. Tate loosens his gun and tells Wade to clear out, but
Wade isn't ready to have a showdown and leaves with another warning. Will says
defiantly that he will put up the rest of the fencing himself. Tate, cleverly
addressing his remarks to Amanda, makes Will realise that to go out, facing the
certainty of being bushwhacked by an unknown number of men, would be stupidity.

In her room at the hotel Martha receives a surprise visit from Amanda who
apologises for her immature behaviour and asks Martha to come "home" with her.
On their way out of town they see Wade and his two partners, who are preparing
to attack the Benson ranch. Wade warns his men that they are to stick to
Donner's instructions, no one else is to get hurt, but - with an eye to the
Grand Island reward money, they are to leave Tate to him.

Will is cleaning his gun ready for a fight, but Tate tells him the story of how
he came to be wanted for murder in Grand Island demonstrating how violence leads
to more trouble. The only way of dealing with disputes like these, Tate says, is
through the law. Amanda and Martha return with Wade and his men close behind,
Will asks Tate why he doesn't get out while he has the chance, but Tate replies
"You know I can't do that".

Wade instructs one of his men to set light to the roof of the barn as he and
the third man fire on the house. Tate manages shoots the fire raiser and tackles
the fire while the others cover him. Meanwhile Wade's second man runs from the
hail of bullets directed at him from the house. However a bullet creases
Amanda's head, knocking her out. Thinking she is dead Will runs out to tackle
Wade on his own. Breaking cover momentarily, Wade is caught by a bullet from
Tate and before he dies sneers that the joke is on Donner. Wire is going up over
a vast territory, and it "works fine...real fine".

In the meantime Will has torn over to the Donner's and confronts Mal with what
he and his father have done. To gain his revenge he doesn't need a gun or a
club, he'll use his bare hands. As Sam Donner tries to separate the two, Tate
arrives, pulling Will away from Mal, telling him that Amanda is alive. Now Mal
and Sam will have to answer to the sheriff.

Some time later Benson is taking down the remains of the burned out roof. Tate
is preparing to leave, despite being badgered by Amanda to stay. Benson
expresses his thanks and Tate diplomatically evades an invitation from Amanda to
come to supper the very next night. As Tate rides off Will annoys his sister by
telling her it's time to fix supper. As she gives Will a piece of her mind
Benson turns to his new bride and smiles, "Big brothers and little sisters" .
Notes:
The late Rex Allen, who played the singing Hotel Clerk here, starred as the
"Arizona Cowboy" in a number of films made by Republic during the 1950s.
The lyrics to the song, "Putting On The Style", which Rex Allen
performs during the introductory credits can be found at
https://home.att.net/~minstrelmike/songs/putting_on_style.html

This episode is another to make use of part of Shuken and Hayes music
for 5.01 "Legacy of Hate" [BG]
Return to The Classic TV Archive "The Virginian" Home Page
Return to The Classic TV Archive Western Page
Return to The Classic TV Archive Home Page
Feedback - "The Virginian" Guestbook