CTVA
The Classic TV Archive - TV Western series
<Previous the virginian: men from shiloh Next>
1 2 3 4 5 6 7 8 9
9.13 [238]
"hannah"
Original NBC Broadcast - Wednesday 30 December 1970
Universal City Studios, Inc.
executive producer leslie stevens
produced by glen a. larson
written by true boardman
directed by jack arnold

Starring
(shown in opening sketches)
stewart granger [Col. Alan MacKenzie] (not in this episode)
doug mcclure [Trampas]
lee majors as tate (not in this episode)
and
james drury as the virginian (not in this episode)

guest stars
j.d. cannon [Roy Harkness]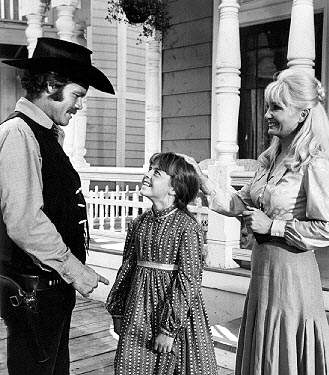 (pictured above - left to right - Doug McClure, Lisa Gerritsen and Susan Oliver)
susan oliver [Carole Carson a.k.a. Alice Barnes]
peter breck [Lafe]
warren stevens [Paul Carson]
and
lisa true gerritsen (True Boardman's granddaughter) as hannah carson

full ending credits:
co-starring
lorraine gary as mrs. nelson
#
with
leo gordon loma bartender
gregg palmer o'shea
sidney clute jenkins
kay steward mrs. crandall
bartlett robinson doctor
#
robert a. karnes hendricks
charles h. gray sheriff varney
daniel white conductor
nancy hickman eleanor
sally marr martha

(two Indian characters had speaking parts and "rescued" Hannah but were not
given credit for their appearance)
#
associate producer bill egan
#
theme ennio morricone
#
director of photography john m. stephens
#
art director george webb
set decorations robert c. bradfield
unit manager ralph ferrin
assistant director harker wade
#
film editor j. howard terril
sound earl crain, jr.
technicolor
main title design jack cole
titles and optical effects universal title
#
editorial supervision richard belding
costume supervision vincent dee
makeup bud westmore
hair stylist larry germain

Series regular characters appearing in this episode: Trampas

Brief Synopsis:
Hannah Carson is on the quest to find her mother, who ran off with another
man, because she believes her father's chest pains are due to a "broken
heart." When Paul Carson has an attack on the train, Trampas delays his
business trip to take him to a doctor and check around town for the
missing woman. Hearing that "Alice" was headed for Loma after being run out
of the saloon where she had worked and that Paul might have but ten days to
live, the cowboy takes it upon himself to look for Carole in hopes that
Hannah won't end up in an orphanage. But when the critically ill Carson
asks him to take his daughter along with him Trampas has more than a handful
with the sassy, spunky "little sprout of a girl" who's determined to reunite
her parents even though her mother confesses to being a reluctant partner in
a recent bank robbery and insists she is no longer the woman her father married.

Character note: I find Trampas to be his usual compassionate self in this
episode as confirmed by this conversation with Carson (whom he'd just met on
the train) when asked to take Hannah with him to Loma:
Carson: "There aren't many men I'd trust to take my daughter on such a trip."
Trampas: "There aren't many men who'd try to take her on that trip."

Other mentions: While on the train Trampas was reading the dime novel "Jim
Dewey, the Good Hearted Bad Man"--refer to episode 6.20 "The Good Hearted
Bad Man" guest starring Peter Deuel.

Continuity error: Carole was talking with Ray in an early scene. At the
start of the segment her hair was simply pulled back with a barrette. But
later in the same scene her hair was formed in a twisted bun.
Look for Susan Oliver in these other THE VIRGINIAN episodes: 4.03 "A Little
Learning...", 6.14 "A Small Taste of Justice", and 7.09 "The Storm Gate." (bj)
Comment : Story writer True Boardman's granddaughter Lisa Gerritsen seemed the
perfect choice for the role of this feisty, independent little girl
on a mission to find her mother. [bj]

Here are some scenes viewers might remember: [bj]

On the train Trampas leaves the reading of his book to check out the
chess game between Hannah and her father. When the girl asks if he
plays chess, he replies, "No ma'am, poker's my game."
*
Hannah, exhausted from concern and caring for her father, sees the
image of her mother in the train window exclaiming over and over,
"I'll never come back!"
*
Anxious to get on with the search, Hannah jumps on a horse tied to
a hitching post. Trampas calls her back and scolds that they hang
kids that steal horses.
*
When Mr. Carson asks Trampas to take Hannah with him and offers to
pay, the soft hearted cowboy declines any monetary reimbursement
because he doesn't "know the going rate for helping a child find her mother."
*
Hannah wants to leave immediately, but Trampas informs her they'll
start their journey the next morning. Hannah pronounces, "Boy,
you sure are one for putting things off."
*
Hannah greets Trampas at dawn with, "What's the idea of ordering
me a gentle mare? I got this chestnut instead." Trampas responds,
"I hope he bucks you off." The girl is on her quest and gallops
her horse ahead. When the cowboy catches up and stops her, she
huffs, "Just too bad I couldn't have gotten a rugged-er man."
*
Trampas and Hannah break from their search by cooling off at a water
fall. After Hannah has her swim, Trampas dives in. While he's
taking his dip, Hannah gets Trampas' gun from his holster. She
proclaims that if they run into Blackfeet Indians she'll protect
him. She then proceeds to target practice on a tree. When
Trampas hears the shots, he comes running in his bare feet and
orders her not to touch his gun again. Seeing his soaked condition,
she spouts, "You look like a skinned rat."
*
At their night camp, Hannah asks Trampas why he's still wearing
his boots. He replies that he sleeps with them on because they
are too hard to get into in the morning and he doesn't want to
lose the spurs a friend gave him. Hannah inquires if Trampas
had ever been in love, and the cowboy responds, "Yep, but it didn't
work out though." But if he'd met someone that could cook as
well as she did and was 10 years older he might consider it.
Hannah doesn't want to get married because married people just
try to change each other.
*
Hannah frees Lafe (who had partnered with Carole and her lover
in the bank robbery) from jail on his promise to take her to
her mother. But Lafe tries his best to lose her. The plucky
lass warns him that if he ties her up and leaves her she'll tell
the sheriff he kidnaped her, and they hang people that kidnap
little girls. Lafe does manage to ditch her at a river crossing
after advising her to get some rest and a drink while he waters
the horses. Hannah builds a fire and attracts two Indians out
on a hunting party. The inventive girl tells them she got
separated from her brother and asks them to help locate him.
The braves indeed find Lafe and direct him to be more careful
about watching over the youngster. Hannah presses on again
with her "brother, dear."
*
When Carole tells her daughter she can't go back to Paul, Hannah
reminds her that when a person gets married it should be 'til
death do us part. However, Carole advises that when she gets
older she'll understand that other things can part them, too.
After her mother leaves, Hannah sobs but begs Trampas not to
tell her father she did. Trampas tries to comfort her by saying,
"A woman isn't a woman until she cries." [bj]
Return to The Classic TV Archive "The Virginian" Home Page
Return to The Classic TV Archive Western Page
Return to The Classic TV Archive Home Page
Feedback - "The Virginian" Guestbook