CTVA
The Classic TV Archive - TV Western series
"Medic" (1954-56) "Frontier" (1955-56)
Frontier (1955-56)
Episode Guide compiled by The Classic TV Archive
with contributions by:
Louis H. Allgood, Tom Alger, Sal Crisanti, Rina Fox
references:
Library of Congress (telnet://locis.loc.gov)
Internet Movie Database (https://imdb.com)
UCLA Film and Television Archive
--------
FRONTIER
--------
California National Productions
for
NBC (Sundays 7:30 pm ET)
Produced by Worthington Miner

US Western Anthology series 1955-56 31 episodes x 30 min bw

Narrated by Walter Coy

[Program Opening]
"This is the West. This is the land of beginning again
This is the story of men and women facing the frontier.
This is the way it happened..."
[Program Closing] "It happened that way...moving west."

################# Frontier ###################
############### season 1955-56 ###############
##############################################
NBC Sundays 7:30-8:00pm EST

[01] Frontier: (Western Anthology): PAPER GUNMAN
25-Sep-1955 NBC Sun
King Donovan .................. Joe Thornton
John Smith .................... Willie McGill
Carol Thurston ................ Mrs. McGill
Scott Forbes

[02] Frontier (Western Anthology): TOMAS AND THE WIDOW
02-Oct-1955 NBC Sun
Guest Cast: [LHA]
Laura Elliott ........ Shane
(later known as Kasey Rogers - "Peyton Place", "Bewitched")
Mike Connors ......... Tomas
Sean McClory ......... Gavin
James Gavin .......... Oren
Frank Puglia ......... Peon
Natividad Vacio ...... Mexican.

1.03 [--] Frontier (Western Anthology): A STILLNESS IN WYOMING
16-Oct-1955 NBC Sun
Guest Cast:
Peter Votrian
James Griffith
Lee Erickson
Walter Coy
A bitter feud springs from the traditional rivalry between the
sheep farmers and the cattle men of Wyoming. [BBC Radio Times]
(UK airdate: 10Sep60 BBC, Sat 9:20 pm)

1.04 [--] Frontier (Western Anthology): THE SHAME OF A NATION
23-Oct-1955 NBC Sun
Guest Cast:
Scott Forbes
George Keymas
Hayden Rorke
Barry Atwater
Synopsis:
Colonel J.M. Chivington, of the U.S. cavalry, orders his men to massacre hundreds
of friendly Cheyenne Indians. To the disgust of the rest of the nation. [RF]

[05] Frontier (Western Anthology): THE FOUNDING OF OMAHA NEBERASKA
30-Oct-1955 NBC Sun
Guest Cast: [LHA]
Sallie Brophy ......... Lucy Miller
Jeff Morrow ........... John Miller
Edward McNally ........ Russ Kirby
Kenneth Tobey ......... Wade Trippe.

[06] Frontier: (Western Anthology): THE SUSPECTS
06-Nov-1955 NBC Sun
John Bromfield
Stanley Jones

[07] Frontier: (Western Anthology): KING OF THE DAKOTAS (Part 1/2)
13-Nov-1955 NBC Sun
Directed by Paul Landres [SC]
Written by Mort Fine and David Friedkin [SC]
Guest Cast: [LHA]
Tom Tryon ............. Antoine
Phyllis Coates ........ Medora
Walter Baldwin ........ Briggs
Alan Hale Jr. ......... Kane
Dick Wessell .......... Rank

[08] Frontier: (Western Anthology): KING OF THE DAKOTAS (Part 2/2)
20-Nov-1955 NBC Sun
Directed by Paul Landres [SC]
Written by Mort Fine and David Friedkin [SC]
Guest Cast: [LHA]
Tom Tryon ............. Antoine
Phyllis Coates ........ Medora
Raymond Bailey ........ Prospector
Dabbs Greer ........... Marshall
Herbert Heyes ......... Judge
Dennis Moore .......... Attorney
William Newell ........ Bartender
Phil Tead ............. Foreman.

[09] Frontier: (Western Anthology): CATTLE DRIVE TO CASPER
27-Nov-1955 NBC Sun
Guest Cast: [LHA]
Ray Teal ............. Kennicut
Beverly Garland ...... Sarah Garvey
Stuart Randall ....... Tom Garvey
Robert Arthur ........ Kip Ross
Jack Elam ............ Ness Fowler
Richard Garland ...... Jack Murray
Frank Hagney ......... Haskell
Charles Stevens ...... Indian.
Synopsis:
A young wife insists on accompanying her husband on a 600-mile cattle drive [TA]

[10] Frontier: (Western Anthology): ROMANCE OF POKER ALICE
(1955.12.11) NBC Sun
Joan Vohs
Barry Atwater
Larry Arnold

[11] Frontier: (Western Anthology): FERDINAND MEYER'S ARMY
(1955.12.18) NBC Sun
Richard Karlan ................ Ferdinand Meyer
Donna Martell ................. Elena Meyer
Jack Elam ..................... Father Matias
Leo Gordon .................... Brandon
Herb Butterfield

[12] Frontier: (Western Anthology): THE LONG ROAD TO TUCSON
25-Dec-1955 NBC Sun
Guest Cast: [LHA]
Sallie Brophy ........ Sister Michael
Helen Ball ........... Sister Florence
Lisa Gaye ............ Sister Marguerita
Peg Hillias .......... Sister Superior
Jeanne Moody ......... Sister Audrey
Nadia Posey .......... Sister Coucepcion
Ann Stebbins ......... Sister Fudalia.

[13] Frontier: (Western Anthology): THE TEXICANS
(1956.01.08) NBC Sun
Paul Richards ................. Louis Rose
John Dehner ................... Yancy
Richard Garland ............... Jim Reed
Coleen Gray ................... Ruth
Jay Novello ................... Dalgo
Helen Kleeb ................... Mrs. Reed
James Best .................... Ben Reed

1.14 [--] Frontier: (Western Anthology): MOTHER OF THE BRAVE
15-Jan-1956 NBC Sun
Guest Cast: [LHA]
Peggy Webber ........... Meg Horn
Stuart Towers .......... Richard Horn
John Cliff ............. John Horn
Terry Rangno ........... Joseph Horn
Denver Pyle ............ Eben
James Goodwin .......... Sentry
Rod Redwing ............ Comanche
Synopsis 1:
When ranching proves unprofitable, the Horn family begins a long trek across Western plains enroute to their
Native England, but fall prey to a band of Comanche Indians. [RF]
Synopsis 2:
The Horn family, immigrants from England, are trekking eastward back from the West. Father Horn is killed by a Comanche
arrow. The two boys and mother are taken prisoner by the Comanches. Later, the mother and one son are rescued by the
US cavalry. The other brother is kept by the Comanches.
About ten years go by. The mother lives in a town by an army base. Her son is a scout with the cavalry. War breaks out
with the Comanches and her son goes out on a dangerous reconnaisance. Her son does not return so she goes riding out to
look for him. She finally meets an Indian brave. She sees that it is the other son who has been raised by the Comanches.
She tells him of her search and his answer devastates her. This son tells her that his war party met her son and fought
him and his companions. He died like a coward, riding away from the war party and falling to his death over a cliff.
By the Comanche standards, he feels no compassion for his lost brother or his mother. She walks away alone. [Douglas Ogle]
1.15 [--] Frontier: (Western Anthology): THE TEN DAYS OF JOHN LESLIE
22-Jan-1956 NBC NBC Sun
Guest Cast:
Richard Crenna ................ John Leslie
Gloria Talbott ................ Molly
Claude Akins .................. Bud
Robert Burton ................. Sheriff
A young man sentenced to death for a murder he didn't commit is
given a last chance to prove his innocence. To save his own life
he must find the real murderer within ten days. [BBC Radio Times]
(UK airdate: 20Aug60 BBC, Sat 10:30pm)

[16] Frontier: (Western Anthology): THE DEVIL AND DOCTOR O'HARA
(1956.02.05) NBC Sun
J.M. Kerrigan ................. Doc O'Hara
Tommy Kirk .................... Mike Austin
Dorothy Adams ................. Mrs. Noonan

[17] Frontier: (Western Anthology): THE CAPTIVITY OF JOE LONG
(1956.02.12) NBC Sun
Jan Merlin .................... Joe Long
Tamar Cooper .................. Gentle Dawn
John Miljan ................... Chief

[18] Frontier: (Western Anthology): THE VOYAGE OF CAPTAIN CASTLE
(1956.02.19) NBC Sun
Donald Murphy ................. Tom
Gloria Saunders ............... Cristina
Jan Arvan ..................... Santa Ana
Trevor Bardette ............... Sam Houston
Eleanore Kent ................. Crane's Girl
John Merrick .................. Crane

[19] Frontier: (Western Anthology): ASSASSIN
(1956.03.04) NBC Sun
Chuck Connors ................. Thorpe Henderson
John Hoyt ..................... Marshal
Isa Childers .................. Schoolteacher

[20] Frontier: (Western Anthology): THE HANGING AT THUNDER BUTTE CREEK
11-Mar-1956 NBC Sun
Guest Cast: [LHA]
Donald MacDonald ........ Sheriff's Son
Robert Bray ............. Sheriff
Vic Perrin .............. Ogala.

[21] Frontier: (Western Anthology): THE BIG DRY
(1956.03.18) NBC Sun
Scott Forbes .................. Ben Hart
Maura Murphy .................. Louise Hart
Sally Corner .................. Grandma
Paul Richards ................. John Webb
K.L. Smith .................... Lindsay
Leo Gordon .................... Pauk

[22] Frontier: (Western Anthology): THE BATTLE OF PRETTY POLLY
(1956.04.01) NBC Sun
Nancy Hadley .................. Polly
Rhodes Reason ................. Will
Richard Garland ............... Tom
Bill Bryant ................... Logan

1.23 [--] Frontier: (Western Anthology): THE WELL
08-Apr-1956 NBC Sun
Guest Cast:
Christopher Dark .............. Stacy
Don Kelly ..................... Jim
Bob Anderson .................. Lane
Strother Martin ............... Mayes
Gold or water - both are equally valuable to a prospector in a
remote corner of the Arizona Desert. And the greed and passion
they arouse are equally intense. [BBC Radio Times]
(UK airdate: 10Oct59 BBC, Sat11:05pm)

[24] Frontier: (Western Anthology): SALT WAR
(1956.04.22) NBC Sun
Richard Boone ................. Everett Brayer
Carol Thurston ................ Annie Brayer
Paul Richards ................. Will Shaw
Maura Murphy .................. Mrs. Shaw
Scott Forbes .................. Howard

[25] Frontier: (Western Anthology): PATROL
29-Apr-1956 NBC Sun
Guest Cast: [LHA]
Don Kennedy ............ Sgt. Casey
James Griffith ......... Tad
Christopher Dark ....... Walker
Phil Barnes ............ Wallace
Herb Ellis ............. Nelson
Patrick Colby .......... Ben
Strother Martin ........ Lee
Gil Rankin ............. Jed
Marjorie Owens ........ Mary

[26] Frontier: (Western Anthology): A SOMEWHERE VOICE
(1956.05.06) NBC Sun
Jeanne Moody .................. Susan
Don Kelly ..................... Jim
Bob Anderson .................. Lou

[27] Frontier: (Western Anthology): THE HUNTED
13-May-1956 NBC Sun
Guest Cast: [LHA]
Jack Kelly
Jan Merlin ............ Clay Chandler
Joan Hotchkis ......... Ellen Landry
Willia Bouchey ........ Vance Landry
Richard Devon ......... Hesse.

[28] Frontier: (Western Anthology): GEORGIA GOLD
(1956.06.10) NBC Sun
John Dehner ................... John Masterson
Catherine McLeod .............. Elizabeth Masterson

[29] Frontier: (Western Anthology): OUT FROM TAOS
(1956.06.24) NBC Sun
Kenneth Tobey ................. Gabe Sharp
Ted DeCorsia .................. Jim Teech
Jim Best ...................... Jason Cartwright

[30] Frontier: (Western Anthology): THE RETURN OF JUBAL DOLAN
(1956.08.26) NBC Sun
Jack Kelly .................... Jubal Dolan
Robert Vaughn ................. Cliff Dolan
Jean Willes ................... Ruth

[31] Frontier: (Western Anthology): THE HOSTAGE (final episode of "Frontier")
(1956.09.09) NBC Sun
Jack Kelly
Ted DeCorsia
Kenneth Tobey
################# Frontier ###################
##### Trade Advert September 15th, 1956 ######
##############################################
"Win big audiences with "Frontier" - the authentic family western, the first and only of it's kind.
Produced by Worthington Miner, every program vividly captures the true spirit of the courageous pioneers
who braved America's last frontier. "Frontier" was a tremendous hit on network television with an average
rating of 22.9 over a seven month period! And proved powerful enough to command a 3.0 viewers per set - 36%
per cent higher than the day-night average for all programs (ARB)
Frontier's 30 distinguished half-hour films are available to all stations for the first time! Check availabilities
now for prestige and sales in your markets"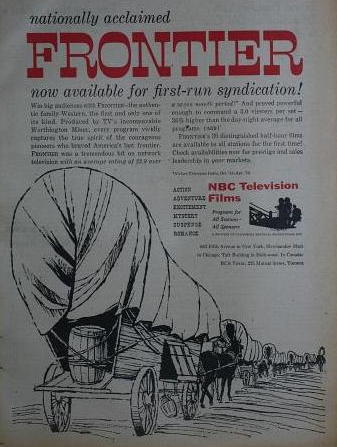 NBC Television Films, a division of California National Productions, Inc.
663 Fifth Avenue, New York
Merchandise Mart, Chicago.
RCA Victor, 225 Mutual Street, Toronto, Canada
Trade Advert, September 15th, 1956

################# Frontier ###################
################# the end ##################
##############################################

Have you any comments, corrections, episode titles, air dates, production numbers, directors, writers, story/synopsis, guest stars, cast lists, etc?
Have you any old videos, or tv guides? Dust them off and let us know if you have any information on this series or any other tv series from the
Golden Age of TV, which is missing from any episode guides on the web. Perhaps a certain episode of a particular series coincided with a key
moment in your life, or in world events - and or has left a vivid memory of when it was shown. Let us know. Would you like to see any other
tv series guides on this site? If so please e-mail The Classic TV Archive - see Feedback below.
This guide may be distributed and copied freely, in its entirety, for personal use. All original author and copyright information must
remain intact. Any sales or other uses of this document are expressly forbidden, without the specific consent of the author(s).
Copyright © The Classic TV Archive. All rights reserved.

Return to The Classic TV Archive Western Page
Return to The Classic TV Archive Home Page