CTVA
The Classic TV Archive - TV Western series
"Daniel Boone" (Disney)(1960-61) starring Dewey Martin - "Daniel Boone" (1964-70) starring Fess Parker
"Young Dan'l Boone" (fall 1977) starring Rick Moses
Fess Parker TV Series:
Davy Crockett (Disney)(1954-55) starring Fess Parker, Buddy Ebsen
Mr. Smith Goes To Washington (1962-63) starring Fess Parker - Daniel Boone (1964-70) starring Fess Parker
Daniel Boone (1964-70)
Episode Guide compiled by The Classic TV Archive
with contributions by:
references:
TV Guide / Library of Congress (telnet://locis.loc.gov)
Internet Movie Database (https://us.imdb.com)
UCLA Film and Television Archive
Daniel Boone (season 1) (NBC) (1964-1965) - black & white
Daniel Boone (season 2) (NBC) (1965-1966) - color
Daniel Boone (season 3) (NBC) (1966-1967) - color
Daniel Boone (season 4) (NBC) (1967-1968) - color
Daniel Boone (season 5) (NBC) (1968-1969) - color
Daniel Boone (season 6) (NBC) (1969-1970) - color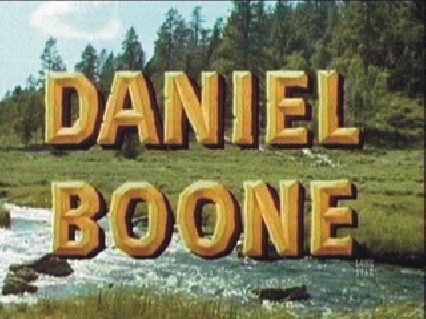 Fespar Enterprises / Arcola Pictures Corporation
20th Century Fox Television
for
NBC (Thursdays 7:30 PM ET)
Produced by Aaron Rosenberg (pilot)
Produced by Vincent M. Fennelly (eps #1 - #11)
Produced by Paul King (eps #12 - #21)
Produced by George Sherman (1965-67)( 1.23 - season 3)
Produced by Barney Rosenzweig (1967-70)(seasons 4-6)

US Western series 1964-70 165 episodes x 60 min (29 bw 136 color)
(6 seasons)
release date 24Sep64
starring
Fess Parker as Daniel Boone (1964-70)
Patricia Blair as Rebecca Boone (1964-70)
Veronica Cartwright as Jemima Boone (1964-66)
Darby Hinton as Israel Boone (1964-70)
*
Albert Salmi as Yadkin (1964-65)(season 1)
Ed Ames as Mingo (1964-68)
Dal McKennon as Cincinnatus (1964-70)
Robert Logan as Jericho Jones (1965-66)
Don Pedro Colley as Gideon (1968-69)
Roosevelt Grier as Gabe Cooper (1969-70)
Jimmy Dean as Josh Clements (1968-70)

recurring cast:
James Wainright as Cully (seasons -late 5&6))(1969-70)

Premise
Adventures of the Frontiersman of revolutionary days .

story editor D.D. Beauchamp
directors included Earl Bellamy, John Florea

music by Paul Sawtell

"Daniel Boone" (theme song) by Vera Matson & Lionel Newman

Daniel Boone was a man. Yes a big man.
With an eye like an eagle and as tall as a mountain was he.
Daniel Boone was a man. Yes a big man.
He was brave he was fearless and as tough as a mighty oak tree

From the coonskin cap on the top of ol Dan to the heel of his rawhide shoe
The rippin'est roarin'est fightin'est man the frontier ever knew.
Daniel Boone was a man. Yes a big man.
And he fought for America to make all Americans free.
What a Boone. What a wonder. What a dream comer truer was he.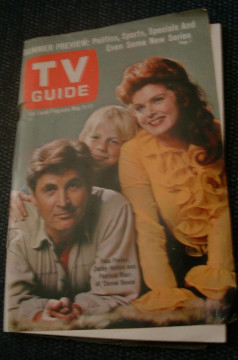 Also see:-
Video - "Daniel Boone, Trail Blazer" (Republic Pictures) (1956 Movie)
starring Bruce Bennett co-starring Lon Chaney, Faron Young
################# Daniel Boone ###############
##############################################
##############################################
Have you any comments, corrections, episode titles, air dates, production numbers, directors, writers, story/synopsis, guest stars, cast lists, etc?
Have you any old videos, or tv guides? Dust them off and let us know if you have any information on this series or any other tv series from the
Golden Age of TV, which is missing from any episode guides on the web. Perhaps a certain episode of a particular series coincided with a key
moment in your life, or in world events - and or has left a vivid memory of when it was shown. Let us know. Would you like to see any other
tv series guides on this site? If so please e-mail The Classic TV Archive - see Feedback below.
This guide may be distributed and copied freely, in its entirety, for personal use. All original author and copyright information must
remain intact. Any sales or other uses of this document are expressly forbidden, without the specific consent of the author(s).
Copyright © The Classic TV Archive. All rights reserved.

Return to The Classic TV Archive Western Page
Return to The Classic TV Archive Home Page