CTVA
The Classic TV Archive - US Western series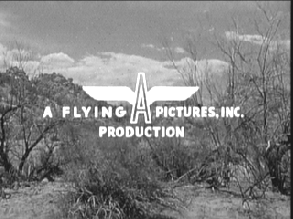 "The Gene Autry Show " (1950-55) "The Range Rider" (1951-53)
"Annie Oakley" (1953-57) "Buffalo Bill Jr." (1955-56)
"Adventures of Champion" (1955-56)
Annie Oakley (1953-57)
Episode Guide compiled by The Classic TV Archive
contributions by: Sal Crisanti, Rina Fox , Louis H. Allgood
references:
TV Guide / Library of Congress (telnet://locis.loc.gov)
Internet Movie Database (https://imdb.com)
UCLA Film and Television Archive / Writers Guild of America (wga)
Annie Oakley (season 1) (Syndicated) (1953-54)
Annie Oakley (season 2) (Syndicated) (1954-55)
Annie Oakley (season 3) (Syndicated) (1955-56)
Annie Oakley (season 4) (Syndicated) (1957)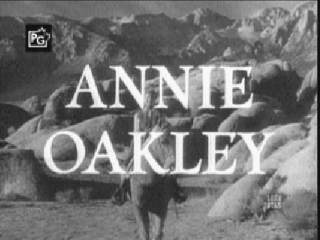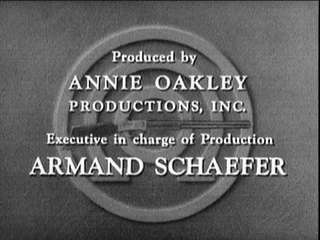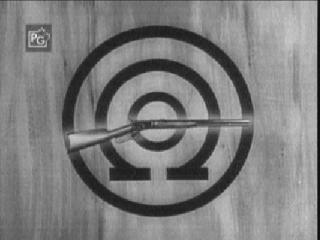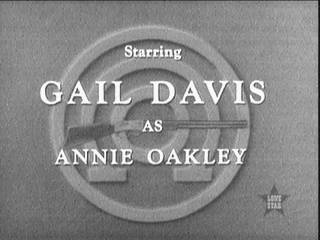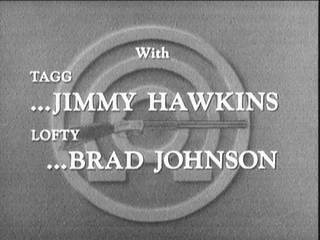 Annie Oakley Productions,Inc.
Produced through the facilities of
Flying 'A' Pictures, Inc. Productions (Gene Autry)
for
First-Run Syndication
Executive in Charge of Production, Armand Schaefer
Executive Producer Louis Gray / Produced by Colbert Clark (verified season 1)
Produced by Louis Gray (later episodes)

US Western series 1953-57 81 episodes x 30 min bw
starring
Gail Davis as Annie Oakley
with:
Jimmy Hawkins as Tagg Oakley, Annie's brother
Brad Johnson as Deputy Sheriff Lofty Craig
Stunts: (some stuntmen also appear in various roles)
Fred Krone (stunts) * Bob Woodward (stunts) * Alice Van Springsteen (stunts)
*
DIRECTORS INCLUDED:
GEORGE ARCHAINBAUD,FRANK MCDONALD,RAY NAZZARO,ROBERT G. WALKER,
D.ROSS LEDERMAN.
*
WRITERS INCLUDED:
ROBERT SCHAEFER AND ERIC FREIWALD(TEAM),PAUL GANGELIN, NORMAN S.HALL,
PAUL FRANKLIN, JOHN K. BUTLER, DWIGHT CUMMINS, JOE RICHARDSON.
*
PHOTOGRAPHY: WILLIAM BRADFORD.
SUPERVISING FILM EDITOR: ANTHONY WOLLNER.
*
ASSISTANT DIRECTOR: BURT GLAZER.
STORY EDITOR: COLBERT CLARK.
MUSIC EDITOR: ERMA E. LEVIN.
*
FILMING LOCATIONS:
MELODY RANCH, WALKER RANCH, CORRIGANVILE, LONE PINE, CALIFORNIA.
Annie Oakley - Original Trailer 1935 staring Barbara Stanwyck
ANNIE OAKLEY & TAGG CARNATION MILK COMMERCIAL.. GAIL DAVIS & JIMMY HAWKINS
ANNIE OAKLEY & TAGG FRISKIES DOG FOOD COMMERCIAL ( 1 ) GAIL DAVIS & JIMMY HAWKINS
ANNIE OAKLEY & TAGG CARNATION ICE CREAM COMMERCIAL
AnnieOakley Parade Part 1 Part 2 part 3 part 4
Annie Oakley (season 1) (Syndicated) (1953-54)
Annie Oakley (season 2) (Syndicated) (1954-55)
Annie Oakley (season 3) (Syndicated) (1955-56)
Annie Oakley (season 4) (Syndicated) (1957)
Annie Oakley (Videos)

################ Annie Oakley ################
##############################################
##############################################
Have you any comments, corrections, episode titles, air dates, production numbers, directors, writers, story/synopsis, guest stars, cast lists, etc?
Have you any old videos, or tv guides? Dust them off and let us know if you have any information on this series or any other tv series from the
Golden Age of TV, which is missing from any episode guides on the web. Perhaps a certain episode of a particular series coincided with a key
moment in your life, or in world events - and or has left a vivid memory of when it was shown. Let us know. Would you like to see any other
tv series guides on this site? If so please e-mail The Classic TV Archive - see Feedback below.
This guide may be distributed and copied freely, in its entirety, for personal use. All original author and copyright information must
remain intact. Any sales or other uses of this document are expressly forbidden, without the specific consent of the author(s).
Copyright © The Classic TV Archive. All rights reserved.

Return to The Classic TV Archive Western Page
Return to The Classic TV Archive Home Page
Feedback - Western Forum