CTVA
The Classic TV Archive - US Music Variety
Showtime, U.S.A. (1950-51)
Sponsors - Dodge
Episode Guide compiled by The Classic TV Archive
with contributions by: Rina Fox
references:
TV Guide / Library of Congress (telnet://locis.loc.gov)
Internet Movie Database (https://us.imdb.com)
UCLA Film and Television Archive

.
Produced by the American National Theatre and Academy (A.N.T.A)
(composed of America's most famous stars of stage, screen and radio as well as TV.)
Producer Vinton Freedley
for
ABC (East Coast) Saturdays 5:00-5:30pm ET (01Oct50-30Dec50)
ABC (East Coast) Sundays 7:30-8:00pm ET (07Jan51-08Jul51)
ABC (West Coast) Fridays (06Oct50-13Jul51)
US Music/Drama series 1950-51 39 episodes x 30 min

Premise:
A program of Broadway oriented entertainment of plays, comedy and music, produced and co-hosted by Vinton Freedley
showing scenes and cast of current Broadway productions.

News Item: March 23, 1951
"Showtime U.S.A." produced by Vinton Freedly, noted successful impressario of many hit musical comedies, reports that
bidding has increased steadily through the winter months.
"Putting together even a half hour show such as 'Showtime' once a week is almost as big a job as producing a musical
comedy which might run a year. The proportionate costs are greater.
"We've had as high as six celebrities on the program for one Sunday night showing. People who would happily have
appeared for $1000 last year just find a thousand reasons not to this year.
"Actually, 'Showtime' is one of the easier shows to produce, I am told, for we do it in the name of the American
National Theater and Academy and there is great goodwill on our behalf.
"But to line up people like Eva Gabor, Bert Lahr, Jean Parker, Pat
O'Brien, Lee Tracy, Celeste Holm, Mata and Hari, Ray Massey, all in the course of a week or so—is tremendous casting."
"Showtime U.S.A." has paid out nearly $100,000 for talent in the last three months, and costs on the air approximately
$1000 a minute, and still isn't the top money show on TV today.
############## Showtime, U.S.A. ##############
############### season 1950-51 ###############
##############################################
ABC (East Coast) Saturdays 5:00-5:30pm ET (01Oct50-30Dec50)
ABC (East Coast) Sundays 7:30-8:00pm ET (07Jan51-08Jul51)
ABC (West Coast) Fridays (06Oct50-13Jul51)
East Coast airing: Syracuse Herald
West Coast airing: Long Beach Independent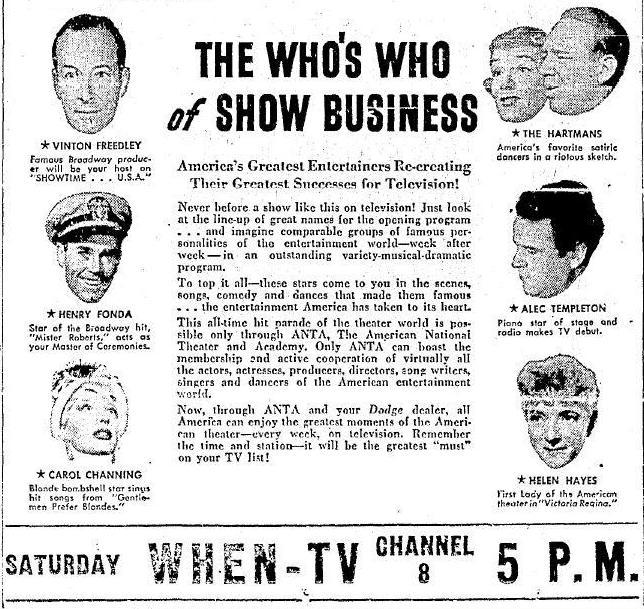 [01] Showtime U.S.A.:
14Oct1950 ABC Sat 5:00pm (East Coast) [Syracuse Herald] [Premiere] (WHEN-TV Ch.8) (see above)
20Oct1950 ABC Fri (West Coast) [Long Beach Independent]
US TV Listings - 1950_10_14_Sat_ShowtimeUSA_SyracuseHerald-Journal_[RF].pdf
starring
Henry Fonda, master of ceremonies
Carol Channing
Helen Hayes
Alec Templeton
Grace Hartman
Paul Hartman
Highlights:
Helen Hayes doing a scene from "Victoria Regina";
Blonde comedienne Carol Channing singing her hit song, "Diamonds Are a Girl's Best Friend";
Grace and Paul Hartman in a sketch from their current Broadway hit "Tickets Please";
and British pianist Alec Templeton playing some top hits.
Plus the chorus from "Kiss Me Kate" and with Henry Fonda as the emcee.
*NOTE: This was Carol Channing's TV debut.

[02] Showtime U.S.A.:
21Oct1950 ABC Sat (East Coast)[Syracuse Herald]
27Oct1950 ABC Sat (West Coast)[Long Beach Independent]
starring
Henry Fonda, master of ceremonies
Thomas Mitchell stage and screen star performs a scene from "Death of a Salesman".
Benny Goodman clarinetist
singer Jane Pickens with The Escourtiers
comedians Jack Pearl and Cliff Hall.
*NOTE: Syracuse Herald lists Brian Aherne as the Master of Ceremonies.

[03] Showtime U.S.A.:
28Oct1950 ABC Sat (East Coast)[Syracuse Herald] (WHEN-TV Ch.8)
03Nov1950 ABC Sat (West Coast)[Long Beach Independent]
US TV Listings - 1950_10_28_Sat_ShowtimeUSA_SyracuseHerald-Journal_[RF].pdf
starring
Faye Emerson, mistress of ceremonies
Ken Murray
Margaret Phelan
Hugh Williams and Margaret Phillips in a scene from "The Cocktail Party".

[04] Showtime U.S.A.:
04Nov1950 ABC Sat (East Coast)[Syracuse Herald]
10Nov1950 ABC Fri (West Coast)[Long Beach Independent]
starring
Basil Rathbone, master of ceremonies
stage actress Gertrude Lawrence
comedian Henry Morgan
Parisienne singer Edith Piaf

[05] Showtime U.S.A.:
11Nov1950 ABC Sat (East Coast)[Syracuse Herald]
17Nov1950 ABC Fri (West Coast)[Long Beach Independent]
starring
Reginald Gardiner, master of ceremonies
Judith Anderson of the stage will play a role in which she has been acclaimed by critics the world over, that of
the sleepwalking scene from "Macbeth."
stage actress-dancer Carol Bruce
musical comedy star Avon Long who sings "It Ain't Necessarily So".

[06] Showtime U.S.A.:
18Nov1950 ABC Sat (East Coast)[Syracuse Herald]
24Nov1950 ABC Fri (West Coast)[Long Beach Independent]
starring
Faye Emerson mistress of ceremonies
Ethel Waters who plays Beulah for TV, will sing "Cabin in the Sky" and "Taking a Chance on Love".
Richard Whorf and Anthony Ross will present a comedy scene.
comic Jan Murray
eccentric dancer Hal LeRoy.

[07] Showtime U.S.A.:
25Nov1950 ABC Sat (East Coast)[Syracuse Herald]
01Dec1950 ABC Fri (West Coast)[Long Beach Independent]
starring
singer Ella Logan
comic actor Victor Moore
singer Dwight Fiske
Beulah Bondi and Jessica Tandy both of current Broadway successes.

[08] Showtime U.S.A.:
02Dec1950 ABC Sat (East Coast)[Syracuse Herald]
08Dec1950 ABC Fri (West Coast)[Long Beach Independent]
starring
Sir Cedric Hardwicke
Edward Everett Horton
Lee Bowman
Hank Ladd
Duke Ellington
Frances Langford
George E. Price
Peggy Wood.
Highlights:
"If Men Played Cards as Women Do" a comedy sketch starring Sir Cedric Hardwicke, Edward Everett Horton, Lee Bowman
and Hank Ladd.
*NOTE: In connection with "Showtime USA" a report from Arthur Schwartz, producer of the Broadway play "Hilda Crane"
that after a scene from the play was enacted on Showtime, hundreds of ticket purchasers showed up to get reservations
for "that" play we saw on TV.

[09] Showtime U.S.A.:
09Dec1950 ABC Sat (East Coast)[Syracuse Herald]
15Dec1950 ABC Fri (West Coast)[Long Beach Independent]
starring
Douglas Fairbanks Jr., master of ceremonies
Patricia Morrison (current star for her singing in "Kiss Me Kate")
comedians Jackie Gleason and Claude Stroud
Broadway actresses Peggy Wood and Leonora Corbett.
Fairbanks acts in a scene from "Blithe Spirit".

[10] Showtime U.S.A.:
16Dec1950 ABC Sat (East Coast)[Syracuse Herald]
22Dec1950 ABC Fri (West Coast)[Long Beach Independent]
starring
Veronica Lake, mistress of ceremonies
Ray Middleton singing star of "South Pacific"
comedienne Brenda Forbes
comedian Buddy Lester
stage and screen stars Paul Kelly and Uta Hagen.

[11] Showtime U.S.A.:
23Dec1950 ABC Sat (East Coast)[Syracuse Herald]
29Dec1950 ABC Fri (West Coast)[Long Beach Independent]
starring
Ronald Reagan, master of ceremonies
Ilona Massey
comedian Bert Wheeler
Helen Hayes, Gertrude Lawrence and Admiral William Halsey will launch the 1951 American Red Cross drive for urgently
needed blood plasma on Showtime USA.
*NOTE: Lowell Sun December 12, 1950.
Originally, "Showtime" was terribly cluttered with introductions. Vinton Freedley would introduce Basil Rathbone, who
would then introduce Edith Piaf.
Now, Mr. Freedley, dressed in white tie and tails and easily the most elegantly-garbed emcee on television handles the
job all by himself. His introductions are marked by a reverence which seems a little excessive, "I have the honor of
presenting - Ronald Reagan". (Reporter replies, "I don't think Mr. Reagan is entitled to quite so much homage.")

[12] Showtime U.S.A.:
30Dec1950 ABC Sat (East Coast)[Syracuse Herald]
05Jan1951 ABC Fri (West Coast)[Long Beach Independent]
starring
Gladys Swarthout, mistress of ceremonies
actor Lee Bowman
actress Audrey Christie
Diana Herbert appear in a scene from the comedy hit "For Love or Money".

---------------------------------------------------------------------------------------
*NOTE: Showtime U.S.A. moves to air Sundays effective January 7, 1951 on the East Coast.
and Fridays at 8:30 on the West Coast.
----------------------------------------------------------------------------------------

[13] Showtime U.S.A.:
07Jan1951 ABC Sun (East Coast)[Syracuse Herald]
12Jan1951 ABC Fri (West Coast)[Long Beach Independent]
starring
Broadway actress Nancy Kelly
stage and screen actor Walter Hampden
violinist Isaac Stern
singer Pearl Bailey
comedian Wally Cox (as Walter Cox).
Highlights:
"The First Christmas Story" will get a dramatic reading by Walter Hampden, famed stage star.
Pearl Bailey sings "Frankie and Johnnie".

[14] Showtime U.S.A.:
14Jan1951 ABC Sun (East Coast)[Syracuse Herald]
19Jan1951 ABC Fri (West Coast)[Long Beach Independent]
starring
stage and screen star Gloria Swanson
Opera star Lauritz Melchoir
stage and screen actor Jose Ferrer
Betty and Jane Kean, The Kean Sisters.
Highlights:
Gloria and Jose will do a scene from the comedy "Twentieth Century".
Melchoir sings.
The Kean Sisters do a comedy routine.

[15] Showtime U.S.A.:
21Jan1951 ABC Sun (East Coast)[Syracuse Herald]
26Jan1951 ABC Fri (West Coast)[Long Beach Independent]
starring
Beatrice Kaye, mistress of ceremonies
guitarist Andre Segovia
comedian Henny Youngman
actor Oscar Karlweis
actresses Lucille Watson and Stella Andrew.

[16] Showtime U.S.A.:
28Jan1951 ABC Sun (East Coast)[Syracuse Herald]
02Feb1951 ABC Fri (West Coast)[Long Beach Independent]
starring
actress Ruth Hussey, mistress of ceremonies
Peggy Ann Garner
Jarmila Novotna
The Ink Spots
Clive Brook and Margaret Phillips in a scene from the Broadway show "Second Threshold".
LIFE magazine cover girl of this week Betsy von Furstenberg.
Ruth Hussey performs a scene from "The Royal Family" with Peggy Ann Garner.

[17] Showtime U.S.A.:
04Feb1951 ABC Sun (East Coast)[Syracuse Herald]
09Feb1951 ABC Fri (West Coast)[Long Beach Independent]
starring
playwright Moss Hart
actors Pat O'Brien
and Lee Tracy

[18] Showtime U.S.A.:
11Feb1951 ABC Sun (East Coast)[Syracuse Herald]
16Feb1951 ABC Fri (West Coast)[Long Beach Independent]
starring
dancing stars Vera Zorina and Hugh Laing
comedians Phil Silvers and Joey Faye
stage and film actor Bert Lahr with Jean Parker.

[19] Showtime U.S.A.:
18Feb1951 ABC Sun (East Coast)[Syracuse Herald]
23Feb1951 ABC Fri (West Coast)[Long Beach Independent]
starring
actress Eva Gabor, mistress of ceremonies
actor John Garfield
impressionist Florence Desmond
singer Johnny Johnston
the dance team of Michael Evans and Georgana Cookson perform a tango.
Mildred Dunnock in a scene from "Peer Gynt".
*NOTE: This was John Garfield's TV debut.

[20] Showtime U.S.A.:
25Feb1951 ABC Sun (East Coast)[Syracuse Herald]
02Mar1951 ABC Fri (West Coast)[Long Beach Independent]
starring
Celeste Holm, mistress of ceremonies
Raymond Massey gives his reading of Lincoln's Gettysburg Address
French singer Jean Sablon
dance team of Mata and Hari

[21] Showtime U.S.A.:
04Mar1951 ABC Sun (East Coast)[Syracuse Herald]
09Mar1951 ABC Fri (West Coast)[Long Beach Independent]
starring
Eva Gabor, mistress of ceremonies
comic Ben Blue
singer Dick Haymes
actor Ernest Truex and his wife actress Sylvia Field.

[22] Showtime U.S.A.:
11Mar1951 ABC Sun (East Coast)[Syracuse Herald]
16Mar1951 ABC Fri (West Coast)[Long Beach Independent]
starring
Eva Gabor returns as mistress of ceremonies
Beatrice Kay
Buster Keaton
Paul McGrath and Dorthy Stickney perform a scene from the Broadway show "The Small Hours".

[23] Showtime U.S.A.:
18Mar1951 ABC Sun (East Coast)[Syracuse Herald]
23Mar1951 ABC Fri (West Coast)[Long Beach Independent]
starring
comedian Joe E. Brown
The King Cole Trio
Eddie Dowling and Joan McCracken do a dramatic scene from the Broadway hit, "Angel in the Pawnshop".

[24] Showtime U.S.A.:
25Mar1951 ABC Sun (East Coast)[Syracuse Herald]
30Mar1951 ABC Fri (West Coast)[Long Beach Independent]
starring
Vinton Freedley emcee
pianist Hazel Scott
comedian Jack Carson
singer-actor Robert Alda
actress Betty Field
actor Dane Clark

[25] Showtime U.S.A.:
01Apr1951 ABC Sun (East Coast)[Syracuse Herald]
06Apr1951 ABC Fri (West Coast)[Long Beach Independent]
starring
Anne Jeffreys
Edward Everett Horton
Ted Scott
Haila Stoddard

[26] Showtime U.S.A.:
08Apr1951 ABC Sun (East Coast)[Syracuse Herald]
13Apr1951 ABC Fri (West Coast)[Long Beach Independent]
starring
"The Green Pastures" starring
William Marshall
Ossie Davis
featuring the Hall Johnson Choir.

[27] Showtime U.S.A.:
15Apr1951 ABC Sun (East Coast)[Syracuse Herald]
20Apr1951 ABC Fri (West Coast)[Long Beach Independent]
starring
Beatrice Lillie
Bill Tabbert
Dennis King

[28] Showtime U.S.A.:
22Apr1951 ABC Sun (East Coast)[Syracuse Herald]
27Apr1951 ABC Fri (West Coast)[Long Beach Independent]
starring
Olivia DeHavilland
comedians Smith and Dale
singer Dorothy Sarnoff
Highlights:
Olivia DeHavilland performs a scene from her current Broadway show "Romeo and Juliet".
*NOTE: This was two-time Academy Award winner Olivia DeHavilland's TV debut. She won her "Oscars" for
"To Each His Own" and "The Heiress".

[29] Showtime U.S.A.:
29Apr1951 ABC Sun (East Coast)[Syracuse Herald]
04May1951 ABC Fri (West Coast)[Long Beach Independent]
starring
The road company for "The Moon is Blue" will appear in a scene from the Broadway stage hit.
Leon Ames
Murray Hamilton
Maggie McNamara
and director Otto Preminger.

[30] Showtime U.S.A.:
06May1951 ABC Sun (East Coast)[Syracuse Herald]
11May1951 ABC Fri (West Coast)[Long Beach Independent]
starring
Arthur Treacher
singer Margaret Whiting
comedy trio The Mademoiselles.
Highlights:
Arthur Treacher appears in a scene from "Clutterbuck".

[31] Showtime U.S.A.:
13May1951 ABC Sun (East Coast)[Syracuse Herald]
18May1951 ABC Fri (West Coast)[Long Beach Independent]
starring
Opera singer Rise Stevens
actress Joan Bennett
actor John Loder

[32] Showtime U.S.A.:
20May1951 ABC Sun (East Coast)[Syracuse Herald]
25May1951 ABC Fri (West Coast)[Long Beach Independent]
starring
Cornelia Otis Skinner
Martha Scott
Andy and Della Russell
Highlights:
Playwright Thornton Wilder will appear with Martha Scott in a scene from his Pulitzer Prize winning "Our Town".

[33] Showtime U.S.A.: GRAMERCY GHOST
27May1951 ABC Sun (East Coast)[Syracuse Herald]
01Jun1951 ABC Fri (West Coast)[Long Beach Independent]
starring
Sarah Churchill
Robert Sterling
Mindy Carson
Ken Murray
Synopsis:
A scene from the play "Gramercy Ghost".
*NOTE: West Coast airing is June 1, 1951 a week behind the East Coast airing.

[34] Showtime U.S.A.:
03Jun1951 ABC Sun (East Coast)[Syracuse Herald]
08Jun1951 ABC Fri (West Coast)[Long Beach Independent]
starring
Melvyn Douglas
Jack Carson
singer Mildred Bailey (is known as the famous "Rocking Chair Lady" of song.)
The Honey Brothers

[35] Showtime U.S.A.:
10Jun1951 ABC Sun (East Coast)[Syracuse Herald]
15Jun1951 ABC Fri (West Coast)[Long Beach Independent]
starring
Juanita Hall star of "South Pacific" sings "Bali Ha'i".
Betty and Jane Kean
Brian Aherne
Mary Boland

[36] Showtime U.S.A.:
17Jun1951 ABC Sun (East Coast)[Syracuse Herald]
22Jun1951 ABC Fri (West Coast)[Long Beach Independent]
starring
actor Charles Coburn
singer Georgia Gibbs
comedian Professor Irwin Corey

[37] Showtime U.S.A.:
24Jun1951 ABC Sun (East Coast)[Syracuse Herald]
29Jun1951 ABC Fri (West Coast)[Long Beach Independent]
starring
actor Todd Duncan
actress Muriel Rhan
Synopsis:
Scenes from "Oklahoma!" and "Porgy and Bess" are featured.
Toddy Duncan and Muriel Rhan perform a scene from "Porgy and Bess".

[38] Showtime U.S.A.:
01Jul1951 ABC Sun (East Coast)[Syracuse Herald]
06Jul1951 ABC Fri (West Coast)[Long Beach Independent]
starring
Carol Bruce
William Gaxton
Adele Astaire
Cliff Edwards
Constance Carpenter
Billie Worth

[39] Showtime U.S.A.: (Last show of the series)
08Jul1951 ABC Sun (East Coast)[Syracuse Herald]
13Jul1951 ABC Fri (West Coast)[Long Beach Independent]
starring
Melville Cooper
Stephen Douglas

############### Showtime, U.S.A. #############
################## the end #################
##############################################
Have you any comments, corrections, episode titles, air dates, production numbers, directors, writers, story/synopsis, guest stars, cast lists, etc?
Have you any old videos, or tv guides? Dust them off and let us know if you have any information on this series or any other tv series from the
Golden Age of TV, which is missing from any episode guides on the web. Perhaps a certain episode of a particular series coincided with a key
moment in your life, or in world events - and or has left a vivid memory of when it was shown. Let us know. Would you like to see any other
tv series guides on this site? If so please e-mail The Classic TV Archive - see Feedback below.
This guide may be distributed and copied freely, in its entirety, for personal use. All original author and copyright information must
remain intact. Any sales or other uses of this document are expressly forbidden, without the specific consent of the author(s).
Copyright © The Classic TV Archive. All rights reserved.

Return to The Classic TV Archive Home Page
Feedback - MusicVariety Forum