CTVA
The Classic TV Archive - US Music Variety


Fanfare (CBS)( Summer 1965)
Episode Guide compiled by The Classic TV Archive
with contributions by: Rina Fox [Uploaded July 2020]
references:
TV Guide / Library of Congress (telnet://locis.loc.gov)
Internet Movie Database (https://us.imdb.com)
UCLA Film and Television Archive / Writers Guild of America (wga)

--------------
FANFARE
--------------
CBS

US Music Variety Series Summer 1965 12 Shows x 60 min
(19-Jun-1965 to 04-Sep-1965)

Host: Al Hirt
Regulars:
The Mort Lindsey Orchestra
The Don McKayle Dancers

(Summer replacement for "The Jackie Gleason Show").

Premise:
A slick, musical potpourri with a format not unlike that of Ed Sullivan's.

################### Fanfare ##################
################ Summer 1965 ###############
##############################################
CBS Saturdays 7:30-8:30pm

[01] Fanfare [Premiere]
19Jun1965 CBS Sat
Host Al Hirt
Guests
ventriloquist Shari Lewis
singer Eydie Gorme
cellist Leonard Rose
trumpeter Carole Reinhart
singer Eddy Rambeau
and folk ministrels The Traveling Three.
Highlights:
Shari Lewis sings "Real Live Girl" and
waltzes with Eydie Gorme to "Shall We Dance?"

[02] Fanfare
26Jun1965 CBS Sat [San Francisco Examiner]
Host Al Hirt
Guests
Opera star Eileen Farrell
comedian Bill Dana
singer Jody Miller
and pianist Neil Wolfe.
Highlights:
Eileen Farrell with a solo interpretation of Puccini's "O Mio Bambino Cara".
She also joins Al Hirt in a medley of "'Tain't What You Do", "Shrimp Boat",
and "South Rampart Street Parade".
Bill Dana as Jose Jiminez delivers a lecture on musical instruments.
Jody Miller sings "I'll Walk the Line".
Al Hirt plays "Java", "Ja Da" and "Way Down Yonder in New Orleans" on the trumpet.
Pianist Neil Wolfe plays "Summertime" and his own "Gospel Waltz".

[03] Fanfare
03Jul1965 CBS Sat [Orlando Sentinel][Albuquerque Journal]
Host Al Hirt
Guests
TV personality Steve Allen
entertainer Tessie O'Shea
Country & Western performers Homer and Jethro
singers Damita Jo
and Frankie Randall
and The Dick Williams Kids.
Highlights:
Tessie O'Shea sings "You Make Me Feel So Young" and
a medley of music hall turnes while Steve Allen sings
and plays the piano.
Damita Jo sings "Love Is Here to Stay".
Steve Allen's "Sweet Sue" on the tuba, bits and pieces of his question
man routine, a commercial pitchman during a late night movie and
a chopstick medley of popular songs.
Al Hirt's trumpet solos with "And the Angels Sing" and "Jazzy Blues".
Frankie Randall sings "Mimi" and "Yellow Haired Woman".
The Ancient Fifte and Drum Corps offer a Fourth of July medley.

[04] Fanfare
10Jul1965 Sat [Sacramento Bee]
Host Al Hirt
Guests
Roberta Sherwood
Bobby Rydell
comedian Jackie Vernon
singer Peggy March
pianist Big Tiny Little
The Bitter End Singers
and The Muppets.
Highlights:
Al Hirt on his trumpet plays "Sugar Lips", "Fancy Pants" and "Al's Place".
Bobby Rydell sings "Hello, Young Lovers" and "The Joker".
Roberta Sherwood sings "Old Man Time" and "Up a Lazy River".
Peggy March sings "I Will Follow Him".
Big Tiny Little plays "Ol' Man River" and "Spaghetti Rag".

[05] Fanfare
17Jul1965 Sat [Battle Creek Enquirer] [Arizona Daily Star]
Host Al Hirt
Guests
clarinetist Pee Wee Spitelera
comedian Charlie Manna
Jazz pianist Erroll Garner
singer Teresa Brewer
The Lettermen
Jackie and Gayle
and singer-guitarist Jose Feliciano.
Highlights:
Al Hirt solos with "Let's Do It".
Pee Wee Spitelera with a clarinet solo to "Tin Roof Blues".
Teresa Brewer sings "Cornet Man" from "Funny Girl" with host
Al Hirt accompanying her.
Charlie Manna comedy routine about an operatic barber
talking to his customers.
Jazz pianist Erroll Garner performs "Sonny Boy", "Misty" and "Where or When".
Erroll Garner joins his jazz trio with a swinging arrangement of "Lover".
The Lettermen offer "A Summer Place".

[06] Fanfare
24Jul1965 Sat [Orlando Evening Star][Edwardsville Intelligencer]
Host Al Hirt
Guests
musician Lionel Hampton and his band
ventriloquist Shari Lewis
singer-actor Don Francks
singer Barbara McNair
impressionist Rich Little
singer Bruce Scott
and the Travelers 3.
Highlights:
Shari Lewis appears in a song and dance version of
"On a Wonderful Day Like Today" and with Hirt, repeats
"Real Live Girl" the two sang on the premiere show.
Hirt and his combo present "Easy Street" and Hirt joins
guests Lionel Hampton and Rich Little for "People".
Barbara McNair and the Don McKayle Dancers do
"Children, Go Where I Send Thee".
Lionel Hampton and his band do "Jazzland".
Don Francks belts out "My Romance".
Barbara McNair solos with "This Could Be the Start of Something Big".

[07] Fanfare
31Jul1965 Sat [Indianapolis Star]
Host Al Hirt
Guests
singer Tom Jones
Leslie Gore
comedienne Minnie Pearl
comedian Bob Lewis
The Muppets
and folksingers The Collins Kids.
Highlights:
Tom Jones sings "What's New Pussycat", "Worried Man" and "It's Not Unusual".
Leslie Gore sings "Sunshine, Lollipops and Rainbows" and
a medley of "fool" titled songs ("Fools Rush In" etc.)
Tijuana Brass perform the "Mexican Shuffle".
Minnie Pearl's "Columbus Stockade".

[08] Fanfare
07Aug1965 Sat [Edwardsville Intelligencer]
Host Al Hirt
Guests
Opera star Anna Moffo
satirist Stan Freberg
singer Gene Pitney
Chad and Jeremy
dancers Edward Villella
and Patricia McBride
singer Dionne Warwick
harpist Robert Maxwell
and Jazz pianist Willie "The Lion" Smith.
Highlights:
Anna Moffo sings "Sempre Libera" from Verdi's La Traviata
and "Italian Street Song".
Chad and Jeremy perform "Before and After".
Dancers Edward Villella and Patricia McBride
with a pas de deux from "Swan Lake".
Robert Maxwell on the harp plays "Shangri-La".
Pianist Willie "The Lion" Smith plays "Nagasaki".
Stan Freberg tries "Rock Island Line" with Al Hirt.

*Note: This was originally scheduled to be the
second in the series.

[09] Fanfare
14Aug1965 Sat [Edwardsville Intelligencer][Charleston Daily]
Host Al Hirt
Guests
singer Liza Minnelli
comedian Jackie Vernon
Little Anthony and the Imperials
singer-songwriter Johnny Tillotson
Japanese group The Tokyo Happi Coats
violinist James Oliver Buswell IV
and pianist Fred Crane.
Highlights:
Liza Minnelli dances the Strut accompanied by the
Donald McKayle Dancers and belts out her version
of "Wait Till You See Him" and "Nobody Knows When
You're Down and Out".
Little Anthony and the Imperials offer "Going Out of My Mind".
James Oliver Buswell IV plays Chopin's Polonaise Brilliante in D Major.
Fred Crane with Hirt's own musical group present "Bluesette".
Hirt and his instrumental group play "Begin the Beguine".

[10] Fanfare
21Aug1965 Sat [News Journal] [Fort Lauderdale News]
Host Al Hirt
Guests
singer Sergio Franchi
songstress Linda Bennett
comedian Johnny Brown
musician George Young
The Ronettes
The Muppets
and The Highwaymen.
Highlights:
Sergio Franchi sings "Take the Moment" from "Do I Hear a Waltz?"
and "It Only Takes a Moment" from "Hello, Dolly!".
He also lends his French accents to "Chicago".
Linda Bennett sings "Nobody's Baby".
The Highwaymen perform "La Bamba".
Al Hirt plays "Poor Butterfly" and his trademark "Java" which
is used for a dance executed by the Muppets.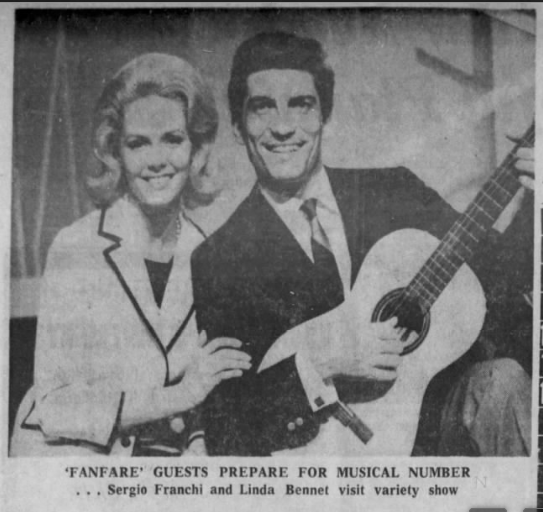 [11] Fanfare
28Aug1965 Sat [News Journal]
Host Al Hirt
Guests
singer-actress Sally Ann Howes
comedy team Marty Allen and Steve Rossi
singer Mary Wells
Country singer Leroy Van Dyke
and pianist Lee Evans.
Highlights:
Hirt performs a trumpet solo of "September Song" and joins his
New Orleans musical group for a robust rendition of "Fidgety Feet" and "Walkin'".
Allen and Rossi offer a spy routine.
Sally Ann Howes sings "Let's Face the Music and Dance" and
"Falling in Love with Love".
Mary Wells sings "Me Without You".
Leroy Van Dyke performs "You Don't Have to Be a Baby to Cry".
Pianist Lee Evans plays "Teacher's Blues".

[12] Fanfare [Final Show]
04Sep1965 Sat [Edwardsville Intelligencer]
Host Al Hirt
Guests
singers Mel Torme
and Ethel Ennis
trumpeter Carole Reinhart
saxophonist Boots Randolph
comic John Byner
and the singing Dick Williams Kids.
Highlights:
Mel Torme and Ethel Ennis join Al Hirt in a medley
of road tunes, "Far Away Places", "South of the Border",
and "I Love Paris".
Carole Reinhart joins Hirt in "Holiday for Trumpets".
Boots Randolph performs "Oh, Lonesome Me".
################### Fanfare ##################
################## the end #################
##############################################
Have you any comments, corrections, episode titles, air dates, production numbers, directors, writers, story/synopsis, guest stars, cast lists, etc?
Have you any old videos, or tv guides? Dust them off and let us know if you have any information on this series or any other tv series from the
Golden Age of TV, which is missing from any episode guides on the web. Perhaps a certain episode of a particular series coincided with a key
moment in your life, or in world events - and or has left a vivid memory of when it was shown. Let us know. Would you like to see any other
tv series guides on this site? If so please e-mail The Classic TV Archive - see Feedback below.
This guide may be distributed and copied freely, in its entirety, for personal use. All original author and copyright information must
remain intact. Any sales or other uses of this document are expressly forbidden, without the specific consent of the author(s).
Copyright © The Classic TV Archive. All rights reserved.

Return to The Classic TV Archive Home Page
Feedback - MusicVariety Forum