CTVA
The Classic TV Archive - US Music Variety - Sponsors
The Jackie Gleason Show (1952-70)
Away We Go (Summer 1967)
Episode Guide compiled by The Classic TV Archive
with contributions by: Rina Fox, Tom Alger [Uploaded Dec-2019]
references:
TV Guide / Library of Congress (telnet://locis.loc.gov)
Internet Movie Database (https://us.imdb.com)
UCLA Film and Television Archive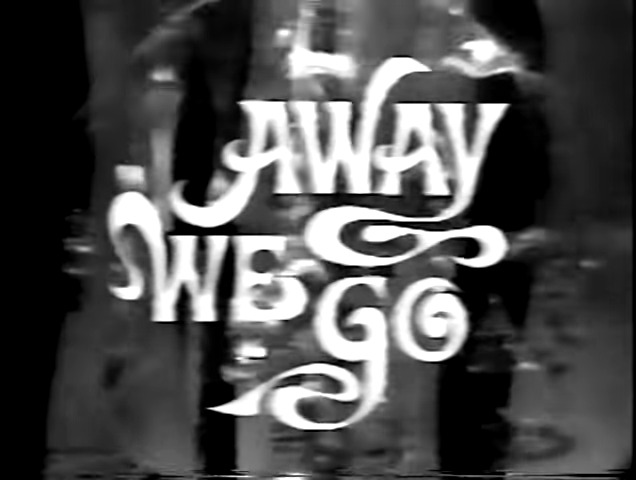 Produced by AWC Productions
for
CBS
Producer Ronald Wayne
Associate Producer William Larsen
Written by Jay Burton
Art Director Don Roberts
Costumes George Whitaker
Assistant to the Producer Nancy Henson

Co-hosts George Carlin and Buddy Greco
with
Buddy Rich and the Buddy Rich Orchestra
and The Miriam Nelson Dancers.

US Music Variety show Summer 1967 14 shows x 60 min

Summer replacement for "The Jackie Gleason Show".

Premise: George Carlin does humorous monologues and joins
Greco and Rich and guests in comedy sketches.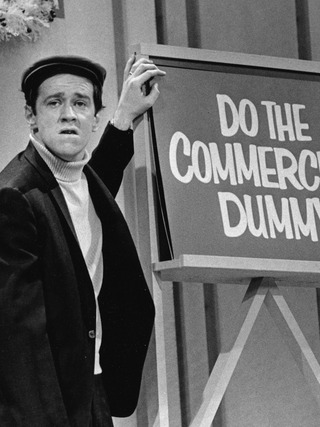 ################ Away We Go #################
################ Summer 1967 ##############
##############################################
CBS Saturdays 7:30-8:30pm (03Jun1967 to 02Sep1967)

[01] Away We Go [Premiere]
03Jun1967 CBS Sat
Guests
singer-actress Sheila MacRae
Highlights:
Greco, Carlin and Rich, with the Miriam Nelson Dancers open the show with "I Love Being Here With You"
George does a monologue as an Indian warrior addressing his braves in the style of an army sergeant.
Sheila MacRae sings and dances to "A Salute to a Stool".
Sheila and Buddy Greco duet with "A Man and a Woman" theme music from the film of the same name.
An award show parody includes impersonations by Sheila MacRae of Eva Gabor, Barbra Striesand and Carol Channing.
Buddy Greco sings "I Will Wait for You" and "What the World Needs Now".
Buddy Rich on drums with the orchestra performs "Norwegian Wood" and "Bugle Call Rag".
Finale: All join in for "Life is a Cabaret".

[02] Away We Go
10Jun1967 CBS Sat
Guests
singer Lana Cantrell
comedy team Skiles and Henderson
Highlights:
Lana Cantrell sings "Nothing Can Stop Me Now" and "Stay."
Buddy Greco sings a medley ("How Insensitive," "So Nice" and "A Day in the Life of a Fool").
Buddy Greco sings "Slaughter on Tenth Avenue" with the Miriam Nelson dancers.
Lana Cantrell, Buddy Greco, George Carlin and Buddy Rich - "Around the World."
https://www.youtube.com/watch?v=QUOHoMGb2K4
[03] Away We Go
17Jun1967 CBS Sat
Guests
singer Joanie Sommers
impressionist David Frye.
Highlights:
Buddy Greco, George Carlin, and Buddy Rich open the show with "I Love Being Here With You" (with the Miriam Nelson Dancers).
Joanie Sommers sings "Trains, Boats and Planes" and "I'm All Smiles."
Buddy Greco sings "Love's Gonna Live Here," "Georgy Girl" and "Sunny" (with dancers).
For the finale, the entire cast does a "Thoroughly Modern Millie" production number.
Comedy:
Joanie Sommers and George Carlin sing "Two Lost Souls" in a sketch spoofing blind dates.
In a radio station sketch, George Carlin plays a fast-talking DJ, with Greco & Rich as the station's reporters.

[04] Away We Go
24Jun1967 CBS Sat
Guests
comedian Richard Pryor
singer Taro Delphi
and The Teddy Neeley Five.
Highlights:
Taro Delphi sings a medley including "Something Wonderful", "Bound to Fly" and "Can't Help Loving That Man of Mine".
Buddy Greco sings "Born Free," "Goin' Out of My Head" & "Feeling Good".
George Carlin, Buddy Greco and Buddy Rich do "It Was a Very Good Year".

[05] Away We Go
01Jul1967 CBS Sat
Guests
singer Mary Grover
Spanky and Our Gang.
Highlights:
Spanky and Our Gang do "Blues My Naughty Sweetie Gives to Me" and "Sunday Will Never Be the Same".
Mary Grover sings "What Makes Me Love Him?" and "The Sweetest Sound".
Buddy Rich performs "Willowcrest".

[06] Away We Go
08Jul1967 CBS Sat
Guests
singers Susan Barrett
Hal Frazier
and Cathy Rich (Buddy's daughter).

[07] Away We Go
15Jul1967 CBS Sat
Guests
singer Carmen McRae
Highlights:
Carmen McRae sings "Here's That Rainy Day," "Got to Get You Into My Life" & "Haven't We Met?"

[08] Away We Go
22Jul1967 CBS Sat
Guests
comedy team Patchett & Tarses (Tom Patchett and Jay Tarses)
Highlights:
Buddy Rich and his Orchestra demonstrate the big band sound in a rhythmic opening entitled "Only the Greatest".
Buddy Rich shows off his percussion ability while the dancers perform in a special arrangement of theme of "West Side Story".
Patchett and Tarses do a sketch on old movies and a satire on auto dealers.
Carlin, Rich and Buddy Greco perform "Nothing Like a Dame".
https://www.youtube.com/watch?v=pVaftsLh_0E
[09] Away We Go
29Jul1967 CBS Sat
Guests
singer Kaye Stevens
and Hines, Hines and Dad.
Highlights:
Greco and Rich perform "The Rotten Kid".
Kaye sings "That's Life" and "Keep Smilin' at Trouble".
Hines, Hines, and Dad perform "You're Just in Love", from the show "Call Me Madam".
George Carlin does a monologue on Robin Hood.

[10] Away We Go
05Aug1967 CBS Sat
Guests
singer-actress Michele Lee
and The Blossoms.
Highlights:
Buddy Greco sings "All or Nothing At All".
Michele Lee sings "Everybody Loves My Baby" and "I Believe in You".
The Blossoms perform "Somewhere" and "Dancing in the Streets".
Buddy Greco sings "Your Cheatin' Heart" and "Cold, Cold Heart".
Buddy Rich & band do "Mexicali" & "Here Comes Charlie".
Finale: Buddy Greco, Michele Lee, Buddy Rich and the Orchestra do a medley with "Million Dollar Baby",
"Heatwave", "One for My Baby", "Three Little Fishies" and "On a Clear Day".
https://www.youtube.com/watch?v=5jwSHYO7spY
[11] Away We Go
12Aug1967 CBS Sat
Guests
singer Grace Markay
and comedian Charlie Manna.
Highlights:
Grace Markay sings "Alfie" and "What the World Needs Now."
Buddy Greco sings "Come Back to Me" and a "Sherry"/"Cherry" medley.
On piano, Greco performs "A Walk in the Black Forest" and "Who Can I Turn To?"
Comedy:
In a comedy monologue, Charlie Manna sings "Granada" and gives his interpretation of the song's history.
George Carlin plays "The Great Carlini," a hippie mystic.
Door-to-door salesman Buddy Greco tries to sell cosmetics to a beatnik couple (Carlin and series dancer Bonnie Evans).
Finale: Pianist Dick Palumbi joins Grace Markay, Charles Manna, Carlin and Greco for a medley of Summer songs
("Summertime," "Up a Lazy River," "Mountain Greenery," "In the Good Old Summertime," etc.)

[12] Away We Go
19Aug1967 CBS Sat
Guests
comedian-musician Pete Barbutti
and singer Sallie Blair.
Highlights:
Sallie Blair sings "You've Got Your Troubles" and "Where Am I Going?"
Pete Barbutti and Buddy Greco perform a medley ("Alone Together," "The More I See You" and "That Face").
Buddy Greco sings "I Had a Ball."
The Miriam Nelson Dancers perform a "Let's Dance" routine.
The regulars and guests appear in an "Everybody Ought to Have a Maid" musical sketch.
Comedy:
George Carlin does a monologue about an officer inside the famous Trojan horse.

[13] Away We Go
26Aug1967 CBS Sat
Guests
comedian Rodney Dangerfield
and The Fifth Dimension.
Highlights:
The Fifth Dimension perform "Go Where You Wanna Go", "California My Way" and "Up, Up and Away".
Buddy Greco sings "Real Live Girl" and "Music to Watch Girls By" and "Somewhere" medley with the Miriam Nelson dancers.
Buddy Greco plays "Autumn Leaves" on the piano.
Comedy segments:
Rodney Dangerfield does a fast-paced monologue.
George Carlin portrays the "Hippie-Dippie Weatherman."
A hipster (George Carlin) gives his version of "Jack and the Beanstalk."
Announcer Buddy Greco talks with Congolia Breckenridge (George Carlin), an octogenarian who gives advice to the lovelorn.
Finale:
Co-hosts Buddy Greco and George Carlin sing "Brush Up Your Shakespeare" in a production number with dancers.

[14] Away We Go [Final Show]
02Sep1967 CBS Sat
Guests
Sheila MacRae
and theTeddy Neeley Five.
Highlights:
Teddy Neeley sings "If She Walked into My Life".
The Teddy Neeley Five perform "Contact".
Sheila MacRae sings "San Francisco".
Sheila and Buddy Greco duet to "The Honeymoon Is Over".
Buddy Greco sings "Away We Go", "She Loves Me", "The Lady's In Love With You" and "I Love You".

################ Away We Go #################
################## the end #################
##############################################
Have you any comments, corrections, episode titles, air dates, production numbers, directors, writers, story/synopsis, guest stars, cast lists, etc?
Have you any old videos, or tv guides? Dust them off and let us know if you have any information on this series or any other tv series from the
Golden Age of TV, which is missing from any episode guides on the web. Perhaps a certain episode of a particular series coincided with a key
moment in your life, or in world events - and or has left a vivid memory of when it was shown. Let us know. Would you like to see any other
tv series guides on this site? If so please e-mail The Classic TV Archive - see Feedback below.
This guide may be distributed and copied freely, in its entirety, for personal use. All original author and copyright information must
remain intact. Any sales or other uses of this document are expressly forbidden, without the specific consent of the author(s).
Copyright © The Classic TV Archive. All rights reserved.

Return to The Classic TV Archive Home Page
Feedback - MusicVariety Forum