CTVA
The Classic TV Archive - US Music Variety


Art Linkletter's House Party (1952-69)
Episode Guide compiled by The Classic TV Archive
with contributions by: Rina Fox
references:
TV Guide / Library of Congress (telnet://locis.loc.gov)
Internet Movie Database (https://us.imdb.com)
UCLA Film and Television Archive / Writers Guild of America (wga)

Art Linkletter's House Party (season 3) (CBS (1954-55)


Art Linkletter's House Party (season 2) (CBS (1953-54)
Art Linkletter's House Party (season 1) (CBS (1952-53)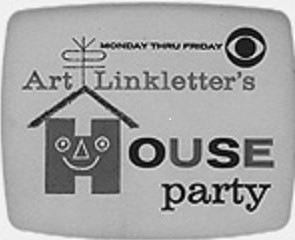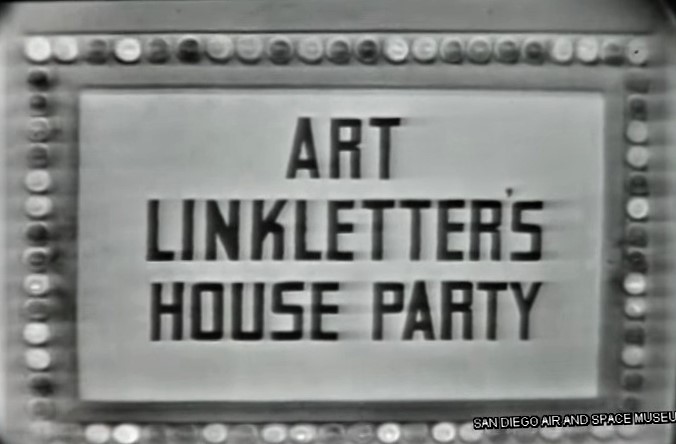 CBS
Producer John Guedel
Writer Marty Hill
Director Michael J. Kane

US Daily Daytime Talk/Variety program
September 1, 1952 to November 15, 1968 (September 5, 1969)

Host: Art Linkletter
Announcer: Jack Slattery
Muzzy Marcellino & His House Party Group

Premise:
There is something for all the family in his prize bundle including "hot people" interviews with persons who are newspaper headlines
for some reason or other; "mystery singer", showcasing new vocalists; "Muzzy Musical Album", featuring Muzzy Marcellino
in familiar melodies; and a lot of other interesting innovations.
The TV shows were taped for radio and released at 12:30pm on KNX.

"Come on in, you're just in time for the house party... and the man of surprises and a million laughs, Art Linkletter! Well here it is
the middle of the week, and the House Party rolls along with it's 30 minutes of informal fun, games, gags, gimmicks and gifts and
Guests from all over the United States..."

Art Linkletter was born in Moose Jaw, Saskatchewan on July 17, 1912.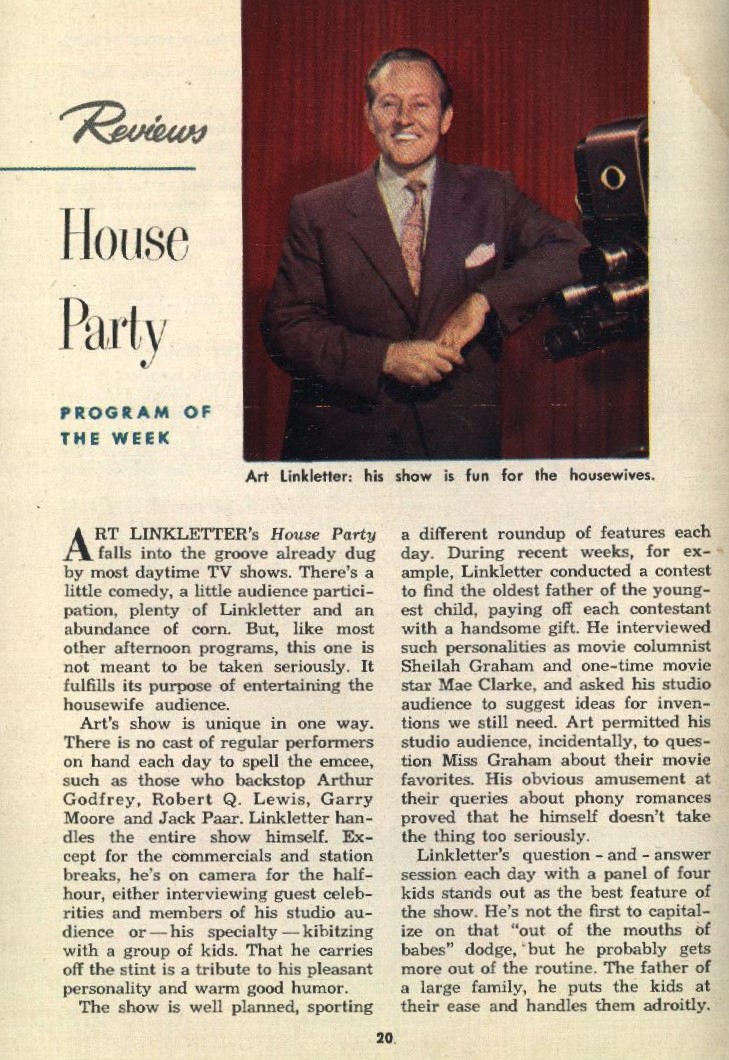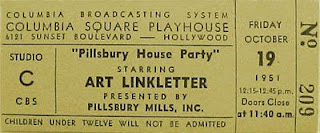 ############## Art Linkletter's House Party ########
##############################################
##############################################
Have you any comments, corrections, episode titles, air dates, production numbers, directors, writers, story/synopsis, guest stars, cast lists, etc?
Have you any old videos, or tv guides? Dust them off and let us know if you have any information on this series or any other tv series from the
Golden Age of TV, which is missing from any episode guides on the web. Perhaps a certain episode of a particular series coincided with a key
moment in your life, or in world events - and or has left a vivid memory of when it was shown. Let us know. Would you like to see any other
tv series guides on this site? If so please e-mail The Classic TV Archive - see Feedback below.
This guide may be distributed and copied freely, in its entirety, for personal use. All original author and copyright information must
remain intact. Any sales or other uses of this document are expressly forbidden, without the specific consent of the author(s).
Copyright © The Classic TV Archive. All rights reserved.

Return to The Classic TV Archive Home Page
Feedback - MusicVariety Forum