CTVA
The Classic TV Archive - US Drama Series
Gross-Krasne Productions:-
"Big Town" (1950-56)
"Mayor of the Town" (1954-55) "O.Henry Playhouse" (1957) "Glencannon" (UK, 1957-58)
"The Lone Wolf" (US, 1954-55) "The Pursuers" (UK, 1961-62)
"Adventures of a Jungle Boy" (1957) "African Patrol" (1958-59)
Mayor of the Town (1954-55)
Episode Guide compiled by The Classic TV Archive [Updated Oct 2017]
with contributions by: Tom Alger, Jim Brent, Rina Fox
Richard de Lorimier (nephew of Producer John Rawlins)
references:
Library of Congress (telnet://locis.loc.gov)
Internet Movie Database (https://us.imdb.com)
UCLA Film and Television Archive
-----------------
MAYOR OF THE TOWN
-----------------
Rawlings-Grant Production (John Rawlins) (aka Rawlings)
Gross-Krasne Production (Jack J. Gross and Philip N. Krasne)
for
First-Run Syndication
Based on the radio series of the same name (1942-49)
Produced and Directed by John Rawlins (aka Rawlings)
US Drama series 1954-55 39 episodes x 30 min
starring:
Thomas Mitchell as Mayor Thomas Russell
with:
Kathleen Freeman as Marilly, housekeeper
David Saber as Butch, ward
Jean Byron as Minnie
Tudor Owen as Joe Ainsley
Dan Riss as Graham (recurring)
Natalie Wood as Mayor's niece (recurring)
(On episodes 1.11, 1.13 and 1.16, Natalie Wood's character is named "June." She's listed as "Sandy" on episode 1.38.)
John Gallaudet as Chamberlain (recurring)
Premise:
Events in the life of Thomas Russell, Mayor of Springdale, a small town in Ohio.
Also featured are The Mayor's housekeeper Marilly, his secretary Minnie, and his nephew Butch.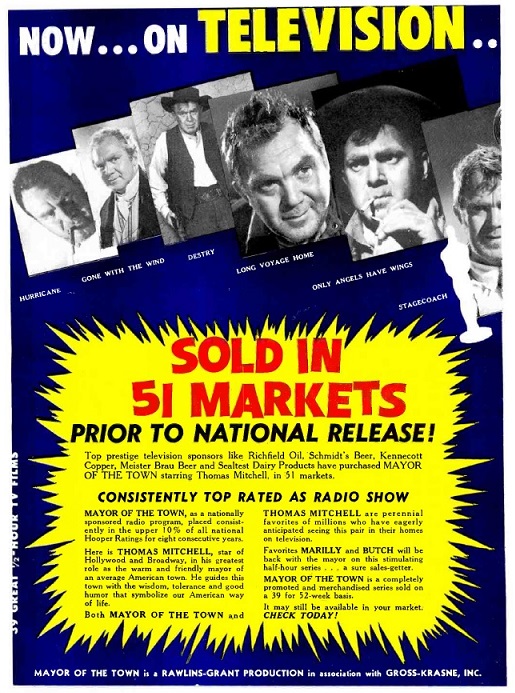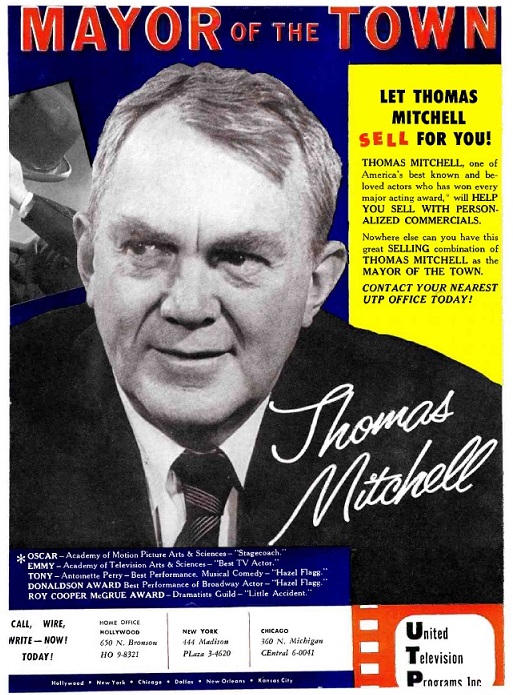 ############## Mayor of the Town #############
############### season 1954-55 ###############
##############################################
Syndicated Program

The episodes have been arranged according to how they were shown on local TV stations.
(Most of the stations broadcast these episodes in a similar order.)
Please see the "Air-dates by City" section below for more details.

1.01 [--] Mayor of the Town: MAYOR OF THE TOWN (pilot episode)
Prod. no. unknown
13Nov54 Johnstown, PA, WJAC-6, Sat. 11pm
04Jun55 New York City [JK]
03Jul55 Syracuse, NY, WSYR-3. Sun. 7pm
25Sep55 Buffalo NY, WGR-2 Thurs. 7pm
02Dec55 Decatur, IL [JB]
01Feb56 Los Angeles, KTTV-11, Wed. 9:30pm
19Feb58 Cleveland, WEWS-5, Wed. 7pm
Guest Cast:
Sheila James … June
Dan Riss … Graham
Harry Tyler … Rushmore
Pat Harding … Elaine
Corey Allen … Danny
Synopsis 1:
A teenager whom the Mayor has always trusted is arrested on suspicion of car-stealing. [JB]
Synopsis 2:
The mayor defends a 17-year old boy accused of stealing a car, even though the mayor's political standing is put in jeopardy.
Synopsis 3:
For the first program, the mayor gives a high school reporter a good chance to see the wheels of her town's city hall set in motion.
He uses his influence to help a boy who has just been unjustly accused of a crime. [Syracuse Herald-American /TA]
Synopsis 4:
In the first episode, the mayor and a teenage girl get a youth freed and trap the real criminals in a theft. [Niagara Falls NY Gazette /TA]
Synopsis 5:
HIS HONOR - Thomas Mitchell brings to life and TV the role of "Mayor of the Town" that was created for radio by the late Lionel Barrymore.
In the first episode on (11) at 9:30 p.m. he risks his political reputation to defend a youth accused of car theft. He manages to find out
the truth of the matter and things get straightened out O.K.
Regular cast members include David Saber as the mayor's nephew, Jean Byron as his secretary
and Kathleen Freeman steals many a scene as the housekeeper "Marilly." [Long Beach Independent /TA]

1.02 [--] Mayor of the Town: NEXT TIME TAKE THE BUS
Prod. no. unknown
21Nov54 Mason City, Iowa, KGLO-3 Sun. 8pm
20Nov54 Johnstown, PA, WJAC-6, Sat. 11pm
03Dec54 Greensboro, NC, WFMY-2 Fri. 8pm
30Jan55 St. Louis, Missouri, KSD-5, Sun 10:30pm
21Apr55 Indianapolis, WFBM-6 Thurs.
11Jun55 New York City [JK]
9Jul55 Chicago (R) WNBQ-5 Sat. 10pm
08Feb56 Los Angeles, KTTV-11, Wed. 9:30pm
20Jul55 Columbus, OH [JB]
26Feb58 Cleveland WEWS-5, Wed. 7pm
Guest Cast:
John Gallaudet ........ Chamberlain
Robert F. Simon ....... Dave
Synopsis 1:
Mayor Russell antagonized the president of the Chamber of Commerce by turning down a bus deal on the grounds
that a school is needed more. [JB/JK]
Synopsis 2:
Russell antagonizes the chamber of commerce: he vetoes buying new city buses. [RF]
Synopsis 3:
The Mayor of Springdale is almost put out of office when he refuses to buy buses and then takes up with a tramp.
[Mason City Globe Gazette /TA]

1.03 [--] Mayor of the Town: LOVE IS SO YOUNG
Prod. no. unknown
08Nov54 Philadelphia, WPTZ-3, Mon. 10:30pm
27Nov54 Johnstown, PA, WJAC-6, Sat. 11pm
10Dec54 Greensboro, NC, WFMY-2 Fri. 8pm
16Jul55 Chicago (R) WNBQ-5 Sat. 10pm
18Jun55 New York City [JK]
21Jun55 Cincinnati, OH [JB]
05Mar58 Cleveland WEWS-5, Wed. 7pm
Guest Cast:
Glenn Langan
Gigi Perreau .......... Claudia
Cliff Sales ........... Jerry
Kay Stewart ........... Margaret
Synopsis 1:
A lawyer friend of the Mayor's has his difficulties trying to win the friendship of the teen-age daughter
of the widow he plans to marry. [JB]
Synopsis 2:
A lawyer (Glenn Langan) tries to win over his fiancee's daughter. [RF]

1.04 [--] Mayor of the Town: LONG MAY IT WAG
Prod. no. unknown
15Nov54 Philadelphia, WPTZ-3, Mon. 10:30pm
04Dec54 Johnstown, PA, WJAC-6, Sat. 11pm
06Feb55 St. Louis, KSD-5, Sun 10:30pm
08Apr55 KDKA-TV (ABC, CBS, DuMont, NBC) Pittsburgh
05May55 Indianapolis, WFBM-6 Thurs. 10:30pm
25Jun55 New York City [JK]
23Jul55 Chicago (R) WNBQ-5 Sat. 10pm
05Nov55 Detroit, MI [JB]
22Feb56 Los Angeles, KTTV-11, Wed. 9:30pm
12Mar58 Cleveland WEWS-5, Wed. 7pm
Guest Cast:
Lucien Littlefield .... Judge Williams
DeForest Kelley ....... Tracy
Lawrence Ryle ......... Conley
Jess Kirkpatrick ...... Police Officer
Synopsis 1:
Once bitten, twice mad, animal hating Judge Williams is bitten by a stray dog, and tries to force the city council
to agree that all strays should be destroyed. [JB]
Synopsis 2:
An animal-hating judge wants to destroy all stray dogs. [RF]
Synopsis 3:
A boy and his dog take on Springdale's whole city council. [Long Beach Independent /TA]

1.05 [--] Mayor of the Town: THE MAYOR PLAYS CUPID
Prod. no. unknown
22Nov54 Philadelphia, PA [JB]
28Nov54 Mason City, Iowa, KGLO-3 Sun. 8pm
11Dec54 Johnstown, PA, WJAC-6, Sat. 11pm
13Feb55 St. Louis, KSD-5, Sun 10:30pm
09Jul55 New York City [JK]
23Oct55 Buffalo NY, WGR-2
29Feb56 Los Angeles, KTTV-11, Wed. 9:30pm
19Mar58 Cleveland WEWS-5, Wed. 7pm
Guest Cast:
Casey Adams
Eve Miller ............ Emily
Harry Tyler ........... Rushmore
Burt Mustin ........... George
Synopsis 1:
Despite many budget problems, the Mayor still manages to get himself in martial intrigue between a widow and his housekeeper's brother. [JB]
Synopsis 2:
Russell plays Cupid in a romance between a widow and Marilly's brother. [RF]
Synopsis 3:
The Mayor aids the romance of a wealthy widow and Marilly's wayward brother. [Long Beach Independent /TA]
Synopsis 3:
The Mayor has troubles as a matchmaker in "Mayor Plays Cupid."

1.06 [--] Mayor of the Town: BUTCH BUYS A BICYCLE a.k.a. BICYCLE FOR BUTCH
Prod. no. unknown
29Nov54 Philadelphia, WPTZ-3, Mon. 10:30pm
18Dec54 Johnstown, PA, WJAC-6, Sat. 11pm
20Feb55 St. Louis, KSD-5, Sun 10:30pm
16Jul55 New York City [JK]
03Nov55 Buffalo NY, WGR-2
03Aug58 Columbus, GA [JB]
Guest cast:
Virginia Brissac ...... Mrs. Gordon
Harry Tyler ........... Rushmore
Synopsis 1:
Butch's desire for a bike and an old woman's inability to pay her taxes become connected problems for Mayor Russell. [JB]
Synopsis 2:
Butch tries to buy a bike from a woman with tax problems. [RF]

1.07 [--] Mayor of the Town: THE DOCTOR'S SON
Prod. no. unknown
25Dec54 Johnstown, PA, WJAC-6, Sat. 11pm
26Dec54 Mason City, Iowa, KGLO-3 Sun. 8pm
27Feb55 St. Louis, KSD-5, Sun 10:30pm
19Jul55 Cincinnati, OH [JB]
23Jul55 New York City [JK]
10Nov55 Buffalo NY, WGR-2
25Feb56 NYC, WABD-5 Sat. 7pm
14Mar56 Los Angeles, KTTV-11, Wed. 9:30pm
Guest cast:
Tudor Owen ............ Young Doctor
Lewis Martin .......... Joe
Peter Hanson .......... Jim
Tina Thompson ......... Holly
Synopsis 1:
Once again the Mayor is at loggerheads with Joe Ainsley over how city funds should be spent.
The Mayor wants them for a traffic-safety plan, Joe wants a new grandstand. [JB]
Synopsis 2:
Russell gives his support to both a new traffic-safety plan and an ill-treated young doctor. [RF]
Synopsis 3:
Mayor proposes traffic plan that people ignore until tragedy strikes.

[--] Mayor of the Town: possibly THE DOCTOR'S SON
21Sep55 (WIRK-TV Palm Beach Fl. Dumont stn. 21)
Synopsis:
The Mayor has plans for city funds. [RF]

1.08 [--] Mayor of the Town: TAKE ME OUT TO THE BALLGAME
Prod. no. unknown
27Nov54 Chicago, IL, WNBQ-TV
31Dec54 Greensboro, NC, WFMY-2 Fri. 8pm
01Jan55 Johnstown, PA, WJAC-6 Sat. 11pm
02Jan55 Mason City, Iowa, KGLO-3 Sun. 8pm
06Mar55 St. Louis, KSD-5, Sun 10:30pm
Guest cast:
John Lupton
Ruth Donnelly ......... Beth
Kathleen Crowley ...... Helen
Bill Phillips ......... Donovan
Synopsis 1:
Springdale's top baseball player gets an offer from the New York Giants, which runs counter to his promises to this fiancée. [JB]
Synopsis 2:
Springdale's baseball star (John Lupton) must choose between his girl and playing professional ball. [RF]

[--] Mayor of the Town: possibly "Take Me Out to the Ballgame."
14Mar56 Los Angeles, KTTV-11, Wed. 9:30pm
Synopsis:
Thomas Mitchell, as "Mayor of the Town," brings
home a guest for a "quiet evening" and finds the house
overrun with children. [Long Beach Press-Telegram /TA]
Note:
The "house overrun with children" description might be a sub-plot for show 1.08.
Based on the episode order for KTTV-11, 14Mar56 should be "Take Me Out to the Ballgame."

1.09 [--] Mayor of the Town: FIRST YEAR
Prod. no. unknown
08Jan55 Johnstown, PA, WJAC-6 Sat. 11pm
13Mar55 St. Louis, KSD-5, Sun 10:30pm
30Jul55 New York City [JK]
11Dec55 West Hartford, CT [JB]
17Nov55 Buffalo NY, WGR-2
16Aug56 (R) Buffalo NY, WGR-2
Guest cast:
Betty Lynn
Dan Riss … Graham
Alan Dexter … Richard
Synopsis 1:
A young engineer arrives in town with his beautiful, but not too bright bride. [RF]
Synopsis 2:
Marilly (Kathleen Freeman) befriends a beautiful but brainless bride (Betty Lynn).

1.10 [--] Mayor of the Town: THICKER THAN WATER
Prod. no. unknown
15Jan55 Johnstown, PA, WJAC-6 Sat. 11pm
16Jan55 Mason City, Iowa, KGLO-3 Sun. 8pm
20Mar55 St. Louis, KSD-5, Sun 10:30pm
29Mar55 Topeka, KS
03May55 Fairbanks, Alaska, KFAR-2 Tues. 8pm
13Aug55 NYC, WRCA-4 Sat. 11:15pm
24Nov55 Buffalo NY, WGR-2
10Sep55 (R) Chicago, WNBQ-5 Sat. 10pm
Guest cast:
Peggy McCay
Bernard Nedell ........ Tolliver
Lowell Gilmore ........ Draper
Synopsis 1:
Springdale's bid for a new clinic is snagged by a doctor's worry over his son's choice of a mate. [JB]
Synopsis 2:
A tycoon threatens to cancel plans for a clinic because of his son's romance with a nurse. [RF]

1.11 [--] Mayor of the Town: JUNIOR VOTERS a.k.a. JUNIOR VOTER
Prod. no. 121
27Mar55 St. Louis, KSD-5, Sun 10:30pm
10May55 Fairbanks, Alaska, KFAR-2 Tues. 8pm
13Nov55 Kansas City, MO, Sun.
01Dec55 Buffalo NY, WGR-2 Thurs. 7pm
Written by Erna Lazarus
Directed by Marshall Grant, John Rawlins
Guest cast:
Natalie Wood .......... June
Dan Riss .............. Graham
Cliff Sales ........... Jerry
Bob Burton ............ Barnes
Synopsis 1:
The mayor turns to the youth of the town when no one else cooperates to prevent a corrupt political machine
from getting a foothold in Springdale. [JB]
Synopsis 2:
Springdale teenagers fight corrupt politicians. [RF]

1.12 [--] Mayor of the Town: BUTCH'S TONSILLECTOMY
Prod. no. unknown
30Jan55 Mason City, Iowa, KGLO-3 Sun. 8pm
03Apr55 St. Louis, KSD-5, Sun 10:30pm
02Jul55 New York City [JK]
17May58 Milwaukee, WI [JB]
Guest cast:
Jonathan Hole ......... Rogers
Tom Powers ............ Jacobs
Synopsis 1:
When the mayor decides Butch hasn't been giving his homework lessons enough time, he finds that he too has a
few lessons to learn. [JB]
Synopsis 2:
Russell scolds Butch for neglecting his homework unaware that Butch is ill. [RF]
Synopsis 3:
The Mayor works out a plan to make Butch spend more time on his homework.

1.13 [--] Mayor of the Town: PAPA DEAR
Prod. no. unknown
05Feb55 Johnstown, PA, WJAC-6 Sat. 11pm
10Apr55 St. Louis, KSD-5, Sun 10:30pm
17May55 Fairbanks, Alaska, KFAR-2 Tues. 8pm
27Aug55 NYC WRCA-4, Sat. 11:15pm
15Dec55 Buffalo NY, WGR-2 Thurs. 7pm
10Dec56 Waterloo, IA
Guest cast:
Natalie Wood .......... June
Tom Powers ............ Jacobs
Synopsis 1:
The Mayor is up in arms when he learns that Springdale has been chosen as the ideal location for a "Papa Dear" contest
sponsored by a movie studio. [JB]
Synopsis 2:
Russell opposes a movie company's plan to hold a "Papa Dear" contest in Springdale.

1.14 [--] Mayor of the Town: MARILLY'S MURDER
Prod. no. unknown
24Jan55 Philadelphia, WPTZ-3, Mon. 10:30pm
17Apr55 St. Louis, Missouri, KSD-5, Sun 10:30pm
24May55 Fairbanks, Alaska, KFAR-2 Tues. 8pm
10Sep55 New York City [JK] WRCA-4
22Dec55 Buffalo NY, WGR-2 Thurs. 7pm
30Dec55 Watertown, NY, WCNY-7 Fri. 7:30pm
17Dec56 Waterloo, IA [JB]
02May56 Los Angeles, KTTV-11, Wed. 9:30pm
Guest cast:
John Gallaudet ........ Chamberlain
William Fawcett ....... Gates
Tina Thompson ......... Holly
Synopsis 1:
Marilly has been reading mystery stories and when a murder is reported in the neighborhood, she plays detective. [JB]
Synopsis 2:
Marilly turns detective when she thinks that Russell is involved in a murder. [RF]
Synopsis 3:
Marilly becomes engrossed in mystery books and
becomes so convinced of her prowess as a detective that she tries to solve a crime. [San Mateo Times /TA]
Synopsis 4:
His Honor is surprised to find himself a prime murder suspect tonight, in the eyes of his excitable housekeeper Marilly
and the Chief of Police, all because of some green paint on his clothes. [KTTV ad, Long Beach Independent]

1.15 [--] Mayor of the Town: ESCAPE INTO SPACE
Prod. no. 122
31Jan55 Philadelphia, WPTZ-3, Mon. 10:30pm
20Feb55 Mason City, Iowa, KGLO-3
28Mar55 St. Joseph, MO [JB]
24Apr55 St. Louis, Missouri, KSD-5, Sun 10:30pm
31May55 Fairbanks, Alaska, KFAR-2 Tues. 8pm
17Sep55 New York City [JK]
29Dec55 Buffalo NY, WGR-2 Thurs. 7pm
Written by Jameson Brewer
Directed by John Rawlings
Guest cast:
Michael Fox ........... Bronson
Robert (Bob) Burton ......... Barnes
Nadene Ashdown
Synopsis 1:
Mayor Russell seeks the reason behind Butch's desire to "escape into space." [JB]
Synopsis 2:
Butch wants to run away from his problems to the moon. [RF]
--same episode?
09May56 Los Angeles, KTTV-11, Wed. 9:30pm
Synopsis:
The Mayor teaches his nephew a lesson in moral courage when the youth gets "in a jam." [Long Beach Press-Telegram /TA]

1.16 [--] Mayor of the Town: THE OLD TRIANGLE
Prod. no. unknown
22Jan55 Chicago, WNBQ-5 Sat. 10pm
26Feb55 Johnstown, PA, WJAC-6 Sat. 11pm
01May55 St. Louis, Missouri, KSD-5, Sun 10:30pm
07Jun55 Fairbanks, Alaska, KFAR-2 Tues. 8pm
24Sep55 NYC, WRCA-4
05Jan56 Buffalo NY, WGR-2 Thurs. 7pm
Guest cast:
Natalie Wood .......... June
Ann Doran ............. Aggie
Pat Morrow ............ Nancy
Synopsis 1:
Butch has problems: should he attend the party of a plain girl whom he likes or that of a socially
prominent young lady whose mother could make trouble for the Mayor. [JB]
Synopsis 2:
Butch's choice: a girl he likes or one whose socially prominent mother could cause trouble for the mayor. [RF]

1.17 [--] Mayor of the Town: CITY HALL GHOST a.k.a. THE GHOST OF CITY HALL
Prod. no. unknown
14Feb55 Philadelphia, WPTZ-3, Mon. 10:30pm
05Mar55 Johnstown, PA, WJAC-6 Sat. 11pm
08May55 St. Louis, KSD-5, Sun 10:30pm
14Jun55 Fairbanks, Alaska, KFAR-2 Tues. 8pm
12Jan56 Buffalo NY, WGR-2 Thurs. 7pm
20Jan56 Waterloo, IA
Guest cast:
Bill Phipps ........... Arthur
James Bell ............ Old-Timer
Herb Vigran ........... Foley
Synopsis 1:
Butch and his pals plan to frighten the janitor of city hall by pretending to be ghosts. [JB]
Synopsis 2:
Butch and his buddies "haunt" city hall.

[--] Mayor of the Town: title unknown
23May56 Los Angeles, KTTV-11, Wed. 9:30pm
Synopsis 1:
Thomas Mitchell as "Mayor of the Town" faces an airport expansion problem and puts it over when an
emergency comes up involving a plane. [Long Beach Press-Telegram /TA]
Note:
The "airport expansion problem" synopsis might be a sub-plot for show 1.17.
Based on the episode order for KTTV-11, 23May56 should be "City Hall Ghost."

1.18 [--] Mayor of the Town: CONCERT PIANIST a.k.a. THE COMPOSER
Prod. no. 124
12Mar55 Johnstown, PA, WJAC-6 Sat. 11pm
21Jun55 Fairbanks, Alaska, KFAR-2 Tues. 8pm
06Aug55 New York City [JK]
19Jan56 Buffalo NY [JB]
30May56 Los Angeles, KTTV-11, Wed. 9:30pm
Written by Jameson Brewer
Directed by John Rawlins
Guest cast:
Claudia Barrett ....... Claire
Robert Boone
Edward Clark
Harry Harvey
Synopsis 1:
A mysterious stranger comes to Springdale. A short while later Mayor Russell is visited by a young lady who suspects
the newcomer is her missing fiancée, a well-known concert pianist. [JB]
Synopsis 2:
The mayor learns that a stranger (Robert Boone) in town is a well-known musician. [RF]
Synopsis 3:
A young pianist is helped to return to a normal life. [The Age, Melbourne /TA]
Synopsis 4:
The Mayor faces a peculiar problem in trying to find out why a famous "composer" wants to forsake a successful
career and leave town. [Long Beach Independent /TA]

1.19 [--] Mayor of the Town: THE WATCHMAKER a.k.a. THE WATCH MAKER
Prod. no. unknown
19Mar55 Johnstown, PA, WJAC-6 Sat. 11pm
28Jun55 Fairbanks, Alaska, KFAR-2 Tues. 8pm
29Oct55 (R) Chicago, WNBQ-TV (NBC affiliate)
28Jan56 NYC, WABD-5
25Jun58 Cleveland, OH
Guest cast:
Ludwig Stossel ........ Veeder
John Gallaudet ........ Chamberlain
Synopsis 1:
A series of hold-ups are traced to one of the town's oldest citizens, the old watchmaker. [JB]
Synopsis 2:
Russell defends an old watchmaker accused of theft.
Synopsis 3:
The Mayor comes to the rescue of the town's oldest watchmaker.

1.20 [--] Mayor of the Town: THE SCHOOL TEACHER a.k.a. SCHOOLTEACHER
Prod. no. 123
22May55 St. Louis, Missouri, KSD-5, Sun 10:30pm
05Nov55 (R) Chicago, IL, WNBQ-TV (NBC affiliate)
Written by Al Martin
Directed by John Rawlins
Guest Cast:
Sara Haden
Dan Riss .............. Graham
Gus Schilling
Synopsis 1:
Mayor Russell learns that no house is large enough for two women. [JB]
Synopsis 2:
Marilly resents the Mayor's new house guest—a retired schoolteacher. [RF]
Synopsis 3:
The mayor has a plan to help old people, and Butch makes a plea on behalf of his old school teacher. [The Age, Melbourne / TA]
(24Dec59 GTV-9 Melbourne Thurs. 4:45pm)

1.21 [--] Mayor of the Town: MINNIE'S ROMANCE
Prod. no. 125
26Feb55 Chicago, IL [JB]
02Apr55 Johnstown, PA, WJAC-6 Sat. 11pm
03Sep55 New York City [JK]
12Nov55 (R) Chicago, IL, WNBQ-TV (NBC affiliate)
Written by Erna Lazarus
Directed by John Rawlins
Guest cast:
John Archer ........... Steele
Pattee Chapman
Synopsis 1:
When Mayor Russell's prized secretary , Minnie, elopes with a childhood suitor, it's a day of mixed emotions. [JB]
Synopsis 2:
Minnie elopes with an old beau now a famous author. [RF]
Synopsis 3:
The Mayor almost loses a secretary when he invites a famous author to the town. [RF]
Synopsis 4:
When the mayor invites a former Springdale boy, now
a famous author, to Springdale as his house guest he almost loses his pretty secretary. [San Mateo Times /TA]

1.22 [--] Mayor of the Town: THE POET
Prod. no. unknown
09Apr55 Johnstown, PA, WJAC-6 Sat. 11pm
04Jun55 San Antonio, TX, WOAI-4, Sat. 9pm
05Jun55 St. Louis, Missouri, KSD-5, Sun 10:30pm
18Jul55 Detroit, Michigan ch. 4 Mon. [Detroit Free Press]
11Feb56 NYC, WABD-5 Sat. 7pm
16Feb56 Buffalo NY, WGR-2 Thurs. 7pm
27Jun56 Los Angeles, KTTV-11, Wed. 9:30pm
Guest cast:
DeForest Kelley ....... Nash
Dan Riss .............. Graham
Howard Hoffman ........ Parker
Synopsis 1:
Russell helps a dead poet achieve posthumous fame. [RF]
Synopsis 2:
The mayor helps a deceased town character achieve
the recognition he never had in life. [San Mateo Times /TA]
Synopsis 3:
The works of Homer Nash, poet, are turned over to Mayor Russell. Not much interest is shown in the poems -
until they attract the attention of a publisher. [TA]
Synopsis 4:
Mayor helps Springdale poet have his verses published. [Detroit Free Press /TA]

1.23 [--] Mayor of the Town: DOCTOR'S ORDERS
Prod. no. unknown
16Apr55 Johnstown, PA, WJAC-6 Sat. 11pm
12Jun55 St. Louis, Missouri, KSD-5, Sun 10:30pm
25Jul55 Detroit, Michigan ch. 4 Mon. [Detroit Free Press]
23Feb56 Buffalo NY, WGR-2 Thurs. 7pm
26Aug58 Davenport, IA
Guest cast:
Tom Powers ............ Jacobs
Harry Tyler ........... Rushmore
Synopsis 1:
The mayor catches a cold from Butch and cleverly uses his illness to solve a problem. [JB]
Synopsis 2:
Russell catches a cold and stays home to work on a rezoning problem.

1.24 [--] Mayor of the Town: HAPPY BIRTHDAY
Prod. no. unknown
23Apr55 Johnstown, PA, WJAC-6 Sat. 11pm
19Jun55 St. Louis, Missouri, KSD-5, Sun 10:30pm
18Feb56 NYC, WABD-5 Sat. 7pm
01Mar56 Buffalo NY, WGR-2 Thurs. 7pm
11Jul56 Los Angeles, KTTV-11, Wed. 9:30pm
16Jul56 San Francisco, KGO-7, Mon. 8pm
02Sep58 Davenport, IA
Guest cast:
John Gallaudet ........ Chamberlain
Robert Foulk .......... Crawford
Steve Conte ........... Benson
Lewis Charles ......... Mason
Synopsis 1:
A notorious gangster is reported to be coming to Springdale to meet his henchmen. When the mayor hears of it he becomes
worried but Marilly is more concerned with buying her employer a birthday present. [JB]
Synopsis 2:
Marilly earns money for Russell's birthday gift by cooking for a gangster. [RF]
Synopsis 3:
Butch and Marilly shop for the mayor's birthday presents. [The Age, Melbourne / TA]
Synopsis 4:
Marilly uses the telephone to aid in the capture of a dangerous criminal. [San Mateo Times /TA]
Synopsis 5:
The Mayor is set for a happy birthday but the police kind of spoil things when they get suspicious of Marilly and Butch.
[Long Beach Press-Telegram /TA]

1.25 [--] Mayor of the Town: STRANGE LADY
Prod. no. unknown
26Jun55 St. Louis, Missouri, KSD-5, Sun 10:30pm
27Nov55 Hannibal, MO
08Mar56 Buffalo NY, WGR-2 Thurs. 10pm
18Jul56 Los Angeles, KTTV-11, Wed. 9:30pm
23Jul56 San Francisco, KGO-7, Mon. 8pm
Guest cast:
Donald Keeler ......... Kenny
Dorothy Green ......... Mrs. Taylor
Synopsis 1:
A new youngster in town is giving Butch a lot of trouble. [RF]
Synopsis 2:
The mayor wants to have a serious talk with the mother of a new boy in town. [JB]
Synopsis 3:
Butch becomes involved in a fight with the son of a new Springdale resident. [San Mateo Times /TA]
Synopsis 4:
The Mayor is confronted with a problem concerning a strange lady and her son and the unfriendly attitude of the
citizens of the town. [Long Beach Independent]
--same episode?
[--] Mayor of the Town:
03Mar56 NYC WABD-5 Sat. 7pm
Mayor protects newcomers from hostility.

1.26 [--] Mayor of the Town: MONEY FOR THE MAYOR a.k.a. THE LAW STUDENT
Prod. no. 131
03Jul55 St. Louis, Missouri, KSD-5, Sun 10:30pm
28Nov55 St. Joseph, MO
10Mar56 NYC, WABD-5 Sat. 7pm
25Jul56 Los Angeles, KTTV-11, Wed. 9:30pm
30Jul56 San Francisco, KGO-7, Mon. 8pm
Written by Al Martin
Directed by Marshall Grant & John Rawlings
Guest cast:
Craig Hill
Charles Meredith
Synopsis 1:
His household misunderstands when the mayor solicits funds for an impoverished law student.
They think Mayor Russell, himself, is without funds. [JB]
Synopsis 2:
Everyone assumes the mayor's broke when he starts raising money—for a poor law student (Craig Hill).
Synopsis 3:
Townspeople come to rescue of mayor when they think he's broke. [Long Island Star-Journal /TA]

1.27 [--] Mayor of the Town: THE CANE
Prod. no. unknown
10Jul55 St. Louis, Missouri, KSD-5, Sun 10:30pm
22Mar56 Buffalo NY, WGR-2 Thurs. 10pm
01Aug56 Los Angeles, KTTV-11, Wed. 9:30pm
06Aug56 San Francisco, KGO-7, Mon. 8pm
12Jan58 Charlotte, NC
Guest cast:
Suzanne Dalbert ....... Claire
Stanley Adams ......... Crothers
Henri Letondal ........ Durand
Synopsis 1:
The mayor becomes involved in a murder mystery. [JB]
Synopsis 2:
A mysterious cane is the only clue to a Frenchman's murder. [RF]

1.28 [--] Mayor of the Town: MARILLY MINDS THE BABY
Prod. no. unknown
21May55 Johnstown, PA, WJAC-6 Sat. 11pm
17Jul55 St. Louis, Missouri, KSD-5, Sun 10:30pm
29Mar56 Buffalo NY, WGR-2 Thurs. 10pm
09Oct56 Topeka, KS
Guest cast:
Tom Powers … Jacobs
Emory Parnell … Brown
Synopsis 1:
Complications arise when Marilly takes care of a baby while its parents are away. [JB]
Synopsis 2:
Marilly offers to mind a friend's baby while Buster Brown, the mayor's ailing friend, is staying at the house.
[The Age, Melbourne /TA]

1.29 [--] Mayor of the Town: HIS HONOR, BUTCH
Prod. no. 133
28May55 Johnstown, PA, WJAC-6 Sat. 11pm
15Jan56 Syracuse, NY
23Apr55 Chicago, WNBQ-TV (NBC affiliate)
15Aug56 Los Angeles, KTTV-11, Wed. 9:30pm
Written by Jameson Brewer
Directed by Marshall Grant & John Rawlings
Guest cast:
Kenneth Tobey ......... Driscoll
Pat Morrow ............ Nancy
Synopsis 1:
Butch may save the day when he is elected mayor for the day. [JB]
Synopsis 2:
Butch is elected "Mayor for a Day."
Synopsis 3:
When the Mayor finds that his job has been usurped by his nephew Butch, elected kid mayor for the day, complications arise. [RF]

1.30 [--] Mayor of the Town: EMBEZZLEMENT STORY a.k.a. EMBEZZLEMENT
Prod. no. unknown
16May55 Philadelphia, WPTZ-3, Mon. 10:30pm
04Jun55 Johnstown, PA, WJAC-6 Sat. 11pm
07Oct55 Pittsburgh, KDKA-2, Fri. 9pm
12Apr56 Buffalo NY, WGR-2 Thurs. 10pm
22Aug56 Los Angeles, KTTV-11, Wed. 9:30pm
Guest cast:
Paul Langton .......... Dunlap
Tina Carver ........... Anne
James Seay ............ Gordon
Synopsis 1:
A friend of the Mayor's is suspected of embezzling. [JB]
Synopsis 2:
The Mayor aids an auditor suspected of embezzlement.
Synopsis 3:
It is discovered that the mayor's auditor was once charged with embezzlement. [The Age, Melbourne /TA]
Synopsis 4:
The Mayor clears friend of embezzlement. [Philadelphia Inquirer]

1.31 [--] Mayor of the Town: POPULARITY CONTEST
Prod. no. unknown
11Apr55 Philadelphia, PA
11Jun55 Johnstown, PA, WJAC-6 Sat. 11pm
07May55 Chicago, WNBQ-TV (NBC affiliate)
12Jun55 Mason City, Iowa, KGLO-3
19Apr56 Buffalo NY, WGR-2 Thurs. 10pm
29Aug56 Los Angeles, KTTV-11, Wed. 9:30pm
Guest cast:
Dick Wessell .......... Henry
Harry Harvey .......... Higlin
Synopsis 1:
While trying to put a new parking meter plan into effect, the Mayor almost loses his housekeeper who has a lack of
votes in a popularity contest. [JB]
Synopsis 2:
The Mayor has two projects a new parking meter plan and promoting a romance for Marilly. [RF]
Synopsis 3:
The Mayor sees a way to resolve two problems: the opposition to his parking meter plan and Marilly's failure in
the popularity contest. [RF]
Synopsis 4:
The mayor uses a popularity contest for quite another reason.
Synopsis 5:
Marilly develops charm during Springdale's popularity week. [The Age, Melbourne / TA]

1.32 [--] Mayor of the Town: SCRAGGY
Prod. no. unknown
18Jun55 Johnstown, PA, WJAC-6 Sat. 11pm
12Aug55 West Hartford, CT
26Apr56 Buffalo NY, WGR-2 Thurs. 10pm
Guest cast:
Sammy Ogg ............. Scraggy
Addison Richards ...... Albert
Synopsis 1:
The Mayor's nephew seems to be mixed up with hoodlums. [JB]
Synopsis 2:
Butch is hanging out with a gang of young hoodlums. [RF]
Synopsis 3:
Vandals wreck a newly decorated school. [The Age, Melbourne / TA]

1.33 [--] Mayor of the Town: THE FARMER a.k.a. WAR HERO
Prod. no. 136
21May55 Chicago, WNBQ-TV (NBC affiliate)
25Jun55 Johnstown, PA, WJAC-6 Sat. 11pm
03May56 Buffalo NY, WGR-2 Thurs. 10pm
28Oct1955 Pittsburgh, KDKA-2, Fri. 9pm
12Sep56 Los Angeles, KTTV-11, Wed. 9:30pm
06Aug60 Johnstown, PA
Written by Erna Lazarus
Directed by Marshall Grant & John Rawlings
Guest cast:
Robert Patten … David Lewis
Frank Ferguson ........ George
Gordon Gerbert
Synopsis 1:
The Mayor discovers that a troubled young white collar worker needs to go back to the soil. [RF]
Synopsis 2:
The mayor helps Minnie's cousin to settle down as a farmer after war service. [The Age, Melbourne / TA]
Synopsis 3:
In "The Farmer," Minnie's cousin David Lewis (Robert Patten) loses job after job, and the mayor seeks to get him back
to his farming roots. [from book "Single Season Sitcoms, 1948-1979: A Complete Guide"]
Synopsis 4:
The mayor tries to help a former war hero to find himself. [JB]
Synopsis 5:
Russell helps an ex-war hero (Robert Patten) who's unable to adjust to civilian life. [RF]

1.34 [--] Mayor of the Town: FLOOD CONTROL
Prod. no. 137
28May55 Chicago, WNBQ-TV (NBC affiliate)
2Jul55 Johnstown, PA, WJAC-6 Sat. 11pm
3Jul55 Mason City, Iowa, KGLO-3 Sun. 9:30pm
4Nov55 Pittsburgh, KDKA-2, Fri. 9pm
10May56 Buffalo NY, WGR-2 Thurs. 10pm
19Sep56 Los Angeles, KTTV-11, Wed. 9:30pm
Written by Al Martin
Directed by Marshall Grant & John Rawlings
Guest cast:
Steve Pendleton ....... Smith
Pattee Chapman ........ Ruthie
William Hopper ........ Girard
Synopsis 1:
Minnie gets a job in a contractor's office to expose a case of graft. [RF]
Synopsis 2:
The Mayor is forced to agree that his housekeeper surpasses him at catching crooks. [RF]
Synopsis 3:
Minnie's help proves invaluable when the mayor seeks information about a contractor. [The Age, Melbourne / TA]
(3Dec59 GTV-9 Melbourne Thurs. 4:45pm)

1.35 [--] Mayor of the Town: EAGER FEMALE a.k.a. THE MARRIAGE ADVISER
Prod. no. 132
9July55 Johnstown, PA, WJAC-6 Sat. 11pm
9July55 Mason City, Iowa, KGLO-3 Sat. 9:30pm
11Nov55 Pittsburgh, KDKA-2, Fri. 9pm
17May56 Buffalo NY, WGR-2 Thurs. 10pm
26Sep56 Los Angeles, KTTV-11, Wed. 9:30pm
Written by David Chandler
Directed by Marshall Grant & John Rawlings
Guest cast:
Sheila Bromley
Dan Riss .............. Graham
Willis Bouchey
Synopsis 1:
The Mayor is pursued by an amorous marriage-relations adviser. [RF]
Synopsis 2:
Mayor Russell, a bachelor, meets an attractive marriage counsellor. [The Age, Melbourne / TA]
Synopsis 3:
Marriage relations adviser believes she is to become Mayor Russell's bride. [Pittsburgh Press]
Synopsis 4:
The court's new marriage relations advisor turns out to be a single lady who's determined to marry the mayor.
[Eugene Guard; Eugene, Oregon]
Synopsis 5:
Marilly saves the mayor from the marriage relations advisor in "Eager Female. [Detroit Free Press]
Synopsis 6:
At Marilly's suggestion, a Marriage Relations Adviser is to be appointed to assist the court. She turns out to be a lady
very anxious to get married. In fact, she think, she is going to marry the Mayor. The Mayor turns to Marilly who employs
a bit of feminine wile to get him out of his difficulty. [Buffalo Courier Express]

1.36 [--] Mayor of the Town: MARILLY LEAVES TOWN
Prod. no. 134
16Jul55 Johnstown, PA, WJAC-6 Sat. 11pm
18Nov55 Pittsburgh, KDKA-2, Fri. 9pm
24May56 Buffalo NY, WGR-2 Thurs. 10pm
03Oct56 Los Angeles, KTTV-11, Wed. 9:30pm
Written by Milton Lazarus
Directed by Marshall Grant & John Rawlings
Guest cast:
Ralph Moody ........... Governor
John Gallaudet ........ Chamberlain
Harry Tyler ........... Rushmore
Nan Boardman .......... Mrs. Randolph
Synopsis 1:
Marilly's on vacation and Russell has to do the housework. [RF]
Synopsis 2:
Even a faithful and loyal housekeeper like Marilly Jones can have her moments when the Mayor of the Town suggests that
she seems irritable and cranky and probably needs a vacation. [Buffalo Courier Express]
Synopsis 3:
Marilly, affronted by the Mayor's suggestion that she seems cranky and probably needs a vacation, goes to visit her sister
in another city, leaving the Mayor unprepared to manage a household. [Pittsburgh Press /TA]
Synopsis 4:
The Mayor finds he is about to entertain the governor and his wife … alone … after Marilly leaves the house in a huff.
[Long Beach Independent /TA]

1.37 [--] Mayor of the Town: BLUEBERRY HILL
Prod. no. 135
18Jun55 Chicago, WNBQ-5
4Jul55 Philadelphia, PA, WPTZ-3 Mon. 10:30pm
23Jul55 Johnstown, PA, WJAC-6 Sat. 11pm
16Sep55 West Hartford, CT
25Nov1955 Pittsburgh, KDKA-2, Fri. 9pm
10Oct56 Los Angeles, KTTV-11, Wed. 9:30pm
Written by Al Martin
Directed by Marshall Grant & John Rawlings
Guest cast:
Elizabeth Patterson ... Agnes
Francis McDonald ...... Chester
Henny Backus .......... Jane (Jim Backus' wife)
Synopsis 1:
The Mayor discovers that an elderly couple who moved to the city to live with a married daughter yearn to return to their country home. [JB]
Synopsis 2:
Russell befriends an old couple who have come to live with a married daughter. [RF]
Synopsis 3:
Mayor helps old couple regain financial feet.
Synopsis 4:
The mayor helps an elderly couple get started in business so they can move back to their farm.

1.38 [--] Mayor of the Town: MOST LIKELY TO SUCCEED a.k.a. THE OLD JANITOR
Prod. no. 138
11Jul55 Philadelphia WPTZ-3 Mon. 10:30pm
30Jul55 Johnstown, PA, WJAC-6 Sat. 11pm
02Dec55 Pittsburgh, KDKA-2, Fri. 9pm
17Oct56 Los Angeles, KTTV-11, Wed. 9:30pm
14Jan60 Melbourne, GTV-9 Thurs. 4:45pm
Written by Jameson Brewer
Directed by Marshall Grant & John Rawlings
Guest cast:
Natalie Wood .......... Sandy
James Bell ............ Julius
Dan Riss .............. Graham
Willis Bouchey ........ Clarke
Synopsis 1:
Russell tries to help an old janitor keep his job. [RF]
Synopsis 2:
When the judge wants the janitor to retire, the mayor decides to fight for the janitor. [The Age, Melbourne /TA]
Synopsis 3:
The mayor who finds out that "the man most likely to succeed" in high school is successful. [Long Beach Press-Telegram /TA]

1.39 [--] Mayor of the Town: MARILLY'S PRESENT a.k.a. MARILLY'S GIFT
Prod. no. 139
02Jul55 Chicago, IL, WNBQ-5 Sat. 10pm
18Jul55 Philadelphia, PA, WPTZ-3 Mon. 10:30pm
06Aug55 Johnstown, PA, WJAC-6 Sat. 11pm
09Dec55 Pittsburgh, KDKA-2, Fri. 9pm
14Jun56 Buffalo NY, WGR-2 Thurs. 10pm
24Oct56 Los Angeles, KTTV-11, Wed. 9:30pm
Written by Erna Lazarus
Directed by Marshall Grant & John Rawlings
Guest cast:
John Gallaudet ........ Chamberlain
Lillian Bronson ....... Miss Finley
Synopsis 1:
An old teapot seems to make a very poor gift and is thrown away. [JB]
Synopsis 2:
Marilly throws away an old teapot—unaware a diamond ring is in it. [RF]
Synopsis 3:
Marilly is outraged because her "dearest friend" presents her with an old teapot she must have found around the house.
Marilly throws the teapot away, little knowing that a valuabe diamond ring hat been put in the teapot for safe keeping.
[Buffalo NY Courier Express]

############## Mayor of the Town #############
############## Air-dates by City #############
##############################################

Cleveland, Ohio, WEWS-5, Wed. 7pm
19Feb58 "Mayor of the Town" (pilot) [01]
26Feb58 "Next Time Take The Bus" [02]
05Mar58 "Love Is So Young" [03]
12Mar58 "Long May It Wag" [04]
19Mar58 "The Mayor Plays Cupid" [05]

Buffalo, NY, WGR-2 Thurs. 7pm
25Sep55 - "Mayor of the Town" (pilot) [01]
02Oct55 - no details
09Oct55 - no details
16Oct55 - no details
23Oct55 - "The Mayor Plays Cupid" [05]
30Oct55 - no details
03Nov55 - "Butch Buys a Bicycle" [06]
10Nov55 - "The Doctor's Son" [07]
17Nov55 - "First Year" [09]
24Nov55 - "Thicker Than Water" [10]
01Dec55 - "Junior Voter" [11]
08Dec55 - "Butch's Tonsillectomy" [12]
15Dec55 - "Papa Dear" [13]
22Dec55 - "Marilly's Murder" [14]
29Dec55 - "Escape Into Space" [15]
05Jan56 - "The Old Triangle" [16]
12Jan56 - "City Hall Ghost" [17]
19Jan56 - "Concert Pianist" [18]
26Jan56 - "The Watchmaker" [19]
02Feb56 - "The School Teacher" [20]
09Feb56 - no details
16Feb56 - "The Poet" [22]
23Feb56 - "Doctor's Orders" [23]
01Mar56 - "Happy Birthday" [24]

Buffalo, NY, WGR-2 Thurs. 10pm
08Mar56 - "Strange Lady" [25]
15Mar56 - no details
22Mar56 - "The Cane" [27]
29Mar56 - "Marilly Minds the Baby" [28]
05Apr56 - no details
12Apr56 - "Embezzlement" [30]
19Apr56 - "Popularity Contest" [31]
26Apr56 - "Scraggy" [32]
03May56 - "The Farmer" [33]
10May56 - "Flood Control" [34]
17May56 - "Eager Female" [35]
24May56 - "Marilly Leaves Town" [36]
31May56 - no details
07Jun56 - no details
14Jun56 - "Marilly's Present" [39]

St. Louis, Missouri, KSD-5, Sun 10:30pm
30Jan55 - "Next Time Take The Bus" [02]
06Feb55 - "Long May It Wag" [04]
13Feb55 - "The Mayor Plays Cupid" [05]
20Feb55 - "Butch Buys A Bicycle" [06]
27Feb55 - "The Doctor's Son" [07]
06Mar55 - "Take Me Out To The Ballgame" [08]
13Mar55 - "First Year" [09]
20Mar55 - "Thicker Than Water" [10]
27Mar55 - "Junior Voter" [11]
03Apr55 - "Butch's Tonsillectomy" [12]
10Apr55 - "Papa Dear" [13]
17Apr55 - "Marilly's Murder" [14]
24Apr55 - "Escape Into Space" [15]
01May55 - "The Old Triangle" [16]
08May55 - "City Hall Ghost" [17]
15May55 - no details
unknown - "The Watchmaker" [19]
22May55 - "The School Teacher" [20]
29May55 - no details
05Jun55 - "The Poet" [22]
12Jun55 - "Doctor's Orders" [23]
19Jun55 - "Happy Birthday" [24]
26Jun55 - "Strange Lady" [25]
03Jul55 - "Money for the Mayor" [26]
10Jul55 - "The Cane" [27]
17Jul55 - "Marilly Minds The Baby" [28]

New York City, WRCA-4, Sat. 11:15pm
04Jun55 - "Mayor of the Town" (pilot) [01]
11Jun55 - "Next Time Take The Bus" [02]
18Jun55 - "Love Is So Young" [03]
25Jun55 - "Long May It Wag" [04]
02Jul55 - "Butch's Tonsillectomy" [12]
09Jul55 - "The Mayor Plays Cupid" [05]
16Jul55 - "Butch Buys A Bicycle" [06]
23Jul55 - "The Doctor's Son" [07]
30Jul55 - "First Year" [09]
06Aug55 - "Concert Pianist" [18]
13Aug55 - "Thicker Than Water" [10]
20Aug55 - no details
27Aug55 - "Papa Dear" [13]
03Sep55 - "Minnie's Romance" [21]
10Sep55 - "Marilly's Murder" [14]
17Sep55 - "Escape Into Space" [15]
24Sep55 - "The Old Triangle" [16]

Fairbanks, Alaska, KFAR-2 Tues. 8pm
03May55 "Thicker Than Water" [10]
10May55 "Junior Voter" [11]
17May55 "Papa Dear" [13]
24May55 "Marilly's Murder" [14]
31May55 "Escape Into Space" [15]
07Jun55 "The Old Triangle" [16]
14Jun55 "City Hall Ghost" [17]
21Jun55 "Concert Pianist" [18]
28Jun55 "The Watch Maker" [19]

Los Angeles, KTTV-11, Wed. 9:30pm
01Feb56 - "Mayor of the Town" (pilot) [01]
08Feb56 - "Next Time Take the Bus" [02]
15Feb56 - "Love Is So Young" [03]
22Feb56 - "Long May It Wag" [04]
29Feb56 - "The Mayor Plays Cupid" [05]
07Mar56 - no details
14Mar56 - "The Doctor's Son" [07]
21Mar56 - possibly "Take Me Out To The Ballgame" [08]
28Mar56 - no details
04Apr56 - no details
11Apr56 - "Junior Voters" [11]
18Apr56 - no details
25Apr56 - no details
02May56 - "Marilly's Murder" [14]
09May56 - possibly "Escape Into Space" [15]
16May56 - no details
23May56 - possibly "City Hall Ghost" [17]
30May56 - "Concert Pianist" [18]
06Jun56 - "The Watchmaker" [19]
13Jun56 - "The School Teacher" [20]
20Jun56 - "Minnie's Romance" [21]
27Jun56 - "The Poet" [22]
04Jul56 - "Doctor's Orders" [23]
11Jul56 - "Happy Birthday" [24]
18Jul56 - "Strange Lady" [25]
25Jul56 - "Money for the Mayor" [26]
01Aug56 - "The Cane" [27]
08Aug56 - no details
15Aug56 - "His Honor, Butch" [29]
22Aug56 - "Embezzlement Story" [30]
29Aug56 - "Popularity Contest" [31]
05Sep56 - no details
12Sep56 - "The Farmer" [33]
19Sep56 - "Flood Control" [34]
26Sep56 - "Eager Female" [35]
03Oct56 - "Marilly Leaves Town" [36]
10Oct56 - "Blueberry Hill" [37]
17Oct56 - "Most Likely To Succeed" [38]
24Oct56 - "Marilly's Present" [39]

Pittsburgh, PA, KDKA-2, Fri. 9pm
28Oct55 - "The Farmer" [33]
04Nov55 - "Flood Control" [34]
11Nov55 - "Eager Female" [35]
18Nov55 - "Marilly Leaves Town" [36]
25Nov55 - "Blueberry Hill" [37]
02Dec55 - "Most Likely To Succeed" [38]
09Dec55 - "Marilly's Present" [39]

San Francisco, CA, KGO-7, Mondays 8pm
16Apr56 - "Junior Voters" [11]
23Apr56 - "Junior's Tonsillectomy" [12]
30Apr56 - "Papa Dear" [13]
07May56 - "Marilly's Murder" [14]
14May56 - "Escape Into Space" [15]
21May56 - "The Old Triangle" [16]
28May56 - "City Hall Ghost" [17]
04June56 - "Concert Pianist" [18]
11June56 - "The Watchmaker" [19]
18June56 - "The Teacher" [20]
25June56 - "Minnie's Romance" [21]
02Jul56 - "The Poet" [22]
09Jul56 - "Doctors Orders" [23]
16Jul56 - "Happy Birthday" [24]
23Jul56 - "Strange Lady" [25]
30Jul56 - "Money for the Mayor" [26]
06Aug56 - "The Cane" [27]

Melbourne, Australia, GTV-9 Fri. 3:30pm
24Apr59 - "Papa Dear" [13]
01May59 - "Marilly's Murder" [14]
08May59 - "Escape Into Space" [15]
15May59 - "The Old Triangle" [16]
22May59 - "City Hall Ghost" [17]
29May59 - "Concert Pianist" [18]
05Jun59 - "The Poet" [22]
12Jun59 - no details
19Jun59 - "Doctor's Orders" [23]
26Jun59 - "Happy Birthday" [24]

Melbourne, Australia, GTV-9 Fri. 3:34pm
03Jul59 - "Strange Lady" [25]
10Jul59 - "Money for the Mayor" [26]
17Jul59 - "The Cane" [27]
24Jul59 - "Marilly Minds The Baby" [28]
31Jul59 - "His Honor Butch" [29]
07Aug59 - "Embezzlement" [30]
14Aug59 - "Popularity Contest" [31]
21Aug59 - "Scraggy" [32]
28Aug59 - "The Farmer" [33]

############## Mayor of the Town #############
###### Series Premiere Dates by City #########
##############################################

09Oct54 Chicago, IL, WNBQ-5, Sat. 10pm
25Oct54 Philadelphia, PA, WPTZ-3, Mon. 10:30pm
01Nov54 Salt Lake City, Utah, KTVT-4, Mon. 8:30pm
13Nov54 Johnstown, Penn., WJAC-6 Sat. 11pm
09Dec54 Lubbock, Texas, KCBD-11, Thurs. 8:30pm
15Jan55 San Antonio, TX, WOAI-4, Sat. 10:15pm
04Jun55 New York City, WRCA-4, Sat. 11:15pm
03July55 Syracuse, New York, WSYR-3, Sun. 7pm
01Aug55 Madison, Wisconsin, WKOW-27, Mon. 6:30pm
25Sep55 Buffalo, New York, WGR-2, Thurs. 7pm
01Feb56 Los Angeles, KTTV-11, Wed. 9:30pm
19Feb58 Cleveland, Ohio, WEWS-5, Wed. 7pm

############## Mayor of the Town #############
############## Magazine Article ##############
##############################################

Billboard Magazine, Aug. 7, 1954:
'Mayor' Back in Production Aug. 9, 1954
HOLLYWOOD, July 31. - "The next five "Mayor of the Town" telefilms go into production at California Studios August 9.
Titles set this week for the slate include "Next Time Take the Bus," "Love Is So Young," "The Baseball Story,"
"Marilly's Brother," and "The Halloween Story."
Scripts on these and others in the series of 15 episodes to constitute the first releases are now being polished
by writers Erna and Milton Lazarus, and Otto Englander.
The Thomas Mitchell starring series is being produced and directed by John Rawlins and Marshall Grant in association
with Gross-Krasne, Inc."
Note:
"The Baseball Story" probably became "Take Me Out To The Ballgame." "Marilly's Brother" is probably "The Mayor Plays Cupid."
No telling what became of "The Halloween Story" as none of the completed episodes seem to have a Halloween storyline.

############## Mayor of the Town #############
################# the end ##################
##############################################



Return to The Classic TV Archive Home Page
Feedback - Drama Forum