CTVA
The Classic TV Archive - US Documentary Series
You Are There (CBS Sundays)(1953-57)
Historical Drama Anthology series hosted & narrated by Walter Cronkite
Air Power (1956-57)
Sponsors - The Prudential Insurance Company Of America
Episode Guide compiled by The Classic TV Archive
with contributions by: Rina Fox
references:
TV Guide / Library of Congress (telnet://locis.loc.gov)
Internet Movie Database (https://us.imdb.com)
UCLA Film and Television Archive
---------
AIR POWER
---------
CBS Public Affairs Department Production
in conjunction with the U.S. Air Force
for
CBS (Sundays)(11Nov56-5May57)
Produced by Perry Wolff and Jim Faichney

US War documentary series 1956-57 26 episodes

Narrated by Walter Cronkite

Premise:
The story of aviation, from the invention of the airplane to supersonic
planes and missiles, with a glimpse of rockets and the future of aviation.
Some of the heroes of aviation are seen, as well as the leading figures of
modern history.

CBS's answer to NBC's "Victory at Sea"

Music composed by Norman Dello Joio
Conducted by Alfredo Antonini

################## Air Power #################
############## season 1956-57 ###############
##############################################
CBS (Sundays)(11Nov56-5May57)

[--] Air Power: VERTIJET (pilot)
Revell, Inc. (copyright ODAT: 01Nov56; OREG: KK129963)
(16Sep59 WPIX-TV New York Independent network Wednesday 7:30pm)
Hosted by General George C. Kenney
Synopsis 1:
A pilot must test the revised X-2 plane in flight above the earth's atmosphere. The pilot's brother-in-law was
killed in the X-2's first test-flight when the plane's controls failed. [RF]
Synopsis 2:
A high-altitude rocket research plane, the X-2, is photographed at Edwards Air Force Base in California. [RF]


1.01 [--] Air Power: THE DAY NORTH AMERICA IS ATTACKED (60 min. Debut Episode)
(copyright ODAT: 8Nov56; OREG: LP8652)
11Nov56 CBS Sun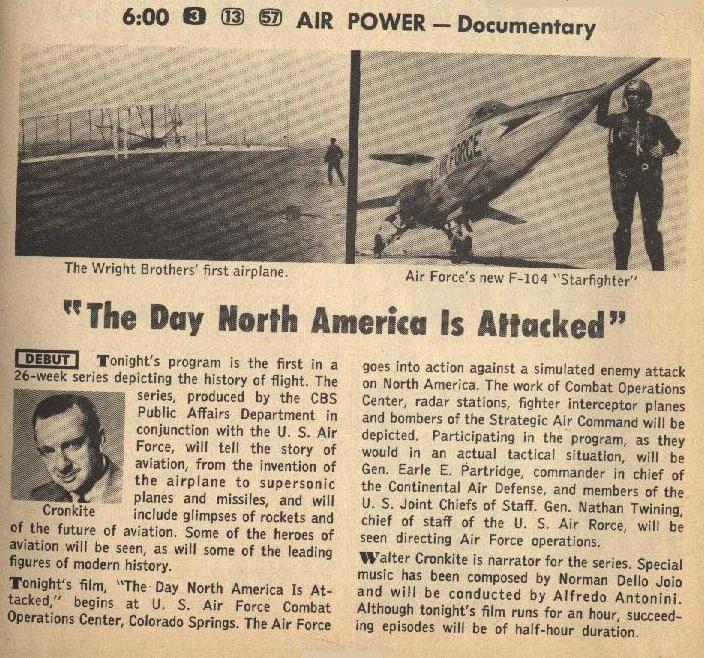 Synopsis:
The debut episode begins at U.S. Air Force Combat Operations Center, Colorado Springs. The Air Force goes into action
against a simulated enemy attack on North America. The work of Combat Operations Center, radar stations, fighter
interceptor planes and bombers of the Strategic Air Command are depicted. Participating in the program, as they would
in an actual tactical situated, are Gen. Earle E. Partridge, commander in chief of Continental Air Defense, and members
of the U.S. Joint Chiefs of Staff. Gen. Nathan Twining, chief of staff of the U.S. Air Force, is seen directing Air Force
operations. [RF]

1.2 [--] Air Power: THE EARLY DAYS
ODAT: 15Nov56; OREG: MP8321.
18Nov1956 CBS Sun
Narrated by Eddie Rickenbacker, former World War 1 ace, now Eastern Airlines executive and commentator Walter Cronkite.
With the use of still pictures and films, they trace the history of the airplane from the early days of flight, when the
airplane was the toy of rich Europeans, to World War 1. Here the airplane became a sort of hit-or-miss military observation
post, then a full-fledged attack weapon. Highlights include film of many pre-war and war aces in action, such as:
Rickenbacker, Baron Von Richthofen, Hermann Goering, Georges Guynemer, Charles Nungesser, Glenn Curtiss, Anthony Fokker
and the Wright Brothers. [RF]

1.3 [--] Air Power: THE LUFTWAFFE
(copyright - ODAT: 21Nov56; OREG: MP8322)
25Nov1956 CBS Sun
Narrated by Walter Cronkite
Synopsis:
The rise of the German air force is told through the use of captured German film, made by both professional
and non-professional photographers. [RF]

1.4 [--] Air Power: PEARL HARBOR
(copyright - ODAT: 29Nov56; OREG: MP8323)
02Dec1956 CBS Sun
Narrated by Walter Cronkite
Synopsis 1:
The Japanese code name for the attack on Pearl, "Lotus Blossom Over Fujiyama" is tied in with Pearl Harbor Day. [RF]
Synopsis 2:
The story of Pearl Harbor from the Japanese point of view, using captured Japanese film. The documentary begins with the
briefing of military leaders and concludes with the Japanese fleet and air force at their destination, Pearl Harbor.[RF]

1.5 [--] Air Power: THE BATTLE OF BRITAIN
(copyright ODAT: 05Dec56; OREG: MP8324)
09Dec1956 CBS Sun
Narrated by Michael Redgrave
Featuring excerpts from speeches by Sir Winston Churchill.

Synopsis:
The documentary shows how Hitler was diverted from invasion of England in August 1941, giving the English time to
regain their air power and protect their homeland. Highlights include:
1. Hitler and his staff making preparations for the bombing of London.
2. Speeches by Hitler
3. Scenes of the German Army marching and singing.
4. Aerial combat scenes over England
5. Scenes of London during the bombings.
"The Battle of Britain," narrated by Michael Redgrave and Walter Cronkite. Featured in this documentary are excerpts
from speeches by Winston Churchill; films of Hitler and his staff, the German army on the march and the bombardment
of London. [RF]
1.6 [--] Air Power: COUNTERBLAST
ODAT: 13Dec56; OREG: MP8325.
16Dec1956 CBS Sun
Produced & written by Perry Wolff
Narrated by Walter Cronkite
Synopsis:
A look at how the British, while undergoing constant German aerial attacks, managed to prepare a counterattack against
Germany on its home ground. Depicted are RAF raids on Hamburg. Counterblast, the story of England's blitz. [RF]

1.7 [--] Air Power: FOOLS, DAREDEVILS AND GENIUSES
ODAT: 19Dec56; OREG: MP8326.
possible airdate - 23Dec56 CBS Su
Synopsis:
Art Carney and Walter Cronkite narrate a look at aviation in the 1920s, including stunt fliers, wing walkers and
barnstorming pilots. [RF
.
1.8 [--] Air Power: THE 1930'S
ODAT: 26Dec56; OREG: MP8327.
30Dec1956 CBS Sun
Music by Norman Dello Joio
Narrated by Walter Cronkite
Synopsis:
Lieutenant General James Doolittle relates the story of the Depression, the rise of Hitler and Mussolini, the development
of the Army Air Corps and the B-17 bomber, and the final abandonment of isolationism as foreign policy, one made impossible
by the era of flight. [RF]

1.9 [--] Air Power: TARGET PLOESTI
ODAT: 03Jan57; OREG: MP8328.
possible airdate - 06Jan57 CBS Sun
Narrated by Walter Cronkite
Synopsis:
U.S. B-17 bombers raid the German ball-bearing industry. [RF]

1.10 [--] Air Power: SCHWEINFURT
ODAT: 9Jan57; OREG: MP8329
possible airdate - 13Jan57 CBS Sun

1.11 [--] Air Power: CONQUEST OF THE AIR
ODAT: 16Jan57; OREG: MP8330.
possible airdate - 20Jan57 CBS Sun
Narrated by Walter Cronkite
Synopsis:
The story of the P-51, the long range fighter used in the February 1944 air battles that crushed the
Luftwaffe and gave the Allies air superiority. [RF]

1.12 [--] Air Power: THE JAPANESE PERIMETER
(copyright - ODAT: 23Jan57; OREG: MP8331)
27Jan1957 CBS Sun
Narrated by Walter Cronkite
Synopsis:
The story of the decisive battle of Midway in the South Pacific
during World War 2. Highlights include:
1. Aerial Combat between Japanese and Americans.
2. The bombing of Clark Field in the Philippines.
3. The Bataan Death March.
4. Japanese Banzai attacks.
5. Bombing of Corregidor.
6. Battle of Midway.
7. Japanese Victory celebrations. [RF]
Synopsis 2:
The Japanese sweep through the Philippines, Bataan, Singapore, Malaya and Java; the Americans are victorious at Midway. [RF]

1.13 [--] Air Power: INTERDICTION AND BLOCKADE
(copyright - ODAT: 30Jan57; OREG: MP8332)
possible airdate 03Feb57 CBS Sun
Narrated by Walter Cronkite
Synopsis 1:
The story of the World War II battles with the Japanese at New Guinea and the Bismarck Sea.
1. Japanese film showing children being trained in the science of war in the 1930's.
2. Japanese and American military operations in New Guinea.
3. Aerial battles over the Bismarck Sea.
4. Attacks on the Japanese task force headed toward New Guinea to reinforce the garrisons. [RF]
(15Jun58 CBS Sun WKRC-TV Cincinnati, Oh 6:30pm)
(17Dec60 NBC Sat WMTV Madison, WI 6pm)

1.14 [--] Air Power: OPERATION STRANGLE
ODAT: 06Feb57; OREG: MP8333.
10Feb1957 CBS Sun
Narrated by Walter Cronkite
Synopsis:
The documentary report of the 1944 liberation of Rome. The battle centered at the Abbey of Monte Cassino, center
of the German Gustav line 75 miles south of Rome. The American Air Force successfully blockaded the Italian boot,
reducing the German supplies. [RF]

1.15 [--] Air Power: PACIFIC PATTERNS
ODAT: 13Feb57; OREG: MP8334.
17Feb1957 CBS Sun
Narrated by Walter Cronkite
Synopsis:
Report on the introduction of American aircraft carriers into World War IIís Pacific Theater and their use in
capturing Truk, Tarawa, and the Gilbert Islands--the first major step leading to Japan itself. [RF]

1.16 [--] Air Power: ADVANCE THE BOMBER LINE
ODAT: 20Feb57; OREG: MP8335.
24Feb1957 CBS Sun
Narrated by Walter Cronkite
Synopsis:
During World War 2, the American Forces needed a base close enough to Japan to allow aerial attacks
on the mainland itself. [RF]

1.17 [--] Air Power: THE WINNING OF FRANCE
ODAT: 01Mar57; OREG: MP8336.
03Mar1957 CBS Sun
Narrated by Walter Cronkite
Synopsis:
The story of the destruction of the German Seventh Army by the French. [RF].

1.18 [--] Air Power: SUPERFORT
ODAT: 6Mar57; OREG: MP8337.
10Mar1957 CBS Sun
Narrated by Walter Cronkite
Synopsis:
Documents the U.S. Marine capture of Iwo Jima, and the use of the island as an American base from which the B-29
strategic bombers could operate. This island, half-way between the Marianas and the Japanese mainland, was needed
not only as a take-off area for bombers headed for Japan, but alson for re-fueling and repairing. [RF]

1.19 [--] Air Power: VICTORY IN EUROPE
ODAT: 13Mar57; OREG: MP8338.
possible airdate - 17Mar57 CBS sUN
Narrated by Walter Cronkite
Synopsis:
The last stages of the European conflict, including the Russian march into Berlin, the meeting of
the Allies the Elbe River and the ruins of Germany. [RF]

1.20 [--] Air Power: KAMIKAZE
(copyright ODAT: 24Mar57; OREG: MP9130)
possible airdate - 24Mar57 CBS Sun
Narrated by Walter Cronkite
Synopsis:
The Japanese advance suicidal aerial attacks against the U.S. Navy fleet. [RF]

1.21 [--] Air Power: DEFEAT OF JAPAN
ODAT: 27Mar57; OREG: MP8162.
31Mar1957 CBS Sun
Narrated by Walter Cronkite
Synopsis:
Walter Cronkite narrates this documentary concerning the dropping of the first atomic bomb on Hiroshima and the defeat
of the Japanese in 1945. Elaborate preparations went into the manufacture of the bomb and utmost secrecy surrounded
the mission. We see films of the vast destruction caused by the bomb. The surrender ceremony aboard the USS Missouri
September 2, 1945, in Tokyo Bay is also seen. [RF]

1.22 [--] Air Power: THE COLD DECADE - AIRLIFT
ODAT: 03Apr57; OREG: MP8163.
possible airdate - 07Apr57 CBS Sat
The Korean War, 1950-1953: films chronicle the first air battle, the final stalemate between opposing ground armies
and the truce talks. [RF]

1.23 [--] Air Power: THE COLD DECADE - TO THE YALU
(no copyright details)
14Apr1957 CBS Sun
Narrated by Walter Cronkite
Synopsis:
Recounts the beginnings of the Korean conflict in 1950, the subsequent
Soviet support of North Korea, the resulting U.N. ípolice action,í
and the escalation of East-West tensions. [RF]

1.24 [--] Air Power: THE COLD DECADE - KOREAN STALEMATE
ODAT: 17Apr57; OREG: LP8666.
21Apr1957 CBS Sun
Narrated by Walter Cronkite
Synopsis:
In November 1950, Chinese Communist troops began fighting in the Korean War. We see the first air battles between
American and Soviet jets, the final stalemate between the opposing ground armies, and the politically charged
armistice talks. [RF]

1.25 [--] Air Power: STARFIGHTER
ODAT: 24Apr57; OREG: LP8663.
28Apr1957 CBS Sun
Narrated by Walter Cronkite
Synopsis:
Walter Cronkite examines the testing of the F-104 Starfighter. [RF]

1.26 [--] Air Power: THE NEW DOCTRINE
ODAT: 2May57; OREG: LP8664.
05May1957 CBS Sun
Narrated by Walter Cronkite
Synopsis:
This program is devoted to the new concepts of warfare. We see U.S. and Soviet Air Force planes that will carry atom
and hydrogen bombs in the event of another war, and new kinds of guided-missile warfare. [RF]
*Note: This is the final show of the series.

################## Air Power #################
################## the end #################
##############################################
You Are There (CBS Sundays)(1953-57)
Historical Drama Anthology series hosted & narrated by Walter Cronkite

Have you any comments, corrections, episode titles, air dates, production numbers, directors, writers, story/synopsis, guest stars, cast lists, etc?
Have you any old videos, or tv guides? Dust them off and let us know if you have any information on this series or any other tv series from the
Golden Age of TV, which is missing from any episode guides on the web. Perhaps a certain episode of a particular series coincided with a key
moment in your life, or in world events - and or has left a vivid memory of when it was shown. Let us know. Would you like to see any other
tv series guides on this site? If so please e-mail The Classic TV Archive - see Feedback below.
This guide may be distributed and copied freely, in its entirety, for personal use. All original author and copyright information must
remain intact. Any sales or other uses of this document are expressly forbidden, without the specific consent of the author(s).
Copyright © The Classic TV Archive. All rights reserved.

Return to The Classic TV Archive Home Page
Feedback - Documentary Forum