CTVA
The Classic TV Archive - US Crime Series
City Detective (1953-55) State Trooper (1956-59) Coronado 9 (1959-60)
State Trooper (1956-59)
Episode Guide compiled by The Classic TV Archive
with contributions by:
Sal Crisanti [SC], John King, New York [JK], Tom Alger [TA] Rina Fox
D. W. McGregor, Sunderland UK (credits for eps 11, 53, 55) James Beer
references:
Library of Congress (telnet://locis.loc.gov)
Internet Movie Database (https://us.imdb.com)
DVDs:
The Complete 1st Season, a 4-DVD set [Timeless Media Group/Shout! Factory via NBC Universal]
The Complete Seasons 2 & 3, a 6-DVD set [Timeless Media Group/Shout! Factory via NBC Universal]
State Trooper - Season 1 (1956-57) (pilot +39 episodes)
State Trooper - Season 2 (1957-58) (39 episodes)
State Trooper - Season 3 (1959) (26 episodes)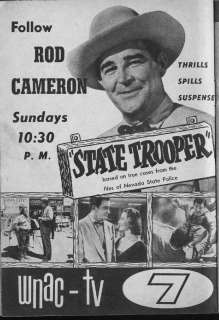 Revue Productions, Inc. / MCA tv Exclusive Distributors
for First-Run Syndication
Produced by Richard Irving

US police series 1955 pilot + 1956-59 104 episodes x 30 min bw
starring
Rod Cameron
as Nevada State Trooper Rod Blake
Recurring Cast:
Robert Armstrong as Sheriff Andy Anderson
(Note: Michigan-born actor Robert Amrstrong appeared in the 1933 classic
"King Kong" and should NOT be confused with Alabama-born TV character
actor R.G. Armstrong)
featured in the following episodes:
#8, #11, #12, #18, #20 , #21, #30, #34, #64, #65, #67, #76, #85. #86, #92, #94
Recurring Cast:
Alex Campbell as Sheriff Logan of Tonopah
featured in the following episodes:-
#5 "JAILBREAK IN TONOPAH", #6 "THE HILLS OF HOMICIDE",
#14 "TRAIL OF THE DEAD", #16 "COATE OF MANY COLORS".
#57 THE CASE OF THE HAPPY DRAGON
Recurring Cast:
Don Haggerty as Sheriff Elder of Las Vegas
featured in the following episodes:-
#2 THE RED BADGE OF DEATH",
#13 "THE CASH OUT", #33 "BEEF A LA MURDER",
#36 "SAFE ON A BOAT",
#50 DANGEROUS HONEYMOON
STUNTS:
PAUL STADER, CHUCK COUCH, BOB MORGAN, ALLEN PINSON, TOM STEELE,
DICK CROCKETT, AL WYATT, GEORGE ROBOTHAM, CARL SAXE, KEN TERRELL.

Premise:
Stories of the Nevada State police.
Filmed around Las Vegas.

DIRECTORS INCLUDED:
RICHARD IRVING, WILLIAM WITNEY, JOHN ENGLISH.
MAIN WRITERS INCLUDED:
FENTON EARNSHAW, LAWRENCE KIMBLE, BARRY SHIPMAN
MAIN TECHNICAL CREDITS:
DIRECTORS OF PHOTOGRAPHY, JACK MACKENZIE, JOHN F. WARREN, JOHN L. RUSSELL.
SUPERVISING FILM EDITOR, BUDD SMALL.
MUSIC SUPERVISION, MAURY LEAF, JOSEPH E. ROMERO, STANLEYWILSON.
############### State Trooper ################
################ Pilot (1955) ################
##############################################
[--] State Trooper: KILLER ON HORSEBACK (14May55 copyright date)
(pilot episode - original title -
aired on "Star Stage" anthology series on NBC Feb 1956)
State Trooper: RODEO ROUGH HOUSE (pilot episode -series title) (verified -SC)
Directed by John English
Teleplay by Lawrence Kimble
Director of Photography, John McBurnie
Art Director, Martin Obzina
Film Editor, Daniel S. Nathan
Set Decorator, James S. Redd
Sound, William Lynch
Assistant Director, James Hogan
Starring:
Rod Cameron as Nevada State Trooper Rod Blake
Guest Cast:
Tol Avery............as (Bert) Rogers
Beverly Garland............as Elli Austin
Robert Burton............as Sheriff Grundy
Robert Anderson............as Sweede Austin
Claude Akins............as The Rodeo Clown (Henley)
Simon Scott............as Ryan
Raymond Hatton............as The Old Man
Pat Conway............as Saunders
James Flavin............as The Police Director
Bob Morgan............as The Gym Deputy
Synopsis:
A man is attacked and robbed in the desert. The police are
called in and find the only clue is a hoof mark in the sand. [SC]
Note:
The pilot episode had an opening teaser. The rest of the episodes in
the series had a completely different opening with Rod Cameron
introducing the story and the title. [SC]
(13Aug59 BBC UK, Thursday 6:20pm featured in BBC's "Star Choice" series)
(21Jul59 rerun on Colgate Western Theater: Killer on Horseback)

############### State Trooper ################
################ background ##################
##############################################

In 1956 Actor Rod Cameron had just completed a successful series at Revue Productions called City Detective (1953-1956).
He played the hard-boiled policeman Detective Lieutenant Bart Grant. Now the same production company had another police
series ready for him called State Trooper. His character was named Rod Blake, and he was Chief Investigator for the Nevada
State Troopers. This role was written especially for him by staff writer Lawrence Kimble. The basic plot was simple. Rod
Blake traveled throughout the state of Nevada helping other law enforcement officers solve various crimes. A great deal of
the show was filmed on location at many Nevada locations: Las Vegas, Boulder Dam, Carson City, Goldfield, Tonapah and many
more. But some episodes were also shot on the Old Republic back lot and at Iverson Ranch. The pilot episode had two titles.
"Killer On Horseback" was the original and "Rodeo Roughhouse" was the series title. The pilot actually was shot at the
Republic back lot and either Red Rock Canyon or the desert area around Palm Springs, California. This series became very
popular with many TV viewers and was a good moneymaker for the studio and Rod Cameron. Many of the familiar character actors
of the 50's and early 60's appeared on the show, including soon to be famous actors such as Angie Dickinson (Police Woman),
John Vivyan (Mr. Lucky), Craig Stevens (Peter Gunn), Jack Kelly (Maverick), Amanda Blake (Gunsmoke), Michael Landon (Bonanza)
and many more. The one thing that many fans of the series enjoyed was the vehicle that Rod Cameron drove. It was an unmarked,
black, 1956 Ford V8 Sedan. A lot of the physical action was performed by Cameron, but he did have a regular stunt double who
filled in on the dangerous scenes. Paul Stader was the regular double for most of the series, but Bob Morgan and Al Wyatt
were used on occasion. The recurring roll of Sheriff Andy Anderson was played by veteran actor Robert Armstrong (King Kong).
The series ended in 1959. In the wings was another series waiting for Rod Cameron, also written by veteran writer Lawrence
Kimble. This one was about a San Diego based private investigator. It was called Coronado 9. [Sal Crisanti]

##############################################
########### Writer - Lawrence Kimble ########
##############################################
You may have noticed that quite a few of the writing credits for this series were written by Lawrence Kimble.
Kimble was one of the most prolific writers during the early days in Hollywood. His career began in 1936. He wrote
screenplays for many low budget productions at different studios. From time to time he also scripted with other writers
on the same film. He was very active writing films until the early 50's, when he began writing scripts for television.
He was hired by MCA tv/Revue Studios as a contract writer and began turning out original stories and teleplays for tv
series like:-
"City Detective" (1953-55),
"Soldiers of Fortune" (1955-57),
"State Trooper", (1957-59),
"Mike Hammer" (1958-59),
"Coronado 9" (1959-60),
and many more.
Lawrence Kimble was also part of a writing team, consisting of two other very prolific writers. They were Barry Shipman
and Fenton Earnshaw. It took a very disciplined and creative individual to turn out script after script during very short
shooting schedules. Lawrence Kimble was born in Bakerfield, California in 1904 and left us on September 3, 1977. He was
a gifted writer. [Sal Crisanti]

############### State Trooper ################
################## Feedback ##################
##############################################
Hi, Came across the listings of STATE TROOPER starring Rod Cameron.
First, my story! In September of 1957, I was in high school and took two
weeks out of school to go with my grandmother (by car) to California and
as we were coming home, we crossed Hoover Dam in Nevada. They were filming
STATE TROOPER and I got Rod Cameron's autograph. He was in a blue Ford as
I recall and they were filming him driving across the dam and we passed
in our cars. I would like to see this episode, but don't know the name
of it. Could you help me with the name and also where I might obtain a copy per vhs video?
Thanks! Carla
"Carl and Erma Jean Armstrong" <carla@mcmsys.com> (Missouri)

############## State Trooper ################
##############################################
##############################################

Have you any comments, corrections, episode titles, air dates, production numbers, directors, writers, story/synopsis, guest stars, cast lists, etc?
Have you any old videos, or tv guides? Dust them off and let us know if you have any information on this series or any other tv series from the
Golden Age of TV, which is missing from any episode guides on the web. Perhaps a certain episode of a particular series coincided with a key
moment in your life, or in world events - and or has left a vivid memory of when it was shown. Let us know. Would you like to see any other
tv series guides on this site? If so please e-mail The Classic TV Archive - see Feedback below.
This guide may be distributed and copied freely, in its entirety, for personal use. All original author and copyright information must
remain intact. Any sales or other uses of this document are expressly forbidden, without the specific consent of the author(s).
Copyright © The Classic TV Archive. All rights reserved.
Return to the Classic TV Archive Home Page
Feedback - Crime Forum