CTVA
The Classic TV Archive - US Crime Series



"77 Sunset Strip" (1958-64) "Hawaiian Eye" (1959-63)
"Bourbon Street Beat" (1959-60) "Surfside 6" (1960-62) "The Roaring 20's" (1960-62)
Wendy and Me (1964-65)
Hawaiian Eye (1959-63)
Episode Guide compiled by The Classic TV Archive
with contributions by:
Cindy Rumbold (California,USA) D.W. McGregor (Sunderland, UK) (for director credits)
Barry Gould (Columbus, Ohio,USA) (for details of episodes #5, #38), Rina Fox, Sal Crisanti
references:
Library of Congress (telnet://locis.loc.gov)
Internet Movie Database (https://us.imdb.com)
Hawaiian Eye (season 1) (ABC) (1959-60)
Hawaiian Eye (season 2) (ABC) (1960-61)
Hawaiian Eye (season 3) (ABC) (1961-62)
Hawaiian Eye (season 4) (ABC) (1962-63)
------------
HAWAIIAN EYE
------------
Warner Brothers Television Production
for
The ABC Television Network
Executive Producer Wm. T. Orr
Supervising Producer Howie Horwitz
Produced by Stanley Niss (season 1)
Produced by Charles Hoffman (season 3 and 4)
Produced by Ed Jurist

US Detective series 1959-63 4 seasons 134 episodes x 60 min bw
broadcast history:
Oct. 1959-Sept. 1962, ABC Wednesday 9:00-10:00 pm (seasons 1-3)
Oct. 1962-Sept. 1963, ABC Tuesday 8:30-9:30 pm (season 4)
starring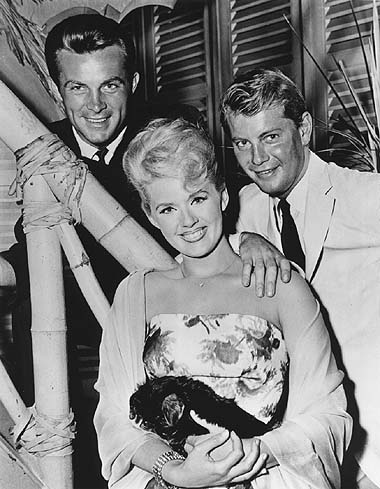 (Pictured above - left to right- Robert Conrad, Connie Stevens, Troy Donahue)
Robert Conrad as Tom Lopaka
Anthony Eisley as Tracy Steele (1959-62)
Connie Stevens as Cricket Blake
Poncie Ponce as Kazuo Kim
also
Grant Williams as Greg MacKenzie (1960-63)
Troy Donahue as Philip Barton (1962-63)
with
Mel Prestidge as Lt. Danny Quon (1960-63)
Doug Mossman as Moke (1960-63)
Tina Cole as Sunny Day

Hawaiian Eye has been called the "77 Sunset Strip" played in Hawaii". There certainly were similarities. Both shows were
produced by the same studio (Warner Brothers), both featured two handsome, free-swinging young detectives as alternate
leads, both had simple melodramatic plots set against glamorous backgrounds, and both made use of nutty sidekicks for
comic relief.
Base of operations for Tom Lopaka (Robert Conrad) and Tracy Stele (Anthony Eisley) was a swank, poolside office at the
Hawaiian Village Hotel (now the Hilton Hawaiian Village Hotel.) Their sidekicks were a pert, somewhat addled young
singer-photographer named Cricket Blake (Connie Stevens), and a colorful cabbie named Kim (Poncie Ponce). Kim, the operator
of a one-man taxi service, was especially helpful as he has seemingly dozens of relatives scattered around the islands
ready to help if one of his employers needed some local assistance. Kim's trademarks were his 'pupule' (crazy) straw hat,
dumb jokes, and ukulele.
A new detective named Greg MacKenzie (Grant Williams) arrived in December 1960, while Philip Barton (Troy Donahue)
joined the cast of characters in 1962 as the hotel's social director.
Lt. Danny Quon (Mel Prestidge) was the contact on the Honolulu police force.

'Hawaiian Eye' theme - words & music by Mack David & Jerry Livingston
############### Hawaiian Eye #################
################ appendix ###################
##############################################
Network Competition for same time slot

1959- The Millionaire/I've Got A Secret CBS
Perry Como's Kraft Music Hall NBC
1960- My Sister Eileen/I've Got A Secret CBS
Perry Como's Kraft Music Hall NBC
1961- Checkmate/Mrs. G Goes to College CBS
Perry Como's Kraft Music Hall NBC
1962- Red Skelton Hour CBS
Empire NBC

############### Hawaiian Eye #################
############## Connie Stevens ################
##############################################
In 1959 Connie Stevens had a hit record with Edward 'Kookie' Byrnes
from '77 Sunset Strip' called 'Kookie, Kookie Lend me your Comb',
reaching No. 4 and followed this with a solo hit in 1960 called
'Sixteen Reasons' which reached No. 3 in the charts.
She stayed with Warner Brothers after 'Hawaiian Eye' ended, teaming up
with George Burns in the comedy series 'Wendy and Me (1964-65) 32 episodes x 30 min bw.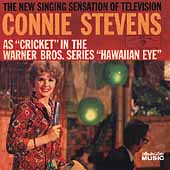 Format: Audio CD
Release Date: 05/08/2001
Label: Collectors' Choice
Catalog Number: 157
Distributor: Koch
Tracks:
1. Sixteen Reasons
2. On A Slow Boat To China
3. Too Young To Go Steady
4. Little Kiss Is A Kiss Is A Kiss, A
5. Why Try To Change Me Now
6. Love Of The Month Club
7. Apollo
8. Too Young
9. Lulu's Back In Town
10. Why Do I Cry For Joey
11. Let's Do It
Connie Stevens next starred in the Warner Brothers comedy series
"Wendy And Me (1964-65) with George Burns

############### Hawaiian Eye #################
############## Robert Conrad ################
##############################################
Robert Conrad starred many other television series:
The Wild Wild West (CBS) (1965-69) starring Robert Conrad & Ross Martin
The D.A. (Jack Webb/ NBC)(1971-72) starring Robert Conrad
Assignment Vienna
High Mountain Rangers
Baa, Baa Black Sheep (Black Sheep Squadron)
The D.A.
Jessie Hawkes (lasted 1 month)
A Man Called Sloane (QM/NBC) (Fall 1979) starring Robert Conrad, Dan O'Herlihy
and mini-series "Centennial"
plus various and sundry pilot films that go to series, inc."Charley Hannah"
############### Hawaiian Eye #################
################ Troy Donahue ##################
##############################################
Troy Donahue had previously starred as Sandy Winfield II
in another Warner Brothers detective series
"Surfside 6" (1960-62) 74 episodes x 60 min bw

############### Hawaiian Eye #################
##############################################
##############################################



Return to the Classic TV Archive Home Page
Feedback - Crime Forum