CTVA
The Classic TV Archive - US Comedy Series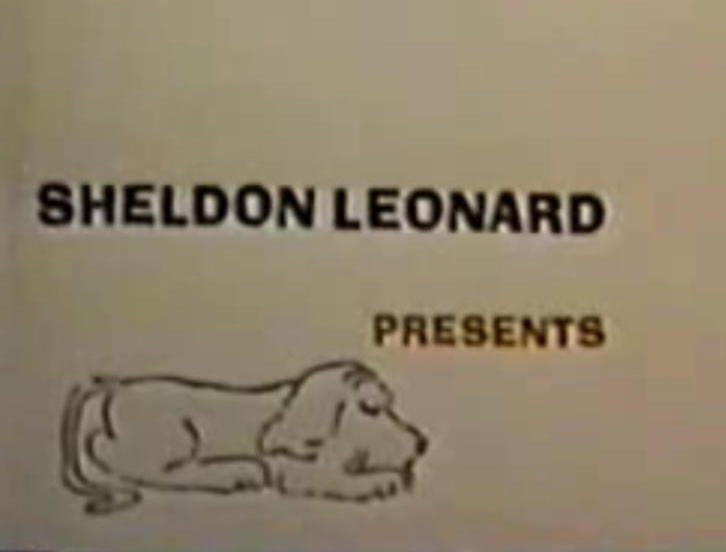 My World . . . and Welcome to it (1969-70)
Episode Guide compiled by The Classic TV Archive
contributions by: John King (New York), Rina Fox
references:
Library of Congress (telnet://locis.loc.gov)
Internet Movie Database (https://www.imdb.com)
Linda and James Young's
"My World and Welcome to it" Web Site
https://www.flyingdreams.org/tv/gallery/myworld.htm
Jim Beaty's (jwbeaty@msn.com)
"The Lisa Gerritsen Web Scrapbook"
https://www.lisagerritsen.com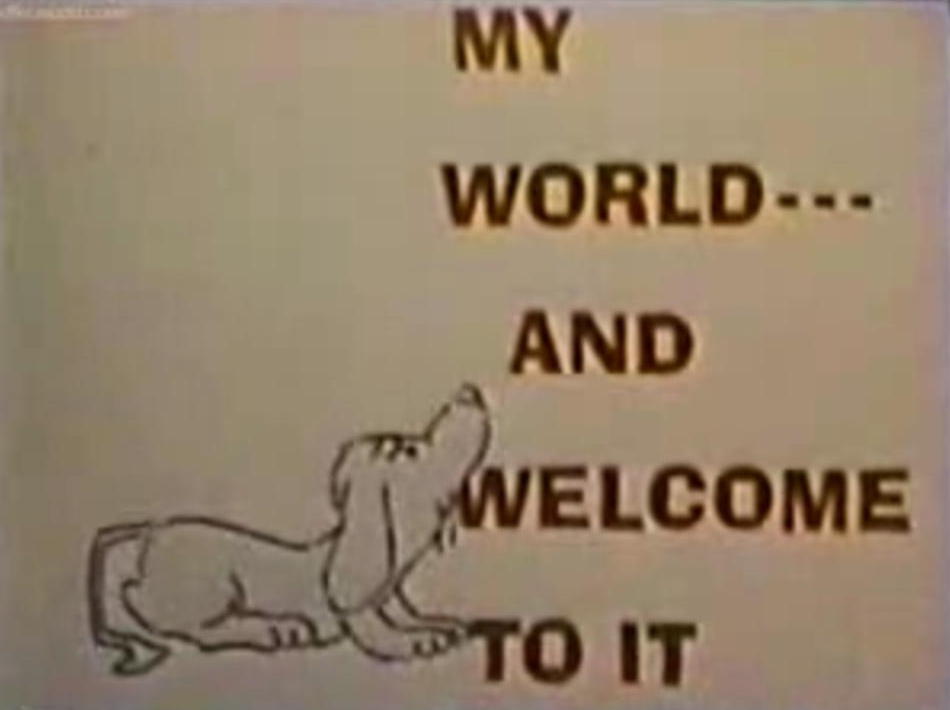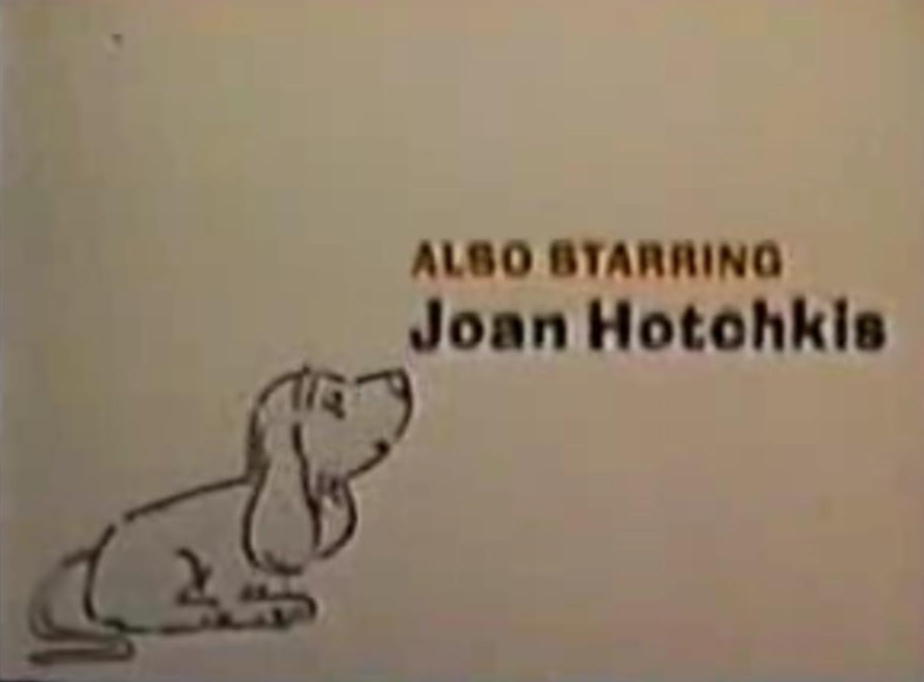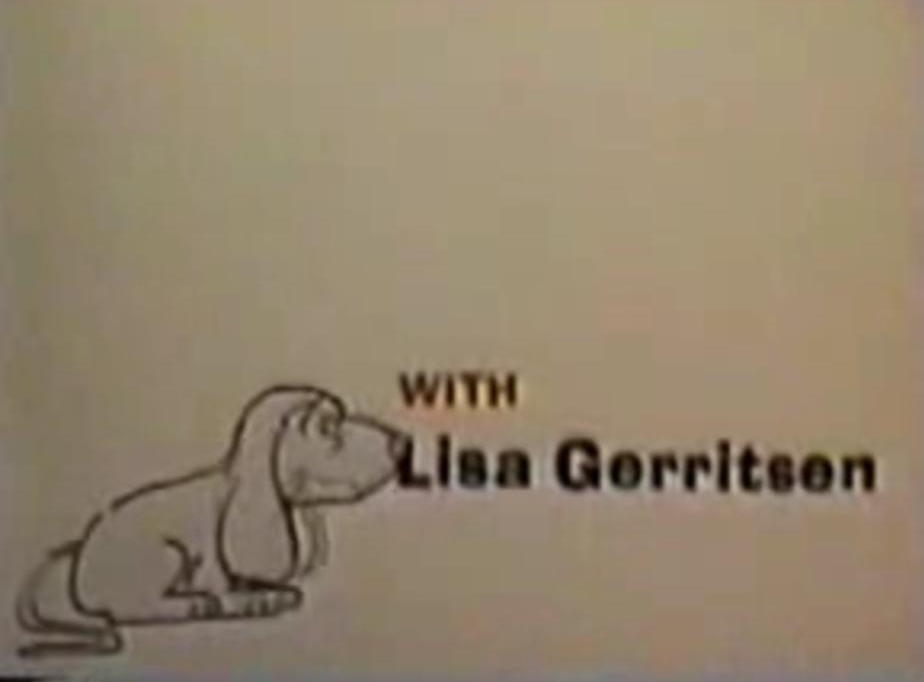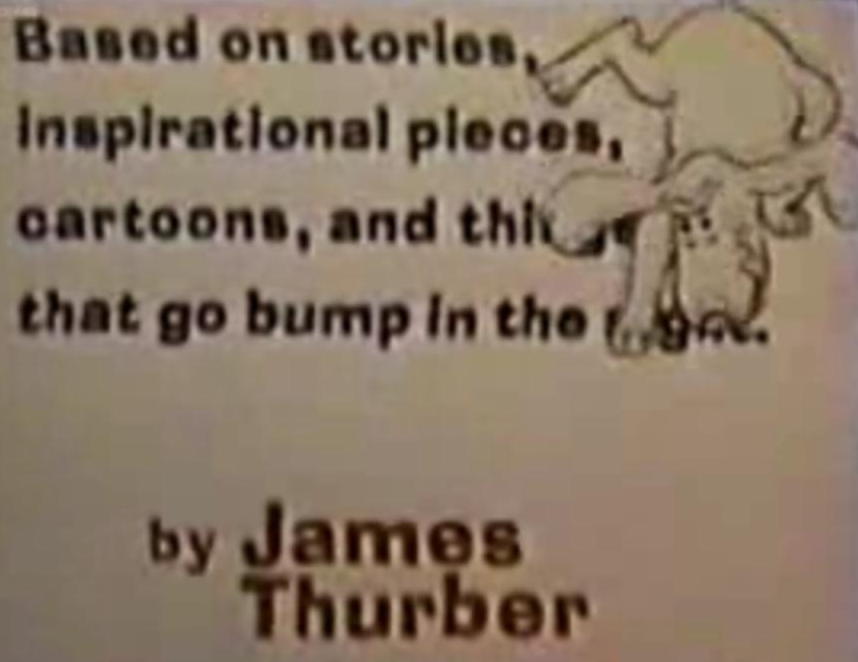 Sheldon Leonard production / / Filmed at Cinema General Studios
Filmed at for
NBC (Mondays 7:30 pm)
Executive in Charge of Production: Ronald Jacobs
Produced by Danny Arnold / Associate Producer: Don Richetta
Directed by John Rich
Created by Mel Shavelson
Based on the characters created by James Thurber

US Comedy series 1969-1970 26 episodes x 30 min. color
US release date 15Sep69 / UK release date 24Dec69
BBC [uk] airdates 12Nov69-13May70 Wed around 10.30pm
Channel 4 [uk] airdates rpts September 1983 Sats 7.30pm
starring
William Windom as John Monroe
co-starring
Joan Hotchkis as Ellen Monroe, his wife
Lisa Gerritsen as Lydia Monroe, his daughter
Harold J. Stone as Hamilton Greeley, his boss
Henry Morgan as Philip Jensen, his colleague
Premise/Background:
Highly acclaimed, well-written, with a superb cast, "My World and Welcome To It" presented life as interpreted from
the writings and drawings of humorist James Thurber. Thurber's cartoons were actually drawn into the series, with many
scenes mixing live-action and animation.

William Windom starred as John Monroe, a cartoonist (ala Thurber) who was constantly musing on his sad life and his
disfunctional relationships with women - and daydreaming about what could be.

Poor guy, he cowered in fear whenever confronting his battle-ax wife Ellen (Joan Hotchkiss) or pre-teen daughter
Lydia (Lisa Gerritsen, later 'Phyllis'' daughter). The animated Thurber sequences were wonderful, bringing to life the
Walter Mitty stories that inspired the series.

Others in the all-star cast: Harold J. Stone as Hamilton Greeley, John's publisher at "Manhattanite Magazine" and
Henry Morgan as Phillip Jensen, a writer pal at the magazine with an equally crusty attitude.

'My World and Welcome To It' debuted on NBC September 15, 1969 and despite critical acclaim, ran only one season.
The series won an Emmy Award as Best Comedy and William Windom won for Best Actor in a Comedy.

The outcry over the show's cancelation was tremendous, and NBC considered bringing the show back, but the expense of
restarting production was prohibitive (not to mention the huge animation costs).

CBS aired reruns of the show during the summer of 1972.
######## My World and Welcome To It ##########
############## season 1969-70 ################
##############################################
NBC Mondays 7:30 pm Eastern

1.1 [--] My World ... and Welcome To It: MAN AGAINST THE WORLD (pilot episode)
prod. no. 1
15Sep69 NBC Mon
In toying with the Civil War occurence of the meeting of Generals Lee and Grant at Appomatox for his daughter Lydia,
cartoonist John Monroe succeeds in bringing home her teacher, Ms. Skidmore, for a historical confrontation of the minds.

1.2 [--] My World ... and Welcome To It: THE DISENCHANTED
prod. no. 3
22Sep69 NBC Mon
Written by Ruth Brooks Flippen / Directed by Danny Arnold
Guest Cast:
Carole Cook ............. Aunt Kate
Lilian Field ............ Miss Skidmore
Lenny Bremen ............ Harry
Synopsis 1:
Frustrated by her school seat, and lack of home support, Lydia plans to pack up and leave on her own. A disgruntled
John escorts her to New York, where the difficulties to cope with life in the big city alone takes a toll on the pair
Synopsis 2:
John, tired of being interrupted at the office by the rumble of the freight elevator next to his office, decides to
work at home, only to run into the problem of Lydia's dissatisfaction with her seat in school. When Lydia decides the
only recourse is to run away, John accompanies her to the city, where she decides to settle with John's flamboyant
sister Kate. Of course John ends up worrying more than Ellen does.
"There are two things a wife can't stand: a husband coming home early or a husband coming home late. Oh, and one
other thing: a husband coming home in the middle of the day."

1.03 [--] My World ... and Welcome To It: LITTLE GIRLS ARE SUGAR & SPICE - AND NOT ALWAYS NICE!
prod. no. 4
29Sep69 NBC Mon
Written by Rick Mittleman
Directed by Lee Philips
Guest Cast:
Oscar Beregi .............. Otto Bergmann
Lew Gallo ................. First Man
Lee Philips ............... Second Man
Leon Colker ............... Third Man
Gloria Lord ............... First Woman
Mary Lou Taylor ........... Second Woman
Synopsis 1:
In an attempt to communicate at length with her father, Lydia engages John in an exhausting battle of wits involving
the delicacy of a chess game. With Lydia getting the upper hand. John must deploy numerous tactics in order to win his
match, courtesy of chess buddy Otto.
Synopsis 2:
John and Lydia seem to have no common ground in conversation--he can't understand why she wants to talk about current
events and why she doesn't talk about things that relate to her own age--so the little girl learns how to play chess to
please him. But as a neophyte player Lydia is "wiping the floor" with her dad, so he begs tips from an expert at work.
But not even Otto's help and his arsenal of fantasies will save him.

1.4 [--] My World ... and Welcome To It: CHRISTABEL
prod. no. 6
6Oct69 NBC Mon (Rerun 30Mar70 NBC Mon)
Written by Melville Shavelson
Directed by Sheldon Leonard
Guest Cast:
Frank De Vol* ............ Veterinarian
Richard Steele .......... Charlie
Danny Arnold ........ Policeman
Synopsis 1:
A funny and affectionate rememberance of James Thurber's lifelong entanglement with dogs. The sudden illness of Christabel,
a gentle poodle who fancies asparagus tips and raspberries, is the core of of this episode. The other family dog is a
bloodhound named Irving. The Thurber pieces that inspired this episode were "The Dog That Bit People," "The Topaz Cufflinks
Mystery,"and "Memorial", his touching tribute to a beloved dog.
Synopsis 2:
Lydia experiences the life-and-death cycle through the slow death of her dying poodle, while John must wrestle with a
solution to this problem
Synopsis 3:
John is in the doghouse--almost literally--when first he has an argument with Ellen about when animals' eyes gleam, and
then he compounds the error by writing a satirical piece about an Airedale his family owned when he was a boy. He only makes
things worse when he turns down Lydia when she asks for a puppy. Then the Monroes' elderly poodle Christabel becomes ill.
* Composer De Vol, who composed such television themes as "Petticoat Junction" and "Green Acres", often appeared as
an actor as well. He was a regular on the series "Camp Runamuck".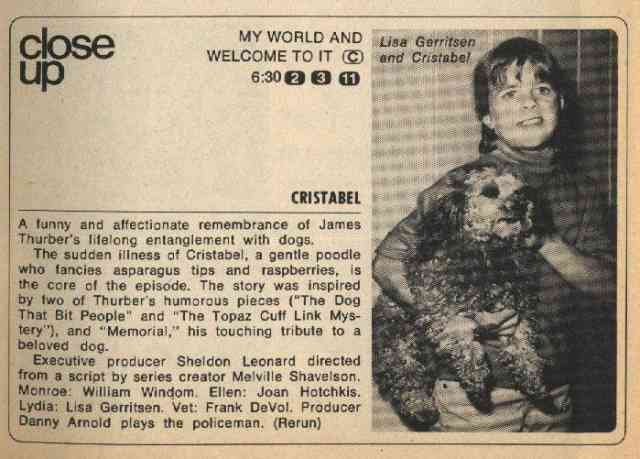 1.5 [--] My World ... and Welcome To It: THE NIGHT THE HOUSE CAUGHT FIRE
prod. no. 7
13Oct69 NBC Mon
Written and Directed by Melville Shavelson
Guest Cast:
Douglas V. Fowley ........... Grandpa
Bobby Riha .................. Little John
Billy Corcoran .............. Roy Monroe
Vic Tayback ................. Alexander
Joe Besser .................. Fire Chief
Ralph Montgomery ............ Fireman #1
Ken Greenwald ............... Fireman #2
Synopsis 1:
Tending to Lydia's cold and his own forgetfulness of things, John reminisces about the days of his grandfather, a former
Civil War veteran, whose treatment against a cold was misconstrued for a heavy fire at the house.
Synopsis 2:
Lydia is laid up with a bad cold and while Ellen does the shopping, John entertains her with tales to try to prove that
people who daydream are far better off than "normal" people." When "The Unicorn in the Garden" fails to impress her,
John relates a tale about his great-grandfather Skinner, who used to enthrall him with tales of his Civil War exploits.
Quotes:
John on modern medicine: "Every time I hear of the Nobel Prize being awarded for medicine I think of the common cold...
so far, the only progress made toward finding a cure for the common cold has been the totally inadvertant discovery that
a hot rum toddy, taken occasionally, won't do a single bit of good, but it isn't a bad idea. However, in the case of
juvenile victims, this method is frowned upon unless they can produce a driver's license. Has it ever occurred to you,
as a reflection on our civilization, that no one in this country is allowed to become intoxicated until they've learned
how to drive a car?"
John on imagination:
Lydia: "Daddy, are people who see things and daydream, are they, well,normal?"
John: "No, they're much better than that. Why, for heaven's sake, they're the artists, the poets, the bums, the cream
of society. They get a lot more out of life than normal people. For one thing, they're never lonely or cold or hungry,
because they've got their imagination to keep them warm and to keep them company. And, don't you believe for a minute
that because they see things that you don't, that those things aren't there." John's parents, according to this,
are named John and Agnes. (Agnes was the middle name of James Thurber's mother.)

1.6 [--] My World ... and Welcome To It: THE GHOST AND MR. MONROE
prod. no. 2
20Oct69 NBC Mon
Guest:
James Gregory ............. J.P. Morgan
A clash at the office with Hamilton Greeley brings forth John's resignation over a cartoon. He then decides to resort
to the stock market as well as millionaire J.P. Morgan, to even up the financial odds stacked against him.

1.7 [--] My World ... and Welcome To It: NOBODY EVER KILLS DRAGONS ANYMORE
prod. no. 10
27Oct69 [us] NBC orig. airdate
Written by Phil Sharp / Directed by John Rich
Guest cast:
Svetlana Mischoff.. Exotic Secret Agent
Bill Erwin ........ American Conductor
Karl Bruck ........ Foreign Conductor
Aly Wassil ........ Hindu
Ed Peck ........... Fred
Synopsis:
John's wild imagination catapults him into a web of international intrigue when 11 pickle forks are sought
by foreign agents to unbalance a small nation's historical wealth.

1.8 [--] My World ... and Welcome To It: SEAL IN THE BEDROOM
prod. no. 5
3Nov69 NBC Mon
Written by Paul Wayne / Directed by Lee Philips
Guest Cast:
Betty Kean ............... Mrs. Monroe, John's mother
Sam Denoff ............... Writer
(This may be the same San Denoff, who, with Bill Persky, created the series "That Girl")
Synopsis 1:
A caricature of a seal watching over John and Ellen, combined with the arrival of John's mother, sets in motion a
sociological plan to admit the error of Hamilton's sketch rejection.
Synopsis 2:
At an editorial meeting, John and Hamilton bump heads over one of John's cartoons about a seal perched on the headboard
of a couple's bed, and it doesn't help when Lydia and Ellen agree about the assessment. Then Phil tries to convince him
that the seal is symbolic of John's mother coming between Ellen and himself and gives John a psychiatry book to read,
and he's off and running. Thurber's "Seal in the Bedroom," which provides the pivot to this episode, invited contention
in real life: New Yorker editor Harold Ross didn't understand it, either. Some of the conversation in this episode comes
directly from what happened when Ross first saw the drawing.

1.9 [--] My World ... and Welcome To It: THE SAGA OF DIMITY ANN
prod. no. 9
10Nov69 NBC Mon
Written by Harvey Bullock, R.S. Allen, Danny Arnold
Directed by John Rich
Guest cast:
Warren Parker ..... the Judge
Lew Gallo ......... the Defense Attorney
Synopsis:
Scratches are exchanged when John is accused by his family of disposing of the house cat. Ellen can't find the
cat in the neighbourhood, whereas Lydia is convinced the cat left because it hates her. John begins his search
for the feline evidence.

1.10 [--] My World ... and Welcome To It: FRIEND OF THE EARTH
prod. no. 12
17Nov69 [us] NBC orig. airdate
Written by Paul Wayne / Directed by Hal Cooper
Guest cast:
Larry Storch ...... Paul Morton
Arthur Hunnicutt .. Zeph Leggin
Synopsis:
Competition threatens John's ego, when a fellow cartoonist (Larry Storch) sets the stage for a sketch-out at the OK Corrall,
in an effort to prove whose humor is better. Even Ellen and Lydia fall under the spell of the "enemy" much to his chagrin.

1.11 [--] My World ... and Welcome To It: MAID IN CONNECTICUT
prod. no. 15
24Nov69 NBC Mon
While Ellen and Lydia are away, a maid is tending to an injured John.
And if she thinks electrical appliances can't get her in the end,
there is every chance the man sketching in the attic will; and he's very tempted.

1.12 [--] My World ... and Welcome To It: NATIVE WIT
prod. no. 13
1Dec69 NBC Mon
Guest:
Arthur Hunnicutt ........... Zeph Leggin
More dueling between John and humorist Zeph Leggin leads to the
latter wishing to leave town. John must step over his winning pride to convince Leggin to stay.

1.13 [--] My World ... and Welcome To It: THE SHRIKE AND THE CHIPMUNKS
prod. no. 8
8Dec69 NBC Mon
Written by Marion Hargrove / Directed by Sheldon Leonard
Guest:
Paul Ford ................. George Lockhart
Dave Shelley .............. Delivery Man
Synopsis 1:
John thinks he has reached a new low when he is asked to collaborate with children's book author George Lockhart,
until their first effort produces an unusual link as to their sarcastic perceptions of life and people around.
Synopsis 2:
John is incensed when Hamilton decides to devote an entire issue of "The Manhattanite" to George Lindsay Lockhart,
a children's book writer, whose next book will be illustrated by John. While Ellen and Lydia are charmed by Lockhart
when he comes to visit, John is further irritated --until he discovers Lockhart is a cynical, frustrated soul
who'd love to write something more acidic.
Note:
The stories that Lockhart "writes" are actually Thurber's "Fables for Our Time", specifically "The Shrike and the Chipmunks."

1.14 [--] My World ... and Welcome To It: RALLY ROUND THE FLAG
prod no. 14
15Dec69 NBC Mon
Lydia suffers a falling out with her father, after his last minute
shopping succeeds only in producing a flag as a gift, days short of
Christmas. Even the neighbors are drafted into the picture to prove John wrong.

1.15 [--] My World ... and Welcome To It: THE WAR BETWEEN MEN AND WOMEN (verified on film)
prod. no. 11 / 22Dec69 NBC Mon
(end cast)
Harold J. Stone ..... Hamilton Greeley
Special Guest Stas:
Henry Morgan ........ Phil Jensen (recurring guest)
Ray Walston ......... J. J. Howard
With:
Olive Dunbar ........ Ruth Jensen
Patty Regan ......... Sylvia Howard
Margaret Muse ....... Margaret Greeley
Buddy Lester ........ O'Malley
Connie Sawyer ....... The Sniper
Lucille Meredith .... Woman Shopper
Stuart Nisbet ....... Man Shopper
Synopsis 1:
His wife's interference in a classic "fish" story irates Monroe's colleague Phil Jensen, who then declares an all-out
battle, while their wives prepare a retaliatory strike against their troops. Losses and compromises are reached in time
before casualties are registered.
Synopsis 2:
At their sixteenth anniversary party at the Monroe house, Phil Jensen finally "breaks" at his wife Ruth's habit of
embellishing and interrupting his story and accidentally spills a drink on her. This, and a hostile encounter at the
grocery store, result in an escalation of warfare between Phil, John, Hamilton, and J.J. Howard, a fellow writer, and Ruth,
Ellen, Margaret, and Sylvia Howard when Ruth throws Phil out of the house.
Note:
"The War Between Men and Women" forms the crux of this episode, but another Thurber piece used is "The Curb in the Sky."

1.16 [--] My World ... and Welcome To It: THE MATING DANCE
prod. no. 17
29Dec69 NBC Mon
Synopsis 1:
Lydia is flattered when two boys fight over her for the event
_ _ _ _ upcoming dance. John sides with a weak boy whose planned date
with Lydia got him in trouble with a school bully.
Synopsis 2:
John helps Elbert, a little boy who has a crush on Lydia, but a
bully also craves her attentions. (This episode has a cute sequence
about John and Ellen's courtship.)

1.17 [--] My World ... and Welcome To It: DARN THAT DREAM
prod. no. 18
5Jan70 NBC Mon
John tries to console Lydia by explaining to her the unsettling
nature of nightmares, thus drawing back to his own childhood days in Columbus.

1.18 [--] My World ... and Welcome To It: THE HUMAN BEING AND THE DINOSAUR
prod. no. 16
12Jan70 NBC Mon
(UK airdate 6Sept70 BBC1 Sun 11.0 pm, re-run)
The birds and the bees step into this story about how Lydia's lesson
of life is countered by her punching out a neighbor's boy, thus
opening up a dilemma between superiority and inferiority complexes
of people around her.

1.19 [--] My World ... and Welcome To It: 'DEAR' IS A FOUR-LETTER WORD
prod. no. 19
19Jan70 NBC Mon
(UK airdate: 8Apr70 BBC2 Wed 10.45pm)
Guest:
Lilian Field .............. Ms. Skidmore
Further gaps between John and Lydia produce more lively encounters
with her teacher Ms. Skidmore, the result of which sends the
cartoonist into a 1984 of the 30's
Four-letter words should be used very sparingly. Especially endearments.

1.20 [--] My World ... and Welcome To It: THE MIDDLE YEARS
prod. no. 21
26Jan70 NBC Mon
Guest:
Lee Meriwether
The arrival of a beautiful neighbor (Lee Meriwether) opens up new
and unconventional fantasies for an overworked John.

1.21 [--] My World ... and Welcome To It: RULES FOR A HAPPY MARRIAGE
prod. no. 22
2Feb70 NBC Mon
A polemic about tardiness places John in the hot spot after his
remarks about wives being late for events causes him to be late
for his own dinner date with Ellen.

1.22 [--] My World ... and Welcome To It: THE WOOING OF MR. MONROE
prod. no. 20
9Feb70 NBC Mon
Ellen sees red when John's frequent teaming with a lovely writer
at the office might produce more sparks than John actually needs to
handle, leading to funny confrontations with Hamilton over work requirements.

1.23 [--] My World ... and Welcome To It: THE MEA CULPIT BIT
prod. no. 23
16Feb70 NBC Mon
A blank in a work assignment and further tension brings about an
accident to Lydia's arm, while all the other protagonists feel sorry
for a word of awkward reasons.

1.24 [--] My World ... and Welcome To It: THE FOURTH ESTATE
prod. no. 24
23Feb70 NBC Mon
Guest cast: [RF]
Christopher Shea ..... Patrick
Allyn Ann McLerie .... Mrs. McGraw
Synopsis 1:
John ponders over his creative flow, when a school paper rejects
some of his illustrations, and further pressure from Hamilton does
little to arrange the atmosphere at work. [JK]
Synopsis 2:
Clashing with an obtuse editor over his drawings is hard enough on Monroe;
being rejected by Lydia's sixth grade newspaper is the affront that sends
him into a confrontation with a 10-year-old whippersnapper. [RF]

1.25 [--] My World ... and Welcome To It: MONROE THE MYSOGONIST
prod. no. 25
2Mar70 NBC Mon
Has John reached a limit? He faces a creative nirvana when his boss
and his wife call him a woman-hater, at the very time a fatal
deadline looms for his latest creation.

1.26 [--] My World ... and Welcome To It: CHILD'S PLAY (final episode)
prod. no. 26
9Mar70 NBC Mon
After he accidentally breaks a picnic date with Lydia, John is
confronted with three future incarnations of his daughter to face
him to realise he is afflicted with a negligence case difficult to control.

######## My World and Welcome To It ##########
################# the end ##################
##############################################

Have you any comments, corrections, episode titles, air dates, production numbers, directors, writers, story/synopsis, guest stars, cast lists, etc?
Have you any old videos, or tv guides? Dust them off and let us know if you have any information on this series or any other tv series from the
Golden Age of TV, which is missing from any episode guides on the web. Perhaps a certain episode of a particular series coincided with a key
moment in your life, or in world events - and or has left a vivid memory of when it was shown. Let us know. Would you like to see any other
tv series guides on this site? If so please e-mail The Classic TV Archive - see Feedback below.
This guide may be distributed and copied freely, in its entirety, for personal use. All original author and copyright information must
remain intact. Any sales or other uses of this document are expressly forbidden, without the specific consent of the author(s).
Copyright © The Classic TV Archive. All rights reserved.

Return to The Classic TV Archive Home Page
Feedback - Comedy Forum