CTVA
The Classic TV Archive - US Comedy Series
It's Always Jan (1955-56)
Episode Guide The Classic TV Archive
contributions by: Jim Brent, Tom Alger
references:
TV Guides / Library of Congress (telnet://locis.loc.gov)
Internet Movie Database (https://www.imdb.com) The Janis Pages (https://thejanispages.omeka.net/)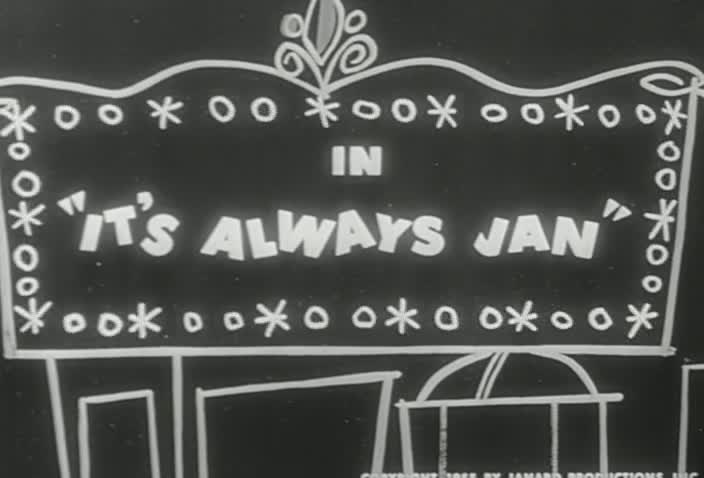 Janard Productions, Inc.
(a partnership of Janis Paige and Arthur Stander)
for
CBS (Saturdays 9:30pm EST)
Produced by Arthur Stander

US Situation Comedy series 1955-56 26 episodes x 30 min bw film
release date 10Sept55
starring
Janis Paige as Janis Stewart, nightclub singer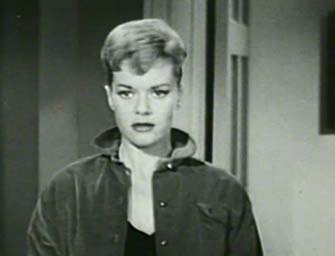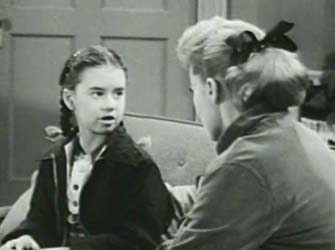 *
Patricia Bright as Pat Murphy, secretary
Merry Anders as Val Marlowe, model
Jeri Lou James as Josie Stewart, Jan's daughter
Arte Johnson as Stanley Schreiber, delivery boy for local delicatessen
Sid Melton as Harry Cooper, Jan's agent

Premise:
Janis Paige stars in this series as a struggling nightclub singer hoping to make it big. Sid Melton plays her manager.
The widowed Janis and her 10-year-old daughter share an apartment with secretary Pat Murphy (Patricia Bright) and model Val Marlowe (Merry Anders).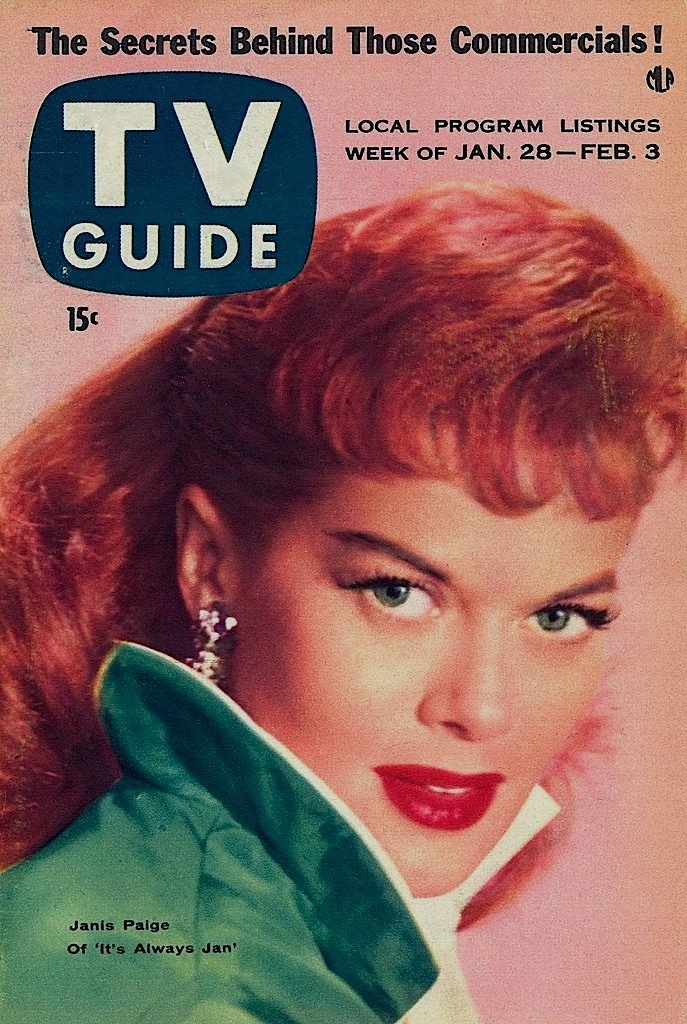 ############## It's Always Jan ###############
############## season 1955-56 ###############
##############################################
CBS Saturdays 9:30 pm Eastern

[01] It's Always Jan: THE FOUR OF US
10-Sep-1955 CBS
Credits:
Directed by Sheldon Leonard
Script by Arthur Stander
Synopsis 1:
Janis Paige stars as a widowed night-club entertainer who shares an apartment with her 10-year old daughter
and two friends, a secretary and a model. In the first episode Jan is upset about the daughter's behavior.
The girl seems too mature for her age. The only solution seems to be to move out of the apartment.
Jan sings "Nothing Could Be Finer."
Synopsis 2:
Janis Paige stars in this series which this evening will. deal with the problems of rearing a 10-year-old child in an apartment with three adults.
[TA / Niagara Falls NY Gazette]
Synopsis 3:
The girls decide that Josie should live with her mother, but in a different apartment. [TA/Melbourne Age]
(Melbourne: 25Feb1960 Thurs. 3:30pm GTV-9)
(Melbourne repeat: 28July1960 Thurs. 8:30pm GTV-9)

[02] It's Always Jan: CHILD ACTRESS
17-Sep-1955 CBS
Synopsis 1:
Daughter Josie appears in a play at school and is an instant success.
Synopsis 2:
Jan is perturbed when Josie decides to become a child actress.
("Comedy Time" repeat: 10Sep1956 NBC 5pm Eastern Time)
(Melbourne: 21Jan1960 Thurs. 3:30pm GTV-9)

[--] 24Sep55 CBS
Pre-empted for Ford Star Jubilee: "The Judy Garland Special"

[03] It's Always Jan: JOE
01-Oct-1955 CBS (network repeat 12May1956) / copyright: 01Oct55 / LP7283.
Guest Star:
Darren McGavin
Synopsis 1:
Jan is faced with a problem when she finds herself falling in love. A fun-loving Irishman tries
to convince her she needs not live entirely in the past with the memory of her husband, a casualty of the war.
Synopsis 2:
Jan meets a happy-go-lucky man who reminds her of her late husband.
(Melbourne: 11Feb1960 Thurs. 3:30pm GTV-9)

[04] It's Always Jan: PAT'S ROMANCE
08-Oct-1955 CBS
Guest cast:
Elliott Reid … the boyfriend
Synopsis 1:
Friendship meets its test when the boy friend Jan's roommate brings home falls for Jan.
Synopsis 2:
Jon's roommate Pat brings home a boy friend who promptly falls for Jan. The situation becomes more complicated when
Jan finds herself becoming interested in the handsome beau. [TA / Philadelphia PA Inquirer]

[05] It's Always Jan: STANLEY'S LOVE
15-Oct-1955 CBS
Synopsis 1:
Jan unwillingly finds herself involved in a triangle. Stanley, the
delicatessen errand boy, has a crush on Jan, but Jan's daughter has a crush on Stanley!
Synopsis 2:
A 20-year-old errand boy embarrasses Jan by declaring his love for her. [TA / Philadelphia PA Inquirer]
("Comedy Time" repeat: 07Sep1956 NBC 5pm Eastern Time)
(Melbourne: 28Jan1960 Thurs. 3:30pm GTV-9)

[--] 22Oct55 CBS
Pre-empted for Ford Star Jubilee: "Together with Music" starring Noël Coward and Mary Martin.

[06] It's Always Jan: PLAYBOY
29-Oct-1955 CBS
Synopsis 1:
Val is thrilled over her engagement to a wealthy and much-married playboy. He, however, is not too in love to overlook the charms of roommate Jan.
Synopsis 2:
Jan attempts to break up the engagement of her friend Val and a five times married playboy. [TA / Melbourne Age]
(Melbourne: 15Oct1959 Thurs. 3:30pm GTV-9)

[07] It's Always Jan: STANLEY'S TRIP
05-Nov-1955 CBS
Synopsis 1:
Jan and her friends hatch a plot to bring Stanley Schrieber to his
senses. The boy wants to take a job in far-off Arabia.
Synopsis 2:
Young Stanley Schreiber decides to leave his father's delicatessen for a job in Arabia. Jan intervenes. [TA / Melbourne Age]
(Melbourne: 22Oct1959 Thurs. 3:30pm GTV-9)

[08] It's Always Jan: SPECIAL MATERIAL
12-Nov-1955 CBS
Synopsis 1:
Jan gets into hot water by borrowing money from her friends. She was tricked into paying a songstress for some "special material."
Synopsis 2:
Jan envisages spectacular success when a writer promise to write special material for her.
(Melbourne: 01Oct1959 Thurs. 3:30pm GTV-9)
Synopsis 3:
Jan bilked out of $150 by songster.

[--] 19Nov55 CBS
Pre-empted for Ford Star Jubilee: "The Caine Mutiny Court-Martial"

[09] It's Always Jan: THE BABY
26-Nov-1955 CBS
Synopsis 1:
Jan tries to help out a young couple in her apartment building.
Neighbors want them evicted because their baby cries at night.
Synopsis 2:
Jan proves to be a good neighbor and a cunning organizer when tenants petition the land-lord to evict the parents of a crying baby. [TA / Melbourne Age]
Synopsis 3:
Irate neighbors in Jan's apartment house demand that couple with a crying baby be evicted, but Jan takes an interest in the child and solves the problem.
[TA / Philadelphia PA Inquirer]
(Repeated 06Sep1956 on NBC's "Comedy Time" series, 5pm Eastern Time)
(Melbourne: 26Nov1959 Thurs. 3:30pm GTV-9)

[10] It's Always Jan: (episode title unknown)
03-Dec-1955 CBS
Synopsis 1:
Josie thinks she is becoming too much of a burden to her mother and runs away to an orphanage.
Synopsis 2:
Jan goes to orphanage to "adopt" a girl after her 10-year-old runs away to there.

[11] It's Always Jan: MOVIE STAR
10-Dec-1955 CBS
Synopsis 1:
Jan's neighbors form a corporation to start her on a career as a movie actress. She blithely invests the money in an elaborate wardrobe,
only to learn that clothes do not necessarily make the woman.
Synopsis 2:
Jan makes a record which wins her an audition with a Hollywood producer, but she needs $500 to buy an impressive outfit. [TA / Melbourne Age]
Synopsis 3:
After blowing her emergency fund on a demo recording, Jan and friends are feeling desperate and destitute. But then Henry Cooper, Jan's manager,
shows up announced with great news. The recording landed her a possible movie deal! Sidney Mansfield, a movie producer, is looking for a female
lead to sing in a musical. Even better for Jan, Mansfield wants an unknown voice specifically instead of a known face. So begins Jan's journey
through the world of celebrity and glamour, along with a subtle transformation from a human being to a financial investment bought by her closest friends.
[source: The Janis Pages]
Synopsis 4:
Harry Cooper, Jan's manager, ran all the way from 49th Street to tell her the demo record she cut paid off. It got her the attention of movie producer
Sidney Mansfield, who was looking for an unknown to sing one of the female leads in an upcoming musical production. Prior to the office meeting,
Pat invites the friends and neighbors to see a "demonstration" of Jan Stewart as a commercial product in a two-piece leopard bikini. The presentation
successfully convinces everyone to "invest" $500 each. [The Janis Pages]
(Melbourne: 08Oct1959 Thurs. 3:30pm GTV-9)

[--] 17Dec55 CBS
Pre-empted for Ford Star Jubilee: "I Hear America Singing"

--------------------------------------------
Newspaper column:
The Marquee by Dick Kleiner
December 19, 1955
There's cast trouble with Janis Paige's "It's Always Jan."
Janis is OK, but Merry Anders is going to have a baby and Pat Bright broke her right knee cap.
Merry will be written out completely and Pat's part will be reworked so she can be constantly sitting down.
(Note: Merry Anders returned later in the season, after her baby was born.)
--------------------------------------------

[12] It's Always Jan: PROPRIETY
24-Dec-1955 CBS
Guest cast:
Gerald Mohr
Synopsis 1:
Even though Jan complains that all her boy friends want to kiss her
goodnight, she is twice as upset when a new beau makes no attempt to kiss her at all.
Synopsis 2:
Jan draws up a list of rules for her boyfriends to adhere to, but finds that Mike Allen is only too prepared to abide by them. [TA / Melbourne Age]
(Melbourne: 05Nov1959 Thurs. 3:30pm GTV-9)

[13] It's Always Jan: (possibly) STOOL PIGEON
31-Dec-1955 CBS
Synopsis 1:
Jan finds herself in a quandary when she has to explain why she
betrayed the confidence of her daughter.
Synopsis 2:
Jan impresses on her daughter Josie the importance of not betraying confidence.
--same episode?
[--] It's Always Jan: STOOL PIGEON
Synopsis:
Josie brings home a young boy who wants to run away from home.
(Melbourne: 17Sep1959 Thurs. 3:30pm GTV-9)

[14] It's Always Jan: THE DIARY
07-Jan-1956 CBS
Synopsis 1:
Because she thinks she has neglected her daughter, Jan turns down a lucrative engagement.
Synopsis 2:
Afraid of neglecting her little daughter, Jan decides to refuse a lucrative singing contract, but the child's diary proves startling. [TA / Melbourne Age]
Synopsis 3:
Jan thinks she is neglecting Josie, until she accidentally learns what the girl has written
in her "Diary. "
("Comedy Time" repeat: 28Aug1956 NBC 5pm Eastern Time)
(Melbourne: 03Dec1959 Thurs. 3:30pm GTV-9)

[--] 14Jan56 CBS
Pre-empted for Ford Star Jubilee: "Blithe Spirit"

--------------------
Note: On January 19, 1956, series star Janis Paige and the show's producer Arthur Stander were married in Las Vegas. The marriage didn't last very long
with Ms. Paige filing for divorce on April 4, 1957.
--------------------

[15] It's Always Jan: HOUSE KEEPER
21-Jan-1956 CBS / 21Jan56 (in notice: 1955) / LP7339.
Synopsis 1:
Jan and her roommates hire a new housekeeper and nearly start a
revolution in their apartment building as a result.
Synopsis 2:
When Jan and her friends hire a male housekeeper, they become the enemies of every husband In their apartment house. [TA / Lowell Sun, Lowell, Massachusetts]
Synopsis 3:
The trouble begins when Jan and her girl friends hire a young man to keep house for them. The other women In the apartment house see how well the man does
housework and insist that their husbands do likewise. [Albany NY Times Union]
(Melbourne: 24Dec1959 Thurs. 3:30pm GTV-9)

[16] It's Always Jan: STAGE DOOR JOHNNY
28-Jan-1956 CBS
Synopsis 1:
Jan's curiosity is aroused when she begins receiving gifts and flowers from an unknown admirer.
Synopsis 2:
Jan Steward is showered with flowers and gifts by an unknown admirer, who turns out to be an elderly man who has absolutely no interest in her. [TA / Gettysburg Times]
[TA / Philadelphia PA Inquirer]
Synopsis 3:
Jan takes pity on an elderly man who sacrificed his life for his sisters. [TA / Melbourne Age]
("Comedy Time" repeat: 29Aug1956 NBC 5pm Eastern Time)
(Melbourne: 10Dec1959 Thurs. 3:30pm GTV-9)

[17] It's Always Jan: PRESS RELEASE
04-Feb-1956 CBS
Guest cast:
Sid Melton … Harry Cooper (recurring role)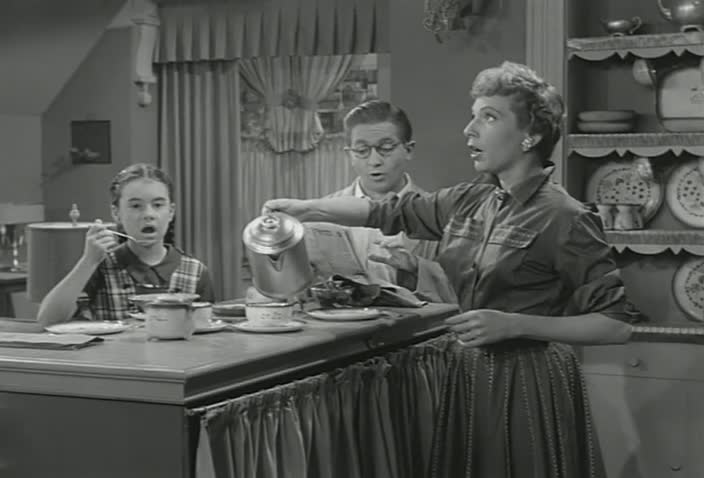 Synopsis 1:
Jan is upset when her press agent releases an "item" that she and a movie star are seeing each other. Jan claims she hasn't even met her "beau."
Synopsis 2:
Jan finds herself in the celebrity class when a publicity agent invents a romance between her and a film star. [TA / Melbourne Age]
("Comedy Time" repeat: 30Aug1956 NBC 5pm Eastern Time)
(Melbourne: 29Oct1959 Thurs. 3:30pm GTV-9)

[--] 11Feb56 CBS
Pre-empted for Ford Star Jubilee: "The Day Lincoln Was Shot"

[18] It's Always Jan: THE DOCTOR
18-Feb-1956 CBS
Synopsis 1:
A handsome bachelor physician decides Jan is just what the doctor
ordered. His patient is Josie, but he'd rather consult with Jan.
Synopsis 2:
When handsome, unmarried Dr. Phillips comes to treat Josie. all the girls fall for him.
Jan soon discovers that the doctor is interested in her and not as a patient. [TA / Albany NY Times Union]
Synopsis 3:
Josie, in love with the doctor, wants her mother to marry him.
(Melbourne: 04Feb1960 Thurs. 3:30pm GTV-9)

[19] It's Always Jan: GUILTY CONSCIENCE
25-Feb-1956 CBS (network repeat 17Jun56)
Guest cast:
Dan Tobin … Jack Adams, talent agent
Peter Leeds … newspaper reporter
Bill Meador … Man
Roxanne Arlen … Girl at table
Synopsis 1:
Jan is torn between loyalty and fame when a big-time agent offers her a prize engagement if she agrees to leave her present agent and sign with him.
Synopsis 2:
A rival agent tries to persuade Jan to desert her own agent. [TA / Melbourne Age]
(Melbourne: 19Nov1959 Thurs. 3:30pm GTV-9)

[20] It's Always Jan: PUBLIC ENEMY
03-Mar-1956 CBS
Synopsis 1:
The rookie pitcher on a baseball team is smitten with Jan. But when
she spurns his affections, the ball player begins losing games.
Synopsis 2:
A baseball team manager begs Jan to break her spell over his pitcher, who spends every evening at the nightclub where she sings. [TA / Melbourne Age]
(Melbourne: 03Sep1959 Thurs. 3:30pm GTV-9)
Synopsis 3:
The Brooklyn Dodgers' star rookie pitcher falls in love with Jan and, when she rejects him, begins losing so many ball games he is about to be shipped
back to the minors. Anxious to save the rookie's job and help Brooklyn win the pennant, Jan uses a system that all true baseball fans understand to
solve the problem. [TA / Philadelphia PA Inquirer]

[--] 10Mar56 CBS
Pre-empted for Ford Star Jubilee: "High Tor"

[21] It's Always Jan: BLIND DATE
17-Mar-1956 CBS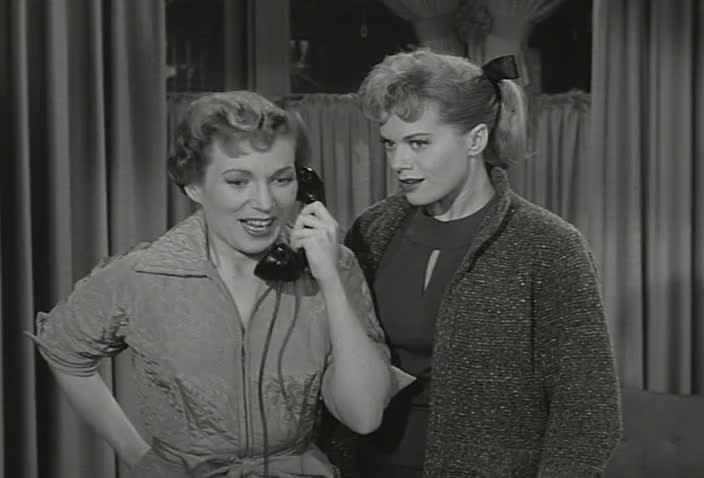 Synopsis 1:
Pat makes a blind date and then gets cold feet about dating someone she hasn't met. Jan offers to fill in for Pat, rather than disappoint the man.
Synopsis 2:
Due to a phone slip-up, Pat, Jan's roommate, mistakenly gets a call from someone named Seymour. The ensuing chat goes so well Jan recommends Pat go
on a date with him. However, Pat and Jan know absolutely nothing about Seymour; who he is, what he looks like, or even if he's a perfect match.
Jan tries to comfort Pat by reminding her that sometimes, the best things in life are both unexpected and outside one's comfort zone. Will this be
one of those times for Pat, or just another reminder for her to always trust her feelings after they get broken? [The Janis Pages]
Synopsis 3:
After a phone call with Seymour, Jan tries to convince Pat, sight unseen, to try going out on a date with him. She has absolutely no idea what he
looks like; all she, and for that matter the audience, have to go on is his voice.
Pat returns home just after 2 in the morning. It's presumed that she realized Seymour may have been the plumber from earlier in the day, but all Pat
says was that it was a wonderful time, never revealing who he is or looks like before the end of the program. [The Janis Pages]
Synopsis 4:
Jan tries to arrange a match between her girl friend Pat and Seymour.
(Melbourne: 31Dec1959 Thurs. 3:30pm GTV-9)

[22] It's Always Jan: LOVE RINGS BELLS
24-Mar-1956 CBS
Synopsis 1:
Jan is the object of a matchmaking campaign when neighbors send all unattached male friends to look her over.
Synopsis 2:
When the neighbors start sending their unattached male friends and relatives to look Jan over as a marital prospect, they come in all assortments of
shapes, sizes and dispositions.
Synopsis 3:
Fed up with all the creeps and pub crawlers, Jan decides on a whim to get married. The problem is, she has no idea what she wants in a husband. And
so she begins speed dating with reckless abandon, with potential suitors ranging from incompatible to borderline-obsessive. But just as she throws in
the towel, a perfect match shows up. Could this be the right man at the right time? [The Janis Pages]
Synopsis 5:
After saving her from getting hit on by a creepy bar crawler, Pat and Mrs. Johnson chalk up Jan's romantic misfortunes to her job as a nightclub singer;
if she were a librarian or secretary, this wouldn't be a problem. Fed up, she spontaneously decides to get married before even having an idea for what
she wants in a suitor.
After a whole day of striking out, Jan finally lands a potential date in the form of Mr. Howard Stone. They never become a serious couple, but the
experience does remind Jan she can still find love 9 years after the death of her military husband. [The Janis Pages]
Synopsis 6:
Jan's friends try to find a suitable husband for her. [TA / Melbourne Age]
(Melbourne: 17Dec1959 Thurs. 3:30pm GTV-9)

[23] It's Always Jan: ROOM FOR RENT
31-Mar-1956 CBS
Synopsis 1:
Jan and Pat have a falling out and Pat decides to move to another
apartment. But Jan's daughter has some ideas about resolving their
differences.
Synopsis 2:
Jan and her roommate have a nerve-wracking day. [TA / Melbourne Age]
Synopsis 3:
Jan and her roommate quarrel and decide to live separately, until Josie provides the happy solution to their problem.
("Comedy Time" repeat: 14Sep1956 NBC 5pm Eastern Time)
(Melbourne: 12Nov1959 Thurs. 3:30pm GTV-9)

[--] 07Apr56 CBS
Pre-empted for Ford Star Jubilee: "Twentieth Century"

[24] It's Always Jan: STOCK DEAL
14-Apr-1956 CBS
Guest Cast:
Kathleen Freeman … Mrs. Johnson
Steven Geray … Mr. Johnson
Synopsis 1:
When Jan and Pat get a "hot tip" on some uranium stock, they pass
along the good news to all their friends, fully expecting to become millionaires overnight.
Synopsis 2:
A client gives Jan a stock market tip.
(Melbourne: 24Sep1959 Thurs. 3:30pm GTV-9)

[25] It's Always Jan: STAGE STRUCK
21-Apr-1956 CBS (network repeat 30Jun57)
Synopsis 1:
When daughter Josie comes home singing the praises of a school chum's mother, Jan takes her daughter to the night club to show Josie that her mom's no slouch either.
Synopsis 2:
Jan's daughter is stagestruck. [TA / 21Apr56 Long Island City NY Star Journal]
Synopsis 3:
Jan's daughter's ideal is a woman lawyer.
(Melbourne: 10Sep1959 Thurs. 3:30pm GTV-9)
Synopsis 4:
Jan takes drastic action when her 10-year-old daughter becomes "Stage Struck." [TA / Philadelphia PA Inquirer]
("Comedy Time" repeat: 27Aug1956 NBC 5pm Eastern Time)

[26] It's Always Jan: HARRY SHOULD MARRY (final episode)
28-Apr-1956 CBS / 28Apr56 (in notice: 1955) / LP7338.
Synopsis:
Jan, Josie and Pat hatch a plot to get Jan's agent married off. But
their efforts to rearrange Harry's life so that he'll meet the right girl go awry.
(Melbourne: 07Jan1960 Thurs. 3:30pm GTV-9)

Note:
This is the completion of the "26" original episodes, all remaining shows are reruns.

[--] 05May56 CBS
Pre-empted for Ford Star Jubilee: "This Happy Breed"

---------------------
CBS Summer Reruns
---------------------
12May56 Repeat from 01Oct55 ("Joe").
19May56 Repeat from 26Nov55 ("The Baby").
26May56 Repeat from 21Jan56 ("House Keeper")
[--] 02Jun56 Pre-empted for Ford Star Jubilee: "A Bell for Adano"
09Jun56 Repeat from 18Feb56 ("The Doctor")
16Jun56 Repeat from 25Feb56 ("Guilty Conscience")
23Jun56 Repeat from 24Mar56 ("Love Rings Bells")
30Jun56 Repeat from 21Apr56 ("Stage Struck")

07July1956 CBS - start of Summer replacement series:
"The Russ Morgan Show" a half-hour variety show starring Russ Morgan and Helen O'Connell.

NBC repeats:
From 12Aug56 through 21Sep56, NBC aired reruns of "It's Always Jan" on its weekday afternoon "Comedy Time" series.

############## It's Always Jan ###############
################# the end ##################
##############################################

Have you any comments, corrections, episode titles, air dates, production numbers, directors, writers, story/synopsis, guest stars, cast lists, etc?
Have you any old videos, or tv guides? Dust them off and let us know if you have any information on this series or any other tv series from the
Golden Age of TV, which is missing from any episode guides on the web. Perhaps a certain episode of a particular series coincided with a key
moment in your life, or in world events - and or has left a vivid memory of when it was shown. Let us know. Would you like to see any other
tv series guides on this site? If so please e-mail The Classic TV Archive - see Feedback below.
This guide may be distributed and copied freely, in its entirety, for personal use. All original author and copyright information must
remain intact. Any sales or other uses of this document are expressly forbidden, without the specific consent of the author(s).
Copyright © The Classic TV Archive. All rights reserved.

Return to The Classic TV Archive Home Page
Feedback - Comedy Forum