Pursuit (CBS)(1958-59)
Syndicated title "Reckoning".
Episode Guide compiled by The Classic TV Archive
with contributions by: Rina Fox [Updated June 2020]
references:
TV Guide / Library of Congress (telnet://locis.loc.gov)
Internet Movie Database (https://us.imdb.com)
UCLA Film and Television Archive / Writers Guild of America (wga)

-----------
PURSUIT
-----------
CBS
Executive producer Norman Felton
Producer Peter Kortner

US Anthology Series 1958-59 12 episodes x 60 min (Live)

Original music by Bernard Herrmann

#################### Pursuit ###################
############## season 1 1958-59 ##############
##############################################
CBS Wednesday 8-9pm (Live)(22-Oct-1958 to 21-Jan-1959)

[01] Pursuit: THE VENGEANCE [Premiere]
22Oct1958 CBS Wed
Written by Adrian Spies
Directed by Herbert Hirschman
Guest cast:
Macdonald Carey ..... Harry Taback
Sal Mineo ........... Richie Rogart
Stuart Erwin ........ Detective Froelich
Carol Lynley ........ Elaine Hermann
Vivian Nathan ....... Mrs. Rogart
Robert H. Harris .... Mr. Hermann
Lee Kinsolving ...... Albie Taback
Synopsis:
Richie is just out of the Army. Earlier he had spent some time in a reformatory for pushing another youngster
down a flight of stairs, crippling him. Now Richie finds it difficult to stay out of trouble, for he is hounded
by the crippled boy's father, who is a police detective.
*Note: Syndication airing on "Reckoning" 29Jul59.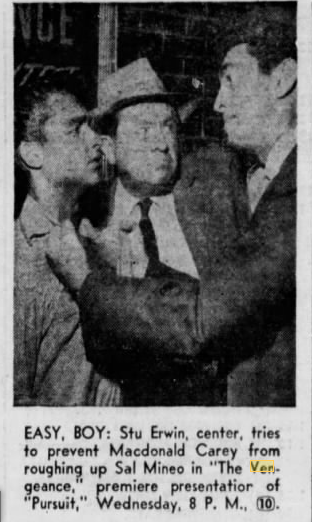 [02] Pursuit: FREE RIDE
29Oct1958 CBS Wed
Teleplay by Donald S. Sanford / Story by James M. Fox
Directed by David Greene
Guest cast:
Keenan Wynn ........ Detective Sergeant Long
Ralph Meeker ....... Leo Maxwell
Linda Darnell ...... Carol Wallace
Sidney Blackmer .... Mr. Carpenter
Synopsis:
Detective Sergeant Long has been assigned to pick up Leo Maxwell from a Texas sheriff. It is Long's job to
escort Maxwell safely to San Francisco where he must stand trial for manslaughter. But as soon as Long picks
up his prisoner, it becomes apparent that someone is trying to kill either the prisoner or the detective.
*Note: Syndication airing on "Reckoning" 08Aug59.

[03] Pursuit: TICKET TO TANGIER
05Nov1958 CBS Wed
Written by Irwin & Gwen Gielgud
Directed by David Greene
Guest cast:
Barry Sullivan .... Henry Savage
Nina Foch ......... Mrs. Lu Claire Holden
Martin Balsam ..... Holden
Zachary Scott ..... Louis Martell
William Gargan .... Mooney
Lilyan Chauvin
Larry J. Blake
Synopsis:
Henry Savage, former FBI agent who is now special investigator
for an airline, spots a suspicious looking couple in an airport. Savage thinks that he recognizes the man from
his days with the FBI so he checks with the bureau, then follows him. (tape)

[04] Pursuit: TIGER ON A BICYCLE
12Nov1958 CBS Wed [The Tribune]
Adaptation by Joanne Court / Original story by Jonathan Latimer
Directed by Paul Nickell
Guest cast:
Dan Duryea ......... Matt Shaw
Laraine Day ......... Kathy Nelson
David Ladd ........... Peter Nelson
Neville Brand ...... Joe Nelson
Chester Morris .... Moody
Synopsis:
A detective trying to solve an armored car robbery becomes friendly with
a boy he thinks had a hand in the stickup.
Synopsis 2:
An armored car robbery results in the death of a policeman, and the pursuite
of the victim's killers by his partner, Matt Shaw who concludes that the young
son of an ex-convict is his best lead to the identity of the slayer.

[05] Pursuit: KISS ME AGAIN, STRANGER
19-Nov-1958 CBS Wed
Producer Eva Wolas
Adapted by Leonard Kanter / From the story by Daphne Du Maurier
Directed by David Greene
Guest Cast:
Jeffrey Hunter ............. Lt. Aaron Gibbs
Margaret O'Brien ........ Mara
Myron McCormick .... Colonel
Mary Beth Hughes ........ Evelyn
Mort Sahl ......... Skip
Yvette Duguay
Harold Ayer
Synopsis:
In a small town located near an Air Force base, a young airman is found stabbed to death. Lt. Gibbs,
a friend of the murdered man, is given permission by the head of the Air Force to help the local sheriff
track down the murderer. (film)
Synopsis 2:
A U.S. pilot meets an Italian girl while tracking down a pal's killer.
*Note: Mort Sahl said he gets killed in this role while Johnny Mathis sings "Danny Boy".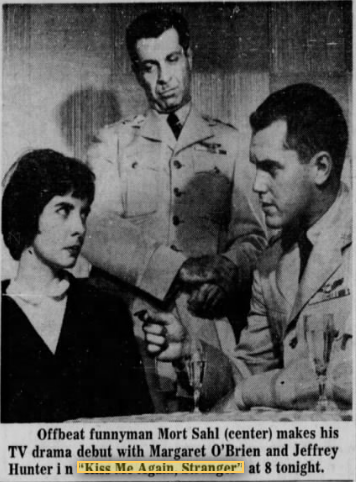 [06] Pursuit: EAGLE IN A CAGE aka "Eagle in the Cage"
26Nov1958 CBS Wed 8pm
Teleplay by Robert Bloomfield
Directed by Buzz Kulik
Guest cast:
Robert Alda
Joan Caulfield
Marguerite Chapman
Fernando Lamas
Robert Middleton
Lyle Talbot
Synopsis:
An insurance claims adjuster who sits as a juror in a homicide trial subsequently finds himself the target of a killer.

[--] Pursuit: EPITAPH FOR A GOLDEN GIRL
03Dec1958 CBS Wed [rescheduled to 21Jan59]

[07] Pursuit: CALCULATED RISK
10Dec1958 CBS Wed
Written by Dick Berg
Guest cast:
John Cassavetes .... Sam Caldwell
E.G. Marshall ...... Tenner Hodges
Mona Freeman ....... Nina Hodges
Conrad Nagel
Warner Anderson
Synopsis:
Sam Caldwell and Tenner Hodges, executives of the Caldwell Corporation,
are expecting two investigators from the Internal Revenue Department. Caldwell and Hodges feel certain the agents
will unduly nervous about one of their subsidiary companies. One of the agents also finds himself attracted to
Nina Hodges, Tenner's daughter, which makes it difficult for him to be completely objective in his investigation.
Synopsis 2:
The story concerns the battle of wits and figures between two executives of
a large corporation and two tax agents and the love of one of the agents for the
daughter of one of the executives.
*Note: Syndication airing on "Reckoning" 01Aug1959.

[08] Pursuit: THE LAST NIGHT IN AUGUST
17Dec1958 CBS Wed [Courier-Post]
Written by Rod Serling
Directed by Paul Stanley
Guest cast:
Franchot Tone
Lyle Bettger
Cameron Mitchell
Dennis Hopper
Leo Fuchs
Synopsis:
Story concerns a father and his two sons, and ties two nights in August
years apart, to the shattering of the gentle father's hope for one of his sons
and to the bitter duty faced by the other son, a cop.

[09] Pursuit: THE SILENT NIGHT
24Dec1958 CBS Wed
Produced by Charles Russell
Written by Paul Monash
Directed by Buzz Kulik
Guest cast:
Lew Ayres ........ John Conrad
Patricia Neal .... Mrs. Conrad
Victor Jory ...... Cop
Frank Lovejoy .... Doctor
Eduard Franz
Steven Hill
Synopsis:
Christmas Eve bodes disaster for a couple trapped.
Synopsis 2:
A brilliant engineer recovering from a mental breakdown escapes from the
hospital in a Santa Clause suit and goes home for Christmas.
On the same night, two years earlier, Conrad had attempted to kill himself and his wife.

[10] Pursuit: THE DARK CLOUD
31Dec1958 CBS Wed
07Jan1959 CBS Wed [Pittsburgh Press]
Directed by James Clark
Guest cast:
Ann Sheridan
Eduardo Ciannelli
Darryl Hickman
Gary Merrill
Fay Spain
James Westerfield
Synopsis:
A detective is suspended from the police force after he is found at the scene
of the murder of an important witness in the trial of an underworld leader.
*Note: Pittsburgh Post Gazette lists Anne Baxter, not Ann Sheridan.

[--] Pursuit: The Dark Cloud
07Jan1959 CBS Wed [Pittsburgh Press]
possibly postponed on December 31, 1958.

[11] Pursuit: THE HOUSE AT MALIBU
14Jan1959 CBS Wed
written by Joel Carpenter
Directed by Buzz Kulik
Guest cast:
Dane Clark ........ Joe Jupiter
Jan Sterling ...... Allison Smith
Marie Windsor ..... Bessie
Synopsis:
Private eye Joe Jupiter is approached by the lawyer of the girl he loves.
The assignment: to investigate another man the girl is interested in.
*Note: Syndication airing on "Reckoning 22Jun60)

[12] Pursuit: EPITAPH FOR A GOLDEN GIRL [Final episode]
21Jan1959 CBS Wed [Pittsburgh Post Gazette]
Teleplay by Lorenzo Semple Jr. / Story by Ross MacDonald
Directed by Daniel Petrie
Guest cast:
Joan Bennett
Michael Rennie ...... Joe Rogers
Rick Jason
Rip Torn
Sally Forrest
Synopsis:
An investigation by a private detective into the mysterious disappearance of an
apparently happily married young movie actress, daughter of a prominent studio executive.

* Series cancelled due to poor ratings. "Trackdown" moves
from Fridays to Wednesdays filling only 1/2 hr of the timeslot.

################### Pursuit ###################
################### the end ##################
##############################################

Have you any comments, corrections, episode titles, air dates, production numbers, directors, writers, story/synopsis, guest stars, cast lists, etc?
Have you any old videos, or tv guides? Dust them off and let us know if you have any information on this series or any other tv series from the
Golden Age of TV, which is missing from any episode guides on the web. Perhaps a certain episode of a particular series coincided with a key
moment in your life, or in world events - and or has left a vivid memory of when it was shown. Let us know. Would you like to see any other
tv series guides on this site? If so please e-mail The Classic TV Archive - see Feedback below.
This guide may be distributed and copied freely, in its entirety, for personal use. All original author and copyright information must
remain intact. Any sales or other uses of this document are expressly forbidden, without the specific consent of the author(s).
Copyright © The Classic TV Archive. All rights reserved.

Return to The Classic TV Archive Home Page
Feedback - Anthology Forum