CTVA
The Classic TV Archive - US Adventure series
"U.S. Border Patrol" (1959)
Captain Midnight (1954-56)
a.k.a. Jet Jackson, Flying Commando (syndication title)
Episode Guide compiled by The Classic TV Archive
with contributions by:
Sal Crisanti, Trevor Scott, Rina Fox, Alan Keeling
references:
Library of Congress (telnet://locis.loc.gov)
Internet Movie Database (https://www.imdb.com)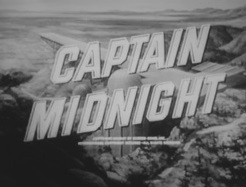 Filmed and Produced by Screen Gems Television Productions
A Subsidiary of Columbia Pictures Corporation
for
CBS (Saturdays)
PRODUCTION EXECUTIVE FRED BRISKIN
PRODUCED BY GEORGE BILSON

US Adventure series 1954-56 39 episodes x 30 min bw
starring
Richard Webb
as Captain Midnight / Jim Albright
Sid Melton as Ichabod "Icky" Mudd (Sq2)
Olan Soule as Aristotle "Tut" Jones

Premise:
A former air ace commands the Secret Squadron, a government organization
designed to combat evil.

DIRECTORS INCLUDED:
D.ROSS LEDERMAN, ROBERT G. WALKER, LEE SHOLEM

WRITERS INCLUDED:
WALLACE BOSCO, ROBERT LESLIE BELLAM, LEE ERWIN, PETER DIXON,
JOHN O'DEA, WELLS ROOT, MALCOLM STUART BOYLAN.

ASSISTANT DIRECTORS INCLUDED:
MITCHELL GAMSON AND SID SIDMAN

SUPERVISING FILM EDITOR: HENRY BATISTA
PHOTOGRAPHY BY: BENJAMIN H. KLINE AND RAY CORY

Stunts:
BOB MORGAN, FRED KRONE, CARL SAXE, BOB WOODWARD, BERT LE BARON.

THEME SONG BY: DON A. FERRIS AND IRVING FRIEDMAN

Syndication Title:
The network version of the series on CBS was sponsored by "Ovaltine",
which had also sponsored the radio show. Because "Ovaltine" owned the
rights to the name "Captain Midnight", when the reruns of the series
went into syndication (without "Ovaltine's sponsorship) they were seen
under the title "Jet Jackson, Flying Commando"; all references to
"Captain Midnight" crudely overdubbed with the words "Jet Jackson".

Richard Webb later returned to television starring in the series
'U.S. Border Patrol' as Deputy Chief Don Jagger (1959) 39 episodes.
CAPTAIN MIDNIGHT SECRET SQUADRON HALL OF FAME OVALTINE
CAPTAIN MIDNIGHT OVALTINE COMMERCIAL 1951
1957 CAPTAIN MIDNIGHT COMMERCIAL OVALTINE

############## Captain Midnight ##############
############# season 1 fall 1954 #############
##############################################
CBS Saturdays 17 episodes

[01] Captain Midnight: a.k.a. Jet Jackson, the Flying Commando:
MURDER BY RADIATON
Screen Gems prod. no. 1 (copyright date 21Sep54)
04Sep54 CBS Sat (rerun 28May55)
Directed by D. Ross Lederman
Teleplay by Dane Slade
Guest Cast:
Tommy Ivo........as Jimmy Roberts
Wheaton Chambers........as Dr.Ormond
Peter Brocco........as Lou Trell
Henry Rowland........as The Enemy Agent. [SC]
Synopsis:
Midnight, Tut and Ikky are called upon to help find some stolen
ormondium, a powerful radioactive element. [RF]

[02] Captain Midnight: a.k.a. Jet Jackson, the Flying Commando:
THE ELECTRONIC KILLER
Screen Gems prod. no. 2 (copyright date 21Sep54)
11Sep54 CBS Sat
Guest Cast:
Robert Bice

[03] Captain Midnight: a.k.a. Jet Jackson, the Flying Commando:
DEADLY DIAMONDS (1954)
Screen Gems prod. no. 3 (copyright date 28Sep54)
18Sep54 CBS Sat
Classic TV - Captain Midnight (1954), I - II - III
Directed by D. Ross Lederman
Teleplay by WALLACE BOSCO Story by WILLIAM LIVELY.
Guest Cast:
GARY GRAY, JOHN HAMILTON, ED HINTON, JOHN CASON, ZON MURRAY,
I.STANFORD JOLLEY, IAN BUCHANAN.
Synopsis 1:
TUT'S INVENTION OF A DEVICE CALLED AN 'OMNI COUNTER', HELPS
CAPTAIN MIDNIGHT TRACK DOWN A GANG OF DIAMOND SMUGGLERS. [SC]
Synopsis 2:
CAPTAIN MIDNIGHT AND HIS ASSISTANT ICKY, TRACK DOWN A GANG OF
DANGEROUS DIAMOND SMUGGLERS. [SC]

[04] Captain Midnight: a.k.a. Jet Jackson, the Flying Commando:
THE LOST MOON
Screen Gems prod. no. 4 (copyright date 05Oct54)
25Sep54 CBS Sat

[05] Captain Midnight: a.k.a. Jet Jackson, the Flying Commando:
DEATH BELOW ZERO (1954)
Screen Gems prod. no. 5 (copyright date 12Oct54)
02Oct54 CBS Sat
Classic TV - Captain Midnight (I) (II) (III)
Directed by D. Ross Lederman
Teleplay by WELLS ROOT Story by MALCOLM STUART BOYLAN.
Guest Cast:
DAVID COLMANS, KENNETH MACDONALD, HENRY ROWLAND, HARRY LAUTER,
BOB WOODWARD.
Synopsis:
WHILE INVESTIGATING SOME LEEDS TO A BANK ROBBERY, CAPTAIN MIDNIGHT
FACES NEAR DEATH WHEN HE IS IMPRISONED IN A COLD STORAGE LOCKER. [SC]

[06] Captain Midnight: a.k.a. Jet Jackson, the Flying Commando:
OPERATION FAILURE
Screen Gems prod. no. 6 (copyright date 19Oct54)
09Oct54 CBS Sat
Guest Cast:
John Mylong ................... Zabor

[07] Captain Midnight: a.k.a. Jet Jackson, the Flying Commando:
TRAPPED BEHIND BARS (1954)
Screen Gems prod. no. 7 (copyright date 26Oct54)
16Oct54 CBS Sat
Directed by D. Ross Lederman
Teleplay by GEORGE BRICKER Story by MILTON M. RAISON.
Guest Cast:
Don C. Harvey (as Rocky Billings)
Mel Welles (as Harga)
Lennie Bremen (as Pete Hardy)
CHARLES POSTAL, GENE ROTH, EDWARD FOSTER.
Synopsis:
CAPTAIN MIDNIGHT AND ICKY GO UNDERCOVER BEHIND PRISON BARS TO LEARN
THE SECRET OF A SERIES OF PRISON RIOTS. [SC]

[08] Captain Midnight: a.k.a. Jet Jackson, the Flying Commando:
THE WALKING GHOST
Screen Gems prod. no. 9 (copyright date 09Nov54)
23Oct54 CBS Sat (Rerun 23Apr55)
Directed by D. Ross Lederman
Teleplay by Wallace Bosco
Guest Cast:
Jan Shepard........as Marcia Stanhope
William Fawcett........as Uncle Cyrus
Belle Mitchell........as Incana [SC]
Synopsis:
A quiet game of chess is interrupted by an urgent call for Captain
Midnight from a squadron member whose life is in danger because of a
ghost! [RF]

[09] Captain Midnight: a.k.a. Jet Jackson, the Flying Commando:
COUNTERFEIT MILLIONS (1954)
Screen Gems prod. no. 8 (copyright date 02Nov54)
30Oct54 CBS Sat
Directed by D. Ross Lederman
Written by MALCOLM STUART BOYLAN.
Guest Cast:
John Damler (as Gourney)
Byron Foulger (as Doc)
PAUL MCGUIRE
ROBERT CROSSON.
Ken Christy (as Bradshaw)
Synopsis:
CAPTAIN MIDNIGHT AND ICKY INVESTIGATE A TRUCKING COMPANY THAT THEY
BELIEVE IS BEING USED AS A MEANS OF DISTRIBUTION OF COUNTERFEIT BILLS
THROUGHOUT THE UNITED STATES. [SC]

[10] Captain Midnight: a.k.a. Jet Jackson, the Flying Commando:
SECRET OF THE JUNGLE
Screen Gems prod. no. 10 (copyright date 16Nov54)
06Nov54 CBS Sat
Guest Cast:
John Banner ................... Goronov

[11] Captain Midnight: a.k.a. Jet Jackson, the Flying Commando:
SABOTAGE UNDER THE SEA (1954)
Screen Gems prod. no. 11 (copyright date 23Nov54)
13Nov54 CBS Sat
Directed by D. Ross Lederman
Written by GEORGE BRICKER.
GUEST CAST:
John Pickard
Philip Van Zandt
Synopsis:
CAPTAIN MIDNIGHT GOES TO THE BOTTOM OF THE OCEAN TO SEARCH FOR AN
EXPERIMENTAL MISSLE THAT HAS DISAPPEARED. [SC]

[12] Captain Midnight: a.k.a. Jet Jackson, the Flying Commando:
ISLE OF MYSTERY
Screen Gems prod. no. 12 (copyright date 30Nov54)
20Nov54 CBS Sat (Rerun 14May55)
guest cast:
Nira Monsour as Queen Luana
Zon Murray
David Garcia
Synopsis:
Midnight and Ikky are sent to the isle of Luana to find out why Queen
Luana has suddenly changed her mind about letting the U.S. use her
island as an atom-testing ground. [RF]

[13] Captain Midnight: a.k.a. Jet Jackson, the Flying Commando:
THE CURSE OF THE PHARAOHS
Screen Gems prod. no. 13 (copyright date 07Dec54)
27Nov54 CBS Sat
Directed by D. Ross Lederman
STORY AND SCREENPLAY BY GEORGE BRICKER.
Guest Cast:
SHEILA RYAN, GEORGE ELDREDGE, OTTO RICHOW, NAJI, FRANK LACKTEEN.
Synopsis:
CAPTAIN MIDNIGHT AND ICKY TRAVEL TO CAIRO,EGYPT TO MEET WITH THE
DAUGHTER OF A PROFESSOR WHO VANISHED IN THE DESERT WHILE SEARCHING
FOR ANCIENT EGYPTIAN RUINS. [SC]

[14] Captain Midnight: a.k.a. Jet Jackson, the Flying Commando:
THE DESERTERS
Screen Gems prod. no. 14 (copyright date 14Dec54)
04Dec54 CBS Sat
Directed by D. Ross Lederman
Teleplay by Malcolm Stuart Boylan and Wells Root
From A Story by Malcolm Stuart Boylan
Guest Cast:
Stuffy Singer........as Hi Foley
Butch Bernard........as Low Foley
Kem Dibbs........as James Van Dirk
Henry Rowland........as Schnoble
Harry Lauter........as Rice
Rusty Westcoatt........as Davis
Synopsis:
Captain Midnight is asked to aid a group of secret squadron members who have been
evicted from their club house by a land developer. [SC]

[15] Captain Midnight: a.k.a. Jet Jackson, the Flying Commando:
THE ELECTRIFIED MAN
Screen Gems prod. no. 15 (copyright date 21Dec54)
11Dec54 CBS Sat
Guest Cast:
Ian Keith ..................... Prof. Bergland
e-mail from William Frieburger <winterbourneblue2002@yahoo.com> Dec 2002
I saw this episode in December of 1954 (episode 15) at a time when my
family was undergoing some turmoil and it frightened the daylights out
of me. It featured a man who accidentally became electrified and
wandered through the streets; anyone whom he touched would become
electrocuted. It particularly scared me when a police chief in the
episode went on radio and television to warn residents to keep their
doors and windows locked so he could not get into their homes. I could
not sleep for months, in terror of what I called "the Electric Man."
I'm pretty sure that this episode tied in with some stressful events in
my real life at the time; I was 4 years old and still vividly remember
it, even though I have not seen it since 1954.
Seeing it again would be a big help in understanding some traumatic
things that happened to me when I was young.
e-mail from William Frieburger <winterbourneblue2002@yahoo.com> Dec 2002

[16] Captain Midnight: a.k.a. Jet Jackson, the Flying Commando:
THE YOUNG CRIMINAL
Screen Gems prod. no. 16 (copyright date 28Dec54)
18Dec54 CBS Sat
Guest Cast:
Jack Diamond .................. Tommy Venders
Dick Rich ..................... Big Vic

[17] Captain Midnight: a.k.a. Jet Jackson, the Flying Commando:
THE DEADLY PROJECT
Screen Gems prod. no. 17 (copyright date 28Dec54)
25Dec54 CBS Sat
Directed by D. Ross Lederman
Screenplay By Wallace Bosco/Story by Dick Morgan
Guest Cast:
Pierre Watkin............as Prof.Morgan
Franz Roehn............as Dr.Vronik
Phillip Van Zandt............as Henderson
Baynes Barron............as Ditmors
Synopsis:
Capt.Midnight and Icky come to the aid of a professor friend who is
trying to develop a new heat resistant metal formula that is vital
to the military. [SC]

############## Captain Midnight ##############
############## season 2 1955-56 ##############
##############################################
CBS Saturdays 22 episodes

2.01 [18] Captain Midnight: a.k.a. Jet Jackson, the Flying Commando:
THE SECRET ROOM
Screen Gems prod. no. 27 (copyight date 28Dec54)
29Oct55 CBS Sat
Directed by D. Ross Lederman
STORY AND Teleplay by WALLACE BOSCO.
Guest Cast:
ARLENE HARRIS,
BAYNES BARRON....AS SWAMI YOGORO,
HAL TAGGART, ERIK PAGE, CHESTER HAYES, FRED KRONE.
Synopsis:
A NEWSPAPER FRIEND OF CAPTAIN MIDNIGHT ASKS FOR HELP TO TRACKDOWN A
GANG OF JEWEL THIEVES AND A CROOKED SWAMI. [SC]

2.02 [19] Captain Midnight: a.k.a. Jet Jackson, the Flying Commando:
MISSION TO MEXICO (1955)
Screen Gems prod. no. 28 (copyight date 28Dec54)
05Nov55 CBS Sat
Classic TV - Captain Midnight (I) (II) (III)
Captain Midnight - Mission to Mexico 1/5 2/5 3/5 4/5 5/5
Directed by D. Ross Lederman
Teleplay by WALLACE BOSCO
From a Story by MALCOM STUART BOYLAN.
Guest Cast:
JOHN W. TRUAX,
Tyler McVey ................... Hobson
ALAN WELLS, EDWARD COLMANS,
ALFRED WARD,BEN FROMMER.
Synopsis:
A GOVERNMENT OFFICIAL ASKS CAPTAIN MIDNIGHT TO LOCATE AN ILLEGAL RADIO
TRANSMITTER OPERATED BY SPIES IN THE TOWN OF SANTA DEL RIO,MEXICO.

2.03 [20] Captain Midnight: a.k.a. Jet Jackson, the Flying Commando:
THE FROZEN MAN
Screen Gems prod. no. 29 (copyight date 28Dec54)
12Nov55 CBS Sat
Classic TV - Captain Midnight (1955), I - II - III
2.04 [21] Captain Midnight: a.k.a. Jet Jackson, the Flying Commando:
DOCTORS OF DOOM
Screen Gems prod. no. 30 (copyight date 28Dec54)
19Nov55 CBS Sat
Guest Cast:
Frances Karath ................ Gladys Murphy

2.05 [22] Captain Midnight: a.k.a. Jet Jackson, the Flying Commando:
SUNKEN SAPPHIRES
Screen Gems prod. no. 31 (copyight date 28Dec54)
26Nov55 CBS Sat
Directed by D. Ross Lederman
Story and Teleplay by ANTHONY O. SCOTT.
GUEST CAST:
Donna Drew .................... Helen Orloff
Dickie Bellis ................. Billy Orloff
FRANK RICHARDS, HANK PATTERSON,
HENRY ROWLAND,
FRED KRONE(UNCREDITED), CARL SAXE(UNCREDITED).
Synopsis:
CAPTAIN MIDNIGHT AND ICKY TRY TO HELP A WOMAN FIND THE LOCATION OF
A SUNKEN SHIP CONTAINING A FORTUNE IN JEWELS. [SC]

2.06 [23] Captain Midnight: a.k.a. Jet Jackson, the Flying Commando:
THE MASTER CRIMINAL
Screen Gems prod. no. 32 (copyight date 28Dec54)
03Dec55 CBS Sat
Guest Cast:
Baynes Barron

2.07 [24] Captain Midnight: a.k.a. Jet Jackson, the Flying Commando:
SECRET OF SUPERSTITION MOUNTAIN
Screen Gems prod. no. 33 (copyight date 28Dec54)
10Dec55 CBS Sat
Directed by D. Ross Lederman
Teleplay by ANTHONY O. SCOTT.
Guest Cast:
JOHN PICKARD, GEORGE BERKELEY, WILLIAM FAWCETT, CHARLES STEVENS.
Synopsis:
CAPTAIN MIDNIGHT AND ICKY TRAVEL TO THE ARIZONA DESERT IN SEARCH OF
HIGH GRADE ORE TO BE USED IN RESEARCH, BUT INSTEAD COME ACROSS A BURIED
SPANISH GOLD MINE FROM CENTURIES AGO. [SC]

2.08 [25] Captain Midnight: a.k.a. Jet Jackson, the Flying Commando:
THE MOUNTAIN OF FIRE
Screen Gems prod. no. 34 (copyight date 28Dec54)
17Dec55 CBS Sat
Directed by D. Ross Lederman
Teleplay by Robert Leslie Bellem and Ted Thomas
Guest Cast:
Ralph Gamble............as Frank White
Alex Montoya............as Carlos Perez
Orlando Rodriguez............as Papeto
Paul Fierro............as Luis
Synopsis:
Capt. Midnight and Icky travel to a small Latin American country with
hopes of assisting an engineer who has a plan to use heat from an
active volcano to generate electicity. [SC]

2.09 [26] Captain Midnight: a.k.a. Jet Jackson, the Flying Commando:
THE JUNGLE PIT
Screen Gems prod. no. 35 (copyight date 28Dec54)
24Dec55 CBS Sat
Guest Cast:
John Benner

2.10 [27] Captain Midnight: a.k.a. Jet Jackson, the Flying Commando:
FLIGHT INTO THE UNKNOWN
Screen Gems prod. no. 36 (copyight date 28Dec54)
31Dec55 CBS Sat
Directed by D. Ross Lederman
Teleplay by WALLACE BOSCO AND MALCOLM STUART BOYLAN
From a Story by MALCOLM STUART BOYLAN.
Guest Cast:
JOHN BERADINO, LORNA THAYER, SHELLEY FABARES, PAUL KEAST,
BARRY BROOKS, HAL HOOPER.
Synopsis:
THE WIFE OF A PROMIENT BANKER ASKS CAPTAIN MIDNIGHT TO FIND HER
HUSBAND WHO DISSAPPEARD WHILE VACATIONING A SMALL PACIFIC ISLAND. [SC]

2.11 [28] Captain Midnight: a.k.a. Jet Jackson, the Flying Commando:
THE RUNAWAY SUITCASE
Screen Gems prod. no. 37 (copyight date 28Dec54)
07Jan56 CBS Sat
Guest Cast:
Gregg Barton .................. Fred Connors
Jimmy Karath .................. Tom Blake
Tom McKee ..................... Detective Swan

2.12 [29] Captain Midnight: a.k.a. Jet Jackson, the Flying Commando:
MILLION DOLLAR DIAMOND (1956)
Screen Gems prod. no. 38 (copyight date 28Dec54)
14Jan56 CBS
Directed by D. Ross Lederman
Written by ROBERT LESLIE BELLEM.
Guest Cast:
Butch Bernard ................. Jimmy Bigson
Linda Danson .................. Mrs. Drexel
TOM GREENWAY, GEORGE BARROWS,
LEE GIROUX, BOBKER BEN ALI, MANUEL PARIS.
Synopsis:
A WELL KNOWN GEM CUTTER IS BEING HELD CAPTIVE BY JEWELL THIEVES WHO
WANT HIM TO CUT-UP A VALUABLE DIAMOND. CAPTAIN MIDNIGHT AND HIS
ASSISTANT ICKY LEARN OF THE ORDEAL FROM THE GEM CUTTERS LITTLE
SON AND TRY TO RESCUE THE BOY'S FATHER. [SC]

2.13 [30] Captain Midnight: a.k.a. Jet Jackson, the Flying Commando:
THE HUMAN BULLET
Screen Gems prod. no. 39 (copyright date 28Dec54)
21Jan56 CBS Sat

2.14 [31] Captain Midnight: a.k.a. Jet Jackson, the Flying Commando:
TOUCHDOWN TERROR
Screen Gems prod. no. 18 (copyright date 28Dec54)
28Jan56 CBS Sat
Guest Cast:
Terry Frost ................... Bates
Mark Andrews .................. Bud Mayfield

2.15 [32] Captain Midnight: a.k.a. Jet Jackson, the Flying Commando:
THE TOP SECRET WEAPON
Screen Gems prod. no. 19 (copyight date 28Dec54)
04Feb56 CBS Sat
Directed by D. Ross Lederman
Story and Screenplay by WELLS ROOT.
Guest Cast:
AURELLO GALLI, JACK GEORGE, GRETTA GRANSTEDT, GREGORY GAY,
AARON SAXON, BERT LA BARON (UNCREDITED).
Synopsis:
FOREIGN AGENTS USE A YOUNG BOY TO HELP THEM OBTAIN BLUE PRINTS OF A
SECRET GOVERNMENT WEAPON BEING TESTED BY CAPTAIN MIDNIGHT AND HIS
ASSISTANTS. [SC]


2.16 [33] Captain Midnight: a.k.a. Jet Jackson, the Flying Commando:
THE HUMAN BOMB (1955)
Screen Gems prod. no. 20 (copyight date 28Dec54)
11Feb56 CBS Sat
Directed by D. Ross Lederman
Written by WALLACE BOSCO.
Guest Cast:
Dick Rich ............. Volner
Gayne Whitman .......... Judge Bell
Jarl Victor ............ Linden
John Force ............. Oratz
Robert Lyden ........... Billy Griffiths
Synopsis:
A MUNITIONS GENIUS IS RELEASED FROM JAIL AND PLOTS REVENGE AGAINTS
CAPTAIN MIDNIGHT AND THE POLICE RESPONSIBLE FOR HIS CONVICTION. [SC]

2.17 [34] Captain Midnight: a.k.a. Jet Jackson, the Flying Commando:
THE MARK OF DEATH
Screen Gems prod. no. 21 (copyight date 28Dec54)
18Feb56 CBS Sat
Guest Cast:
Ted Hecht ..................... Bengra Tassi
David Colmans ................. Ram Das
Peter Brocco .................. Landru
Paul Marion ................... knife seller
Bobken Ben Ali ................ Kalyan Singh

2.18 [35] Captain Midnight: a.k.a. Jet Jackson, the Flying Commando:
ARTIC AVALANCHE
Screen Gems prod. no. 22 (copyight date 28Dec54)
25Feb56 CBS Sat
Guest Cast:
Philip Ahn .................... Sutoc
Tetsu Komai ................... Kindu
Lane Nakano ................... Groba
Marc Krah ..................... Zarca

2.19 [36] Captain Midnight: a.k.a. Jet Jackson, the Flying Commando:
MYSTERY OF THE FOREST
Screen Gems prod. no. 23 (copyight date 28Dec54)
3Mar56 CBS Sat
Production Executive: Fred Briskin / Producer: George Bilson
Director : D. Ross Lederman
Story & Screenplay : Milton M. Raison
Guest Cast:
Don C. Harvey ................. Gaynor
Terry Frost ................... Harris
Art Gilmore ................... Prof. Harlow
Synopsis :
Whilst investigating the cause of a large explosion and subsequent
crater in the lumberjack country of Alaska, Captain Midnight battles
spies and assorted toughs in this great episode. Masquerading as
lumberjack extraordinaire Jim Albright, "anything from logs to
toothpicks", he and Ikky discover that a foreign scientist
(complete with thick East European accent) has developed a unique
type of wood that when mixed with a particular chemical causes a
massive explosion. After plenty of titanic fistfights and stock
footage, our heroes reign supreme. [TS]

2.20 [37] Captain Midnight: a.k.a. Jet Jackson, the Flying Commando:
THE INVISIBLE TERROR
Screen Gems prod. no. 24 (copyight date 28Dec54)
10Mar56 CBS Sat
Directed by D. Ross Lederman
Story and Screenplay By Wells Root
Guest Cast:
George Eldredge ............... Dr. Hamilton
Jarl Victor ................... Gorley
Mel Welles .................... Mannlicher
Bert LeBaron .................. Roughlin
Greta Granstedt ............... Mrs. Radnor
Fred Krone............as The Enemy Agent
Synopsis:
Capt.Midnight puts his life on the line by injecting himself with an
unproven andidote that protects againts a deadly virus. [SC]

2.21 [38] Captain Midnight: a.k.a. Jet Jackson, the Flying Commando:
SABOTEURS OF THE SKY
Screen Gems prod. no. 25 (copyight date 28Dec54)
17Mar56 CBS Sat
Directed by D. Ross Lederman
Story and Screenplay By Dane Slade
Guest Cast:
Frances Karath ................ Sally Jensen
Irene Rich .................... Mrs. Jensen
George D. Barrows ............. Mr. Jensen
Dick Grant .................... salesman
Harold Dyrenforth ............. Lorenz
Dick Elliott............as The Neighbor
Craig Duncan............as The Radio Operator
Synopsis:
A well known scientist and his young daughter are held againts their
will by enemy agents forceing the scientist to create abnormal
hurricanes that will bring death and distruction. Capt.Midnight tries
to locate his kidnapped friends. [SC]

2.22 [39] Captain Midnight: a.k.a. Jet Jackson, the Flying Commando:
PERIL FROM THE ARTIC (1955)
Screen Gems prod. no. 26 (copyight date 28Dec54)
24Mar56 CBS Sat
Directed by D. Ross Lederman
Teleplay by DANE SLADE Story by ROY HAMILTON.
Guest Cast:
MEL WELLS, MARSHALL REED, PAUL MARION, TYLER MCVEY.
Synopsis:
ON A MISSION TO ALASKA, CAPTAIN MIDNIGHT AND ICKY RESPOND TO A MAYDAY
MESSAGE, AND DISCOVER IN A REMOTE CABIN A RENEGADE SCIENTIST
EXPERIMENTING WITH A DEVICE THAT COULD BE USED IN AN ATTACK AGAINTS
THE UNITED STATES. [SC]

############## Captain Midnight ##############
################# Feedback #################
##############################################

email from Trevor Scott in Australia:
"I remember running home from school to watch Jet Jackson (here in Australia).
We used to make paper planes and write Silver Dart on the side. Over the
last few years I have managed to track down most of the episodes on video
(actually 29 and still looking) and I still love the show - I actually
remember some of the eps (The Lost Moon for instance). Things were so much
simpler then - Jet (and everything else especially the political situation)
was in black & white - there's even an episode when Jet takes a frightened
boy into his bedroom to sleep for the night (only in the 50's ...).
My great wish - all episodes of Captain Midnight / Jet Jackson in good
condition on DVD - I'm sure that it will happen one day"
Regards Trevor Scott <trevorbscott@iprimus.com.au> October 2002

############## Captain Midnight ##############
################# the end ##################
##############################################

Have you any comments, corrections, episode titles, air dates, production numbers, directors, writers, story/synopsis, guest stars, cast lists, etc?
Have you any old videos, or tv guides? Dust them off and let us know if you have any information on this series or any other tv series from the
Golden Age of TV, which is missing from any episode guides on the web. Perhaps a certain episode of a particular series coincided with a key
moment in your life, or in world events - and or has left a vivid memory of when it was shown. Let us know. Would you like to see any other
tv series guides on this site? If so please e-mail The Classic TV Archive - see Feedback below.
This guide may be distributed and copied freely, in its entirety, for personal use. All original author and copyright information must
remain intact. Any sales or other uses of this document are expressly forbidden, without the specific consent of the author(s).
Copyright © The Classic TV Archive. All rights reserved.

Return to The Classic TV Archive Home Page
Feedback -
Adventure Forum