CTVA
The Classic TV Archive - UK Crime Adventure Series
Fabian of the Yard (1954-55) - Adventures of The Big Man (1956)
Fabian of the Yard (1954-55)
aka. 'Fabian of Scotland Yard' (US syndicated title)
aka. 'Patrol Car' (US syndicated title)
Episode Guide compiled by The Classic TV Archive
with contributions by:
Tom Alger / Phil Kendrick / David Moore [Updated Aug2017]
[Bryan Lindop <BryanLindop@bfpsociety.freeserve.co.uk>
- Former BBC film archivist]
references:
Library of Congress (telnet://locis.loc.gov)
Internet Movie Database (https://imdb.com)
--------------------
FABIAN OF THE YARD
-------------------
Charles Wick Presentation/ Trinity Productions/ Telefilm Enterprises
Filmed at Carlton Hill Studios (early episodes?)
Filmed at Twickenham Studios (later episodes?)
Produced by Antony Beauchamp (early episodes) (no 'h')
Produced by John Larkin (most episodes)

UK Police series 1954-55 32 + episodes x 30 min bw (film)
starring
Bruce Seton as Superintendent (Det. Insp.) Robert Fabian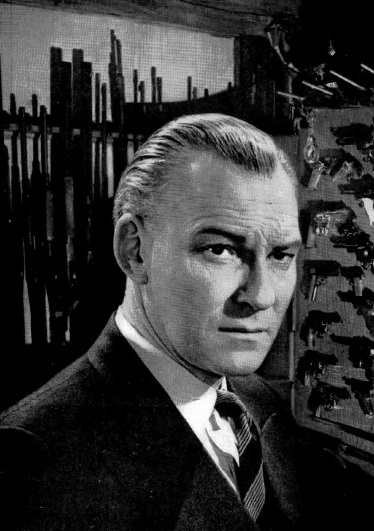 writers include:
John Davenport, Arthur La Bern, Rex Rienits, Brock Williams
directors include:
Anthony Beauchamps, Bernard Knowles, Edward Thompson
directors of photography:
Hilton Craig,
Brendan (J.) Stafford (spelled "BrendAn" on "The Executioner")

guest stars include:
Derek Aylward, Kathleen Byron, Michael Craig, Isobel Dean, Alexander Gauge,
Ursula Howells, Noel Howlett, Maurice Kaufmann, Victor Maddern,
Richard Pearson, Robert Raglan

The same company also produced "The Adventures of The Big Man" in
1956 starring Wayne Morris, and shown Mondays on BBC around 7:30pm

Bruce Seton had previously starred in the radio series "Flint of the Flying Squad"

--------------------
US & Canadian Syndication
--------------------
Three different companies handled North American distribution of "Fabian of Scotland Yard."
(1) Telefilm Enterprises distributed the program during its initial 1954-55 season.
(2) CBS Television Film Sales, Inc., the syndication arm of the CBS TV network, took over in June of 1955.
(3) Screen Gems appears to have been a later distributor of the series.
16mm copies of all 39 episodes were found in Screen Gems' archives. These copies now reside in the Canadian government's Library and Archives.
https://www.collectionscanada.ca/archivianet/index-e.html

--------------------
Magazine Articles
-------------------

Item published in "Broadcasting" (US TV industry publication)
July 27, 1953:
"Production has begun in London on a filmed
TV series, Fabian of Scotland Yard, based on
the experiences of the British police organization.
The 39 half hour films will be produced
by Anthony Beauchamp, son-in-law of Prime
Minister Sir Winston Churchill, and will be
ready for distribution in the U.S. by fall."

Note (regarding the above article):
The series would not be available for U.S. television until Fall of 1954.

Item published in "Broadcasting" (US TV industry publication)
April 26, 1954:
Telefilm Enterprises Formed To Syndicate Television Film
excerpt:
"Telefilm's first assignment will be to distribute
Fabian of Scotland Yard, which is being produced
in London by Trinity Productions. Thirteen
programs of a 39-week series have been
completed. The company, according to Mr.
Wick, will not engage in production but will
invest in independent production."

Billboard magazine, June 18, 1955
CBS Film Gets 'Fabian' Series.
New York, June 11
"CBS-TV Film Sales this week took over distribution of "Fabian of Scotland Yard" from Charles Wick's Telefilm Enterprises.
The move puts Telefilm Enterprises out TV film distribution."
Advert published in "Broadcasting" (US TV industry publication)
Oct 24,1955
"Formidable .... is the word for Inspector Fabian of Scotland Yard (played by Bruce Seton),
who has faced and foiled many a desperado in his career.
Equally formidable is the new syndicated film series " Fabian of Scotland Yard" which
dramatizes Fabian's most exciting cases ... and piles up big viewing figures wherever it
runs. Top rated in its time period in such areas as Detroit, Salt Lake City, Syracuse,
and Milwaukee, it became the highest-rated film series in Milwaukee television within the
space of four months!
And in Ontario, where Inspector Fabian made a thirty-day speaking tour for his sponsor
(he'll do the same for you if you like!). Molson's brewery chortled: "He greatly stimulated
our sales. His appearance was nothing less than a personal triumph, from which we derived
full benefit"
Fabian of Scotland Yard - which Radio-Television Daily review as "far superior" - can help
you unravel yourknottiest sales problems. To get down to cases, call us for details and a private eyeful.
CBS Televison Film Sales, Inc.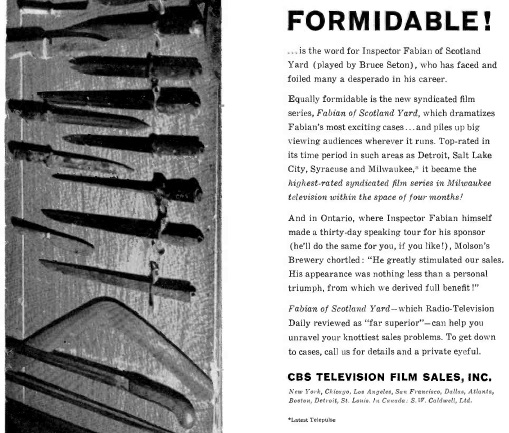 ############# Fabian of the Yard #############
############### season 1954-55 ###############
##############################################
BBC Television - Saturdays (Autumn 1954-March 1955)
BBC Television - Wednesdays (March 1955- Summer 1955)

[01] Fabian of the Yard: THE EXTRA BULLET
aka EXTRA BULLETS
13-Nov-1954 BBC Sat 8:45pm
(repeat 4Apr55 BBC Mon 3pm)
US syndication:
28June55 WGR-2 Buffalo, NY, Tues. 6:30pm
20July55 WRCA-4 NYC, Wed. 7pm
14Sep55 WHAM-5, Rochester, NY, Wed. 10:30pm
21Sep55 WPTZ-3 Philadelphia, PA, Wed. 10:30pm
Australian TV:
04Apr57 ABV-2 Melbourne
Charles Wick-Telefilm Enterprises Presentation
Made by Trinity Productions, Ltd. by arrangement with Antony Beauchamp
Made at Twickenham Film Studios
Produced by John Larkin
Written by Gene Sablon
Directed by Alex Bryce
Starring:
Bruce Seton (as Det. Insp. Robert Fabian)
Guest Cast:
Jane Barrett .......... Mona Proudly
Melissa Stribling ..... Vera Proudly
Michael Alexander ..... Arthur Carlton
Isobel Dean ........... Mrs Regis
Elsie Wagstaff ........ Mrs Wilkins
Michael Kelly ......... Sergeant
Donald Eccles ......... ballistics expert
Gordon Bell ........... police surgeon (recurring)
Synopsis:
"The Extra Bullet" Two brothers are found shot dead in their fashionable London home, and it is assumed that they had killed each other.
[The Age, Melbourne]
Synopsis 2:
The famed British sleuth finds two brothers battling over a beautiful woman and prevents a suicide and exposes a cold-blooded and ruthless killer.
[Philadelphia Inquirer]
Synopsis 3:
A murderer made the mistake of firing an extra bullet at the time of the crime, providing Fabian with a clue to a double murder.

[02] Fabian of the Yard: THE UNWANTED MAN
20-Nov-1954 BBC Sat 8:15 pm
(Repeat 25Apr55 Mon 3pm)
US syndication:
16Aug55 WGR-2 Buffalo, NY, Tues. 6:30pm
Australia:
27June57 ABV-2 Melbourne
Trinity Productions
Produced by John Larkin
Written by Arnold Galsworthy
Directed by Alex Bryce
Starring:
Bruce Seton (as Det. Insp. Robert Fabian)
Guest Cast:
Philip Dale ......... Detective Sergeant
Ursula Howells ...... Ellie Stafford
David Oxley ......... Dan Stafford
Jack Melford ........ Wood Expert (recurring)
Gwen Bacon .......... Aunt Bess
Frank Sieman ........ Police Supintendent
Philip Lennard ...... Forgery Expert (recurring)
Synopsis:
A murder is solved one year after it was committed. [The Age, Melbourne]
Synopsis 2:
A gypsy provides a clue to the year-old murder of an unrecognisable corpse found in the Thames.

[03] Fabian of the Yard: THE SKELETON IN THE CUPBOARD
aka THE SKELETON IN THE CLOSET
27-Nov-1954 BBC Sat 8:45pm
(repeat 18Apr55 BBC Mon 3pm)
US syndication:
13Oct54 WHAM-5, Rochester, NY, Wed. 10:30pm
31May55 WGR-2 Buffalo, NY, Tues. 6:30pm
22Feb56 WPTZ-3 Philadelphia, PA, Wed. 10:30pm
Australian TV:
23May57 ABV-2 Melbourne
Trinity Productions/ Twickenham Film Studios
Produced by John Larkin
Written by Donald Bull
Directed by Alex Bryce
Starring:
Bruce Seton (as Det. Insp. Robert Fabian)
Guest Cast:
Ewen Solon ........... Elstead
Genine Graham ........ Rose Pool
Edmund Willard ....... Colonel Ledbetter
Peter Dyneley ........ Captain Pool
Allan Jeayes ......... Hagben
Sylvia Marriott ...... Mollie Boldero
Gordon Bell .......... pathologist (recurring)
Synopsis:
"The Skelton in the Closet." Fabian is asked to solve a crime committed a hundred years ago. [The Age, Melbourne]
Synopsis 2:
The discovery of a skeleton walled up in a closet brings to light a murder that may have been committed a century ago.

[--] BBC - For the next five Saturdays (04Dec54, 11Dec54 & 18Dec54, 25Dec54 and 01Jan55), "Fabian of the Yard"
is not listed in the 'Radio Times' magazine.

[04] Fabian of the Yard: AGAINST THE EVIDENCE
08-Jan-1955 BBC Sat 8:15pm
(repeat 2May55 BBC Mon 3:00pm)
US syndication:
21June55 WGR-2 Buffalo, NY, Tue 6:30pm
04Feb56 WRCA-4 NYC, Sat. 6:00pm
Australia:
08Aug57 ABV-2 Melbourne
Trinity Productions
Produced by John Larkin
Screenplay by Stewart B. Black
Directed by Montgomery Tully
Starring:
Bruce Seton (as Det. Insp. Robert Fabian)
Guest Cast:
Peter Copley ......... Brownlove & Audley
Betty Cooper ......... Mrs Brownlove
Wilfred Caithness .... Dr Cardwell
Stuart Saunders ...... Heathrow
Nicolas Tannar ....... Pinkley
Richard Warner ....... Detective Sergeant
Toke Townley ......... Popes
James Thomason ....... Minlane
Philip Lennard ....... Forgery Expert (recurring)
Synopsis:
Married man involved in jewelry swindle. [Long Island NY Star-Journal]
Synopsis 2:
A necklace is stolen from a jewelry shop and an innocent customer is accused of the crime.

[--] 15Jan55 - BBC Saturday - "Fabian of the Yard" not listed in 'Radio Times'.

[05] Fabian of the Yard: THE BRIDES OF FIRE
(aka BRIDES OF THE FIRE)
(aka BRIDE OF THE FIRES)
22-Jan-1955 BBC Sat 8:45pm
(repeat 16May55 Mon 3pm)
US syndication:
13Feb55 WGR-2 Buffalo, NY, Sun. 10:30pm
14Mar56 WPTZ-3 Philadelphia, PA, Wed. 10:30pm
Australia:
10Jan57 ABV-2 Melbourne
Trinity Productions
Produced by John Larkin
Teleplay by Brock Williams
Directed by Montgomery Tully
Starring:
Bruce Seton (as Det. Insp. Robert Fabian)
Guest Cast:
Stephen Vercoe ........ Robert Morley
Shirley Cooklin ....... Peggy Drayton
Sheila Burrell ........ Helen Russell
Michael Shepley ....... Mr Thrale
Cicely Paget-Brown ....... Mrs Dove
Robert Raglan ......... Dt Sgt Wyatt (recurring)
Arnold Diamond ........ Inspector Kelson
Lillemor Knudsen ...... Lois Russell
Synopsis:
Mystery about a charming killer who specializes in marrying and murdering lonely, romantic and well insured women. [Philadelphia Inquirer]

[06] Fabian of the Yard: THE TROUBLED WIFE
29-Jan-1955 BBC Sat 8:45pm
(repeat 9May55 BBC Mon 3pm)
US syndication:
17Oct54 WGR-2 Buffalo, NY, Sun. 10:30pm
07June55 WGR-2 Buffalo, NY, Tues. 6:30pm
22June55 WRCA-4 NYC, Wed. 7pm
28Sep55 (repeat) WRCA-4 NYC, Wed. 7pm
19Oct55 WPTZ-3 Philadelphia, PA, Wed. 10:30pm
Australia:
27Dec56 ABV-2 Melbourne
Trinity Productions
Produced by John Larkin
Written by Arthur La Bern
Directed by Alex Bryce
Starring:
Bruce Seton (as Det. Insp. Robert Fabian)
Guest Cast:
Sylvia Marriott ....... Kate Hubble
Trevor Reid ........... George Hubble
Robert Raglan ......... Detective Sims (recurring)
Gordon Bell ........... Pathologist (recurring)
Betty MacDowell ....... Sara Milne
Victor Adams .......... Policeman
Michael Kelly ......... Detective Sergeant
Synopsis 1:
A robbery takes place in a London bank. [The Age, Melbourne]
Synopsis 2:
Bank manager shoots burger. Case listed as self-defense until manager's wife enters scene. [28Sep55 Long Island NY Star-Journal]
Synopsis 3:
Unhappy home is breeding ground for murder. [Philadelphia Inquirer]
Synopsis 4:
A bank manager claims he shot a burglar in self-defence but his wife tells a different story.

[--] BBC - Next two weeks (05-Feb-1955 & 12-Feb-1955) - "Fabian of the Yard" not listed in Radio Times.

[07] Fabian of the Yard: WRITTEN IN THE DUST
aka WRITTEN IN DUST
19-Feb-1955 BBC Sat 8:15pm
(repeat 29July55 BBC Fri 3:30pm)
US syndication:
17May55 WGR-2 Buffalo, NY, Tues. 6:30pm
28Sep55 WPTZ-3 Philadelphia, PA, Wed. 10:30pm
Australia:
29Nov56 ABV-2 Melbourne, Thurs. 7:30pm
Trinity Productions/ Twickenham Film Studios
Produced by John Larkin
Written by Arthur La Bern
Directed by Montgomery Tully
Starring:
Bruce Seton (as Det. Insp. Robert Fabian)
Guest Cast:
Edwin Richfield ....... Sergeant
Noël Dyson ............ Cora
Mary Kenton ........... Mrs Apsley
Margaret McCourt ...... Ellen
Patrick Boxill ........ Mr Throgget
Helen Hurst ........... Chemist's Assistant
Charles Mortimer ...... Mr Wimpole
John Boxer ............ Micrologist (recurring)
Synopsis:
When a housemaid with a preference for poisoning her employers vanishes, a wave of terror engulfs the English countryside. [Philadelphia Inquirer]
Synopsis 2:
A psychopathic housemaid responsible for many murders has gone to London - to buy poison for her next victims.
Synopsis 3:
Central figure in the case is a housemaid with a predilection for poisoning her employers. When Cora the maid vanishes without a trace,
leaving behind her last victim, a wave of terror engulfs the English countryside. [Australian Women's Weekly]

[08] Fabian of the Yard: THE PURPLE MOUSE
26-Feb-1955 BBC Sat 8:15pm
(repeat 5Aug55 BBC Fri 3:30pm)
US syndication:
06Oct54 WHAM-5, Rochester, NY, Wed. 10:30pm
24May55 WGR-2 Buffalo, NY, Tues. 6:30pm
Australia:
02May57 ABV-2 Melbourne
Trinity Productions
Produced by John Larkin
Teleplay by Brock Williams
From a story by former inspector Robert Fabian.
Directed by Alex Bryce
Starring:
Bruce Seton (as Det. Insp. Robert Fabian)
Guest Cast:
Colette Wilde ........ Lily Ransome
Gladys Boot .......... Mrs Ransome
Cicely Paget-Bowman ...... Tessa Oakman
Seymour Green ......... Dr. Horn
Roy Dean .............. Eddie Carmen
Robert Raglan ......... Detective Sergeant (recurring)
Max Brimmell .......... Pathologist (recurring)
Synopsis:
A wealthy widow claims that she seem a live purple mouse daily. [The Age, Melbourne]
Synopsis 2:
London story of a wealthy old lady whose family thinks she's insane. [Rochester NY Democrat Chronicle]
Synopsis 3:
Fabian investigates the case of a wealthy dowager who was committed to a mental institution - for seeing a non-existent mouse.

[--] 05Mar55 - BBC Saturday - "Fabian of the Yard" not listed in Radio Times.

[09] Fabian of the Yard: LITTLE GIRL
12-Mar-1955 BBC Sat 8:15pm
(repeat 12Aug55 BBC Fri 3:30pm)
US syndication:
04May55 WRCA-4 NYC, Wed. 7pm
10May55 WGR-2 Buffalo, NY, Tues. 6:30pm
05Oct55 WPTZ-3 Philadelphia, PA, Wed. 10:30pm
02Aug55 WHAM-5, Rochester, NY, Wed. 10:30pm
Australia:
13Dec56 ABV-2 Melbourne
Written by ??
Directed by ??
Starring:
Bruce Seton (as Det. Insp. Robert Fabian)
Guest Cast:
Gordon Morrison … Baines
Gillian Maude … Rita
Peter Stanwick … Vale
Arthur Howard … Trew
Mary Jones … Ruth
Synopsis 1:
Fabian probes the murder of a secretary. [Rochester NY Democrat Chronicle]
Synopsis 2:
Two people who can prove a man's innocence refuse to speak for him. [Philadelphia Inquirer]
Synopsis 3:
An unknown woman's face powder is the only clue to a private secretary's murder.

[10] Fabian of the Yard: THE COWARD
19-Mar-1955 BBC Sat 8:15pm
(repeat 19Aug55 BBC Fri 3:30pm)
US syndication:
15Dec54 WHAM-5, Rochester, NY, Wed. 10:30pm
08June55 WHAM-5, Rochester, NY, Wed. 10:30pm
08June55 WRCA-4, NYC, Wed. 7pm
30Aug55 WGR-2, Buffalo, NY, Tues. 6:30pm
16Nov55 WPTZ-3 Philadelphia, PA, Wed. 10:30pm
Australia:
24Jan57 ABV-2 Melbourne
Trinity Productions
Produced by John Larkin
Teleplay by Brock Williams
From a story by former inspector Robert Fabian.
Directed by Bernard Knowles
Starring:
Bruce Seton (as Det. Insp. Robert Fabian)
Guest Cast:
Barry Lowe ........... Andy Wagner
Jill Raymond ......... Frieda Barnes
Betty Cooper ......... Mrs Wagner
John Boxer ........... Pathologist (recurring)
Robert Raglan ........ Dt Sgt Wyatt (recurring)
Paul Daneman ......... Doctor
Anthony Rea .......... Ed Seddon
Ann Stephens ......... Sylvia Parker
Synopsis 1:
Is a co-ed's illness from poison a murder attempt? [Philadelphia Inquirer]
Synopsis 2:
The police suspect murder when a young co-ed falls ill from poison. [Philadelphia Inquirer]
Synopsis 3:
A young student is poisoned and the police suspect an unhappy romance is the cause, after learning that a former sweetheart
had just visited her. [Buffalo NY Courier Express]
Synopsis 4:
Did a young student try to commit suicide by poison or is she the victim of attempted murder?

[--] 26Mar55 - BBC Saturday - "Fabian of the Yard" not listed in Radio Times.

------------------------
BBC TV moves "Fabian of the Yard" from Saturdays to Wednesdays
------------------------

[11] Fabian of the Yard: LOST BOY
30-Mar-1955 BBC Wed 7:45pm (Radio Times)
(repeat 28Aug55 BBC Fri)
US syndication:
19Dec54 WGR-2 Buffalo, NY, Sun. 10:30pm
29June55 WRCA-4 NYC, Wed. 7pm
21Dec55 WPTZ-3 Philadelphia, PA, Wed. 10:30pm
Australia:
14Mar57 ABV-2 Melbourne
Starring:
Bruce Seton (as Det. Insp. Robert Fabian)
Guest Cast:
Ian Whittaker … Ginger
Sheldon Allen … Nobby
Synopsis:
The problems associated with the "Edwardians," a teenage group. [The Age, Melbourne]
Synopsis 2:
Fabian investigates the Edwardians, a gang of juvenile delinquents on a rampage.
Synopsis 3:
Gang loyalty poses a major stumbling block for the police. [Philadelphia Inquirer]
Synopsis 4:
Illustrates the problem which develops from the teenage groups The Edwardians, Teddy Boys and Bodgies. [The Age, Melbourne]

[12] Fabian of the Yard: THE EXECUTIONER (Verified on Video)
06-Apr-1955 BBC Wed 8:15pm
(repeat 2Sep55 Fri 3:00pm)
(repeat 9Apr56 or 23Apr56 BBC)
(repeat 31May93 BBC2 Mon 11:50pm)
US syndication:
09Aug55 WGR-2 Buffalo, NY, Tues. 6:30pm
Australia:
01Aug57 ABV-2 Melbourne
Produced by John Larkin
Teleplay by Eric Field
From a story by former inspector Robert Fabian
Directed by Alex Bryce
Starring:
Bruce Seton (as Det. Insp. Robert Fabian)
Robert Raglan ............ Detective Sergeant (recurring)
Guest Cast:
Peter Swannick ........... Mr. Porter
Elspet Gray .............. Marion Courtland
Noel Howlett ............. Vicar
William Abney ............ Jim Keyes
Marjorie Rhodes .......... Mrs. Boody
Totti Truman Taylor ...... Miss Langley, Schoolmistress
Geoffrey Denys ........... Doctor
Robert Fabian ........himself
Peter Cellier (uncredited, as an expert at the Yard)
Other credits:
Director of Photography .. Brendan Stafford
Camera Operator .......... Michael Reed
Art Director ............. Norman Arnold
Supervising Editor ....... Peter Seabourne
Editor ................... Gerald Levy
Sound Editor ............. Harry Booth
Sound Recorder ........... Cecil Thornton
2nd Unit Photography ..... Gerald Moss
Production Supervisor .... George Mills
Assistant Director ....... Clive Midwinter
2nd Unit Asst. Director .. Claud Hudson
Continuity ............... Joanna Busby
Make-up .................. Aldo Manganaro
Hairdresser .............. Joan Carpenter
Special Music Composed & Conduction by Eric Spear
Solo Harmonica .... Tommy Reilly
Made by Trinity Productions, Ltd.
by arrangement with Antony Beauchamp (RCA sound recording)
This has been a Charles Wick-Telefilm Enterprises Presentation.
Synopsis 1:
Fabian investigates the case of a murderer who has killed five people in their own bathtubs. [Buffalo NY Courier Express]
Synopsis 2:
Murder victims are discovered in bath tubs. [The Age, Melbourne]

[13] Fabian of the Yard: THE POISON MACHINE
13-Apr-1955 BBC Wed 8:30pm
(1st repeat 9Sep55 BBC Fri 3:00pm)
(2nd repeat 26Mar56 BBC Mon 7:30pm)
US syndication:
07Dec55 WPTZ-3 Philadelphia, PA, Wed. 10:30pm
Australia:
21Feb57 ABV-2 Melbourne
Trinity Productions
Produced by John Larkin
Teleplay by Brock Williams
From a story by former inspector Robert Fabian
Directed by Alex Bryce
Starring:
Bruce Seton (as Det. Insp. Robert Fabian)
Guest Cast:
Patricia Driscoll ..... Agatha
Nicholas Tannar ....... Mr. Kinney
John Salew ............ Mr Pontifex
Brenda Hogan .......... Deborah
Richard Gale .......... Peter Lanceford (Lancefort)
Alan Rolfe ............ Police Superintendent
Jack Melford .......... Typewriter Expert (recurring)
Synopsis 1:
A poison pen letter leads to murder. [The Age, Melbourne] [same synopsis in the Philadelphia Inquirer]
Synopsis 2:
In London, poison-pen letters drive one man to insanity and another to attempted murder.

[14] Fabian of the Yard: THE GOLDEN PEACOCK
(one of the first 5 produced)
20-Apr-1955 BBC Wed 8:15pm
(repeat 16Sep55 BBC Fri)
(repeat 05Mar56 BBC Mon)
US syndication:
03Aug55 WRCA-4 New York City, Wed. 7pm
Canada:
13Jul59 CBLT-6 Toronto, Ontario, Mon. 11:30pm
Australia:
25Apr57 ABV-2 Melbourne
Directed by Alfred Travers
Starring:
Bruce Seton (as Det. Insp. Robert Fabian)
Guest Cast:
Pascale … French dancer
John Gabriel … night-club owner
June Rodney ..… girl
Martin Boddey … police surgeon
Kieron Moore … dock worker
Basil Lord
Wensley Pithey
Synopsis 1:
The tracing of the killer of a French night club dancer. [The Age, Melbourne]
Synopsis 2:
Fabian investigates the case of a French nightclub singer who is found murdered; a tinfoil wrapper from a bottle beside her body
is the only clue. [Buffalo NY Courier-Express]
Synopsis 3:
A young dock worker is suspected of murdering a beautiful French dancer.

[15] Fabian of the Yard: THE MAN FROM BLACKPOOL
4-May-1955 BBC Wed 8:15pm
(repeat 3Oct55 BBC Mon 3:15pm)
US syndication:
02Feb55 WHAM-5, Rochester, NY, Wed. 10:30pm
20July55 (R) WHAM-6, Rochester, Wed. 10:30pm
Canada:
02Feb59 CBLT-6 Toronto, Ontario
Australia:
25June58 ABV-2 Melbourne, Wed. 10pm
Trinity Productions
Produced by John Larkin
Teleplay by Brock Willaims
From a Story by former inspector Robert Fabian
Directed by Charles Saunders
Starring:
Bruce Seton (as Det. Insp. Robert Fabian)
Guest Cast:
John Trevor ........... Hon. Victor Leggett
Elspet Jane Gray ...... Lady Jane Shaw
Alexander Gauge ....... Harry Disbrow
John Orchard .......... Big Fred
Robert Raglan ......... Det Sgt Wyatt (recurring)
Synopsis 1:
Inspector Fabian has difficulty getting evidence against a gambling syndicate because the victims are afraid to cooperate. [Buffalo NY Courier-Express]
Synopsis 2:
Victims of a gambling syndicate are taught the virtue of silence - by acid-throwing teachers.

[16] Fabian of the Yard: ROBBERY IN THE MUSEUM
(one of the first 5 produced)
11-May-1955 BBC Wed 8:30pm
(1st repeat 17Oct55 BBC Mon 4:15pm)
(2nd repeat 26Oct56 BBC 3:15pm)
US syndication:
26Apr55 WGR-2 Buffalo, NY, Tues. 6:30pm
Australia:
04July57 ABV-2 Melbourne
Script ???
Directed by John Harlow
Starring:
Bruce Seton (as Det. Insp. Robert Fabian)
Guest Cast:
John Stuart ........... Sgt Jim Jarvis
Emrys Leyshon ......... Ken Masters
Josephine Griffin ..... Mrs Masters
Jacqueline Con ........ Child
Charles Lloyd Pack .... Prof Wynn Jones, the curator
Ian Samson … Superintendent Forbes
Menhardt Mauer ......... Dutchy
Charles Wade ........... Nick
Note: This story unlike the others I've seen does not name Charles Wick in the closing credit. However it does state it was made at Carlton Hill Studios. [DMoore]
Synopsis 1:
Fabian tracks down the culprit responsible for the theft, who is not a habitual criminal. [Radio Times]
Synopsis 2:
A young poet steals valuable jewels from a museum. [Buffalo NY Courier-Express]

[17] Fabian of the Yard: THE DEADLY POCKET HANDKERCHIEF
(one of the first 5 produced)
18-May-1955 BBC Wed 8:15pm
(repeat 31Oct55 BBC Mon)
(repeat 30Nov56 BBC Fri)
US syndication:
09Jan55 WGR-2 Buffalo, NY, Sun. 10:30pm
Australia:
15Aug57 ABV-2 Melbourne
Starring:
Bruce Seton (as Det. Insp. Robert Fabian)
Guest cast:
Richard Pearson... Sgt MacKenzie (recurring)
Dana Wynter … Susan (as Dagmar Wynter)
Fanny Carby … Mary
Brian Haines … Quailes
Synopsis:
Police seek a thief who chloroforms and robs women on the streets of London.

[--] Newspaper item:
"Dana Wynter's appearance on TV in the "Fabian of Scotland Yard" series. She's billed under her old name of Dagmar—changed when another
Dagmar busted out on Jerry Lester's New York TV show." (Erskine Johnson's "News from Hollywood" column, 11 July 1956)

[18] Fabian of the Yard: THE HAND OF TERROR
25-May-1955 BBC Wed 7:45 pm
(1st repeat 17Aug55 BBC Wed 8:30pm)
(2nd repeat 26Mar56 BBC Mon 4:15pm)
(3rd repeat 16Nov56 BBC Fri. 2:50pm)
US syndication:
15Mar55 WGR-2 Buffalo, NY, Tues. 6:30pm
14Dec55 WPTZ-3 Philadelphia, PA., Wed. 10:30pm
Australia:
07Mar57 ABV-2 Melbourne
Trinity Productions
Produced by John Larkin
Screenplay by Ian Stuart Black
From a story by former inspector Robert Fabian
Directed by Charles Saunders
Starring:
Bruce Seton (as Det. Insp. Robert Fabian)
Guest Cast:
Colette Wilde .......... Cynthia Barker
Michael Craig .......... Ted Enfield
Patrick Westwood ....... Larry Redman
Arthur Young ........... Mr Barker
Betty Cooper ........... Mrs Barker
Allan Jones ............ Reedy
Robert Raglan .......... Det Sgt Wyatt (recurring)
Christina Forrest ...... BOAC clerk
Jessica Cairns ......... Maid
James Gilbert .......... Expert
Synopsis 1:
A selfish man puts his political career ahead of the safety of his family. [Philadelphia Inquirer]
Synopsis 2:
A Member of Parliament and his family are held hostage by escaped criminals. [The Age, Melbourne]
Synopsis 3:
A politician's fear of scandal prevents him from taking action when his wife is kidnapped by an escaped convict.

[19] Fabian of the Yard: PIN-POINT SIGNATURE
aka PINPOINT SIGNATURE
1-June-1955 BBC Wed 8:15pm
(1st repeat 19Oct55 BBC Wed 3:20pm)
(2nd repeat 28Nov55 BBC Mon 4:15pm)
US syndication:
06Apr55 WHAM-5, Rochester, NY, Wed. 10:30pm
15Feb56 WPTZ-3 Philadelphia, PA, Wed. 10:30pm
Australia:
16May57 ABV-2 Melbourne
Trinity Productions
Produced by John Larkin
Teleplay by F.X. Balmoral
From a story by former inspector Robert Fabian
Directed by Charles Saunders
Starring:
Bruce Seton (as Det. Insp. Robert Fabian)
Guest Cast:
Jean Ireland ......... Edna Kent
Madge Brindley ....... Mrs Daisy
Maurice Kaufman ...... Jerry Strong
Allen Sheldon ........ Arthur Flagg
Harry Fine ........... Bill Beckford
Robert Raglan ........ Det. Sgt. Wyatt (recurring)
Jack Melford ......... Expert (recurring)
Max Brimmell ......... Psychiatrist
Synopsis 1:
Fabian unravels an affair of anonymous letters sent to a famous actress. [Radio Times]
Synopsis 2:
The tracking down of an anonymous letter writer. [The Age, Melbourne]
Synopsis 3:
A young actress is threatened through violent love letters from a mysterious admirer. [Philadelphia Inquirer]

[20] Fabian of the Yard: THE INNOCENT VICTIMS
8-Jun-1955 BBC Wed 8:15pm
(repeat 20Feb56 BBC Mon.)
(repeat 7Dec56 BBC Fri)
US syndication:
16Jan55 WGR-2 Buffalo, NY, Sun. 10:30pm
05Apr55 WGR-2 Buffalo, NY, Tues. 6:30pm
Australia:
13June57 ABV-2 Melbourne
Trinity Productions
Produced by John Larkin
Teleplay by Ian Stuart Black
Directed by Charles Saunders
Starring:
Bruce Seton (as Det. Insp. Robert Fabian)
Guest Cast:
Dorothy Alison ...... Mary Walton
Arthur Howard ....... Jim Graham
Joan Newell ......... Mrs Mortlake
Philip Ray .......... Dr Walton
Robert Raglan ....... Det Sgt Wyatt (recurring)
Victor Wood ......... Expert
Robert Sandford ..... Peter
Synopsis:
Fabian investigates the involvement of two teachers in a theft that seems to be an inside job.

[21] Fabian of the Yard: THE JADE BLADE
15-Jun-1955 BBC Wed 7:45 pm
(1st repeat 09Jan56 BBC Mon)
(2nd repeat 2Nov56 BBC Fri)
US syndication:
23Aug55 WGR-2 Buffalo, NY, Tues. 6:30pm
04Jan56 WPTZ-3 Philadelphia, PA, Wed. 10:30pm
Australia:
07Feb57 ABV-2 Melbourne
Trinity Productions
Produced by John Larkin
Teleplay by Geoffrey Wicomb
From a story by former inspector Robert Fabian
Directed by Montgomery Tully
Starring:
Bruce Seton (as Det. Insp. Robert Fabian)
Guest Cast:
Betty McDowall ........ Mary Soong
Martin Boddey ......... Fat Harry
Alan Tilvern .......... Sen Shan
Wanda Balcon .......... Lotus Yung
Charles Mortimer ...... Professor Hughes
Reginald Hearne ........ Detective Sgt
Synopsis 1:
A Chinese youth is strangled to death while photographing the House of Parliament. [The Age, Melbourne]
Synopsis 2:
Fabian sets out to find whether it was robbery, revenge or some other sinister motive that prompted the murder of a wealthy young Chinese man.
[Philadelphia PA Inquirer]
Synopsis 3:
The mysterious death of a young Chinese man is linked to an ancient law that sometimes justifies murder.

[22] Fabian of the Yard: APRIL FOOL
22-Jun-1955 BBC Wed 7:45pm
(1st repeat 23Jan56 BBC Mon)
(2nd repeat 21Dec56 BBC Fri)
US syndication:
29Mar55 WGR-2 Buffalo, NY, Tues. 6:30pm
Australia:
18Apr57ABV-2 Melbourne
Trinity Productions
Produced by John Larkin
Teleplay by Ian Stuart Black
From a story by former inspector Robert Fabian
Directed by Wolf Rilla
Starring:
Bruce Seton (as Det. Insp. Robert Fabian)
Guest Cast:
Robert Raglan ........ Det Sgt Wyatt (recurring)
Betty McDowall........ Angela Hollis
Garard Green ........ Major Randall
William Mervyn ....... Ronald James
Jean Wilkinson ....... Barbara James
Gaylord Cavallaro .... Jack Hollis
Marjorie Rhodes ...... Mrs Flinge
Elaine Dundy ......... Chorus Girl
Jack Melford … Ballistics Expert (recurring)
Synopsis 1:
A telephone call from a malicious jokester sets the police machinery rolling in high gear. [The Pittsburgh Press]
Synopsis 2:
A woman chooses April 1 to warn the police of her intention to kill her husband. [The Age, Melbourne]
Synopsis 3:
Four people are implicated in a puzzling April fool joke - the near- fatal shooting of a man.

----------------------
BBC: "Fabian of the Yard" takes a break
during the Summer of 1955
----------------------

############# Fabian of the Yard #############
############# BBC season 1955-56 ###############
##############################################

[23] Fabian of the Yard: NO ALIBI
12-Nov-1955 BBC Sat 3:45pm
(1st repeat 19Mar56 BBC Mon)
(2nd repeat 21Sep56 BBC Fri)
US syndication:
10Jan56 WPTZ-3 Philadelphia, PA, Wed. 10:30pm
Australia:
28Mar57 ABV-2 Melbourne
Trinity Productions/ Telefilm Enterprises
Produced by John Larkin
Teleplay by Geoffrey Wicomb
From a story by former inspector Robert Fabian
Directed by Montgomery Tully
Starring:
Bruce Seton (as Det. Insp. Robert Fabian)
Guest Cast:
Tim Turner .......... Bill Jaggers
Robert Raglan ....... Det Sgt Wyatt (recurring)
Sylivia Marriott .... Mary Sedney
Myrtle Reed … Miss Janes
James Raglan ....... Prison Governor
Pat Connor ......... Madden
John Boxer .......... Pathologist (recurring)
Dermot McMahon ...... Dalton
Synopsis 1:
Fabian breaks an apparently cast-iron alibi and brings a murderer to justice. [Radio Times]
Synopsis 2:
All evidence points to a man's strangling of a pretty model at the same time he was locked in a prison cell. [Philadelphia Inquirer]
Synopsis 3:
The murder of a fashion model is linked to a man with a good alibi - he is serving a prison sentence.

[24] Fabian of the Yard: THE VANISHING CAT
14-Nov-1955 BBC Monday 4:15pm
(1st repeat 12July56 BBC Thur)
(2nd repeat 22Mar57 BBC Fri)
US syndication:
15June55 WRCA-4, NYC, Wed. 7pm
26Oct55 WPTZ-3 Philadelphia, PA, Wed. 10:30pm
Australia:
03Jan57 ABV-2 Melbourne
Trinity Productions
Produced by John Larkin
Teleplay by Brock Williams
From a story by former inspector Robert Fabian
Directed by Charles Saunders
Starring:
Bruce Seton (as Det. Insp. Robert Fabian)
Guest Cast:
Tim Turner ......... James Ridley
Jean Ireland ....... Monica Ridley
Robert Raglan ...... Det Sgt Wyatt (recurring)
Ruth Gower ......... Robbed Woman
Robert Sydney … Yard Expert
Synopsis:
A cat burglar steals from apartments in fashionable Mayfair. [The Age, Melbourne]
Synopsis 2:
Fabian and the Yard have to deal with an outbreak of daring cat burglaries in the London area. [Radio Times]
Synopsis 3:
An ex-commando volunteers to help apprehend a cut burglary ring. [Philadelphia Inquirer]
Synopsis 4:
A newspaper ad is used to recruit a cat burglar into a crime syndicate.

[25] Fabian of the Yard: ESCORT FOR DEATH
(aka ESCORT TO DEATH)
(aka ESCORT OF DEATH)
19-Nov-1955 BBC Sat 3:45pm
(1st repeat 6Sep56 BBC Thur)
(2nd repeat 15Mar57 BBC Fri)
US syndication:
11May55 WRCA-4 NYC, Wed. 7pm
02Aug55 WGR-2 Buffalo, NY, Tues. 6:30pm
Australia:
06Dec56 ABV-2 Melbourne
Trinity Productions
Produced by John Larkin
Teleplay by Geoffrey Wicomb
From a story By former inspector Robert Fabian.
Directed by Montgomery Tully
Starring:
Bruce Seton (as Det. Insp. Robert Fabian)
Guest Cast:
Alan Tilvern … Carlac
Cecile Chevreau … Teresa
Colette Wilde … Silvara
Gerhard Heinz … Ambassador
Kenneth Edwards … Carter
Synopsis 1:
A girl discovers a dangerous secret by mistake. [Niagara Falls Gazette]
Synopsis 2:
Fabian acts to protect a girl involved in the affairs of a foreign power.
Synopsis 3:
Drama of a young code room clerk, forcibly detained in the embassy after stumbling on an important State secret. [The Age, Melbourne]

[26] Fabian of the Yard: THE SIXTH DAGGER
26-Nov-1955 BBC Sat 4:00pm
(repeat 14Dec56 BBC Fri)
US syndication:
14June55 WGR-2 Buffalo, NY, Tues. 6:30pm
15June55 WHAM-5, Rochester, NY, Wed. 10:30pm
Canada:
23Mar59 CBLT-6 Toronto, Ontario
Australia:
11July57 ABV-2 Melbourne
Trinity Productions
Produced by John Larkin
Script by Ernest Borneman
From a story by former inspector Robert Fabian
Directed by Charles Saunders
Starring:
Bruce Seton (as Det. Insp. Robert Fabian)
Guest Cast:
Avice Landone ......... Amanda Malloy
Kenneth Griffiths ..... Heywood
Michael McKeog ........ Student
Roddy Hughes .......... Pawnbroker
Philip Dale ........... Detective Sergeant (recurring)
James Drake ........... City Sergeant
Jack Melford .......... Metal Expert (recurring)
Lloyd Lamble .......... Dr Brighton
Martin Boddey ......... Graphologist
Max Brimmell .......... Psychiatrist (recurring)
Synopsis 1:
Fabian helps to track down an attacker who has a strange motive for his crimes. [Radio Times]
Synopsis 2:
Fabian is baffled by a series of mysterious stabbings. [Buffalo Courier Express]
Synopsis 3:
The works of Shakespeare are linked to five mysterious stabbings - all committed with the same dagger.

[--] BBC Saturdays - Next seven weeks (3Dec55, 10Dec55, 17Dec55, 24Dec55, 31Dec55, 7Jan56 and 14Jan56) - "Fabian of the Yard" is not listed in Radio Times.

---------------------
"Fabian of the Yard"
- transmission days on BBC now vary
- some episodes may have slipped through the net here ...
---------------------

[27] Fabian of the Yard: THE RIBBON TRAP
17-Jan-1956 BBC Tue 9:30pm
(repeat 25Jan57 BBC Fri)
Australia:
25July57 ABV-2 Melbourne
Trinity Productions
Produced by John Larkin
Screenplay by Jan Read
From a story by former inspector Robert Fabian
Directed by Charles Saunders
Starring:
Bruce Seton (as Det. Insp. Robert Fabian)
Guest Cast:
Philip Dale ............. Detective Sergeant (recurring)
George Woodbridge ....... Supervisor (recurring)
Valerie Jene ............ Julie
Patrick Jordan .......... Sandy Evans
Marjorie Stewart ........ Mrs Manners
Margot Van Der Burgh .... Madame Amata
Frederick Piper ......... Railway Foreman
John Witty .............. Map Expert
Synopsis 1:
Fabian investigates thefts from railway depots and finally brings the criminals to justice. [Radio Times]
Synopsis 2:
"Phantom" thieves raid a railway freight yard. [The Age, Melbourne]

[28] Fabian of the Yard: COCKTAIL GIRL
30-Jan-1956 BBC Mon 7:30pm
(1st repeat 23Nov56 BBC Fri)
(2nd repeat 01Mar57 BBC Fri)
US syndication:
26July55 WGR-2 Buffalo, NY, Tues. 6:30pm
Australia:
22Aug57 ABV-2 Melbourne
Trinity Productions
Produced by John Larkin
Screenplay by Ian Stuart Black
From a story by former inspector Robert Fabian
Directed by Charles Saunders
Starring:
Bruce Seton (as Det. Insp. Robert Fabian)
Guest Cast:
Kathleen Byron ....... Helen Kervan
Hugh Latimer ......... Roger Kervan
Ewan Roberts ......... Galney
Wensley Pithey ....... Jerry Watson
Conrad Phillips ...... Raynell
Philip Dale .......... Detective Sergeant
Jack Melford ......... Wood Expert (recurring)
Frank Forsyth ........ Museum Custodian
Synopsis 1:
An unknown killer who has murdered an attractive cocktail girl is sought by police and Fabian. [San Bernardino County Sun]
Synopsis 2:
After a spat with his wife, a man goes to a bar to cool off and finds himself involved in the murder of a "cocktail girl." [Pittsburgh Press]

[29] Fabian of the Yard: THE MASTERPIECE
6-Feb-1956 BBC Mon 7:30pm
(1st repeat 9Nov56 BBC Fri)
(2nd repeat 1Feb57 BBC Fri)
US syndication:
05July55 WGR-2 Buffalo, NY, Tues. 6:30pm
Canada:
20July59 CBLT-6 Toronto, Ontario
Australia:
20June57 ABV-2 Melbourne
Written by ??
Directed by ??
Starring:
Bruce Seton (as Det. Insp. Robert Fabian)
Guest Cast:
Anna Turner ........... Kitty Penley
Antoinette Cellier..... Magda
Ivan Craig ........... Bateman
John Cazabon ........ Chemist
Patrick MacJordan
Philip Dale .......... Detective Sergeant
Frank Forsyth ........ Museum Custodian
John Witty ........... Map Expert
John Boxer ........... Laboratory Expert (recurring)
George Woodbridge .... Supervisor (recurring)
David Yates .......... Radio Operator
Synopsis:
Fabian investigates a case involving counterfeit £5 notes. [The Age, Melbourne]
Synopsis 2:
Fabian, the master detective, almost meets his match in the person of a ruthless but clever counterfeiter who floods the country with fake money.
[Buffalo NY Courier Express]

[--] 13Feb56 BBC Mon - series not listed in Radio Times.

[--] 20Feb56 BBC Mon 7:30pm - series listed in Radio Times, with no episode details.

[--] 27Feb56 BBC Mon - series not listed in Radio Times.

[--] BBC - Next three Mondays at 7:30pm (5Mar56, 12Mar56 & 19Mar56), "Fabian of the Yard" is listed in Radio Times, but with no episode descriptions.

############# Fabian of the Yard #############
############ not shown on BBC #############
##############################################

In Britain, "Death On The Portsmouth Road," "The Actress and The Kidnap Plot" and "Bombs In Piccadilly" were not shown on BBC but compiled
for the 1954 theatrical film "Fabian of the Yard."

[30] Fabian of the Yard: DEATH ON THE PORTSMOUTH ROAD
aka THE WROTHAM HILL MURDER
(Featured in the 1954 compilation film "Fabian of the Yard")
BBC airdate: n/a
US syndication:
12Apr55 WGR-2 Buffalo, NY, Tues. 6:30pm
08Feb56 WPTZ-3 Philadelphia, PA, Wed. 10:30pm
Australia:
09May57 ABV-2 Melbourne
Starring:
Bruce Seton (as Det. Insp. Robert Fabian)
Synopsis 1:
A lorry driver strangles a hitchhiker, but is traced by the law.
Synopsis 2:
Story of a girl who accepted a ride from a truck driver and lost her life. [The Age, Melbourne]
Synopsis 3:
A copy of a string bag carried by a murdered woman puts Fabian on the murder trail. By a systematic check of the movements of
all lorries in the area Fabian finally gets his man.
(Possibly the opening story of - 1st feature length compilation of 3 episodes of "Fabian of the Yard")

[31] Fabian of the Yard: THE ACTRESS AND THE KIDNAP PLOT
aka THE SNATCH RACKET
aka FOUR A.M. PHONE CALL
(Featured in the 1954 compilation film "Fabian of the Yard")
BBC airdate: n/a
US Syndication:
09Feb55 WHAM-5, Rochester, NY, Wed. 10:30pm
12Oct55 WPTZ-3 Philadelphia, PA, Wed. 10:30pm
Australia:
20Dec56 ABV-2 Melbourne
Starring:
Bruce Seton (as Det. Insp. Robert Fabian)
Guest Cast:
Sarah Churchill ..... The Actress
Victor Maddern ….. Chick
Margaret Boyd …... Nanny
Synopsis 1:
An actress is blackmailed by a threat.
Synopsis 2:
London actress receives a kidnap threat to her son.
Sarah Churchill plays the frantic actress.
[Philadelphia Inquirer]
Synopsis 3:
"The Snatch Racket" - Benny has threatened to kidnap an actress' son unless £250 in notes are left in a telephone directory.
When he leaves the kiosk he hails a loitering taxi in which Fabian is concealed.

[32] Fabian of the Yard: BOMBS IN PICCADILLY
(Featured in the 1954 compilation film "Fabian of the Yard")
BBC airdate: n/a
US syndication:
20Feb55 WGR-2 Buffalo, NY, Sun. 10:30pm
01June55 WRCA-4 NYC, Wed. 7pm
06Sep55 (repeat) WGR-2 Buffalo, NY, Tues. 6:30pm
07Sep55 (repeat) WRCA-4 NYC, Wed. 7pm
09Nov55 WPTZ-3 Philadelphia PA, Wed. 10:30pm
Australia:
17Jan57 ABV-2 Melbourne
Copyright date 1954 (one of the first episodes produced)
Produced and Directed by Antony Beauchamp
Teleplay Rex Rienits
Starring:
Bruce Seton (as Det. Insp. Robert Fabian)
Guest Cast:
Ann Hanslip ... Policewoman Wetherby
John Rowley (or Jack Crowley?) ... Paxton
James Raglan .... Asst. Commissioner
Reg Hearne ...... Charlie
Richard Pearson... Sgt MacKenzie (recurring)
Howard Lang … Harry (uncredited)
Synopsis:
The plot concerned the I.R.A's attempt to bomb London
in 1939.
Synopsis 2:
Fabian learns who is behind a reign of terror in mysterious explosions in the heart of London. [Philadelphia Inquirer]
Note:
This episode was not televised in the UK, but was used in the compilation film 'Fabian Of The Yard'

[--] aka - I GET MYSELF ARRESTED (one of the first 5 produced)
(possibly an aka for "Bombs in Piccadilly")

Note:
The next three episodes, "Handcuffs, London," "The King's Hat" and possibly "Nell Gwynn's Tear," were compiled for the 1955 U.K. feature film "Handcuffs, London."

[33] Fabian of the Yard: HANDCUFFS, LONDON
(Featured in the 1955 compilation film "Handcuffs: London")
BBC airdate: n/a
US syndication:
26Dec54 WGR-2 Buffalo, NY, Sun. 10:30pm
12Jan55 WHAM-5, Rochester, NY, Wed. 10:30pm
18May55 WRCA-4 NYC, Wed. 7:00pm
29Nov55 WPTZ-3 Philadelphia, PA, Wed. 10:30pm
Australia:
14Feb57 ABV-2 Melbourne
Starring:
Bruce Seton (as Det. Insp. Robert Fabian)
Guest Cast:
Ursula Howells … Madeleine Perry
cast (as listed on tv.com):
Gladys Boot … Lady Franchard
Maurice Kaufmann … Philip Le Neve
Donald Bisset ... Stamp Expert
Robert Raglan … Det.-Sgt. Wyatt
Synopsis 1:
A mysterious message regarding the disappearance of an American detective is sent to Scotland yard's cable address. [The Age, Melbourne]
Synopsis 2:
Fabian gets an SOS from a missing American detective. [Philadelphia Inquirer]

[34] Fabian of the Yard: THE KING'S HAT (1955)
(Featured in the 1955 compilation film "Handcuffs: London")
BBC airdate: n/a
US syndication:
02Jan55 WGR-2 Buffalo, NY, Sun. 10:30pm
27July55 WRCA-4 NYC, Wed. 7pm
18Jan56 WPTZ-3 Philadelphia, PA, Wed. 10:30pm
Australia:
11Apr57 ABV-2 Melbourne
Trinity Productions
Produced by John Larkin
Teleplay by Brock Williams
From a story by former inspector Robert Fabian
Directed by Bernard Knowles
Starring:
Bruce Seton (as Det. Insp. Robert Fabian)
Guest Cast: "The King's Hat" [BFI]
Alexander Gauge ........ Nicholas Bardwell
Noel Howlett ........... Jeremiah Rugeley
Derek Aylward .......... Sir Michael Garvem
Charles Lepper ......... Edmund Burrows
Dorinda Stevens ........ Lady Edith Garvam
Ian Fleming ............ Sir Digby Button
C. Dennier Warren ...... Robert Meekers
Michael Craig .......... Roger Garvam
Robert Raglan … Det Sgt Wyatt (recurring)
Jack Melford …… expert (recurring)
Synopsis 1:
"Case of the King's Hat" concerns the attempted murder of a tourist by an unknown archer. [The Age, Melbourne]
Synopsis 2:
Tourists are shot by an unknown archer in a 15th century English castle.
Synopsis 3:
A rare coin provides the only clue to a mysterious archer's attacks on tourists visiting a 15th-century castle.

[35] Fabian of the Yard: NELL GWYNN'S TEAR (1955)
BBC airdate: n/a
US syndication:
19Apr55 WGR-2 Buffalo, NY, Tues. 6:30pm
7Jan56 WRCA-4 NYC Sat. 11:15pm
29Feb56 WPTZ-3 Philadelphia, PA, Wed. 10:30pm
Australia:
30May57 ABV-2 Melbourne
Starring:
Bruce Seton (as Det. Insp. Robert Fabian)
Guest Cast:
Kathleen Byron ....... Janet Tedford
Alexander Gauge ...... Nicholas Bardwelt
Isabel Dean .......... Doris Tedford
Noel Howlett ......... Jeremiah Rugeley
Robert Raglan ........ Det Sgt Wyatt
Jack Melford ......... Expert (recurring)
Synopsis:
"Nell Gwynn's Tear." Fabian investigates the charge that the Neil Gwynn's tear diamond is a fake. [The Age, Melbourne]
Synopsis 2:
Famous diamond exhibited, said to be paste. [Long Island NY Star-Journal]
Synopsis 3:
Scotland Yard is called to investigate a report that a famous diamond on exhibition is a fake.

Next 4 episodes:
"Murder In Soho," "The Lover's Knot," "The Witches Of Wednesday" and "Moral Murder" were broadcast in the US and Australia.
But none of these four are mentioned in the BBC Radio Times listings.

[36] Fabian of the Yard: MURDER IN SOHO (one of the first 5 produced)
aka THE ANTIQUIS MURDER
BBC airdate: n/a
US syndication:
14Sep55 WRCA-4 NYC, Wed. 7pm
23Nov55 WPTZ-3 Philadelphia, PA, Wed. 10:30pm
10Jan56 WFBG-10 Altoona, PA, Tues. 11:30pm
Australia:
31Jan57 ABV-2 Melbourne
Starring:
Bruce Seton (as Det. Insp. Robert Fabian)
Guest Cast:
Ian Whittaker …… Cox
Lew Harris ….… Coker
Eric Corrie …… Turner
Graham Ashley … Spicer
Synopsis 1:
A motorcyclist is killed trying to stop the escape of three young hoodlums after a jewel robbery. [Alton IL Evening Telegraph]
Synopsis 2:
Two men raid a jeweler's shop in Soho. As they make
their getaway, Alec de Antiquis, a passing motor-bicyclist, puts his machine in their path. He is shot through the skull and dies.
The only clue to the identity of the thieves is a raincoat: but the utility mark helps Fabian to identify the gang.
Synopsis 3:
Fabian cracks a tough case by playing one crook against another. [Philadelphia Inquirer]

[37] Fabian of the Yard: THE LOVER'S KNOT
BBC airdate: n/a
US syndication:
12July55 WGR-2 Buffalo, NY, Tues. 6:30pm
07Mar56 WPTZ-3 Philadelphia, PA, Wed. 10:30pm
Australia:
06June57 ABV-2 Melbourne
Trinity Productions
Produced by John Larkin
Screenplay by Ian Stuart Black
From a story by former inspector Robert Fabian
Directed by Charles Saunders
Starring:
Bruce Seton (as Det. Insp. Robert Fabian)
Guest Cast:
Thomas Heathcote ....... Selby
Shelagh Fraser ......... Emma Horton
Jessica Dunning ........ Mrs Addison
Douglas Muir ........... Doctor
Larry Cross ............ Fleddon
Jennifer Browne ........ Waitress
Philip Dale … Detective Sergeant (recurring)
John Boxer … Laboratory Expert (recurring)
Martin Boddey .......... Graphologist
George Woodbridge … Supervisor (recurring)
Synopsis 1:
A young husband is suspected of murdering his wife. [Philadelphia Inquirer]
Synopsis 2:
Love letters may be the death of a salesman - who's suspected of murdering his wife.
Synopsis 3:
A man is suspected when his wife is murdered. [The Age, Melbourne]

[38] Fabian of the Yard: THE WITCHES OF WEDNESDAY
BBC airdate: n/a
US syndication:
25May55 WHAM-5, Rochester, NY, Wed. 10:30pm
Australia:
18July57 ABV-2 Melbourne
Directed by Bruce Seton
Starring:
Bruce Seton (as Det. Insp. Robert Fabian)
Guest Cast:
Renee Goddard .. Trudi
John Boxer ..... Lomas
Keith Davies ..... Reg
Daphne Maddox ... Sybil
Gladys Boot .. Miss Isles
Synopsis:
Superstitious villagers are led to believe that a doctor's housekeeper is a witch.

[39] Fabian of the Yard: MORAL MURDER
aka BLACKMAIL
BBC airdate: n/a
US syndication:
22Mar55 WGR-2 Buffalo, NY, Tues. 6:30pm
06July55 WRCA-4 NYC, Wed. 7pm
28Jan56 (R) WRCA-4 NYC, Sat. 6pm
28Dec55 WPTZ-3 Philadelphia, PA, Wed. 10:30pm
Australia:
21Mar57 ABV-2 Melbourne
Starring:
Bruce Seton (as Det. Insp. Robert Fabian)
Guest Cast:
Hugh Latimer ..... Walter Mitchell
Tod Slaughter ….. John Palmer
Marjorie Stewart .... Mrs. Mitchell
Richard Pearson …. MacKenzie
Harry Lane …… Lester
Al Burnett .… Club Manager
Also appearing?
Desmond Llewelyn
Directed by Alfred Travers
Synopsis 1:
A rich businessman, candidate for Parliament, confides to Fabian that he is being blackmailed. He is becoming desperate.
Fabian lays a trap for the blackmailer in the lounge of a hotel. The brains behind the crime turns
out to be an actor.
Synopsis 2:
A respectable businessman attempts suicide because he is a victim of blackmail. [The Age, Melbourne]
Synopsis 3:
Fabian thwarts the suicide attempt of a business executive being blackmailed because of a shady incident in his past. [Philadelphia Inquirer]
Synopsis 4:
An MP is set up by a girl he meets in a club and is blackmailed by her accomplice, Fabian takes up the case and encounters Todd Slaughter
who turns out to be only a middleman. The real criminal is brought to justice after an exciting chase through London's West End theatre land,
including scenes clearly shot on location in a genuine, but unidentified theatre.
[Bryan Lindop <BryanLindop@bfpsociety.freeserve.co.uk>- Former BBC film archivist]


############# Fabian of the Yard #############
############ unknown airdates (possibly not filmed) #############
##############################################
Note:
A few sources (erroneously?) list the following titles as "Fabian of the Yard" TV episodes.
These five titles appear in the book "Fabian of the Yard," a compilation of cases solved by real-life detective Robert Fabian. But there
doesn't seem to be any evidence that these titles were filmed for the TV series.

[--] Fabian of the Yard: THE BLACK BUTTERFLY
Synopsis:
Fabian examines tinfoil from a gin bottle, found in the room of a murdered nightclub singer. Later her sister identifies the killer from
photographs at the Criminal Record Office.

[--] Fabian of the Yard: MARITA AND THE COUNT
Synopsis:
The daughter of an American millionaire has eloped with a foreign count.
Fabian exposes the 'count' as a trickster by checking up on his shabby flat; then stops the wedding.

[--] Fabian of the Yard: ONE WAY OF LEARNING THE CHARLESTON
Synopsis:
A middle-aged businessman removes his jacket to learn the steps of the Charleston. From a roof, Fabian watches the dancing teacher's accomplice rob his wallet.

[--] Fabian of the Yard: CELLULOID ALF AND THE SERGEANT-MAJOR
Synopsis:
There have been a number of successful robberies at a block of Chelsea flats. A hunch leads Fabian to suspect the commissionaire.

[--] Fabian of the Yard: THE BEER-BOTTLE BURGLAR
Synopsis:
A hotel has been burgled. The thief has left a suitcase full of beer-bottles behind. By a mark on the bottle -
and the help of the hall- porter - Fabian catches up with the thief.

############# Fabian of the Yard #############
###### 1st UK theatrical compilation film #######
##############################################

[--] FABIAN OF THE YARD (1954)(75min)
(1st feature length compilation of 3 episodes of "Fabian of the Yard")
Distributed by Eros
Anthony Beauchamp Productions
Produced by Anthony Beauchamp
Screenplay by Rex Rienits, John Davenport
From a Book by Robert Fabian
Directed by Anthony Beauchamp ("Bombs in Piccadilly")
Directed by and Edward Thompson ("Death on Portsmouth Road" & "The Actress & the Kidnap Plot")
features 3 episodes:
(i) DEATH ON THE PORTSMOUTH ROAD:
A lorry driver strangles a hitchhiker, but is traced by the law.
(ii) THE ACTRESS AND THE KIDNAP PLOT
An actress is blackmailed by a threat.
Cast:
Sarah Churchill ..... The Actress
Victor Maddern … Chick
Margaret Boyd … Nanny
(iii) BOMBS IN PICCADILLY
The plot concerned the I.R.A's attempt to bomb London in 1939.
Starring : Bruce Seton (as Det. Insp. Robert Fabian)
Combined Cast:
Howard Connell
Gwen Cherrill
Viola Lyel
Diana Beaumont
Howard Connell
Malcolm Kindell

Ann Hanslip ("Bombs in Piccadilly")
Jack Crowley (or John Rowley?) ("Bombs in Piccadilly")
James Raglan ("Bombs in Piccadilly")
Richard Pearson ("Bombs in Piccadilly"
*
Superintendent Fabian, based on a real Scotland Yard detective, was one of the first of a new breed of intellectual detectives who
preferred to solve a crime using his brain rather than pure muscle.
Three episodes of the BBC TV series released as a film.
Three cases solved by Chief Superintendent Bob Fabian during his career at Scotland Yard. Three of the television series episodes run
together to make up the body of the film.

############# Handcuffs, London ##############
##### 2nd UK theatrical compilation film #######
##############################################

[--] HANDCUFFS, LONDON (1955)(76 min)
(2nd feature length compilation of 3 episodes of "Fabian of the Yard")
("Handcuffs: London")
("The King's Hat")
("Nell Gwynn's Tear")
Trinity Productions/ Produced by John Larkin
Teleplay by Brock Williams
From a story by former inspector Robert Fabian
Directed by Bernard Knowles
*
Cast: (Handcuffs London - compilation)
Donald Bisset ..... Stamp Expert
Gladys Boot ....... Lady Franchard

(i) HANDCUFFS: LONDON
Cast:
Ursula Howells ........ Madeleine Perry (possibly "Handcuffs: London")
Maurice Kaufmann ...... Philip Le Neve (possibly "Handcuffs: London")

*
(ii) NELL GWYNN'S TEAR
A man finds a rare stamp and takes it to an expert to find out what it's worth. He discovers it is a forgery and starts to find out who is behind it.
(Note: Instead of a "stamp," other sources list a "diamond" as the item in question.)
Cast:
Kathleen Byron
Isabel Dean
Noel Howletts … Jeremiah Rugeley
Robert Raglan … Det Sgt Wyatt
Alexander Gauge … Nicholas Bardwell

*
(iii) THE KING'S HAT
Cast:
Alexander Gauge … Nicholas Bardwell
Derek Aylward … Sir Michael Garvem
Noel Howlett … Jeremiah Rugeley
Robert Raglan … Det. Sgt. Wyatt
Dorinda Stevens … Lady Edith Garvam
C. Denier Warren … Robert Meekers
Michael Craig … Roger Garvam

############# Fabian of the Yard #############
################ BBC Repeats #################
##############################################

BBC repeats (Mondays 3pm)
[--] 04Apr55 - repeat of "The Extra Bullet"
[--] 18Apr55 - repeat of "Skeleton in the Cupboard"
[--] 25Apr55 - repeat of "The Unwanted Man"
[--] 2May55 - repeat of "Against The Evidence"
[--] 9May55 - repeat of "Troubled Wife"
[--] 16May55 - repeat of "Brides of the Fire"

BBC repeats (Fridays 3:30pm)
[--] 29Jul55 - repeat of "Written in the Dust"
[--] 5Aug55 - repeat of "The Purple Mouse"
[--] 12Aug55 - repeat of "Little Girl"
[--] 19Aug55 - repeat of "The Coward"

BBC repeats (various days & times)
[--] 17Aug55 Wed 8:30pm - repeat of "The Hand of Terror"
[--] 28Aug55 Fri 8:30pm - repeat of "Lost Boy"
[--] 2Sep55 Fri 3pm - repeat of "The Executioner"
[--] 9Sep55 Fri 3pm - repeat of "The Poison Machine"
[--] 16Sep55 Wed 8:15pm - repeat of "The Golden Peacock"
[--] 3Oct55 Mon 3:15pm - "The Man From Blackpool"
[--] 19Oct55 Wed 3:20pm - repeat of "Pin-Point Signature"

BBC repeats (Mondays 4:15pm)
[--] 17Oct55 - repeat of "Robbery In The Museum"
[--] 31Oct55 - repeat of "Deadly Pocket Handkerchief"
[--] 28Nov55 - repeat of "Pinpoint Signature"
[--] 09Jan56 - repeat of "The Jade Blade"
[--] 23Jan56 - repeat of "April Fool"
[--] 20Feb56 - repeat of "Innocent Victims"
[--] 05Mar56 - repeat of "The Golden Peacock"
[--] 12Mar56 - repeat of "Escort for Death"
[--] 19Mar56 - repeat of "No Alibi"
[--] 26Mar56 - repeat of "Hand of Terror"

BBC repeats (Mondays 7:30pm)
[--] 26Mar56 - repeat of "Poison Machine"
[--] 09Apr56 - repeat of "The Executioner"
[--] 23Apr56 - repeat of "The Executioner" (postponed?)

BBC repeats (various days & times)
[--] 02May55 Mon 3pm - repeat of "Against the Evidence"
[--] 12July56 Thur 3:15pm - repeat of "The Vanishing Cat"
[--] 06Sep56 Thur 7:30pm - repeat of "Escort for Death"
[--] 21Sep56 Fri 3:15pm - repeat of "No Alibi"
[--] 26Sep56 Wed 7:40pm - repeat of "The Lover's Knot"
[--] 19Oct56 Fri 3:20pm - repeat of "Pinpoint Signature"

BBC repeats (Fridays 3:15pm)
[--] 26Oct56 - repeat of "Robbery in the Museum"
[--] 2Nov56 - repeat of "The Jade Blade"
[--] 9Nov56 - repeat of "The Masterpiece"
[--] 16Nov56 (2:50pm) - repeat of "The Hand of Terror"
[--] 23Nov56 - repeat of "Cocktail Girl"
[--] 30Nov56 - repeat of "Deadly Pocket Handkerchief"
[--] 7Dec56 - repeat of "The Innocent Victims"
[--] 14Dec56 - repeat of "The Sixth Dagger"
[--] 21Dec56 - repeat of "April Fool"
[--] 11Jan57 - repeat of "The Lovers' Knot"
[--] 25Jan57 (3:25pm) - repeat of "The Ribbon Trap"
[--] 01Feb57 - repeat of "The Masterpiece"
[--] 15Feb57 - repeat of "The Golden Peacock"
[--] 22Feb57 - repeat of "Man from Blackpool"
[--] 01Mar57 - repeat of "Cocktail Girl"
[--] 08Mar57 - repeat of "No Alibi"
[--] 15Mar57 - repeat of "Escort for Death"
[--] 22Mar57 - repeat of "The Vanishing Cat"
[--] 29Mar57 - repeat of "Robbery in the Museum"

############# Fabian of the Yard #############
############ Melbourne, Australia #############
############## ABV, channel 2 ###############
Air dates/times:
29Nov56 - 22Aug57, Thursdays 7:30pm
07Oct57 - 16June58, Mondays 8:30pm
25June58 - 25Mar59, Wednesdays 9:00pm

29Nov56 "Written In The Dust" (repeated 7Oct57, 2July58)
06Dec56 "Escort To Death" (R 14Oct57, 9July58)
13Dec56 "Little Girl" (R 21Oct57, 16July58)
20Dec56 "4 A.M. Phone Call" (R 28Oct57, 30July58)
27Dec56 "The Troubled Wife" (R 04Nov57, 06Aug58)
03Jan57 "The Vanishing Cat" (R 11Nov57, 12Nov58)
10Jan57 "The Brides Of Fire" (R 18Nov57, 20Aug58)
17Jan57 "Bombs In Piccadilly" (R 25Nov57, 27Aug58)
24Jan57 "The Coward" (R 02Dec57, 03Sep58)
31Jan57 "Murder In Soho" (R 09Dec57, 17Sep58)
14Feb57 "Handcuffs, London" (R 23Dec57, 15Oct58)
21Feb57 "The Poison Machine" (R 30Dec57, 22Oct58)
07Mar57 "The Hand Of Terror" (R 06Jan58, 29Oct58)
14Mar57 "The Lost Boy" (R 13Jan58, 05Nov58)
21Mar57 "Moral Murder" (R 20Jan58, 19Nov58)
07Feb57 "The Jade Blade" (R 27Jan58, 26Nov58)
28Mar57 "No Alibi" (R 03Feb58)
04Apr57 "The Extra Bullet" (R 10Feb58, 10Dec58)
11Apr57 "The King's Hat" (R 17Feb58, 17Dec58)
18Apr57 "The April Fool" (R 16Dec57, 1Oct58)
25Apr57 "The Golden Peacock" (R 24Feb58, 24Dec58)
02May57 "The Purple Mouse" (R 03Mar58, 31Dec58)
09May57 "Death On The Portsmouth Road" (R 10Mar58, 7Jan59)
16May57 "Pin-Point Signature" (R 17Mar58, 14Jan59)
23May57 "Skeleton In The Closet" (R 24Mar58, 21Jan59)
30May57 "Nell Gwynn's Tear" (R 31Mar58, 28Jan59)
06June57 "The Lover's Knot" (R 07Apr58, 04Feb59)
13June57 "The Innocent Victims" (R 14Apr58)
20June57 "The Masterpiece" (R 21Apr58, 11Feb59)
27June57 "The Unwanted Man" (R 28Apr58, 25Mar59)
04July57 "Robbery In The Museum" (R 05May58)
11July57 "The Sixth Dagger" (R 12May58)
18July57 "The Witches Of Wednesday" (R 19May58)
25July57 "The Ribbon Trap" (R 26May58, 11Mar59)
01Aug57 "The Executioner" (R 2June58, 18Mar59)
08Aug57 "Against The Evidence" (R 9June58)
15Aug57 "The Deadly Pocket Handkerchief" (R 16June58)
22Aug57 "Cocktail Girl"
25June58 "The Man From Blackpool"


############# Fabian of the Yard #############
################# the end ##################
##############################################

Have you any comments, corrections, episode titles, air dates, production numbers, directors, writers, story/synopsis, guest stars, cast lists, etc?
Have you any old videos, or tv guides? Dust them off and let us know if you have any information on this series or any other tv series from the
Golden Age of TV, which is missing from any episode guides on the web. Perhaps a certain episode of a particular series coincided with a key
moment in your life, or in world events - and or has left a vivid memory of when it was shown. Let us know. Would you like to see any other
tv series guides on this site? If so please e-mail The Classic TV Archive - see Feedback below.
This guide may be distributed and copied freely, in its entirety, for personal use. All original author and copyright information must
remain intact. Any sales or other uses of this document are expressly forbidden, without the specific consent of the author(s).
Copyright © The Classic TV Archive. All rights reserved.

Return to The Classic TV Archive Home Page
Feedback