CTVA
The Classic TV Archive - TV Western series
<Previous The Virginian Next>
1 2 3 4 5 6 7 8 9
6.24 [173]
"The Handy Man"
Original NBC Broadcast - 6 March 1968

Universal City Studios, Inc.
Executive Producer Norman MacDonnell
Produced by Joel Rogosin
Written by Mel Tormé
Directed by Abner Biberman

Starring:
(shown on the ride-in)
John McIntire as Clay Grainger (not in this episode)
Doug McClure as Trampas
Clu Gulager as Emmett Ryker (not in this episode)
Don Quine as Stacey Grainger (not in this episode)
Sara Lane as Elizabeth Grainger
and
James Drury as The Virginian

Guest Stars
Tim Simcox [Ward Bowden]
Jeanette Nolan [Holly Grainger] (credited as a guest star although a regular)

Special Guest Star: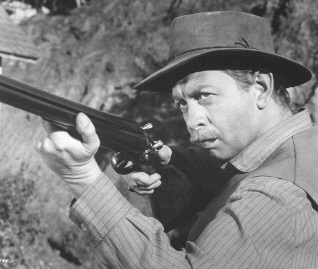 Mel Tormé ["Jim"]

Full ending credits:
Co-Starring
William Bramley as Arnold Bowden
#
Paul Mantee as Roy Havens
#
Ross Elliott as Sheriff Abbott (his return to the series)
#
With
Noam Pitlik . . . Walt Hardesty
Stephen Coit . . . Storekeeper
Stuart Nisbet . . . Bartender
#
Richard Van Vleet . . . Cowboy
Harper Flaherty . . . Harper
Dick Shane . . . Dick
Hal Needham . . . Rider (one of Bowden's ranch hands)
#
Associate Producer David Levinson
#
Theme Percy Faith
#
Director of Photography Enzo A. Martinelli
#
Art Director . . . George Patrick
Film Editor . . . J. Howard Terrill
Unit Manager . . . Henry Kline
Assistant Director . . . John C. Bowman
Set Decorations . . . John McCarthy and Ralph Sylos
Sound . . . Melvin M. Metcalfe, Sr.
Color Coordinator . . . Robert Brower
Technicolor
#
Editorial Supervision . . . Richard Belding
Musical Supervision . . . Stanley Wilson
Costume Supervision . . . Vincent Dee
Makeup . . . Bud Westmore
Hair Stylist . . . Larry Germain
The Title "THE VIRGINIAN" by permission of EMKA, LTD.

Regulars in this episode:
Trampas, the Virginian, Mrs. Grainger, Elizabeth Grainger, Sheriff Abbott
with recurring cast members Harper, Dick & Cecil

Brief Synopsis:
A stranger stops the runaway buckboard after Trampas is knocked unconscious
by Ward Bowden, the neighboring rancher's son who wants full ownership of
a piece of grazing land that he and his father have been sharing with Shiloh.
Trampas wants to pay back the stranger's kindness by hiring him as a
"handy man," but there is talk that his benefactor is none other than
Little Ned Mullins, a notorious gun-slinger.
This episode is another of my personal favorites (bj)

Note: Before this episode was written Mel Tormé had met Dick Shane and asked him
about his bull whip act (which also featured Dick's brother Choya). Tormé's
script later showcased Mr. Shane in the target practice scene in which recurring
character Dick used his whip instead of a gun to knock a bottle off a log.
(Thanks to Dick Shane's niece Sue Collins for passing along this information)
The multi-talented Mel Tormé is probably best known for his work as a vocal
recording artist and for co-authoring "The Christmas Song."
Return to The Classic TV Archive "The Virginian" Home Page
Return to The Classic TV Archive Western Page
Return to The Classic TV Archive Home Page
Feedback - "The Virginian" Guestbook