CTVA
The Classic TV Archive - TV Western series
<Previous The Virginian Next>
1 2 3 4 5 6 7 8 9
1.22 [--]
"Vengeance Is The Spur"
Original NBC Broadcast - 27 February 1963

Revue Studios Production
Executive Producer Roy Huggins
Produced by Frank Price
Teleplay by Harry Kleiner / Story by John Francis O'Mara
Directed by Robert Ellis Miller
Starring:
(shown on the ride-in)
Lee J. Cobb as Judge Henry Garth (not in this episode)
Doug McClure as Trampas (not in this episode)
Gary Clarke as Steve Hill (appears)
and
James Drury as The Virginian (appears)

Guest Stars: (on ride-in)
Michael Rennie [Michael O'Rourke]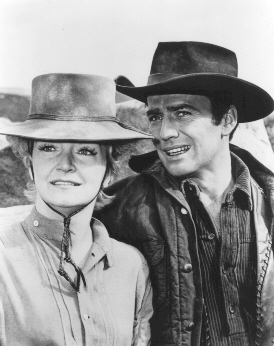 Nina Foch [Carol Frances]

End Credits (complete)
Co-Starring:
Roberta Shore as Betsy
#
with:
Edward Kemmer as Eddie Thorpe
Ross Elliott as The Sheriff
John Brytant as Dr. Spaulding
Kathryn Card as Mathilde
Mary Young as Gertrude
Paul Sorensen as Thorpe's Guard
William Allyn as Foxie Stevens
#
Adam Hill as Luke
Dan Barton as Tom Harrington
Bobs Watson as Hotel Clerk
Gil Perkins as Whitey
and
Denver Pyle as Pico Brown
#
Virginian theme Percy Faith
#
Director of Photography - Neal Beckner
#
Supervising Producer - Frank Price
#
Art Director - George Patrick
Film Editor - Edward Hare, A.C.E.
Editorial Dept. Head - David J. O'Connell
Musical Supervision - Stanley Wilson
Set Decorators - John McCarthy and James M. Walters
Color Consultant Alex Quiroga
Color Processing by Consolidated Film Industries
#
Assistant Director - Charles S. Gould
Sound - Earl Crain, Jr.
Costume Supervisor - Vincent Dee
Makeup - Leo Lotito, Jr,
Hair Stylist - Florence Bush
The Title "The Virginian" by permission of EMKA, LTD.
#

Series Regulars Appearing in This Episode:
The Virginian, Betsy Garth, Dr. Spaulding, Sheriff Mark Abbott

Story:
The mysterious Mrs. Francis arrives in Medicine Bow with a baggage
cart full of luggage, a complete veil of secrecy about her presence and
promptly rents two adjoining rooms for an indefinite stay. She arranges to
rent a frisky sorrel from the blacksmith every day for a morning ride and
heads out of town every day being careful not to be followed or spotted.
Her destination is Shiloh Ranch, not far from the ranch house where she can
watch the comings and goings of the Garths and all the ranch hands. After
several days of watching she spots The Virginian and Betsy taking a carriage
ride into town. As they approach, Mrs. Francis fakes a spill and waits to be
"rescued". Knowing that Dr. Spaulding can say nothing about her condition
because of patient confidentiality, Francis stays for the weekend at Shiloh
earning the confidence and affection of The Virginian and Betsy. Once she
returns to town, Francis invites The Virginian over to her hotel room and
reveals the reason for her visit to Medicine Bow.

She says that her husband ran away from their home in Philadelphia thinking
he had killed a man. In reality the man was only badly hurt and no charges
were laid. Francis has been trailing him across the west and spotted him in
a town north of Medicine Bow but he left town in the company of two men
before she could talk to him. The two men were apparently members of the
Michael O'Rourke gang and when she learned The Virginian was a friend of
O'Rourke, she came to enlist his help but felt that the ruse was needed to
earn his friendship before she made her request. The Virginian hesitantly
agrees but can't promise any results. O'Rourke was his predecessor as foreman
of Shiloh and after being unfairly charged with a crime by the citizens of
Medicine Bow he escaped to the Wyoming Badlands where he began a career of
horse and cattle rustling.

In the Badlands, The Virginian and Mrs. Francis meet O'Rourke's gang who lead
them blindfolded and weaponless to the hideout where O'Rourke greets his
former lead hand as a long lost friend. O'Rourke recognizes a photograph of
Francis's husband as a member of his gang he knows as Eddie Thorpe. But when
Thorpe arrives in the cabin, Francis pulls out a derringer and tries to kill him.
O'Rourke and The Virginian subdue the crazed woman who claims her last name is really
Graham and Thorpe is responsible for killing her daughter.
It seems to be one person's word against the others but Graham claims she has
proof of her claim in a scrapbook in her hotel room. A panicky Thorpe flees
the hideout under cover of darkness leading O'Rourke to lean towards
believing Graham. It is actually a little more than believing her as he finds
himself falling in love with the woman he calls Frances since she won't
reveal her real first name. O'Rourke informs the gang that he intends to turn
himself in to the law in order to try to start a new life with Frances.
Thorpe wants to start a new life too. He intends to claim the reward on the
rustler by bringing him in dead. [rgm]

Notes
This was Michael Rennie's only appearance on the series. The distinguished
British actor began his acting career with Alfred Hitchcock in 1936.
Arguably his most famous role was that of the alien Klaatu in "The Day the Earth Stood Still" (1951).
He also played Harry Lime in the syndicated series"The Third Man" (1959-61). (rgm)

This was Nina Foch's only appearance on the series. Her career began as a
leading lady in horror films in the 1940s. She became a name actress but
never a full-fledged movie star, even though she received an Oscar nomination
for Best Supporting Actress for her role in "Executive Suite" (1954). When
her movie roles began drying up, Foch began working extensively in TV and
theatre. She also became a highly regarded acting teacher. (rgm)

This was Denver Pyle's only appearance on the series. He made appeared in
over 100 movies, was a regular on over a half-dozen TV shows and made over
200 guest appearances on other series. Most TV fans remember Pyle as Uncle
Jesse Duke on the comedy-adventure series, "The Dukes of Hazzard" (1979-85)
or for his recurring role as Briscoe Darling on the sitcom "The Andy Griffith
Show" (1964-68). Pyle just missed TV immortality when he was briefly cast
for the role of Marshal Matt Dillon after James Arness initially turned down
the role. Two of the people involved in the casting were Charles Marquis
Warren, who was series producer for "Gunsmoke" and Norman Macdonnell, who
created "Gunsmoke" for radio. At the time of the production of this episode,
Warren had recently been fired as executive producer of "The Virginian".
Macdonnell became executive producer of "The Virginian" (1965-66 and 1967-71)
after he was fired from "Gunsmoke" following a falling out with CBS network executives. (rgm)

Kathryn Card also played Lucille Ball's mother, Mrs. McGillicuddy, on the
sitcom "I Love Lucy". (rgm)

Jon Lormer also appeared in "Nan Allen" (9.14). (rgm)

Actor / stuntman Gil Perkins also appeared in "To Bear Witness" (6.11). (rgm)

Former child actor Bobs Watson also appeared as the hotel clerk in "The
Golden Door" (1.24), "A Distant Fury" (1.25) and "It Takes A Big Man" (2.6). (rgm)

Series Continuity Error:
Perhaps the absence of the Virginian's love
interest newspaper woman Molly Wood (Pippa Scott), who had not been seen
since 1.14 "The Man From the Sea", was to have been explained in this
episode. Tom Harrington came to interview the beautiful and mysterious
visitor in town and introduced himself as "the new owner of the 'Medicine
Bow Banner'" who was also its "star reporter" and had to "buy the paper to
get there." But apparently Tom didn't last long as the "Banner"
proprietor. In 2.11 "The Fatal Journey" Molly still ran the newspaper (as
if she'd never been gone), and her absence from the series was again
explained by killing her off (Pippa Scott did not appear in this episode).
For more information see continuity comment at the end of 2.11 [022] ).(bj)
Return to The Classic TV Archive "The Virginian" Home Page
Return to The Classic TV Archive Western Page
Return to The Classic TV Archive Home Page
Feedback - "The Virginian" Guestbook
Main Contributor for this episode: Rodger Martin [rgm]