CTVA
The Classic TV Archive - US Comedy Series
<Previous "The Jack Benny Program" Next>
Starring Jack Benny
Season 14 (CBS) (1963-64)
Episode Guide compiled by The Classic TV Archive
with contributions by: Steve Jensen, James Beer
references:
TV Guide / Library of Congress (telnet://locis.loc.gov)
Internet Movie Database (http://us.imdb.com)
UCLA Film and Television Archive

########## The Jack Benny Program ############
############# season 14 1963-64 ##############
##############################################
CBS Tuesdays 9:30 pm Eastern (Weekly)
(filmed at Revue/Universal City Studios)
Season 14, Episode 1: The Billy Graham Show
Original Air Date—24 September 1963

Season 14, Episode 2: The Robert Goulet Show
Original Air Date—1 October 1963
Jack sups at a chichi nightclub where heartthrob crooner Robert Goulet is performing. Will Goulet pilfer
Jack's drop-dead gorgeous date or will the sex symbol comic pull women away from Goulet ?

14. 3 [203] The Jack Benny Program: RIVERBOAT SKETCH [verified -SJ]
8-Oct-1963 CBS Tue
Written by Sam Perrin & George Balzer & Al Gordon & Hal Goldman
Directed by Fred De Cordova
Guest Star: Carol Burnett
With Barry Kelley, Bill Idelson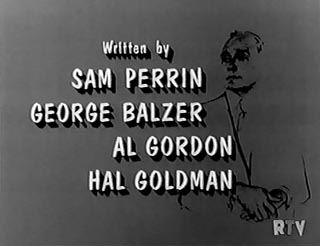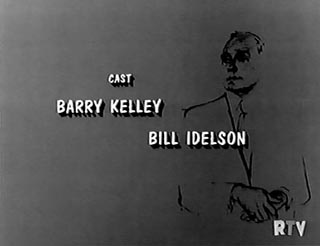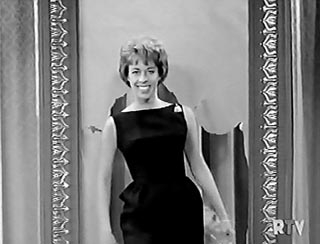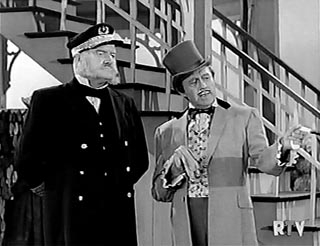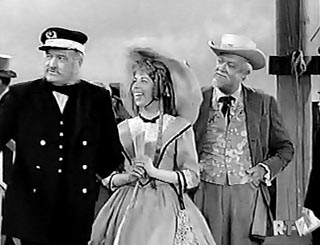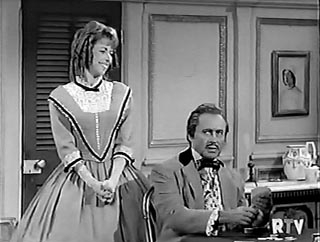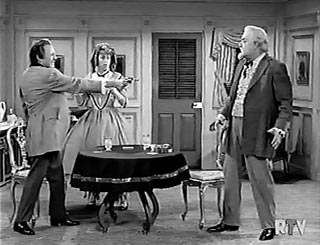 Synopsis:
The episode starts with three large picture frames on stage with Don Wilson crashing through the first one, guest star
Carol Burnett crashing through the second and then Jack is unable to crash through the 3rd one so Carol helps him.
Carol sings a version of "Sweet Georgia Brown" and then the sketch starts, which is about a river boat, the "Memphis Belle".
Jack is Gaylord Benny, a gambler and Don Wilson is Col. Culpepper J. Wilson and Carol Burnett is his daughter Cindy
Lou Wilson. The Wilsons' are card cheaters complete with signals and mirrors. The sketch ends with "Gaylord" shooting
both of the Wilson's when he catches them cheating. [SJ]

14. 4 [204] The Jack Benny Program: THE TALL COWBOY SKETCH [verified -SJ]
15-Oct-1963 CBS Tue
Written by Sam Perrin, George Balzer, Al Gordon, Hal Goldman
Directed by Fred De Cordova


Jack Benny & Clint Walker - Cheyenne (WB/Wm T.Orr/ABC)(1955-62) starring Clint Walker
Guest Star: Clint Walker (as himself)
With:
John Gallaudet, Saul Gorss, Clyde Howdy, Ronnie Rondell Jr., Paul Baxley, Jeanette Eymann
Not Credited on Screen: Pat Colby (Usher), Ned Miller (Man on Tour)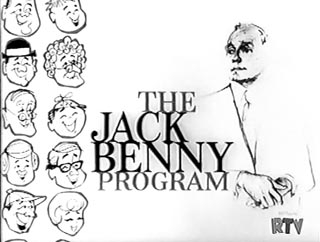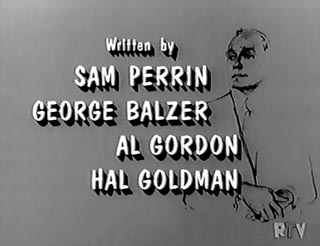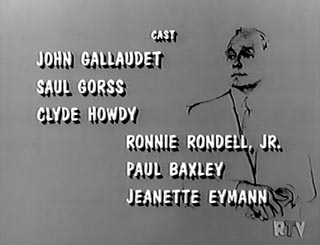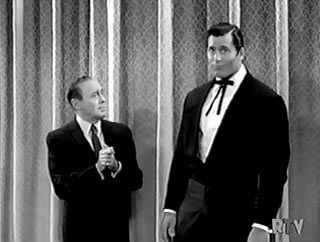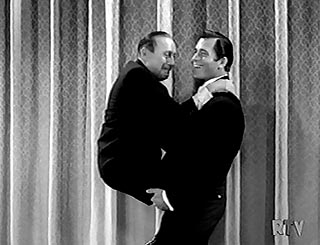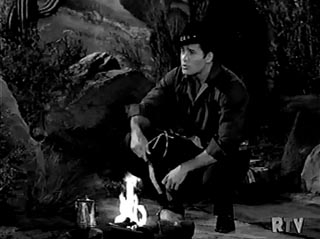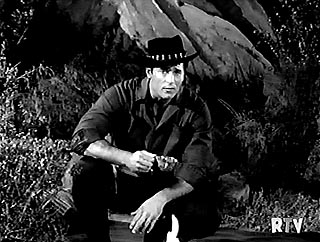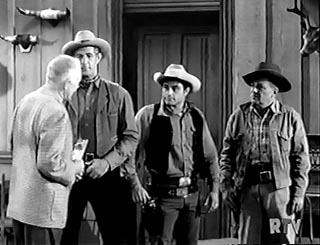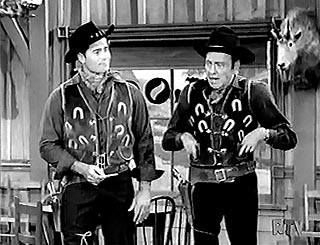 Jack's guest is 6'6" Western star Clint Walker ("Cheyenne"), who sings a song and banters with Jack. Jack is insulted
when the gigantic Walker snubs Jack's suggestion that he play Clint's brother in a movie. But Jack auditions for the part anyway.
Synopsis:
Jack's big guest is Clint "Cheyenne" Walker. Clint allows ? as how he needs a man to play the part of
a brother in an upcoming movie, and who should show up on the set the next day but a rebuilt Benny. [JB]
Season 14, Episode 5: Johnny Carson Guest
Original Air Date—22 October 1963

14. 6 [206] Jack Benny Program: JACK DIRECTS FILM [verified -SJ]
Original Air Date—29 October 1963
Guest Stars: Jimmy Stewart (as Himself) Gloria Stewart (as Herself)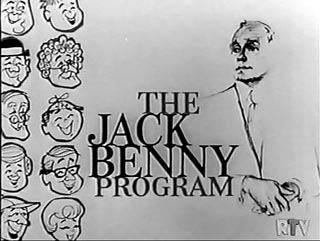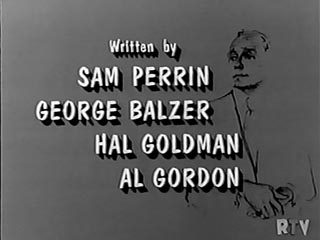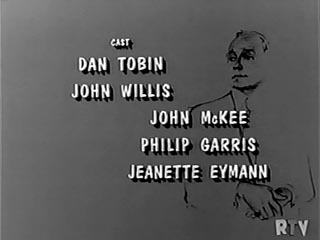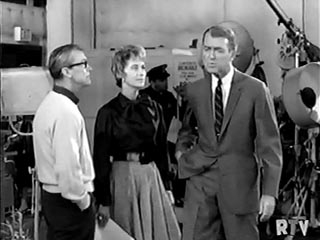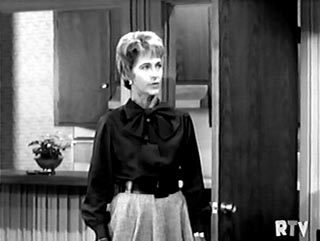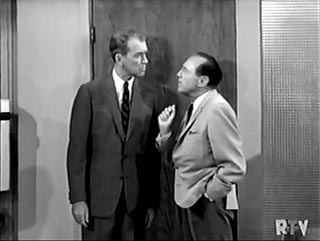 Show opens with Rochester preparing a breakfast, for himself, but Jack gets up early and spoils Rochester's plans and eats
the breakfast instead. Jack got up early to catch the morning tv show "This Is Hollywood" as his friends, Jimmy & Gloria
Stewart are going to be on it. While watching the show, Jack learns that Jimmy & Gloria are filming a movie and this is
Gloria's debut film. Jack decides to go down to the studio to wish Gloria good luck. Jack makes his appearance during a
filming scene by opening up a door that Jimmy was going to use. Jimmy bends over to pick up a suitcase, Jack opens the
door and sends Jimmy flying onto the sofa. A couple of minutes later, Jack sits in the director's chair, stands in front of
the camera and stops filming, twice, by yelling cut. Jack each time tries to offer advice to Jimmy and Gloria. Jack then
tells Jimmy that he'll show him what he means and assumes Jimmy's role. This time, Gloria opens the door as Jack bends
down to pick up the suitcase, sends Jack flying onto the couch and knocks him out. Gloria yells for water but Jimmy says
no, lets finish the scene first. They finish the scene, then film the final scene where Jimmy comes in the door, back from
Albany where he got his brother, "Henry", off on the charge. He brought Henry back with him to live and goes out the door to
bring him in. Jimmy returns with "Henry", who turns out to be Jack. The director then yells cut and wants to know what's
going on. Jimmy tells the director that Jack talked him into letting him be in the movie too. The director says no and
the episode ends shortly after that. [SJ]

14.7 [207] The Jack Benny Program: THE ED SULLIVAN / MONIQUE LEMAIRE SHOW
prod. no. 23909 / 05-Nov-1963 CBS Tue
Directed by Fred De Cordova
Guest Stars: Ed Sullivan, Monique LeMaire
With:
Ben Lessy .......... Witness
Rolfe Sedan ........ Judge
Eddie Colbrook ...... Clerk
Charles Bateman
Hallene Hill
Synopsis:
"The Introducer" is introduced as Ed Sullivan pays a visit to Jack. For the sake of variety, Jack insists they try
something dramatic---and in the ensuing sketch, Sullivan portrays a skillful attorney assigned to defend a gorgeous
French girl from the legal onlslaught of prosecutor Benny.
Singer Monique LeMaire portrays the defendent and also sings "Pigalle". [JB]
Note: The sketch originally done on show #9.15 (April 5, 1959) is restaged with a slightly different cast.

Season 14, Episode 8: Robinson Crusoe Sketch
Original Air Date—19 November 1963

Season 14, Episode 9: Jack Takes Boat to Hawaii
Original Air Date—26 November 1963
Hawaiians are thrilled to sing Aloha to stingy Jack Benny, who gets only 1 lei, while a fellow passenger is
covered with them. The romantic atmosphere of the Pacific cruise back to L.A. overwhelms Jack, who envisions
a zoftig blonde passenger as Jayne Mansfield. Jayne breathes "You're Just Too Marvelous," to love-struck Jack.

Season 14, Episode 10: Dennis Drives Jack to the Hospital
Original Air Date—3 December 1963

14.11 [211] The Jack Benny Program: THE THREE MUSKETEERS SKETCH
prod. no. 23910 / 10-Dec-1963 CBS Tue
Written by Sam Perrin & George Balzer & Hal Goldman & Al Gordon
Directed by Fred De Cordova
Cast:
Don Wilson, Dennis Day Dave Willock, Rolfe Sedan, Joyce Jameson, Bernie Kopell
Irwin Charone, Ron Burke, Fletcher Allen
Synopsis:
In a sketch, Jack, Don Wilson, and Dennis Day are transformed into another memorable trio---The Three Musketeers. [JB]

Season 14, Episode 12: Amateur Show
Original Air Date—24 December 1963

Season 14, Episode 13: Jack Alone on New Year's Eve
Original Air Date—31 December 1963

Season 14, Episode 14: How Jack Met George Burns
Original Air Date—7 January 1964
Jack and his long-time best friend George Burns play golf, but Jack quickly storms back to his office, crying
foul to his secretary. George strolls in next, smoking a victory cigar, causing Jack to flee again. So, George
makes himself at home at Jack's desk, and relates to Jack's secretary Ms. Gordon, how he met Jack 40 years
before, in a cheap Chicago rooming house.

14.15 [215] The Jack Benny Program: PETER, PAUL AND MARY
14-Jan-1964 CBS Tue
Written by Sam Perrin, George Balzer, Hal Goldman, Al Gordon
Directed by Al Gordon, Norman Abbott
Guest Stars: Peter, Paul & Mary
With: Ben Lessy (Ned)


Peter Paul Mary - Jack Benny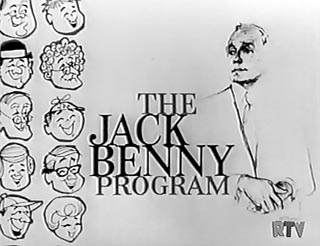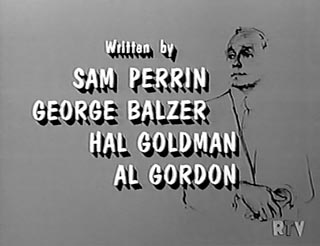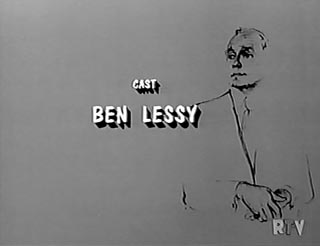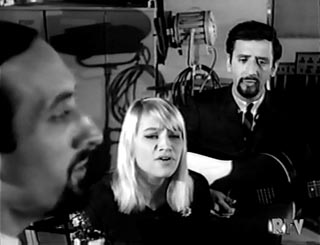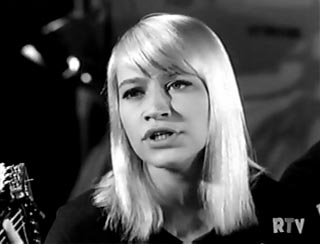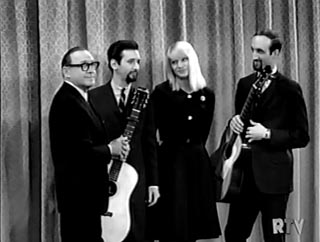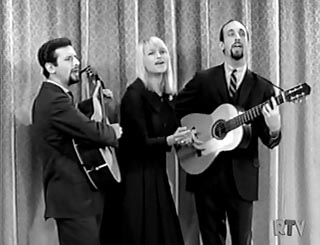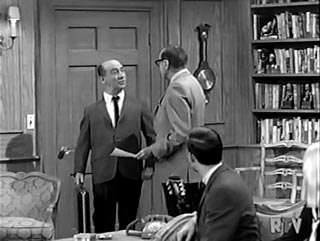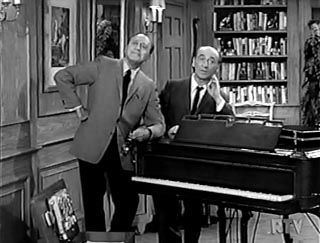 Jack Benny's guests, the folk group Peter, Paul & Mary, illustrate how folk songs develop with a tune
about Jack, whose lyrics include "A silver dollar was his teething ring." Jack insists that the group
cancel their flight out of town to come to his house, to discuss an important matter, at length.
Peter, Paul and Mary sing their hit "Blowin' in the Wind", and a folk song about Jack. In the sketch,
Jack has invited them to his house, where he asks them to record a song he wrote..

14.16 [216] The Jack Benny Program: THE NAT "KING" COLE SHOW
21-Jan-1964 CBS Tue
Written by Sam Perrin & George Balzer & Hal Goldman & Al Gordon
Directed by Norman Abbott


Nat "King" Cole on "The Jack Benny Program" (Part 1)
Nat "King" Cole on "The Jack Benny Program" (Part 2)
Guest Star: Nat "King" Cole (as Himself)
With: Frank Remley (Himself), Sammy Weiss (Himself), Wayne Songer, Jimmy Bradley, Jr. (Himself)
Jeanette Eymann, Gail Bonney, Sandy Benson, Bobo Lewis, Ned Miller, Pat Colby
Synopsis:
Jack intros guest Nat 'King' Cole as the best friend a song ever had, in Nat's final TV performance before his
death. Nat banters with Jack, plus croons "When I Fall in Love" and "Day In, Day Out." Nat reluctantly consents
to sit in on piano for Jack on "Sweet Sue." At their rehearsal Jack's sax player injures his drummer's arm in
a fight, so always-cool Nat calls in a 5 year old (James Bradley Jr., later played with Anita Baker and Chuck Mangione)
on the skins.

14.17 [217] The Jack Benny Program: THE BOBBY DARIN SHOW

[verified -SJ]
prod. no. 23921 / 28-Jan-1964 CBS Tue
Video - Bobby Darin On The Jack Benny Program, (3pt)
Written by Sam Perrin & George Balzer & Al Gordon & Hal Goldman
Directed by Norman Abbott
Guest Star: Bobby Darin (as Himself)
With:
Peter Leeds ....... Bobby's Agent
Howard Caine
Benny Rubin ....... Waiter
Ned Miller ........ Mr. Miller
Jacque Shelton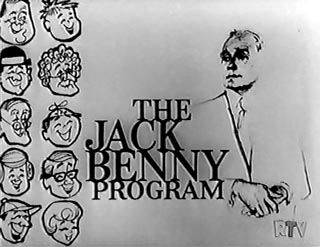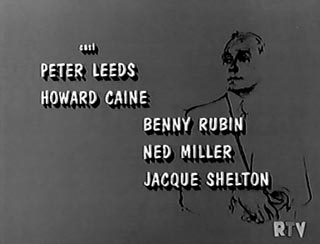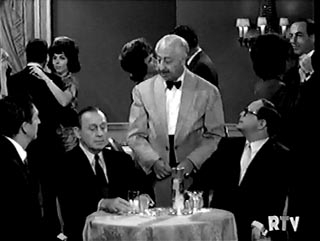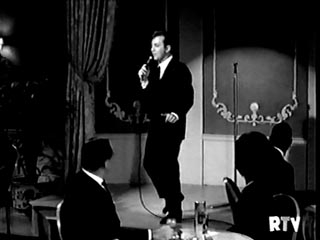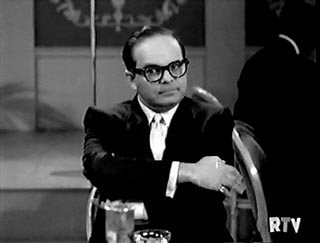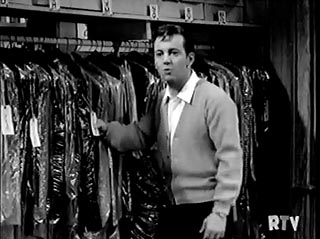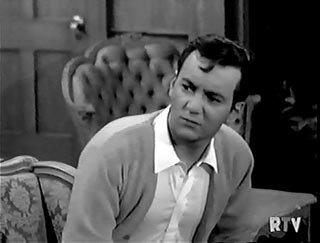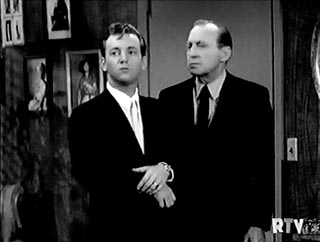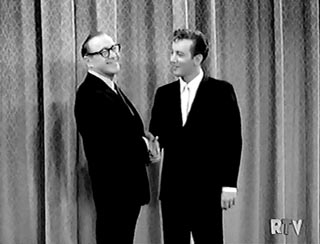 Synopsis:
Jack wants to play himself in an autobiographical movie, but the studio prefers younger star Bobby Darin for the role.
Darin displays his many talents as he and Jack contend over the role.
Synopsis:
Singer-actor Bobby Darin displays his talent and Jack, who is looking for someone to play his role in a biographical movie,
is impressed. Bobby sings "As Long as I'm Singing." [JB]

14.18 [218] The Jack Benny Program: DON BREAKS LEG [verified -SJ]
prod. no. 23911 / 4-Feb-1964 CBS Tue
Written by Sam Perrin, George Balzer, Al Gordon, Hal Goldman
Directed by Fred De Cordova
Guest Cast: (verified on film)
Lois Corbet ...Mrs. Wilson
Dale White ......... Harlow
Miss Beverly Hills ... Charlotte Stewart / Lisa Porter?
Benny Rubin ........ Dr. Schletzinger
Herb Vigran ........ Joe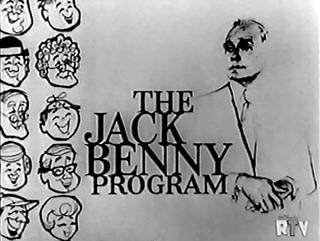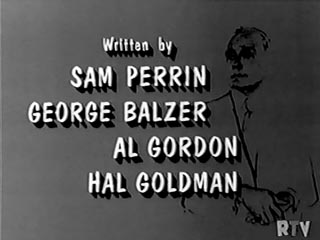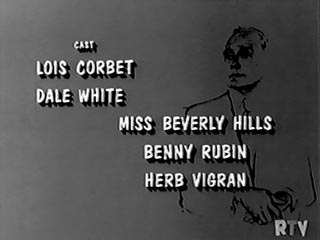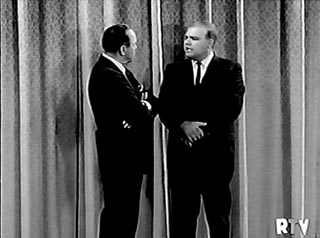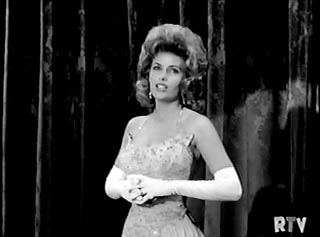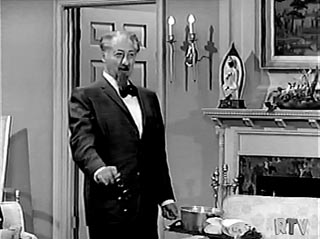 Synopsis:
Don Wilson fakes a broken leg in order to get Jack to use his son, Harlow as the announcer. Miss Beverly Hills makes
an appearance by first singing opera and then switches to a striptease. Don Wilson then breaks his leg trying to leave
before Jack comes to visit him. Jack was told that Don was faking a broken leg but doesn't know of Don's real broken leg.
The doctor ends up being Jack's announcer when Harlow also breaks his leg after Jack offers him the announcer job
while Don heals. [SJ]
Synopsis:
Jack has problems: Don Wilson's son has to pinch-hit for Dad on the commercials:
and Jack's "talent find" Lisa Porter has switched from diva to dancer, exotic type. [JB]
Synopsis:
Benny monologue. Miss Beverly Hills sings "Only one man," and does strip.
In skit, Don pretends to break his leg so that his son Harlow can have his big chance. Harlow reads "Ode to California."

14.19 [219] The Jack Benny Program: HOW JACK FOUND DENNIS
11-Feb-1964 CBS Tue
Written by Sam Perrin & George Balzer & Hal Goldman & Al Gordon
Directed by Fred De Cordova
Guest Cast:
Jesse White ...... Steve Burke, Jack's Agent
Benny Rubin ...... Luigi, Shopkeeper
Herb Vigran ...... Guy at Pizza Parlor
Sammee Tong ...... Restaurant Owner
Willie Soo Hoo, James Shen, Tommy Lee .... Waiters
Synopsis:
Dennis Day has been with Jack for 24 years, and Jack celebrates the occasion by recalling how he found and hired him. [JB]
Synopsis:
Dennis Day's lugging his own scenery on stage for his song, leads an irate Jack to relate how he picked Dennis to be
his show's singer, passing over an agent's offers of Sinatra (too skinny) and Bing Crosby (too bu-bu-ba-boo). Jack tracks
the unknown Irish tenor from a fish market and ice cream store (Dennis is fired from both), to a Chinese restaurant.

Season 14, Episode 20: Jack Takes Violin Lessons
Original Air Date—18 February 1964
In desperation, a psychiatrist phones Jack for his help with a distraught patient. An amnesiac with a violin has
been found on the street, and he's bitterly muttering Jack's name - over and over. Jack identifies him as his
long-time, long-suffering violin teacher, Professor LeBlanc (Mel Blanc), who reveals he couldn't lose his hearing,
so he lost his mind.

14.21 [221] The Jack Benny Program: JACK AND DENNIS DO IMPERSONATIONS
prod. no. 23917 / 25-Feb-1964 CBS Tue
Written by Sam Perrin & George Balzer & Hal Goldman & Al Gordon
Directed by Norman Abbott
Guest Cast:
Danny Kaye .... Himself
Dale White .... Harlow Wilson
Mark Baker
Pat Priest, Evelyn Dutton ... Dancers
Synopsis:
Jack and Dennis Day get going on some impersonations, including Jackie Gleason and Frank Fontaine's Crazy Guggenheim. [JB]

Season 14, Episode 22: Jack Redecorates His House
Original Air Date—3 March 1964

14.23 [223] The Jack Benny Show: JACK IS BOXING MANAGER
prod. no. 23923 / 17-March-1964 CBS Tue
Guest Cast:
Don Wilson ... Trainer
Joan Huntington ... Blonde
Glenn Turnbull ... Stage Manager
Eddie Anderson ... Rochester
Richard Reeves, Scott Elliott, Ned Miller, Robert Ball
Synopsis:
Jack dreams he's a fight manager----and Dennis Day is his battling protege Kid Dynamite. [JB]

14.24 [224] The Jack Benny Show: JACK RENEWS DRIVER'S LICENSE [verified - SJ]
prod. no. 23903 / 24-Mar-1964 CBS Tue
Written by Sam Perrin, George Balzer, Hal Goldman, Al Gordon; Directed by Fred De Cordova
Guest Cast:
Charlie Cantor (Professor), Parley Baer, Cliff Norton, Ross Elliott , Frances Robinson , Henry Hunter, Ed Peck, Hal Gould
Pitt Herbert, Helen Wallace, Mary Patton, Sid Clute, Frank Remley, Sammy Weiss (Himself), Wayne Songer, Shorty Sherrock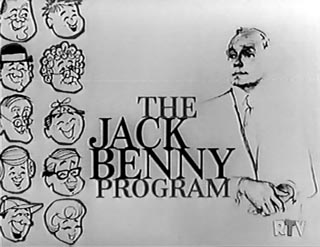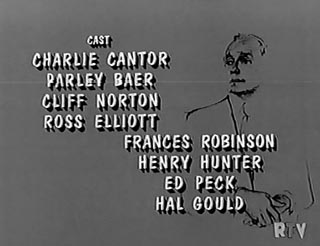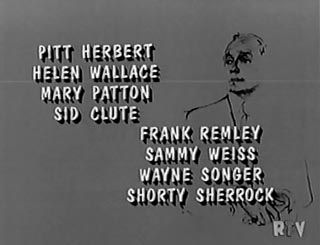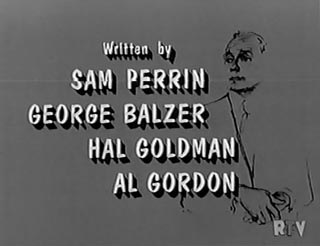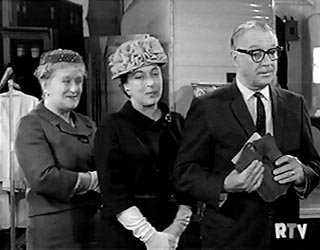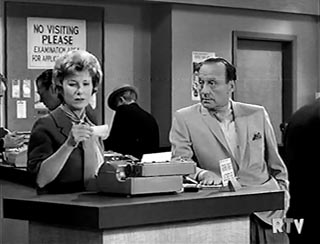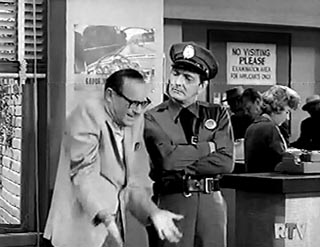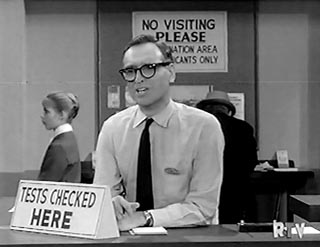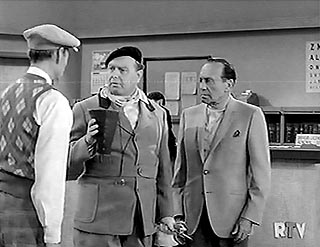 Synopsis:
Jack rehearses some Dixieland music on his violin with members of his band. Then he does some public service announcements,
including one on safe driving; a close-up of his driver's license reveals it has expired. He and Don go to the California
Dept. of Motor Vehicles to renew his license. While there, Don buys (from a con man/ventriloquist) a parrot that sings
about State Farm Insurance. [TVDC]

14.25 [225] The Jack Benny Program: THE LETTERMEN SHOW
31-March-1964 CBS Tue
Guest Stars:
The Lettermen .... Themselves
With:
John Siegfried.... German Student
Synopsis:
In a sketch, Jack portrays a college freshman whose only concern is the study of how to make money.
The Lettermen who play Jack's roommates, sing "Love Is a Many Splendored Thing". [JB]
Synopsis:
Jack's guests, the pop singing group The Lettermen, provoke surprisingly strong reactions from Jack Benny and his regular
singer Dennis Day. They bump Dennis from singing on the show at all, so he skulks behind the scenery as the Phantom of the
Comedy. Jack, The Waukegan Wizard, claims he earned a high school letter as a cheerleader, but regrets he didn't attend
college, so the World's Oldest Freshman enrolls with The Lettermen.


14.26 [226] The Jack Benny Program: JACK GOES TO THE ALLERGY DOCTOR [verified - SJ]
prod. no. 23924 / 07-Apr-1964 CBS Tue
Written by Sam Perrin, George Balzer, Al Gordon, Hal Goldman
Directed by Norman Abbott
Guest Cast:
Laurie Main, Irwin Charone, Fay DeWitt, Wayne Songer, Ross Elliott ,
Jeanette Eymann, Bill Dungan, Frank Evans, Jack Pepper, Nick Blair.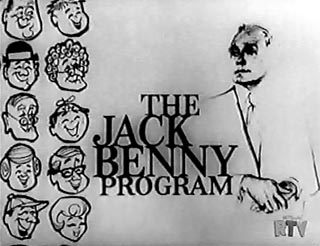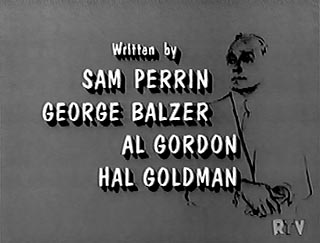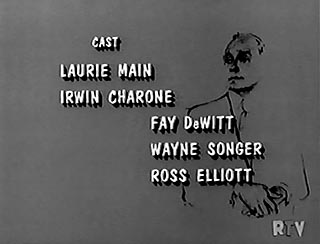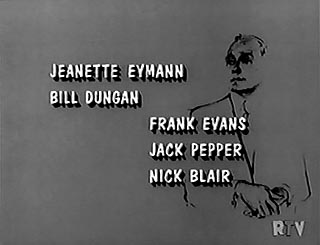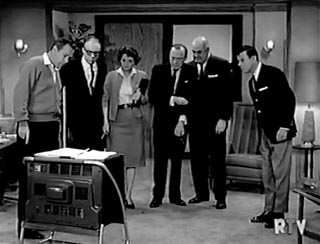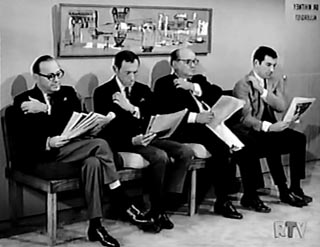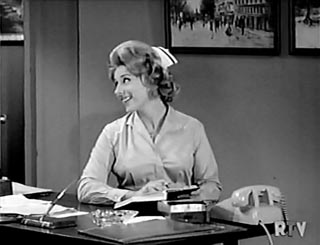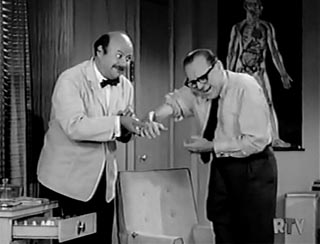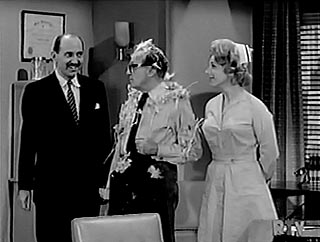 Synopsis :
Jack demands a post-show meeting with cast and crew, furious over their mistakes. But they call him out for flubbing
a line and scratching himself throughout the program. For his rash, Jack seeks treatment from a sarcastic allergy doctor
with bizarre show business patients, but the doctor refers him to a highly alternative medical practitioner.

14.27 [--] The Jack Benny Program: HARLOW GETS A DATE [verified -SJ]
prod. no. 23914 / 14-April-1964 CBS Tue
Written by Sam Perrin, George Balzer, Al Gordon, Hal Goldman
Directed by Fred De Cordova
Guest Cast:
Lois Corbett ...... Mrs. Wilson
Dale White ........ Harlow Wilson
Cliff Norton ...... Arnie Weber, Neighbor
Maudie Prickett ...... Ms. Gordon
Charla Doherty .... Neighbor's Daughter
Henry Hunter ...... Mr. Lewis, Sponsor
Anna Capri ........ Sponsor's Daughter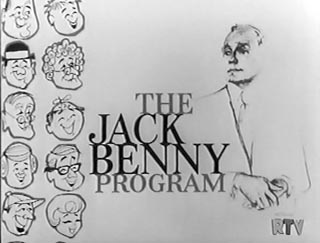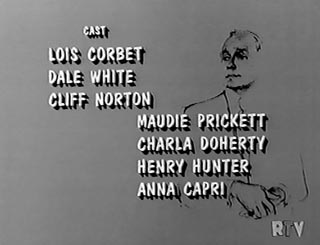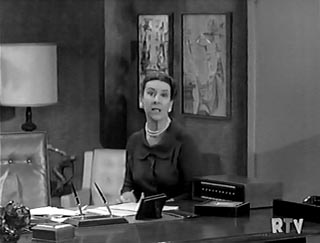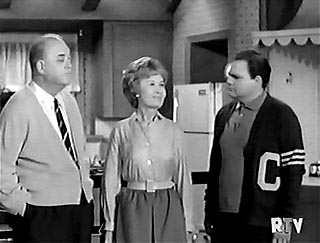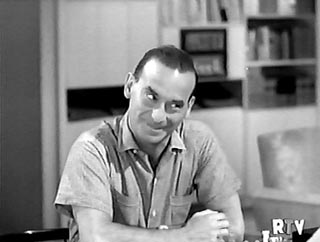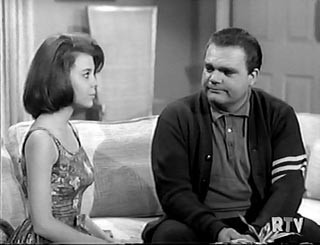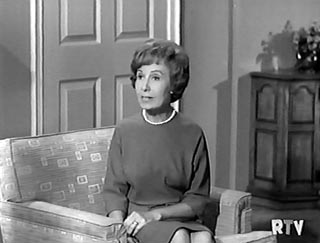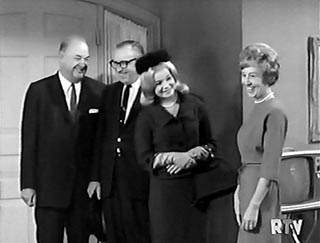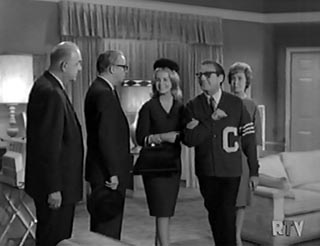 Synopsis:
Jack's sponsor is coming to town with his daughter and Jack wants the girl to have a good time. Don Wilson tells Jack
that his son, Harlow, will show the girl around the city. Then Don finds out that Harlow has never had a date. Jack
scrambles for a solution at the last minute when Harlow refuses to go out with the sponsor's daughter. [SJ]
Synopsis:
Announcer Don Wilson's son Harlow is a bit awkward towards girls, so Don and Jack decide to turn him into a playboy. [JB]
Synopsis:
Don has arranged for Harlow to take the sponsor's daughter on a date. Unfortunately, Harlow has never been on a date before.

Season 14, Episode 28: I Am the Fiddler
Original Air Date—21 April 1964
Jack Benny enlists his long-time radio and TV cast members Charlie Cantor and Mel Blanc, to playfully demonstrate how
radio programs created suspense and atmosphere. Includes a parody of "The Whistler" with Jack as the diabolical
Fiddler, who spins the tale of oblivious husband Griffith Park (Dennis Day), targeted for murder by his wife and her lover.
-------------------
Summer 1964 Reruns
-------------------

[--] 19May64 CBS Tues - Rerun of #12.17 "Ghost Town Sketch" (from 11Feb62)
Gerald Mohr...Tombstone
Will Wright...Old Man
Gisele MacKenzie is Jack's guest in an old west tale involving a lovely dancehall queen, a bad guy named tombstone and
a good guy called The Cactus Kid (Benny). [JB]

[--] 23Jun64 CBS Tues - Rerun of #12.21 "The Shari Lewis Show" (from 18Mar62)
Shari Lewis is Jack's guest, and he is delighted to give free rein to her talent---until she horns in on his money-making
schemes. Shari sings "I Want To Be a Song and Dance Man", plays the piano and violin, and does magic tricks. [JB]
[--] 30Jun64 CBS Tues - Rerun of #13.5 "The Lawrence Welk Show" (from 23Oct62)
Lawrence Welk and his orchestra makes a guest appearance on tonight's program. Jack thinks that leading a band looks pretty
simple, so he asks Lawrence to let him give it a try. The results are disastrous. [JB]

########### The Jack Benny Program ###########
############## end of season 14 ###############
##############################################

Have you any comments, corrections, episode titles, air dates, production numbers, directors, writers, story/synopsis, guest stars, cast lists, etc?
Have you any old videos, or tv guides? Dust them off and let us know if you have any information on this series or any other tv series from the
Golden Age of TV, which is missing from any episode guides on the web. Perhaps a certain episode of a particular series coincided with a key
moment in your life, or in world events - and or has left a vivid memory of when it was shown. Let us know. Would you like to see any other
tv series guides on this site? If so please e-mail The Classic TV Archive - see Feedback below.
This guide may be distributed and copied freely, in its entirety, for personal use. All original author and copyright information must
remain intact. Any sales or other uses of this document are expressly forbidden, without the specific consent of the author(s).
Copyright © The Classic TV Archive. All rights reserved.

Return to The Classic TV Archive Home Page
Feedback - Comedy Guestbook