CTVA
The Classic TV Archive - US Comedy Series
Doris Day Movies
The Doris Day Show (1968-73)
Episode Guide compiled by The Classic TV Archive
with contributions by: Rina Fox
references:
TV Guide / Library of Congress (telnet://locis.loc.gov)
Internet Movie Database (https://us.imdb.com)
UCLA Film and Television Archive
The Doris Day Show (season 1) (CBS) (1968-1969)
The Doris Day Show (season 2) (CBS) (1969-1970)
The Doris Day Show (season 3) (CBS) (1970-1971)
The Doris Day Show (season 4) (CBS) (1971-1972)
The Doris Day Show (season 5) (CBS) (1972-1973)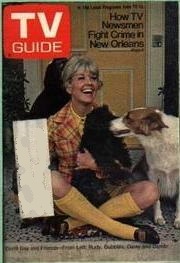 Arwin Productions
for
CBS (Tuesdays 9:30 pm EST) (1968-69) (season 1)
CBS (Mondays 9:30 pm EST) (1969-73) (seasons 2-5)
Executive Producer Terry Melcher (Doris Day's son)
Produced by Bob Sweeney, Norman Paul, Doris Day
Created by James Fritzell

US Comedy series 1968-73 128 episodes x 30 min color FILM
5 seasons (release date 24Sep68)
starring
Doris Day as Doris Martin (1968-73)
Denver Pyle as Buck Webb (Uncle) (1968-70)(seasons 1&2)
Philip Brown as Billy Martin (son) (1968-71) (seasons 1-3)
Todd Starke as Toby Martin (son) (1968-71) (seasons 1-3)
James Hampton as Leroy B. Simpson (Buck's handyman) (1968-69) (season 1)
*
Fran Ryan as Aggie Thompson (housekeeper) (1968)
Naomi Stevens as Juanita (housekeeper) (1968-69)
*
McLean Stevenson as Michael Nicholson (boss) (1969-71) (seasons 2&3)
Rose Marie as Myrna Gibbons (coworker) (1969-71) (seasons 2&3)
Paul Smith as Ron Harvey (associate editor) (1969-71) (seasons 2&3)
Billy De Wolfe as Willard Jarvis (neighbor) (1969-73) (seasons 2,3 ...)
*
Kaye Ballard as Angie Palucci (owners of Italiana restaurant below Doris' apartment) (1970-71) (season 3)
Bernie Kopell as Louie Palucci (owners of Italiana restaurant below Doris' apartment) (1970-71) (season 3)
*
John Dehner as Cy Bennett (editor) (1971-73) (seasons 4&5)
Jackie Joseph as Jackie Parker (secretary) (1971-73) (seasons 4&5)
And:
Nelson the Dog as Lord Nelson (1968-71)
*
Recurring Guest Cast:
Peter Lawford as Dr. Peter Lawrence (boyfriend) (1968-73)
Patrick O'Neal as Jonathan Rusk:
Edward Andrews as Colonel Fairburn
Larry Storch as Duke Farentino:
Ken Lynch as Detective Broder:
Carol Worthington as Ethel, babysitter:
*
Music by William Loose
Theme song "Que Sera Sera" written by Livingston & Davis /sung by Doris Day

Format One (1968-1969) (season 1)
----------
After spending most of her life in big cities, widow Doris Martin decides to move back to the family ranch.
Widowed mother of two boys living on a country farm with her father and a dog. Dissatisfied with the congestion
of the big city, Doris Martin, widow and mother of two children, relinquishes her career as a singer and returns
to her father's ranch in Mill Valley, California. Stories depict her attempts to raise her children, Billy and Toby,
and her involvement in local community affairs.

Format Two (1969-1970) (season 2)
------------
Doris is a Working mom commuting daily to San Francisco where she is employed as a secretary on a magazine called
"Today's World". Feeling the need to assist with the growing expenses on the ranch, Doris acquires a job in San Francisco
as the executive secretary to Michael Nicholson, the editor of "Today's World" magazine. Episodes relate her home and working life.

Format Three (1970-1971) (season 3)
--------
After being promoted to Reporter Doris and the kids become city dwellers. With occasional reporting assignments and
difficulty commuting from country to city, Doris relocates and rents apartment 207 at 965 North Parkway over Pallucci's
Italian Restaurant. Her children reside with her; and her father, Buck Webb, and his handyman, Leroy B. Simpson, continue
to operate the ranch.

Format Four (1971-1973) (season 4&5)
--------
Finally, and possibly influence by "The Mary Tyler Moore Show", Doris is a single woman again (the children and dog
disappeared - with no explanation), still reporting and dating a dashing doctor. A complete change in format and cast.
The working and romantic life of a beautiful young bachelorette, Doris Martin, General News Reporter for Today's World Magazine.

Background:
----------
The Doris Day Show (known as QUE SERA SERA in French) is probably the only
show in the history of Television to have been brought on the air without
the star's knowledge or approval!

CBS signed Doris Day exclusively in the spring of 1967, without her
knowledge, through her husband and manager, Martin Melcher. Variety,
called it "One of the industry's all time plush talent deals."

The Melchers would own the negatives of the show, plus all re-run rights,
and the rights to produce movies for CBS ( the movies were later switched
for two extra-ordinary music specials featuring the vocal talents of
Miss Day). CBS was ecstatic.
The Doris Day Show (1968-69) - season 1 DVD - Movies Unlimited
The Doris Day Show (1970-71) - season 3 DVD - Movies Unlimited
The Doris Day Show (1971-72) - season 4 DVD - Movies Unlimited
############# The Doris Day Show #############
##############################################
##############################################
Have you any comments, corrections, episode titles, air dates, production numbers, directors, writers, story/synopsis, guest stars, cast lists, etc?
Have you any old videos, or tv guides? Dust them off and let us know if you have any information on this series or any other tv series from the
Golden Age of TV, which is missing from any episode guides on the web. Perhaps a certain episode of a particular series coincided with a key
moment in your life, or in world events - and or has left a vivid memory of when it was shown. Let us know. Would you like to see any other
tv series guides on this site? If so please e-mail The Classic TV Archive - see Feedback below.
This guide may be distributed and copied freely, in its entirety, for personal use. All original author and copyright information must
remain intact. Any sales or other uses of this document are expressly forbidden, without the specific consent of the author(s).
Copyright © The Classic TV Archive. All rights reserved.

Return to The Classic TV Archive Home Page
Feedback - Comedy Forum