Westinghouse Studio One (1948-58)
aka Westinghouse Summer Theatre / Studio One Summer Theatre / Studio One in Hollywood (1958)
Episode Guide compiled by The Classic TV Archive
with contributions by: Rina Fox, Tom Alger
references:
TV Guide / Library of Congress (telnet://locis.loc.gov)
Internet Movie Database (https://us.imdb.com)
UCLA Film and Television Archive / TV Guide
Westinghouse Studio One (season 1) (CBS) (1948-1949)
Westinghouse Studio One (season 2) (CBS) (1949-1950)
Westinghouse Studio One (season 3) (CBS) (1950-1951)
Westinghouse Studio One (season 4) (CBS) (1951-1952)
Westinghouse Studio One (season 5) (CBS) (1952-1953)
Westinghouse Studio One (season 6) (CBS) (1953-1954)
Westinghouse Studio One (season 7) (CBS) (1954-1955)
Westinghouse Studio One (season 8) (CBS) (1955-1956)
Westinghouse Studio One (season 9) (CBS) (1956-1957)
Westinghouse Studio One (season 10) (CBS) (1957-1958)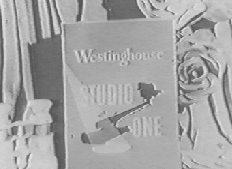 CBS (Sundays 7:30-8:30pm ET) (Alternating with "Ford Theatre") (season 1) (1948-49)
CBS (Mondays 10:00-11:00pm ET) (weekly) (seasons 2-9) (1949-58)
Produced by Worthington Miner from Season 1-3
US Anthology series 1948-58 500 approx episodes (7Nov48-29Sep58)
Episodes in Season One alternated weekly with the Ford Theatre.
Theme song: "Prelude to the Stars" by Vic Oliver.
Below is a site that has many Studio One episodes available
https://www.videoservicecorp.com/TV/Studio-One-Sentence-of-DeathThe-Night-America-Trembled/
DVD's & VHS are available at Turner Classic Movies
https://turnerclassic.moviesunlimited.com/product.asp?sku=092096++
########## Westinghouse Studio One ###########
################## Unknowns ##################
##############################################
THE SHOW-OFF
written by George Kelly
starring
Jackie Gleason ....... Aubrey Piper
Synopsis:
Aubrey Piper, a blowhard who marries his way into the respectable Fisher family,
brings the family to the brink of ruin, and then makes good at the end.
ARIETTA
producer Fletcher Markle
starring
Lorne Greene (first Studio One appearance)
Jarmila Novotna
THE HOUSE ON OAKLEY STREET
adapted by Alvin Sapinsley
story based on Robert Louis Stevenson "The Suicide Club".
producer Herbert Brodkin
THE LAST OF THE WINE
written by John Vlahos
producer Herbert Brodkin
HUNGARIAN RHAPSODY
written by David Davidson
producer Herbert Brodkin
RUTH
adapted by Worthington Miner
story by Irving Fineman
directed by Paul Nickell
THE TEMPTATION OF HARRY ASHCROFT
written by James Blumgarten
PEACOCK CITY
written by Carey Wilber
starring
Jackie Gleason
THE MISTAKE
written by Mann Rubin
POLYGRAPH
written by A.C. Langner
SUNDAY FATHER
written by Robert Brent and Paul Baker
TOMORROW, MISS CHARLIE!
written by Lloyd Clay
WHO WAITS FOR ME?
written by Samuel Elkind
DOLL FACE
written by Jerome Ross
THE WORLD'S GREATEST COUNTERFEITERS
written by Murray Teigh Bloom
THE BLACK SHEEP
written by Brainerd Duffield
THE GROWN ONES
written by Arthur Rodney Coneybeare
########## Westinghouse Studio One ###########
##############################################
##############################################
Have you any comments, corrections, episode titles, air dates, production numbers, directors, writers, story/synopsis, guest stars, cast lists, etc?
Have you any old videos, or tv guides? Dust them off and let us know if you have any information on this series or any other tv series from the
Golden Age of TV, which is missing from any episode guides on the web. Perhaps a certain episode of a particular series coincided with a key
moment in your life, or in world events - and or has left a vivid memory of when it was shown. Let us know. Would you like to see any other
tv series guides on this site? If so please e-mail The Classic TV Archive - see Feedback below.
This guide may be distributed and copied freely, in its entirety, for personal use. All original author and copyright information must
remain intact. Any sales or other uses of this document are expressly forbidden, without the specific consent of the author(s).
Copyright © The Classic TV Archive. All rights reserved.

Return to The Classic TV Archive Home Page
Feedback - Anthology Forum