The Best of The Post (1960-61)
Episode Guide compiled by The Classic TV Archive
with contributions by: Rina Fox, Tom Alger
references:
Library of Congress (telnet://locis.loc.gov)
Internet Movie Database (http://us.imdb.com)
UCLA Film and Television Archive

THE BEST OF THE POST
Independent Television Corp.
Robert J. Enders Production
S-P Production in association with ITC
Executive Producer, Robert J. Enders
Hosted by John Conte
Premise:
Dramas based on short stories in the "Saturday Evening Post"
Original Music by William Loose (theme)
##############################################
############## The Best of The Post ###############
################### 1960-61 ####################
##############################################
Syndicated Program

[01] The Best of the Post: COMMAND
22Oct60 (debut 04Feb61 South Ohio)
Guest Cast:
Everett Sloane ....... Captain Brittles
Ben Cooper ....... Lt. Flint Cohill
Louis Jean Heydt ........ Sergeant Utterbach
Synopsis:
While war rages between the United States Cavalry and the savage Indians,
Captain Brittles and young Lt. Flint Cohill carry on their own personal battle. [TA]
Synopsis 2:
During the Civil War, a lieutenant and his commanding officer
clash bitterly at an outpost in the Southwest. [RF]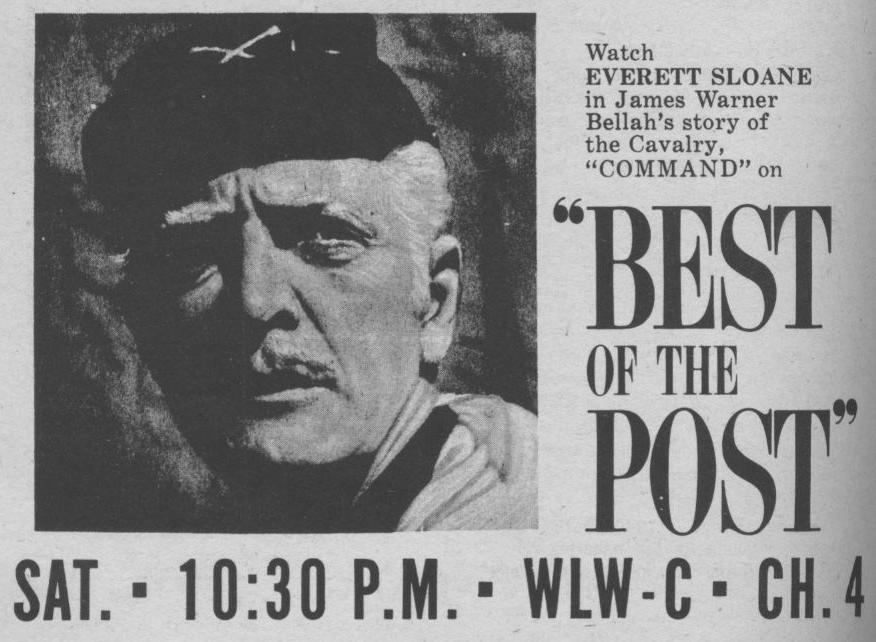 [02] The Best of the Post: COP WITHOUT A BADGE
05Nov60
Guest Cast:
Bobby Driscoll
Pat O'Brien .......... Mike
Lawrence Dobkin ...... Barasco
Kathleen Mulqueen .... Emily
Ted de Corsia ........ Hurlock
Synopsis:
A man's fight against injustice is strengthened when his son shows
equal courage after witnessing a hit-and-run accident. [RF]

[03] The Best of the Post: THE LITTLE TERROR
12Nov60
Guest Cast:
Charles Ruggles ...... Grampa
Marcia Henderson ..... Mother
Patty Ann Gerrity
Synopsis:
A little girl disrupts an entire community with her ability to make things disappear. [RF]
[04] The Best of the Post: THE MARRIAGE THAT COULDN'T SUCCEED
19Nov60
written by George Lefferts
directed by Ted Post
director of photography Frank H. Redman
editor Art Seid
Guest Cast:
June Lockhart
Brian Hutton ......... Griff
Rhys Williams ........ Ben
Ann Doran ............ Edna
Maudie Prickett
Marjorie Bennett
K.L. Smith
Joe Brown
Frank Richards
Henry Rowland
George Selk
Speer Martin
Summary:
In a coal mining town, a young man marries a blind woman.
Based on a story by Conrad Richter. [RF]
Synopsis 2:
A blind woman who refuses to lose faith when
her husband is reported missing in war action. [RF]
[05] The Best of the Post: THE MURDERER
07Dec60
Guest Cast:
Stephen McNally
Phyllis Coates ....... Mollie
Don Megowan .......... Clade
Kathleen Case ........ Lilybelle
Alan Lee ............. George
Synopsis:
A farmer is caught in a web of circumstantial evidence
when his wife is murdered. [RF]
[06] The Best of the Post: SUICIDE FLIGHT
14Dec60
Guest Cast:
Don DeFore
Nancy Hadley
Edward Platt ......... Fogarty
Karl Swenson ......... Turner
Synopsis:
The wife of a jet pilot lives with constant fear. [RF]
Synopsis 2:
A jet pilot's wife has difficulty adjusting to a hard fact:
that her husband risks death each day. [RF]
[07] The Best of the Post: TREASURY AGENT
21Dec60
Guest Cast:
Joseph Mell .......... Louis "Lepke" Buchalter
Michael Higgins ...... Kearns
Richard Arlen ........ Corben
Bek Nelson ........... Mrs. Kearns
Andrew Tully
Synopsis:
In this story, treasury agents set out to smash Murder Inc.,
and to nail underworld czar Louis "Lepke" Buchalter. [RF]

[08] The Best of the Post: THE VISION OF HARRY WHIPPLE
24Dec60
written by Gabrielle Upton
directed by Roger Kay
director of photography Lothrop Worth
music by Raoul Kraushaar
Guest Cast:
Henry Jones .......... Henry Whipple
Joan Camden .......... Katy
Maurice Manson ....... Fishbacher
Gabrielle Upton ...... Miss Weyland
Sally Hughes
Vernon Rich
Alan Lee
Richard Collier
Robert Shayne
Maida Severn
Rose Barbato
Jimmy Hughes
Larrian Gillespie
Summary:
Based on a story by Dana Burnet [TA]
Synopsis:
A chance encounter between two middle-aged people in a
crowded subway station leads to romance. [RF]
[09] The Best of the Post: EARLY AMERICANA
31Dec60
Guest Cast:
Sidney Blackmer ...... John
Claude Jarman, Jr.
Maureen Cassidy ...... Cathy
Douglas Spencer ...... Reverend Fuller
Synopsis:
An 18-year-old boy matures overnight as he and his family
await an Indian attack at a trading post. [RF]
[10] The Best of the Post: CARNIVAL OF FEAR
07Jan61
Guest Cast:
Francis Lederer ...... Siegfrid
Madge Kennedy ........ Mrs. Bedenbaugh
Violet Rensing ....... Maria
Synopsis:
Two refugees escape from behind the Iron Curtain, then risk
their freedom to rescue a captured U.S. soldier. [RF]

[11] The Best of the Post: FRONTIER CORRESPONDENT
14Jan61
written by Ben Perry & Richard Sokolove
directed by Robert L. Friend
director of photography Harkness Smith
Guest Cast:
Burt Douglas
Karl Swenson ......... Skipper
Martin Landau ........ James
Jerome Cowan ......... Horace Greeley
Mark Allen
Sandra Giles
Hampton Fancher
Joe Perry
Summary:
Cowan portrays Horace Greeley and sends a hotshot New York Tribune
reporter out as its new frontier correspondent. [UCLA]
Synopsis 2:
The New York Tribune's first Frontier Correspondent snares
a picture of Jesse James. [RF]
[12] The Best of the Post: THE BARON LOVED HIS WIFE
21Jan61
Guest Cast:
Peter Lorre .......... Baron
Ingrid Goude ......... Elena
Edward Ashley ........ Burridge
Synopsis:
A secret agent is pursued by a mysterious baron and baroness
but the woman proves to be more of a friend than a foe. [RF]
[13] The Best of the Post: BAND OF BROTHERS
28Jan61
Guest Cast:
John Agar
Nancy Gates
Tige Andrews ......... Jacobsen
Paul Fix ............. Yountly
Patrick Waltz ........ Tom
Jay Douglas .......... Biff
Synopsis:
During World War II, a young woman tries to comfort and understand
her fiancé a battle-scarred Naval officer. [RF]
[14] The Best of the Post: THE TRUMPET MAN
04Feb61
Guest Cast:
Buddy Ebsen
Barbara Lawrence ..... Susan
Stanley Adams ........ Griffin
Jesse White .......... Benny
Harry James ....... Himself
Synopsis:
A trumpet player tries for a comeback by promoting
a song he wrote for his wife. [RF]
[15] The Best of the Post: NO VISITORS
11Feb61
Guest Cast:
Don Taylor
Marie Windsor ........ Nurse Simmons
Donald Curtis ........ Dennis
Wally Brown .......... Fentris
Julie Bennett ........ Rosalie
Synopsis:
A writer's curiosity gets him into trouble. [RF]
Synopsis 2:
A hospitalized writer learns about the value of life from the
doctors and patients around him. [RF]
[16] The Best of the Post: MARTHA
18Feb61
Guest Cast:
Beverly Washburn ..... Martha
Jackie Coogan ........ Sid
Guy Hunley ........... Charlie
Kay Stewart .......... Miss Williams
Synopsis:
An 11-year-old must assume all household responsibilities
after the death of her mother. [RF]

[17] The Best of the Post: NO ENEMY
25Feb61
Guest Cast:
Burt Douglas
Henry Hull ........... Quimbey
Susan Oliver ......... Cecilia
Morgan Jones ......... Root
Jack Grinnage ........ Kendall
Synopsis:
The daughter of a Southern colonel falls in love with a Union officer. [RF]

[18] The Best of the Post: BRIEF ENCHANTMENT
04Mar61
Guest Cast:
Lee Philips
Norma Eberhardt ...... Nancy
Doris Lloyd .......... Jane
Philip Tonge ......... Colonel
David Frankham ....... Tony
Synopsis:
A man falls in love with his best friend's girl. [RF]
Synopsis 2:
A pilot and his best friend's fiancée fall in love at an old English
estate where they fall prey to a family curse. [RF]
[19] The Best of the Post: THE VALLEY OF THE BLUE MOUNTAIN
11Mar61
Guest Cast:
Bonita Granville ........ Widow
Sandy Drescher ....... Daughter
Kim Spaulding ........ Son
Synopsis:
To her son's sorrow, a widow decides to sell her farm until
an unexpected tragedy prevents a sale. [RF]
[20] The Best of the Post: ANTIDOTE FOR HATRED
18Mar61
Guest Cast:
Beulah Bondi ..... Miss Newton
Miko Oscard ...... Josef
Steve Hammer ......... Charley
Gage Clark ........... Kimball
Synopsis:
Miss Newton adopts Josef, an orphaned refugee boy and tries
to help him adjust to life in America. [RF]
Synopsis 2:
A woman helps a Hungarian orphan boy adjust to life in the U.S. [RF]
[21] The Best of the Post: SIX MONTHS MORE TO LIVE
25Mar61
Guest Cast:
Charles Coburn
Melville Cooper ...... Merryweather
Jennifer Raine ....... Mabel
Synopsis:
A sly Englishman schemes to avoid a large inheritance tax. [RF]
[22] The Best of the Post: OFF THE SET
01Apr61
Guest Cast:
Vincent Price ........ Roger Bauer
Cheryl Callaway ...... Trudy Bauer
Madge Meredith ....... Mrs. Bauer
Regis Toomey ......... Matson
Ross Elliott ......... Barry
Synopsis:
Trudy Bauer, a child actress, is pushed beyond endurance by her overambitious father. [RF]
Synopsis 2:
A Svengali pushes his actress daughter beyond the point of endurance. [RF]
[23] The Best of the Post: GROPER IN THE DARK
08Apr61
Written by Gabrielle Upton
Directed by Robert L. Friend
Director of photography Harkness Smith
Guest Cast:
Cameron Prud'Homme ... Witzel
Dorothy Green ........ Janet
Eleanor Audley ....... Mrs. Hill
John Hoyt
Louise Fletcher
Walter Burke
Herbert Anderson
Synopsis:
A woman is on trial for murdering a wealthy doctor.
*Note: Courtroom drama is based on a story by Joseph Harrington
in the Saturday Evening Post. [TA]
Synopsis 2:
An attorney uses every legal trick to win an acquittal for a woman
(Louise Fletcher) on trial for the murder of a wealthy doctor. [RF]
[24] The Best of the Post: I'M NO HERO
15Apr61
directed by Roger Kay
guest star:
Dan O'Herlihy ........ Doctor
Diane Brewster ....... Ellen
Joan Vohs ............ Arla
Frank Gerstle ........ Steve
Brad Trumbull ........ Al
Synopsis:
When his home is invaded, a doctor is forced to give medical aid
to a wounded gang member or be killed. [RF]
[25] The Best of the Post: THE THOMPSONS OF THUNDER RIDGE
22Apr61
Guest Cast:
Charles Herbert ...... Tommy
Charlotte Greenwood .. Aunt Martha
Jay C. Flippen ....... Uncle Hank
Synopsis:
Young Tommy's love of animals leads him into a dangerous adventure. [RF]

[26] The Best of the Post: THE RETURN
29Apr61
written by Noel Langley
Guest Cast:
Dan O' Herlihy ....... Pomfret
Scott Forbes ........ Kennedy
Valerie French
Synopsis:
Partners Pomfret and Kennedy find that life on their Rhodesian
plantation is changed when Kennedy brings home a wife. [RF]
##############################################
############# The Best of The Post ###############
################### the end ###################
##############################################

Have you any comments, corrections, episode titles, air dates, production numbers, directors, writers, story/synopsis, guest stars, cast lists, etc?
Have you any old videos, or tv guides? Dust them off and let us know if you have any information on this series or any other tv series from the
Golden Age of TV, which is missing from any episode guides on the web. Perhaps a certain episode of a particular series coincided with a key
moment in your life, or in world events - and or has left a vivid memory of when it was shown. Let us know. Would you like to see any other
tv series guides on this site? If so please e-mail The Classic TV Archive - see Feedback below.
This guide may be distributed and copied freely, in its entirety, for personal use. All original author and copyright information must
remain intact. Any sales or other uses of this document are expressly forbidden, without the specific consent of the author(s).
Copyright © The Classic TV Archive. All rights reserved.

Return to The Classic TV Archive Home Page
Feedback - Anthology Guestbook