CTVA
The Classic TV Archive - US Western series
Shotgun Slade (1959-61)
Episode Guide compiled by The Classic TV Archive [Updated July 2015]
with contributions by:
Sal Crisanti, Robert B. Huggins [RBH] , James Beer (#2.35), Heikocleef (#2.36), Alan Keeling
*
Source: Platinum Disc Corporation DVD Catalog # 16339 (8 episodes)
"Backtrack", "The Spanish Box", "The Deadly Key", "Donna Juanita"
"The Fabulous Fiddle", "The Golden Tunnel", "A Flower for Jenny", "A Flower on Boot Hill"
Source:Platinum Disc Corporation DVD Catalog # 16349 (7 episodes)
*
"Ring of Death", "The Charcoal Bullet", "Sudden Death", "Lost Gold"
"The Smell of Money", "Crossed Guns", "Killer's Brand"
*
Source: "Classic Westerns" Digiview Entertainment DVD - Item # TV11C (1 episode) #2.30 "Skinner's Rainbow"
references:
TV Guide / Library of Congress (telnet://locis.loc.gov)
Internet Movie Database (https:// www.imdb .com)
UCLA Film and Television Archive / Writers Guild of America (wga)
Shotgun Slade (season 1) (Syndicated) (1959-60)
Shotgun Slade (season 2) (Syndicated) (1960-61)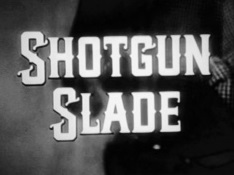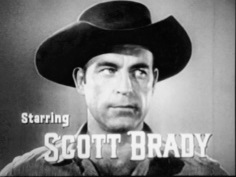 Shotgun Productions
Filmed at Revue Studios / MCA tv Exclusive Distributors
Executive Producer Nat Holt
Created by Frank Gruber
Produced by Frank Gruber / Produced by Ralph Dietrich
for
First-Run Syndication

US Western series 1959-61 approx 78 episodes x 30 min bw
starring
Scott Brady as Shotgun Slade
with
Marie Windsor as Alice Barton

Premise:
Cases of a private detective in the old west.

"Shotgun Slade" was a sort of cross between "Wanted: Dead Or Alive" and and the police series "M-Squad".
It featured a western hero riding the range, a free-lance trouble-shooter for hire named Shotgun Slade
(Scott Brady), who carries a special gun that he calls a two-for-one--a shotgun in one barrel and a
.32 caliber rifle in the other. With Brady narrating the the action, it was also strongly reminiscent
of "M-Squad", starring Lee Marvin (which came out of the same studio), and had a fast moving jazz score
(courtesy of Gerald Fried) that didn't fit the western setting but kept the pace of the show very brisk.
It was also very violent, and extremely well handled by director James Neilson.
---------------------------------------------------
"Shotgun Slade" theme by Revue Studios, employer
for hire of Irvin Graham (words) & Gerald Fried (music)
M C A Music Publishing, a division of M C A, Inc. (PWH) ODAT: 19Oct59;

Theme song performer - Monica Lewis who also appeared in the show as Monica.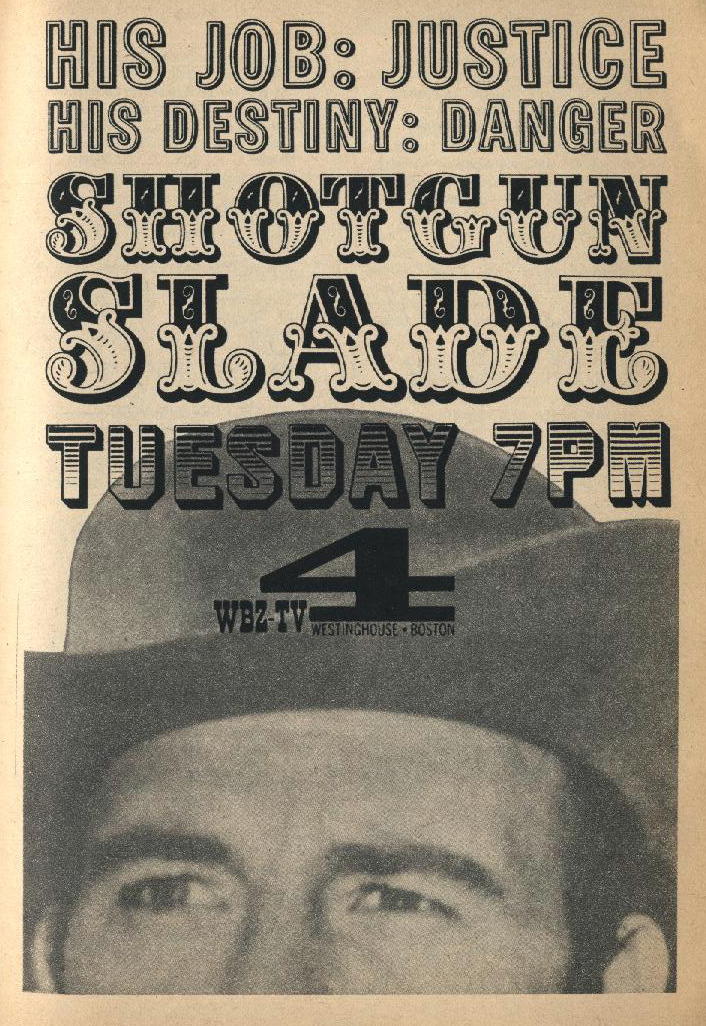 ############### Shotgun Slade ################
################### pilot ###################
##############################################
[--] Schlitz Playhouse of Stars: THE SALTED MINE
Revue/MCA TV Prod no. TP13401 (copyright date 27Mar59)

27-Mar-1959 CBS Fri (Schlitz)
(pilot for Shotgun Slade)
Filmed at: Universal Studios Backlot and Western Street
Executive Producer Nat Holt
Written & Produced by Frank Gruber
Directed by James Nielson
Assistant Director: Charles S. Gould
Editorial Supervisor: Richard G. Wray
Director of Photography: William A. Sickner
Music by: Gerald Fried
Music Supervision: Stanley Wilson
starring
Scott Brady ....... Shotgun Slade
Ernie Kovacs ....... Hack
Marie Windsor ....... Alice Batson
Frank Ferguson ....... Mike Colier
with
Jean Allison
Robert Tetrick
Otto Waldis
Fred Graham
Ted Mapes (uncredited)
Synopsis:
Alice Batson hires Slade, a private detective to determine whether she has
been swindled in her purchase of a worthless mine. [SC]
Shotgun Slade (season 1) (Syndicated) (1959-60)
Shotgun Slade (season 2) (Syndicated) (1960-61)
############### Shotgun Slade ################
########### Unidentified Episodes ############
##############################################

x.xx [--] Shotgun Slade: (unidentified episode)
Guest Cast:
Arch Johnson (Jud Garth)
Ronnie Rondell (as Collins)
Deputy Marshal Frank Collins disappears while pursuing Jud Garth and his gang. [TA]

x.xx [--] Shotgun Slade: (unidentified episode)
Synopsis:
A hermit helps Shotgun Slade in his attempt to end the operations
of a very successful band of rustlers. [TA]
(Syndicated Airdate: 04Feb61 Ch.7 South Ohio, Sat 10:30pm)

############### Shotgun Slade ################
##############################################
##############################################
Have you any comments, corrections, episode titles, air dates, production numbers, directors, writers, story/synopsis, guest stars, cast lists, etc?
Have you any old videos, or tv guides? Dust them off and let us know if you have any information on this series or any other tv series from the
Golden Age of TV, which is missing from any episode guides on the web. Perhaps a certain episode of a particular series coincided with a key
moment in your life, or in world events - and or has left a vivid memory of when it was shown. Let us know. Would you like to see any other
tv series guides on this site? If so please e-mail The Classic TV Archive - see Feedback below.
This guide may be distributed and copied freely, in its entirety, for personal use. All original author and copyright information must
remain intact. Any sales or other uses of this document are expressly forbidden, without the specific consent of the author(s).
Copyright © The Classic TV Archive. All rights reserved.

Return to The Classic TV Archive Western Page
Return to The Classic TV Archive Home Page