CTVA
The Classic TV Archive - US Drama Series
Mr. Novak (1963-65)
Episode Guide compiled by The Classic TV Archive
with contributions by: Tom Alger, Rina Fox
references:
Library of Congress (telnet://locis.loc.gov)
Internet Movie Database (https://us.imdb.com)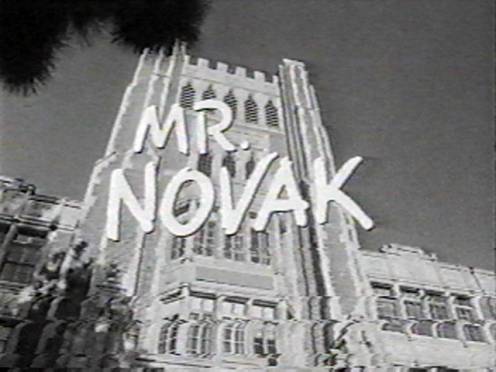 Metro-Goldwyn-Mayer Television
for
NBC (Tuesdays 7:30 pm EST)
Executive Producer E. Jack Neuman
Produced by Joesph Calvelli (season 1)
Produced by Leonard Freeman (season 2)

US Drama series 1963-65 2 seasons 60 episodes x 60 min bw
Starring:
James Franciscus as John Novak, English teacher (1963-1965)
Dean Jagger as Albert Vane, the Principal #1 (1963-1965) * (eps. 1-51)
Burgess Meredith as Martin Woodridge, principal #2 (1964-1965) * (eps. 52-60)
*Burgess Meredith replaced Dean Jagger late in season 2.
Vince Howard as Mr. Pete Butler (1963-1965)
Marian Collier as Miss Marilyn Scott (1963-1965)
Jeanne Bal as Jean Pagano, assistant vice principal (1963-1964)
André Phillippe as Mr. Everett Johns (1963-1965)
Marjorie Corley as Miss Rosemary Dorsey (1964-1965)
Steve Franken as Mr. Jerry Allen, French Teacher (1963-1964)
Donald Barry as Mr. Gallo (1963-1964)
Stephen Roberts as Mr. Stan Peeples (1963-1965)
Kathleen Ellis as Mrs. Ann Floyd (1963-1965)
Phyllis Avery as Ruth Wilkinson, girls' vice principal (1964-1965)
William Zuckert as Mr. Arthur Bradwell (1964-1965)
David Sheiner as Paul Webb (1964-1965)
Peter Hansen as Mr. Parkson (1964-1965)
Irene Tedrow as Mrs. Ring (1965)
Marion Ross as Nurse Bromfield (1963-1964)
Larry Thor as Jim Hendriks (1963-1965) (to be verified)

Premise:
Experiences of a young high school schoolteacher.

'Mr. Novak' theme music by Leith Stevens and Lyn Murray

################ Mr. Novak #################
############# season 1 1963-64 ###############
##############################################
NBC Tuesdays 7:30 pm Eastern
30 episodes
Executive Producer, E. Jack Neuman / Produced by Joseph Calvelli

1.01 [--] Mr. Novak: FIRST YEAR, FIRST DAY
24Sep63 NBC
Guest cast:
Ed Asner .............. Harmon Stern
Lee Kinsolving ........ Paul Christopher
Donald Barry .......... Anthony Gallo
Synopsis:
A brilliant student with a good business - an auto body shop - wants to quit
school. He challenges Novak to give him a good reason for continuing his education. [TA]

1.02 [--] Mr. Novak: TO LODGE AND DISLODGE
1Oct63 NBC (repeated 28Apr64)
Guest cast:
Kim Darby ............. Julie Dean
David Kent ............ Joe Flavio
Tony Dow .............. George
Jimmy Baird ........... Billy Gee
Synopsis:
Julie Dean, a blind student at Jefferson High, develops a crush on Mr. Novak. [TA]

1.03 [--] Mr. Novak: I DON'T EVEN LIVE HERE
8Oct63 NBC (Repeated 23Jun64)
Guest Cast:
Herschel Bernardi ...... Mr. Otis
Shelly Fabares ......... Dani Cooper
Diane Ladd ............. Mrs. Otis
Trudi Ames ............. Jane
Pamela Beaird .......... Gloria
Ricki Sorenson ......... Carl
Glenn Perry ............ Phil
Roy Glenn .............. Mr. Pickett
Charles Seel ........... Mr. Morgan
Synopsis:
When Mr. Otis was conducting the English class, all the students were
raking in A's - but Novak can't seem to get the same caliber of work out of them. [TA]

1.04 [--] Mr. Novak: X IS THE UNKNOWN FACTOR
15Oct63 NBC (Repeated 2Jun64)
Guest Cast:
David Macklin .......... Mike Daniels
Brooke Bundy ........... Patrice Morgan
Ruth Packard ........... counseling clerk
Toby Reed .............. boy
Ross Elliott ........... Roy Daniels
Wendy Winkelman ........ Anne Tousley
Nancy Gould ............ girl
Barry Brooks ........... custodian
Synopsis:
Mike Daniels is being considered for an important science scholarship, but
he's having problems in Novak's literature class. Dr. Frank Baxter, TV
educator, appears as Dr. Gagan. [TA]

1.05 [--] Mr. Novak: A SINGLE ISOLATED INCIDENT
22Oct63 NBC (Repeated 21Apr64)
Script by E. Jack Neuman.
Guest cast:
Gloria Calomée .......... Marcy Desmond
Joe Mantell ............. Jack Parkson
Tige Andrews ............ Lt. Charles Green
Charles Lampkin ......... Robert Desmond
Keg Johnson ............. Jimmy Sergeant
Frances Karath .......... Thelma
David Saber ............. Toby
Dennis Joel ............. Bill
James Houghton .......... Steve
Synopsis:
A black student, Marcy Desmond, is violently accosted by a gang of youths
who let her know that she's not welcome at Jefferson High. [TA]

1.06 [--] Mr. Novak: THE RISK
29Oct63 NBC
**episode description unavailable**

1.07 [--] Mr. Novak: HELLO MISS PHIPPS
5Nov63 NBC Tue (Repeated 4Aug64)
Guest cast:
Lillian Gish ............ Maude Phipps
David White ............. Ralph Morrison
Arch Johnson ............ Robert Elerton
Patricia McNulty ........ Mrs. Rita Donzie
Claudia Bryar ........... Mrs. Harrison
Allan Hunt .............. Dick Elerton
Steve Gravers ........... Coach Gallo
Synopsis:
Maude Phipps, a teacher for some 40 years, is sharply outspoken and is the
object of various complaints -- including those of irate parents who don't
like the idea of her teaching social hygiene to their children. [TA]

1.08 [--] Mr. Novak: TO BREAK A CAMEL'S BACK
12Nov63 NBC (Repeated 26May64)
Guest cast:
Joey Heatherton ......... Holly Metcalfe
Royal Dano .............. Mr. Metclafe
J. Edward McKinley ...... Stockton
Connie Davis ............ Mrs. Metcalfe
Sharyn Hillyer .......... Betty
Rick Murray ............. Frank
Tom Curtis .............. Herbert Small
Frank Gardner ........... George
Synopsis:
Novak clashes with Holly Metcalfe, a rebellious senior who doesn't like to follow rules. [TA]

1.09 [--] Mr. Novak: A FEELING FOR FRIDAY
19Nov63 NBC (Repeated 19May64)
Guest cast:
Diane Baker ............. Mildred Chase
Peter Breck ............. Dr. Ted Dietrich
John McGiver ............ Charles Chase
Patrick O'Moore ......... Spencer
Synopsis:
It's a hectic Friday, and Novak is very pleased to get an invitation to
spend the weekend at his former sweetheart's family estate. [TA]

1.10 [--] Mr. Novak: PAY THE TWO DOLLARS
26Nov63 NBC
Guest Cast:
Martin Landau ........... Victor Rand
Macdonald Carey ......... Mr. Edwards
Tom Lowell .............. Carl Edwards
Adrienne Marden ......... Mrs. Edwards
Synopsis:
A father holds Novak responsible for roughing up his son. It all happened
when Novak broke up some student horseplay. [TA]

1.11 [--] Mr. Novak: LOVE IN THE WRONG SEASON
3Dec63 NBC (Repeated 21Jul64)
Script: Richard DeRoy
Director: Ida Lupino
Guest cast:
Patricia Crowley ...... Ariel Wilder
Tommy Kirk ............. Tod Seaton
June Vincent ........... Mrs. Wilder
David Macklin .......... Fred
Tim McIntire ........... Chris
Michael Winkelman ...... Mark
Synopsis:
Novak, who's dating a teacher, has some competition from one of her students. [TA]

1.12 [--] Mr. Novak: THE BOY WITHOUT A COUNTRY
10Dec63 NBC (Repeated 7Jul64)
Guest cast:
Walter Koenig ......... Alexsei Dubov
Jeanne Cooper ......... Louise Sargent
James Chandler ........ Mr. Sargent
Mary Lynn Gary ........ Mary Lynn
David Saber ........... Toby
Mike Winkelman ........ Don
Synopsis:
Novak and Vane prepare a hero's welcome for a new student, a Russian
defector, who's quick to show that he's not easy to get along with. [TA]

1.13 [--] Mr. Novak: A THOUSAND VOICES
17Dec63 NBC Tuesday 7:30pm
Script by Anthony Wilson
Guest cast:
Frankie Avalon ....... David Muller
Peter Ford ........... William Kress
Bill Bloom ........... Alan
Robert Simon ......... Kailey
Maxine Stuart ........ Angie
Synopsis:
Novak defends the members of an off-campus car club, who have run
into trouble. Glenn Ford's teenage son Peter makes his TV dramatic debut.
[TA]

1.14 [--] Mr. Novak: MY NAME IS NOT LEGION
24Dec63 NBC
Script by Robert E. Thompson
Guest cast:
Peter Lazer .......... Arnold Frazer
Shelley Fabares ...... Dani
Eddie Applegate ...... Swish
Steve Franken ........ Allen
Synopsis:
Novak is interested in Arnold Frazer, a new student who shows signs of
brilliance and trouble adjusting to school life. [TA]

1.15 [--] Mr. Novak: HE WHO CAN DOES
31Dec63 NBC
Script by Roland Wolpert
Guest Cast:
Edward Mulhare ....... Rand Hardy
Mike Winkelman ....... Mark
Vicki Albright ....... Helen
Synopsis:
Novak invites a famous novelist to address the school's Literary
Club - despite protests of Miss Pagano who feels that the writer's
unorthadox views will be a bad influence. [TA]
(local time shift/rerun - 04Jan64 Sat 6pm)

1.16 [--] Mr. Novak: SONG OF SONGS
7Jan64 NBC
**episode description unavailable**

1.17 [--] Mr. Novak: THE EXILE
14Jan64 NBC
Script by producer E. Jack Neuman
Guest cast:
Richard Evans ........ Charlie Payne
Virginia Christine ... Mrs. Payne
Gale Gerber .......... Pat
Les Tremayne ......... Bates
Nicky Blair .......... Morganti
Barry Brocks ......... Mike McCann
Synopsis:
Charlie Payne, who dropped out three years ago, now has nothing better
to do than spend his time hanging around the school grounds. [TA]

1.18 [--] Mr. Novak: SPARROW ON THE WIRE
21Jan64 NBC
Script by producer E. Jack Neuman and Lionel E. Siegel
Guest cast:
Mike Kellin ........... Cohen
Beau Bridges .......... Pat Knowland
Neil Nephew ........... Arnold Gottlieb
Shirley Bonne ......... Susan Hotchkiss
Kathy Garver
Synopsis:
A member of Novak's debating club makes some anti-Semitic remarks during
an intra-squad debate. [TA]

1.19 [--] Mr. Novak: THE PRIVATE LIFE OF DOUGLAS MORGAN, JR.
28Jan64 NBC Tuesday 7:30pm
Script by Paul and Margaret Schneider
Guest cast:
Peter Helm ............ Douglas Morgan Jr.
Frank Maxwell ......... Douglas Morgan Sr.
Cheryl Holdridge ...... Betty
Hal Gould ............. Joe Garson
Joan Tompkins ......... Mrs. Morgan
Glen Vernon ........... Sergeant Canfield
Synopsis:
Campus clown Doug Morgan decides he can attract attention - and
get excused from compulsory ROTC classes - by claiming to be a
conscientious objector. [TA]

1.20 [--] Mr. Novak: DEATH OF A TEACHER
4Feb64 NBC
Guest Cast:
Harry Townes .......... Frank Deaver
Tony Dow .............. George
Phyllis Hill .......... Mrs. O'Neil
Frank Albertson ....... Mr. O'Neil
William Sargeant ...... Dr. Cooper
William Swan .......... Father Cervi
Marc Rambeau .......... Eddie
Marjorie Corely ....... Miss Dorsey
Synopsis:
"The Death of a Teacher" brings forth a variety of reactions and
emotions from the students and faculty at Jefferson High. [TA]

1.21 [--] Mr. Novak: I'M ON THE OUTSIDE
11Feb64 NBC
Script by Preston Wood
Guest Cast:
Teno Pollick .......... Steve Acero
Argentina Brunetti .... Mrs. Acero
Adeline Pedroza ....... Luisa Acero
Phillip Terry ......... Lewis Clinton
Rusty Lane ............ Lieutenant Comerford
Anne Loos ............. Mrs. Danfield
Synopsis:
Student Steve Acero tells Principal Vane that Mr. Novak is prejudiced
against him because he is of Mexican extraction. [TA]

1.22 [--] Mr. Novak: CHIN UP MR. NOVAK
18Feb64 NBC
Produced and written by Joseph Calvelli
Guest cast:
Hermione Baddeley .... Miss Mumsley
Don Grady ............ Joey Carter
Synopsis:
Novak's having problems with a literature class - until it's taken over
by Margaret Mumsley, a 75-year old exchange teacher from England. [TA]

1.23 [--] Mr. Novak: FEAR IS A HANDFUL OF DUST
25Feb64 NBC
Script by Carol O'Brien
Guest cast:
Brenda Scott (as Sue Johnson)
Tony Dow (as George)
Synopsis:
Novak tries to help shy, introverted Sue Johnson by encouraging her to
develop her talent for caricature. [TA]

1.24 [--] Mr. Novak: HOW DOES YOUR GARDEN GROW?
03Mar64 NBC (Repeated 15Sep64)
Script by producer Joesph Calvelli
Guest Cast: [RF]
Barbara Barrie ...... Mary Smith
Patricia Morrow ..... Gloria
Pamela Beaird ....... Claudia
Teri Garr ........... Lisa
Bonnie Franklin ..... Sally
Karen Green ......... Sarah
Linda Marshall ...... Irene
Synopsis:
An inexperienced and frightened substitute teacher has trouble with her
first class at Jefferson High. [TA]

1.25 [--] Mr. Novak: THE TOWER
10Mar64 NBC
Script by producer James Marzies.
Guest cast:
Heather Angel ........ Alfreida "Chalky" White
Gilbert Green ........ Coleman
Bernadette Hale ...... Miss Kroner
Robert Ball .......... David
John Ryan ............ John
Synopsis:
After numerous complaints that an elderly geometry instructor is no
longer an effective teacher, Vane is forced to retire her. [TA]

1.26 [--] Mr. Novak: ONE WAY TO SAY GOODBYE
17Mar64 NBC
Script by producer E. Jack Neuman
Guest Cast:
Kathryn Hays ........ Jenny Peterson
Toni Basil .......... Randy
Tom Nardini ......... Tony Sinclair
George Petrie ....... Charles Sinclair
Glen Kramer ......... Robert Peterson
Synopsis:
Novak finds himself attracted to Jenny Peterson, a former Jefferson
High student. [TA]

1.27 [--] Mr. Novak: DAY IN THE YEAR
24Mar64 NBC (Repeated 28Jul64)
Script by Sidney Marshall
Director: Ida Lupino
Guest cast:
Malachi Throne ...... Medford
Richard Eyer ........ Jeff
Patricia Hyland ..... Martha
Synopsis:
A girl in Novak's homeroom collapses from an overdose of narcotics. [TA]

1.28 [--] Mr. Novak: MOMENT WITHOUT ARMOR
31Mar64 NBC
Script by Margaret Armen
Guest cast:
Michael Walker ...... Bill Russell
Robert Sampson ...... Holcomb
Oliver McGowan ...... Mr. Russell
David Cameron ....... Jackson
Synopsis:
School grounds are quiet in the evening, and darkness was the
accomplice of the unknown assailant who attacked assistant principal Jeanne
Pagano. [TA]

1.29 [--] Mr. Novak: FARE THEE WELL
07Apr64 NBC (rebroadcast 08Sep64)
Script by Carol O'Brien
Guest cast:
Noreen Corcoran .... Cathy Williams
Doug Lambert ....... Jack
Kevin McCarthy ..... Mr. Williams
Marc Cavell ........ Boris
June Dayton ........ Emma Williams
Marion Ross ........ Miss Bromfield (recurring)
Vicki Talbot ....... Susy
Lori Fontaine ...... Jane
Synopsis :
Miss Cathy Williams is going to become a mother, but she wants to
graduate with her senior class and she doesn't want to tell her parents
about her condition. [TA]

1.30 [--] Mr. Novak: SENIOR PROM
14Apr64 NBC Tue
Written by John Ryan [RF]
Guest cast: [RF]
Marta Kristen ....... Gail Andrews
Kay Stewart ......... Mrs. Andrews
Ray Montgomery ...... Mr. Andrews
Synopsis :
The senior prom at Jefferson High is going to be a flop this year - unless
student chairman Gail Andrews starts taking interest in the preparations. [TA]

----------------------------------------------
NBC Network Summer Re-Runs (21Apr64 - 15Sep64)
----------------------------------------------
[--] 21Apr64 re-run of #1.05 "A Single Isolated Incident" (first aired 22Oct63)
[--] 28Apr64 re-run of #1.02 "To Lodge and Dislodge" (first aired 1Oct63)
[--] 5May64 - no details
[--] 12May64 - no details
[--] 19May64 re-run of #1.09 "A Feeling for Friday" )first aired 19Nov63)
[--] 26May64 re-run of #1.08 "To Break A Camels Back" (first 12Nov63)
[--] 2Jun64 re-run of #1.04 "X is the Unknown Factor" (first aired 15Oct63)
[--] 9Jun64 - no details
[--] 16Jun64 -no details
[--] 23Jun64 re-run of #1.03 "I don't even live here" (first aired 8Oct63)
[--] 30Jun64 - no details
[--] 7Jul64 re-run of #1.12 "The Boy without a Country" (first aired 10Dec63)
[--] 14Jul64 - no details
[--] 21Jul64 re-run of #1.11 "Love in the Wrong Season" (first aired 3Dec63)
[--] 28Jul64 re-run of #1.27 "Day in the Year" (first aired 24Mar64)
[--] 4 Aug64 re-run of #1.07 "Hello Miss Phipps" (first aired 5Nov63)
[--] 11Aug64 - no details
[--] 18Aug64 - no details
[--] 25Aug64 - no details
[--] 1Sep64 - no details
[--] 8Sep64 re-run of #1.29 "Fare Thee Well" (first aired 7Apr64)
[--] 15Sep64 re-run of #1.24 "How Does Your Garden Grow?" (first aired 3Mar64)

################ Mr. Novak #################
############# season 2 1964-65 ###############
##############################################
NBC Tuesdays 7:30 pm
Executive Producer, E. Jack Neuman
Produced by Leonard Freeman

Executive Producer, E. Jack Neuman/ Produced by Leonard Freeman

2.01 [31] Mr. Novak: MOONLIGHTING
22Sep64 NBC (Repeated 4May65)
Script by Meyer Dolinsky
Guest cast:
Bill Zuckert ......... Arthur Bradwell (recurring)
Mabel Albertson ...... Mrs. Ring
Bert Freed ........... Lorimer
K.T. Stevens ......... Holly Bradwell
Synopsis:
Novak finds his teacher's salary inadequate to pay the medical bills
incurred by his sick father. [TA]

2.02 [32] Mr. Novak: WITH A HAMMER IN HIS HAND, LORD, LORD!
29Sep64 NBC (Repeated 11May65)
Executive Producer, E. Jack Neuman
Produced by Leonard Freeman
Written by John D.F. Black
Directed by Allen Reisner
Film Editor, Robert Kern, Jr.
Director of photography, Richard H. Kline
theme music, Leith Stevens, Lyn Murray.
Guest cast:
Simon Oakland ......... Carl Green
Tim McIntire .......... Lee Darragh
Walter Koenig ......... Jim Casey
Vince Howard .......... Mr. Pete Butler
Bill Zuckert .......... Arthur Bradwell (recurring)
Marjorie Corley ....... Miss Rosemary Dorsey
Also:
Arthur Franz,
Crahan Denton,
Skip Torgerson,
Peter Brocco,
Tom Nardini,
Stephen Roberts
Larry Thor.
Industrial arts teacher Carl Green conducts classes like a shop foreman,
which provides a perfect excuse for troublesome student Lee Darragh to
instigate a little action - violent action. [TA]

2.03 [33] Mr. Novak: VISIONS OF SUGAR PLUMS
06Oct64 NBC Tue (rerun 01Jun65)
Script by Joseph Calvelli
Guest cast: [RF]
Eddie Albert ....... Charlie O'Rourke
Vince Howard ....... Pete Butler (recurring)
Adrienne Hayes ..... Marion
Beverly Washburn ... Ruth
Robert Diamond ..... Gus
Synopsis:
After 15 years of vagabond living, guitar-strumming Charlie O'Rourke
decides to return to teaching. With this episode, Phyllis Avery becomes a
regular as girls' vice principal Ruth Wilkinson. [TA]

[--] 13Oct64 "Mr. Novak" pre-empted for coverage of the Tokyo Olympics.

2.04 [34] Mr. Novak: LITTLE GIRL LOST
20Oct64 NBC
Script by Betty Ulius
Guest cast:
Davey Davison ........ Edie Currie
Jean Engstrom ........ Mrs. Currie
Buck Taylor .......... Nick Bradley
Arthur Franz ......... Det. Sgt. Sol Moss
Jim Bates ............ Warren
Karen Green .......... Judy
Synopsis:
"Little Girl Lost" is troublemaker Edie Currie, who was transferred to
Jefferson High in hopes that she'll straighten out. She shows no signs of
doing so, until Novak discovers her interest in drama. [TA]

2.05 [35] Mr. Novak: ONE MONDAY AFTERNOON
27Oct64 NBC Tue (Repeated 22June65)
Script by Herman Groves and Mel Goldberg
Guest cast:
Claude Akins ........ Lou Myerson
Brooke Bundy ........ Carol Walker
Simon Scott ......... Ralph Donan
Allan Hunt .......... Jerry Donan
Ross Elliott ........ Millard Wright
Synopsis:
The school's star quarterback is accidentally killed during a practice
scrimmage, and the boy's father blames Coach Myerson's win-at-any-cost philosophy. [TA]

2.06 [36] Mr. Novak: LET'S DIG A LITTLE GRAMMAR
10Nov64 NBC (Repeated 18May65)
Script by Mel Goldberg
Guest cast:
Tommy Sands .......... Ray Wilson
Johnny Crawford ...... JoJo Rizzo
Harvey Lembeck ....... Vic Rizzo
Allan Sherman ........ cameo appearance as "Georgie"
Synopsis:
Novak investigates the talents of two of his students, and concludes
that both are heading for exactly the wrong careers. [TA]

2.07 [37] Mr. Novak: THE PEOPLE DOLL
(a.k.a. "The People Doll: You Wind It Up and It Makes Mistakes")
17Nov64 NBC
Script by John D. F. Black
Guest cast:
Burt Brinckerhoff ...... Joe Keenan
Bonnie Beecher ......... Gina Czarnecki
Malachi Throne ......... Frank Czarnecki
Synopsis:
Novak fights a losing battle against romance when a promising student
insists on dropping out of school to get married. [TA]

2.08 [38] Mr. Novak: BOY UNDER GLASS
24Nov64 NBC (Repeated 25May65)
Script by Mel Goldberg
Guest cast:
Leo Durocher ........... himself
Wayne Grice ............ Frank Towner
Frank Silvera .......... Andy Towner
Arch Johnson ........... Coach Brewer
Juanita Moore .......... Ellen Towner
Synopsis:
Jefferson High baseball star Frank Towner is a pitcher of major-league
caliber. But if he doesn't improve his failing grade in Novak's English
class, he'll be ineligible for the big play-off game. [TA]

2.09 [39] Mr. Novak: BORN OF KINGS AND ANGELS
1Dec64 NBC
Script by George Johnson
Guest cast:
Peter Helm ............ Verne
Lynn Loring ........... June
Ford Rainey ........... Eason
Synopsis:
Novak and the Jefferson debating team are heading for an out-of-town
contest, and during the bus ride the team captain, a young man with a
superior attitude, becomes increasingly more withdrawn and uneasy. [TA]

2.10 [40] Mr. Novak: 'A' AS IN ANXIETY
8Dec64 NBC (Repeated 8Jun65)
Script by Carol O'Brien and Betty Ulius
Guest cast:
June Harding .......... Karen Parker
Robert Cornthwaite .... Mr. Gentry
Norma Connolly ........ Mrs. Parker
Richard Caryle ........ Mr. Parker
Synopsis:
A scholarship exam for full-tuition college grants is scheduled at
Jefferson High, and for Karen Parker, a student trying to live up to her
parents' idealized vision of her, the pressure is intense. [TA]

2.11 [41] Mr. Novak: JOHNNY RIDE THE PONY
(a.k.a. "Johnny Ride the Pony - One, Two, Three")
15Dec64 NBC (Repeated 15Jun65)
Script by David P. Harmon
Guest cast:
Tony Dow ............. Mike Kenyon
Robert Logan ......... Jerry Hendricks
Denver Pyle .......... Brill
Synopsis:
Novak, acting as temporary advisor to an off-campus boys' club, has
trouble controlling the members' behavior. [TA]

2.12 [42] Mr. Novak: BEYOND A REASONABLE DOUBT
22Dec64 NBC
Script by Martha Wilkerson
Guest cast:
Susan Tyrell ......... Phyllis Freuchen
Bob Random ........... Eddie
Melinda Plowman ...... Mindy
Jack Chaplin ......... Bryan
James Flavin ......... Fire Chief Hawkins
Synopsis:
Phyllis Freuchen enrolls at Jefferson High School under a cloud: She's
been acquitted of the murder of her well-to-do parents. [TA]

2.13 [43] Mr. Novak: LOVE AMONG THE GROWN UPS
29Dec64 NBC (Repeated 13Jul65)
Script by Harold Gast
Guest cast:
Geraldine Brooks ...... Claire Andreas
Lane Bradbury ......... Ellen Westfall
Alexander Scourby ..... George Andreas
Baynes Barron ......... Mr. Westfall
Karl Swenson .......... Superintendent Haskell
Phillip Terry ......... Mr. Burr
Gary Waynesmith ....... Pual
Joan Robinson ......... Nina
Skip Torgerson ........ Don
Ellizabeth Goldstein .. Phyllis
Loretta Kelty ......... Jane
Stephen Robers ........ Peeples
Synopsis:
Poison-pen letters accuse Novak of carrying on a clandestine romance
with a married teacher. [TA]

2.14 [44] Mr. Novak: FROM THE BROW OF ZEUS
5Jan65 NBC (Repeated 6Jul65)
Script by Mel Goldberg
Director: Ron Winston
Guest cast:
Michel Petit ......... Michael Brown
Joyce Van Patten ..... Avis Brown
Fred Maxwell ......... Walley Brown
Rickie Sorensen ...... Eddie
Patricia Morrow ...... Sandra
Harvey Grant ......... Dave
Beverly Washburn ..... Edith
Synopsis:
Novak wrestles with the psychological and sociological problems of the
gifted child. Scholastically, 10-year-old freshman Michael Brown is more than
ready for high school, but his prospects socially aren't promising at all.
Michael's older classmates welcome him by running his pants up the flagpole.
[TA]

2.15 [45] Mr. Novak: AN ELEPHANT IS LIKE A TREE
12Jan65 NBC (Repeated 29Jun65)
Executive Producer, E. Jack Neuman
Produced by Leonard Freeman
Written by John D. F. Black
Directed by Abner Biberman
Film Editor Ira Heymann
Director of Photography Richard H. Kline
Guest cast:
Tony Bill ............ Chris Herrod
Celeste Holm ......... Rose Herrod
Edward Asner ......... Paul Berg
Also
Zalman King;
Vince Howard ......... Mr. Pete Butler (recurring)
Marjorie Corley ...... Miss Rosemary Dorsey
Ken Lynch.
Chris Herrod missed a year of school after he was blinded in an
accident. He tries to return to his studies but but he finds the strain
too great and has trouble picking up where he left off. [TA]

2.16 [46] Mr. Novak: ENTER A STRANGE ANIMAL
19Jan65 NBC
Script by Alvin Sargent
Guest cast:
Martin Landau ........ Robert Coolidge
Nehemiah Persoff ..... Henry Selkirk
David Macklin ........ Charles Stoddard
Adrienne Marden ...... Mrs. Selkirk
Synopsis:
The use of a teaching machine, even on a trial basis, runs into
opposition from both the teachers and students at Jefferson High. [TA]

2.17 [47] Mr. Novak: BEAT THE PLOWSHARES, EDGE THE SWORD
26Jan65 NBC (Repeated 20Jul65)
Script by Gilbert Ralston
Guest Cast:
Harold J. Stone ...... Joe Garvin
Mark Slade ........... Lee Manson
Stephen Mines ........ Stuart Miller
Jimmy Hawkins ........ Peter Beatty
Tom Nardini .......... Abel King
Lyle Bettger ......... Brigham
Carole Shelyne ....... Jennifer
Caroline Kido ........ Nancy
Synopsis:
Novak learns that four male students are living under unusual -and
illegal - conditions: They are completely without adult supervision except
for weekly visits by a well-dressed tough guy named Joe Garvin. [TA]

2.18 [48] Mr. Novak: FACULTY FOLLIES pt. 1
2Feb65 NBC
Script by Meyer Dolinsky
Guest cast:
Burgess Meredith ..... Martin Woodridge
Cloris Leachman ...... Dorothy Hummer
David Sheiner ........ Paul Webb
Andre Phillippe ...... Everett Johns
Synopsis:
Novak is assigned the task of directing the "Faculty Follies," a variety
show spoofing the students. And his job isn't made any easier by fellow
English instructor Martin Woodridge who considers the project beneath a
teacher's dignity. [TA]

2.19 [49] Mr. Novak: FACULTY FOLLIES pt. 2
9Feb65 NBC
Script by Meyer Dolinsky
Guest cast:
Cloris Leachman ...... Dorothy Hummer
Burgess Meredith ..... Martin Woodridge
Anna Lee ............. Mrs. Woodridge
Shirley O'Hara ....... Miss Sullivan
Katherine Ross ....... Mrs. Bellway
Michael Hardstark .... Ken
Gloria Calomee ....... Betty
Heather North ........ Felicia
Synopsis:
There's another obstacle in the path of the faculty variety show Novak's
directing - now even the performers themselves are losing enthusiasm for the
project. [TA]
Songs Performed:
"Drippity Dropouts" (by James Franciscus, Vince Howard and Bill Zuckert)
"Swinging Composish" (by Burgess Meredith) [TA]

2.20 [50] Mr. Novak: THE SILENT DISSUADERS
16Feb65 NBC
Script by Betty Ulius
Guest cast:
Claudine Longet ...... Shahri Javid
Kim Darby ............ Judy Wheeler
Frances Reid ......... Elsie Wheeler
Edmon Ryan ........... Ralph Wheeler
Buck Taylor .......... Scott Lawson
Synopsis:
Shahri Javid, an exchange science instructor from Iran, finds teaching
American girls a challenge - especially the brilliant students who forsake
careers in science to get married. [TA]

2.21 [51] Mr. Novak: MOUNTAINS TO CLIMB
23Feb65 NBC (Repeated 27Jul65)
Guest cast:
Howard Duff .......... Joe Stillman
Milton Selzer ........ Ted Canford
Malachi Throne ....... Tom Norson
Nancy Hadley ......... Ann Stillman
Synopsis:
Vane (Dean Jagger) is talked into running for state superintendent of schools
against an ambitious opponent whose manager is unscrupulous.
Note: This episode marks Dean Jagger's final appearance on the series (as
Principal Albert Vane.) Starting with this episode, Burgess Meredith (as
Martin Woodridge) takes over as Jefferson High's principal. [TA]

2.22 [52] Mr. Novak: MAY DAY, MAY DAY
2Mar65 NBC (Repeated 3Aug65)
Script by John D. F. Black
Guest cast:
Donald Harron ....... Bud Walker
Whit Bissell ........ Karl Bellini
Walter Brooke ....... Jess Capper
Candace Howard ...... Martha Gunn
Synopsis:
It's teacher evaluation time at Jefferson High, but English instructor
Bud Walker isn't worried -- he's convinced that he'll be fired. [TA]

2.23 [53] Mr. Novak: WHERE IS THERE TO GO BUT UP, BILLIE?
(a.k.a. "Where Is There to Go, Billie, but Up?")
9Mar65 NBC (Repeated 17Aug65)
Script by Mel Goldberg
Guest cast:
Lois Nettleton ....... Jean Corcoran
Paul Mantee .......... Hal Williams
Alison Mills ......... Billie
Synopsis:
Novak falls for substitute math teacher Jean Corcoran, who is already in
love - with skydiving. [TA]

2.24 [54] Mr. Novak: THE TENDER TWIGS
16Mar65
Script by Robert Presnell Jr. and Mel Goldberg
Guest cast:
Robert Culp .......... Frank Menlow
Harry Townes ......... Walter MacTell
Tony Dow ............. U.S. Delegate
Johnny Crawford ...... USSR Delegate
Robert Crawford ...... Cuban Delegate
Peter Helm ........... Assembly President
Robert Ellenstein .... Philip Goddard
Rita Lynn ............ Edith MacTell
Noah Keen ............ Dr. Manzoni
Synopsis:
Novak and social studies teacher Frank Menlow's mock UN Assembly
triggers off accusations that they're spreading Communistic propaganda at Jefferson High. [TA]

2.25 [55] Mr. Novak: HONOR AND ALL THAT
23Mar65 NBC
Script by Jerry McNeely
Guest cast:
Beau Bridges ......... Jaytee Bartlett
Michael J. Pollard ... GoGo Reader
Stephen Mines ........ Bill Graves
Buck Taylor .......... Don
Charles Briles ....... Ken
Alexander Lockwood ... Collins
Synopsis:
Strong feelings between Jefferson and McLain High students threaten to
explode as the championship basketball play-off nears. [TA]

2.26 [56] Mr. Novak: THE STUDENT WHO NEVER WAS
30Mar65 NBC (Repeated 24Aug65)
Guest cast:
Robert Walker ........ Dick Sullivan
Bonnie Beecher ....... Valerie
Bob Random ........... Phil
Patricia Morrow ...... Abigail
Russell Horton ....... Ed
Synopsis:
Dick Sullivan, an inspired troublemaker, pulls a masterful hoax on the
Jefferson High faculty by creating a fictitious straight-A transfer student. [TA]

2.27 [57] Mr. Novak: THERE'S A PENGUIN IN MY GARDEN
6Apr65 NBC
Script by John D. F. Black
Guest cast:
Vera Miles ........... Sister Gervaise
Bob Random ........... Joey Caldwell
Pat Harrington Jr. ... Thomas Kelly
Walter Brooke ........ Capper
Angela Clarke ........ Mother General
Synopsis:
Sister Gervaise, a nun who's deeply concerned about her orphaned nephew
Joey, makes a last-ditch effort to instill a sense of responsibility into
the fun loving youth -- before he comes into his father's millions. [TA]

2.28 [58] Mr. Novak: THE FIREBRAND
13Apr65 NBC
Script by Harold Gast
Guest cast:
Walter Koenig ........ Paul Ryder
Julie Sommars ........ Ellen Cable
Frank Marth .......... Gorman
Ben Yaffe ............ Loomis
Tommy Rettig ......... Frank
Lauren Gilbert ....... Bronson
George Ives .......... Ingram
Peter Wayne .......... George
Keg Johnson .......... Larry
Tisha Sterling ....... Myra
Synopsis:
"The Firebrand" is debating-team captain Paul Ryder, who stirs the students
into demonstrating on behalf of a school bond issue. [TA]

2.29 [59] Mr. Novak: AND THEN I WROTE ...
20Apr65 NBC (Repeated 31Aug65)
Script by Mel Goldberg
Guest cast:
Tommy Sands .......... Gary Lewin
Mike Kellin .......... Lester Lewin
Norman Fell .......... Barney Sanders
Louise Latham ........ Adele
Harlan Tuckman ....... Harlan
Don Mitchell ......... Chuck
Peggy Lipton ......... Selma
Robert Lipton ........ George
William Morrison ..... Dave
Synopsis:
If science student Gary Lewin accepts a college scholarship, he'll have
to leave the family music store in the hands of his father -- a man with no
business sense at all. [TA]

2.30 [60] Mr. Novak: ONCE A CLOWN (final episode)
27Apr65 NBC Tuesday 7:30pm
Script by Mel Goldberg
Guest cast:
June Lockart .......... Mrs. Nelby
Don Grady ............. Hank Nelby
Tom Drake ............. Powell
James Henaghan ........ Tommy
Frank Gerstle ......... Adams
Synopsis:
Senior-class clown Hank Nelby is failing his college prep courses –
and his mother, a brilliant lawyer, blames his teachers. [TA]

----------------------------------------------
NBC Network Summer Re-Runs (4May65 - 31Aug65)
----------------------------------------------
[--] 4May65 re-run of "Moonlighting" (first aired 22Sep64)
[--] 11May65 re-run of "With a Hammer in his hand Lord, Lord"
(first aired 29Sep64)
[--] 18May65 re-run of "Let's Dig A Little Grammer"(first aired 10Nov64)
[--] 25May65 re-run of "Boy Under Glass" (first aired 24Nov64)
[--] 1Jun65 re-run of "Visions of Sugar Plums" (first aired 6Oct64)
[--] 8Jun65 re-run of "A as in Anxiety" (first aired 8Dec64)
[--] 15Jun65 re-run of "Johnny Ride the Pony" (first aired 15Dec64)
[--] 22Jun65 re-run of "One Monday Morning" (first aired 27Oct64)
[--] 29Jun65 re-run of "An Elephant is Like a Tree" (first aired 12Jan65)
[--] 6Jul65 re-run of "From the Brow of Zeus" (first aired 5Jan65)
[--] 13Jul65 re-run of "Love Among the Grown Ups" (firt aired 29Dec64)
[--] 20Jul65 re-run of "Beat the Plowshares, Edge the Sword"
(first aired 26Jan65)
[--] 27Jul65 re-run of "Mountains to Climb" (first aired 23Feb65)
[--] 3Aug65 re-run of "May Day, May Day" (first aired 2Mar65)
[--] 10Aug65 re-run of "Honor and All That" (first aired 23Mar65)
[--] 17Aug65 re-run of "Where is there to go but up, Billie?"
(first aired 9Mar65)
[--] 24Aug65 re-run of "The Student who never was" (first aired 30Mar65)
[--] 31Aug65 re-run of "And Then I Wrote ..." (first aired 20Apr65)

################ Mr. Novak #################
################# the end ##################
##############################################


Return to The Classic TV Archive Home Page
Feedback - Drama Forum