US Anthology series (chronological order) - US Anthology series (alphabetical order) - Sponsors

Sponsors - Admiral
Episode Guide compiled by The Classic TV Archive
with contributions by Bob Huggins (RBH), Rina Fox
references:
TV Guide/ Library of Congress (telnet://locis.loc.gov)
Internet Movie Database (https://://us.imdb.com)
UCLA Film and Television Archive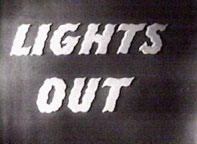 based on the Radio program of the same title "Lights Out" began in radio in 1934.
Produced by Herbert Swope Jr and Ernie Walling
US Thriller/ Suspense Anthology (live)
July 19, 1949 to September 29, 1952
NBC Mondays 9:00-9:30pm
Directed by William Corrigan / Writer Arch Obler
Arlo Hults, organ (1949-52)
Paul Lipman, theremin (1949)
Doris Johnson, harp (1950-52)
At the beginning of each episode viewers would see only a close shot of
a pair of eyes, then a bloody hand reaching to turn out the lights,
followed by an eerie laugh and the words, "Lights Out, Everybody"....
And in 1946 Fred Coe produced four specials of Lights Out.
Opening Narration: "Hello, looking for a good book to relax with tonight,
well you've come to the right place, we have thousands of them.
There's one in particular an old and curious one, come I'll get it for you. .....Lights Out ......"
Available on DVD: https://://oldies.com/product-view/4832D.html

################# Lights Out #################
##############################################
##############################################

Have you any comments, corrections, episode titles, air dates, production numbers, directors, writers, story/synopsis, guest stars, cast lists, etc?
Have you any old videos, or tv guides? Dust them off and let us know if you have any information on this series or any other tv series from the
Golden Age of TV, which is missing from any episode guides on the web. Perhaps a certain episode of a particular series coincided with a key
moment in your life, or in world events - and or has left a vivid memory of when it was shown. Let us know. Would you like to see any other
tv series guides on this site? If so please e-mail The Classic TV Archive - see Feedback below.
This guide may be distributed and copied freely, in its entirety, for personal use. All original author and copyright information must
remain intact. Any sales or other uses of this document are expressly forbidden, without the specific consent of the author(s).
Copyright © The Classic TV Archive. All rights reserved.

Return to The Classic TV Archive Home Page
Feedback - Anthology Forum