CTVA - US Music Variety - CTVA - UK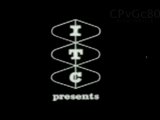 The Kopykats (UK) (ITC) (1972)
a segment of ABC Comedy Hour
Episode Guide compiled by The Classic TV Archive
with contributions by: Rina Fox
references:
TV Guide
Library of Congress (telnet://locis.loc.gov)
Internet Movie Database (http://us.imdb.com)
UCLA Film and Television Archive
------------------------------------------------------------
THE ABC COMEDY HOUR (featuring "The Kopykats" in 7 segments)
------------------------------------------------------------
"Kopykat" segments videotaped in London, England at the
Elstree Studios of Associated Television (ATV)(Lew Grade)
Distributed by ITC (Lew Grade)
for the
ABC Network [US] (Wednesdays 8:30pm EST)
Produced by Gary Smith, Dwight Hemion
Writer John Aylesworth

US Comedy-Variety Series 1972 12 episodes x 60 min.

(12Jan72-05Apr72)(ABC) (original run)
(21Jun72-9Aug72)(ABC) (reruns)

Special guest hosts alternated weekly
Starring
Rich Little
Frank Gorshin
Marilyn Michaels
George Kirby
Charlie Callas
Joe Baker
Fred Travalena (replaced Charlie Callas mid-season)

Featured Regulars:
The Jack Parnell Orchestra [UK Orchestra]
The Norman Maen Dancers [UK Singers]
The ABC Comedy Hour also featured two Friar Roasts, an Alan King Special and an updated version of Hellzapoppin'.
Reruns aired during the summer under the title "ABC Comedy Hour Presents the Kopycats".

###### ABC Comedy Hour: The Kopykats #########
############## season Early 1972 #############
##############################################
ABC Wednesdays 8:30-9:30pm (12Jan72-5Apr72)

[01] The Kopykats
12Jan1972 ABC Wed

[02] The Kopykats
19Jan1972 ABC Wed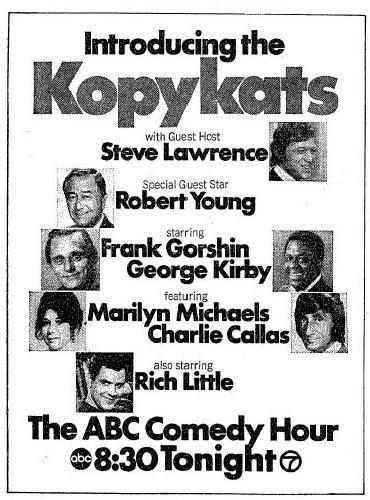 Directed by Dwight Hemion
Steve Lawrence is the special guest host.
Special guest star
Robert Young
regulars
Rich Little
Frank Gorshin
George Kirby
Marilyn Michaels
Charlie Callas
Joe Baker
Summary:
Impressions of George M. Cohan singing with Judy Garland and James Cagney.
George Burns and Lou Costello as courtroom rivals.
Tough guys Bogart, Garfield and Lancaster.
Rosemary Clooney, Connie Francis, Eydie Gorme and Patti Page.
*NOTE: Taped in London.

[03] The Kopykats
26Jan1972 ABC Wed
Orson Welles is the guest host
Special guest star
Ron Moody
regulars
Rich Little
Frank Gorshin
George Kirby
Marilyn Michaels
Charlie Callas
Joe Baker
Summary:
Welles is the guest host and his very presence makes this outing a delight from start to finish. The resident
impressionists Frank Gorshin, Rich Little, Marilyn Michaels, George Kirby, and Charlie Callas are in top form
and guest star Ron Moody does one of the best Groucho Marx imitations ever in a clever section devoted to performers
who used a cigar as a prop. Ron also does a great Bing Crosby.
Other impressions done were Jack Benny, W.C. Fields, Kirk Douglas, George Jessel, George Burns and Anthony Newley.
*NOTE: Taped in London.

[04] The Kopykats
02Feb1972 ABC Wed

[05] The Kopykats
09Feb1972 ABC Wed
Ed Sullivan is the guest host
Special guest star
Will Jordan
regulars
Rich Little
Frank Gorshin
George Kirby
Marilyn Michaels
Charlie Callas
Joe Baker

[06] The Kopykats
16Feb1972 ABC Wed
Diahann Carroll is the guest hostess.
Special Guest star
Chubby Checker
regulars
Rich Little
Frank Gorshin
George Kirby
Marilyn Michaels
Charlie Callas
Joe Baker

[07] The Kopykats
23Feb1972 ABC Wed
Raymond Burr is the guest host
regulars
Rich Little
Frank Gorshin
George Kirby
Marilyn Michaels
Joe Baker
Fred Travalena
Summary:
A spoof of "The Tonight Show".
Take-offs of The Beatles, Al Jolson and Judy Garland.
A tribute to Humphrey Bogart.
Newcomer Fred Travalena joins the regulars. (Charlie Callas leaves)
*NOTE: Taped in London.

[08] The Kopykats
01Mar1972 ABC Wed

[09] The Kopykats
08Mar1972 ABC Wed
Marcus Welby star Robert Young makes
another house call on the Kopykats.
regulars
Rich Little
Frank Gorshin
George Kirby
Marilyn Michaels
Joe Baker
Fred Travalena
Summary:
Sketches on old TV shows, "Batman", "Lone Ranger" and "Highway Patrol".
Spoofs of Laurel and Hardy, Burns and Allen, Abbott and Costello.
Take-offs of Glen Campbell, Engelbert Humperdinck and Tom Jones.

[10] The Kopykats
15Mar1972 ABC Wed
Sammy Davis Jr. is the guest host.
regulars
Rich Little
Frank Gorshin
George Kirby
Marilyn Michaels
Joe Baker
Fred Travalena

[11] The Kopykats
22Mar1972 ABC Wed
02Aug1972 (rerun) ABC Wed 9:30-10:30
Debbie Reynolds is guest hostess
regulars
Rich Little
Summary:
She does an hilarious Zsa Zsa Gabor and a fair Mae West to Rich Little's good W. C. Fields.
There is a running gag here with Frank Gorshin as an imprisoned
James Cagney, with one last meal coming to him before the
execution. Rich Little is Jimmy Stewart, the prison guard, [R]

(repeat) The regular crew of impressionists is matched tonight by two good mimics — Debbie Reynolds and Shecky
Greene. The highlight of the show finds Shecky playing Wallace Beery as a hobo traveling in a boxcar with a kid
(Debbie) who's running away from home. This vignette is beautifully played and touching, too. On the lighter side,
Debbie becomes a flashy Mae West to Rich Little's uncanny W. C. Fields.

[12] The Kopykats
29Mar1972 ABC Wed
09Aug1972 (rerun) ABC Wed
Guest
Tony Curtis
regulars
Rich Little
Frank Gorshin
George Kirby

################# The Kopykats ###############
############## Reruns Summer 1972 ############
##############################################
(ABC Wednesdays) (21Jun72-9Aug72)

The 7 episodes featuring The Kopykats was later rerun under the title "The Kopykats"

"The Julie Andrew Hour" began in this time slot -
Wednesdays 10:00pm on ABC - 13Sep72-28Apr73

###### ABC Comedy Hour: The Kopykats #########
################## the end #################
##############################################
Have you any comments, corrections, episode titles, air dates,
production numbers, directors, writers, story/synopsis,
guest stars, cast lists, etc?

Have you any old videos, or tv guides? Dust them off and let
us know if you have any information on this series or any other
tv series from the 1950's, 60's, 70's, or 80's , which is missing
from any episode guides on the web.

Perhaps a certain episode of a particular series coincided with
a key moment in your life, or in world events - and has left a vivid
memory of when it was shown. Let us know.

Would you like to see any other tv series guides on this site?

If so please e-mail - see Feedback below.

This guide may be distributed and copied freely, in its entirety, for
personal use. All original author and copyright information must remain
intact. Any sales or other uses of this document are expressly forbidden,
without the specific consent of the author (s).

Copyright © The Classic TV Archive. All rights reserved.

Return to The Classic TV Archive Home Page
Feedback