CTVA
The Classic TV Archive - TV Western series
<Previous The Virginian Next>
1 2 3 4 5 6 7 8 9
7.20 [195]
"The Land Dreamer"
original NBC Broadcast - 26 February 1969

Universal City Studios, Inc.
Executive Producer Norman MacDonnell
Produced by James Duff McAdams
Written by Robert Van Scoyk
Directed by James Sheldon

Starring:
(shown on the ride-in)(ALL appear in this episode)
John McIntire as Clay Grainger
Doug McClure as Trampas
David Hartman as David Sutton
Sara Lane as Elizabeth Grainger
and
James Drury as The Virginian

Guest Stars: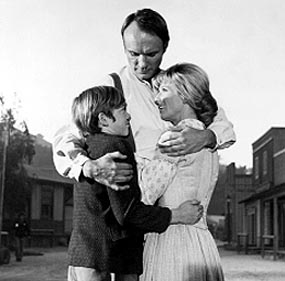 (pictured l-r John Daniels, James Olson, Cloris Leeachman)
James Olson [Hosea McKinley]
Cloris Leachman [Ellen McKinley]

Special Guest Star:
Don Francks [Caleb and Jack Welles]

Full ending credits:
Co-Starring
Ford Rainey as Amos Wardlow
#
John Daniels as William McKinley
Ross Elliott as Sheriff Abbott
John Milford as Burke
#
With
Tom Middleton . . . Frank Harley
#
Theme Percy Faith
#
Director of Photography Enzo A. Martinelli
#
Art Director . . . William J. Kenney
Film Editor . . . J. Howard Terrill
Unit Manager . . . Henry Kline
Assistant Director . . . Wilson Shyer
Set Decorations . . . John McCarthy and Perry Murdock
Sound . . . Ted G. Mann
Color Coordinator . . . Robert Brower
Technicolor
#
Editorial Supervision . . . Richard Belding
Musical Supervision . . . Stanley Wilson
Costumes by . . . Helen Colvig
Makeup . . . Bud Westmore
Hair Stylist . . . Larry Germain
The Title "The Virginian" by permission of EMKA, LTD.

Series Regular characters appearing in this episode:
David Sutton, the Virginian, Clay Grainger, Trampas,
Elizabeth Grainger, and Sheriff Mark Abbott

Synopsis:
Hosea McKinley (Olson) flees after killing the cheating business man Jack
Welles (Francks) and critically injuring Sheriff Abbott during a property
dispute. When Dave Sutton, the Virginian, and Trampas track the fugitive
to a cabin inhabited by his wife and son, David has second thoughts about
separating the farmer from his family, especially since his own father had
recently died. However, Hosea's conscience won't let him run again, and he
consents to go back for trial. There he faces Caleb Welles (Francks in a
duel role), who has taken over his brother's racket and plans to lynch
Hosea--not only to avenge Jack's death but also as an example to the others
he is defrauding. Sheriff Abbott regains consciousness and explains that
he'd been caught in crossfire when Welles fired first after McKinley took
up his rifle to defend his land. As Caleb takes Hosea into the street to
hang him, Clay Grainger arrives and, backed by men in town who refuse to
bow to the scare tactics, convinces Caleb and his gang that Hosea had only
done what others would have done in his situation--taken up arms to protect his home. (bj)
A little added trivia:
The Virginian's Appaloosa horse was named Joe. The Virginian mentions "My
horse Joe likes water. He's always been a good swimming horse."
Return to The Classic TV Archive "The Virginian" Home Page
Return to The Classic TV Archive Western Page
Return to The Classic TV Archive Home Page
Feedback - "The Virginian" Guestbook