CTVA
The Classic TV Archive - TV Western series
<Previous The Virginian Next>
1 2 3 4 5 6 7 8 9
5.27 [147]
"The Girl On The Pinto"
Original NBC Broadcast - 29 March 1967

Universal Television, a Division of Universal City Studios, Inc.
Executive Producer Frank Price
Produced by Joel Rogosin
Teleplay by Seeleg Lester and Theodore Apstein / Story by Theodore Apstein
Directed by Don McDougall

Starring:
(shown on the ride-in)
Charles Bickford as John Grainger (not in this episode)
Doug McClure as Trampas
Clu Gulager as Emmett Ryker (not in this episode)
Don Quine as Stacey Grainger (not in this episode)
Sara Lane as Elizabeth Grainger
and
James Drury as The Virginian

No guest credits at the start of the episode.
Full End Credits:
Co-Starring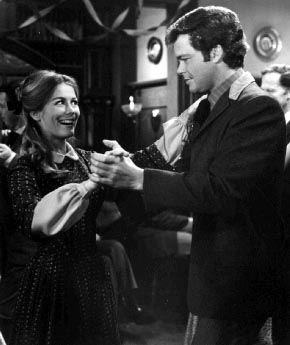 (pictured above Valora Noland and Doug McClure)
Valora Noland as Amanda [Loomis] Harley
#
R.G. Armstrong as Frederick Harley
#
Ross Elliott as Sheriff Abbott
Sandy Kenyon as Bert Robinson
Vivi Janiss as Miriam Harley
#
With
Don Stewart . . . Urban Scott
Stephen Coit . . . Storekeeper
Sam Edwards . . . Hotel Clerk
Don Wilbanks . . . Stationmaster
Quent Sondergaard . . . Arnold Scott
Ken Mayer . . . John Howard
John Bryant . . . Dr. Spalding (in other episodes Spaulding)
#
And
Warren Stevens as Pierce [Loomis]
#
Theme by Percy Faith
(no score credit was given, but some of Leo Shuken's and
Jack Hayes' music from 5.01 "Legacy of Hate" was noticeable
as well as Sidney Fine's tune from 5.09 "Deadeye Dick") bj
#
Director of Photography
Enzo A. Martinelli
#
Art Director . . . George Patrick
Film Editor . . . John Elias
Unit Manager . . . Abby Singer
Assistant Director . . . Frank Losee
Set Decorators . . . John McCarthy and James M. Walters, Sr.
Sound . . . James T. Porter
Color Coordinator . . . Robert Brower
Technicolor
#
Editorial Supervision . . . Richard Belding
Musical Supervision . . . Stanley Wilson
Costume Supervision . . . Vincent Dee
Makeup . . . Bud Westmore
Hair Stylist . . . Larry Germain
The Title "THE VIRGINIAN" by permission of EMKA, LTD.

Regular Series Characters appearing in this episode:
Trampas, the Virginian, Elizabeth Grainger, Sheriff Mark Abbott,
and Dr. Spaulding with appearance at the dance by Harper

Synopsis:
Coming "from a long line of stubborn men," Trampas refuses to
take no for an answer when he asks a mysterious girl he met on the range to
a dance and becomes even more determined to befriend her after finding that
Amanda (Noland) is reluctant to socialize because she and her adoptive
"Poppa" believe she has the "bad blood" of her real father--a murderous
outlaw who appears in town with a scheme to rob Medicine Bow's bank. (bj)
Character interaction note:
After meeting Amanda and failing to get her to
socialize with him Trampas interrupted Liz's dusting chores with the excuse
that it would be nice to pay the Harleys a visit. Liz agreed to the idea
suggesting "maybe this weekend." But because Trampas wanted to convince
Amanda to attend the dance with him Saturday night he stressed the
importance of making newcomers feel welcomed right away, urging her to go
immediately--
and he would be glad to drive her out there. Liz quickly figured this
hurried trip was because Trampas wanted to meet the new romantic prospect in
town. Trampas asked Liz to tell Amanda some of his virtues ("but build it up a
little") mentioning it was the least she could do for him because the girl
was as "spooky as a two day old filly." And Trampas would then tell Amanda
some of his faults, for instance, "I'm too kind, too considerate, and a wonderful
dancer." Even though Liz knew she was being used in Trampas' little scheme
she consented to drop what she was doing and accompany him to the Harleys' place.

Concerning the Girl on the pinto:
Amanda had been taken in by the Harley
family at age three when her mother died. But from the time she was
ten years old the Harleys had kept pretty much to themselves after her
adoptive father found her standing over his son's body with the boy's rifle in her hands.
Mr. Harley's distrust of the girl rubbed off on Amanda, and she believed she
was "different." Trampas met her riding her pinto horse
in the hills and tried to make conversation with her commenting, "You sure
like to ride, don't you." Her reply brought out the joyful freedom she felt
in an otherwise restricted environment: "Yes. It's like looking through a
window out into the distance, and there's nothing but rolling hills, colors,
and bright sunlight." But her happiness in expressing that feeling was
short-lived as she asked Trampas what he wanted of her. Trampas tried to
assure her he just wanted to be her friend, but she insisted she couldn't
have any friends and wanted to be left alone. Figuring Amanda's reluctance
to socialize had been for his welfare not hers, Trampas went back to the
Harley ranch promising he'd leave her alone if she could give him a good reason why
he should. She explained she wasn't ordinary like the other girls he knew.
Trampas agreed with: "One: You're not ordinary pretty, you're
extra pretty. Two: You're not ordinary shy, you're downright independent.
Three: An ordinary girl likes to dance, you-- (to which she replied, "I
do.") Four: You're not an ordinary rider. The way you ride that pinto--
(approving whistle)." Having broken the ice Trampas invited Amanda to go
riding with him. Again, Amanda felt a momentary joy of being "just the same as any
other girl" but then confided to Trampas that she was the daughter of a
vicious outlaw, and his "bad blood" was in her. Trampas refused to be scared off
and told her he'd pick her up for the dance on Saturday night. Amanda
excitedly told Mrs. Harley about her invitation but then saw Mr. Harley
talking to the cowboy about his son's death and, quite dejected, feared
Trampas would never come back again. Yet that Saturday evening Trampas did
indeed arrive to escort her to the dance. Almost unable to believe it Amanda declared, "I'm
going. I am." Amanda and Trampas were enjoying themselves at the dance when Trampas recognized
some troublemakers walk in the door and, leaving Amanda with Liz,
headed off to find Sheriff Abbott. The girls stepped out
into the hotel lobby to catch their breath, but soon the Virginian joined
them saying he believed this was his dance with Elizabeth. Although invited
to go back inside the ballroom with them Amanda decided to stay in the lobby
to wait for Trampas. While she was alone one of the troublemakers walked in
and insisted Amanda dance with him. Trampas returned, punching the rowdy
for frightening the young woman, and the angry man drew his gun.
Amanda seemed mesmerized by the revolver. Although
Trampas tried to assure her there was no reason for alarm Amanda grabbed
the pistol. The gun went off, and the bullet struck Trampas in the arm.
Trampas insisted it was an accident, but with a far-off
look in her eyes Amanda said, "I heard you say 'stay back, Amanda,' but I
couldn't. All I could see and hear were guns firing." Loomis, her real
father, had come to Medicine Bow to rob the bank and had met secretly with
Amanda promising to give her information about her parents. After he was
badly injured while making his getaway Loomis hid in the Harleys' barn until
Amanda came home from riding. He told Amanda he wanted a horse and some supplies and
in return he would tell her about her real mother and father. As she tended
to his wound he called her "Mandy" and talked about how her mother had always
"picked" at him. Amanda remembered being called Mandy in her early childhood
and recognized Loomis to be her father. She mentioned that people claimed she
had inherited his bad blood, and Loomis laughed that it was always easier to steal than to do honest work.
Trampas, who had found out from the Virginian
that a man named Loomis had robbed the bank, went
to the Harley place to warn them to be on the lookout for the bandit.
Seeing her pinto outside he and Mr. Harley went in the barn looking for
Amanda. Loomis wanted to leave and take his daughter with him for security, but
as they walked toward the door Trampas said, "There's nothing different
about you or him. His reputation just got bigger than he was. He's an ordinary
man who went sour on life. But not you Amanda. No, you have a hunger for life."
Loomis, who was dying, gave his gun to Amanda and told her to shoot Trampas and Mr. Harley saying,
"I'm your real father, your own flesh and blood. What's in me is in you."
Harley replied, "No, you're our child, not his, not ever his."
Amanda put the gun down to her side and then gave it to her "Poppa" as Loomis
died. Later Trampas was "just passing by" their ranch, and Mr. Harley told
him it was a terrible thing he
had done letting Amanda see his doubts and fears so that she believed them,
but nothing would stand in the way of him loving her again. He said Amanda
was out riding and Trampas could probably find her. As they met
Amanda and Trampas smiled at each other then galloped up the hill together. (bj)

Valora Noland:
With her riding skills and use of various facial expressions, postures, and
voice inflection Valora Noland gave a stand-out performance in her
role as the troubled Amanda. Her sad far-off looks and wide-eyed
"mesmerized" close up shot before she grabbed the gun at the dance were especially convincing.
-
Actor Robert Rigdon put us in contact with Ms. Noland who, by email dated July
27, 2000, kindly replied with this comment when asked her thoughts on why she might have
been chosen to play Amanda:
"I actually had a pinto horse as a child. The family vet found her and
presented her to me when I was about l0 or ll. My first horse had just died
(at 35 yrs of age!) and the vet
was trying to mend a little girl's grief. The mare, however, chased me some
distance from the house to the barn (the pinto was almost on the girl!) one day when
she was at liberty around the farm (I grew up on a farm), and proved to be
an on and off horse friend after that. I got another horse in place of
her, and yet another after that when I was growing up. So, maybe it was
because I knew how to ride from way back that I was chosen for the
part, or because Loomis and I really did look like
father and daughter? Or maybe, because someone just liked me ......
In "The Girl on the Pinto," they always wanted the horses galloping.
Normally, riders do a lot of walking. Today I have an Arabian Gelding who I
raised from 10 months, trained and
rode as a stallion for five years. He took me (at a walk) to the top of a
steep hill just yesterday."
Return to The Classic TV Archive "The Virginian" Home Page
Return to The Classic TV Archive Western Page
Return to The Classic TV Archive Home Page
Feedback - "The Virginian" Guestbook