CTVA
The Classic TV Archive - TV Western series
<Previous The Virginian Next>
1 2 3 4 5 6 7 8 9
3.28 [088]
"Old Cowboy"
Original NBC Broadcast - 31 March 1965

Universal TV Production
Executive Producer Frank Price
Produced by Frank Telford
Written by Gabrielle Upton
Directed by William Witney

Starring:
(shown on the ride-in)
Lee J. Cobb as Judge Henry Garth (not in this episode)
Doug McClure as Trampas *****
Clu Gulager as Emmett Ryker (not in this episode)
Roberta Shore as Betsy Garth (not in this episode)
Randy Boone as Randy Benton
and
James Drury as the Virginian

Guest Star: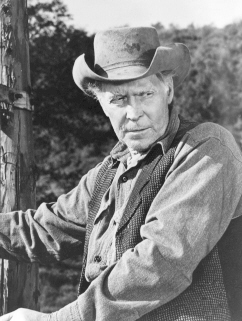 Franchot Tone [ Murdock]
Co-Starring: (on the ride-in)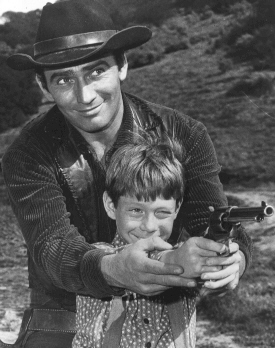 Billy Mumy [ Willy]

Full ending credits:
Co-Starring
Alan Baxter as Northrup
Adam Williams as Roper
L.Q. Jones as Belden (series recurring character)

[John Bryant appeared as Dr. Spaulding but was not credited.
His office sign read Dr. R.M. Spaulding. Compare with episode 6.23 [172] in
which the office sign read Dr. R.J. Spaulding]

#
Virginian Theme Percy Faith
#
Director of Photography Ray Rennahan, A.S.C.
#
Supervising Producer Joel Rogosin
#
Story Editor Cy Chermak
#
Art Director . . . George Patrick
Film Editor . . . Edward Biery
Assistant Director . . . Edward K. Dodds
Set Decorators . . . John McCarthy and James M. Walters
Sound . . . Earl Crain, Jr.
Color Consultant . . . Alex Quiroga
Color by Pathé
#
Editorial Dept. Head . . . David J. O'Connell
Musical Supervision . . . Stanley Wilson
Costume Supervisor . . . Vincent Dee
Makeup . . . Bud Westmore
Hair Stylist . . . Larry Germain
The title "The Virginian" by permission of EMKA, LTD.

Series regular characters appearing in this episode:
Trampas, Randy, the Virginian, Belden, and Dr. Spaulding

Brief Synopsis:
Trampas compassionately asks the Virginian to hire an
over-the-hill ex-drover and his grandson, but his kind-hearted attitude
opens the door for the man's jealousy and mishaps around the ranch until
the old cowboy proves himself still capable when Trampas becomes seriously
ill on a cattle drive. (bj)

Comments:
One of my personal favorite episodes (bj)
More Detailed Synopsis:
Determined to make it on their own Mr. Murdock (Tone) and his grandson
Willy (Mumy) walk into Medicine Bow looking for a job on the biggest ranch around.
The old cowboy had once been a trail boss on the Chisholm Trail and had been
rewarded with a twenty dollar double eagle gold piece by Charles Goodnight
himself for getting a herd to market despite adverse circumstances. Hungry
and tired the elderly man figures on winning enough money in a poker game to
buy a steak dinner and room at the hotel for himself and the boy, his gold
piece, which he kept in his boot, being a "medal of recognition" not to be
spent unless there was an emergency. When Murdock loses at the gambling
table Trampas, against Randy's advice, compassionately asks him if he'd like
a job at Shiloh. The prospect of this new hand is anything but favorable to
the Virginian who reluctantly signs him on telling Trampas, "He's your
headache." Mishaps involving Murdock soon happen around the ranch and
multiply when the ex-drover becomes jealous of Trampas' skills and the fact
that Willy begins to look up to the younger cowboy. Although Trampas tries
to stick up for him, especially after the old man
brands the wrong cattle in an attempt to outdo the younger hand, Murdock
becomes angry with him saying "You keep trying to get me fired." It's the last straw
when a neighboring rancher threatens to sue Shiloh for "triple damages" when
he's hurt in a stampede after the horse Murdock insisted on riding (because he was told
only Trampas could handle it) threw the old cowboy and ran through a cattle herd.
A scuffle occurs when
Trampas, having to let Murdock go, offers to "loan" the proud man some money
because (Willy having admitted he'd never actually seen it) he doesn't
believe there really is a gold coin. During the argument in the barn
Murdock accidentally knocks over a lantern. As the stable burns the high winds spread the
flames to the prairie destroying much of the range land
in the area. Accident or not the other hands are understandably angry at
Murdock, but Trampas, still desiring to protect the man's feelings, tries to
take some of the blame for the fire on himself insisting, "It was as much my
fault as his." With lack of feed now a
threat it is decided that the local ranchers break up the herds into small
groups and drive them to other grazing spots. Trampas and Randy are the
only ones left to take the last bunch of cattle over the pass, and Willy suggests that
Trampas ask his grandfather to help. Trampas refuses until the Virginian
tells him he does need that third man. With the weather turning
against them the trio puts the cattle in a "rickety" corral and seeks
shelter in a line shack for the night. Trampas, who had cut his hand while
fighting the fire, becomes ill, and Murdock, putting aside his rivalry,
wants to lance the wound to keep the younger man from getting blood
poisoning. But as he starts to put the knife to Trampas' infected palm
Murdock admits that he can't see well enough any more to operate and tells
Randy to go for the doctor. The boys are concerned that the
cattle might escape if Randy leaves, but the old man assures them that he'd
stay and watch the herd and insists that "It's them cattle or [Trampas']
life." Spooked by the wind and some wolves the animals break out of the
holding pen, and Murdock, who had told Willy "I'll get that herd through or
I won't be back at all," ignores Trampas' pleas
to let them go and heads
out to try to stop the runaways. After the doctor leaves Trampas wakes from
his feverish sleep and asks Randy about the cattle and "old man."
Distressed at hearing
that Randy had only "found a few dead ones" Trampas fears the worse and
wonders "What am I going to tell that kid." But when the two hands arrive
back at Shiloh Willy is there to meet them with the news that his
"Gramps" had single handedly pushed the cattle through to their destination,
losing only a few head in the process.
Having proven himself to still be a capable cowboy the trail boss heads back to
the ranch without stopping to rest. Collapsing near the bunkhouse Murdock
tells Willy to pull of his boot. (bj)

Note: One might wonder if Trampas' compassion toward and desire to befriend
and protect Murdock was the result of the same type of treatment he himself
received from Faraway in episode 2.01 [031] "Ride a Dark Trail." (bj)

Belden fans might remember him in these two scenes:
Belittling Murdock by setting up a rocking chair at the head of the table when the old man came to sit
down for supper, and being ganged up on by Trampas and Willy during a pillow fight when the
pillow breaks, feathers fly, and Belden remarks, "Look what you done to my hair."
Return to The Classic TV Archive "The Virginian" Home Page
Return to The Classic TV Archive Western Page
Return to The Classic TV Archive Home Page
Feedback - "The Virginian" Guestbook