CTVA
The Classic TV Archive - TV Western series
<Previous The Virginian Next>
1 2 3 4 5 6 7 8 9
2.28 [058]
"A Bride For Lars"
Original NBC Broadcast - 15 April 1964

Revue Studios Production
Executive Producer Frank Price
Produced by Winston Miller
Written by True Boardman
Directed by Earl Bellamy

Starring:
(shown on the ride-in)
Lee J. Cobb as Judge Henry Garth (not in this episode)
Doug McClure as Trampas
Gary Clarke as Steve Hill
and
James Drury as The Virginian

Opening Credits:
Co-Starring (NOT Guest Star)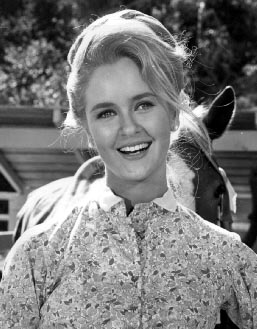 Katherine Crawford [Anna Swenson]
End Credits (complete):
Co-Starring
Roberta Shore as Betsy
#
Peter Whitney as Lars Holstrum
#
With
Barbara Werle as Betty
Michael Beirne as The Deputy
Paul Birch as Carl Bruner
Ricks Falk as Sven Norbeck
Curt Barrett as The Man
Stewart Bradley as Harkness
#
John Qualen as Costa Swenson
John Bryant as The Doctor (in some episodes credited as Dr. Spaulding)
Stella Garcia as Maria
X Brands as Raven Wing
Michael Carr as Tall Bow
and
Dean Harens as The Minister
(there were several other actors I would have liked to have seen credited,
such as Raven Wing's wife)
#
Virginian Theme Percy Faith
#
Director of Photography - Benjamin H. Kline, A.S.C.
#
Story Editor - Cy Chermak
#
Art Director - George Patrick
Film Editor - Edward Biery
Assistant Director - Edward K. Dodds
Set Decorators - John McCarthy and Perry Murdock
Sound - David H. Moriarty
Color Consultant - Alex Quiroga
Color by Pathé
#
Editorial Dept. Head - David J. O'Connell
Musical Supervision - Stanley Wilson
Costume Supervisor - Vincent Dee
Makeup - Bud Westmore
Hair Stylist - Larry Germain
The Title "The Virginian" by permission of EMKA, LTD.

Regular Characters in this Episode:
Trampas, Virginian, Steve, briefly Betsy, with
recurring character Dr. Spaulding

Brief Synopsis:
After a middle-aged Swedish immigrant is injured during his stag party
while trying to prove his virility Trampas goes to Laramie to bring back
the man's intended bride.
This episode was a light comedy--very enjoyable (for me, anyway)(bj)

Return to The Classic TV Archive "The Virginian" Home Page
Return to The Classic TV Archive Western Page
Return to The Classic TV Archive Home Page
Feedback - "The Virginian" Guestbook