CTVA
The Classic TV Archive - TV Western series
<Previous The Virginian Next>
1 2 3 4 5 6 7 8 9
2.18 [048]
"The Thirty Days Of Gavin Heath"
Original NBC Broadcast - 22 January 1964

Revue Studios Production
Executive Producer Frank Price
Producer Don Ingalls
Written by Mel Harrold
Directed by John Florea

Starring:
(shown on the ride-in)
Lee J. Cobb as Judge Henry Garth
Doug McClure as Trampas
Gary Clarke as Steve Hill
and
James Drury as The Virginian

Guest Star: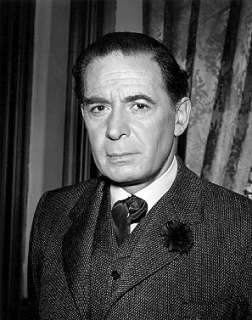 Leo Genn [ Gavin Heath]
End Credits (complete):

Co-Starring
Roberta Shore as Betsy
#
Brendan Dillon as Oliphant
#
Don Hanmer as Gentry
Ross Elliott as Sheriff Abbott
#
With
Bill Zuckert as Mayor Wilkins
(a little larger lettering than other names on this page)
John Bryant as Doctor Spaulding
Ina Victor as Sally
Robert B. Williams as The Townsman
#
Jimmy Joyce as Hardesty
Frank Sully as Sam (the bartender--other times Danny the bartender)
Robert Kline as The Waiter
Leonard P. Geer as The Driver
and
Dean Harens as The Parson
#
Virginian Theme Percy Faith
#
Director of Photography - Benjamin H. Kline, A.S.C.
#
Story Editor - Cy Chermak
#
Art Director - George Patrick
Film Editor - J. Howard Terrill
Assistant Director - Les Berke
Set Decorators - John McCarthy and Perry Murdock
Sound - Earl Crain, Jr.
Color Consultant - Alex Quiroga
Color by Pathé
#
Editorial Dept. Head - David J. O'Connell
Musical Supervision - Stanley Wilson
Costume Supervisor - Vincent Dee
Makeup - Leo Lotito, Jr.
Hair Stylist - Florence Bush
The title "The Virginian" by permission of EMKA, LTD.

Series regular Characters in this episode:
Judge Garth, Betsy, Trampas, Virginian, Steve, Dr. Spaulding,
Sheriff Abbott, Danny, the bartender, with brief appearance by Harper (uncredited)
Brief Synopsis:
Gavin Heath has returned to Medicine Bow with hopes to stop his life of running from his
problems, but he's bitten by a salivating dog and fears he might have contracted
rabies. Since he may have but thirty days to live, how will he spend the time?

More Complete Synopsis:
While on the road to Medicine Bow Trampas and Betsy are almost "run down" by two
stage coaches. After stopping to let them go by Betsy hears a dog whining and,
believing it to be hurt, gets out of the buggy to help it. Trampas warns her not to get
near the mongrel because this time of year it could have rabies and informs her there is a
man in town dying of the disease. The cowboy, out of consideration for Betsy's feelings,
shoots his gun to scare the dog away instead of killing it in front of her but doesn't
"feel right" about letting it go. The stages reach Medicine Bow, and from
one of the coaches out steps former resident Gavin Heath (Genn). Having struck it rich in
Colorado he is returning after a three year absence with intentions to "stop
running" and pay off his many debts. He brings a red dress (her favorite
color) for Sally, a woman who worked in the saloon and had been a good friend to him when
he needed one most. Gavin plans to have a big celebration in honor of his homecoming and
invites the whole town. Betsy is especially pleased to see him again, but Trampas
leaves to get the mail without even speaking to him. While treating Betsy to a
sarsaparilla at the Phosphate Palace Gavin meets one of his countrymen, a cheery chap
named Oliphant (Dillon). But before Betsy can have her refreshment, Trampas comes in
and tells her it is time to go back to the ranch. Betsy is upset at Trampas for
acting like he hated Gavin when the two of them used to be such good friends. Trampas can
only remark, "I don't hate him any more than I hate that mad dog--I just don't want
to be around either of them." Oliphant seems happy to talk with another
Englishman. When Gavin relates that he had owned a ranch at Clear Creek, Oliphant
declares the area was the spitting image of Balaklava and wants to recount the Crimean War
and Lord Tennyson's poem of the 600 brave men. Gavin notes there were really 714
soldiers and seems reluctant to talk about the battle. Later, Gavin rides out to Clear
Creek and, while recalling his cowardice in combat, is attacked by a salivating dog. The
injured man kills the animal in self defense and heads to Shiloh for help. Concerned for
his friend's well-being, the Judge takes him to see Dr. Spaulding. The doctor is at
the sheriff's office where Mark Abbott is readying for the arrival of the Federal Marshal
who's bringing in renegade Indians. Hearing screams coming from a jail cell, Gavin
and the Judge find Dr. Spaulding attending to the man with rabies who had asked to be
confined because he was afraid he would hurt someone in a mad fit. Gavin, certain this is
to be his fate, inquires how long he has left to live. Dr. Spaulding advises that it was
not a certainty the dog did have rabies but admits the probability of it. Since
"thirty days has Gavin Heath" and "there isn't a blasted thing anyone can
do about it," Gavin shuts himself up in his bedroom at Shiloh. Garth tries to
encourage his friend by telling him he'd help in any way he could. Giving into despair was
not the answer, and if Gavin were to give up he would already be a dead man even if he
lived to be 100. Outwardly, then, Gavin seems to bolster his spirits and decides to
go on with the party. He tells the Judge all the Shiloh boys are invited--especially
Trampas. At the shindig Garth comments about all the people having come out for the gala
occasion, and Gavin replies that at least for the night everyone loved him--"with the
notable exception of Trampas." Sally is not impressed with Gavin's excesses and
asks what he is trying to prove. Does he really think he can buy friends? Oliphant
enters dressed in his military attire and gives a toast to Gavin--"a valiant soldier
of the Queen," a veteran and survivor of the battle at Balaklava. As Oliphant
begins to recite Tennyson's poem, Gavin explodes with anger and orders everyone out.
The next day Gavin asks the Judge to take him back to Clear Creek. There he recounts
how, as a young lad, he was so afraid of being killed during the battle he had pretended
to be shot and fallen off his horse right in front of the commanding officer. He could
have been executed for his cravenness, but because of his youth he was dishonorably
discharged and his military jacket had been stripped of all its buttons. Unable to forget
the incident, he became a "ghost of a man without a family, country, or soul."
When they arrive back at Shiloh Garth tells Trampas to put up the horses.
Gavin wants to talk to the cowboy, but Trampas wants nothing to do with him. The
Judge is irritated at Trampas' attitude and reminds him that Gavin had once been his
friend. With contempt, Trampas states, "I wrote him off 3 years ago." The Judge
appraises his young cowhand is very fortunate to have the whole world figured out in black
and white with no gray then leaves the two men to their private confrontation.
Burning with resentment, Trampas recalls how he and Gavin had planned a trap for some
rustlers who were stealing Gavin's cattle. But Gavin never showed up, and Trampas was left
to deal with the thieves by himself. Gavin explains he had always been a coward and feared
if he did make the rendezvous he might panic and leave Trampas alone just at the time he
was depending on him--it was "another test I couldn't face, a chance I couldn't
take." Gavin apologizes to Trampas, but for the moment the young man is unable
to voice forgiveness. The Judge suggests Gavin return to England. Gavin supposes
it's too late for the trip then brightens with the idea that he might be able to bring a
little bit of England to Medicine Bow. He asks the Judge if Betsy might take tea
with him, and Garth proposes they ride into town with Trampas and Steve who are going
after supplies. When they reach town, Trampas tosses a coin and asks Steve to call
it. Without looking at the outcome, Trampas tells Steve he won--the right to get the
supplies. As Trampas struts off down the street, Betsy remarks to Gavin, "That
Trampas." At the hotel, Gavin anticipates a tea time but is told there is no such
beverage in the establishment. Gavin asks the waiter to find Mr. Oliphant then offers to
buy the hotel from the manager for $10,000. Oliphant is miffed when Gavin commands him to
bring some tea from his house, but Gavin promises if he does Oliphant will own the
Phosphate Palace, not just work there. Gavin also requests that "Ollie"
return dressed in his military uniform. As Oliphant pours tea for Betsy, Gavin
raises the British flag outside his newly acquired premises. This causes quite a stir
among the townspeople, and the mayor demands Gavin take the flag down. When Sheriff
Abbott tells him the flag might be an incitement to riot, especially since it is nearly
the Fourth of July, Gavin can find little appreciation that in "two day's time it
will have been 107 years" since the Thirteen Colonies declared their independence--a
moment in history which now was celebrated with overindulgence of liquor and children
burning their fingers on firecrackers. He reminds them that most of their forefathers had
come from England and wonders why they can't respect his flag just as he respects
theirs. Caught in the middle, Betsy can do nothing but sit in silence, torn between
her friendship with Gavin and her allegiance to the town she lives in. While Gavin is
taking down his banner, Trampas notices a wagon full of straw by the sheriff's
office. As he goes to investigate, he is taken hostage by the renegade Indians.
Dejected, Gavin puts the British Colors in his trunk and finds his military jacket devoid
of buttons. The Indians have taken refuge at Clear Creek, and Abbott reckons they might
have to wait until nightfall to try to capture them. Garth voices concern that
"It's going to be rough on Trampas." Despondent that he hasn't been able
to find solace in partying, drinking, or trying to set up his own little piece of England,
Gavin walks down the street and happens upon the funeral of the man who had died of
rabies. He is encouraged by the pastor's speech that the fear of death was natural and
that death will come to each of us but the waste is to spend each day as if we are already
dead. The test as a human being is not how one dies but how he lives. After
the service, Dr. Spaulding informs Gavin that the lab tests performed on the dog that bit
him confirmed it did not have rabies. The Englishman is relieved that he "had
just been born a second time" until he learns that Trampas had been taken
hostage. Gavin joins the posse at Clear Creek and asks if nothing could be done to
help Trampas. Mark explains the Indians were deployed on three sides and he had
already lost men trying to go in after them. He had sent for troops, but until they
arrived they would wait. Garth agrees they didn't have much choice, and Gavin replies,
"Still a better choice than Trampas." Hands tied behind him, Trampas tries
to make an escape but has to dive for cover from the crossfire. With the others only able
to look on at Trampas' plight, Gavin mounts his horse and rides toward the Indians
creating a diversion and incentive for the posse to ride to the charge. However, during
his valiant rescue attempt, Gavin is mortally wounded. When Steve reaches Trampas and
frees him from his bonds, Trampas rushes to Gavin's side and proclaims, "This time
you were a giant." Oliphant takes off his military jacket and covers his countryman
with it. As Gavin fingers the buttons on the coat, he dies a contented man. Trampas
bemoans, "He didn't owe me this." The Judge replies, "Perhaps he owed it to himself." (bj)

Return to The Classic TV Archive "The Virginian" Home Page
Return to The Classic TV Archive Western Page
Return to The Classic TV Archive Home Page
Feedback - "The Virginian" Guestbook